Do you want to change your cat food and want something better than your previous cat food? But, you aren't sure which brand will suit your cat, right!
Well, then check our Applaws cat food review straight away. This information will give you a better idea of which cat foods are suitable and the best for your cat. You can ask your vet too before feeding it to your cat.
It is fairly priced promises to offer the finest quality natural ingredients. Moreover, Applaws is known for not using animal by-products they use only important and highly nutritious parts of the animal.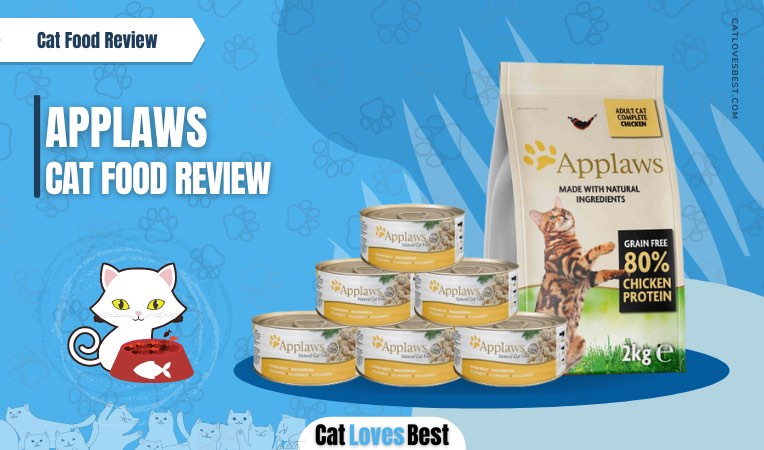 A Glance of Our Favorites in 2022
Best Overall

Applaws Natural Tuna Fillet in Broth Wet Cat Food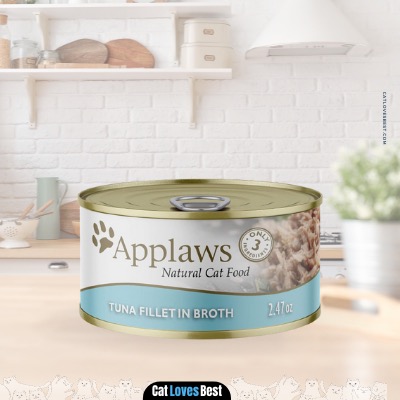 It includes good quality ingredients
Moisture contains is better, which helps to keep food hydrated
It is flavorful
---
Editor's Pick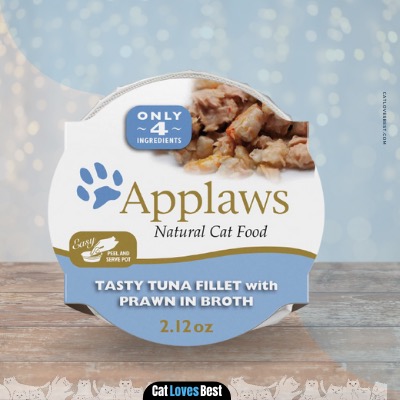 Helps to keep the overall body function healthy
Flavor and thickness are present in good quantity
No filler ingredients are added
---
Affordable Pick

Applaws Complete & Balanced Adult Dry Cat Food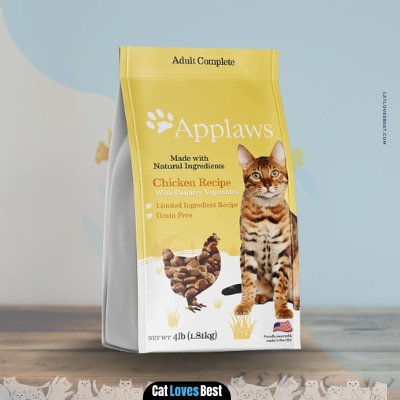 It is organic food that has completely balanced nutrients

Essential nutrients and vitamins added

Natural flavors are added to make it delicious
All About Applaws Cat Food Reviews
Check top 10 with Applaws cat food review us, we have recommended all the best products in the ranking. We have also mentioned the most expensive to the least expensive cat food in this article that you can buy.
Moreover, this article has also showered its review of most reviewed products plus wet and dry both food.
1. Applaws Natural Tuna Fillet in Broth Wet Cat Food
Applaws Natural Tuna Fillet in Broth Wet Cat Food is our editor's premium product. It offers health benefits at a moderate rate.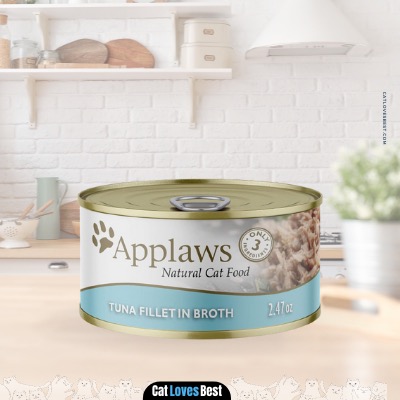 This Applaws wet food consists of ocean tuna fish filling which makes it nutritious and delicious too. Not just that, they have got tuna from earth island institute which is a highly reputed supplier. Making it high-quality pet food.
It boosts your cat immunity along with that it hydrates her too. A single dollop of this wet food can make your regular cat food lip-smacking. You can use this as treat also.
This flavor recipe is safe and naturally sourced. The filet texture is unique and your kitty will surely enjoy it.
Pros:
Made of good quality ingredients.
Moisture contains is better which helps the cat to stay hydrated.
It is flavorful plus makes cat coat lustrous.
Cons:
It is a balanced supplement food and not main cat food.
2. Applaws Cat Pots
This is our editor's price premium product. Applaws Cat Pots recipe consists of 100% tuna and promises to offer the highest quality food.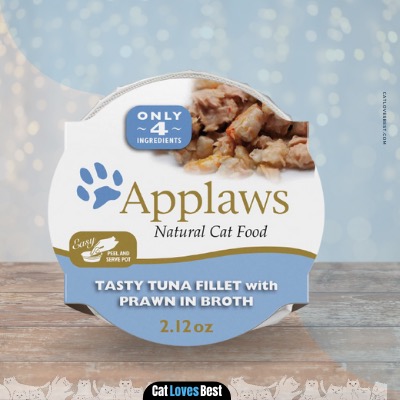 It is made of 2 primary food components tuna fillet, fish broth, and prawns. It contains iron, potassium, selenium, vitamin B6, and iodine.
Important to note this recipe is rich in omega fatty acids and moisture which helps your cat to stay hydrated for long. The goodness of fish broth helps cats with kidney diseases. As they are kept on a low protein diet so the fish broth helps to metabolize the protein waste and curb down the stress on kidneys. So, you can get this food to your home.
Other than protein sources it also includes antioxidants like vitamin B12 and vitamin E.
Pros:
Keeps overall health and eyes healthful.
The flavor and the thickness of the broth is wonderful.
It is organic and has zero artificial ingredients.
Cons:
3. Applaws Complete & Balanced Adult Dry Cat Food
The third product on our Applaws Cat Food Review is Applaws Chicken Recipe with Country Vegetables Adult Dry Cat Food. It is an affordable and healthy food option.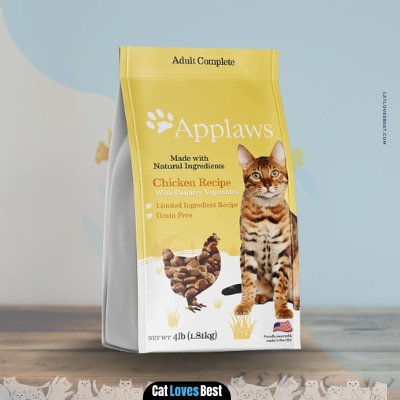 They guarantee you a completely balanced diet for your kitty. You can feed her at lunch or dinner. This is a grain-free cat food which has a chicken meal and also chicken peas, lentils which is a good source of protein.
Enriched with fiber that curbs digestive issues and has carbs. Includes vitamins and minerals. This cat food consists of essential amino which makes it rich in nutrition. The flaxseed used in these offers a great amount of fiber.
It has a natural flavor to make this food more delicious for your cat.
Pros:
It is organic food that has completely balanced nutrients.
Reasonable quality ingredients and a decent nutritional profile.
No vomiting, no diarrhea, it is just a healthy appetite.
Cons:
It is dry and has no moisture which can make your cat dehydrated and cause urinary tract infection.
4. Applaws Succulent Tuna Fillet with Crab Cat Food
This dish from Applaws Succulent Tuna Fillet with Crab Cat Food Cups consists of tuna and crabs which are highly nutritious. The protein content is sufficient which makes it good for felines.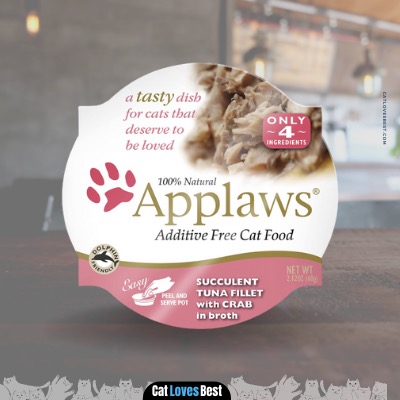 Crabs inside this food cat have strong muscles, and it is also good in omega 3. Plus, it contains selenium and vitamin B12 which help your cat in the fight against chronic health problems.
It is also rich in thiamine which will help your cat to have a good amount of energy. This wet food has potassium including essential vitamins which will give a kick to your cat's immune system.
The taste is delicious your cat will lick the whole dish. It is 100% natural, and therefore it is a safe option.
Pros:
The texture is perfect for cats with jaw cancer who have difficulty eating regular cat food.
Doesn't contain any additives, colorants or flavors.
The broth is mixed in pretty well with the food, so it is very easily eaten.
Cons:
Unfortunately, this is not complete food.
5. Applaws Natural Mousse Tuna With Sardine
The next product on Applaws cat food review is Mousse made of tuna and sardine oil. If you are looking for something creamy delicious yet healthy food option for your cat then Applaws Natural Mousse Tuna with Sardine is the perfect choice for your kitty cat.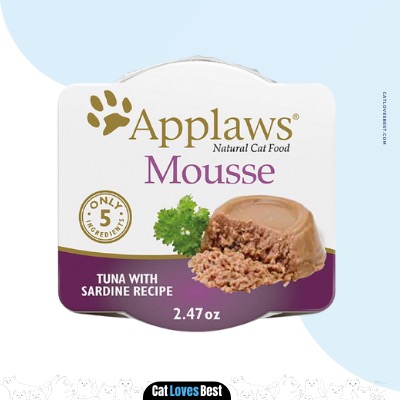 It is completely safe and made with totally natural source ingredients. It won't cause any harm to your cat because the manufacturers have not added any artificial colors or preservatives to increase the shelf life of this cat food.
You can consider this mousse as a complementary food you can serve a dollop of this mouse with any cat food kibble to offer your cat a balanced diet.
It is rich in protein it is loaded with the goodness of tuna fish she will provide fatty acids like omega 3 and vitamin B. However, it also contains carrageenan and locust bean gum which is considered not essential for cats' diet.
It has fish broth and sardine to which is healthy for cats. However, they have used limited ingredients, so they cannot gain excessive weight.
Pros:
The percentage of carbs is less.
It has a rich amount of protein because of fish like tuna, sardine and fish broth.
Cons:
Some cats may not like the flavor of this cat food.
6. Applaws Tasty Tuna Fillet With Prawn Cat Food
Do you want to add some additional healthy filling to your daily cat food then Applaws a Tasty Tuna Fillet with Prawns to be the best for your cat?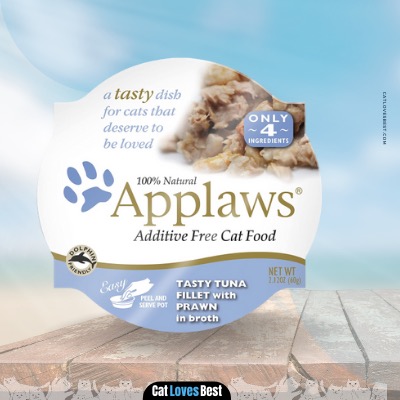 It is additive-free food that helps your cat to have a healthy lifestyle. It is premium quality food with no harmful colors, preservatives, and flavors.
This pot is convenient and easy in serving. It can work like cat treats. Simply peel off the top cover and give it to your cat.
Your cat will love the taste of it. She will lick off the whole pot in one go because it's damn tasty. It is suitable for all ages cats. Prawns used inside this dish helps your cat to have strong bone because it is rich in calcium and potassium too.
This cat pot includes vitamin A, B12, B6, and E.
Pros:
These are especially good if you have a cat who doesn't drink enough water.
Easy to serve.
Cons:
As pet cat owners picky cat eaters may not like its taste.
7. Applaws Grain Free Cat Food 5 Flavor Variety Bundle
Moving on to the 7th product on the list of Applaws Grain Free Cat Food Review is a pack of 5 varieties. This cat food bundle is healthy and loaded with vitamins and minerals. In this package, you will get 5 varieties of cat food options for your kitty cat.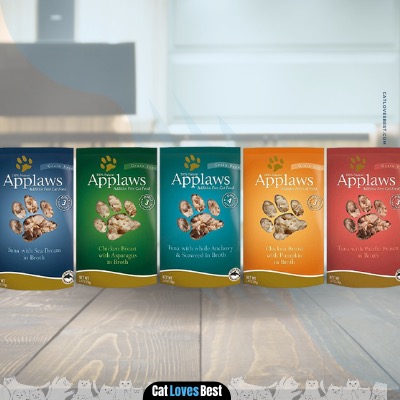 All five recipes are grain-free and have no preservatives or additives inside. It is an appetizing food dish, the packets have chicken breast and pumpkin and the other pack has tuna and pawns. On the other hand, the other packet is loaded with tuna and anchovies and the last packet has tuna and sea bream.
Your choosy feline friend will love all the variety of food options available in this bundle. This Applaws food packet range is fortified with amino acids and rich in taurine.
Pros:
All varieties of this are lip-smacking.
You get a wide range of options for picky eaters.
It is grain-free.
Cons:
Can only be used as a complimentary dish and not as the main food source.
8. Applaws Juicy Chicken Breast With Duck Peel Top
If your cat is bored with the same routine food then you can make her food delightful by adding Applaws Juicy Chicken Breast with Duck Peel Topping.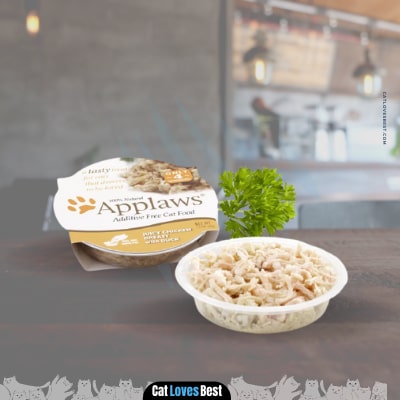 This is complimentary food if completely free from dangerous chemicals, flavoring, and preservatives. You can feed this topping to adult cats. The manufacturers have made this food perfectly with all-natural and organic ingredients.
Pros:
It is made with safe and organic products.
If your cat is fussy, only eats poultry that is moist and juicy this is your ticket.
This is a healthy addition to your cats' canned food.
Cons:
This can't be used as the main food source for your cats.
9. Applaws Natural Mousse Chicken With Pumpkin
Applaws Natural Mousse Chicken with Pumpkin is sloshed with fiber which helps your constipated cats to have smooth poop. It helps her digestive system.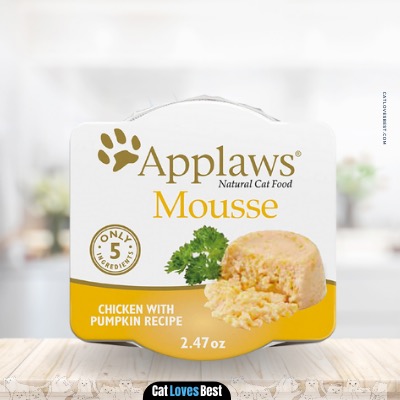 This food has pumpkin which helps cats to have a healthy digestive tract, and it is also a good source of vitamin A, E, and C. Your cat will receive beta carotene too.
It not just curbs constipation but also prevents diarrhea because of the fiber present in it. This food absorbs acid produced by the stomach and extra water too.
Feeding this product won't cause hairball issues. This dish is also rich in protein, contains 10.5% of crude protein. The percentage of pumpkin used in this cat food by the manufacture is just 25% and the other half is chicken broth and rice.
Pros:
Cat loves it and doesn't upset his sensitive stomach.
Can curb hairball problems in cats.
Loaded with diety fibers helps in digestion.
Cons:
It has rice which is starch.
10. Applaws Natural Chicken Breast in Broth Wet Foods
The last cat food on our Applaws cat food review is chicken breast broth wet food. The cans of this Applaws Natural Chicken Breast Wet Cat Food are amazingly tasty, and it is fulfilling for your cute carnivore critter.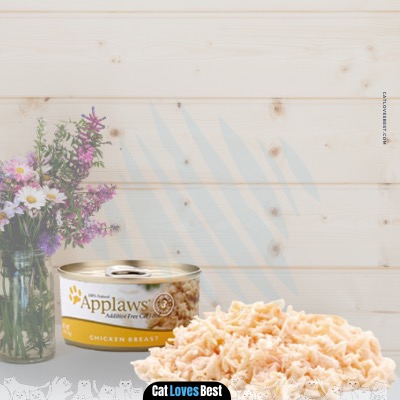 /
This wet food does not include any preservatives or colorants which can harm your kitty. It is completely a safe food option that has a good amount of protein.
The broth used inside these helps your cat to stay hydrated. It is high in moisture and grain-free.
Pros:
Helps with digestion issues.
Higher quality food with no dyes and additives.
It has a yummy taste.
Cons:
It is just a complimentary food and has less quantity.
Is Applaws Cat Food Healthy Option?
Yes, Applaws cat food is a healthy and interesting food option for your cat. They have an entire range for young kittens, have dry food and wet food with distinct textures and tastes that your cat will thank you for.
The manufactures have made the whole range of this cat food delicious that your cat will never say never to the food.
The wet food option is expensive and cannot be fed for the long term because it doesn't include a balanced diet. Whereas dry food is a better option and worth trying.
List of Ingredients Used Inside
Tuna
Tuna-rich food is loaded with EPA and DHA. It aids to make your kitty cat's skin and hair condition better. It also prevents allergies, arthritis, and skin problems.
Sardines
Sardine in Applaws cat food benefits your cat to have healthy growing hair. It aids to make their bone stronger and better. It has a good amount of high protein.
Protein provides a structure for skin, hair, joints, bones, and nails to name a few! Sardines and fish, which are considered a high-quality protein
Fish Broth
Fish broth is a healthy option for cats it helps to make their bone grow stronger and also helps kitties who are affected by kidney problems.
Pumpkin
Pumpkins are good for cats they are rich in dietary fiber which can help your cat to have a healthy digestive system. If she is constipated then pumpkin-rich food can help to curb it.
Prawns
Enriched with an amino acid that helps the cat to have a shiny silky coat and has a low count of fats and high count animal-based protein.
Chicken Breast
Chicken breast is fortified with lean protein, has less amount of fats and calories. It is easy on your cat's digestive system too.
Duck
Duck meat is good for feline friends it has a high amount of taurine which helps them to have healthy eyes sight and heart.
Advantages and Disadvantages of Applaws Cat Food
| Pros | Cons |
| --- | --- |
| Appalws food uses a limited number of ingredients good for allergic cats | Some recipe includes rice is not necessary |
| It made as per species requirements | Appalws few cat food consists of locust bean gum |
| Their products are ethically sourced | Most of the food can't be used as the main balanced diet food. |
| This food doesn't consist of animal-by products | Used chicken pea, peas, and lentils for protein content. |
| It is safe and has no colors, preservatives, or dyes | |
| The chicken recipe features 80% of animal protein | |
| The fish recipe promises to offer 50% animal protein | |
Applaws Food Price Range
The price range of Applaws cat foods company is moderate. If you feed your 10lb cat it will cost you $0.05 every day. Whereas the wet food is quite pricey. Its rate will differ it will cost you around $0.78 per day. If you compare it with other brands like Tiki cat it is two times more expensive.
Applaws Cat Food Origin
Applaws pet food brand originated in 2006 in the United Kingdom. They promoted themselves as a high-quality food brand that offers the best food for pets.
They marketed themselves as 100% natural food which uses sustainable and safe measures. Presently, it is a well-known brand in the wide region of the western side of Europe, North America, and parts of Australia too.
Ingredients used by this brand are sourced from the whole world. And, it is not a good sign when it comes to the quality of the food. Every supplier has to follow international safety markings and husbandry standards.
Well, That's a Wrap!
In conclusion to Applaws cat food review we would say it is a good cat food option that offers the highest quality ingredients.
All the ingredients are ethically sourced they have used limited ingredients which makes it a good food option for hyper-sensitive felines.
This brand of food is nutritious and loved by picky cats eater because it has a delicious flavor and is palatable. They do not believe to produce food that has artificial dyes, and harmful chemicals.
References:
What makes Applaws Cat Food so healthy? — Applaws
Human Foods That Are Dangerous for Cats— PetMD
Foods Your Cat Should Never Eat — Pet WebMD