Have you ever wondered why your cat's getting matted fur and how to get rid of it…?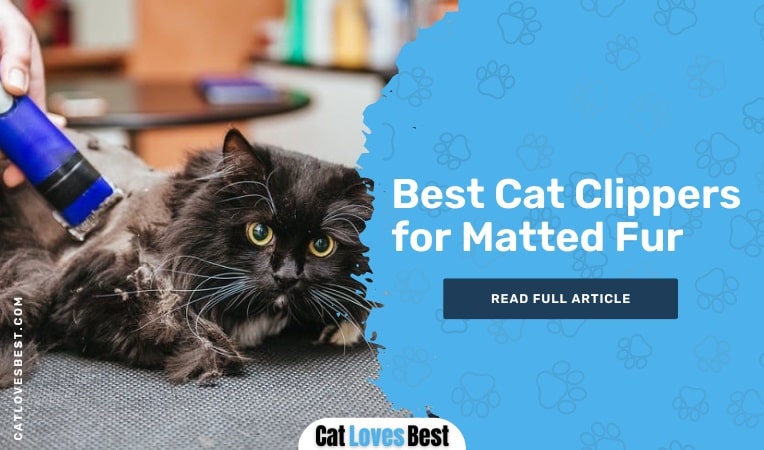 When a cat is not brushed or groomed for a long time, he might get mats on his fur, mats are a sign of unhealthy cats this usually happens with older cats as they cant groom their cats enough. If your cat is having matted fur you should use clippers specially designed for cats.
I have taken the liberty to gather all the information regarding these clippers and present it to you in this article.
A Quick Look at our Favorites of 2023
Best of the Best
Premium Choice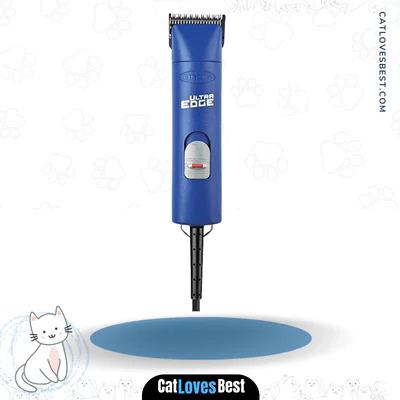 Andis Ultraedge Pet Clipper
Cheaper than the previous version

Available in different colors

2700 – 3400 SPM
Budget Pick
The 10 Best Cat Clippers for Matted Fur (Reviews & Features)
1. Andis 22340 ProClip-2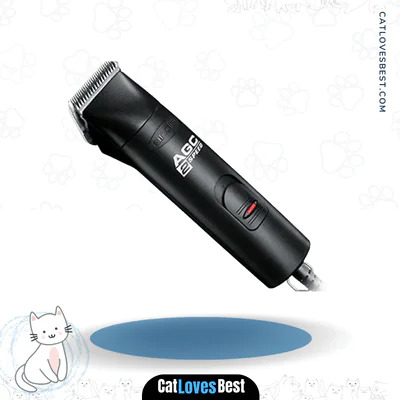 Andis 22340 ProClip 2-Speed Detachable Blade Clipper is our best of the best choice as this product fulfills all the basic requirements at an affordable cost. This clipper comes with a 14′ long heavy-duty power cord that makes it easy to move around while removing matted fur from your cat.
This device has 2-speed options, 2700 and 3400, which would make grooming your cat effortless, no matter how difficult a clump of hair is. Also, the blade is designed in a way that it can be detached and cleaned. One benefit is, that this device does not require a battery, so you don't have to wait for your clipper to charge, and not stop working in the middle of your session.
It is already difficult for some cat parents as their restless cats, would not just stay. He would make it impossible for them to make their cat sit again if the battery died midway.
Material: Polymer
SPM: 3400 – 4400 SPM
Power Source: Cord
Items included:

Clipper
This Product comes with power and maneuverability. Sounds like you are buying a car, but the 14′ long power cord and high strokes per minute all just at an average price makes this product at the champion position in its category. One more factor to consider about this product is that it makes less noise, even with such high SPM.
However, this champ only comes in black color.
To conclude, we think this is the overall best cat clipper for matted cats.
Pros:
No need to recharge batteries
Powerful motor
Cons:
Heats up after prolonged use

No accessories included
2. Andis Ultraedge Pet Clipper (23275)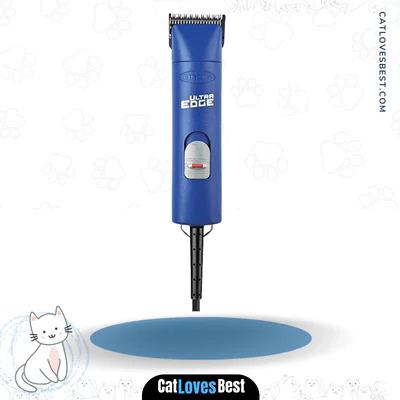 Andis Ultraedge Pet Clipper comes under our premium choice category, Just like twins "Andis Ultraedge Pet Clipper" and "Andis 23275 ProClip 2″ may look the same but both have their differences.
This product comes at a lower price with reduced motor capacity. It is for the owners or groomers who do not need much power to groom their cats. Also, it does save you money because you won't have to buy the high-powered version at a higher cost.
Material: Polymer body, carbon steel blades
SPM: 2700 – 3400 SPM
Power Source: Corded
Items included: Clipper
It comes with a 14′ power cord that is similar to the other version. However, it is available in different color variants like blue, pink, green, purple, and burgundy. This version has 2-speed settings, 2700-3400 strokes per minute.
Pros
Cheaper than the previous version

Available in different colors
Cons
No accessories included
max 3400 SPM
3. Oneisall Pet Shaver Clippers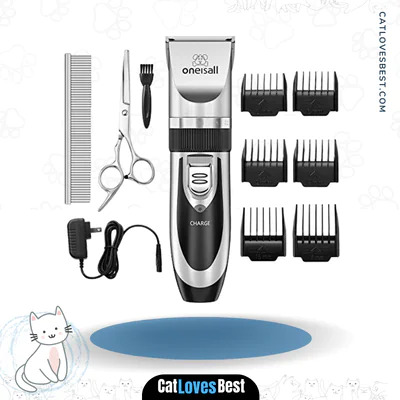 Overall Pet Shaver Clipper comes into our budget pick category, as it has all the things that you would need to groom your cat. The manufacturer made sure this product is available to all at a very affordable price.
This product contains a rechargeable battery and also can be used while charging. So no waiting time. If it is charged, it's good, if it is not, just plug the cord in and use it. Oneisall pet shaver clipper is also very quiet when compared to other clippers.
Material: stainless steel & ceramic blade, plastic body
SPM: 5500 SPM
Power Source: A rechargeable battery, can be used while charging.
Items included: Clipper, stainless steel scissor, stainless steel comb, cleaning brush, oil bottle, and 6 guide guards (3 mm, 6 mm, 9 mm, 12 mm,15 mm & 18 mm).
It is made up of a plastic body while the blade is made of stainless steel & ceramic material. The overall build of this product is good when compared to other clippers in the market with a plastic body. The kit also includes a stainless steel razor and a comb which is usually not provided with other clippers.
You can cut the matted surface from different heights as 6 different attaches are provided along with this kit which helps in getting off difficult parts. You also get an oil bottle and a cleaning brush to clean the blades.
Pros
Inexpensive
Can be used while charging
Cons
4. WAHL Clipper Pet-Pro Dog Grooming Kit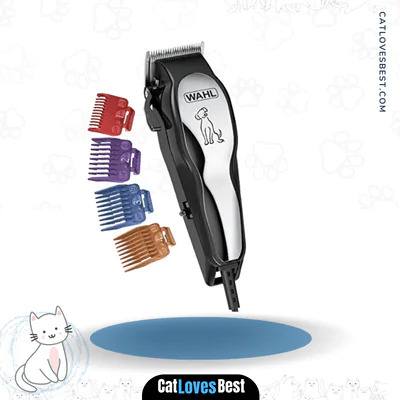 WAHL Clipper Pet-Pro is a professional grooming tool, for people looking for a kit that is cheaper when compared to other products. Blades are self-sharpening, hence you can cut through mats smoothly even when used for a very long time, without worrying about changing the blades.
This product is very powerful and has a good build. Manufacturer claims that it is a low-noise model, hence your cat would remain relaxed. When buying the product you will get 4 different guide combs, 3 mm, 6 mm, 10 mm, and 13 mm for coat length identification inside the packaging.
An oil bottle is also included, you can use it on blades before grooming. Keeping blades oiled reduces the friction, thus it would not heat and not hurt your cat.
Material: High Carbon Steel Blade
SPM:

7200 SPM

Power Source: Corded
Items included: Multi-cut corded clipper, blade guard, handle storage case, blade oil, cleaning brush, scissors, finishing comb, 4 guide combs, cord wrap, and English & Spanish Instructions.
Some users were surprised as this product is very powerful but didn't heat up when compared to other products. A few of the cat owners also claimed that it went through long straight hair and a curly undercoat with no effort.
Pros
Powerful blade
comes with lots of accessories
makes less noise
Cons
Available in one color only
Difficult grip
5. Oster Golden A5 Two-Speed Animal Grooming Clippers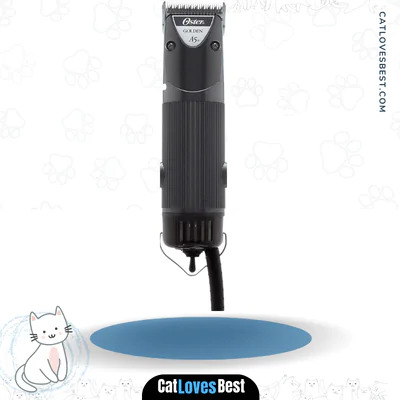 Oster Golden A5 comes with a 2-speed switch, low at 2100 SPM and high at 2700 SPM. A size 10 Cryogen X blade which is famous for its hardness and durability is also included. This clipper is compatible with all the Oster A5 detachable blades.
The manufacturer made this product with chew-proof housing. Its low speed makes it precise and quieter than all the other models by this manufacturer. However, it is powered by a 12′ cord which is 2′ shorter when compared to other clippers.
Material:

Chew-proof

body
SPM:

2100 – 2700 SPM

Power Source: Corded
Items included: A golden A5 2-speed clipper with a size 10 cryotech blade, blade guard, blade oil, clipper grease, cleaning brush, extra brush, spring assembly, and instructions.
Along with the clipper and blade, blade guard, blade oil, cleaning brush, and clipper grease are also included to maintain and clean the product.
Pros
chew-proof body
compatible with all Oster A5 blades
Easy to change the blades
Cons
12′ long cord
no guide combs included
6.

Wahl Professional Animal KM10 2-Speed Brushless Motor Pet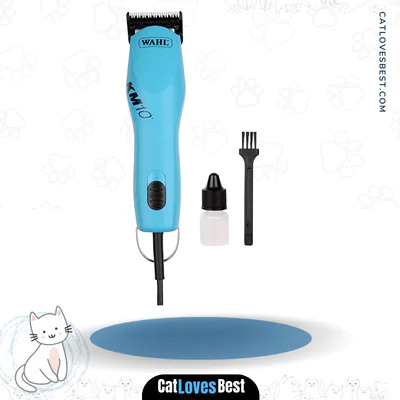 Wahl Professional Animal KM10 clipper has a brushless motor which helps it to be more energy-efficient and comfortable for noise-sensitive cats as it has quiet operation. This feature also makes it lightweight.
It is powered by a 14′ long cord. This device has a special feature, "constant speed control" that adjusts speed to prevent stalling when going through a tough patch. The manufacturer designed a round-front body to reduce hair clogging.
SPM: 3000 – 3700 SPM
Power Source: Corded
Items Included: #10 blade
Wahl Professional Animal KM10 is very easy to use, and effortless to add or remove comb guides and blades. A #10 blade is also included with the product. Many users and groomers claimed this as one of their best products.
Pros
Lightweight
Constant Speed Control
Easy to use
Cons
7. Andis Pro-Animal Clipper Kit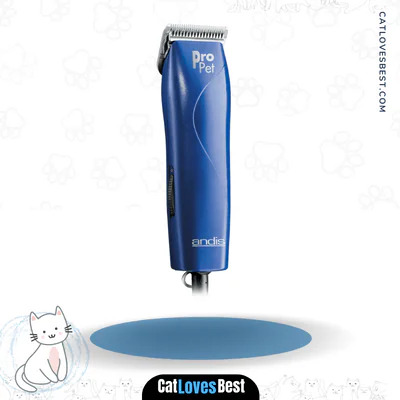 Andes Pro-Animal Clipper Kit is a powerful clipper with 5 different motor speeds. You can give your cat a unique cut with this one. It is very lightweight as the body is made from polymer and comes in different shades. You can choose between Blue, Burgundy, Pink, Confetti, and Fuchsia.
This kit includes a ceramic no.10 blade. Ceramic edge blades are about 75% cooler than the metal ones, hence your cat won't get hurt by the heat from the clipper. Also, you can use it for longer durations as it won't get heated easily.
Material: Ceramic blade, Polymer body
SPM: 2500 – 4500 SPM
Power Source: corded
Items Included: Ceramic Edge No.10 blade
You can change the blades easily, Some clippers are difficult to hold after some time, as due to vibration you would have to adjust your grip again and again. Manufacturers of Andes Pro-Animal Clipper Kit took this opportunity and made a really soft and Good grip to hold the clipper.
Pros
5 different motor speed
good grip
cooler blades
comes in different colors
Cons
No accessories are included with the kit
Expensive
8. Wahl Creativa Cordless Pet Clipper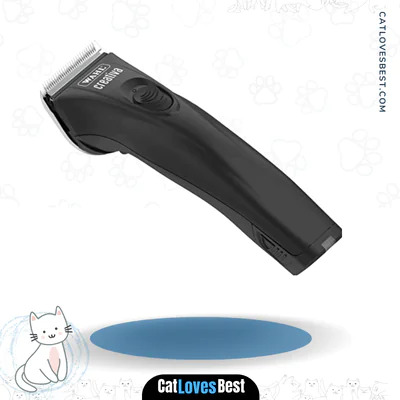 You can use Wahl Creativa Cordless Pet Clipper on short and medium-haired breeds. You can groom continuously for 120 mins on a single battery, regardless of this, the manufacturer decided to include one more battery in the kit, It would take a battery about 75 mins to fully charge.
Wahl Creativa Clipper comes with an adjustable 5-in-1 blade, you can adjust the cutting length to 5 different levels. Some devices start losing motor power as battery depletes, whereas this device is installed with a special feature "Constant Speed Control" which makes power remain the same regardless of battery level. This product comes in two colors, berry and black.
SPM: 5300 SPM
Power Source: cordless
Items Included: Clipper, two rechargeable batteries, charge stand & charger, four attachment guide combs, cleaning brush, blade oil, and instruction book.
One more thing that the manufacturer added was a curved design that helps us to see in tight places. This device is astonishingly quiet for noise-sensitive cats which keeps them relaxed. It can be used on Smooth/Short and Medium haired breeds. You can also buy an XXL battery, which can run straight for 3 hrs, this would be very helpful for people with lots of cats or groomers.
Pros
long battery
good grip
Constant Speed Control
Cons
Expensive
available in 2 colors only
9. Veken Grooming Kit Clippers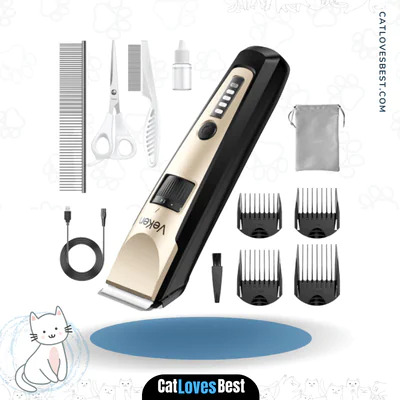 Veken Cat Grooming Kit Clippers come with a whole lot of accessories that include different positioning comb guides, these guides are for 3mm, 6mm, 9mm, and 12mm. It is a battery-powered clipper. It also comes with a polyester travel bag, which would make it easier for you to carry the whole kit anywhere.
This clipper generates less heat when compared to other trimmers at this price range. One of the key features of this device is that it is waterproof and has an IPX7 rating, hence you can clean it with water however you want.
Material: Stainless steel and Ceramic blade, plastic body.
Power Source: Battery Powered
Items Included: Clippers, 4 x Positioning Comb, Oil bottle, USB Cable, Hair Brush, Hair Comb, Beauty Comb, Beauty Scissors, and Travel Bag
You can also make blade length adjustments on devices that would be at 0.8mm, 1.1mm, 1.4mm, 1.7mm, and 2.0mm. This product also has 5-speed adjustments, that would make it easier to groom your cat.
Pros
Inexpensive
Comes with the kit
Battery Power Indicator
Cons
Plastic body
The charger is not included
10. Grimglow Standard Size Clippers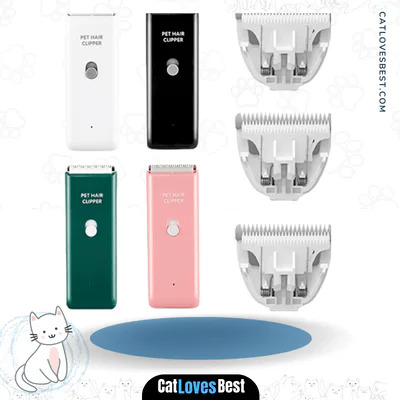 Grimglow Standard Size Clippers has a simple yet effective design. It is very easy to use, you just change the blade, apply oil and start grooming.
It is fully waterproof and it also runs underwater. The manufacturer designed this clipper to produce less noise, as a matter of fact, many users have backed this claim. This product comes in 4 different colors, Black, White, Pink, and Green.
Material: Stainless steel and Ceramic Blade, ABS body
SPM: 6000 SPM
Power Source: Battery Powered
Items Included: Clipper, Comb Attachments(3-6mm/9-12mm), Lubricant, Charging Cable, Cleaning Brush, 1 narrow blade.
There are 2 different types of blades standard and narrow-sized. You can use the standard size as usual places but the narrow one can be used in difficult places like their paw or on their tail, butt, face, and ears.
Pros
Simple and elegant design
easy to use
budget-friendly
waterproof
Cons
The charger is not included
available in 4 different colors
Buyer's Guide: Finding the Best Hair Clippers for Matted Furs
Whenever we buy any product we would check all the aspects of it before purchasing, after all, we all want a product that lasts long and works fine by that time. I looked into all these different aspects and gathered some information for you.
SPM
SPM stands for "Strokes Per Minute", It defines the power of a clipper. If SPM is higher, it will cut through the difficult mats more easily. However, they will make more noise and would heat up much faster. It will also make it more difficult to control especially when precision is required.
Although a clipper with 4000 SPM would be enough to cut through any kind of matted fur, people prefer to buy a clipper with higher SPM to ease the efforts. Some of the devices come with 2 or more speed settings, which makes it easier to work on sensitive areas like your cat's face.
Noise
Some cats are very sensitive when it comes to sound and vibrations, if your cat is among them and they feel any of these, then chances are that you will have scratches on your hand. Hence it is recommended that you buy clippers that make fewer vibrations and are silent.
Heat
When a device is used for a prolonged period it will start heating up. In this case, more powerful a clipper is, the more heat it will generate. At times blades heat up due to friction, which will probably make your cat uncomfortable, to avoid this you should oil the blades before using them.
You can also use coolants that are available in the market, that will cool the blades instantly. It is not necessary to cool the blades with a coolant, you might have to wait for some time to let them cool by themselves or get yourself another blade.
Material
Material is an important aspect in choosing the right clipper for your cat, some of the clippers are made up of cheap plastic material, which is not good, clippers are meant to vibrate at a high rate, and that can damage the body of the device.
It is recommended that you choose a clipper with high-quality body material. Sometimes only some parts of the body get affected. One should also consider choosing a blade that is just right for their cat.
When it comes to selecting a blade from ceramic or stainless steel. It is a really difficult choice. Both materials have their own set of benefits and drawbacks. Steel blades are much stronger and cheaper than ceramic ones. However Ceramic blades are brittle and might break after some time, but they remain almost 75% cooler than steel ones and they also stay sharper for a long time.
Also with ceramic blades, you would not have to worry about corrosion. When it comes to price, stainless steel blades are much cheaper than ceramic blades.
Battery
When buying a cat clipper, if you are buying the cordless one you might want to choose the one with good battery life. You don't want the clipper to die on you during the session. Although the battery capacity is given enough that you can groom your cat twice or thrice and it won't get discharged, people buy an extra set of batteries that can be used in emergencies.
Price
You must be wondering, "how much should I spend on a cat clipper?". Some are expensive, so expensive that you can almost buy a TV with that amount.
Going to a professional to groom your cat is good but investing in a clipper is more profitable. People usually spend on avg 50$ a month just to groom their cats. Now, if you buy a clipper you won't have to consider paying this huge amount, again and again, every month.
You might want to check what accessories you'd require to groom your cat as some cats wont need anything else but a clipper, some have very long hair and might require a comb to cut through. while some cats might require scissors. Buying all these separately is definitely going to cost you more.
Precautions
Some clippers are too much for your cat to handle, they might remain stressed and sometimes even try to escape. The main reason for this would be noise and vibrations. Also, some of the devices are very powerful, they should not be used near cat skin otherwise it might nick the soft skin and hurt them.
FAQs
Why do cats get matted fur?
Most cats have 2 types of coating, one is an outer coating and one is an undercoat. When a cat is left ungroomed for long period of time, his undercoat gets clogged and matty. especially in the areas where there is a lot of movement like between legs, under the tail, etc.
Why should I shave my cat?
Yes, especially when there are mats on your cat. One should consider shaving their cat when he is in discomfort or needs some medical treatment. Although they have evolved to adapt to different weather conditions, one should always remove the excess fur, if your cat needs it.
Should I use human clippers or trimmers on cats?
Cat clippers and trimmers are designed to cut through their fur and not make them uncomfortable. Human trimmers will generate a lot of heat, also they are too powerful for cats and chances are that they might hurt them.
Why do you need clippers for matted furs?
When your cat develops mats on their fur, they must be clipped off. Using scissors is not viable as it will take a long time and can hurt your cat. However, a trimmer or a clipper might do the job easily. Mats can hold moisture and If they are not removed, can lead to skin diseases. In such cases using a scissor can cut the skin and cause more pain to your cat.
Why clippers and not trimmers?
Clippers are used when bulk hair need to be removed from your pet's body. While trimmers are used to cut hairs much closer to the skin. Trimmer would not work on long hairs, as hair strands will get tangled in the blades of trimmer and would stop working.
Conclusion
While dealing with matted fur, it is necessary that you take utmost attention during the grooming session. Sometimes, it is even advisable to head to a professional groomer or veterinary, especially if the cat's fur is extremely matted to be groomed at home.
Happy Grooming!
References and further reading:
Grooming Cats at Home — Colostate
Matted Fur in Cats —Illinois
Hair matting in older cats — Cornell University