The diet of animals is what puts them at risk of dental disease. Many cat and dog foods available today are far, far different from what they were used to eating in the wild. It is therefore essential to brush your cat's teeth with the best cat toothpaste to keep her teeth in good condition.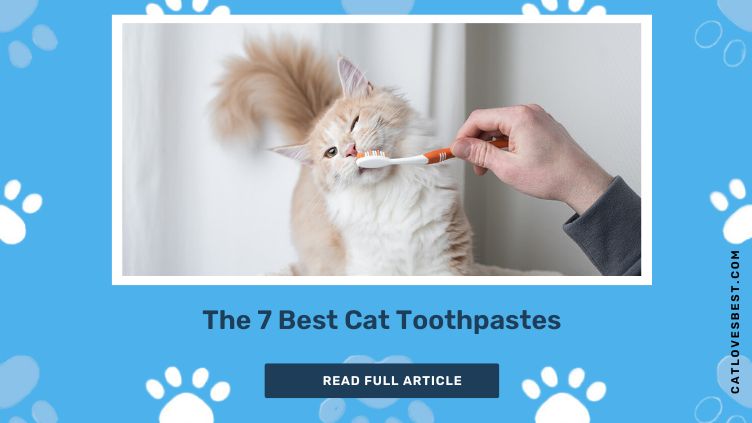 If you haven't introduced your kitty to a toothbrush and toothpaste at a young age, then it may be a tad difficult to get him to co-operate when you start.
According to the American Veterinary Dental Society, 70% of cats suffer from gum disease by the age of three. If you don't care for your cat's disease, with age her teeth may gradually become loose and eventually fall out.
If the cat's teeth remain covered in bacteria, other medical complications of the kidney and liver could also set in.
Benefits of using Cat Toothpaste
There are three main reasons for using a cat toothpaste to clean your feline's teeth.
1. To prevent resorptive lesions
Tooth resorption is a painful dental condition that causes lesion which is loss of the tooth's bone structure. Often, pet owners do not realize the condition until they see some missing teeth in their mouth.
Resorptive lesions begin with loss of enamel, many times right at the gum line. Gradually, the gum's dentin, which is the bulk of the tooth, starts to wear off. The dentin is the door to the pulp of the tooth, where nerves are also stored. That is the reason resorptive lesions are so painful.
2. Brushing the cat's teeth can ensure she lives longer
If you want your cat to live more, it is essential to care for their teeth, which start developing periodontal diseases by the age of three. Preventing periodontal disease is all about controlling plaque and tartar deposition. The tried and tested way of caring for the cat's teeth is to brush them regularly.
3. Cat teeth cleaning means saving dollars
Taking care of our cat's teeth now can help save exorbitant costs involved in tooth extraction. Regular home cleaning of your kitty's teeth will save you the time and costs involved in seeking professional help.
A Quick Comparison of Our Winners (2023)
Best Overall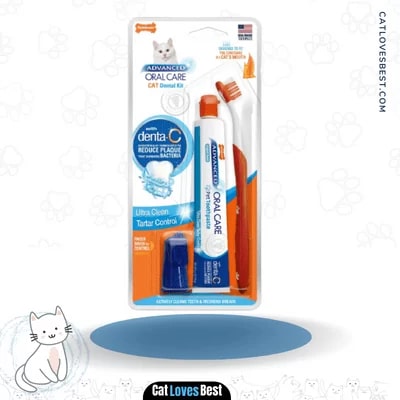 Nylabone Advanced Oral Care Dental Kit
The price is reasonable
A combination of anti-oxidant and calcium chelator
Provides advanced oral care
Editor's Pick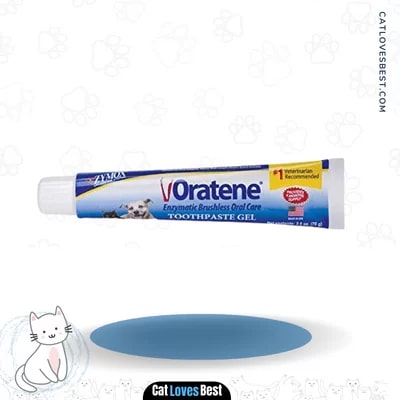 ZYMOX Oral Care Therapy Toothpaste
It helps to keep teeth clean by removing tartar and plaque
No toothbrush is required
This cat toothpaste keeps gums healthy, freshens breath
Affordable Pick
Best Toothpaste for Cats in 2023 (Approved by Vets)
1. Nylabone Advanced Oral Care Dental Kit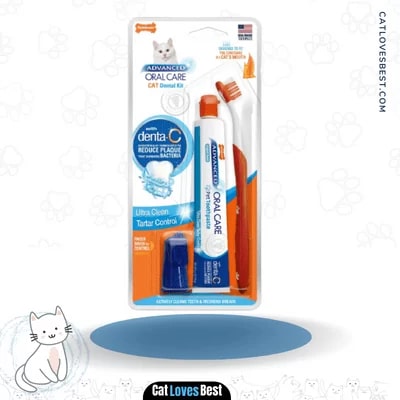 Nylabone Advanced Oral Care Dental Kit is a complete kit made up of a toothbrush and a toothpaste for cleaning your kitty's teeth. The toothbrush is a great shape enabling you to clean your cat's little mouth easily. It is one of the best cat toothbrushes we listed in our reviews. Though the cat toothpaste isn't enzymatic, it has other ingredients to prevent plaque deposition.
The toothpaste contains Vitamin C and Sodium Hexametaphosphate. Vitamin C is an anti-oxidant that prevents dental disease. Sodium Hexametaphosphate is a calcium chelator, which means that it restricts the deposition of plaque by limiting the amount of free calcium in the saliva of your cat.
To conclude, we think this is the overall best toothpaste for cats.
Pros
It is a complete kit, containing a toothbrush as well as the toothpaste. The price is reasonable and not ridiculously high.
A combination of anti-oxidant and calcium chelator, it successfully combats dental diseases and plaque deposition.
Provides advanced oral care and leaves your kitty with fresh breath and healthy teeth and gums.
Cons
This toothpaste doesn't contain enzymes. So, those who trust enzymatic toothpastes to do a better job of cleaning teeth will need to explore other options.
2. ZYMOX Oral Care Therapy Toothpaste Dental Gel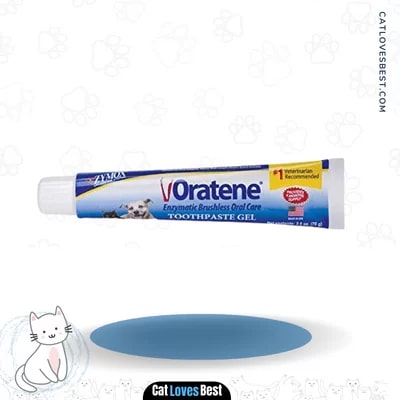 ZYMOX Oral Care Therapy cat toothpaste formula is for kitties with sensitive gums and teeth. It will not only clean your kitty's teeth but also has a balmy effect on the mouth tissues. This toothpaste provides maximum enzyme contact to prevent deposition of plaque and tartar but is sufficiently gentle on sensitive gums.
This clear cat toothpaste cleans teeth, freshens breath, reduces gum inflammation and redness. Pets with dry mouth and thick saliva can also find this to be quite useful.
Such is the convenience that it can be applied even with one's finger instead of having to use a toothbrush. The toothpaste is free of any harmful ingredients or foaming agents and perfectly safe even if it is swallowed.
Pros
This cat toothpaste keeps gums healthy, freshens breath and soothes inflammed mouth tissue.
It also helps to keep teeth clean by removing tartar and plaque.
No toothbrush is required, can be applied even with your finger and safe even if swallowed by the pet.
Cons
This toothpaste for cats is not for those with budget constraints.
3. Petrodex Dental Kit and Toothpaste for Cats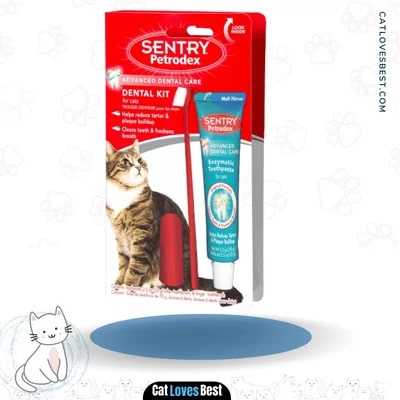 The Petrodex Dental Kit for Cats is a reasonably priced, efficient and safe alternative for those looking for a complete dental kit with toothbrush, toothpaste and finger toothbrush. Those of you who wonder why the two toothbrushes, the first is for a big cat and the other is if yours is just a kitten.
The Sentry Petrodex toothpaste comes with a delightfully palatable malt flavor, which many cats find enjoyable. It contains hydrogen peroxide producing enzymes that prevent deposition of plaque and tartar. Containing just a handful of ingredients, this cat toothpaste is safe to swallow, as you don't have to fret about rinsing. Besides cleaning, the toothpaste also boosts gum health and freshens up your cat's breath.
Pros
The Sentry Petrodex toothpaste is perfectly safe to swallow and therefore convenient to use because it does not require rinsing.
Prevents plaque buildup, facilitates gum health and freshens up the breath.
Comes as an entire kit, toothpaste, toothbrush for adult cats and a toothbrush for kitties.
Cons
For those looking for non-enzymatic toothpastes, you may need to explore other alternatives.
4. Oxyfresh Cat Toothpaste – Professional formula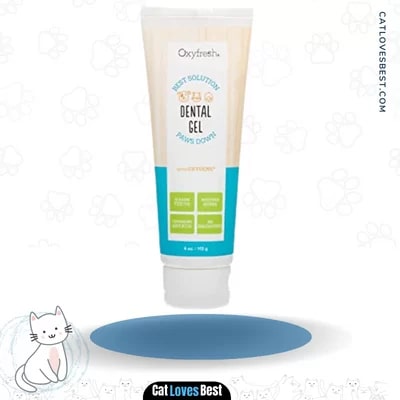 Oxyfresh cat toothpaste is for those who hate toothbrushes and brushing teeth but still want their cat's teeth and gums to be strong and healthy. This toothpaste cleans teeth and prevents tartar buildup, has a soothing effect on the gums and freshens breath without you having to actually brush your kitty's teeth.
All you need to do is apply this toothpaste to the gums of your cat with the help of your finger or toothbrush to prevent tooth decay. The Oxyfresh toothpaste contains natural, perfectly non-toxic ingredients such as Oxygene that gently clean cat's teeth and help prevent gum disease.
Pros
It is very convenient to use as you don't have to brush the product into your cat's teeth, but just apply it gently and allow it to work its magic.
The formula is odorless and contains no artificial flavors or sugars, which means it is a useful option for super-choosy cats.
Moreover, this cat toothpaste is reasonably priced.
Cons
There is no demerit associated with using this toothpaste as such.
5. Virbac C.E.T. Enzymatic Toothpaste for Dogs and Cats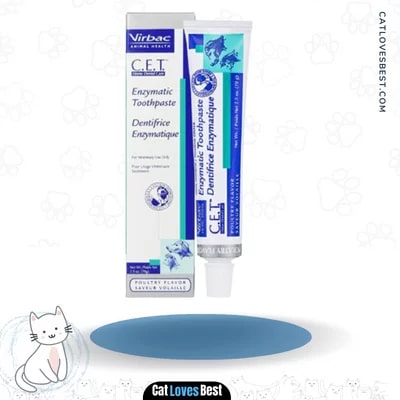 Virbac C.E.T. Enzymatic cat toothpaste contains C.E.T dual enzyme that removes plaque and prohibits tartar formation. It has dual characteristics: abrasive enough to clean and whiten the teeth but sufficiently gentle not to harm the gums.
Massaging your cat's teeth with this Virbac C.E.T enzymatic toothpaste imparts greater strength to your pet's gums and reduces inflammation. More importantly, this formula is safe enough for all pets to swallow as it is free of any harmful ingredients or foaming agents.
Pros
This toothpaste for cats comes with a delicious beef flavor that your kitty may find enjoyable.
Convenient to be used because rinsing is not required as the product is perfectly safe for pets even if it is swallowed. This product is also reasonably priced.
Cons
Unlike many other variants, Virbac enzymatic toothpaste is available as standalone cat toothpaste without a toothbrush, which customer may have to buy separately.
6. Chicken Flavor Cat ToothPaste with ToothBrush (Combo)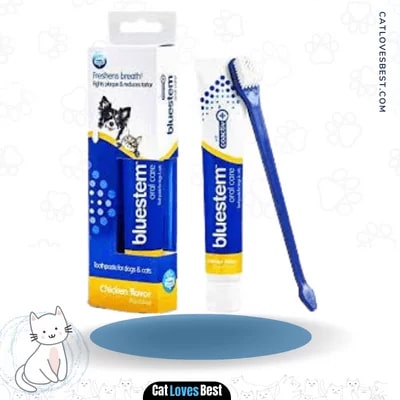 Chicken Flavor Cat ToothPaste is a complete oral care kit including cat toothpaste and toothbrush to keep your kitty's teeth and gums strong and healthy. The toothpaste features the company's coactiv+ technology, which fights plaque, tartar and freshens breath.
The cat toothpaste in the oral care kit is made from food-grade perfectly safe ingredients that are natural anti-bacterial and safe for cats. The scientific formula of the toothpaste benefits oral health and prevents plaque build-up while freshening up the breath.
Pros
This kit contains a dual headed toothbrush to take care of the size of your kitty.
The product also is good to taste as most felines would love to get their teeth brushed with this delightful chicken flavored cat toothpaste.
Ingredients used are food-grade and perfectly harmless even if swallowed by the pet.
Cons
This product is priced at a premium, so may be out of reach for cat owners with limitations of budget.
7. Enzadent Pet Toothpaste: Dogs & Cats Poultry Flavor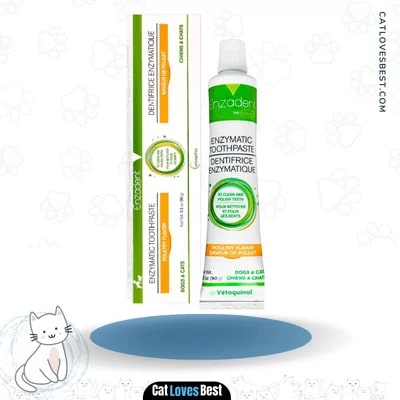 Enzadent Pet Toothpaste has two enzymes: glucose oxidase and lactoperoxidase. Both enzymes have proven their worth in preventing dental diseases.
The antiseptic effect of this cat toothpaste should kill harmful bacteria. Besides, the poultry flavor is likely to find favor with your kitty.
It also prevents deposition of plaque and tartar.
Pros
This cat toothpaste comes with your kitty's favorite poultry flavor, which your kitty would find delightful.
It contains enzymes that have proved their worth in combating dental diseases.
Cons
This cat toothpaste is priced at a premium. May be out of reach of cat owners with budget constraints.
Buyer's Guide for cat toothpastes
Our list of top 7 cat toothpastes is intended to help you find a suitable brand for your kitty. In case you still harbor doubts, then we are backing up our list with a buyer's guide on how to find the right variant for your pet.
Types of cat toothpastes
Enzymatic cat toothpastes
Enzymatic cleaners are pretty much efficient enough to destroy bacteria and reduce tartar and plaque buildup on their own. You don't need to worry about being super perfect about brushing your cat's teeth. In fact, some toothpastes are so good that you just need to apply them to the gums and teeth using your fingers and let the formula do the rest.
In case your cat is showing a significant build-up of tartar and plaque, it is advisable to use a toothbrush with the toothpaste to ensure that you scrub out all tooth-damaging bacteria from your kitty's mouth.
2. Alternative cat toothpastes
Some products contain mostly naturally occurring, gentle ingredients that work great for felines with super sensitive gums and teeth. These are not abrasive enough to prevent or deter bad oral bacteria and need to be used along with a good quality toothbrush.
We find it worthwhile to mention that it is not necessary to use an enzymatic toothpaste brand to reduce plaque, tartar, and bad breath. But if your kitty shows a significant build-up of plaque and tartar and also signs of gum disease, then the 'neutral' toothpastes won't be able to do much for you.
Tips to choose the perfect cat toothpaste
A good toothpaste will ensure the following:
Improvement in cat dental health
Restrict future oral and dental health issues[3]
It is perfectly safe for cats
Many cat toothpastes meet the first two requirements but not the third. For instance, a cat toothpaste must never contain ingredients commonly found in toothpaste for human beings such as fluoride and foaming agents.
It's best to avoid toothpastes that contain many ingredients as only a select few actually are able to accomplish the task of removing plaque and buildup of tartar. So you may just stick to a few basic ingredients. Since the enzymatic ingredient is needed to combat plaque and tartar build-up, the non-enzymatic ingredients could be the following:
Titanium Dioxide (white color pigment)
Sodium phosphate (combats plaque)
Dicalcium phosphate (protects teeth)
Sorbitol (sweetener)
Glycerin (to bind the ingredients together)
Xanthan gum (thickens the formula)
It's important to consult a vet before selecting a brand for your feline buddy. As you may have by now noticed that there are many brands available in the market and not all of them perform well in all aspects.
FAQs
In this section, we have attempted to answer a few questions that buyers of cat toothpaste usually have regarding the product.
What is cat toothpaste?
Cat toothpaste is a specific kind of toothpaste made for cats to promote healthy gums, remove bad breath, prevent plaque and tartar formation. They also help to strengthen the teeth and freshen breath but unlike toothpaste for humans that use fluorides to strengthen teeth, cat toothpaste uses other ingredients because fluorides are toxic if consumed in large doses.
So, cat toothpaste often use enzymes that are abrasive enough to remove plaque and tartar, supplements made from calcium to strengthen the teeth and gums as well as anti-bacterial and astringents that will kill harmful oral bacteria.
Can I use human toothpaste for cats?
Human toothpaste is great at keeping plaque and tartar problems at an arm's length, but it is not safe for pets. The reason for this is fluoride content, which if consumed in large doses can be harmful. However, because we spit out and rinse our mouths after brushing, it is not much of a problem.
However, your cat is unable to spit or rinse her mouth and therefore she would end up swallowing the toxic fluoride content. Besides fluorides, there are other components of the human toothpaste that are hazardous if swallowed and therefore it is best if you stuck to a good toothpaste specifically formulated for felines.
Never ever put anything in your cat's mouth that has toxic contents. In fact, feline toothpastes should be nothing less than treats, which they find enjoyable. The formula must also be safe enough for their digestive system.
What do I do if my cat swallows toothpaste?
If you use a good cat toothpaste, made by a reputable brand, you don't have to do anything – most brands, all of our recommended ones, are safe to be swallowed by pets. In fact, many pet parents like to finish off their teeth brushing session by offering their kitty a bit of the toothpaste as a reward. Most of these formulas have delightful flavors (poultry, beef, seafood, etc.) so it is easy to understand why your pet feline looks at it as a reward.
Why does my cat need toothpaste?
Vets are very clear that cats do need toothpastes. Cats are not meant to have foul breath and suffer from oral health complications. Some of the cat food is causing even greater damage to their teeth and because we cannot have domesticated cats running around our house as predators, it would be smart to fight this harm to the oral hygiene of your kitty by using a toothpaste brand of repute.
How to prevent dental disease in my cats?
Periodontal diseases are irreversible and must be prevented. It is important to make your kitty familiar with dental check-ups and teeth cleaning[2] from a very young age. Besides professional consultation and vet check-ups, it must also include daily brushing of her teeth using a reputable cat toothpaste.
Conclusion
It has been absolutely delightful to research and review scores of dental care products in order to present the best 7 brands in this category. We genuinely believe that this article will help our readers to make an informed choice and zero in on one toothpaste/dental care kit for every day dental hygiene of their pet felines.
References:
Pet dental care. (n.d.-c). American Veterinary Medical Association. Retrieved September 5, 2022, from – AVMA
Pendergrass, J. D. (2022b, August 25). How Often Should You Brush Dog Teeth and Cat Teeth? PetMD. Retrieved September 5, 2022, from – PetMD
Feline Dental Disease. (2019, May 3). Cornell University College of Veterinary Medicine. Retrieved September 5, 2022, from https://www.vet.cornell.edu/departments-centers-and-institutes/cornell-feline-health-center/health-information/feline-health-topics/feline-dental-disease