The one important trait of a cat's behavior is its love to establish its territory through exploration and climbing. Therefore, it is immensely important that you provide similar opportunities to your indoor cat. Selecting the best cat window perch will enable you to encourage natural behavior without disrupting your life.
Cat window beds are designed to provide a healthy lifestyle to indoor cats. A healthy lifestyle will extend the lifespan of your kitty to 20 years.
There are many restrictions that a cat contends with during its life indoors. The sheer frustration of these restrictions can make them destructive. The right cat window bed will allow your kitty to remain engaged in more than one way.
Best Cat Window Perche:
K&H Pet Products Kitty Sill Deluxe with Bolster
Our experts' accorded the top-position to Kitty Sill Deluxe and consider it to be the best window perch overall. Though it can support big cats, it is very simple to install. Tough, weather-resistant, washable fabric, ample space, and stable design make this the best option for smart cat owners.
Why do cats like elevated perches?
Cats love to be on top. They will occupy tops of refrigerators, the highest bookshelf in the house, the top cushion of the sofa, or even a cat perch. The bed in your house may be the hottest thing available on the market today, but it holds little worth to a cat if it is placed on the floor. Cats love elevated perches because of the following reasons:
1. More Visual Warning Time For Your Cat
When a cat is occupying a seat at a height, its eyes can cover more of the surrounding area. The better ability to see whether a predator or rival has entered the area can give her those extra valuable seconds to decide whether the approaching animal/human is a friend or a threat. She can accordingly plan an escape, hide, or launch an attack.
2. Prevents the Cat from Getting Ambushed
If the cat perch is located in close proximity of a wall or window, it curbs an opponent from ambushing your kitty from the rear. Even in an outdoor setting, cats choose elevated locations that will eliminate the threat of a surprise attack from behind.
3. A Way To Flaunt Status
In a multi-cat scenario, the top ranking cat will occupy the top-most location to show off its position in the group. If there is tension between the cats, then the superior cat will occupy the most elevated location and it is enough to avert a fight.
4. Beyond Reach
The cat in a household with young children will retreat to a high perch in order to be left alone. When the cat is occupying an elevated position, it should be sufficient to convey the message that it does not want company. Cats also feel secure eating their food at elevated locations in multi-cat households to prevent an older, less mobile, obese cat from snatching a kitten's food.
The Best Cat Window Perches of 2022
People are interested in buying the best product from among all the options available in the market. We have researched and reviewed 10 variants that we believe offer value for money in today's times.
1.K&H Pet Products Kitty Sill Deluxe Cat Window Perch with Bolster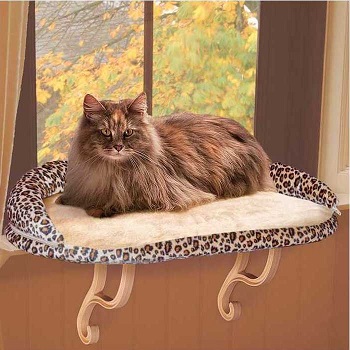 Cats love to spend time under the sun, a fact nobody can deny. The K&H Pet Products Kitty Sill Deluxe is meant to offer hours of uninterrupted viewing pleasure for your cat.
An orthopedic sleeping surface is covered with soft, velvety, microfleece to offer your kitty unrestrained comfort while sunbathing on the windowsill.
The perch is sturdy enough to hold even heavy cats weighing 40 lbs. It can even support Maine Coons, one of the largest breeds. Moreover, this model comes with a removable, washable cover, so just take it off and put it in your washing machine on a gentle cycle.
What makes the Kitty Window Sill Deluxe more attractive is that it requires no tools for installation. For a short duration, you may attach the cat perch to your sill using the hook and loop. Just ensure that your sill is 2 inches wide.
As a permanent solution though, it is better to use screws so that your cat has a stable place to climb and perch. The K&H Kitty Sill Deluxe also comes with a detachable bolster that makes it safer and protects your kitty against drafts.
Pros:
The Kitty Sill Deluxe cat window bed does not require any sophisticated tools to be fitted and comes with detachable bolster.
The product comes with a removable washable cover.
Can accommodate large cats.
Provides orthopedic support to the kitty.
It can be mounted both temporarily as well as permanently.
The company provides 1-year of warranty on this cat window bed.
Cons:
This product can work only if you have a windowsill. Those without windowsill will have to explore other products.
2. Kitty Cot Original World's Best Cat Perch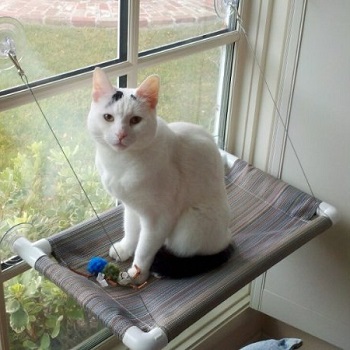 Labeled as the world's best cat perch, the Original Kitty Cot might just well be what it claims to be and makes a strong case for the same. Made with weather-resistant fabric, the Original Kitty Cot is not only comfortable but also sturdy.
The installation is lightning fast and very simple. All that requires to be done is attach the four heavy-duty suction cups to your window, and the Original Kitty Cot cat perch is all ready to accommodate your feline pal.
The Kitty Cot requires no added effort to set up, which is why it is the product of choice for people not conversant with using tools. The frame of the Kitty Cot is 24 inches wide and 13.75 inches deep. This cat window perch has a weight limit of 30 lbs, so it can accommodate large cats but not giant sized ones.
So incredibly strong is the Kitty Cot, that a few readers have even reported that it accommodated two or more of their cats. Though currently there are no reports of suction cups failing to support the weight, it is still worthwhile to stick to the 1-cat-for-1-cot rule.
And any worries that the Kitty Cot would prevent you from closing the curtains, you will be happy to know that this cat window bed does not come in the way. Just remove the two button cups to allow the Kitty Cot to be hung till it is ready to be used again.
Pros:

No windowsill is needed and can be mounted directly on the window.
The suction cups are large and strong. The stainless steel cable and PVC frame make this even stronger.
The hammock is firm, comfortable and weather resistant and can be easily cleaned.
Can be easily installed.
Cons:
The hammock does not come with any padding or cushion-like cover.
3. Oster Sunny Seat Window-Mounted Cat Window Bed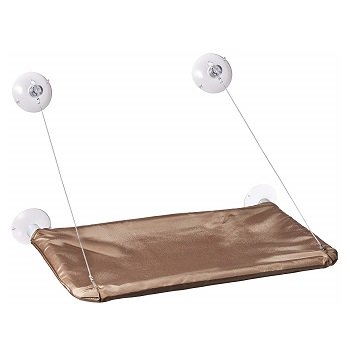 This product is just right given that it combines some features of premium products at a more reasonable price. Just like the Kitty Cot, the Oster Sunny Seat Window-Mounted Cat Bed can be attached to the window with four heavy duty suction cups.
The ease of installation is a big relief for customers as they will not require any expertise with using tools or need professional help to set it up.
The seat is machine-washable and is covered with Oxford-style polyester cover that can easily be removed. When fully assembled, the Oster Sunny Seat measures 12″x 22″ and is large enough to hold up a cat of any size.
This cat window perch can support weights up to 50 lbs. The Sunny Seat is meant to last life long because of its high-grade plastic frame.
This may be more economical, but the aesthetics will not excite you much.
Pros:
This is a sturdy product to support up to 50 lbs in weight.
It comes with removable and machine washable polyester cover.
It is economical compared to its features.
Cons:
The Oster Sunny Seat Window-Mounted Cat Window Bed is not aesthetically very exciting.
Purchase does not include a cushion or a pillow for the hammock.
4. K&H Pet Products EZ Mount Window Bed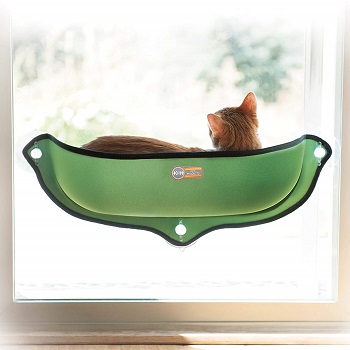 The K&H EZ Mount Window Bed Kitty Sill is an easy yet stylish way for your cat to sunbathe and keep watching the birds. This cat window seat is amazingly easy to set up and can be easily fixed to most windows.
The cat window shelf can be mounted on most clean windows with the help of industry strength suction cups. The surface for sleeping is covered with a soft and warm kitty pad that attracts kitty hair and dander like a magnet.
This fascinating cat window perch, with a half-pod design, is completely open at the top and allows your kitty to jump in and out very easily. It can withstand weights up to 50 lbs and therefore can accommodate even large size cats.
Pros:
This cat window box is available in different colors to allow you to choose one that will blend with your home decor.
There is no weight limit and therefore big or small cats can easily perch on it.
Cons:
The padding with the cat window bed is not soft enough and you may have to buy a softer rug to be placed on the hammock.
5. K&H Window Mount Kitty Sill – Single Level or Double Stack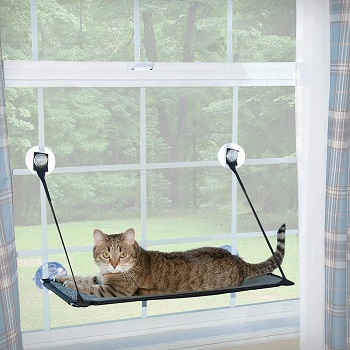 K&H have become a top brand in the field of manufacturing strong and versatile cat window beds. This cat window box is but a symbol of this revolution and the suction cups can withstand weights up to 100 lbs.
The cat window perch comes with two levels to offer your cat more fun and comfort. Each suction cup can hold over 100 lbs and yet these cups can be attached and removed in seconds.
The weight that this cat window box can withstand is almost double that of any other popular cat perch brand. The Kitty Sill features an exclusive design that makes it possible to fold up when it is still attached to the window. It also comes with a removable cover so that it can be easily cleaned.
Pros:
This product has two levels to perch offering your cat greater fun and comfort.
It is foldable while still mounted on the window, to allow blinds to close as required.
The cover is removable and can be machine washed.
Can support weight up to 100 lbs.
The company offers a 1-year warranty.
Cons:
There is no pillow or cushion for the bed.
Suction cups lose their potential to stick gradually with time.
6. PETPAWJOY Cat Window Bed and Hammock With Suction Cups
This cat window hammock with suction cups is very sturdy and the perfect perch for your feline pal. The bed itself is made from breathable Oxford cloth to ensure that your cat does not feel the heat while basking in the sun.
The PVC covered stainless steel cords are designed to hold up your cat's weight and to last even if your cat chewed them.
Pros:
The hammock is made from breathable Oxford cloth so that your kitty does not feel the heat even while enjoying the sun.
The stainless steel cords that fix the hammock to the suction cups are covered with a layer of PVC to make them chewing/scratching proof.
Cons:
This can support weight only up to 30 lbs.
7. Raytops Cat Window Hammock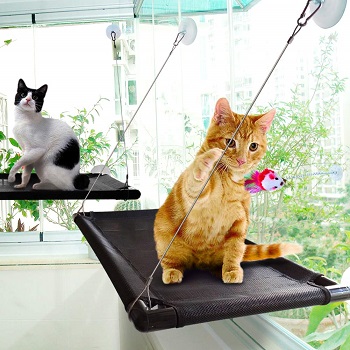 This cat perch for the window will make sunny weather more fun for your indoor kitty. It comes with sufficiently strong suction cups to attach the cat hammock to the window.
The cat perch window hammock is 28.5″ x 15″. It can accommodate small and large cats or even two of them at the same time. The stainless steel cord length is 23″ and the suction cup diameter is 3.5″. The mesh cover for the hammock is cut from food grade and breathable placemat materials.
Pros:
This window mounted cat bed can easily accommodate small and large cats or even two of them together.
The cords that connect the hammock with the suction cups attached to the window are made from stainless steel and can withstand the weight without any trouble.
There is a spare suction cup with the purchase in case you need a replacement.
Cons:
Few readers have complained that the instructions that came with it were written in poor English.
8. MoMaek Window Mounted Cat Seat and Bed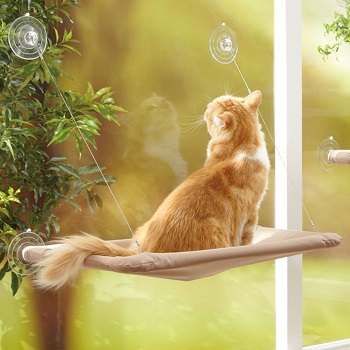 The MoMaek cat window bed is a stretchy cloth material that derives support from a PVC pipe frame. The suction cups can tolerate weight up to 50 lbs.
The hammock measures 21.65 " x 13.77″ and the whole thing comes with four suction cups in order to mount the hammock on the window.
Pros:
The thing is easy to install and gives your kitty the opportunity to look out of the window the whole day.
The cover can be removed and washed in a machine.
Cons:
As with other cat hammocks with suction cups, a few readers have reported issues with the efficiency of the cups. While few say that the cups did not stick for more than five minutes, some others claimed that they started coming unstuck gradually with time.
9. Camlinbo's Cat Window Bed for Large Cats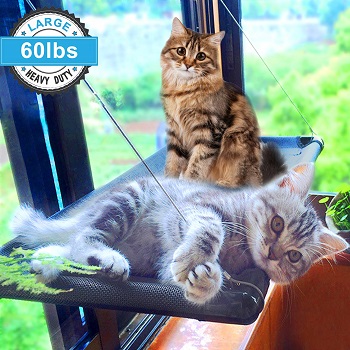 This cat window hammock comes with four suction cups, a hammock, and the stainless steel cord with which to hang it.
The suction cups can tolerate weights up to 60 lbs. The company says that the hammock can support two cats simultaneously or a single large cat. The cushions are made of high-strength durable woven nets and are machine washable.
Pros:
Your kitty will enjoy sunbathing while lounging on this cat window bed because of the safety it accords. It can be put together without using any high-profile tools and is surprisingly durable.
The company is offering a lifetime warranty as well as money back guarantee for the product.
Cons:
Readers have complained that the box may arrive minus an instruction sheet. Some readers also expressed doubts over the quality of materials.
10. Pefuny's Cat Window Perch and Seat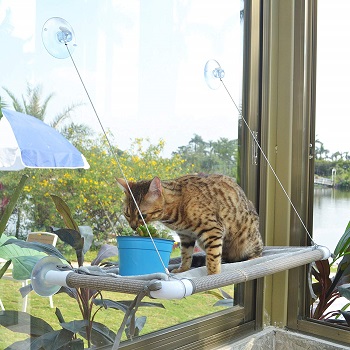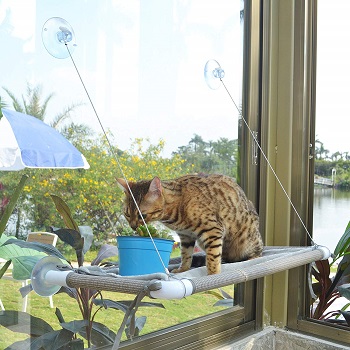 This provides a great sunbathing opportunity to your kitty because of strong suction cups and thick stainless steel cable. The company claims its product can support a weight of 35 lbs.
The frame used for the hammock is an advanced ABS tube, which is not only durable but also environment-friendly. The cat window bed comes with a rugged fabric mat, which is tough, waterproof, quick drying and easy to clean.
Pros:
The wire that is used to hang the cat seat from the window is sturdy and thick and can withstand chewing/scratching.
The frame for the hammock is made from advanced ABS, which is both durable and eco-friendly.
The fabric mat for the bed is rugged, waterproof, quick drying and also easy to clean.
Cons:
Our readers have written to us saying that the fabric part of the cat window seat is very flimsy and cheap. Some others have written saying the product arrived without an accompanying instruction sheet.
Buyers' Guide for Kitty Window Seats & Perches
It is important to have extra information on the products when shopping for the best cat window perch. In this section, we have discussed types of window mounted cat beds and the factors that should influence your selection. We have also answered a few FAQs at the end.
Buying Factors
There are two main categories of cat window perches – ones that hang from the window and the others that fit on the windowsill. The following factors need to be considered to choose the perfect kitty window bed.
Cat window beds use suction cups to hang from the windows. There are two suction cups at the top and two at the bottom that help to support weights of about 30 lbs. However, there are some manufacturers that claim that their suction cups are advanced and can support more weight. As windowsill perches sit on a flat surface, they are widely perceived to be stronger but this may not necessarily be true.
Window seats for cats should be made from strong materials that are also lightweight. It is important to check for the quality of materials. Please also ensure that the hanging cords can withstand chewing/scratching and that the covers are washable.
Size and Weight of your Cat
It is important for your cat's safety that the window hammock for cats can hold their weight. If yours is just a kitten, consider its weight when it becomes a full-grown adult. Apart from the weight, the size should also be under consideration. Cats will not use window perches that are too small.
Number of Cats That Would Use the Perch
Do you have a single cat or are you planning to add more feline companions? If you believe that one perch per cat would be the way out then it may not work. Ensure that the cat window bed is able to support the combined weight of your cats. It should also be durable enough to withstand the fights over space.
How much time and energy do you want to spend on installing the cat window seat? Are you looking for something that can be moved or needs to be affixed permanently at one place? You may want to avoid anything in rented places that needs legs screwed into the walls as the landlord may object.
FAQs
It is natural to have in mind a few questions about the product you are shopping for. Cat window perches can be no different. We have provided answers to a few questions that people shopping for cat window perches ask.
What is a cat window bed and how does it work?
A cat window bed is an elevated platform for your kitty to sit or take a nap. Most perches attach to your windows with the help of suction cup technology.
Why do cats like to sit in the window?
Cats are curious creatures by instinct and love to enjoy what goes on in the surrounding area. If your cat lives exclusively indoors then watching the world go by while relaxing at the window excites them.
Many cats have the freedom to go out but still enjoy watching the birds and squirrels in the trees from a windowsill. And windows are of course the perfect spot to sunbathe.
How do you install a window mounted cat bed?
Each window mounted cat bed will come with instructions. The most important one is that the window must be clean to allow the suction cups to stick firmly. All window perches that we have reviewed are easy and quick to install.
Why do cats like sitting in the sun?
The feel of the sun warming the body is pleasing to all cats, just as it is for us humans. Cats have a higher body temperature than us and the sun-bathing can help to maintain that. The warmth makes them feel secure and happy.
Conclusion
We have enjoyed gathering and reviewing information on scores of cat window perches to present to you which we believe are the best ones in the market. We hope that you will find reading all the information as pleasing as it was for us to put it together in the form of this post.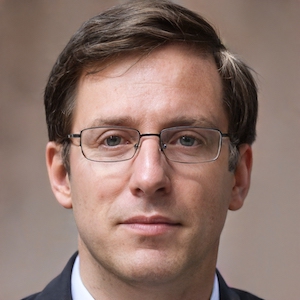 Anthony Brooks has an undergraduate degree in veterinary science and is a managing editor and regular contributor for catlovesbest.com. Being an avid pet enthusiast, he lives in Wisconsin and is a guardian to three snow-white Maine Coons – mom, dad, and their kitty. In his spare time, he loves to review products that cats find delightful and loves to share his insights with other fellow cat enthusiasts on this website.