We have reviewed the 5 best cat shampoo for dandruff that is safe and super effective! Don't believe us? Try for yourself!
Every cat parent who enjoys (ahem) bathing their cat knows that is not an easy task. While we know that cats are loth to bathing, they can still keep clean by grooming themselves in most situations.
Felines spend around 24% of their waking time grooming themselves. There are certain circumstances where cats can't fend for themselves.
If you start spotting white-yellow flakes in your cat's skin, then this can be a telltale sign of dandruff. Despite being harmless, cat dander can still cause harm to your feline's skin if left untreated.
A simple and easy solution to this is cat shampoo for dandruff.
A Quick Comparison of Our Favorites in 2023
Best Overall

Pet MD — Benzoyl Peroxide Cat Shampoo for Dandruff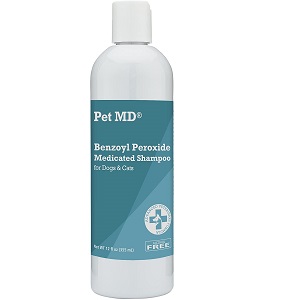 It is paraben and soap free
Comes with citrus scent
Includes highly medicinal properties
---
Editor's Pick

 Vetoquinol Sebozole Cat Dandruff Shampoo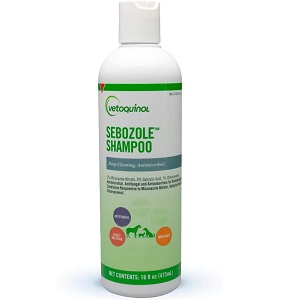 Along with dandruff, it also treats other skin condition
Gentle formula are used
It can be used on regular basis
---
Affordable Pick

Dechra DermAllay Oatmeal Shampoo for Dandruff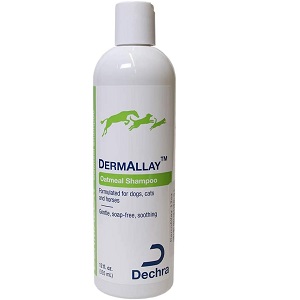 Soothes and moisturizes

Formulated for easy lathering

Features sweet apple scent
The 5 Best Cat Shampoo for Dandruff Reviews
Common cat dandruff is simple to cure at home. With a few alterations to your cat's care routine, you can bring your kitty's dandruff under control.
With the best cat shampoo for dandruff at hand, you can revive the best coat health of your furry pal.
Start with these five best cat shampoos for dandruff.
1. Pet MD — Benzoyl Peroxide Cat Shampoo for Dandruff
While a cat's dandruff-infested coat may not be the most aesthetically pleasing thing in the world, this can be a sign that her skin is dry and possibly itchy.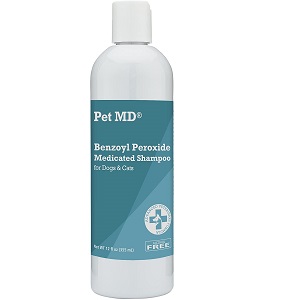 We all need a nice shower every once in a while to keep clean. In the same manner, when dealing with cat dandruff, regular baths with pet dandruff shampoo can be a good idea to ward dandruff off your cat's skin. Moisturizing cat shampoos such as the Pet MD — Benzoyl Peroxide Shampoo are specifically designed to address the dandruff issues.
Unlike many other alternatives available in the market, this shampoo comes with paraben-free and soap-free formula. It won't disrupt your feline's organic oils from her coat. Further, It also includes deodorizers that eliminate any unpleasant odor from your cat's skin.
Besides, the medicated ingredients included in this cat shampoo also effectively work against skin infections and itching. Even a tiny scratch or cut in your cat's skin can higher the risk of inflammation. While primary skin infections in felines are pretty uncommon, they can develop further when the skin is already prone to allergies and dandruff problems.
Go to a vet, and he will recommend using an antibiotic-medicated veterinary shampoo to address the physical condition. With this in mind, we chose Pet MD — Benzoyl Peroxide Shampoo from the top picks to be the best for treating dandruff issues along with bacterial infection problems as well.
This cat shampoo for dandruff incorporates three main active ingredients. Namely, benzoyl peroxide for its antibacterial and anti-seborrheic properties, sulfur for its antiseptic action, and salicylic acid to reduce skin pH.
Pros:
The ingredients include highly medicinal properties that can deal with problems related to only dandruff but also scaling, itching, skin infections, and follicular plugging.

This cat shampoo for dandruff is paraben-free and soap-free. So it won't sting in the eyes.

It comes with a citrus scent.
Made in the USA, the products from this manufacturer are made in federally regulated facilities.
Cons:
Taking the size (12 ounces) into consideration, this dandruff cat shampoo is higher in price compared to other shampoo bottles.
2. Vetoquinol Sebozole Cat Dandruff Shampoo
With powerful ingredients like miconazole nitrate & chloroxylenol, Vetoquinol Sebozole Cat Dandruff Shampoo solution tackles harmful bacteria to prevent infections in your cat.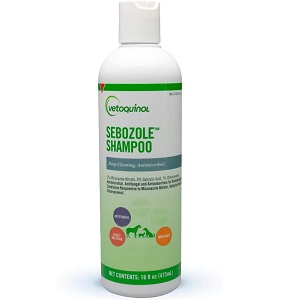 Random scratching can be considered normal. But when your feline starts scratching more than usual, this can be an indication of a skin problem.
Likewise, other indications of skin problems include dandruff, too much grooming, bald patches, greasy coat, and hair loss. Such issues are not only uncomfortable but also harmful for your cat. Your furry pal won't be able to enjoy daily life until the symptoms come under control.
Our top pick for medicated shampoo for cat dandruff and itchy skin condition is Vetoquinol Sebozole Shampoo. This cat shampoo brings dandruff under control while addressing other skin and fur problems such as mange and dermatitis.
Furthermore, the unique formulation of moisturizing agents repairs and soothes the itchy skin condition without interfering with the cat's natural protective layer of natural oils. The manufacturer recommended using this cat shampoo for dandruff twice a week until the symptoms start disappearing.
At last, this cat shampoo is veterinarian-recommended, so you can rest assured knowing that they agree with this product to be a great addition to your pet care routine.
Pros:
Made in the USA, this cat shampoo incorporates powerful, effective, and high-quality ingredients.
It also treats other skin conditions such as mange and dermatitis, along with dandruff problems in cats.
The shampoo formula is tender enough for everyday application.
Cons:
This anti-dandruff shampoo for cats may not be well suited to felines with sensitive skin.
You must leave the shampoo solution on your cat for at least 10 minutes before washing it off with warm water.
The shampoo is pretty expensive, but the solution is worth the price tag.
3. Dechra DermAllay Oatmeal Shampoo for Dandruff
Dechra DermAllay Oatmeal soothing, gentle cat dandruff shampoo has been formulated for quick and easy lathering and rinsing.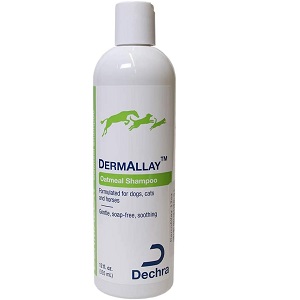 Featuring a natural oatmeal blend along with conditioning and exfoliating alpha-hydroxy acids, this natural cat shampoo for dandruff helps to clean and nourish your cat's coat. The inclusion of cat-friendly ingredients in this pet shampoo makes it a good choice for cats with irritated skin caused by allergies.
Furthermore, this cat dandruff shampoo is soap-free. So this will not strip off the natural oils from the coat. The essential fatty acids contained in the anti-dandruff formula will leave your cat's skin moisturized with minimal dandruff. Making this anti-dandruff shampoo a great choice for cats with dry skin.
Likewise, this solution can prevent skin irritation, dry skin, and inflammation by relieving itching conditions and moisturizing cat skin. After shampooing, you'll find your cat smelling and feeling feisty and fresh with a fruity apple scent.
Pros:
This shampoo works effectively on dry and flaky skin, leaving it smooth and moisturized.
It features a sweet apple scent.
This cat shampoo for dandruff comes at an inexpensive price tag.
Cons:
This cat shampoo for dry skin comes in a small proportion of only 12 ounces.
4. Vetericyn FoamCare Anti-Itch Dandruff Shampoo for Cats
Vetericyn FoamCare Anti-Itch Cat Dandruff Spray Shampoo has been marketed as one of the best available anti-dandruff shampoos in the market for cats with sensitive skin.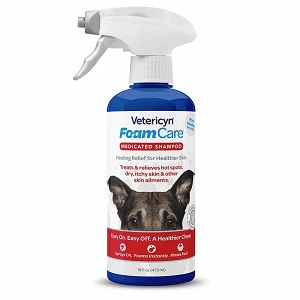 This spray-on cat dandruff shampoo is waterless, formulated to cleanse, soothe, and heal your furry pal's skin. It also promotes your pet's immune system against dermatological disorders without utilizing any toxic chemicals.
It includes a paraben-free and chemical-free formula that's hypoallergenic and anti-inflammatory. Further, this shampoo is also pH optimized, and it helps alleviate hot spots, itching, dermatitis, and other skin conditions in your pet.
The spray-on mechanism is very convenient to use. The shampoo solution creates instant foam action that provides a deeper clean in your cat's skin. In addition, the coat-specific formula of this cat dandruff shampoo makes it easier to rinse the lather with minimal mess.
After you shampoo your cat with this anti-dandruff shampoo, she will be left with a fresh, healthy, and shiny coat.
Moreover, this cat shampoo for dandruff has been scientifically tested, and it is also highly recommended by veterinarians. The manufacturer claims to make the products under strict international guidelines in an FDA-registered, modern facility in the USA. This, we thought, was a plus.
Pros:
This cat dandruff shampoo comes with additional hypoallergenic and anti-inflammatory properties, along with sulfate-free and paraben-free formula.
It's a good option that is scientifically tested and also endorsed by veterinarians.
It's a perfect and safe choice for cats with sensitive skin and allergies.
The shampoo bottle comes with a spray-on mechanism.
This cat dry shampoo is made in the USA, complying with the standard guidelines.
Cons:
It may seem over-priced in comparison with other alternatives, considering the proportion size — 16 ounces.
5. Strawfield Pet Shampoo for Dandruff
Strawfield versatile medicated cat dandruff shampoo can not only eliminate dandruff, but it can also take care of dry, itchy skin, hot spots, mange, odor, yeast infection, allergies, and ringworm with its anti-bacterial and antiseptic properties.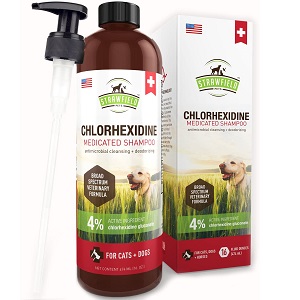 Further, the 4% chlorhexidine gluconate solution works effectively against killing the bacteria from your cat's coat. Moreover, you can also disinfect your cat's ears with this shampoo, as it comes with a no-sting ear cleaning solution. It's safe for cats of all ages to prevent dandruff, parasites, and ear infections as well.
The shampoo solution will also soothe your feline's soft coat, together with deodorizing and cleansing, leaving your cat feeling and smelling fresh and clean. Likewise, it is also great for smelly cats. This dandruff shampoo works as a great odor eliminator. It also destroys bacteria & yeast from the coat of your cat.
Secure to apply on felines of all ages and kitties likewise. The chlorhexidine medicated solution will provide easy relief to itchy dandruff skin, and the fragrant scent will eliminate any unpleasant odor from your cat.
Overall, this cat shampoo for dandruff is the best the money can buy. And the big picture behind this is that Strawfield manufactures products in a federally regulated laboratory, with every batch independently lab tested for safety before leaving the facility.
So, you're assured of the quality and safety when buying this cat dandruff shampoo.
Pros:
This multipurpose shampoo for cats with dandruff comes with antibacterial and antifungal properties, effectively preventing your cat from catching future parasites and infections.
Perfect for smelly pets, the deodorizing effects of this shampoo leave your cat smelling fresh and clean.
You can also disinfect your pet's ears with this shampoo solution.
It is a great option for spot treatments.
Cons:
It may require to be applied constantly for maximum benefit.
How to Choose the Best Cat Shampoo for Dandruff
If you have no experience bathing your cat, you may wonder how even to choose the best cat shampoo for dandruff. Well, there is no shortage of cat dandruff shampoos in the online market. However, to choose one from so many options is not an easy thing to do!
Nearly every shampoo in the market is different. So, cat parents should keep certain considerations in mind when looking for a cat dandruff shampoo. Shampoos come with various active ingredients in them, which are specially formulated for certain cat skin types. Likewise, they also come with distinctive remedial properties.
Ahead are a few crucial factors that you should bear in mind before you make the purchase.
Ingredients
Ingredients account for the most part when choosing a cat shampoo for dandruff. Every cat dandruff shampoo has been formulated in a specific way; therefore, depending on your choice & your cat's dandruff condition and skin type, you may decide to opt for a particular kind of shampoo.
Regular kinds of anti-dandruff shampoos for cats incorporate mild and gentle formulas. This helps your pet in maintaining a fresh and clean coat by keeping dandruff at bay. Likewise, shampoos that contain natural elements like oatmeal and aloe vera can especially soothe and dampen your feline's dry skin.
Other options include shampoo conditioners and waterless cat shampoo for dandruff. While waterless shampoos are great for cats that hate water, the ingredients contained in them are not powerful enough for a deep clean. And for shampoo-conditioners, their ingredients are more focused on making your cat's fur shiny and more manageable.
At last, the best shampoos are the ones that contain active ingredients that are FDA-approved. They work the best to enhance your pet's condition gently and effectively.
Curative Properties
Your cat might be home to germs, fleas, or even dirty parasites together with flaky dandruff. Luckily, you can address each of these issues with the best cat dandruff shampoos. Choose versatile dandruff shampoo that can cure other problems such as itching, dry skin, or mange, which can also occur after a litter box accident.
For instance, the Strawfield Pets Cat Shampoo works effectively for cat dandruff and also for other conditions. It can help alleviate conditions, such as itchy skin, hot spots, mange, unpleasant odor, yeast infection, allergies, and even ringworm infection.
Likewise, such multipurpose cat and dog shampoos can be helpful when you want to address more than one problem together with cat dandruff.
Eye-Friendly
No matter what kind of cat dandruff shampoo you use on your feline, it doesn't have to trouble her eyes and cause irritation. Many shampoos contain ingredients that can cause allergic reactions to eyeballs.
To be on the safe side, it's important to choose medicated shampoos for cats that are soap-free or marketed as tear-free. They will not cause itchiness and pain in the eyes while you bathe your cat.
Always watch out for a wet cat trying to make a run while shampooing. After the shampoo session, gently rub, towel-dry your cat, and let her dry naturally.
FAQs About Cat Shampoo for Dandruff
Which is the best cat shampoo for dandruff?
After hours of research on cat dandruff shampoos, we choose and highly recommend the Pet MD — Benzoyl Peroxide to be the best cat shampoo for dandruff. With a paraben-free and soap-free formula, this shampoo does not break up the natural protective barrier of natural oils.
In the end, we thought it was the best cat shampoo for dandruff, offering good value for money while also being highly effective.
How much does a cat shampoo for dandruff cost?
While cat shampoos for dandruff are specifically cat-formulated, they usually cost more than human shampoos. You can expect to spend around $20 or lesser, on a standard cat dandruff shampoo.
On the other hand, a versatile and multipurpose cat shampoo for dandruff can cost nearly $25 to $40.
Can cat dandruff shampoo hurt cats?
No, it can't, and it won't. Best cat shampoos for dandruff come with cat-friendly ingredients that are safe and suitable for kittens and cats of all ages. They are pH optimized for cats, it is the same level as baby shampoos.
However, some shampoos may not be suitable for cats with sensitive skin. Luckily for such cats, you can get dandruff shampoos that are safe to use on sensitive skin. Thus, always check the suitability of the shampoo before purchasing.
Can dandruff shampoo for cats get rid of fleas?
Yes, in most cases. You can easily ward off fleas from your cat coat by bathing with cat dandruff shampoo.
While a shampoo specifically designed for fleas is not particularly necessary. A normal cat dandruff shampoo or even a regular cat shampoo can get the job done. But always remember to use cat-friendly shampoo only.
Conclusion
Cats are self-care icons. Nature has made them independent. Despite that, there can be times when they may need some human help.
Cat dandruff is one such situation. Typically, it is not too critical. But if neglected, dandruff can lead to more fur and skin diseases.
Fortunately, for us cat parents, cat shampoo for dandruff is an easy, affordable, one-stop answer to such a problem.
Ultimately, cat dandruff in cats is common and can be handled easily through a cat dandruff shampoo. Still and all, if the problem persists, make sure to pay a visit to your feline's favorite vet.
References
5 Tips for How to Get Rid of Cat Dandruff — PetMD
The ultimate guide to grooming your cat — RSPCA