No one can resist the beautiful looking Christmas tree not even cats and for them, every one of those glossy, shimmering things on the tree are just more than what meets the eyes. They will be always ready to dabble with it, and if you are looking for a way to keep your feline out of the Christmas tree then welcome to the club. We've confronted this every year, but this time we have some tricks under our sleeves.
Read along to find out how you can also make sure that your tree and kitty can coincide happily and safely.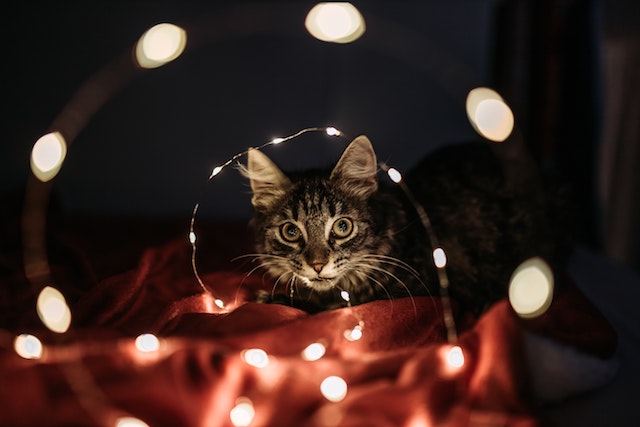 How to Maintain the Harmony Between Your Cat and Christmas Tree?
The most awaited holiday festival is here and how the year passed by is the story for another day. Well, as much as we love to see our little furball playing with the Christmas tree the last thing you want is it to be left in shambles. Now punishing the little guy would be just mean and that is not what we do during Christmas. So here are a few ways you can make a cat proof Chirstmas tree while offering the satisfaction your kitty craves.
Tree and Decoration
Consider buying a fake tree, real trees might look great but they pose a threat to your kitty as they come with pine needles, sap, and tree water, all of which are dangerous if ingested. A fake one can easily give the look you want while additionally keeping your feline safe and healthy. Plus it can be used next year.
One of the best ways to invest is to buy a smaller size tree so that even if things go south there would be nothing to worry about. A small tabletop tree is also a great one to look for as it can be easily transported to another room when your kitties are out and ready to play.
Don't go right away with all the decoration, try not to use certain sparky objects or hanging items that according to your cat are sight for sore eyes. For all healthy environments it is best not to use and edible or breakable items on the tree, especially on the lower branches. Try to avoid decorating the tree with tinsel as the cats will be compelled to eat it.
Same Old, Same Old
If you do end up buying a real tree or even the fake one make sure to keep the tree undecorated so that the little guys can get acquainted with the new thing in the living room. For a few days leave the tree naked, this way the cats will in the long run get exhausted and worn out on the tree and hopefully lose interest in it.
Base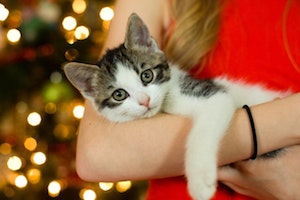 Make sure that the base of your Christmas tree is strong and kinda unwavering so that even if your cats climb on it there are fewer chances that it will fall. The same goes for the artificial one, in case if you have a real tree then ensure to use the tree skirt to hide the base as well as the tree water. Moreover, you can also anchor the tree to the ceiling or wall so that there are no chances of crashing down.
Wire
The wire that you are using for lighting up your beautiful tree should be covered with a cord protector. Furthermore, if you're are not monitoring your cats and leaving them alone with the tree, make sure to plug out the lights. So even if your kitty tries to chew the plug or wire there is no possibility of burning or electric shock.
Scent
To prevent the tree, gifts, and the base from claws you can use some scents that can repel your kitties. Citronella or Citrus is the last thing that the cats want to smell. Similarly, orange peel and lemon slices will also do the job. You can spray a little citrus on the base and on the branches alternatively you can also keep a bowl of lemon slices and orange peel to keep the kitties away from the tree.
Foil
Cats don't like to entangle their nails in tin foil, well you can use this to your advantage. You can wrap the trunk with foil and ergo forestalling climbing on the tree. With that being said, cats also love to play with rolled foils so covering the tree skirt will be anything but a smart thought.
Distraction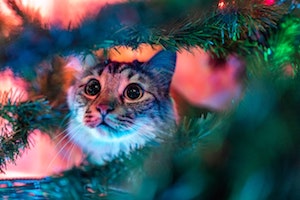 Well, what do we say, "It takes a thief to catch a thief" the same goes for cats. We should realize how their psyche functions, only then we can lure them with distraction. Luckily, on account of kitties, this is basic. You can keep some distractions near the tree so that when your feline is sauntering near the tree they be like "Whoa! what's that" and leaving the tree for good. It could be anything such as laser light, box, cat tree, tunnel, or anything that will catch their attention.
Water
Now when you are on the verge of giving up and your cat will not leave the tree no matter what you try, we think then it's time for some teaching. Kitties generally don't like water if they are not drinking it, so you can get ready with some water-filled spray bottles. So whenever your cat goes near the tree for playing, give 'em a little splash. Now don't drench those little fluffy guys, the key here is to splash a little (one spray). It will take a few sprays to instill the idea, but it will get the job done.
Try Not to Stress
Relax, Christmas is all about enjoying with your friends and family including the little furry felines. Given that you have figured out how to keep your cat out of the Christmas tree this holiday, there are some kitties that will inevitably climb on them, and when they do take a picture and laugh.
Make sure not to get baffled in an attempt to stop the little fella from climbing up the tree or redecorating it. After all, these little innocent companions are family, and we don't bail on the family. So when Christmas arrives avoid things that can pose risk to your feline while taking some precautions to keep your tree protected and get some eggnog & unwind.
Please make sure to share some images and which one of the mentioned tips worked for you in the comment box below, till then stay safe and have a happy Christmas.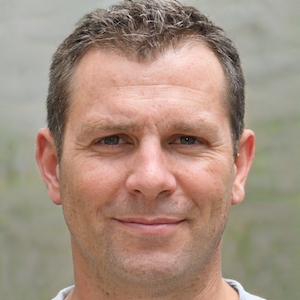 Ethan Roneil is a hell of a cat lover who self-learned cat behavior looking at the professional animal behaviorists. He wants to work alongside the best of the animal behaviorists in America one day and make America a better place for the cats. Apparently, Ethan shares his learnings on the feline diet on this platform. His unconditional love for the cats started when he first adopted an abandoned cat that was left to die on the street of Minnesota where he lived.