Waterless cat shampoo is a god's gift for cat parents whose feline literally hates water! Cats seldom need baths. But when they do — on rare occasions — you know it is time for you to start rolling your sleeves and get cracking.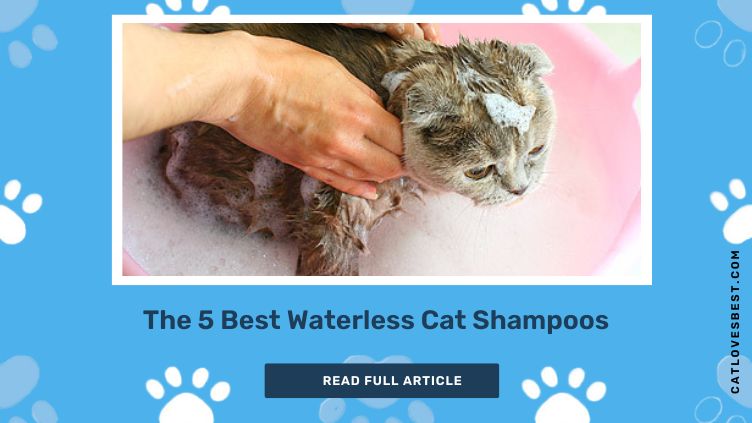 Meanwhile, most cats are not potential candidates for a wet bath. However, as cat parents, we always manage to find a way to make our pets clean and fresh. And one of the easiest and nearly the best scratch-free ways to cleanse your cat is through a waterless cat shampoo.
Dry shampoos for cats are packed full of nourishing, natural ingredients that moisturize dry skin and effectively tackle issues such as itchiness and flaking.
A Glance of Our Favorites in 2023
Best Overall

Wahl No Rinse Waterless Cat Shampoo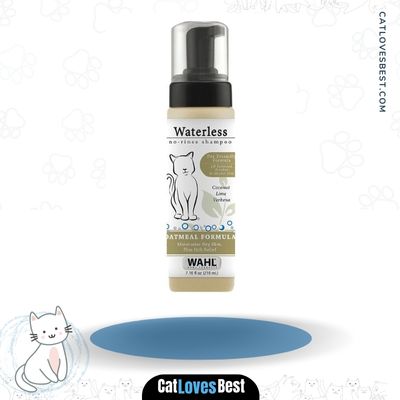 It includes all-natural formula
Specifically formulated for cats with dry skin
No alcohol, parabens added
---
Editor's Pick

Mooncat Waterless Shampoo for Cats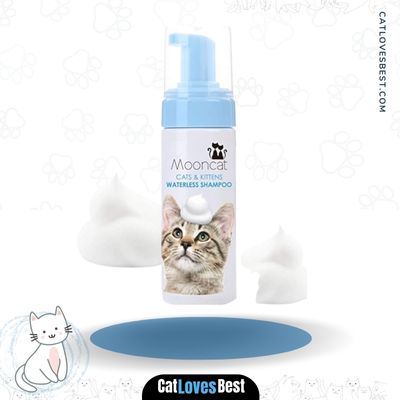 Vet recommended
Tearless and hypoallergenic
Can be used for any breed
---
Affordable Pick

Burt's Bees Waterless Shampoo With Apple and Honey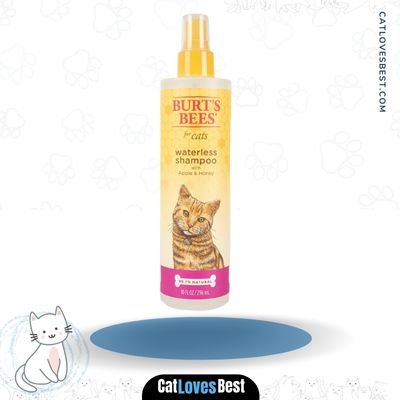 Natural ingredients are added

Nourishes and boost shine

It is pH balanced
The 5 Best Waterless Cat Shampoos Reviews
For whatever reasons you are getting your furry friend a bit tidier, waterless cat shampoo can always come in handy to deliver a nice clean.
While they aren't exactly a substitute for a regular bath, water cat shampoos can offer a fantastic touch-up in between baths, especially when you are outdoors and cannot access water.
So, here are the five best waterless cat shampoo options that can't steer your wrong.
1. Wahl No Rinse Waterless Cat Shampoo
If your furry friend is always busy scraping because of dry skin, then a soothing, all-natural shampoo will aid reduce her distress. This no-rinse waterless cat shampoo from Wahl is the perfect solution for your cat's dry skin.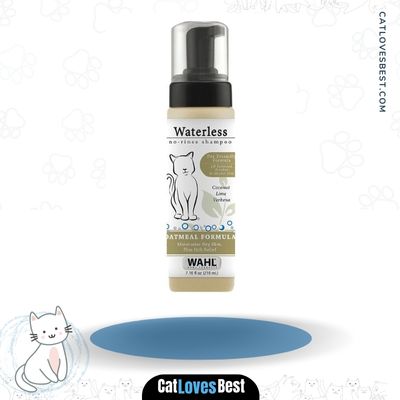 The all-natural plant-based cleansers of this shampoo soothe your cat's dry, itching, and irritated skin. And while this dry cat shampoo contains no parabens, it does come with an added pleasant fragrance, so it might be the best choice if your cat has bad odor problems.
Further, it features an oatmeal formula with coconut, lime, aloe, and lemon verbena scent. The refreshing aroma is meant to provide your feline friend a new and clear smell without any need of giving her a full bath. Additionally, the shampoo is marketed as PEG-80-free, alcohol-free, and pH-balanced, meaning it's safe for our feline friends.
And as this cat dry shampoo is USA-made to great standards, you can stop worrying as it has been examined thoroughly. Moreover, hundreds of other cat owners testify to the all-natural formula's beneficial effects.
Pros:
This dry shampoo for cats comes with an all-natural formula with an oatmeal blend.
The shampoo is scented with a fresh fragrance of coconut, lime, aloe, and lemon verbena.
The shampoo is specifically formulated for cats with dry skin.
It is PH balanced and free from PEG-80, alcohol, and parabens.
Cons:
It is not tear-free.
It is also rather pricey considering the size.
2. Mooncat Waterless Shampoo for Cats
Here is another great option in dry shampoo for cats that you can buy online for your furry pal. Mooncat Waterless Shampoo for Cats comes in a considerable quantity of natural ingredients, which help moisturize, refresh, and rejuvenate your cat's fur and skin while removing any impurities.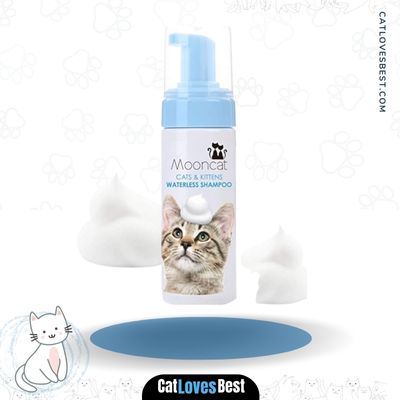 It comes with a hand pump that squeezes out solid foam, making each application easy for you. To use this shampoo, all you have to do is massage it on your kitty's skin and brush it dry. Likewise, it is an effective solution for weekly cleaning to ensure that your feline pal stays free from dirt and impurities.
In addition to that, this dry shampoo has been made specifically for cats with sensitive skin. It is free from parabens, peppermint oil, neem oil, and alcohol. So, you can readily use it on your cat's coat without concerning too much about safety and comfort, as there are no chances of infections and allergies.
Overall, the Mooncat shampoo is a friendly waterless shampoo cleanser that you can even carry along while traveling or going out with your feline for a hiking session. In addition, the manufacturer claims that it can be used on any breed of cat, regardless of age. Which, we thought, was a plus.
Pros:
This waterless shampoo comes with a mildly balanced formula, comprising 97.6% of natural ingredients.
It is tearless and hypoallergenic, so it is safe to use even on sensitive skin.
The shampoo is vet-recommended.
It can be used on any breed of cat and of any age.
The shampoo also releases a mild, sweet scent.
Cons:
It is expensive but worth the money.
3. Burt's Bees Waterless Shampoo With Apple and Honey
Burt's Bees Waterless Shampoo for Cats is manufactured by one of the best pet grooming brands in the USA.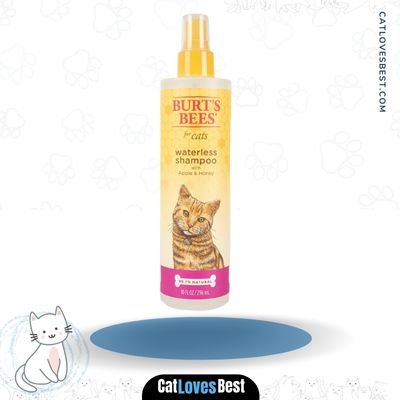 Burt's Bees has earned a global reputation by becoming a trusted source of 99% natural products.
The brand has likewise gone to great lengths in making this water cat shampoo. Made with the planet's best natural ingredients, the all-natural formula of this shampoo nourishes your feline's coat, leaving your cat feeling oh-so-fresh.
The all-natural formula of this cat waterless shampoo includes apple and honey. They serve as organic cleansers as the shampoo is rich in minerals, vitamins, and amino acids. Moreover, the formula of this waterless cat shampoo spray is gentle enough to be used on cats and kittens of all ages.
It comes with a pH-balanced solution recommended by veterinarians. The manufacturer of this dry cat shampoo claims that it is free from colorants, sulfates, and harsh chemicals and 100% safe to use on cats.
At last, there is no strong scent outside the main ingredients since it does not contain any artificial smell or chemicals.
Pros:
This dry cat shampoo comes with a gentle, pH-balanced formula, making it suitable for cats of all ages and breeds.
The shampoo comes with a pleasant smell released by the natural ingredients.
It is vet-recommended.
Likewise, it comes at an inexpensive price tag.
Cons:
4. Vet's Best Cat Dry Shampoo
As the name suggests, this waterless cat shampoo comes with vet-formulated and vet-quality ingredients inspired by nature.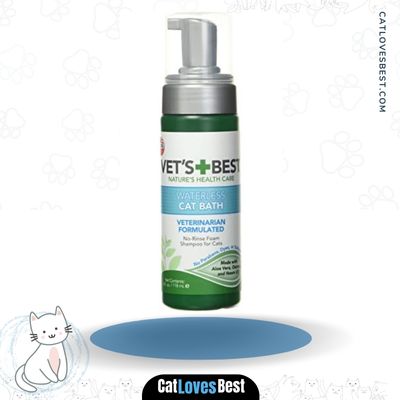 It comes with constituents that are plant-based, like oatmeal, neem oil, aloe vera, and vitamin E. Such constituents can offer soothing relief to sensitive cat skin by gently cleansing, conditioning, and moisturizing the skin and coat.
Likewise, the shampoo uses a leave-in formula, which will not disrupt any previous topical treatments related to fleas. After applying and massaging the solution, it will dry quickly. For optimal results, the manufacturer recommends using a brush together with the shampoo. It will remove any excess hair or dirt.
Moreover, after you start massaging the shampoo solution on your cat's skin, it will release a light fragrant scent, leaving your feline friend feeling fresh and relaxed.
Overall, this dry pet shampoo comes with high-quality, all-natural ingredients with a vet formula, all at a reasonable cost; more bang for the buck.
Pros:
This dry foam shampoo will not interrupt any topical flea and tick control products when used 24 hours after application.
The shampoo works together to comfort and protect your cat's skin and coat.
This waterless cat shampoo features a pleasant, calming scent.
It is made in the USA with internationally-sourced ingredients to offer the best quality for you and your pet.
Likewise, it is the best solution for cats with sensitive skin.
Cons:
This waterless foam shampoo is not suitable to be used on young kitties with age less than 12 weeks.
You must avoid pet's eye contact with this shampoo.
5. TropiClean Dry Pet Shampoo
If you are looking for a dander solution for your cat, the TropiClean Dry Pet Shampoo is what you need. With easy-to-use, deodorizing, no-rinse formula, this waterless pet shampoo will leave your cat feeling like a fresh spring baby.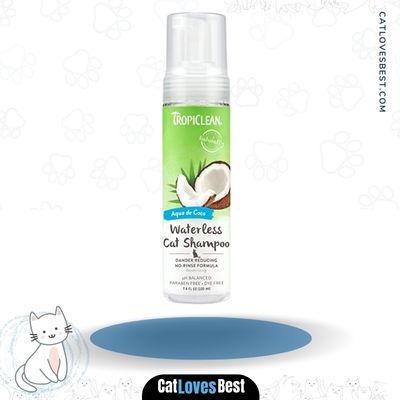 It provides a mild clean by removing dirt and dandruff from your furbaby's coat. Likewise, it is marketed as the best hypoallergenic dry cat shampoo, as it uses a formula of all-natural, safe ingredients. Best suitable for sensitive skin, this dry pet shampoo comes with a paraben-free and soap-free solution that is pH balanced.
At the same time, you do not have to worry about washing away any spot-on flea treatments with this shampoo solution. It features a soothing mixture of natural allergen-free ingredients like cucumber and oatmeal. These natural ingredients can further help nourish sensitive, dry skin and relax tangled fur for better coat brushing.
Likewise, this makes cleaning and brushing your cat in one easy grooming session. Ultimately, the shampoo is made in the USA, which guarantees quality assurance to cat parents.
Pros:
This dry cat shampoo offers a worry-free cleanup, even outdoors.
Moreover, this cat shampoo does not meddle with flea treatments. So, you don't have to bother worrying about washing away spot-on treatments.
The shampoo features a mild but sweet coconut smell. So everytime you cat is out from a dry bath, she will feel fresh and relaxed.
It is specifically designed to reduce cat dander with paraben-free and soap-free formula.
This pet-friendly waterless shampoo is made in the USA.
Cons:
It is a little pricey considering the size.
It is not tear-free, so you should keep it out of the eyes.
How to Choose the Best Waterless Cat Shampoo
Cat baths are challenging. While most felines do not like getting wet, this can get difficult for cat parents to maintain proper cleanliness.
Instead of forcing your wild child into a bath, you can rather survive scratch-free by using the best waterless cat shampoo. Ahead are a few factors that you can consider to smoothly narrow down your options for the best dry pet shampoo for your specific situation.
Ingredients
As with any other pet care product, it is crucial to check the ingredients list on the back of the bottle before settling on the purchase. And since cats are self-care icons, they may lick and end up ingesting whatever there is on their coat. So, keep away from toxic chemicals and dyes.
Instead, go for an all-natural option. Likewise, ingredients such as omega-3 fatty acids, aloe vera, and oatmeal are more than welcome anytime. They contain essential oils and can also release a pleasant scent.
Speaking of sensitive skin, know that there are waterless shampoos that are designed for a specific skin type with different ingredients. Make sure to choose the right one before making the purchase.
Fragrance
While a lot of waterless cat shampoos do not come with a fragrance, some alternatives that are an all-natural option may feature a pleasing sweet smell released by the natural ingredients.
Steer clear from the dubious alcohol-based, synthetic fragrances. Not only can shampoo with artificial ingredients harm your cat's skin, but it also unleashes nasty smells. That said, ditch those artificial waterless shampoos.
Always go for natural scents. They can essentially promote your cat's freshness factor by eliminating any unpleasant odors without any adverse effects. In addition, it is also important to note that certain felines are sensitive to specific smells, so you might not want to invest in a strongly bad-smelling cat shampoo.
Shampoo Consistency
While the shampoo consistency does not impact shampoos effectiveness, it is simply a personal preference.
Waterless cat shampoos typically come in three types of consistency — foam, mousse, and spray. Spray types are not as popular as the foam and mousse types. While foam and mousse can be easier to massage on your cat's skin, sprays can evenly distribute the shampoo solution.
However, the effectiveness of the solution remains unchanged, regardless of shampoo consistency.
Moisturizing Properties
Last but foremost, the waterless shampoo should contain naturally hydrating ingredients with moisturizing properties. While dry cat shampoos do not require you to use water, they should be moisturizing enough that they do not cause any skin irritation to your cat.
Look for natural waterless shampoos that include healthy ingredients such as — aloe vera, coconut oil, oatmeal, and vitamin E.
They have excellent moisturizing properties that can help to soothe dry and itchy skin. Moreover, they also leave your kitty smelling fresh with a range of sweet scents.
FAQs About Waterless Cat Shampoo
Which is the best waterless cat shampoo?
Out of every waterless cat shampoo that we researched, we chose Wahl No-Rinse Waterless Cat Shampoo to be the best waterless shampoo choice overall. This cat shampoo is best suited for felines with dry and irritated skin.
However, if your cat has a sensitive skin type, it might be a good idea to go for the Vet's Best Cat Dry Shampoo. It provides the best relief for delicate skin. The shampoo is vet-recommended and also comes at a reasonable price tag.
How much does a waterless cat shampoo cost?
If you decide to buy a premium, all-natural shampoo that is tear-free, you can expect to pay around $15 to $30, such as the Mooncat Waterless Shampoo for Cats with foaming effect.
While low-cost options, such as the Burt's Bees for Cats, can cost you no more than $5 to $10. While they are well effective in delivering a deep cleanse, they may not be tear-free. So, always keep the shampoo solution out of the eyes.
Is waterless shampoo good for cats?
Yes. Waterless cat shampoos, also associated with other names such as dry cat shampoos, are a fast, effective, and safe option to clean your pet.
They are typically made up of natural ingredients that provide a soothing effect on dry and itchy skin. It even reduces shedding. For the best results, you can brush your cat. Doing this will remove any excessive dirty hair and cat dander.
Do I need to wet my cat before or after using waterless cat shampoo?
No. Waterless shampoos do not require water. You can use waterless shampoos when you don't have access to water or when your furball needs a quick waterless bath.
Very practical and quick to use, waterless cat shampoos make cleansing time a relaxing and enjoyable experience for you and your cat. All you have to do is massage the solution and finish by drying with a towel. No water is required.
Conclusion
Waterless cat shampoos can prove to be useful for cat parents who are always on the go. These kinds of cat shampoo do not need water. You can easily massage it on your feline's skin and coat, and you're good to go.
In the long run, a regular bath is a perfect way to get your kitty clean. Meanwhile, waterless cat shampoos are favorable — however — they are not a completed replacement to regular bathing with shampoo and water. But they sure do make a great addition to your cat's care routine!
References
Dry shampoo for cats: Clean your pet cats conveniently – Times of India
SOS hygiene for dogs and cats: why and how to cleanse with a dry shampoo – Dermoscent
What's the Best Waterless Shampoo for Cats? – NCGI