We love our kitties. Felines are some of the best friends you will ever have. Loving them can come as naturally as breathing. And if you love her, you love her to enough to gift the best Cat Bed for her good night sleep.
As all pets require home and personal space. So, you want your cat to be comfortable and owe her a territory where she can have a personal space. Cat sleeps for almost 16 hours a day, so you do not want to disturb while she is sleeping.
For the cozy sleep of your Feline, here in this article we have shortlisted and reviewed 10 best Cat Beds keeping in mind the comfort of your Kittie.
Should You Buy Your Cat Their Own Bed?
Being a Pet lover you have a tendency to treat your Kittie like Person (Or sometimes better than a person😉). This itself shows in a different way when you try to speak to your Cat with full sentences which she might not understand (yet she understands your emotions, and sometimes words too).

You also make sure your kitties' comfort is met in the same manner you would expect for yourself. It's okay to admit that your feline is equivalent to the member of your family. And Cat loves this Human nature of yours.
Based on the amount of time a Cat spends on sleeping (On an average, a cat sleeps around one-third of their lifetime), Buying a Bed for your furry friend definitely makes sense. When you can search for the best mattress for yourself, then why not find a perfect bed for your Cat.
Cat Bed Helps with Routine
Another major reason for providing your Feline a Cat Bed is to encourage her to sleep at one spot. A defined place will also fix her daily routine to sleep. Once she gets habituated, then she would be very comfortable at her new bed.
It will also make her easy to find a comfortable spot to sleep, else she would rather look through the house to find a spot where she can sleep.
Cat Bed Gives you and your cat Personal Space
By offering you Feline a Cat Bed will not only give your Cat Personal Space but consequently, you will also get some personal space. You would believe me if previously you used to let your feline friend sleep in your Bed Room just because you didn't have a Personal Bed for your Cat.
In addition to providing personal space and privacy, It will also keep your Feline comfortably warm and secure while she is sleeping.
A Quick Look at our Favorites of 2023
Best Overall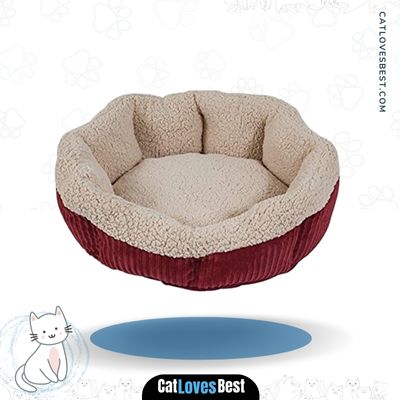 Aspen Pet Self Warming Beds
Designed with Heat Reflecting Technology
Non-skid bottom
Lightweight and Portable
Editor's Pick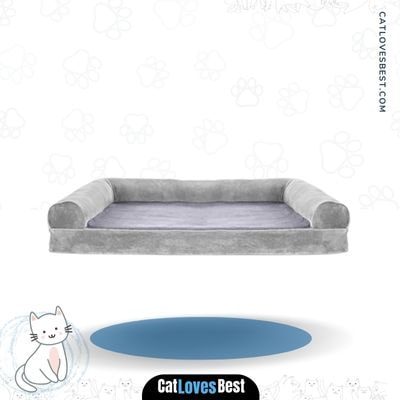 FurHaven Orthopedic Couch Bed
Easily accessible for Elderly & Disabled Pets
Removable Cover makes it easy to clean
Available in 4 different sizes
Affordable Pick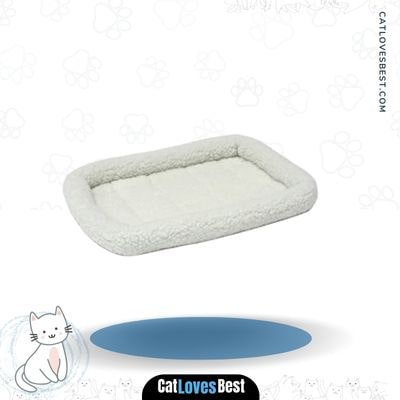 MidWest Deluxe Bolster Bed
100% Machine Washable & Dryer friendly
Can easily fit inside a standard crate
Available in 8 sizes with 5 different color variants
The Best Cat Beds of 2023
1. Aspen Pet Self Warming Beds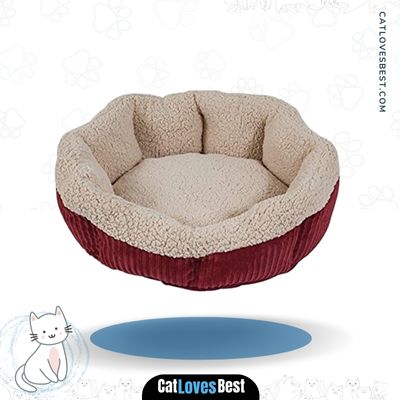 Do you want Self Warming Bed to keep your furry friend warm and cozy, then this one is the best product for you. Aspen Self Warming Cat Bed is our top pick because it keeps your Feline warm during winter nights. It is designed with heat-reflecting technology which includes a Blanket layer inside that reflects body heat and restricts thermal conduction which keeps your felines warm even in colder environments.
As this is a Self Warming Bed so your Cat's Body will remain warm while she is sleeping. There is no electricity required like Heated Beds to generate warmth, so you don't need to worry about any mishaps for your Cat.
The bottom surface is non-skid due to this your Feline is safe on this bed as it won't slip. It is also Lightweight and Portable, which makes it easy for you to take it along while you are traveling along with your feline friend.
This Round shaped bed is available in two different colors, viz. Barn Red/Cream, Navy/Cream, and Brown/Cream. It measures 19.5 inches in diameter making it large enough for any Cat. It also has plush sides, because there are a few pets who like to burrow while sleeping.
"To conclude, we think this is the overall best cat bed."
Pros:
Designed with Heat Reflecting Technology
Non-skid bottom
Lightweight and Portable
Machine Washable
Available for all sizes of pets
Other than Round shape, also available in Rectangular Lounger & Pillow Bed
Cons:
It makes a crinkly sound
Doesn't have a removable cover
2. FurHaven Orthopedic Sofa-Style Couch Pet Bed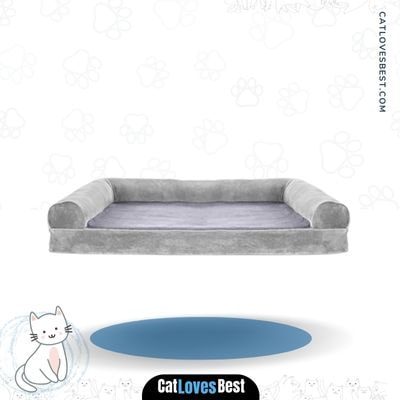 This Orthopedic Cat Bed from FurHaven is in Sofa-Style with Plush Faux fur sleeping surface. The fluffy filling makes its cushion base soft to provide complete comfort. The Bolsters are covered with lustrous Velvet material of the same color of Sleeping Surface.
It is available in four different sizes ranging from Small to Jumbo. To suit the Aesthetics of your room, each size comes in three different colors and patterns. Different shades are Dark Sage, Harbor Blue, and Smoke Gray. There are also 3 different pattern variants available namely Diamond Blue, Diamond Brown, and Diamond Gray.
This FurHaven Bed is made in Sofa-Style so it is three-side bolstered, filled up with soft fluffy which allows your pet to sleep in any position it wants. Also, there's enough space available for headrest and its corners also make it cozy for burrow into while sleeping.
As it is made with washable materials, so you can easily clean it whenever necessary. The bed cover is fully machine washable. However, The bolster liner is not machine washable.
Pros:
Orthopedic Support Foam of Egg Crate types provided proper weight distribution
Easily accessible for Elderly & Disabled Pets
Removable Cover makes it easy to clean
Gusseted base which keeps the Bed slightly elevated helping to hide dirt
Available in 4 different sizes to make a perfect fit for your Cat
Six different variations available in colors and patterns available to choose from
Cons:
Bolsters are not machine washable
Easily destructible by chewer pets
3. MidWest Deluxe Bolster Bed for Dogs & Cats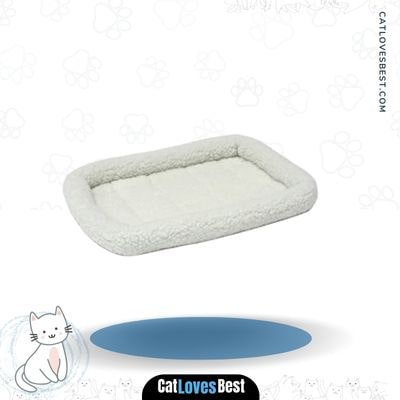 I'll highly recommend the MidWest Deluxe Bolster Pet Bed if you are looking for Budget friendly Cat Bed. If you are looking for a Cat Bed for your Feline which can easily fit inside a standard Crate (of size 22″) this is a good option for you.
The sleeping surface has an ultra-soft top layer making it super cozy for your Cat to sleep. On the sides of sleeping are padded polyester bolster providing your Cat a cushion for her headrest.
It is machine washable making it easy for you to clean it if your pet makes it dirty anytime. It is also Dryer friendly so you don't need to separately hang it in the lawn to dry it.
The different sizes ranging from 18 to 54 inches. There are also five different variations available for each size. The one in white color is made up of fleece, other color variations like Cinnamon, Gray, Pink, and Powder Blue have Plush material.
Pros:
100% Machine Washable & Dryer friendly
Can easily fit inside a standard crate
Available in 8 sizes with 5 different color variants
Available in synthetic fleece material as well as Plush Fur material
Budget-friendly
Cons:
Not suitable for chewer pets
Not waterproof
Doesn't have Anti-skid bottom
4. MidWest Super Plush Bed for Cats & Dogs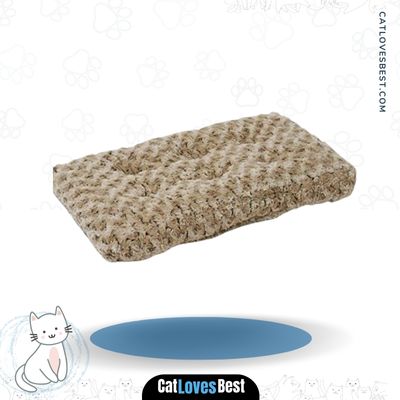 Super Plush Dog & Cat Pet Bed from MidWest can be used as a standalone Bed as well as it can be fit inside a Crate. If your cat weighs 11-25 pounds then the 24-inch size of this bed would be large enough in size for your cat.
This Bed is available in seven different sizes with three color variants for each size. The different color shades available are Gray, Mocha, and Coco Chic.
Sometimes your Pet might make its Bed dirty while playing. If this happens very often then you should go for this Cat Bed as it is fully machine washable and dryer friendly, so that you can easily clean it even if your feline friend accidentally made it dirty. You also get a 1-year MidwWest quality guarantee and manufacturer's warranty on purchasing this.
Pros:
Can be used as a standalone Bed and Crate Bed
Machine Washable and drier friendly
Available in 7 different sizes
3 color variants available
Non-skid bottom surface
Ultra Soft Polyester & Plush Polyfiber cushion
Cons:
No bolsters provided, an additional pillow will be required for headrest
Few users report that this bed not enough thick
5. AmazonBasics Padded Bolster Bed for Cats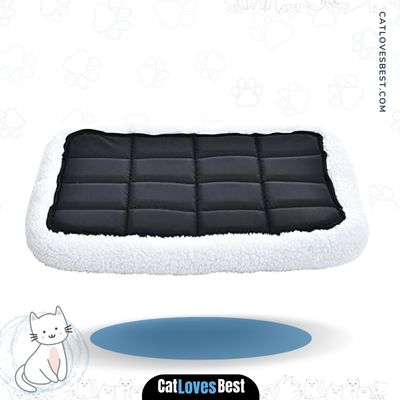 AmazonBasics Padded Bolster Bed for Cats is specially designed to adjust at multiple places like Crates, Carriers, and Pet Homes. It can be also used as a standalone bed as well. It has a soft fleece cover on the sleeping surface. The inner part is tufted with Polyester cushion making this Bed very comfortable to sleep.
You have an option to choose from 4 different sizes, but there is only a Cream color variant available. It is light in color so it might get dirty very early, but you don't need to worry about it, as it is fully machine washable.
A rim of bolster around the perimeter is also provided which makes easy for your Cat for the headrest. The materials used are light-weighted which makes it easy to take around if you are planning to travel.
Pros:
Crate, Carrier and Pet Homes supported
Comfortable rim around the Bed for headrest
Lightweight and Portable
Machine Washable
Available in 4 different sizes
Cons:
Only one color variant available
6. Best Pet Supplies, Inc. Cave/Tent Bed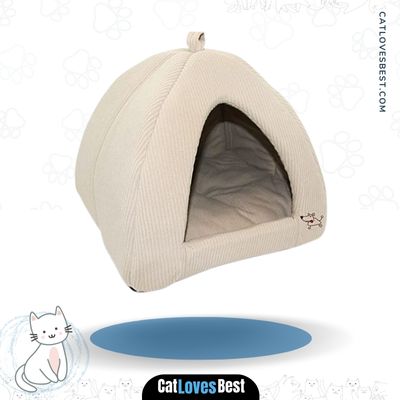 I would highly recommend this Cat Tent Bed from Best Pet Supplies if your Felines loves to sleep at an enclosed place. You also get a free pillow with this when you order it.
It is in the shape of a Cave or Tent which makes it perfect for Felines if they prefer to sleep in an enclosed place. However, its 2-in-1 feature gives you the option to make make it an open bed, so you can even convert it as a flatbed if your cat needs a change.
You can select the size of this Cat Cave Bed depending upon the size of your Feline as it is available in 3 different sizes which are Medium, Large, and X-Large. The medium size is available in 16×16 inches, Large size in 18×18 inches, and the X-Large size is available in 19×19 inches.
To suit the walls of the room, you can select from seven different color variants. The different shades available or this Cat Cave Bed are Brown Linen, Corduroy Beige, Linen Beige, Plaid Linen, Dark Brown, Tan, and Gray Linen.
Pros:
Can be used as an outdoor cat bed
Available in 3 different sizes
7 different color variants available
Machine washable
Cons:
Thin padding used in sleeping base
No Anti-skid layer on the bottom side
7. Reversible Paw Print Synthetic Fur Pet Bed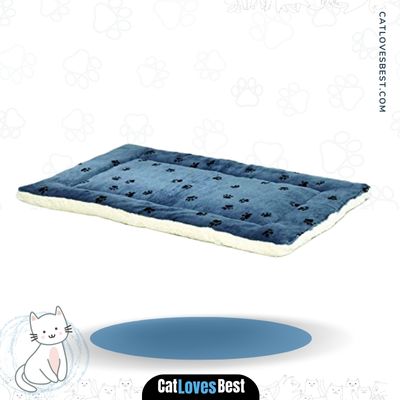 This is a simple Bed for Cats and Dogs from MidWest Homes of mid-range price. As the name is self-explanatory which suggests that either of the sides can be used as a sleeping surface.
It is available in eight different sizes ranging from 18-inch to 54-inch but there is only one color variant available. One side is blue paw print and the other side is in Cream color.
The Blue Paw Print side has a synthetic fur sleeping surface, and, the other side has a creamy faux fur bottom. It is also fully machine washable and dryer friendly, so you need not worry in case your cat moves on it with an unclean foot. You also get 1-year manufacturers warranty from MidWest on purchasing this.
Pros:
Reversible Bed, either of the sides can be used for sleeping
Budget-friendly
Machine Washable
Can be used in Crates and Pet Homes
Cons:
Only one color variant available
No bolsters provided for headrest
Not recommended for excessive chewers
8. K&H Pet Products Kitty Sill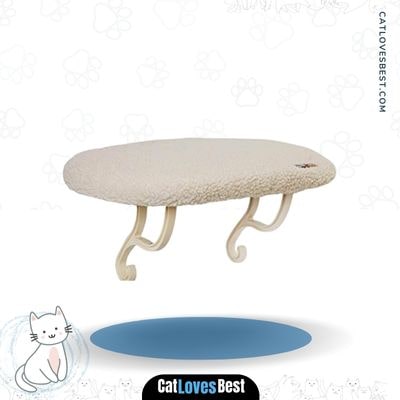 If your furry friend loves to perch at the window and likes to keep an eye on the outside world the definitely this Cat window Bed is perfect for your Feline. This is a Window Perch type Bed by K&H which can be mounted on the Window, and your cat can have a panoramic view from the window on this bed.
The inner foam provided an Orthopedic sleeping surface which makes it very cozy and comfortable for your Feline. The sleep surface cover is made up of faux-lambskin which is machine washable.
This Cat window Bed is available in size 14×24 inches, which is large enough for big cats. It is also available in two different variants which are Faux Fleece, and Zebra Pattern. On purchase this it will be delivered to you in unassembled condition, however, no tools are required to assemble it.
The legs measure 3/4″ wide and 8″ tall which is sturdy enough to support felines up to 40 pounds. You can mount it on a 2″ window still without using any tool, However, for permanent solution screws are included with this Cat Window Bed. You can use the Velcro provided with it for mounting temporarily to the window.
Pros:
This window perch can also support Heavy Cats
Removable Cover & Machine washable
Two methods to attach to the window; velcro(temporary), screw(permanent)
Soft cushion and Smooth Sleeping Surface
Cons:
No Bolsters provided
Can only be used indoors
9. Precision Pet SnooZZy Mod Chic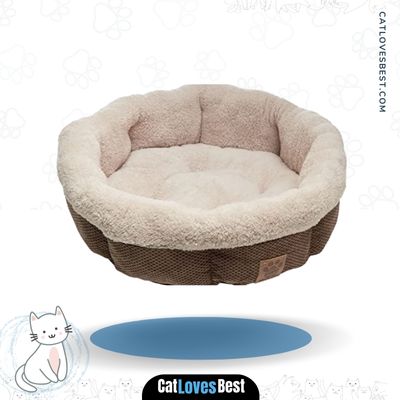 This round shaped cat bed from Precision Pet Products is of the mid-range range price. There are five different color shades available which are Black, Brown, Gray/White, Pink, and Teal. The size of this Round Cat Bed is 21×21 inches providing enough space for even large Cats.
It is made from Soft Chenille Fabric and tufted with Polyester fill for total comfort. The corners are made such that the cats can easily burrow and snuggle if they love to do so while sleeping. The materials used are Machine Washable, but it cannot be bleached.
It is also Lightweight and portable, which makes easy for you to go along on a vacation along with your feline.
Bolsters filed with soft cushion material are provided which are around the perimeter of this Cat Bed. These bolsters can be used as a headrest while sleeping or taking rest.
Pros:
Fully Machine Washable
Large enough for any cat
Lightweight & Portable
No additional pillow required
Good for pets who like to burrow and sleep
Machine Washable
Cons:
Thin Cushion used in sleep surface
Not for chewer pets
10. FurHaven Microvelvet Luxe Lounger Bed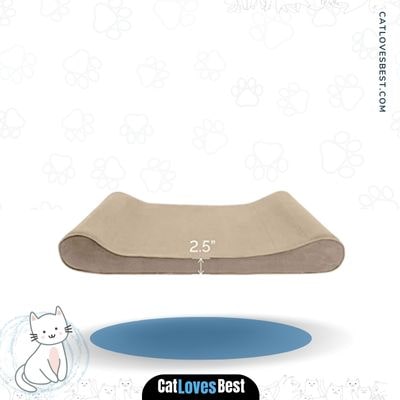 This Microvelver Luxe Lounger Pet Bed from FurHaven is the best premium Cat Bed on this list. The Silky Sleep surface is made up of Quilted Microvelet which is extremely smooth to your Cat's noses and paws.
It has an Orthopedic Foam Base which makes it more comfortable for your Cat. This would be a perfect choice if you want to give your feline a luxurious and cozy sleep. However, you are not restricted to only the Orthopedic Foam base, as it is also available in two other Foam Bases namely Gel Foam and Memory Foam.
The Materials Used in the Cushioning are not Machine Washable, however, the cover is made from the material which is fully machine washable. Also, the outer material is strong enough to provide long durability, but it may not resist the bite of an excessive chewer.
There are also 6 different sizes available ranging from Small to 3XL, but the medium size (20″ x 30″ x 5″) is sufficient for most of the cats. You also get an option to choose from three different color variants which are Clay, Espresso, and Gray.
Pros:
Smooth and Silky Sleep Surface
Ergonomic and improved design
Available in 6 different sizes and 3 different color
The cover is Machine Washable and Foam Base is Hand washable
High Durability
Cons:
Tough Zipper makes hard to remove or put on the cover
Here we covered the list of ten Best Cat Beds and reviewed them, but if you still could not choose the perfect one for your feline, then here's the extended list with a few more types:
11. Ethical Pets Sleep Zone Cuddle Cave Pet Bed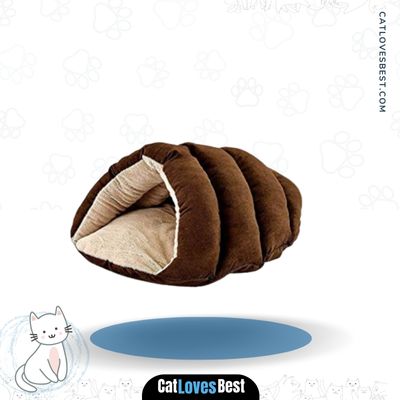 This Bed from Ethical Pets is for Cats who love to Cuddle and sleep. It is also in a Cave shape providing your Feline an enclosed place to sleep. The enclosed shape not only provides a dark environment that is beneficial for sleeping, but it also gives your Feline Privacy and secure place to sleep.
It is made up of a cozy push interior that provides your Feline perfect cushioning and comfortable sleep. The exterior cover is made up of Faux Suede, this makes the Cat Cave Bed super smooth as well as long-lasting.
This Cat Cave bed not only provides your feline a cozy and comfortable sleep but also comfortable for you as you can easily clean it because it is fully machine washable.
You can select from two different sizes, which are also available in eight different color variants. The different color shades available for this Cat Cave Bed are Blue, Pink, Black, Chocolate, Chocolate/Cream Green, Sage, and Tan. The dimensions of the two different sizes are 22×16 and 22×17 inches.
Pros:
Machine washable
Durable and long lasting
Enclosed shapes provide security and privacy
Soft interior and tough exterior makes it optimally feasible
Cons:
Few users reported that the Cat Bed they received was smaller than the size as mentioned in the description.
12. Midwest Shelf-Attaching Cat Bed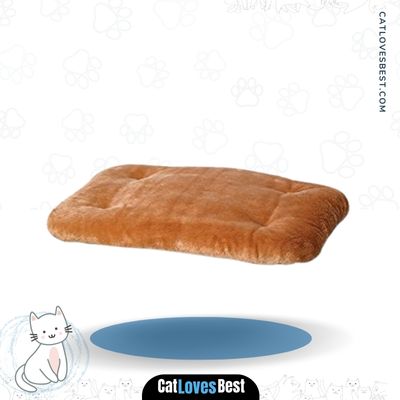 On purchasing this product you get 3 Adjustable Perching Shelves & 1 Shelf-Attaching Cat Bed & Wheel Casters. One large Cat can easily accommodate in it, but if you have smaller cats then two of them can accommodate it.
The simple design makes it easy to fit on Resting Benches and Cat Cages of size 36L x 23.5W x 50.50H Inches. The bottom layer is made up of Anti-Skid material refraining it to Slipping.
It is made from deluxe chenille material which makes it very comfortable for your Feline to sleep. Also, the sleeping surface is made up of soft fabric fur which provides it smooth sleeping surface.
Pros:
Can be used in Cat Cages, Resting Benches as well as Standalone Cat Bed
1-Year Manufacturer's warranty
Thick cushion
Machine Washable
Cons:
No bolsters provided
Available only in one size and color
Buyers Guide
Which Cat Bed should I choose for my feline?
So now you must be wondering on what basis should I decide to select Cat bed, or which one will suit my feline in the most comfortable way. To answer all the questions arising in your mind, refer to this Buying guide to make a perfect selection for your Kittie.
Types of Cat Beds
There are many varieties of Cat Beds to choose from. Different types may vary depending upon their shape size and structure. Here the complete list based on its types:
Cat Hammocks: Cat Hammocks or Radiator Beds are hung over two rigid support. The material used for Cat Hammocks is usually fleece which provides heat-trapping property. One of the major advantages of this type of Cat Bed is that you can easily take it outdoors, and simply even hung it to your Car Radiator. There are also few drawbacks to this type, it is sometimes hard for older cats or kittens to jump onto it due to its height.
Pillow Beds: These types of Cat beds are very simple in shape, the name itself is self-explanatory. The cushion is filled with soft lining material which makes it spongy. Pillow Beds are completely machine washable which is plus point to this Bed.
Donut Cat Beds: It has a smooth surface as its cover is made up of soft materials. They are filled up with soft linings which also makes it more spongy. The sides of a Donut Cat bed is slightly higher making it more protective for Cats by protecting them from falling from their bed while they are asleep. But, the higher sides also make it difficult for older cats & kittens to jump on the bed.
Cat Igloo Bed: Igloo Beds are made up of fabric stuffed with lining. They are named so as these types of beds are in the form of Igloo. The Cat Igloo Bed provides complete privacy, security, and warmth to your Feline. Igloo type Beds look similar to Cave Bed for cats.
Wicker Baskets: Wicker Basket or Basket Beds are a conventional type of Cat Beds which are cheap. Wicker Baskets beds should be lined with soft Blankets or cushions before the Cat sleeps on it.
These beds have low durability and they are very Hard to wash. The material which is used to make the Wicker Baskets are easily chewable by cats, due to this Wicker Baskets are less preferred.
Plastic Baskets: These are similar in shape to Wicker Basket. Alike Wicker Baskets, Plastic Baskets should be lined with soft blankets or cushions.
An added advantage of Plastic Bags is that it can be easily disinfected in the event of disease or parasite outbreak.
Window Mounted Cat Beds: It can be easily mounted on the window. With this type of bed, your feline gets access to the open view due to which she will never feel boredom even if alone in the room.
Self Warming Cat Beds: Self Warming Cat Beds helps your Felines to be warm by trapping the heat. I would recommend this type if you live in colder areas.
Other Types Of Cat Beds: There are also a few other types of Cat Beds. The features, shape and size vary based on its type accordingly. These are Flat Foam Cat beds, Heated Cat Bed, Bolster Cat Bed, Cave Cat Bed, Foldable Cat Bed, etc.
What kind of Bed does my Cat Need?
You have to keep in mind a few things while making a selection of Bed for your Cat. The choice would also differ based on whether you have a Kitten or an older Cat. Here are a few of the points to consider while choosing Cat Bed:
Size: One of the most important specifications which you are required to check before buying Cat bed. The size should large enough so that your feline can easily turn around while sleeping.
Warmth: You should also need to see whether how much warmth your Feline can get from the Cat Bed she lays. The warmth of a Bed cannot be neglected especially if you live in a colder region.
Ability to wash/clean: Cleaning the Cat beds can be sometimes hard if it isn't machine washable. So, if you are lazy at cleaning using hands, then you must go for Machine Washable. Also, if your Cat has a habit of peeing on its bed then I will highly recommend you to purchase the one which is washable.
Comfort: You want your Feline to be comfortable, isn't it? So choose the one which is comfortable for her to sleep. If you go for Basket type bed, then make sure that you use proper cushioning for proper comfort to your Cat.
Sleeping preferences: Find out the sleeping preferences of your Cat. Whether your cat likes to sleep in an open area, or an enclosed place. Make the selection of Open Bed like Pillow Beds OR Enclosed one like Cat Tent/Cave Bed.
Feline's age: Age of your Cat is also a factor based on which you should select a Cat Bed. If you have a Kitten or an Older Cat then you should buy a cat bed with a lower side height, as Bed with higher side height would be difficult for them to jump on to.
FAQs
How much does a Cat Bed Cost?
Generally, the cost of top selling Cat Bed ranges from $5 to $50. The price varies depending upon the size, material, brand many other factors. It is not always necessary that a Cat Bed of higher price would be always better. There are various other factors like Brand, Quality, Usability, etc which you should consider besides price.
How much Catnip to put in Cat Bed?
Catnip can be given to Cats for the recreational purposes for cats enjoyment. You can put approximately 1 tbsp (0.5 oz) of catnip in the Cat Bed. This Catnip will keep your cats away from other things where you don't want her to go by attracting her towards the catnip.
What is a Fleece Cat Bed?
Fleece Cat Bad is a self-warming bed as the fleece material has heat-trapping properties. It is generally made out of Goat or Sheep wool which provides it properties of insulation towards Cold. Fleece Cat Beds also have a very smooth texture.
How often should you wash a Cat Bed?
You should wash your Cat's Bed once every 2 weeks on a daily routine. If your cat is suffering from any disease or has recovered from any disease, then you need to wash your Cat's Bed more frequently. In certain cases, like if your Cat made the bed dirty by peeing on it, then you need to wash it immediately.
Which location is Perfect for Cat Bed?
Choosing your Cat Beds' location can sometimes be tricky. The selected place should be convenient for you and comfortable for your Pet. You can decide this by observing the behavior of your cat, which is her favorite napping spot.
The spot where your cat is already used to sleep is the best place for Cat Bed. Make sure that the surround is Quiet, as cats don't like to be disturbed by any type of noise while they are sleeping.
Final Thoughts
I just wanted to take some time and thank you for reading this post on learning more about the cat beds & sleeping behavior of cats!
Cats Sleep a Lot!
And you should take care of that. The biggest thing which you should keep in mind is before purchasing a Cat Bed for your Feline is your Cat's own preference. So make a fair choice.
Have a purr-fect day!