Do you think treating your cat for worms is easy? With best cat dewormers, it is. You can buy over-the-counter dewormer treatment for cats after reading reviews.
Parasitic worms are one of the commonest health issues in pets that can affect their digestive system. If untreated, worm infestations may result in minor conditions such as unhealthy skin and coat or major ones such as gastrointestinal disturbances and anemia. Parasitic worms can infect all cats and they can be passed on to other animals or humans too!
Immediate steps to treat parasitic worms are necessary and thankfully the condition is easy to cure using the right deworming medicine. A lot of factors must be considered carefully before choosing the right cat dewormer treatment. There are a lot of remedies out there and it can be confusing to figure out which one could be the best, how frequently should it be used and how does it function.
Best Cat Dewormer: Bayer Tapeworm Dewormer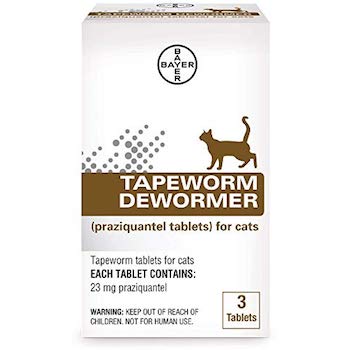 The Bayer Tapeworm Dewormer pills are the best because they act against tapeworms in a single, easy-to-administer dose. Each pill contains 23 mg of the active ingredient, praziquantel, and can be given directly or powdered and mixed with food. Its ability to quickly and safely eliminate parasites makes it the preferred cat dewormer of many feline-owners and vets.
How to Treat Worms in Cats?
Worms in cats can be treated using chemical products like cat dewormer treatments or natural products. Chemical treatments can be either over-the-counter or prescription, though both are equally effective.
The type of chemical treatment your kitty needs depends on the type of worms she is infected with. The most common chemicals used to kill the worms in a cat's intestines are:
Praziquantel kills tapeworms by starving them until they completely disintegrate.
Pyrantel Pamoate works against roundworms and hookworms by paralyzing their bodies.
Piperazine paralyzes roundworms so that they can pass through your cat's body.
Diatomaceous earth is the most commonly used natural product. It functions by dehydrating the worms and is also said to be effective against fleas.
There has been a lot of debate surrounding the efficacy of diatomaceous earth. Natural treatments appear to have greater appeal but their efficacy is the biggest concern.
Your cat's safety should be the most important factor that should influence your selection of treatment. Check side-effects of the cat dewormer treatment before purchasing.
The 10 Best Cat Dewormers (Reviews) of 2021
As discussed earlier, it is very confusing to select the right deworming treatment for your kitty. To address this confusion, we have reviewed a number of cat dewormer therapies available on the market and present to you 10 that we believe are truly great options.
1. Bayer Tapeworm Cat Dewormer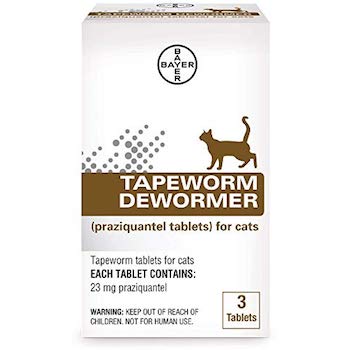 Who Should Use: For Cats with tapeworm
If small white pellets become visible in your cat's excreta or he is often seen licking or biting the area under the tail, then he could be having tapeworms.
Tapeworms are often transmitted to cats when they swallow adult fleas that are infected, though they can also be contracted through wild animals. Segments of the tapeworm break off as they grow, pass through the intestines and often appear in your cat's stool.
Bayer Tapeworm Dewormer tablets are the best cat dewormer treatment available to rid your kitty of tapeworms. They kill tapeworms in a single, simple-to-administer dose. These pills are the top choice for both cat owners and vets to counter tapeworm infection quickly and without any associated risk.
These tablets come in a pack of 3 with each containing 23 mg of the active ingredient, praziquantel. This ingredient fights the most common species of tapeworm and kills them in just one dose.
Administering the dose is simple and it can be fed directly or the tablet can be crushed and mixed with your kitty's food.
Some cats who have been administered the treatment are known to have contracted diarrhea.
Side Effects: Some cats may suffer diarrhea after administering.
Pros
This cat dewormer tablet rids your pet of tapeworms within 24 hours.
The tablet is very convenient to administer.
It has a powerful active ingredient and is still available over the counter.
Cons
Some cats may contract diarrhea after administering it.
This treatment is not for cats below the age of six weeks.
2. HomeoPet WRM Clear Natural Dewormer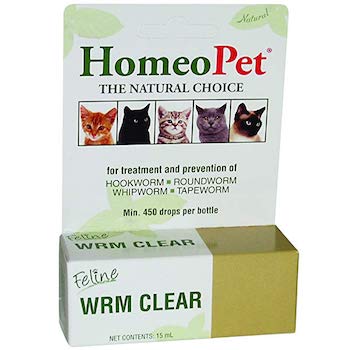 Who should use: For kittens with hookworms, roundworms, whipworms, and tapeworms.
Kittens contracting intestinal parasites is very common. They can get worms while nursing from an infected mama cat and or may also be born with worms. Because kittens are expected to be sensitive to chemicals, it is better to choose a natural option. HomeoPet WRM Clear Natural Dewormer is for cat owners who want to rid their kittens of worms.
This cat dewormer product is a liquid homeopathic treatment to prevent infestations of hookworms, roundworms, whipworms, and tapeworms. It strengthens your kitten's immune system and digestive tract to naturally eliminate the worms from its body.
It is one of the alternatives to the best cat dewormer available in the market.
These liquid homeopathic drops may enable your kitten to recuperate more rapidly from the effects of infestation in a natural manner. The liquid form makes it easy to administer.
Being a natural therapy, this treatment is free from any side-effects.
Side-effects: This one is a natural formula and has no side-effects.
Pros
This one is a natural homeopathic formulation and is very good to treat kittens, whose bodies are sensitive to chemicals.
It can treat and prevent four types of worms.
The cat dewormer medicine is liquid in form and this makes it easy to be administered.
Its natural ingredients help the kitten to recover from the effects of the infestation.
Cons
This homeopathic treatment does not kill worms, only removes them from the body.
Needs a longer period to show effects (three doses for 14 days).
3. Bayer Drontal Broad Spectrum Dewormer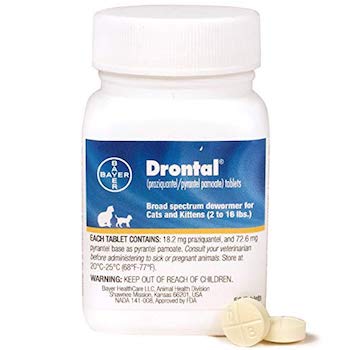 Who should use: For cats with tapeworms, roundworms, and hookworms.
When owners are not sure of the type of worm infesting their cats, or if they suspect multiple types of infestations, then a broad spectrum dewormer such as the Bayer Drontal Cat Dewormer is a great alternative. Although expensive, this treatment may actually end up saving money if your cat contracts intestinal parasites very frequently or if you want to treat multiple cats.
Bayer Drontal Dewormer is a favorite of vets and has two ultra-powerful active ingredients: pyrantel pamoate and praziquantel. It is available in the tablet form and doses can be conveniently administered. The tablets are equally safe for both kittens as well as adult cats. Each bottle contains 50 tablets, which makes it worth all the money cat owners spend buying it.
These cat dewormer tablets are very effective, yet safe. There is very less risk associated in the form of side-effects.
Side-effects: This medication has a very low risk of side-effects.
Pros
It is the preferred treatment of vets when they are looking to treat intestinal parasites.
This targets multiple types of worms and has two active ingredients: pyrantel pamoate and praziquantel.
The medication is very effective yet carries a low risk of any side-effects.
Cons
This cat dewormer is very expensive to purchase.
It is not recommended for kittens below 1 month or 1.5 lbs.
Some cats may not enjoy the taste.
4. Pro-Sense Liquid Dewormer Solutions For Cats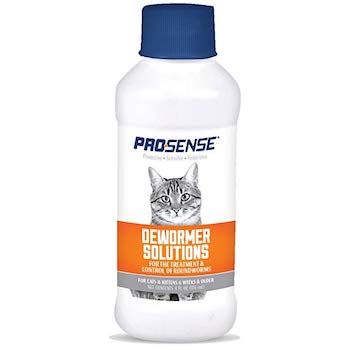 Who should use: For cats infested with roundworms
The commonest infestation that occurs is that of roundworms. It is believed that 25%-75% cases of worm infestations every year in the USA are those of roundworms. Cats can contract roundworms because of eating rodents, feces or other such substances that are carriers of roundworm eggs. The Pro-Sense Liquid Dewormer is a useful product if you suspect your cat to be infected with roundworms.
Roundworms survive on nutrients from the food your cat eats and eventually make your kitty malnourished if the infestation is left untreated. Each teaspoon of Pro-Sense Liquid Dewormer contains 250 mg of the active ingredient piperazine citrate and is known to be safe even though stronger doses may lead to vomiting.
This cat dewormer liquid formula is very simple to be administered and cats will enjoy its taste. It can be given directly or mixed with cat food. According to vets, this treatment is so effective that it can even get rid of the largest species of roundworms, which usually have to be removed surgically.
Cat owners have commented that in higher doses, this cat dewormer may lead to vomiting.
Side-effects: Higher doses may cause vomiting.
Pros
This medicine can tackle even large species of roundworms.
Each teaspoon contains active ingredient 250 mg piperazine citrate.
The medicine is a liquid that can be easily administered and is very economical.
Cons
This product is not recommended for cats and kittens under six weeks or 2.5 lbs.
High doses of Pro-Sense dewormer may lead to vomiting.
5. Durvet WormEze Liquid Canine & Feline Antihelmintic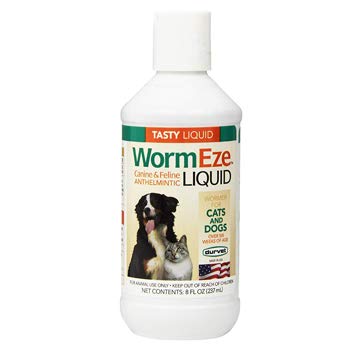 Who should use: For cats infested with roundworms only
Roundworms are the commonest infestation that cats suffer from. The Durvet WormEze liquid is a powerful treatment to get rid of them from your cat's intestine. This liquid antidote contains the active ingredient piperazine that paralyzes roundworms so that your kitty can pass them out via stool.
For the cat dewormer treatment to be effective, you may have to repeat the dose after 10 days. Although the liquid is easy to measure and administer, one must be careful not to give an overdose. The liquid can be either administered directly or can also be mixed with the food of your pet.
The treatment is not recommended for cats and kittens under six weeks of age and it can be purchased over the counter. This cat dewormer medicine can result in occasional side effects such as nausea and vomiting.
Side-effects: This medicine can occasionally cause nausea and vomiting.
Pros
very effective against roundworms.
Prescription of a vet is not needed.
Easy to administer
Cons
This treatment cannot tackle other kinds of infestations such as tapeworm, hookworm, lungworm, and heartworm.
Not indicated for kittens and cats under six weeks of age
6. Excel Roundworm Liquid Cat De-Wormer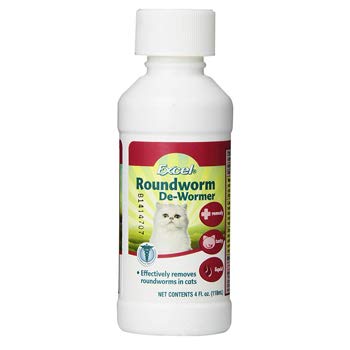 Who should use: For cats with roundworm infestation
As has been discussed earlier, roundworm infestation is the commonest worm infestation in cats every year in the USA. The Excel Roundworm Liquid Cat De-Wormer is an effective option for cat-owners who suspect their kitties of having contracted roundworms.
Each 5ml dose contains 250 mg of the active ingredient, piperazine, which paralyzes roundworms so that your cat can get rid of them through the passage of stool. The cat dewormer treatment has a delicious vanilla flavor to appeal to the taste-buds of both cats as well as kittens.
This medication is very simple to be administered. It can either be given directly or mixed with cat food. To prevent reinfestation, a second dose may be needed after 30 days.
Cat-owners are advised to be very careful with the dosage because stronger doses could lead to nausea or vomiting.
Side-effects: Stronger doses may cause nausea and vomiting.
Pros
It is easy to administer.
Each 5 ml contains active ingredient piperazine that paralyzes roundworms so that your cat can pass them out in the stool.
Has a vanilla flavor that both cats and kittens find very delicious.
Cons
Some cats may find the vanilla flavor repelling.
This medicine is not recommended for cats and kittens under six weeks of age.
7. NaturPet D Wormer 100% Natural, Safe, Effective Dewormer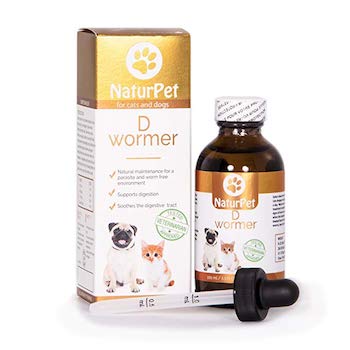 Who should use: Broad spectrum dewormer for cats infested with any type of worms
Many cat owners hate the idea of giving their pets medication. However, if the cat is infested with worms, it has to be treated. NaturPet D Wormer is an alternative option to over-the-counter cat dewormer medications and is made from natural ingredients such as black walnut, fennel seed, sage leaf, papaya leaf, etc.
The NaturPet Dewormer is great to fight tapeworm as well as roundworms, so if you are unsure about the type of worm infecting your kitty this is also a broad spectrum de-wormer. The treatment has herbal ingredients that have proven anti-fungal and anti-parasitic properties besides the ability to help the digestive tract recover post infestation.
Administering is made easy because the purchase includes a dropper to measure the dose precisely.
Because of the herbal nature of ingredients, this treatment does not have any side-effects.
Side-effects: Being a herbal treatment, this product has no side-effects.
Pros
The dropper makes it easy to precisely administer the dose.
This is also a broad spectrum dewormer, so effective against both roundworms as well as tapeworms.
Besides deworming qualities, also has the ability to restore the digestive tract to its original condition post infestation.
Cons
This may not be as effective as other chemical formulations.
Only tackles roundworm and tapeworms, does not work against hookworms.
8. Hartz UltraGuard Rid Worm Liquid for Cats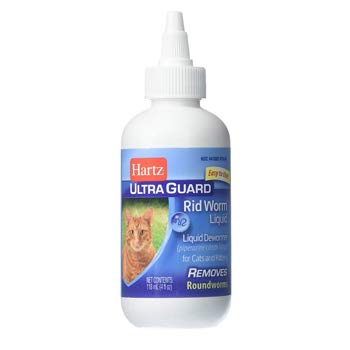 Who should use: For both cats and kittens infested with roundworms only
This dewormer contains the active ingredient piperazine that can effectively tackle roundworms in your cat's intestine. It is very easy to administer because of its delicious flavor.
The product is recommended only for cats and kittens more than 8 weeks in age. Because it is available as syrup, it can be given directly or can be mixed with the food. For more effect, the treatment needs to be repeated after 14 days.
Side-effects: May cause salivation or tremors in the pet.
Pros
The flavor makes medication more palatable
Easy to administer syrup form
A very effective remedy for roundworms
Cons
May cause salivation or tremors in a few animals
9. Alternative Animal Worm Free Natural Cat Wormer for All Worms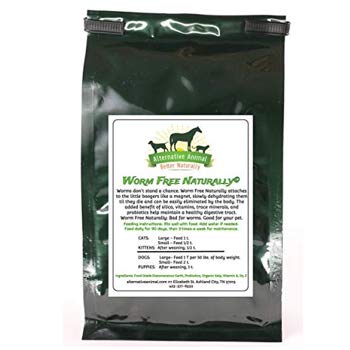 Who should use: For cats with hookworms, roundworms, whipworms, and tapeworms
This product is a homeopathic remedy with natural ingredients and claims to tackle multiple kinds of infestations. Cat owners skeptical about administering medicines may try this natural therapy.
The formula contains kelp, vitamins, and probiotics, to not only get rid of the worms from your pet's system but also to ensure the pet's overall well-being. Its style of dealing with parasites is a little novel as compared to other products on the list. Alternative Animal Worm Free Natural Cat wormer deals mechanically with parasites and damages their coating in ways that can make it lethal for them.
Because of the way it works, parasites will not be able to become immune to this cat dewormer treatment as they would to other medication.
This homeopathic concoction is available as a powder to be mixed with your cat's food. It can be used for small as well as big cats. Big cats can have one teaspoonful of the powder added with food while smaller cats and kitten can eat half a teaspoon with their food.
The company recommends the correct dose for cats once a day for three months and then one dose three times in a week to prevent reinfestation.
Side-effects: This product is a homeopathic remedy and does not have side-effects.
Pros
The product is equally suited to cats and dogs.
The formula contains many nutrients that are beneficial for your pet's health.
The company claims its product can tackle hookworms, roundworms, whipworms, and tapeworms.
Cons
A long treatment period of three months to rid your kitty of intestinal parasites.
This product is not recommended for nursing kittens.
10. Healex Cat Dewormer Tablets For Kittens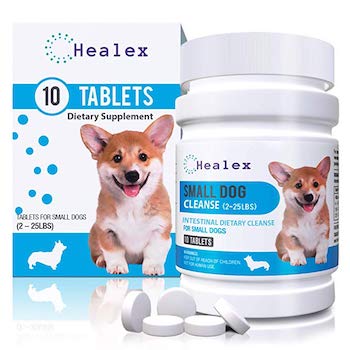 Who should use: For cats with tapeworms and roundworms.
Healex Cat Dewormer Tablets are a kind of treatment that can rid your pet's intestines of tapeworms and roundworms. It is also a product for cats who are not sure of the kind of infestation or for cats with multiple infestations.
This cat dewormer treatment is also applicable to kittens and each pack contains 10 deworming pills. The purchase also includes an e-book on how to administer the dosage. The pill size is small and can be easily powdered to be mixed with your cat food.
The tablets carry no risk and are virtually free of any side-effects.
Side-effects: This product does not have any major side-effect.
Pros
The treatment is effective against both tapeworms and roundworms.
Tablets are small in size and can be broken up easily.
Can be fed directly or can be mixed with food.
E-book instructions guide buyers on how to administer the doses.
Cons
Not recommended for kittens below six weeks of age.
This product is not meant for use in pregnant or nursing cats.
Does not tackle heartworms.
Buyer's Guide on

Dewormers for Cats
We sincerely believe that the product reviews should have assuaged some concerns in your mind regarding deworming remedies. To rid your mind of any further doubts, we present to you our buyers' guide. Here, we have discussed the various kinds of worms that are likely to infect your cat and its related symptoms.
Types of Worms in Cats
A wide variety of worms can infect your cat. Common symptoms of most intestinal worm infestations are diarrhea, change in appetite, lethargy, and loss of weight. When worms become adults, they can become visible in the cat's excreta or in the fur surrounding the tail.
When you bring your pet to the vet to be examined, he/she would ask you to carry a sample of your kitty's stool along with you. The purpose is to check for the presence of worm eggs in the stool sample under a microscope.
The worm can be identified after studying the shape, size, and color of the eggs. Intestinal parasites can be gotten rid of using proper medication purchased over-the-counter or prescribed by the vet.
Roundworms, popularly called ascarids, are the most common in cats as well as kittens. They are pretty resilient and can live in the soil for months or even years. In the adult stage, roundworms appear spaghetti-like in the cat's excreta. Roundworms can also move up the gastrointestinal tract making your kitty cough. Potbellied kittens are usually infected with roundworms. Humans can contract roundworms through the handling of infected litterboxes.
Tapeworms most commonly infect adult cats. Tapeworm larva can be found in intestines of fleas and when your kitty swallows a flea while grooming, the tapeworm larva ends up entering the cat's system. An adult tapeworm in the cat's excreta appears like a grain of rice. Humans too can get contracted if they accidentally swallowed a flea.
Dogs are more prone to contracting hookworms, but cats too are at significant risk. Hookworms are similar to roundworms, but are much smaller and live in the small intestine. Serious hookworm infestation can cause anemia because they feed off a cat's blood.
As the name suggests, these infect a cat's lungs. The usual host for a lungworm is a snail or a slug. They, however, rise up the food chain when a bird eats a slug and the cat then preys on the bird. Coughing is the symptom because they take root in the lungs.
Contracted from a mosquito bite, the condition was thought to afflict only dogs but instances of feline heartworm have grown significantly. Heartworms in cats create lung problems. There is no treatment for heartworms in cats but in many cases, cats are able to stave off the infection on their own.
How to tell if your cat has worms?
The following are the symptoms that your cat possibly has worms and needs cat dewormer treatments:
Weight Loss and Bulging Tummy:
Cats with worms have a good appetite but you will notice that they are losing weight despite eating normally. If your cat is losing weight for some reason it is time to take her to the vet but if it is accompanied by a bulging tummy, then that may be a symptom of worms.
Coarse Fur:
Another symptom of worms in your cat can be the changed condition of the fur. Their fur could get coarse and become less shiny. This is particularly a symptom of worm if accompanied by a bulging tummy.
Change in bowel habits:
Cats with worms show changes in bowel habits and may start suffering from diarrhea. Whether it is due to worms or not, it is important to take your cat to the vet for further examination.
Visible traces of worms:
Worms, or parts of them, can start appearing in the kitty's feces. They could also show up around their anal cavity, or possibly in their bed.
Erratic behavior:
Any erratic or unusual behavior from your pet feline needs a medical examination. However, there are two signs that indicate worm infestation:
a. Laziness – Cats with worms often become lazy. They lack enthusiasm and their interest in things that excited them diminishes.
b. Dragging themselves along the floor – This is the strongest symptom of cat worms. When cats start dragging their bottoms along the floor, it could be possibly because worms are annoying them.
How do kittens get worms?
If you have a kitten, you need to protect them against worms. If the kitten doesn't have worms yet, chances are it will contract them at some point in the future. How do kittens contract worms? There are three main avenues for kittens to contract worms:
It is not necessary for kittens to get exposed to the big, bad world to get infected. The cause of infection can be much more domestic: their own mother. In case the mama cat is infected with roundworm or hookworm, and the kitten nurses from her, then the larvae pass through the milk to infect the kitten. A mama cat who brings "meals" for her kitten in the form of mice, moles or birds is also introducing worm eggs into the surrounding environment.
Another way a kitten gets worms is through what it eats. If a kitten swallows a flea during grooming and that flea has been feeding on tapeworm eggs, the eggs get transmitted to the kitten. Kittens also get infested if it swallows infected feces and vomit. This can happen intentionally or accidentally. If a kitten accidentally steps into poop and then grooms itself, it can end up contracting roundworms at the same time.
If the kitten swallows something thrown up by another kitty, there lies a chance that it may contract stomach worms. Finally, if the kitten eats an infected bird or rodent, it can end up contracting tapeworms, hookworms or roundworms.
The skin can also help to transmit worm infections in kittens. This is a very common way of getting infected in adult cats, but a kitten that comes into contact with hookworm larvae can get afflicted in this way.
The hookworm gets entrenched in the skin and enters the lungs of the kitten. From the lungs, it migrates to the intestines.
Worm infestation can prove dangerous for kittens if left untreated. A mass of roundworms, for example, can block the intestines. Hookworms and tapeworms can make the kitten anemic. It is very important to take every kitten to a vet. Whether they show indications of worm infestation or not, kittens need to undergo deworming.
A vet can verify the presence of worms after examining a sample of the kitten's excreta. Treatment requires administering medication. Kittens can be freed of worms without harming them if detected early and treated properly.
FAQs
How much does deworming cost?
Many people seek professional help for deworming their cats. That can cost a bomb. However, over-the-counter deworming remedies are also available on the market to take care of deworming your feline companion at home. Some products are pretty economical that are available for around $5, whereas some others are outright expensive. There is always something in the market that will strike the right balance between suitability for your kitty and your budget.
How long does dewormer take to work?
It typically takes about 2-3 weeks to really get rid of intestinal parasites in a cat. However, this is just for mild infections. Moderate to severe intestinal parasite may take even longer to get rid of especially when they have moved to other parts of the cat's body such as lungs, liver, heart or even the brain. When such is the case, your vet will evaluate other options that can be used.
How long does Drontal plus take to work?
Drontal Plus will quickly and effectively remove tapeworms and roundworms from your pet's intestine. The pills are given to the animal, preferably disguised as food. The cat dewormer product is administered as a single dose and need not be given for a certain number of days. The company recommends 1 tablet for 10 kgs of body weight.
What to expect after deworming a cat?
Deworming is essential because leaving the condition untreated can prove toxic for your pet feline. However, cat dewormer medications are after all chemicals and may have side-effects. Vomiting, loss of appetite for a few days, diarrhea and increased salivation are some of the tangible side-effects that cats show after undergoing deworming treatment.
What is the best over the counter wormer for cats?
According to our experts, tapeworm infestation is a very common infestation seen in cats. They believe that the Bayer Tapeworm Dewormer tablets are the best to rid your kitty's intestines of tapeworms with only a single dose that can be easily given. There are no side-effects except a few owners reporting that their cats contracted diarrhea after deworming.
Conclusion
Intestinal parasites can make life hell for your beloved pet feline. If left untreated, the consequences could be far-reaching for your kitty's well-being. We have, through this cat dewormer post, tried to help our readers find the best deworming solution for their pet feline. We believe that a pet should be free from intestinal parasites. Otherwise, their human companions, are also at risk of getting infected.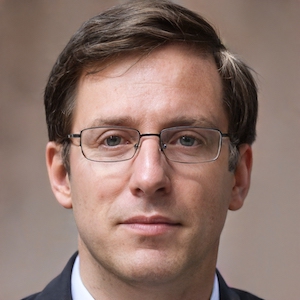 Anthony Brooks has an undergraduate degree in veterinary science and is a managing editor and regular contributor for catlovesbest.com. Being an avid pet enthusiast, he lives in Wisconsin and is a guardian to three snow-white Maine Coons – mom, dad, and their kitty. In his spare time, he loves to review products that cats find delightful and loves to share his insights with other fellow cat enthusiasts on this website.