Do you find it very annoying when your cat scratches your furniture? It is not going to help if you scream at her for scratching because it is instinctive behavior. Instead of curbing your kitty's instincts, it is better to buy the best cat scratching post so that she doesn't mess with your furniture.
There are so many options to choose from in the market that it is not surprising if you are a bit confused which one would be perfect for your cat.
We have tested scores of scratching posts and short-listed 11 products that we believe are the best available in the market today.
Best Cat Scratching Post:
Pioneer Pet SmartCat Scratcher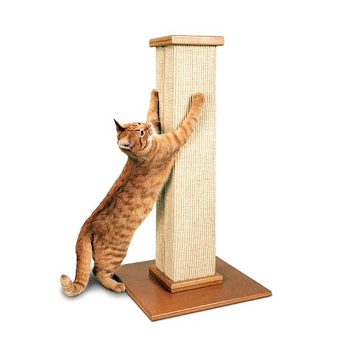 The SmartCat Pioneer is a 32″ square post wrapped in natural sisal fibers and supported by a sufficiently wide square, wooden bottom to prevent the post from getting knocked over. The simple, elegant, and stable design has made many cat parents choose the SmartCat Pioneer to satisfy their kitty's scratching urges.
Benefits of Scratching
Scratching is instinctive for a cat. The act of scratching activates the scent glands in a cat's paws and marks out territory. It leaves visual marks that help to reinforce a cat's claim over the territory.
Scratching is also part of self-grooming as it removes the outer layer of the nails and ensures that they stay clean.
Felines resort to scratching in order to stretch their claws, feet, and body. This releases "feel good" hormones in their body and ensures that they stay healthy.
Scratching is also a way of expressing a cat's excitement or is a way of releasing stress, or of venting anger.
The Best Cat Scratching Posts and Towers of 2021
Now that you have understood how important it is for a cat to indulge in scratching, you are unlikely to want to curb this activity. Instead, you may want to know if there is a way out that will allow your cat to pursue her instincts but still spare your furniture. Many artificial cat scratch posts are available but selecting the correct one for your kitty could prove challenging. We present to you the top 11 brands in this category.
1.SmartCat's Pioneer Pet The Ultimate Scratching Post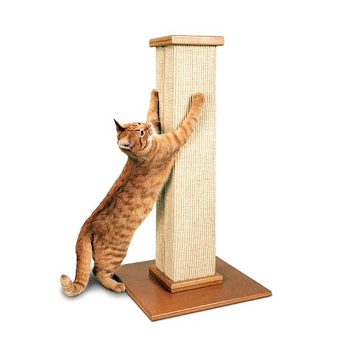 The SmartCat Pioneer cat scratching post looks more like a beautiful inside home decor than a scratching post for our feline buddies. The square pillar that measures 32 inches is wrapped in natural sisal fibers to give it a striking but stylish contrast to its mahogany-like dark-stained wooden base and top.
The support base structure is sufficiently wide and the height of the SmartCat Pioneer is such that you have a stable scratching post without having to nail it to the floor or the wall. A simple, elegant and stable design is what makes the SmartCat Pioneer the preferred choice in the category of cat scratching posts.
Pros:
The base is wide enough to prevent the post from tipping over when in use. The wooden base will also complement the furniture in your house.
The tall sisal post is expected to be resistant to scratching and allows the cat to fully stretch vertically.
The product requires minimal assembly as the post can be attached to the base with the help of just a couple of screws.
Cons:
The durability of the materials makes this a premium product. It is not for people with budgetary constraints.
2.TRIXIE Parla Scratching Post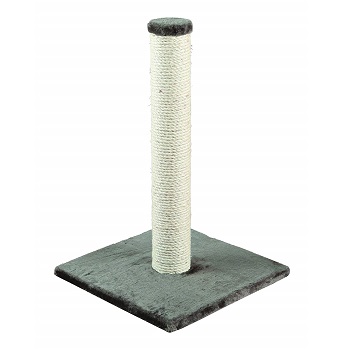 This product is for those who find the design of the SmartCat Pioneer very impressive but are reluctant to pay the premium price. The Trixie Parla Scratching Post is available for less than half the price of the SmartCat Pioneer. The post is obviously 8 inches shorter than the SmartCat Pioneer and is suitable for smaller cats.
The base of the post is sufficiently wide to impart stability without having to anchor it either to the floor or the wall. The post is again wrapped in natural sisal, which has become the material of choice for scratching posts and pads. The base is covered with soft, plush fabric to provide more stimulation to your kitty.
Pros:
It is made from durable sisal and will last longer than cat scratcher cardboard, which your kitty can blow up into flakes in no time with her aggressive scratching.
Cons:
The cost is not extraordinarily high but it is not cheap either. Definitely not a product for budget buyers.
3. 

Catit Scratcher with Catnip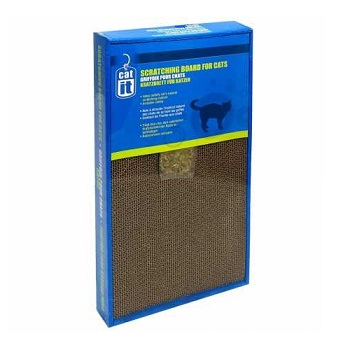 This is a simple rectangular corrugated scratching surface made from cardboard to satisfy the natural urge of your kitty to scratch. It has a wide design and comes with a bag of catnip to attract your feline. It helps furniture and your carpet to stay protected from the kitty's claws.
Pros:
It is meant to last. The damage will eventually be done depending on how much the cats use it. However, readers have written to us that the product does not come apart as quickly as expected despite heavy scratching.
Cons:
Your kitty may tear this cat scratcher cardboard and create a mess by spreading the flakes of the cardboard all over the floor.
4. SmartCat Bootsie's Three-in-One Cat Scratcher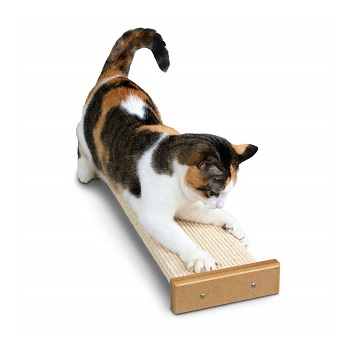 The SmartCat Bootsie can be used as a horizontal as well as a vertical scratcher. At 24 inches, it is long enough to be scratched comfortably when placed horizontally. It can also be wall mounted at any height to account for the reach of your kitty. Because the SmartCat Bootsie is less than 3 inches thick, it can even be accommodated in the hallway without obstructing the path.
When vertically mounted, the rubber feet (Bootsies) muffle wall bangs during furious scratching sessions. They also prevent it from sliding when placed horizontally. It is big enough for cats to use comfortably, thin enough to be accommodated easily and extremely lightweight to be moved around. The scratching material used is again woven sisal, which is rapidly gaining in popularity as the material of choice.
Pros:
It can be used both vertically as well as horizontally.
It is extremely lightweight and can be moved around.
Being flat, it can be accommodated in a smaller space.
Cons:
One of our readers has written saying that the product they received had a strong chemical odor and the cats refused to touch it.
5. TRIXIE Pet Products Miguel Fold and Store Cat Tower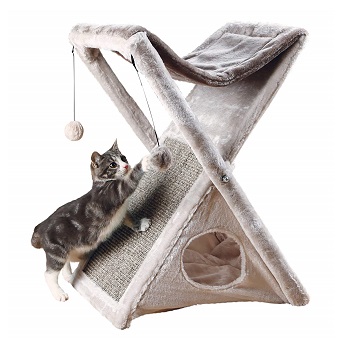 This is a unique product which is a combination of a cat house, a hammock and a scratching post all rolled into one. It is built on the lines of a portable stool we use in our gardens or carry to a weekend getaway. Two X-frames join at the top and connected with a soft fabric to function as a hammock.
It is the Trixie Miguel cat climbing frame that comes with a scratching surface made from natural sisal fibers. The lower pyramid formed by the crossing of the frames serves as a hide-out for the cat whereas springy balls hang by the corner of the frame.
Pros:
This is a cat house, hammock and scratching post all rolled into one so those of you not interested in crowding your home with cat furniture can opt for a combination product.
Can be folded up and is therefore movable and convenient to store.
Cons:
This has also been priced at a premium but because it serves three purposes, the product is worth it.
6. PetFusion 3-Sided Vertical Cat Scratching Post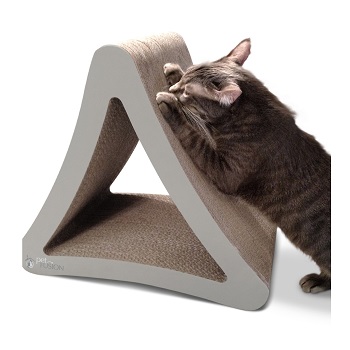 The PetFusion 3-sided Vertical Cat Scratcher is a triangle with curved sides and a hole in the middle. The unique design allows it to be rolled to any side and your kitty will still have a lot of surfaces to scratch on.
The curves on the PetFusion will facilitate stretching while the cavity in the middle can act as a relaxation zone/hide-out for your kitty. The scratching surfaces are lined with recycled cardboard.
Pros:
The designing is such that it will provide ample opportunity to your cat's preference whether she loves scratching vertical or horizontal surfaces.
The design also encompasses a cubby hole for exploration and play.
Cons:
The price could be prohibitive for many of you cat lovers.
7. MidWest Cat Furniture ( Cat Trees & Cat Scratching Posts )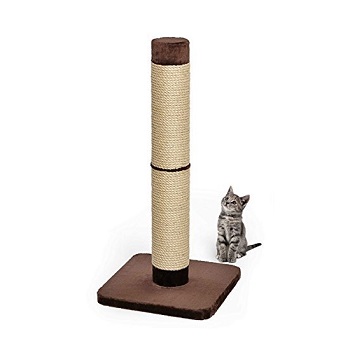 This is another sisal scratching post and a rather sturdy one. 
It is an extremely long, strong and thick scratching post suited to large cats. 
The post is wrapped in extra durable thick and tough natural sisal attached to a sturdy base.
Pros:
It is easy to be assembled at home and comes with all the tools that are required for it.
Sisal is non-toxic, durable and can withstand heavy scratching.
Cons:
The product is priced at a premium and could be prohibitive for customers.
8. PARTYSAVING Cat Claw Scratching Sisal Post for Kittens and Cats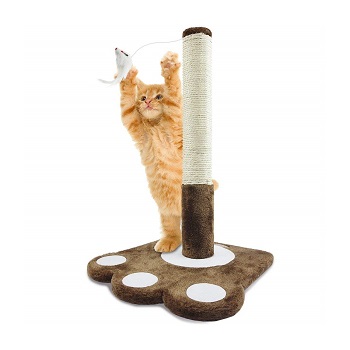 This is yet another sisal scratching post for cats that aids in preventing your cat from scratching, clawing and causing irreversible damage to your furniture.
A sturdy base is padded with faux fur to make it soft, comfortable and plush.
Durable sisal rope wraps the post, making it the perfect surface for your cat's scratching urges.
Pros:
The cat scratching post comes with a toy mouse dangling from the top and gives it a playful look.
Cons:
This is an extremely tiny post and therefore suitable only for young kittens. It is also extremely lightweight and cats can easily topple it during use.
9. WIKI Cat Tree Scratching Toy Activity Centre Cat Tower Furniture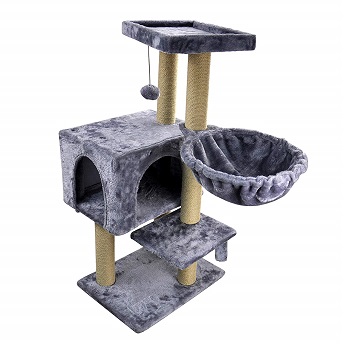 Its overall size is 25.98″x 16.14"x 35.43″ and is made from high-quality faux fur and natural jute posts that can withstand long-time scratching.
The tree has three levels for cats to climb up and down, a comfortable and spacious home for the cat to sleep and a hammock to relax.
A playing ball integrated with it provides a lot of fun.
Pros:
Despite the complex design, the cat scratcher post is easy to assemble. It is a cat scratching post, a home and a tree all rolled into one.
Cons:
The basket-like hammock may knock the tree over, which means that there are questions over its durability.
10.

Four Paws Super Catnip Carpet and Sisal Scratching Post Cat House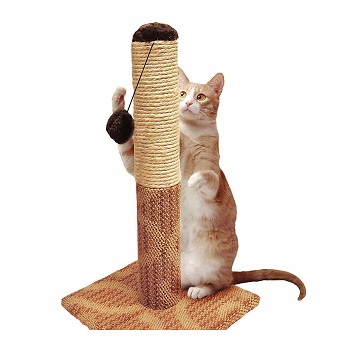 This cat scratching post from Four Paws comes with a fun catnip ball dangling from the top of a scratching post, which has two parts made from carpet and sisal fibers. It is shorter and priced lower than the Trixie Parla.
This product also has a catnip ball for added fun.
It helps prevent your cat from scratching the furniture.
Pros:
It is very easy to assemble.
Cons:
Though this is sturdy and durable, it is a shorter post and can suit only kittens and smaller cats.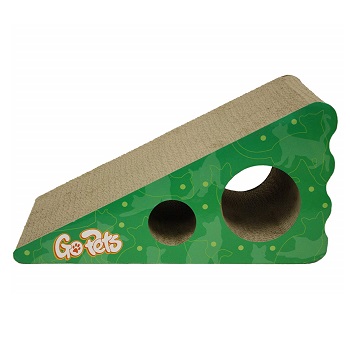 This is a comfortable, naturally inclined product that is more ergonomic than other scratching products such as a cat scratching tree, tower or post.
It is made from recycled corrugated cardboard and includes a free catnip to attract your kitty.
Pros:
The cat scratcher is recyclable and minimizes your carbon footprint as compared to cat trees, cat towers and cat scratching posts.
Comes with an unconditional satisfaction guarantee and the company offers a replacement and refund just in case you are not happy with the product.
Cons:
Our readers have complained that the cardboard shreds create a mess so you need a broom as well to clean it up after your kitty's scratching session.
Our Buyers' guide of scratching posts and towers
We have already discussed how important it is for the cat to satisfy her natural urge to scratch. And to prevent her from practicing her art on your expensive furniture, carpet or curtains, it is necessary to provide her an alternative in the form of artificial cat scratching posts. If you are shopping for the product for the first time, then the material is the single most important factor that must influence your decision.
The most popular choice is the sisal rope. It has a rough texture and your cat can dig its claws into it. Sisal is also tough and durable, so even if it costs more than other alternatives, it is value for money because it can serve your kitty's urge for a longer time.
Another factor that you must note is the height of the post, which must be twice that of your cat to allow her to stretch fully the arms, legs, and body.
If your kitten is short, you may buy a shorter scratching post and replace it later with a taller one when it grows older. Or you may buy a tall scratching post for your kitten at the very outset so that it can last even when he/she grows older.
It is also imperative to check the stability of the scratching post. Cats do not hold back when scratching, the post should, therefore, be able to tolerate vigorous scratching and sufficient pressure. The base of the cat scratching post must be wide enough; taller the post the wider should be the base.
Types of Cat Scratching Posts
If after going through the product reviews confusion still lingers in your mind, we plan to dispel it in this forthcoming section. Here we have discussed the different types of scratchers so that you get a fair idea on which variant to choose.
Horizontal Cat Scratchers
If you notice that your cat is scratching only carpets, floors or throw rugs, then it is likely your kitty prefers a flat surface. Flat scratchers such as cardboard cat scratchers or mat scratchers would appeal to these kitties.
If the cat is seen to be scratching sofa arms, chair backs or curtains, it is likely that your cat will prefer a scratching post that will allow her to scratch with her front claws while standing on her back legs.
If your cat likes to scratch anything in any position or you have multiple cats that like to scratch in different styles, then you may want to provide cat scratchers that allow scratching in either position. Three-dimensional cube scratchers or bed-type scratchers that have both vertical and horizontal scratching sides are ideal. They even double up as relaxation spots.
FAQs
This part is meant to answer any quirky questions that may have cropped up in your mind ahead of purchasing a cat scratching post for your feline.
All cats scratch. It is natural and is actually necessary for the health of your cat. It keeps the claws in perfect condition and the stretching, associated with scratching, is a good exercise.
It may be frustrating for cat owners when they scratch furniture, but instead of trying to stop them you should provide them an alternative opportunity in the form of cat scratching posts.
How can I stop my cat scratching furniture and my carpet?
Keeping the cat away from the area she is damaging may be the most simple solution, though not always possible. The next solution is to make the area she is damaging unattractive for scratching.
Cats like to scratch rough, textured surfaces in which they can dig their claws deep inside. Therefore, if your cat likes to scratch the corner of the sofa, try and cover it with a smooth blanket for a few months. Textured wallpaper is another favorite place cats like to scratch, but to cover the entire wall with a smooth surface without completely redecorating is not possible.
Cats end up scratching sofas, wallpapers, and carpets because they do not find any other opportunity to satisfy this natural craving. All cats need to scratch and your solution is a good quality cat scratching post.
Why won't my kitty use the scratching post?
People have put in years of research on studying cat preferences toward scratching. Cats are known to prefer vertical surfaces. Tall, vertical surfaces allow cats to fully stretch, arch their backs and scratch vigorously. They also prefer a sturdy, stable post that won't topple over when they are at it.
Sisal rope is a premium quality natural sisal and your cat will go bonkers for it. It is so much more attractive than other ropes used on cat scratching posts.
Should I use the catnip on the cat scratching post?
The only answer to this is that it should depend on you and your cat. It is not necessary that the cat will not scratch the product without using catnip. However, if your cat is already used to catnip, then it may well become necessary.
Where should I position the scratching post?
Cats love to scratch after waking, after eating and even as a gesture of greeting you. The scratching post ideally should be placed near the front door, or where your cat eats and sleeps, or where you spend the most time with your cat. This means you may need more than one scratching post.
I have more than one cat, do I need more than one scratching post?
Ideally, yes. Cats like to take ownership – especially of scratching posts. Your cats may initially share them but eventually, each one will take ownership of one.
How long should a scratching post last?
It will depend on how many cats you have, how old are they and how active they are.
How can I train my cat to use the post and not the furniture?
It can take some time for cats to learn what is okay to scratch and what isn't. Buying a scratching post may not automatically catch her fascination. You may have to use catnip or catnip sprays to attract her to the post.
If they find greater fun in clawing the post, then they may leave your furniture, carpet or wallpaper alone.
How can I clean the scratching post?
The excess hair shed on the post can be removed with the help of a damp washcloth. A fabric softener sheet can also help to remove the hair. If you are looking to disinfect it, make sure you are using a pet-safe disinfectant. Also, make sure that the disinfectant dries up completely before it becomes accessible to the cat again.
Conclusion
It is better to encourage some of the traits that cats are free to practice outdoors even at home. Scratching is just one of those. If you want to save your furniture or carpet, it is worthwhile to buy an artificial scratching post. We earnestly hope that you will find something just right for your kitty among the products discussed in this post.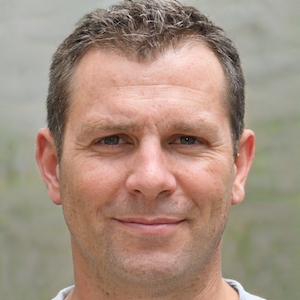 Ethan Roneil is a hell of a cat lover who self-learned cat behavior looking at the professional animal behaviorists. He wants to work alongside the best of the animal behaviorists in America one day and make America a better place for the cats. Apparently, Ethan shares his learnings on the feline diet on this platform. His unconditional love for the cats started when he first adopted an abandoned cat that was left to die on the street of Minnesota where he lived.