The bowls that are prone to scratching will not only make it difficult for you to clean them but they also give a good place for bacterias to breed. The best ceramic cat bowls are not susceptible to scratches and hence are safe for your cats.
Ceramic bowls are also considerably cheaper than metal bowls so it is also a perfect option for cat parents who are low on budget and not willing to pay a hefty amount for other types of bowls.
Aisling Carroll from Hartpury, said: "It is clear from our study that dog water bowls pose a disease risk to both human and animal health."
The 5 Best Ceramic Cat Bowls of 2022
In order to make it easy for you to choose the most appropriate ceramic cat bowl, we have listed out and reviewed the 5 best ceramic cat bowls with its key features: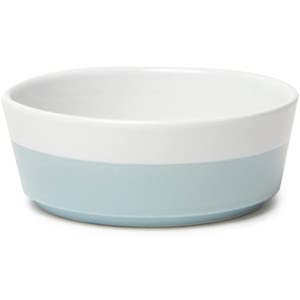 Editor's Pick:
Waggo Ceramic Dipper Bowl
The Waggo Ceramic Dipper Bowl is one of the best ceramic cat bowls. The wide mouth makes it easy to drink or eat and heavyweight ceramic material prevents it from tipping over on the floor.
Most of the ceramic cat food dishes and water bowls come in various sizes and color patterns.
1. Necoichi Raised Cat Food Bowl
The Necoichi Ceramic Cat Food Bowl is a raised bowl that prevents backflow while your cat is eating. Not only it decreases the risk of backflow but the raised design also reduces the stress for your cat to bend in order to reach the bowl.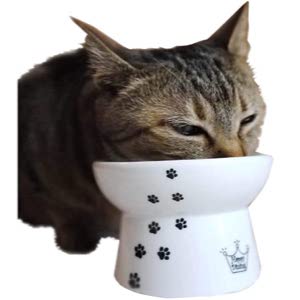 The bottom side of the bowl is wide enough to provide stability to the bowl and prevent it from tipping on the floor. Its wide and round top portion also make it easy for your cat to eat the food, which will also improve digestion in your kitty.
This ceramic bowl is made of high-end porcelain material following with the EC&ECC European standards which is not only safe for your cat but it is also safe to use in the dishwasher and microwave.
The raised design prevents your cat from bending to eat and reduces the risk of backflow
Easy and convenient to feed bowl also promotes healthy digestion
Available in 5 different design patterns
Due to the tall design, the notorious cats can easily flip it
"To conclude, we think this is the overall best ceramic cat bowl."
2. Waggo Ceramic Dipper Bowl
The Waggo Dipper Bowl is a premium ceramic cat bowl perfect for feeding water as well as food to your cat. The conical shape of the bowl makes it easy for your kitty to drink or eat from the bowl.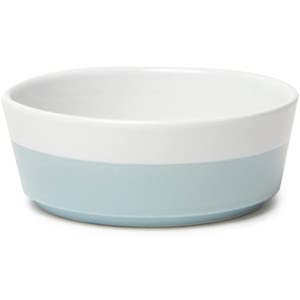 Moreover, it is available in three different sizes, all of which are available in 10 attractive colors. You can easily choose the most suitable size for your cat from the available sizes. The wide opening of the bowl also makes it a good bowl for cats with large whiskers who often get whisker fatigue.
Additionally, it is made out of durable ceramic material which is also heavyweight which prevents the bowl from tipping from the floor. It is also dishwasher safe which makes it easy to clean and being microwave-safe make it convenient to preheat or thaw frozen food.
Dishwasher and microwave safe
Heavyweight bowl the won't tip easily
The wide opening of the bowl make it easy for the cat drink or eat from it
Available in 10 attractive colors
Comparatively expensive as compared to other ceramic cat bowls
Do check out our top picks for Best Cat Bowls made up of different materials.
3. Kaytee Paw-Print PetWare Bowl
The Kaytee PetWare Bowl is a fancy feeder for your cat which is made with durable chew proof ceramic. It has paw prints and face silhouettes of Bunny, Ferret, and Guinea Pig depending upon the variant that you select.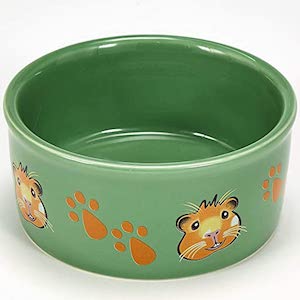 Kaytee ceramic bowl is made up of heavy-duty design prevents tipping and avoid spilling of food or water from the bowl. The wide opening also make it easy for your cat to drink or eat from the bowl easily.
The bowl is dishwasher safe and can be washed with a mild soap solution. This also make it easy and convenient to clean. All these features make not only make it the best ceramic cat bowl but it is also the cheapest bowl in our list.
Cheaper as compared to other products
Heavy duty design that prevents tipping
Available in three attractive designs
The bowl is very small in size hence it is only suitable for small cats or kittens
Provide warm water to your kitty even in the sub-freezing temperatures with the help of heated water bowls for cats.
4. Bone Dry DII Lattice Square Ceramic Pet Bowl for Food & Water
The Bone Dry Lattice Ceramic Cat Bowl is a high-quality lattice design bowl that features a stylish and classy design that makes it perfect to suit the aesthetics of your home. You can also get the personalized cat bowls with the customized designs and the name that you provide to engrave on it.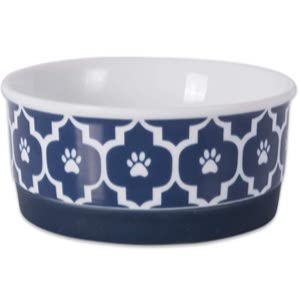 It is great for feeding your cats food as well as water and they also provide ceramic cat dishes set if you want to keep separate bowls for food and water. Its wide base prevents the bowl from flipping and the bottom of the bowl has a silicone ring that prevents it from sliding to avoid spoiling the food or water from the bowl.
The glazed ceramic cat bowl is dishwasher safe which makes it easy to clean. Additionally, it is also microwave safe which make it convenient to thaw or reheat the food in the bowl itself.
Available in four attractive colors
The wide base prevents the bowl from flipping
Dishwasher and microwave safe
The rubber rings in the base comes off easily
5. Ethical Stoneware Animal Dish
The Ethical Animal Dish is a heavyweight stoneware cat bowl that is perfect for feeding food as well as water. Its sturdy design prevents it from slipping or flipping from the floor during mealtime. Being heavy in weight also makes it hard for your pet to knock over the bowl thus it prevents spilling. This also makes it suitable to use as an anti-slip cat water bowl.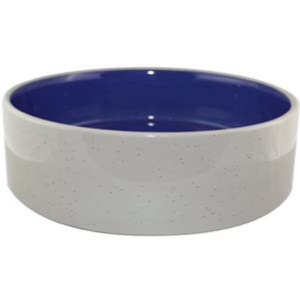 The bowl features a high gloss finish which not only make it scratch-resistant but also gives it a stylish look. Additionally, it is available in five different sizes so that you can choose the perfect one based on your requirement.
The ceramic bowl is totally dishwasher safe and thus it is easy to clean. And having a glossy finish and scratch-resistant material does not get scratched to attract any dirt and thus it is safe for your cat.
Dishwasher safe and easy to clean
High gloss finish
The bowl arrives shorter than what has been mentioned
Buyer's Guide for Ceramic Cat Bowls
We have made this brief buyer's guide so as to make it easy for you to choose the best ceramic cat bowl for your kitty. In the end, we have also mentioned the important factors that you should consider before purchasing a ceramic cat dish to get the most suitable one based on your requirement.
Who Should Purchase Ceramic Cat Bowls?
The ceramic bowls are considered to be the safest cat bowls for feeding food & water to your kitty. This is because the ceramic material is least susceptible to scratches. The plastic bowls or even some of the metallic bowls get scratched after few washes due to which the grooves of the scratches can breed bacteria as that is is not easy to clean.
However, while using the ceramic bowls you have to be careful as they might break if not handled carefully. Nevertheless, you can get stainless steel bowls for cats as the best alternative to the ceramic ones.
How to Choose the Best Ceramic Cat Bowl?
Here are some of the important factors that you should consider in order to get the best ceramic cat bowl:
Decide the type: Before purchasing the ceramic cat bowls decide what you are going to use it for, whether you will be using it to feed water or food to your cat. Based on that get the most suitable type of bowl.
Size of the bowl: While choosing the bowl for your cat make sure that you consider its size. Most of the ceramic bowls that we have listed here are suitable for most of the cats, however, if you have a kitten then a small-sized bowl will also be suitable.
Ease of cleaning: Most of the ceramic bowls are easy to clean because of the material that has been used to make it. However, the bowls which are labeled "dishwasher-safe" would be easier to clean.
The color of bowl to match your house: For some of the cat parents the aesthetics of their cat's supplies is also important. If you are one amongst them then you should get the bowl of the color that matches your room.
Read more: Automatic feeders good for cats
The Final Note
We hope you got the best ceramic cat bowl for your kitty from the reviews. The ceramic bowls make the best and one of the safest options not only because they are easy to clean but also because they are resistant to scratching and hence do not breed bacteria in their grooves, unlike the plastic bowls.