If you are looking for the best cat water bowls then you already know that the choices before you are endless.
With all of these enormous number of choices, you would also get confused about which material would be perfect, what type to get, what should be its size, etc.
So to solve all of your doubts, here we have reviewed the 10 best cat water bowls of 2023 along with the buying guide to help you make a wise decision for choosing the perfect cat water dish.
A Quick Glance at the Winners of 2023
Best Overall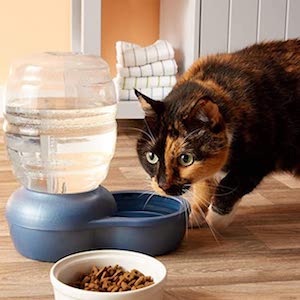 Petmate Replendish Gravity Waterer
Small design that can be used for travel
The bowl comes in attractive colors
Antimicrobial that forestalls bacterias and stains
Editor's Pick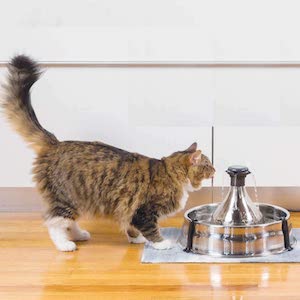 PetSafe Stainless Steel Cat Water Fountain
Water fountain bowl with adjustable flow
Great for multiple pets households
Easy to maintain and disassemble
Affordable Pick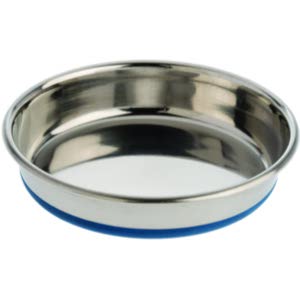 Our Pets Durapet Heavyweight Cat Bowl
Dishwasher safe and easy to clean
Rust-resistant material
Shallow design to prevent whisker fatigue
The 10 Best Water Bowls for Cats in 2023
1. Petmate Replendish Gravity Waterer
Petmate does an excellent job of providing a water bowl for those individuals that are lacking time. The bowl provides fresh water for a prolonged time. Excellent for short excursions away from home. The base is strong and durable enough to withstand the trial of time.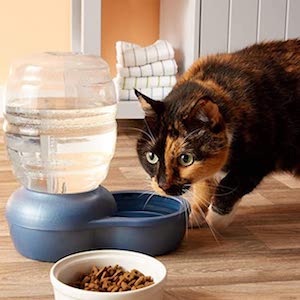 The capacity comes in different sizes and the one we've listed here is 1 gallon. This water bowl boasts a gravity flow design and Microban antimicrobial feature that prevents stain and odor-causing bacteria. The automatic refill feature saves a ton of time—like literally a big amount of time.
Features
Capacity: 1 Gallon (Also available in 0.5, 2.5, and 4 Gal)
Material: Blend
Color: Mason Silver, Pearl Sliver Grey, Pearl Peacock Blue, Pearl Lady Pink
What We Liked: 24/7 freshwater & auto-refill
Overall, the product is great and provides water supply to your feline for an extended period of time. The water bowl is easy to clean and maintain as well as simple in design. Additionally, it has an easily replaceable filter.
Small design that can be used for travel
The bowl comes in attractive colors
Large capacity and provides extended fresh & clean water supply
Antimicrobial that forestalls bacterias and stains
You can also give a look at the tilted cat food bowl.
2. PetSafe Stainless Steel Cat Water Fountain
PetSafe water bowl is where the individual turns when they want quality and can afford it. The bowl features a water fountain that offers an adjustable cap to control the water flow and free-falling stream keeps the drinking process enticing for your feline.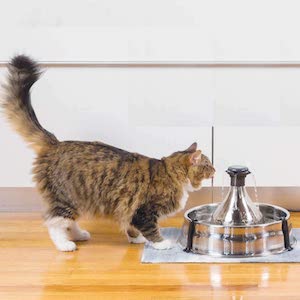 The bowl has a 128 oz of capacity that makes it ideal for multiple pets and the size is best for dogs and cats. It is made from high-quality durable stainless steel that is constructed with high-quality materials. Thanks to the carbon filter it removes odor from the water and the foam filter prevents hair and dirt.
Features
Capacity: 128 oz
Material: Metal and Stainless Steel
Power Source: Corded electric
What We Liked: Water fountain, adjustable flow, and 1-5 water stream
The bowl remains clean and fresh due to the constant flow of water, plus it is easy to clean and maintain. The water stream attracts cats and encourages them to drink more which in turn keeps them hydrated and free from urinary infections.
We have a recommendation for slow eater felines, you can refer to this metal slow feeders cat bowl article.
Water fountain bowl with adjustable flow and 1-5 free-falling stream
High-grade stainless steel that can withstand rough use
Easy to maintain and disassemble as well as dishwasher friendly
Great for multiple pets households
The bowl is pricey, but the quality speaks for itself
3. Our Pets Durapet Heavyweight Cat Bowl
The Our Pets Durapet Heavyweight Cat Bowl is the cheapest yet one of the best cat water bowls. In spite of being available at a budget price, it is made of durable stainless steel (with a simpler design) that is a great and healthy alternative to plastic. This best stainless steel cat water bowl is also anti-corrosive.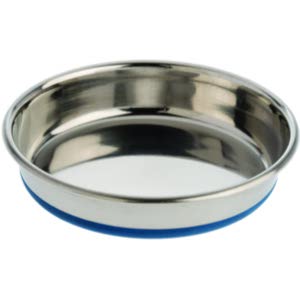 The cat water bowl offers a top of the line design at an affordable price with its patented anti-skid design. It has a permanently bonded ring at the bottom. This prevents the dish from slipping or sliding while your cat feeds in it.
Features
Capacity: 12 oz (1 cup food/ water)
Weight: 1.60 oz
Material: Stainless Steel
The dish offers a smooth surface making it easy to clean and is also dishwasher safe. The material helps keep the dish hygienic and prevents odor. The shallow design also prevents whisker fatigue hence making it the whisker friendly cat water bowl.
Made of durable and high-quality stainless steel
Dishwasher safe and easy to clean
Rust-resistant material
Shallow design to prevent whisker fatigue
The adhesive for the label is too sticky and does not come off easily
The rubber bottom is not very durable and comes off easily
4. PetSafe Automatic Water Dispenser
Another water bowl from PetSafe that features an automatic water supply, great for busy parents. The water dispenser comes in 3 different sizes and can be used as feeder making it more reliable. The company is providing quality products for over 30 years, so quality of this water bowl is unquestionable.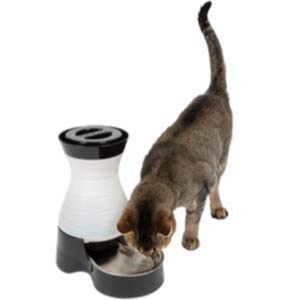 The body boasts sturdy construction that is made from durable BPA-free plastic. As for the bowl it is made from high-quality stainless steel and is highly hygienic. The carbon filter used keeps the water clean and fresh by removing bad odors and taste.
You can also check out electronic cat food dispensers.
Features
Capacity: 64 oz, 128 oz, or 320 oz
Material: Plastic
Color: Black & White
What We Liked: Strong, durable, and easy to clean
The waterer is easy to clean while the bowl is dishwasher friendly. Not to mention the great water capacity as well as the compact design. Your feline can drink from the bowl any time as it keeps the water fresh for longer period of time.
Strong and durable construction of the body that is made of BPA-free plastic
The bowl is made from quality stainless steel
It is easy to clean and dishwasher safe
The bottom twists-off and the top too sometimes
5. Neater Feeder Deluxe Pet Bowls
The Neater Feeder Deluxe Pet Bowls are premium quality cat bowls with an elevated design which is also spill-proof. This also makes it one of the anti spill cat water bowl, which means fewer chores for cleaning the floor.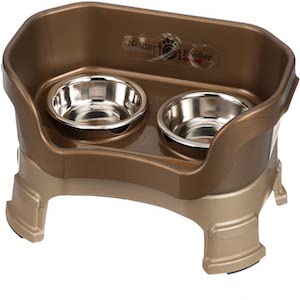 The spilled food stays on top while the water trickles down to the bottom not allowing your floors and carpets to get wet and messy. The ergonomic design of the entire set is such, it does not allow water (and even food) to spill on the floor.
Indeed elevated bowls help to prevent the spilling of food or water out of the bowl. Many pet parents have this question, whether they can serve their kitty's food in a raised bowl or not. So, you can clear your clouds of doubt by referring to this article, are raised bowls better for cats.
Features
Capacity: 1.5 cups and 2.2 cups (2 bowls)
Weight: 2.43 pounds
Material: Stainless steel and plastic elevated stand
Kit Includes: 2 stainless cat water bowls, feeder stand, and leg extensions
The non-skid rubber bottom helps keep the bowls in place while the elevated design makes it suitable for medium to age-old cats. There are various color options available for the stand to match with your interiors.
Elevated design makes it suitable for older cats
Spill-proof design with water trickling holes
2 bowls of different dimensions for food and water
Non-slippery rubber base
The product is not true to size
The elevated stand is not very sturdy
6. Indipets Stainless Steel Dish with Easy Pick up Grip Handle
The Indipets Stainless Steel Dish is made of a unique design that is spill-proof. The stainless steel is of durable quality. It has a smooth surface and is also scratch proof.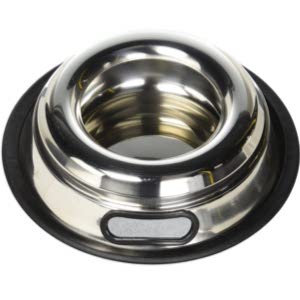 The bowl comes with handles at the side for ease of carrying making it portable. It also has a non-slip rubber at the base which helps keep it sturdy and in place even if your cat pushes or kicks the bowl.
As we know cats have a scratching habit, they even scratch their water or food bowls. You can get insight information related to what makes cat scratches food bowl for better knowledge.
Features
Size: 7.7" x 2.2" x 7.7" (L x W x H)
Weight: 6.4 ounces
Material: Stainless steel
Splash Proof
Kit Includes: One stainless steel bowl with rubber mat
The cat bowl comes with high walls for the water to not splash and it is heavy enough to not be pushed. It is very shallow for your cat to sip from her dish with ease. Along with this, you can also refer to this article related to cat splashing water out of the bowl for in-depth knowledge.
High walls for no spilling
Made of durable stainless steel
Scratch Proof
Smooth surface offers ease of cleaning
Light weight
Bowl is very slippery, does not serve the purpose
7. Ureverbasic Cat Water Bowls
Ureverbasic Cat Water Bowls are undoubtedly one of the best cat water bowls as it offers two stainless steel durable pieces for the price of one. It has a rubber base to prevent the bowls from slipping or sliding along with attractive designs to encourage your kitty to use the bowl.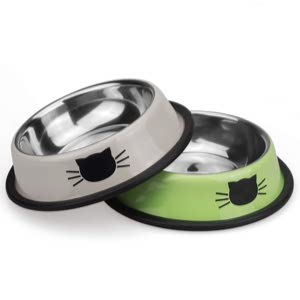 Each cat bowl has around 8 oz. of capacity and is made of durable high-quality stainless steel. The pair of dishes are suitable for wet or dry food as well as water. The bowls have smooth ridges and a very compact design to suit in any corner of your house.
Features
Capacity: 8 oz each
Weight: 5 ounces
Material: Stainless Steel
Kit Includes: 2 bowls of 8 oz. capacity each
The pair of dishes hold an ideal amount of food or water to avoid your pet from over drinking or overfeeding. It has a very smooth surface and is easy to clean under running water or by gentle scrubbing.
Rubber bottom base to prevent the cat water bowl from moving and spilling
Attractive colors and designs to choose from
Easy to clean with gentle scrubbing
High quality stainless steel
The quality of the bowls are very cheap
The product is not very durable
Parenting a cat is not an easy task, apart from taking care of them, giving proper training is also part of parenting. If from the initial stage we teach them the correct usage of everything they will adapt it soon. Therefore, teaching kittens to use a bowl is also an important task.
8. KEKS Non-Skid Cat Bowls
The KEKS Non-Skid Cat Bowls serves as the perfect feeding station for your cat as both bowls remain at the same place without skidding or slipping. This offers convenience and ease of drinking. The entire kit also includes a silicone travel bowl.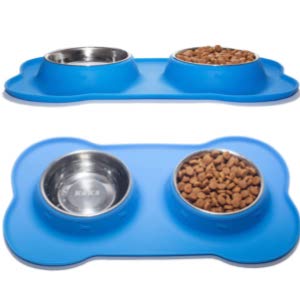 The silicone mat below the dish is easy to wash and eco-friendly. The bowls are removable and the mat protects your floors and carpets from getting dirty. The mat below is available in multiple colors to match with the interiors of your house.
Features
Capacity: 12 oz each bowl
Weight: 1 pound each bowl
Material: Stainless steel with a silicone mat
Kit Includes: 2 stainless steel bowls, 1 collapsible bowl, 1 silicone mat
The stainless steel bowls are easy to wash and made of high quality material. The entire feeding station looks attractive and does not slip or skid, as the bowls are firmly attached to the silicone mat.
Perfect feeding station with separate bowls for food and water
Spill-proof and splash-proof silicone mat for protecting your floors
Stainless steel bowls are dishwasher safe
Multiple color options available
The silicone mats are not durable
The bowls tip over very easily, delicate design
9. Bergan Stainless Steel Pet Bowl with Ridges
The Bergan Stainless Steel Pet Bowl is made of handcrafted stainless steel and comes with high ridges to make it spill-proof and provides a clean dining experience for your pet.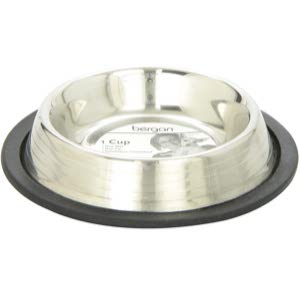 The ridge design is subtle and smooth for ease of drinking and the bowl has an anti-skid rubber base to keep it sturdy in place. This prevents it from sliding and hence makes it convenient for your kit to drink water from it.
Features
Capacity: 1 cup (variants available)
Weight: 3.04 Ounces
Material: Stainless Steel
The dish has a capacity of one cup and is available in multiple size options. Bergan products are designed to help you enjoy your life with your pet with convenience and ease.
Smooth ridges for ease of drinking
Durable and handcrafted stainless steel
Non-slip rubber base
Multiple size variants available
The bowl is not true to the mentioned size and capacity
The product is not spill-proof
10. VENTION Stainless Steel Cat Bowls
VENTION Stainless Steel Cat Bowls are suitable for felines of all life stages and have a shallow and low wall design. The dishes are available in multiple sizes and match perfectly with various feeding racks.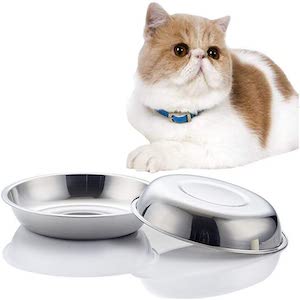 The bowls also provide whisker relief as they are shallow and have perfect edges for the convenience of drinking. They are made of durable steel which is not easy to deform.
Features
Capacity: 1 1/5 cup, 9 9/10 fluid oz
Weight: 5 ounces
Material: Stainless Steel
Pack of 2 bowls (variants available)
The bowl is made of stainless steel which is of food-grade quality and safe for your cat to feed onto. The cat water bowls are also available in various size options and have a wide base.
2 separate bowls for food and water offering convenience
Durable and non-breakable
Shallow and smooth design
The product is not true to size
The bowls are not spill-proof
If you stay in a region where it gets very cold during winters then your kitty needs the best heated cat water bowls.
Cats often urinate in unusual places, it comes under one of their weird behavior. They often urinate in their bowl also. So, we recommend you refer to our blog on how to stop cat peeing in food bowl, to avoid future mess.
Also Read
How to Choose the Perfect Cat Water Bowl?
While our cat's habits of playing with her food and water dishes are not in our control, what we can definitely do is choose the best cat water bowls.
Selecting an appropriate water bowl is not enough, you have to clean and maintain it so that it last longer. For that we recommend you to refer how often to wash cat food bowl.
There are various features to consider while choosing the best cat water bowls. These important factors that we have mentioned here will help you get the most suitable dish for your kitty.
Here are a few features that you can look for in these types of bowls.
Size is one of the most important features to consider while choosing a cat water dish. Especially if your cats usually knock over the bowl then it is advised to get a bowl of bigger size and heavier weight to prevent them from doing this.
Make sure that the bowl you choose is larger as compared to your cat's size. This should be equally convenient for them to use in addition to improving the stability of the bowl and increasing its water-holding capacity.
Choosing the right material for your cat's water bowl is very important. Cat bowls are available in various types of materials being plastic, stainless steel, ceramic, glass aluminum, silicon, etc. Each of them has its specific uses and advantages.
Materials like plastic are lightweight, cheaper, and do not break easily. Yet, plastic is prone to scratches so it becomes to clean the bowl thoroughly when it becomes old.
On the other hand, the stainless steel bowls are the most durable but they are heavier in weight as compared to the plastic or silicon bowls.
Similarly, the ceramic bowls are best in terms of ease of cleaning. Yet, they are susceptible to breaking if they fall from a height.
Cats have a habit of moving their water or food bowl, they also dump things in their bowl. So, to know the reason behind this act you can refer to our blog what makes cat move water bowls and why cat keeps dumping thing in water bowl.
Simply speaking, look for a material and type that suits your requirement, and it is also safe and durable.
Cat water bowls need to have an ergonomic design in order to keep them from spilling water, and at the same time, it should also be convenient for your kitties to drink water from it.
Moreover, the cat water bowls need to have a sturdy and wide base that tapers at the top. If the base of the bowl is heavy and strong, it will automatically support the entire weight of the bowl.
You can also choose any specific design of cat bowls like the elevated one or fountain type depending upon your choice and your kitty's preference.
The depth of the bowl is a primary feature to consider. The water-holding capacity of the bowl will also depend upon the depth. This has to be perfect, neither too shallow, nor too deep. If the water dish is shallow, it will lead to the spilling of contents if your cat dips her face, whiskers, or her paws in the bowl.
While talking about convenience, cat water bowls with a wide mouth are a plus. This is because narrow mouths do not allow your cat to drink properly due to her whiskers.
If your cat is huge in size and has a broad face, she would have to dip her face to sip onto the water. To prevent her from using her mighty paws on the bowl, make sure the mouth of the bowl is wide enough. This would make it easy for her to sip and chill!
With the various types of water dishes available, another common type of design is having multiple bowls or a bowl set. This generally comprises two separate bowls, one for food and the other for water. This reduces the chances of dirtying either of the bowls.
Moreover, these dishes usually come with a stand which makes them sturdy and heavy. The stand also provides an elevated design so your cats don't need to bend their neck while driving water from this kind of cat water bowl.
Another added feature to make bowls sturdier is having a rubber bottom. This makes them non-slippery and keeps them sturdy on the floor.
If your cat decides to get playful with her water dish, the rubber bottom will prevent the bowl from sliding. Therefore, the contents of the bowl, and your carpets, both remain safe from spilling and staining.
Just as a rubber bottom would provide support, so would a stand for the bowl. A stand would provide sufficient elevation as well as sturdiness to the water dish. This will keep the cat water bowls from tipping over if your kitty decides to play with them. The elevated cat bowls usually come with a stand so you can get them as well.
Well, my friend choosing a water bowl is not just enough it is also necessary to go for an appropriate food bowl and use the cat food bowl in a right way for long-lasting.
FAQs
How much do the best cat water bowls cost?
Price is something that alters the decision of many and cat water bowls are not an exception. If you are looking for numbers then it would cost you from $5 all the way up to $70. The price might fluctuate according to the types and features. Still, we'd recommend you to stick within the mentioned range, not above that, as the ones we've mentioned are not only the best cat water bowls but are also within this price range.
Which are the best cat water bowls?
Though we have mentioned the top cat water bowls, selecting the best of the best could be a hard choice. However, but if we have to, then it would be none other than "Petmate Replendish Gravity Waterer". It not just the price and quality but also the amalgamation of the features as well as the positive customer reviews.
Where should I put my cats water bowl?
Anywhere you might think your feline will be interested or encouraged to drink more water. You can also use different types of water bowls to catch their attention like the fountain type. Many cat parents keep the bowl near their feline food bowl. This might not work as a cat doesn't like her drinking place and may simply ignore it due to the smell or because they might think the water is contaminated near the food.
Do cats drink water from a bowl?
Cats prefer to drink water from a moving source thus they would be generally attracted to the water fountains. The main reason is that in the wild cats mostly like drinking water from a moving source. However, if you've trained your feline from a young age then water bowls can be an excellent source to provide fresh water.
Final Note
Cats may have various issues with their bowls, right from its edges, elevation, skidding bottom, narrow opening, etc. These issues may cause whisker fatigue or whisker sensitivity and due to the inconvenience of drinking, they may end up not using that bowl, or at least not feel comfortable in using the bowl.
The best cat water bowls come with a sturdy, wide base and a non-slip bottom. They have smooth edges and a shallow design to offer ease of drinking without tipping. These dishes ensure no messy floors or carpets and reduce your efforts of cleaning around their bowls.
Also Read