Looking for the best probiotics for cats to restore the balance of bacteria in your cats' digestive system? Check out the reviews of top 10 Cat Probiotics Supplements recommended by vets. – Team CatLovesBest
Probiotics are of utmost importance not only in humans but in all living beings. How can our pets be any different? Do not take the risk of ignoring the digestive system of your kitty because her health and well-being are dependent on it.
The digestive system goes haywire only when the balance of healthy and unhealthy bacteria in the gut is tipped in favor of the latter. Probiotics can help to repopulate the good bacteria back in the intestines to overcome the ill-effects of the bad bacteria so that the digestive system starts functioning normally.
Best Probiotic for Cats:
Purina Pro Plan Veterinary Diets FortiFlora
According to our experts, the best probiotic for cats is Purina Pro Plan Veterinary Diets FortiFlora because it can repopulate the gastrointestinal tract with good bacteria. The supplement can also restore nutrients lost during diarrhea. Purina Pro Plan is the probiotic of choice of many cat owners thanks to its efficacy and easy to administer powder form.
Can Probiotics Help Your Feline?
Probiotics are very effective in curing digestive problems like decreased appetite, vomiting, diarrhea, or stool changes and related diseases in Cats. But these are not the only benefits of giving your Cat a Probiotic, as it also helps in promoting the immune system health as well.
Immunity is closely linked to the health of the digestive tract and when your cat has an abnormal digestive tract, then her immunity may suffer. Disorders that can cause an improper digestive tract include diseases like Inflammatory Bowel Disease(IBD), Digestive Tract Infection. The GI Tract may also get affected if your cat ingests something that is indigestible.
There is also a possibility that the cats grooming themselves excessively and ingesting too much hair may lead to an upset digestive tract. So Probiotics can help with a variety of conditions, and on the other side, it will also promote their immune system.
Besides this, even though the Probiotics can prevent and cure any digestive tract related diseases, it is always advised to take proper attention to their regular diet. It is also important to monitor and improve the cat's daily stool habits that will subsequently prevent any digestive tract related problems.
The Best Probiotics for Cats of 2022
Now that you know how important probiotics are for a kitty's good health, you obviously want to buy the best probiotic for your pet feline. Things get confusing when you look at the wide range of options which you have to choose from. Which one is good for your kitty, doesn't stretch your finances and still delivers the results expected of it. We are including reviews of 10 products that, we believe, can prove to be a cat owner's delight.
1. Purina Pro Plan Veterinary Diets FortiFlora Cat Probiotic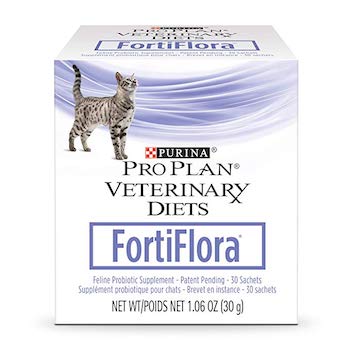 Purina Pro Plan Veterinary Diets FortiFlora powdered probiotic supplement comes as a pack of 30 sachets to ensure value for money. It helps to keep the digestion issues at bay and has been specially formulated for cats with diarrhea.
When they start taking this probiotic supplement, it will slowly start to rebalance the population of good and bad bacteria in the cat's digestive tract to improve digestion. The powder form is very easy to give to your cat because it can be mixed with both wet as well as dry foods, depending on which food your kitty prefers.
Apart from optimizing the functioning of the digestive system, this probiotic supplement also strengthens the immune system and keeps your kitty healthy throughout her life. Laced with nutrients, this supplement will also help to replace any nutrients that your cat may have lost due to diarrhea or other digestive issues.
Cat parents liked it for its ability to improve digestion and strengthen immunity while replacing nutrients lost due to diarrhea. Cat parents said they had issues with the beef flavoring because beef can be a little difficult to digest for cats on a limited ingredient diet.
"To conclude, we think this is the overall best Probiotics for Cats as Supplements"
Pros:
Comes as a pack of 30 sachets.
The powder can be mixed both with dry as well as wet food.
Laced with nutrients and vitamins.
Cons:
Beef flavoring for cats on a limited ingredient diet can be difficult to digest.
Contains only a single strain of probiotic bacteria.
2. VetriScience Probiotic Everyday Chews for Cats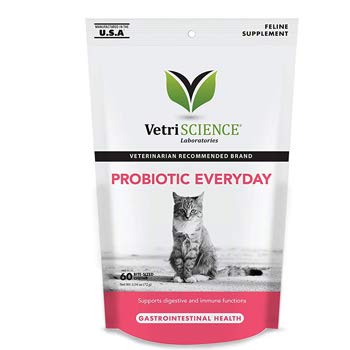 VetriScience Probiotic Everyday supplement comes as a combination of probiotic and prebiotic packed in resealable bags which are easy to close so that you can keep your kitty's probiotics fresh. The texture of the supplement is soft allowing cats of all ages to easily chew and digest.
This is completely made in the United States where quality control measures are strictly implemented, ensuring your kitty gets a healthy power-packed supplement each time you give it to her. The product is good enough for cats of all ages and weights, which spares multi-cat owners of buying different probiotic supplements for every cat.
The company delivers 60 soft chews with each order and they are sufficiently small to allow your cat to eat without any problems. This supplement has one strain of probiotic and comes with a light duck flavor to make it taste more like a treat than a supplement.
Cat parents liked the part that it could be given to cats of all ages and weights. However, they did complain that the soft chew started to deteriorate after a few days.
Pros:
Soft chew form makes it easy to eat and digest for cats of all ages.
Each order delivers probiotics to last two months.
Resealable bags make it easy to keep the probiotic fresh for a longer time.
Cons:
Starts to deteriorate after a few days.
Product has a strong smell.
Contains a single probiotic strain.
Read | Nutra Thrive For Cats Reviews (The Best Nutritional Supplement)
3. Pet Ultimates Probiotics for Cats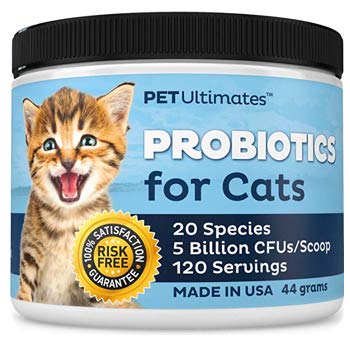 Pet Ultimates powdered probiotic supplement is made in the United States under rigorous quality control measures, and each dose contains 20 probiotic strains to optimize digestion. Results will start showing in just two weeks from the day you start administering the product.
The serving size for this powdered supplement is just half a teaspoonful, which means the jar that arrives will last for at least one month even when used daily. It's a fine powder, which can be mixed with both wet or dry food, without changing the texture of the food.
The product does not contain any cheap fillers and that is what makes it a healthier alternative. There is a money-back guarantee on the product that allows you to return the product and get a full refund if you don't see results.
This product has 20 different probiotic strains that can prove healthy for the cat's system. However, it did have a strong smell when the jar was opened the first few times.
Pros:
Has a smaller serving size.
Contains 20 probiotic strains.
Fine powder form does not change the texture of food when mixed with it.
Cons:
Strong odor when opened for the first time.
May take a bit longer to show results.
4. Nusentia Probiotic Miracle for Cats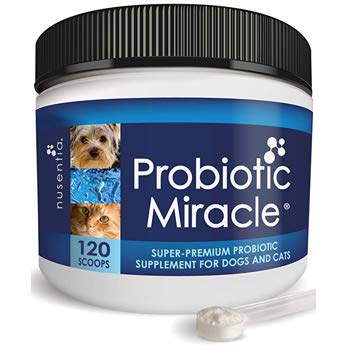 Nusentia Probiotic Mira powder formula is safe to be used in both dogs as well as cats, which means savings for multi-pet households. The product is shelf-stable so that it frees you of worry to make room for it in your refrigerator.
It contains six strains of probiotic and delivers 1 billion colony forming units (CFUs) per scoop. This is less than for many other products but results point to its effectiveness. Every container holds 360 servings, depending on your pet's size. Each jar of Nusentia Probiotic Miracle Powder will last for 6-12 months on an average.
Rid your pet of upset tummy, gas, and other digestive disorders with a completely made in the United States product with none of the ingredients sourced from China. The combination of quality with quantity makes this product a probiotic of choice for many pet parents.
Pros:
Safe for use in both dogs and cats saves money for multi-pet households.
Contains six strains of probiotic delivering 1 billion CFU per scoop.
This product strikes the right balance between quality and quantity.
Cons:
Quite expensive compared to other similar products
5. Premo Probiotic and Digestive Aid Plus Prebiotic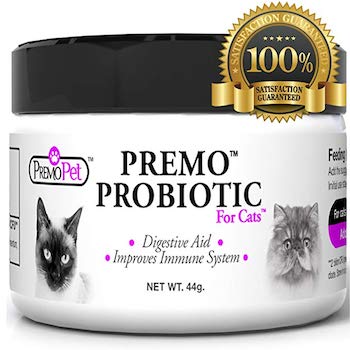 When you are searching for a probiotic to address digestion issues of your kitty, then the Premo Probiotic supplement is the one just right for you. This one is a combination product to promote both probiotic and prebiotic health.
Additionally, it has a certification from the NPA (Natural Products Association) besides being manufactured at a Good Manufacturing Practice (GMP) facility.
This product has six different strains of good bacteria. All the six strains work in combination to make your kitty feel good if she is suffering from conditions such as diarrhea, vomiting, excessive scratching, or shedding.
Pros:
Contains six different types of bacteria.
Contains no artificial fillers or flavors, is free of wheat and dairy products.
The powder is tasteless and easy to be masked with food.
Can help in relieving many of the painful conditions your kitty suffers from.
Cons:
This product is more expensive than probiotics that contain fillers.
6. FERA Vet Formulated Probiotics for Cats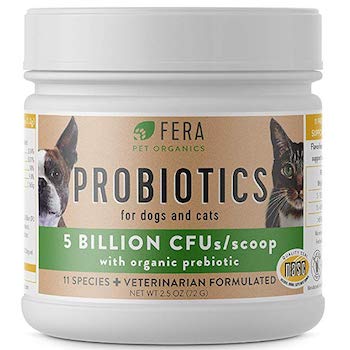 FERA Vet Formulated probiotic supplement contains as many as 11 strains of probiotic bacteria to keep your kitty's digestive health up to the mark. Moreover, it is completely organic and also guarantees the number of living cultures. The formula has been specially worked out by a vet to meet a cat's unique needs.
Being a tasteless product, it can be easily mixed with your cat's food without spoiling its taste. It is also free from other ingredients such as fillers, preservatives, and additives. Though a vegan product, it is also completely free of wheat, soy, corn, milk or gluten. Both these products make this product stand out in the market. The dose depends on the weight of your pet.
The National Animal Supplement Council (NASC) has certified this product, which comes with a 100% satisfaction guarantee if the product does not meet your expectations.
Pros:
Contains six strains of probiotic microbes.
Being tasteless, it can be easily mixed with food without changing its taste.
Cons:
Few cats refuse to eat food mixed with this probiotic supplement
7. Hyperbiotics PRO Probiotic with Natural Beef Flavor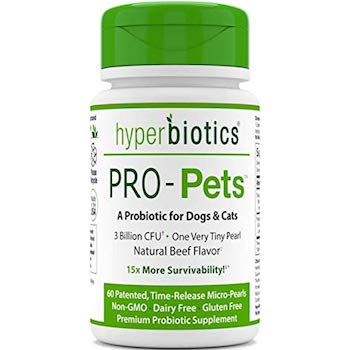 Hyperbiotics PRO probiotic supplement has a patented delivery method for better results. Most probiotics fail to survive the acid in the stomach before reaching the intestines. Whereas with this product, the probiotics are released over an 8-10 hour period helping them bypass the acid in the stomach and reach the intestine.
Most of the immune system is in the pet's gut so this probiotic supplement helps repopulate good bacteria to improve digestion and immunity. Hyperbiotics PRO brings relief from gas, abdominal disorders, and occasional diarrhea.
Because it has a beef flavor, this supplement can be either fed directly or mixed with food.
Pros:
The novel delivery method helps probiotic microbes survive stomach acid and reach the intestines to do their job.
Offers relief from a number of digestive tract disorders such as gas, upset tummy, and diarrhea.
Cons:
Some cats may enjoy the beef flavor, but there are cats that find it repelling.
8. VetOne Advita Powder Probiotic Nutritional Supplement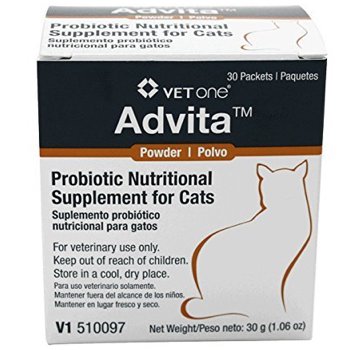 VetOne Advita Powder probiotic supplement claims to have live probiotic bacteria to help maintain digestive and immune health.
It is a highly palatable powder, which can be given directly or mixed with food.
The VetOne Advita Powder helps to cure microbial imbalance, which may be the cause of indigestion, loss of appetite, or inconsistency in passing stool.
The company says its product can be particularly useful before and after kenneling, during or after giving antibiotics, changing of diet, and after deworming.
The supplement further contains Vitamins A, E, and C.
Pros:
Exclusively live strains of probiotic microbes.
Powder form supplements can be mixed with food.
Improves digestion, appetite, and helps in reducing the intensity of diarrhea.
Cons:
The powder is so fine that inevitably some of it escapes in the air.
It also clumps and was difficult to spread evenly on cat food.
9. Nexabiotic Probiotic for Cats with Diarrhea & Constipation Treatment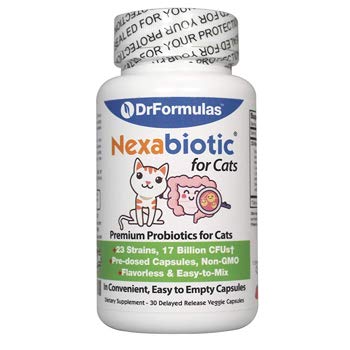 For a cat probiotic to be able to reduce the intensity of diarrhea, you have to look for one with a very high number of colony forming units (CFUs). Nexabiotic Probiotic capsules offer 17.25 billion in a single capsule to make every dose very highly effective.
Along with dosage, the diversity of the bacterial strains is of great importance. One probiotic is unable to provide all health benefits, so more the variety of probiotic bacteria, the more versatile the supplement becomes.
Each Nexabiotic Probiotic capsule contains 23 different probiotics. You can either give your kitty one whole capsule or mix its content with her food. Because the content is flavorless, it will easily mix with food without changing the taste.
This one too features the delayed release to protect the probiotic microorganisms from stomach acids and allow them to reach the small intestine.
Pros:
One of the best products to support regular bowel movements.
17.25 billion CFUs in a single capsule makes every dose highly effective.
23 diverse bacterial strains provide various kinds of health benefits.
Cons:
It may not effectively cure digestion issues in elderly cats.
10. Pet Ag Bene-Bac Plus Probiotic Gel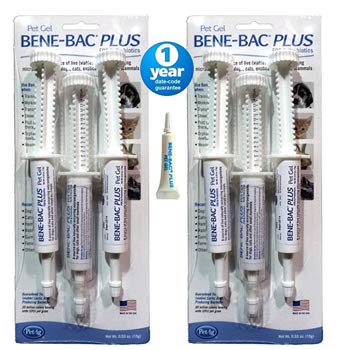 Pet Ag Bene-Bac Plus Probiotic Gel is a concentrated live culture of seven beneficial digestive bacteria that are found in the intestines of small animals.
The bacteria are sealed inside a layer of fat to ensure that they are able to survive the stomach acids and reach the small intestine for maximum effect.
The company claims the Bene-Bac Plus gel contains 20 million CFUs per gram.
Administering the gel every day for two weeks will help to rebalance the proportion of harmful and beneficial intestinal microflora.
The gel also provides high amounts of energy because it also contains nutrients such as dextrose and fat. Dextrose releases energy instantly whereas fat will ensure a sustained supply of energy.
This is a useful product for pets facing adverse situations such as grooming, breeding, worming, antibiotic therapy, etc.
Pros:
This product is an extremely concentrated live culture of microorganisms and claims to contain 20 million CFUs per gram.
The probiotic supplement is sealed in a layer of fat so that the good bacteria do not get killed by stomach acids and reach the small intestine.
Not necessary to make room for it in the refrigeration as it can also be stored at room temperature.
Cons:
It has a strange color.
Few cats do not like its smell.
Our Buyers' Guide on Probiotics (Cats)
Our section where we have included product reviews on the 10 best probiotics of 2022 may help to choose the right one for your kitty. However, our buyers' guide is supposed to clear any lingering doubts over product selection by discussing different types of cat probiotics. It will also look into factors to consider before buying and the benefits probiotics offer.
What You Should Know Before Purchasing Cat Probiotics?
Cat probiotics are available as pills, powders, and even disguised in treats. To derive the maximum benefit out of a probiotic health supplement, choose the one with the highest CFU (colony forming unit). According to experts, diversity also plays an important part. Ensure that there is a diverse range of probiotics not just one type of bacteria.
Bifidobacterium and Enterococcus families are the two strains cats derive maximum benefit from. While Bifidobacterium resides in the small intestine, the Enterococcus strain can be found in the colon (large intestine). Each strain has a different function in regulating health.
Bifidobacterium is more involved with digestion and Enterococcus assists in forming feces and maintaining colonic health. It doesn't really matter if there are other strains of bacteria too, but choosing a supplement with the above two bacterial strains is very important.
Experts opine that there should be at least two different types of bacteria as they function in different locations. Ideally speaking, the supplement could have five different types of Bifidobacterium and five different types of Enterococcus.
What are the best probiotics for feline?
The following factors must influence your buying decision:
Alive or Dead Strains
Most importantly, a probiotic must have live and healthy bacterial strains to pass on all their health benefits to your cat. On the other hand, there are "dead" bacteria too which can affect your cat's digestion. However, the impact of the dead bacteria cannot be greater than that of live bacteria. Probiotics have live bacteria certification. Their lifespan is what one has to look for. In packaged form, live bacterial strains can survive for a limited period of time.
2. Pure Microbial Strains
There are probiotics that only carry live bacteria. They can be sold blended with digestive enzymes and even prebiotics. This combination is technically okay because both the latter ingredients complement the functioning of the live bacteria to help improve digestion. According to experts, Bifidobacterium and Enterococcus species are good for improving digestive health and colonic health, respectively.
3. With added ingredients
Some probiotics contain added digestive enzymes and prebiotics and such combinations do work well. However, products such as artificial preservatives and other "ingredients" could be added too. Some contain flavoring agents as well. It depends on the cat owners whether they would prefer such additional ingredients added to probiotics.
Benefits of Probiotics
Probiotics are microorganisms that can be consumed with fermented foods or supplements. They promote a healthy balance of gut bacteria which have been linked to a wide range of health benefits. Here are the health benefits for your feline friend by using probiotics:
Felines suffer from diarrhea for various reasons. It can also be a side-effect when they are on antibiotic therapy. The anti-bacterial not only kills the pathogenic bacteria, but it also harms the beneficial gut bacteria. Water reabsorption in the blood gets disturbed and stool starts absorbing more of it. This leads to diarrhea. Probiotics restore the levels of beneficial bacteria in the gut and help reduce the intensity of diarrhea.
Cardiomyopathy or the abnormal functioning of the heart muscles is a common condition in cats. Cardiomyopathy may make it difficult for the heart to pump blood normally. Though the major cause of cardiomyopathy is genetics, hypertension could also be one of the reasons.
Blood pressure can increase because there is a deposition of layers of fat on the walls of the blood vessels. Cats, therefore, need to be fed a low-fat diet. Probiotics contain healthy microbes that are known to lower the levels of cholesterol in the blood. As deposition of layers of fat in blood vessels is reduced, hypertension and cardiomyopathy are prevented.
Lowers intensity of food and skin allergies
It is yet to be explained how probiotics help in reducing the intensity of allergies, but the incidence of food and skin allergies shows a considerable decrease after starting probiotics. In no way are probiotics a cure for allergies but if the incidence of allergies can be checked, there is absolutely no harm in giving probiotics.
Strengthens the immune system
Probiotics strengthen the immune system in different ways. They can prevent the growth of pathogenic bacteria. A few probiotic microbes are also known to play an important role in the synthesis of antibodies, strengthening the potency of killer cells (T-lymphocytes) and in producing immunoglobulins. Thus, probiotics have this ability to help our pets foil infections.
Keeps weight obese cats in check
Introduction of probiotics can help bring down the weight of obese cats to more healthy levels. Some probiotic microorganisms don't allow fat to get absorbed in the intestine. That is instead passed out as oily excreta. Some other probiotic microorganisms boost the production of hormones that help to burn extra calories.
Cat Probiotics vs. Dog Probiotics: The Difference
The digestive systems of dogs and cats are very different. A cat's small intestine is much smaller than that of a dog, which means the time to digest food is much shorter in a cat than in a dog. The cat also has a much smaller cecum (the pouch that connects the small intestine with the large intestine) and the gastric mucosa (the inner lining of the stomach) in the two species is a lot of different.
Cats are carnivorous and dogs are omnivorous creatures. Cats survive on a diet of proteins and fats, whereas dogs' diet is more diverse and may comprise meat, protein, fruits, as well as vegetables. Because digestion starts in the mouth, the dentition of dogs includes molars that can break up plant material. Cats don't have molars. Because of these significant differences in anatomy, physiology, and diet, vets feel cats can benefit even more from probiotics than dogs.
How to Give Probiotics to Your Cat?
While vets recommend probiotics only when your pet has conditions such as diarrhea, experts feel that probiotics should become part of a cat's daily health regimen to prevent the development of digestive tract disorders.
It is also very important when the cat is on antibiotic therapy. Anti-biotics are known to act against even healthy gut bacteria along with the pathogens. Probiotics can be used to restore the levels of healthy bacteria in the gut. Cat parents can start giving probiotics proactively at the time of starting the antibiotic therapy. The probiotics can be continued for several weeks even after stopping antibiotics because it takes a long time for the good bacteria to get repopulated in the gut.
Cat parents can do well to follow the instructions provided with the package on how to administer the dose of probiotics. If your cat is averse to swallowing a pill, then choose something that can be hidden inside a treat or mixed in their food. It is important to consult a vet for dosage and the type of probiotic to be given.
Side Effects of Probiotics for Cats
Side-effects of probiotics are rare in cats. But cat owners need to be careful while choosing a probiotic for their kitty. There is no regulatory agency for animal supplement manufacturers and they are not required to prove the claims regarding amounts and strains made on the label. They only have to respond to complaints.
Manufacturers of human supplements are required to have greater oversight than veterinary ones. However, there is a veterinary agency National Animal Supplements Council (NASC) that regulates the probiotic industry a little. Cat parents can choose a label with NASC certification or a product from a company that also manufactures human supplements.
FAQs About Probiotics for Kittens and Cats
Can I Give my Cat Human Probiotics?
All our knowledge regarding probiotics for cats is based on our experiences with human beings and other animals. When you buy a probiotic for your pet, you are not necessarily getting a blend of strains that are targeted at felines because we don't have so much knowledge about a feline microbiome to formulate such a supplement. Therefore, supplements tailored for felines may not necessarily be better than supplements for human beings. The one distinct advantage feline probiotics have is that they are more palatable.
Probiotics for IBS and IBD: What's the Harm?
Probiotics help healthy microbes to reestablish themselves after antibiotic therapy and assist in recovering from digestive disorders.
There have been many controlled trials that show probiotic supplements reduce the time of transport, make stool more consistent and increase its frequency. Thus, probiotic supplements not only check diarrhea but also reduce constipation.
Does probiotic for cat's immune system work?
Probiotics help in producing genes and compounds that are successful mediators of immunoregulatory effects, boost internal immunity and regulate inflammation. Thus probiotics can be a great help in disorders such as allergies and infections, caused due to a lack of immunity.
Do Probiotics for Chronic Kidney Disease work?
In chronic kidney disease, the kidney loses its ability to detoxify the body. The bacteria and endotoxins, which should get filtered, enter the gut. Probiotic supplements can help to conduct "enteric dialysis" in the gut and do what the kidney no longer is able to do.
Cats with kidney disease are given Azodyl, which is a combination of prebiotic and probiotic, as part of their diet. Azodyl, according to research, can expel toxins and bacteria out of the gut and the blood so that your kitty feels better.
Though Azodyl's effectiveness is unclear, it definitely doesn't harm your cat. It can be tried in instances when your kitty is suffering from a terminal illness such as CKD. Probiotics can enhance the overall well-being of kitties and cats with CKD.
How to give probiotics when a cat has been on antibiotics?
Antibiotics destroy both good and bad bacteria but a routine dose of a probiotic will help to reestablish friendly ones that have been eliminated by the antibiotic. The actions of probiotics and antibiotics complement each other when administered together. It is not necessary to wait for antibiotic therapy to get over for introducing probiotics. Probiotics can be administered even a few hours before or after beginning the antibiotic therapy.
Do probiotic cat treats work?
Probiotics come as powders, pills or liquid. Sometimes pet probiotics are flavored with animal digest, which is derived from hydrolyzed animal tissue, which cats find very tasty.
Conclusion
As cat parents, it is your responsibility to ensure that your kitty leads a healthy life free from infections and allergies. Making probiotics a part of her health routine will help to repopulate your kitty's intestines with good bacteria in order to overcome the harmful effects of pathogenic bacteria. Infections and disease will stay away from your kitty and increase her lifespan.