Feeding your cat the right food with a balanced proportion of nutrients, but not satisfied? Maybe your kitten is missing out on the exact nourishment she needs from her food. Therefore, we offer a helping hand to your feline-related concerns by reviewing Nutra Thrive's Cat Supplement.
Nutra Thrive Feline Nutritional Supplement is an optimal blend of 40 power-boosting ingredients designed to support your cat's whole-body health. Hailing from the house of Ultimate Pet Nutrition, the feline supplement is the creation of Dr. Gary Ritcher, one of America's most renowned holistic veterinarians.
The best part about Nutra Thrive's Cat Supplement is its secret advanced formula of a 3-in-1 blend of feline-friendly vitamins, antioxidants, and digestive enzymes. It helps maintain a balance between the 'good and bad gut bacteria' while also helping your cat live a longer, healthier, life.
With so much to offer under one roof, you should definitely read on to find out more about this 'all in one' premium Nutra Thrive For Cats supplement blend.
Nutra Thrive for Cats Reviews of 2022
Nutra Thrive Feline Nutritional Supplement is an all-natural cat food formula that can be added to your kitty's food for them to obtain wholesome nourishment from their meals. What makes it unique is its 3-in-1 balanced blend of Superfoods, Vitamins and Minerals, and Probiotics and Enzymes along with a tasty chicken flavor.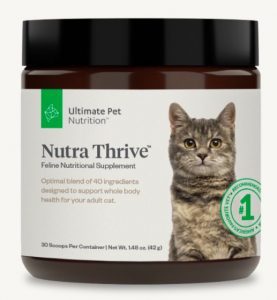 The Nutra Thrive For Cats supplement has 1 Billion CFU (colony forming units) of healthy 'feline-friendly' gut bacteria along with exotic ingredients like Aquamin Plant Sea Minerals, Reishi, Shitake and Maitake Mushroom blend as well as amino acids like L-Arginine and L-Methionine; all of which known to enhance your cat's quality of life.
The balanced blend of Superfoods, Vitamins, Minerals and Probiotics and Digestive Enzymes promotes immunity, enhances energy levels, and streamlines digestion, thereby improving your cat's quality of life.
The product uses premium quality well-researched ingredients and is absolutely free of grain and additives. It hails from one of the most well-known brands in the U.S.A.; Ultimate Pet Nutrition and the formulation is entirely manufactured in the U.S.A.
The advanced blend is easy to scoop and serve and can be added to any wet or dry cat food. It is suitable for felines belonging to any age, size, or breed. The nutritively rich formula promises to promote good health and balanced digestion and therefore is backed by their 100% Money Back Guarantee if your pet doesn't like it.
Ingredients
Each ingredient in the Nutra Thrive Feline Blend has been thoroughly researched and uniquely selected for your kitten to get the most benefits out of their food. Along with the advanced 3-in-1 blend, here is a rundown on the list of ingredients used.

Super Feline Blend: Fish oil powder, Engevita® GSH glutathione Inactive Yeast, Beef Liver, Chicken collagen.
Probiotic and Enzyme Blend: Enterococcus faecium, Lactobacillus acidophilus, Lactobacillus casei, and Lactobacillus plantarum (1 billion CFU), Papain, Protease, Amylase, Lipase.
Superfoods Blend: Aquamin Plant Sea Minerals, Chlorella spp, Mushroom blend (reishi, shitake, maitake), Organic Carrot, Methylsulfonylmethane (MSM), Spirulina spp.
Vitamin and Mineral Blend: Microcrystalline Calcium Hydroxyapatite, Ascorbic Acid, Magnesium lysinate glycinate chelate, Zinc bis-glycinate chelate, Pyridoxal-5-phosphate, Inositol hexanicotinate, D-Calcium pantothenate, Biotin, Cholecalciferol, Riboflavin and Riboflavin 5-phosphate, Thiamine HCL, Selenium-L-Methionine, Methylcobalamin, Chromium complex with Phyllanthus emblica fruit and Purified Shilajit (Crominex® 3+), Folate [from Quatrefolic®]
Taurine, L-Arginine, L-Methionine
Calcium Fructorbate (FruiteX-B®)
Note: The quality ingredients in Nutra Thrive ensure maximum effectiveness and purity. However, it is always advisable to consult a veterinarian before incorporating any new supplement in their diet.
Nutritional Benefits
Let us understand each blend carefully through our nutritional break-up of each unique set of ingredients used.

Super-Feline Blend
The Feline Blend mostly comprises of nutrition derived from meat and fish sources. Fish oil powder has Omega-3 fatty acids, that reduce inflammation and improves brain and cognitive function. Beef liver and Chicken collagen are great sources of multivitamins and protein whereas Glutathione helps in protecting the liver and hemoglobin against oxidative stress.
Probiotic and Enzyme Blend
Probiotics are the good bacteria that aid in digestion. The probiotic blend in Nutra Thrive comprises of 1 Billion CFU of microbial strains including Enterococcus faecium and Lactobacillus acidophilus which survive and maintain your pet's gut health. They produce lactic acid and amylase enzymes that aid in the breakdown and digestion of carbohydrates.
Lactobacillus casei is found in the urinary tract which aids in the growth of acidophilus strains while Lactobacillus plantarum acts as a starter probiotic.
The enzyme blend majorly comprises of Amylase, Lipase, Protease, and Papain. They aid in the breakdown of carbohydrates, fats, and proteins respectively.
Superfoods Blend
This immune-boosting blend has Aquamin Plant Sea Minerals which is obtained from seaweeds produced by red algae. It is a combination of 74 vital minerals including calcium, magnesium, zinc, selenium, etc. Chlorella spp are known to increase the good bacteria in your cat's gut that streamline digestion.
The unique mushroom blend comprising of Reishi (the longevity mushroom), Shittake, and Maitake Mushrooms increase immunity for your cat to fight illness naturally. Spirulina strains produce enzymes that help in digestion along with Organic Carrot and Methylsulfonylmethane (MSM) that provide vitamins and essential nutrients.
Vitamin and Mineral Blend
Each serving of Nutra Thrive has a vast range of fortifying Vitamins and Minerals. It majorly comprises of Calcium that helps improve bone health. Ascorbic Acid, Biotin, Thiamine and Riboflavin helps in developing a shiny coat. There are other trace vitamins and minerals for your cat to feel full of life and energetic for long years.
Amino Acids
This blend majorly comprises of Taurine, L-Arginine, and L-Methionine. Taurine helps in developing immunity, enhances better vision, and improved muscle to heart function. It is an exclusive component of animal-based proteins.
L-Arginine and L-Methionine help in the functioning of urea cycle and convert toxic ammonia to non-toxic forms. They also contribute to enhancing immunity along with improving coat and skin health.
Calcium Fructoborate
Calcium Fructoborate is a natural sugar-borate ester present in fruits and vegetables. Boron particularly helps in the absorption and metabolism of Vitamin-D and Calcium. This forms a part of the FruiteX-B Blend in the feline supplement.
Nutritional Analysis
Each scoop of Nutra Thrive supplement powder is packed with easily absorbable vitamins, minerals, antioxidants, and digestive enzymes to drastically improve your feline's health. The table below gives you a detailed percentage analysis of each nutrient your cat needs.
Guaranteed Analysis
Nutrient
Content
Crude Protein (Min.)
23%
Crude Fat (Min.)
9%
Crude Fiber (Max.)
5%
Moisture (Max.)
7%
Calorie Content
3200 kcal/kg, 4.5 kcal/scoop
Each scoop (1.4g) of Nutra Thrive Feline Nutritional Supplement has:
400mg of Super Feline Blend
250mg of Probiotic and Enzyme Blend
210mg of Super Foods Blend
60mg of Vitamin and Mineral Blend
35mg of Amino Acids Blend
25mg of Calcium Fructoborate
Feeding Guidelines
Each scoop of Nutra Thrive is approximately 1.4g of the supplement. The recommended feeding portions for cats weighing between 0-30 lbs is 1 scoop per day.
Note: If your cat consumes more than one meal, divide the recommended servings of Nutra Thrive For Cats into half for each meal.
How to Use
Preparing your cat's meals using Nutra Thrive is very simple. Follow the 3 steps below to boost your cat's regular diet and make them enjoy their mealtime.

Step 1: Scoop the appropriate dosage needed as per your cat's size. Pour into your cat's normal food.
Step 2: Sprinkle a little bit of water into the food bowl to coat the powder over the kibble. 1/4th cup of water should be enough. Use a measuring cup for accuracy.
Step 3: Mix the powder thoroughly until it evenly coats your cat's food.
Note: If you notice the powder remaining even after thoroughly mixing the food, pour water additionally and repeat Step 3.
The Nutra Thrive Money Back Guarantee
Nutra Thrive is a product that hails from a very reputable brand across town; Ultimate Pet Nutrition. Their team is proud to formulate some of the most advanced pet supplements that have been loved by canines and felines and approved by pet parents.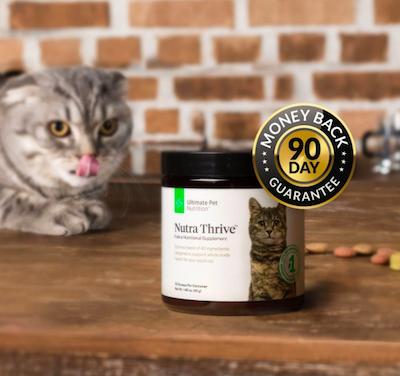 This is the reason that they confidently promise the 100% Money Back Guarantee. If upon use, you do not notice any improvements in your pet's health, you can send the unused portion back within 90 days for a full 100 % refund over the purchase price. The hassle-free money-back promise by Nutra Thrive makes pet parents feel more confident about purchasing the supplement for enhancing their cat's meals and overall health.
Why Choose Nutra Thrive Feline Nutritional Supplement?
Nutra Thrive Feline Nutritional Supplement is a carefully designed formula comprising of select ingredients to make an advanced blend of Superfoods, Super Feline and Probiotic and Enzyme Blend along with a combination of essential and trace vitamins and minerals, amino acids and Calcium Fructoborate.
The comprehensive formula of 40 Vitamins, Minerals, and Nutrients alongwith Exotic Ingredients make a gamechanging blend to provide top of the line nutrition and enhance your cat's meals.
We list a few more reasons for you to choose this advanced and premium formula of Nutra Thrive For Cats:
The immune-boosting superfoods blend supports your cat's immune system.
Super feline blend naturally recharges your cat's energy levels.
Probiotic and Enzyme Blend helps in breaking down their food easily for easier absorption and digestion of nutrients.
Well absorbed nutrients contribute to better, manageable, firmer stools.
Suitable for cat's of any size, age, and breed.
Easy to scoop and serve, just sprinkle, add water, and mix well.
No hassles of changing your cat's diet; can be added to any wet or dry cat food.
Unique blend providing proper nutrition to drastically improve your cat's life.
No additives, fillers, or artificial ingredients used.
100% Money-Back Guarantee within 90 days if no visible improvements.
So, Is It Worth the Price?
Feeding your cat with an appropriate diet and additional supplements should not lead to burning a hole in your pocket. Answering the question above, Nutra Thrive is definitely worth the price. Wonder why and how?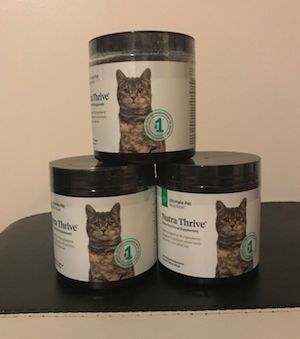 Here is an overview of the costs:
Nutra Thrive Feline Nutritional Supplement Prices
Quantity
Price
1 jar (1.48 oz)
$66.99
3 jars (4.44 oz)
$188.97
6 jars (8.88 oz)
$356.95
The table above clearly indicates that the more the merrier, rather cheaper. Buying 3 jars together gives you a total savings of a clear $21.00. Similar profits apply on buying 6 jars. A single scoop would cost you around $2.23 per day.
On purchasing 3 jars, the same would cost you around $2.09 per day, indicating a clear profit of $0.14. On the other hand, you do not have to worry about refilling stocks for a good number of months along with saving a few dollars. A single jar would approximately last for a month considering a small to medium-sized kitty.
On comparing other supplements, you would find that related products like Purina Pro Plan Feline Probiotic Supplement and Vetri Lysine Plus might cost less, somewhere between $15-$30. But they do not contain the Unique 3-in-1 Blend along with additional amino acids vitamins and minerals that Nutra Thrive has to offer. Each scoop is worth the penny spent.
FAQs
1. Do cats need a supplement in their diets?
Yes. Commercially available and processed cat foods promise to provide essential nutrients but are not always reliable in terms of quality of ingredients and providing 100% nourishment.
Food supplements like the Nutra Thrive Feline Nutritional Supplement ensure that your cat gets the best nourishment from their meals and helps in the appropriate absorption of nutrients.
2. Is Nutra Thrive Feline Supplement good for cats?
Absolutely! Nutra Thrive Supplement for cats provides a unique blend of Superfoods, Super Feline and Probiotics and Enzymes along with essential vitamins, minerals and amino acids to boost your cat's health and energy levels.
3. What type of cats should use Nutra Thrive?
Nutra Thrive is a proven formula to boost your cat's health and promises longevity. If your cat experiences flatulence, fatigue, loose stools, anxiousness, poor coat shine, and luster, bad odor, or any other signs due to lack of nutrition, then you should definitely try Nutra Thrive for your kitten.
4. Is Nutra Thrive safe for my cat?
Definitely! Safety is their priority at Ultimate Pet Nutrition. Therefore, all of their products undergo rigorous testing for quality, purity, and potency at an independent 3rd party facility. It does also not use any additives, fillers, or artificial ingredients.
5. How to buy Nutra Thrive Cat Supplement?
Nutra Thrive Feline Nutritional Supplement is available on the product's official website
Final Note
On a final note, and after thoroughly researching the feline nutritional supplement offered from one of the finest brands across the town; Ultimate Pet Nutrition, it is definitely recommended and worth a try for your cat.
Nutra Thrive Cat Supplement combines a unique and promising blend, that's hard to find in any other supplement. The advanced formula helps maintain a balance between good and bad bacteria and also offers a rich and exclusive list of ingredients like the Reishi, Shittake and Maitake Mushrooms that boost immunity and longevity. It also has a range of feline-friendly Probiotics along with Digestive Enzymes that help breakdown your cat's food and help in complete absorption of nutrients.
Make your cat feel their spunky selves by reading the comprehensive review above and choosing the Nutra Thrive Feline Supplement for your beloved companion.
References:
Pedrinelli, V., Zafalon, R.V.A., Rodrigues, R.B.A. et al. Influence of number of ingredients, use of supplement and vegetarian or vegan preparation on the composition of homemade diets for dogs and cats. BMC Vet Res 17, 358 (2021). https://doi.org/10.1186/s12917-021-03068-5
Bernachon, N., Fournel, S., Gatto, H. et al. Comparative palatability of five supplements designed for cats suffering from chronic renal disease. Ir Vet J 67, 10 (2014). https://doi.org/10.1186/2046-0481-67-10
Freeman, L. D. M., PhD. (2017, May 26). Dietary Supplements for Pets: Harmful or Helpful? Clinical Nutrition Service at Cummings School. https://vetnutrition.tufts.edu/2017/03/dietary-supplements-for-pets-harmful-or-helpful/