Reward your furry friend with the Best Cat Exercise Wheel for her healthy lifestyle. Make your selection easy with our curated list of Cat Exercising Wheels.
Felines that are restricted to indoors are vulnerable to diseases like arthritis, diabetes mellitus[1], and liver problems. Most of the diseases in felines are caused due to obesity. Also, you will be surprised to know that in North America Approximately 30-35% of the general feline population is obese[2]. To prevent these problems, Cat Exercising Wheel is the most convenient option for your cats.
A regular exercise on a Cat Wheel will prevent your pet from obesity. Besides this, your pet will also find an engaging activity that will help to tackle and boredom or stress.
Best Cat Wheel: GOPET Treadwheel Medium/Some Large
The best and the safest Cat Wheel for exercising is GOPET Treadwheel. It is the perfect way to provide your pup with an excellent source of exercise. The treadwheel features an optional brake that allows for the adjustment of resistance to the wheel to create different running speeds for your pet. Moreover, the cushioned and durable matted surface on the running surface protects your cat's paw pads while using the wheel.
Why buy a cat exercise wheel?
The Cat Running Wheel exercise is very crucial especially for the adult cats who stay indoors, eat, and go to sleep. The nature of cats is hunting for food since they are predators and doing this makes them fit and strong. But for domesticated cats, they are mostly restricted to indoors which might make them obese that could lead to some vulnerable diseases. Here the cat exercise wheel comes in handy, it provides them a way to be fit even by staying indoors.
The 5 Best Cat Exercise Wheels Reviews of 2022
Choosing a Cat Exercise Wheel can be hard as there is not very much information available about it on the internet. Also, there are very few Cat Wheels sold online. In order to make the selection easy for you, we have curated the top five Cat Wheels to choose from.
1. GOPET Treadwheel Medium/Some Large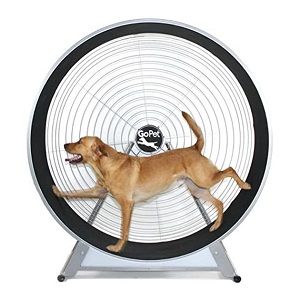 Do you have multiple pets at your home, then this Treadwheel is the most suitable choice as a Cat exercise wheel for you. Due to its large size, two large cats or three kittens can easily walk or run in this Treadwheel at the same time.
GoPet is also a well-recognized brand when it comes to Pet Exercise Equipments. So this Pet wheel comes with no flaws in its design as it is made by a well-reputed manufacturer. All these factors make it the best cat exercise wheel and worth the price at which it is available considering its quality.
There is also an adjustment for resistance provides so you can change the smoothness of the wheel rotation as per the requirement.
The backside of the wheel is fixed and cannot be removed. Whereas, the front side has a training door which can be opened and closed for training your pet to use it. Once your Cat has learned to use it, then you can also remove the front side to give open access to the treadwheel.
Key Features:
Diameter: 60 inches; Width: 20 inches
Color: Black/ Metallic Silver
Weight: 240 lbs
Capacity: 150 lbs
Pros:
Can be used for multiple pets
Training door provided which can be opened and closed for the training purpose
No batteries or power source required
Adjustable Resistance
Cons:
It is difficult to shift this Treadwheel from one place to another due to its heavyweight
Costlier compared to other products
2. Creation Core Multi-Level Cat Waterwheel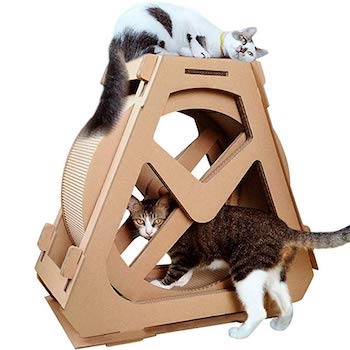 If you are looking for a lightweight and portable Kitty Exercise Wheel then this one is definitely the product for you. Besides being used for exercising, your kitty can even use it as a scratching post.
Its structure is similar to the Waterwheels which were traditionally used which gives it an aesthetic look. But in order to make it operational, you need to assemble it, for which in the instructions manual is included along with it.
As this Cat Wheel is made from cardboard so it is completely safe for your environment and your cat as well. However, as the cardboard material is not very strong it is not capable to hold heavier pets. It is recommended to be used only for kittens, or small breed cats.
Key Features:
Size: Large(57.5″x27.6″x27.0″); Small(24.0″x11.4″x9.8″)
Material: Corrugated paper
Instructions manual included
Pros:
This waterwheel shaped toy can be used as exercising wheel as well as scratching post
Lightweight and Portable
Made from non-toxic, environment-friendly, and recyclable material
Cons:
Cannot withstand heavier pets
Not waterproof
3. GoPet Treadwheel ToySmall Cat Exercise Wheel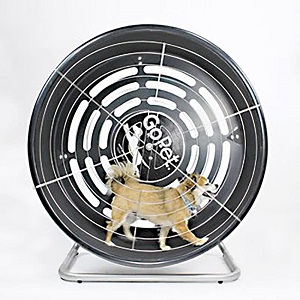 If you and your pet are a die-hard fan of GoPet brand but discourage yourself to buy their products due to the higher prices, then here is the alternative for you. The GoPet Treadwheel ToySmall model is comparatively cheaper than the Treadwheel on #1. But a lower price does not mean that you have to compromise the quality, instead, you will get less features in it.
This Treadwheel is the perfect way to provide your pet with an excellent source of exercise. It does not require batteries or a power adapter to run as the Treadwheel does not have a motor. The running surface features a cushioned and durable matted material that protects your Cat's paw pads while running or walking on it.
Similar to the above Treadwheel fro GoPet, this one also has brakes that allow for the adjustment of resistance to the wheel. So you can easily adjust the running speed of the wheel depending upon the requirement of your pet.
Key Features:
Diameter:40 inches; Width:12 inches
Color: Black/White/Metallic Gray
Weight: 42 lbs
Capacity: 25 lbs
Pros:
Door provided on one side of the Treadwheel that makes easy for your pet to train to use it
Large size suitable for any size of cat
Smooth running surface with cushioning
No batteries or power source required
Cons:
4. LOVEPET Ferris Wheel Cat Climbing Wheel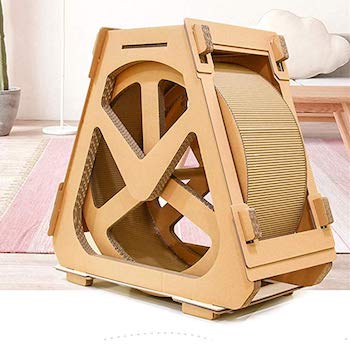 Your Cat would definitely love this Ferris Cat Exercise Wheel as she cannot only use it for exercising by rolling the wheel but the top post can be also used as a Scratching Post. The wheel is rotatable and the cats can enter its interior side to play with it.
The enclosed design gives a playful experience to your furry friend and satisfies her exploration behavior. Its climbing frame also makes her carry out the climbing drill over the post.
The smaller size makes it more convenient to be used as a kitty wheel, but it also works for large cats as well. A larger size is also available for this product, so if you have a Large Cat then make the choice accordingly.
Key Features:
Size: Small: 24×11.4×22.8 inches; Big: 28.7*14*27.5 inches
Material: Corrugated paper
Instructions manual included
Pros:
This waterwheel shaped toy can be used as exercising wheel as well as scratching post
Lightweight and Portable
Made from non-toxic, environment-friendly, and recyclable material
Cons:
Cannot withstand heavier pets
Not waterproof
5. One Fast Cat Exercise Wheel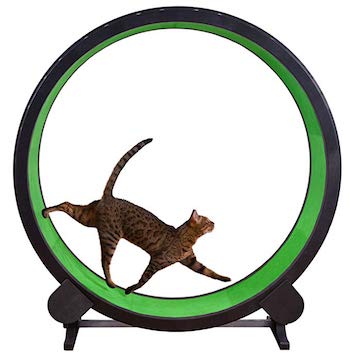 The feature that makes it one of the best Cat Exercise Wheels is the smooth running surface and overall safe design. You should definitely buy the One Fast Cat Wheel if you care about the safety of your cat the most. It features a hubless rotating wheel without spokes that prevents any mishaps. Besides safety, the smooth rotation allows your cat to enjoy while exercising on this Cat Treadmill Wheel.
It is a 4th generation wheel that features fewer parts and modified rollerblade wheels which provide stability while your pet is running on it. The materials used in this treadwheel not only makes it lightweight but also durable and long-lasting. The sturdy design is capable of supporting pets up to 25 pounds.
The running surface has foam for cushioning cat's step and also prevent claws from catching. In case if your pet steps on it with dirty paws then you can wipe out the wheels with a wet towel. It can even be hosed for quick cleaning.
Key Features:
Diameter: 48 inches; Width: 12 inches
Color: Green/Black
Weight: 29 lbs
Capacity: 25 lbs
Hubless Wheels
Running surface: EVA Foam cushion
Open Design
Pros:
Large size suitable for any type of cat or dog
Smooth Running Surface
No batteries or power source required
Made from environment-friendly and durable material
The spokeless design makes it completely safe for your pet
Easy to assemble
Cons:
Due to its large size when fully assembled, it needs ample amount of space in the room where it is kept
THE GUIDE to get perfect exercise wheels for cats
It can be hard to decide which Cat Exercise Wheel to purchase, especially if you don't know much about the product. To make the selection of a Cat Wheel easy, here we have provided buyers guide.
Points to consider before purchasing a Cat Wheel
Here are some of the important features and specifications which you should consider before purchasing a Cat Exercising Wheel:
First and foremost you should consider the dimensions of the Cat Wheel before purchasing it. Make sure that the running area is wide enough so that Cat can easily walk or run on it. Also, the internal diameter should be large enough with at least double the height of Cat for a treadwheel.
The second specification which you need to see is the weight capacity of the Cat Wheel. It should be capable enough to withstand the weight of your pet without being unstable or damaged.
The running surface should be durable as well as cushioned so that it is comfortable for your cat's paws. A Cat Wheel with hard running surface would not be convenient for your feline.
FAQs
Why is it important to make your cat exercise?
Daily exercise is important for felines in the same way as it is for us. Just like human beings, cats that take plenty of food and do little to no exercise are likely to become obese. Due to obesity, your pet can be vulnerable to diseases that include arthritis, diabetes mellitus, and liver problems.
Also, an overweight cat will no longer be able to go to their favorite places or spots along with you. So, your furry friend has to exercise enough on a regular basis to reduce obesity problems to avoid any bad consequences.
Benefits of Cat Exercising Wheel?
A Cat Wheel is definitely a good option for your pet. Besides exercising which improves physical health, your pet also enjoys while walking in the treadwheel. Regular exercise improves the flexibility of the muscles and increases bone strength.
Physical fitness and daily exercise will also boost their mental stimulation. It reduces the disease chances of Heart and Respiratory System. Besides this, it also improves blood circulation and helps cut weight in obese cats.
Additionally, as pets enjoy while walking or running in the treadwheel, so it keeps them engaged in the activity. This reduces any unwanted behavior in cats which may have caused due to boredom or stress. The cat wheel exercise is very crucial in the fitness and stimulated related issues for the cat especially the indoor cats who eat and go to sleep.
How to Train Your Cat to use the Wheel?
Training your Cat to use the Cat Exercise wheel needs patience and practice to be followed by you as well. First of all, you need either a toy or treat to which your pet is very attracted to. You can also use a laser pointer instead of a treat or toy.
Now point your cat to its wheel and allow her to explore it. If your cat does not step on the wheel on its own then either use the laser pointer or hold her and instruct to do so. You can also use her favorite toys to encourage to go to the cat wheel.
Use the treat to encourage your cat whenever she gets on the wheel. Now hold the treat (or toy) partially up by the wheel, this will make her walk on it. You can also point the laser wheel in the upward direction to make your cat walk on the treadwheel.
Repeat the process again unless your furry friend learns to walk and run on the Cat Wheel.
How Long will it take to train my Cat for using the Treadwheel?
The amount of time required by your Cat to get used to the Treadwheel depends entirely on her. But for most of the pets, it usually takes one week of training so that they can start using the Treadwheel themselves.
Is there any disadvantage of using a Cat Exercise Wheel?
By using a Cat Wheel, your feline would be restricted to indoors for exercising unless it is an Outdoor Treadwheel. So it is recommended that you take your Pet out for a walk at least on a weekend. But if you have an Outdoor Treadwheel, then she would be already exposed to the outside environment, so in this case, it is alright if you don't take your cat out for a walk with you.
Can you use a Dog Treadwheel for Cats?
Dog Treadwheel can be used for Cats as the design is similar for both. The size is also big enough for cats so they can easily walk or run on a Dog Treadwheel.
The Final Note
Cat Exercise Wheel is an excellent device to help our Pets stay healthy by exercising daily especially if we don't have the time to walk them, or if the weather is not suitable. With the Exercise Wheels for Cats we have listed herein, you can bet that your Cat will get the exercise it needs and the peace of mind you require.
Even though you have a solution for exercising your Pets at home itself, but for her complete catisfaction, take her on a walk outdoor whenever time permits.
Have a Paw-some Day!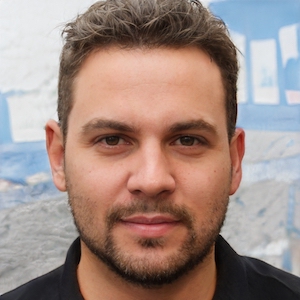 Joseph was a full-time cat groomer at his own pet salon before he co-founded CatLovesBest with help of another co-founder – Clara. With bachelor's in veterinary science, he has been doing cat grooming for more than 10 years. He is also an aspiring animal breeder with specialization in the standards, behavioural traits, and coat cuts that are desired for the breed.
Although he has experience with many kinds of pets, large and small, cats are his true love, and he particularly enjoys writing about feline care and behaviour.