Earlier, the best-looking and cheapest cat dish used to be feline parents' go-to choice.
But Today, we know that the best cat bowl promotes healthy digestion and makes mealtime pleasurable. It is also supposed to be sturdy, durable, and comfortable to reduce neck strain.
Fortunately, we have dozens of pet supply companies that offer perfect cat bowls but selecting one of them is a major task as we aim to provide only the best products to our feline.
Caution: Please be very cautious before opting to feed your pets in plastic bowls because they may easily develop cracks/scratches which can accumulate or promote the growth of bacteria.
The best cat bowls are made from materials that do not develop cracks or scratches because bacteria grow easily in such places.
If you already have a plastic bowl, please ensure you replace it with a bowl that is made from non-toxic, durable materials so that it does not develop cracks or scratches easily.
We have reviewed dozens of cat bowls to present the cat bowls from top brands available in the market that will keep your pet safe and you satisfied as a pet owner.
Benefits of Using Cat Bowls
Who does not enjoy eating from a nice, clean dish? Plastic dishes are commonest but those made from stainless steel or ceramic are also preferred as they are simple to wash and are hygienic. You can also refer to this article based on how often should you clean your cat's food bowl for better hygienic guidance.
There are a number of reasons to invest in a good cat food bowl. First of all, you want something that is easy to keep clean and safe for your kitty. Your next priority is something stable to spare your floor from becoming a mess with pet food spread all over. Because there are so many cat food bowls to select from, we have undertaken the task to review many of them and present to you a list of the 10 best cat bowls.
In the following section, we have reviewed 10 different cat bowls in order of our preference. We sincerely hope you are able to find a product that is just right for you and your kitty among the 10 that have been reviewed here.
A Quick Look at our Favorites of 2023
Best Overall
Editor's Pick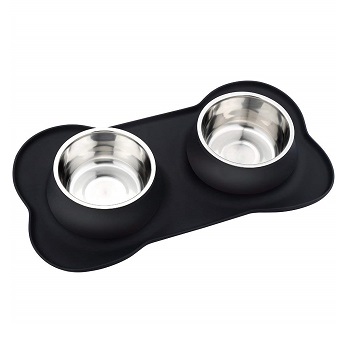 URPOWER Stainless Steel Cat Bowl
Simple design that prevents spillage.
High quality stainless steel material used to make it.
Silicone mat provided for base support.
Affordable Pick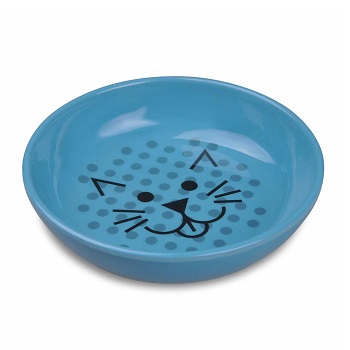 Van Ness ECOWARE Cat Dish
Bamboo plant material
The high-polish finish of the dish makes it very easy to clean
Best Cat Bowls for Food in 2023
1. Necoichi Raised Cat Food Bowl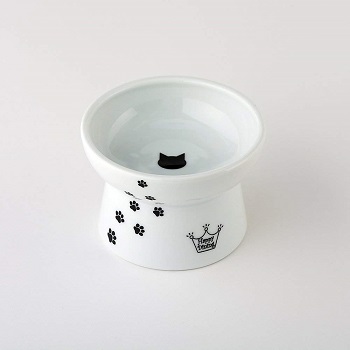 The feline anatomy is such that when your kitty eats from a dish, its mouth is at a lower level than the tummy and increases the risk of backflow. According to our experts, the best cat bowl of 2023 is Necoichi Raised Cat Food Bowl. This product falls in the category of raised cat food bowls, which allows your feline to eat in a more natural position for greater comfort and improved digestion.
You must have noticed that when your kitty is finishing its meal, the food starts scattering towards the edges along the bowl. Cats find it difficult to get to the last morsel of food that sticks to the rim of the bowl. This bowl is designed with the perfect curvature so that the food returns to the center and the cat does not expend energy in chasing the food all over the bowl.
Multiple cat owners will be relieved that they don't have to manually clean all the bowls after your furballs have finished their meal. They will be impressed with the convenience of just putting all of the food and water bowls into a dishwasher and turning on the switch. Moreover, the material used for the bowls is free of toxic constituents such as lead and cadmium.
The most important aspect associated with feeding your pet is spillages, which causes food wastage. However, the company has overcome this problem by adding a subtle inner lip to the bowl and make it the best anti spill cat water bowl.
To conclude, we think this is the overall best cat food bowl.
Pros:
Made from heavy duty ceramic and designed to prevent from getting knocked over.
The raised design is an ideal solution for aging or arthritic cats that find difficulty in stooping to eat.
Cons:
The Cat Bowl is of a smaller size than what is shown in the product specification.
Are you looking to buy ceramic bowls? You may want to check our recommendations for Best Ceramic Cat Bowls.
2. URPOWER Stainless Steel Cat Bowl with No-Spill Silicone Mat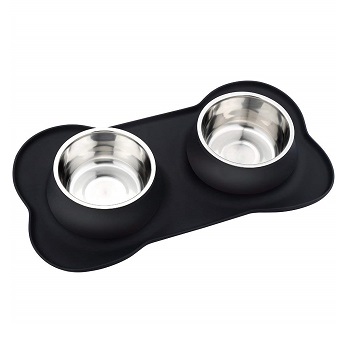 These are a set of two stainless steel cat bowls set in a silicone mat. It is the best solution if you are looking for a double bowl solution to meet your pet's feeding as well as watering needs.
The silicone mat prevents the bowls from skidding on the floor and sliding all over the place when your dog is eating. The base of the silicone mat is extra large and easily catches any spillages. Thus your floor remains clean and the spillages get trapped in the silicone stand. Moreover, the silicone mat also prevents the cat bowls from tipping over.
Made from high quality rust-resistant stainless steel with a unique silicone bottom, this is one of the best choices for your pet's mealtimes. You will like to know that both the bowls and the silicone mat can be conveniently tossed into the dishwasher to clean them. Thus you are spared the trouble of having to clean them manually.
The bowls themselves hold 26.5 ounces each and they are held in silicone cups that elevate the bowls by 2.6 inches. They can serve the purpose of feeding any pet- dogs, cats, or any other pets – up to 70lbs in weight. The silicone mat prevents the bowls from slipping and the raised edges help contain spillages. Though the size of this feeder makes it ideal for multi-cat households, it can also be used for a single cat.
Besides the elevated cat bowls, you can also get the best tilted cat bowls if your kitty has any problems in bending or if their bending position is making it difficult for the food to digest.
You can also refer to this article based on should cats eat from elevated bowls for your knowledge.
Pros:
Simple design that prevents spillage.
High quality stainless steel material used to make it.
Silicone mat provided for base support.
Cons:
Its size is a bit larger for kittens.
Read more on how to train your kitten to use a bowl.
3. Van Ness ECOWARE Cat Dish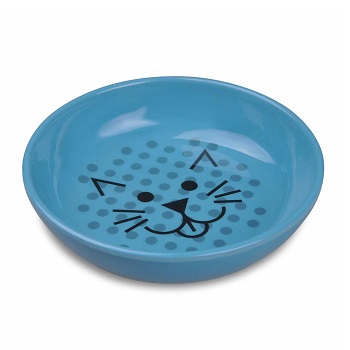 Van Ness ECOWARE Cat Dish scores because it is safe for your pet and good for the environment. The material of which it is made up of comprises 47% bamboo material, which is not only eco-friendly but also a renewable resource. The dishes are just right for water as well as food – both wet and dry. You can also check out how to choose the right food bowl for your cat.
When cats eat out of tall bowls their whiskers touch the edges and can get overstimulated. The shallow and wide design will allow your cat to eat food easily without causing whisker stress, which is commonly called whisker fatigue.
Another issue that people are wary about before buying a cat dish is its ease of cleaning and durability. It is made with a high-polish finish and therefore very easy to clean. And when subjected to normal use, it won't crack or splinter.
It is very frustrating to see your pet having to chase the food bowl all over the floor because it skids when she is eating. The base of the Ecoware cat dishes is made from food-grade silicone to prevent it from sliding or even scratching the floor.
Also, you can find out the reason behind your feline's scratching behavior, by giving a glance look at this article based on why your cat scratching around food bowl. Surely, will help you out for better understanding.
Pros:
This is 100% safe for your pet and is environmentally friendly as 47% of the bowl comprises bamboo plant material, which is also a renewable resource.
Eating from this shallow and wide dish will prevent your kitty from suffering whisker fatigue.
The high-polish finish of the dish makes it very easy to clean.
Cons:
It is not recommended to be washed in the dishwasher otherwise it may start cracking at the edges.
As per the survey, it has been observed that many cat parents face issues where their feline doesn't prefer drinking water from her own bowl. We have a reference article related to this issue, check out why won't my cat drink out of her bowl?
4. COMSUN Collapsible Cat Bowl for Travel and Hiking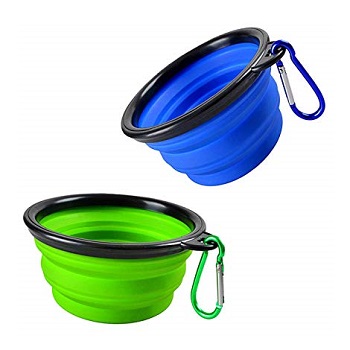 COMSUN is a collapsible cat bowl with each bowl having a capacity of 12 fluid ounces or 1.5 cups of pet food. It is made from high-quality silicone, which will ensure that your pet is perfectly safe when eating or drinking water from it.
The bowl can be rinsed and wiped dry making it very convenient to be cleaned. Being collapsible, it can be folded and carried in a backpack. The bowls come with color-matching carabiners. This makes it one of the best cat water bowls, and also appropriate for feeding food while outdoors.
Pros:
This cat food bowl made from eco-friendly material – silicone – ensures complete safety of your kitty when she is eating or drinking from it.
Moreover, it is convenient to be folded flat and carried around in a backpack when you and your pet are on the move.
It is economically priced and therefore a very suitable option for cat owners with budgetary constraints.
Cons:
It is relatively small in size and therefore not suitable for large sized pets.
Read More: Best Cat Water Bowl of 2023
5. UPSKY Double Cat bowls set for feeding food and water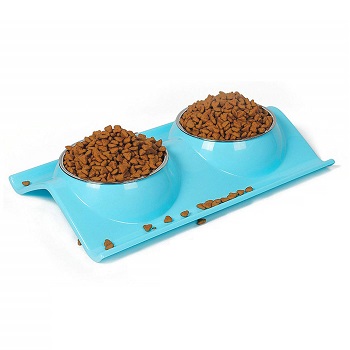 UPSKY Double Cat Bowl is a set of two cat bowls each of 11 ounces capacity. Made from quality stainless steel, the cat food and water bowls have a resin bottom and are a great choice for your pet's feeding time. The bowls are dishwasher safe and therefore convenient to be cleaned.
Even the messiest eaters will not be able to make the food leave the bowls' mat and relieves you from the necessity of cleaning the floor each time you feed your kitty.
The mat holding the cat bowls raises their height by 0.8 inches, offering your kitty greater comfort while eating or drinking and makes swallowing an easy task. The stainless steel bowls are removable and easy to clean.
You can also check out the best slow feeder for cats bowl for your kitty who takes time to finish her food.
Pros:
Being made of stainless steel, the cat bowls are simple to clean and an ideal choice for messy eating pets.
Cons:
The mat of the cat bowls may not withstand chewing. Also, it may not be a good choice for larger animals.
Read more on why your cat not chewing food properly.
6. FOREYY Raised Pet Bowl and Elevated Bowl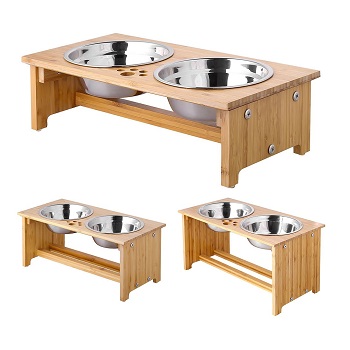 FOREYY Raised Pet Bowl is a bamboo elevated set of two cat food and water bowls. The stand is made from bamboo. This cat feeder elevated with anti-slip feet prevent your kitty from sliding the bowls around while eating and keeps your floor protected.
The cat bowls are made of stainless steel, which is the preferred material of food industries. It is durable, sanitary, rust-free and dishwasher safe. The bowls are large enough to hold approximately 4 cups dry food or 30 ounces of water.
If your feline is a wet food lover then we have recommendations for you, check out the best cat feeders for wet food.
Pros:
The elevated cat bowls provide easy access to food and water, facilitating their movement from the mouth to the stomach.
It is no longer required to get down on one's hands and knees to scrub the feeding area clean. You just wipe the surface of the feeder stand clean.
Cons:
It is also a premium product and could be out of reach of cat owners with budget constraints.
7. Sabuy Collapsible Cat Travel Bowl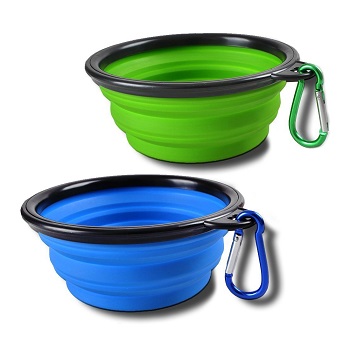 Sabuy Collapsible Cat Travel Bowl is another great product for those who are constantly on the move because of its collapsible nature. They are lightweight and easy to carry with metal carabiners and made from non-toxic food grade silicone material.
Ideally, it is suited for small to medium cats and dogs to store food and water outdoors. The package includes two pieces of cat dishes for travel and two metal carabiners.
While eating few cats have a habit of moving their bowl, so for that, we recommend you to refer to why do cats move their water bowls to get a clear concept.
Pros:
This is a very economically priced product and one of the best options for those who are looking for something very basic in the cat bowls category.
Ideal when you are traveling, hiking, camping indoors or outdoors.
Cons:
The company says it is ideal for only small and medium-sized animals, so may not be an option for larger pets.
Read more on how you can keep ants away from cat food.
8. Dr. Catsby Cat Food Bowl (Dishwasher and Whisker Friendly)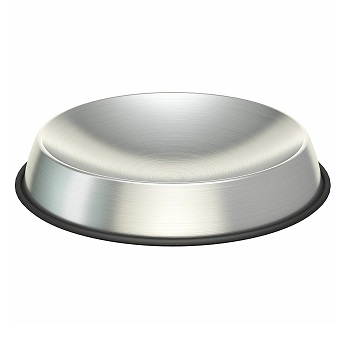 Dr. Catsby Cat Food Bowl (Dishwasher and Whisker Friendly) is yet another stainlesss steel cat bowl, which is not only easy to clean but also resistant to bacteria that can cause feline chin acne. The cat food bowl comes with a rubber bottom to prevent slippage.
It also has an extra-wide design so that your kitty's whiskers don't touch the sides of the bowl while eating. This also makes it the recommendation for best whisker friendly cat bowls.
Pros:
Made from bacteria resistant stainless steel, its silicone bottom prevents slippage while eating, and the extra-wide design ensures the whiskers do not come in the way of feeding.
Cons:
The manufacturer makes it clear that it is only meant for dry food (1.5 cups), though our have written to us saying that it is okay for wet food as well.
Note:- Majority of cats are mischievous in nature and they have a tendency to not finish their food on time or keep throwing treats here and there. For this we have a recommendation for you, check out why the cat keeps splashing water bowl?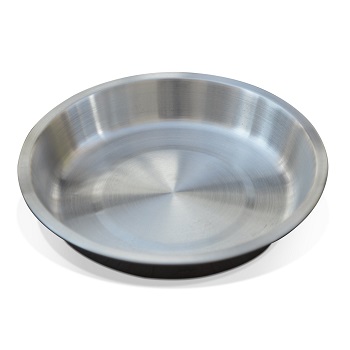 To keep your cat well-fed, it is not necessary to buy fancy cat dishes that are available on the market. Simple yet well-built ones such as Premium Brushed Stainless Steel Bowl also work well. Those who are shopping for a corrosion-resistant, cat-feeding bowl or one that does not cause chine acne, may find this a suitable option.
The structure of this product is what you and your pet will find enjoyable. Apart from durability, people admire its functionality. The design is spacious and suits most cat breeds. Its outer rim makes cleaning and lifting the dish very easy.
Pros:
The chief benefits are that the cat dish is durable, has an extended outer rim and can be cleaned in a dishwasher.
Cons:
The loud clattering noise the dish can make when handled roughly can be a bit disturbing.
10. Simply Pets Slow Feed Cat Bowl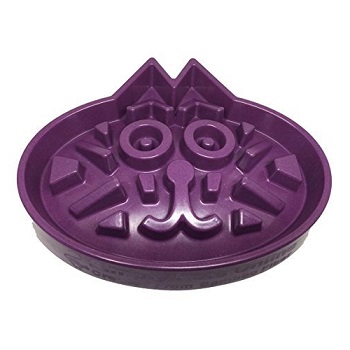 Simply Pets Slow Feed Cat Bowl is the best selling slow feed cat bowl made of eco-friendly bamboo fiber and rice husk. Its unique cat-faced design makes it alluring for felines. Comes with elevated sides to prevent food from spilling over. This slow feed cat bowl is dishwasher safe and available in three colors – blue, purple and ivory.
This cat bowl helps to cut down speed by 4-6 times and is ideal for a medium to a large adult cat.
Pros:
Stops choking, gagging, or vomiting, and hence making it one of the best anti-vomit cat bowls
Prevents gulping of food causing gas and stomach discomfort
Discourages excessively fast feeding may lead to obesity and overweight
Cons:
The pricing can be an issue as it can neither be termed economical nor reasonable.
11. Petrageous Oval Pet Bowl for Kitty and Cats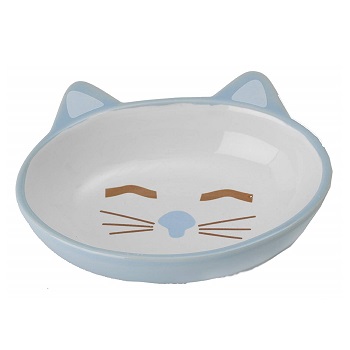 This Petrageous cat bowl is a cat-head shaped dish. It is cute and can contain one small can of cat food. It is dishwater safe. This is a ceramic cat bowl and the ears make it extremely easy to pick it up and clean.
To find a similar design of cat bowls or the ones that are the best customizable cat bowls check out this article.
Pros:
This is economically priced and can be conveniently cleaned inside a dishwasher.
Cons:
Small in size, not suitable for large cats.
Read More: Best Cat Water Bowl of 2023
Buyer's Guide of Cat Bowls
Are all food bowls equally safe for your kitty? We are going to discuss the various categories available in the market to answer that question. If you have been to your local pet store of late, you would have seen that cat dishes come in various price ranges, colors, sizes, and material. Cat food bowls come in four main types: ceramic, plastic, stainless steel and glass.
We have also answered a few frequently asked questions regarding cat food and water bowls. You must have faces scenario where your feline pal just skip her meal there can be many reason behind this behavior. So, we will recommend you to also read how long can cats go without food.
Types of Cat Bowls
It is natural that you want to know the different types of cat bowls that are available on the market. In case, this product review has made choosing one more confusing, then we have discussed a few cat bowls based on the material they are made from.
You can also refer truth about cat bowl for better knowledge.
These are attractive because of the fun and creative designs they come in. They are also easy to clean and dishwasher safe. We have even made a separate list of the recommendations for best ceramic cat bowls that you can get for your kitty.
These are definitely the cheapest and easiest to find. But cheapest may not necessarily mean they are the best. Although they are durable and lightweight, bacteria easily build up inside them.
Apart from selecting an appropriate bowl for your feline, it is important to choose the best cat feeding mats also.
The best stainless steel bowls for cats are durable, simple to clean, and dishwasher safe. No need to worry about breaking or cracking. Although not stylish, they do come in different sizes.
Glass cat food bowls may not be durable, but they are simple to clean and dishwasher safe. These bowls have to be handled carefully because they crack easily, which may force you to discard them due to reasons of safety as well as hygiene.
The heated cat bowl is also one of the types. But since it is very different from other types, so we have made an entirely different list for the best heated cat bowls.
How to Choose the Perfect Bowl for Your Cat?
Cats prefer to eat from shallow and wide bowls. The width of the bowl prevents whisker fatigue and being shallow, they can also keep a watch on the surroundings as they don't need to stick their faces and nose deep into the bowl.
The cat food and water bowls should be made of a material that is simple to clean so that it can remain free of bacteria and other infection-causing parasites. If their bowls are often visited by termites and ants then it is recommended that you get them the best ant-proof cat food & water bowls.
FAQs
There are several questions that buyers of cat bowls have in mind. We have attempted to address a few FAQs to clear any remaining doubts that the reader may have before purchasing one.
Should cat bowls be elevated?
A raised cat food bowl allows your feline to eat in a more natural position improving digestion. Ideally, an elevated one should level with the chest of your kitty in a standing position. It also makes eating and drinking more comfortable for aging, arthritic cats. We have also made a separate list of the best elevated cat bowls so check out to get this type of bowl for your kitty.
What type of bowl is best for cats?
Stainless steel is unbreakable, sturdy, dishwasher safe and perfectly harmless. Most vets recommend stainless steel or ceramic material for the cat bowl. The ceramic used to make it should be of lead-free glaze.
Can cats eat out of plastic bowls?
They can, but plastic bowls can develop cracks and scratches where bacteria can breed and infect your feline. Bacteria will still breed in the cracks and scratched areas of the bowl even if you washed it regularly.
What is a slow feed cat bowl and how does it work?
Slow feed cat bowls are designed to prevent your kitty from eating her food too quickly. They work by using a raised pattern to separate your kitty's food into small sections. The cat has to work harder to remove the food from each section. Thus, it not only takes longer for them to eat the food but also keeps them entertained.
Why does my cat take food out of the bowl?
A cat will pull the kibble out of her bowl if it is too narrow and deep. This may be because the bowl pushes her whiskers back, which is painful.
Conclusion
We have undertaken this painstaking exercise to review dozens of different food bowls for cats. The purpose of this exercise was to dispel any confusion you had about selecting a cat bowl. It was an uphill but enjoyable task for us to put all the information before you. We hope you enjoy reading it as much as we have enjoyed presenting it.
You can also give a glance look at why cats peeing in her food bowl and why do cats put things in water bowl?