We have reviewed the 10 best automatic cat feeders that will relieve you of the duty to keep track of your kitty's feeding program.
Pet parents are always uncomfortable about having to leave our cats at home and go to work. They have to remain hungry and thirsty until we return home in the evening to feed them.
Automatic cat feeders are now available on the market that will feed your pets at the scheduled time, regardless of whether you are home or not.
Editors' Pick:
Iseebiz Automatic Cat Feeder
Our experts feel that the Iseebiz Automatic Food Dispenser is the best one because it is easy to operate and can serve up to four meals a day. It also checks if food is leftover in the bowl before beginning to dispense further. The device runs on electricity with back-up batteries to ensure consistency in the eating habits of your kitty.
As per the survey, it has been observed that many pet parents have the dilemma of using elevated bowls. So, to clear clouds of doubts we have recommendations for them, check our blog on "Do elevated cat bowl works".
What is a cat food dispenser?
A cat food dispenser is a simple machine that dispenses food for the cat even when you are not at home. Moreover, cat food dispenser finds application in urban areas because cat parents have to go out for work but keep worrying whether their cats would have to stay hungry till they returned home in the evening.
The concept of pet food dispensers started ages ago. In the olden days, people used to make a food reservoir accessible to the pet with a heavy lid. The heavy lid would prevent dirt from entering the food and make food difficult to steal for other animals.
However, this method had its own demerits. It allowed pets to eat more food than they required. If the cat parent stored limited food, the pet would eat it up at once and then have to go hungry for the rest of the day until the guardian returned home.
To overcome this problem, automatic cat food dispensers arrived on the scene. These had both features: a food reservoir and a dispensing mechanism. The food can be stored in the reservoir but it can only be accessed by the pet through the dispensing mechanism that can be regulated by cat parents. Regulating the dispensing mechanism means deciding the number of meals to be served per day and portion-size to be dispensed per meal.
There are many types of automatic cat food dispensers – the Smart Cat Feeders, the Gravity Cat Feeders, the Timed Cat Feeders, and the Dry and Wet Automatic Cat Feeders, etc.
You can also check out the raised ceramic cat bowl!
Why do you need an automatic cat feeder?
Automatic cat feeders are simple devices that can be programmed to regulate the food consumption of your pet feline regardless of whether you are home to supervise or not. It is possible to program an automatic cat feeder for the number of meals it would serve the pet. It is also possible to set the portion size for each meal and to ensure that the special dietary needs of a particular pet are being met diligently.
In modern days, you have to leave your pet feline alone at home when you go out to work. You are bothered that if you left a good quantity of food for her, in your absence, she would eat up the entire quantity at one time and may throw up later, because her digestive system couldn't cope with so much food at once. You can also get the best automatic litter boxes to dispose of the cat's waste based on a set time program.
With the automatic food dispenser, you can store a certain amount of food in the reservoir of the device and program it to dispense small portions at fixed times all through the day. Thus, an automatic food dispenser inculcates healthy eating habits in your pet without you being there to supervise.
Also, in multiple cat households, one of the cats could be particularly greedy and keep stealing food from other cats. Thus, it grows fat at the expense of other cats. Automatic but selective cat feeders are available that will ensure that in multiple pet households, each pet gets the right quantity and variety of food that you want them to have. Thus it also takes care of any special dietary needs, such as medicated food, of a particular cat.
The 10 Best Automatic Cat Feeders of 2022
There is always a nagging concern of your cats getting their meals regularly when we are away from home due to work obligations. Automatic cat feeders will ensure that your kitties are well-fed according to their regular routine whether you are at home or not. We have researched dozens of products and now present before you some of the reviews that we believe are best in the business.
1. Iseebiz Automatic Pet Food Dispenser for Cats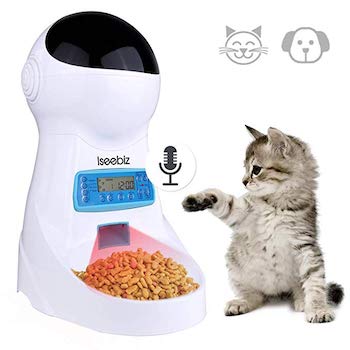 The Iseebiz Automatic Cat Feeder is a blend of advanced electronic programming functions and voice recording, which is also easy to operate. Unlike other feeders that just have a couple of buttons to program the whole unit, this one features clearly-labeled buttons for each function. Thus programming up to 4 meals for your feline becomes a much more convenient task.
This product offers the smallest possible portion with just 1 teaspoon of food getting dispensed per portion. It is thus a very ideal option for cats that have a bad habit of eating too much at one go and then throwing up. Dispensing larger portions is allowed too – 39 times larger than the minimum size.
Opening the lid is a three-step process because of which the cats will not be able to reach into the hopper that holds up to 3 pounds. The appliance uses infrared technology to check for food in the bowl before dispensing further to prevent the bowl from overflowing due to multiple uneaten meals piling up.
The appliance uses an electrical cord with a battery backup so that you can go away for the weekend without having to worry that your cats may have to forego their meals.
"To conclude, we think this is the overall best Automatic Cat Feeders "
Pros
Though it works on electricity, it also has a battery backup to take care of power outages
Infrared technology checks for food remaining in the bowl before dispensing further to prevent the bowl from overflowing
Hopper can hold up to 3 pounds
Up to 4 meals per day can be programmed along with their times
Cons
Can be used for dry food only
Not refrigerated
Cats have a searching habit, you can easily overcome this problem by going through the reason behind this behavior. We recommend you to check out our blog on why cats scratch food bowl.
2. PortionProRx Automatic Cat Feeder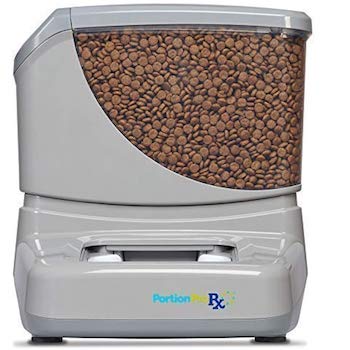 The PortionProRx has a sufficiently large capacity, can be programmed to serve up to 6 meals a day, and has a system to ensure that other pets don't steal food. For people with multiple cats or with both multiple cats and multiple dogs, it is a challenge to ensure that each pet gets its food and nobody else's without you remaining present to monitor them. The PortioProRx will address that problem.
This feeder comes with an RFID tag and the barrier protecting the food will only open if it identifies the pet with that specific tag. Other meddling pets will not be able to steal food. The problem with this feeder is that the purchase only includes one tag. You have to order separately if you want more tags. And you guessed it right – the tag is rather expensive.
This automatic cat feeder offers superior portion control. It is possible to feed up to 6 meals per day and serve quantities ranging between half a cup to 6 cups per meal. The design is impeccable and a lot of thought has gone into it.
The access control system only opens when a cat wearing the appropriate RFID tag reaches within 2 feet of the feeder. The lid is self-locking and even the most determined pet wouldn't be able to access the storage container. The device has been designed with a sensor that will prevent food theft by closing the door at a low force if it finds that a pet is trying to reach up through the dispenser door.
Pros
Generous capacity
Can be programmed to dispense up to 6 meals in a day
Useful for multiple pet households; prevents pets from stealing each other's food when guardians are not around to supervise
Cons
Expensive product, each pet must wear RFID tag and additional tags are also expensive
Read more to get an idea of how to train your kitten to use a bowl.
3. Vanness AF3 3-Pound Auto Gravity Pet Feeder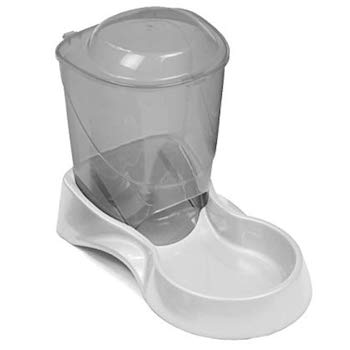 You can fill up to 3 pounds of pet food in Vanness AF3 3-Pound Auto gravity cat feeder. The automatic dispenser refills the bowl once your pet has emptied the contents. This device weighs only 12 ounces and can be moved from one place to another.
The flip-lid makes refilling an easy job while the large mouth prevents spilling of food on the floor. The feeder is approved by the FDA and is also dishwasher safe.
We have a good recommendation for those cat parents whose feline doesn't use their water bowl, check out our blog on why my cat doesn't drink water from the bowl.
Pros
Certified by the USFDA
Compact and lightweight
Dishwasher safe
Cons
May experience spills with this type of feeder.
Stop using a cat bowl to feed your cat if it has become dirty or is not in a good condition to use.
4. Aspen Pet Lebistro Programmable Food Dispenser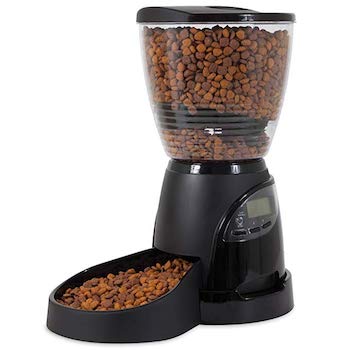 The Aspen Pet Lebistro is a wonderful feeding alternative for your beloved pet. This is more suited if your cat is getting heftier. When the cat parent starts noticing that his pet is putting on more weight, then it is important to change the way they feed their kitty. This feeder will help to bring more consistency to the pet's diet and ensure its well-being and good health.
It is very easy to instruct this feeder to feed your pet feline at scheduled times all through the day. It can be programmed to dispense controlled portions for a maximum of up to 3 times daily. The hopper can hold up to 5 pounds of pet food, so you can stay away from home for an entire weekend without bothering over a healthy meal schedule for your kitty. It is only battery operated and many users claim that they last as long as six months without having to recharge.
Pros
It works quietly while dispensing
Easy to program
It is lightweight and can be transported
Counts number of meals on LCD screen so that you know how many meals the pet has been served
Cons
This one is purely battery operated
The dispenser is not very accurate with the portion size
You can also give a glance look at issues such as cats having trouble chewing food, and cats peeing in their bowl.
5. PetSafe Smart Feed Automatic Cat Feeder | Wi-Fi Enable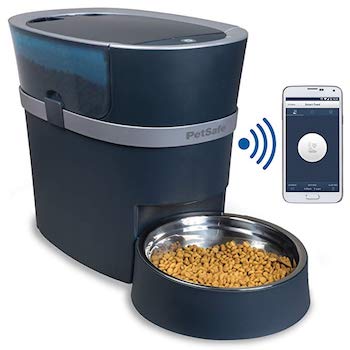 When you refer to an automatic cat feeder being Wi-Fi enabled, it means that once the device is connected with the user's Wi-Fi network, it can easily be programmed to dispense into a bowl at fixed times all through the day. You do not have to leave open a single portion of food in the hope that it will last your pet for the entire day while you are away at work.
A pet owner can use the app linking his smartphone with the device to serve up to 12 meals throughout the day to your pet or even use the "feed now" option to feed the pet outside of the programmed scheduled. The PetSafe Smart Feed Automatic Cat Feeder works on electricity but comes with backup batteries that can last 7 days. It is also easy to clean and also comes with a manual feeding option if the user wished to do so.
Pros
Can be programmed to dispense up to 12 meals per day
Can hold a lot of food
Convenient to operate
Cons
Read more to get an idea about why does cat paw at their water bowl, and what makes cats put things in the water bowl.
6. Petmate Pet Café Feeder for Cats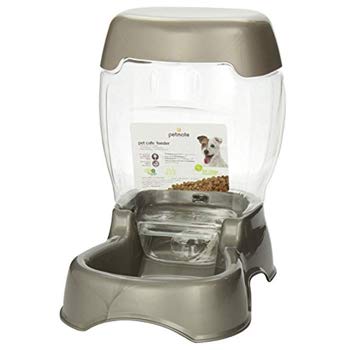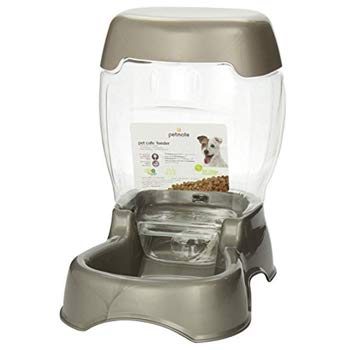 Petmate Pet Café Feeder is a gravity feeder to feed your cats without your supervision either on a daily basis when you are away at work or because you are going out of town for the weekend. It is a great option for multiple-cat households so that you don't have to keep refilling the food bowl.
This product is made from PET bottles and is therefore environmentally sustainable and safe for your pets. The Pet Cafe comes in several sizes to store 3, 6 and 12 lbs respectively. Though 6 lbs is the popular version, if you have multiple cats then you could go for the 12 lbs version. The 12 lbs version is good enough to feed several cats if you are going to be away for the entire weekend.
Pros
Available in different sizes
Made from PET bottles so is environmentally sustainable yet safe for your kitty
The feeder has a large opening at the top so it is easy to get food in
Cons
There are reports of the food getting trapped in the hopper but it can be easily fixed by raising the back of the unit by around 2 inches
7. Arf Pets Automatic Food Dispenser for Cats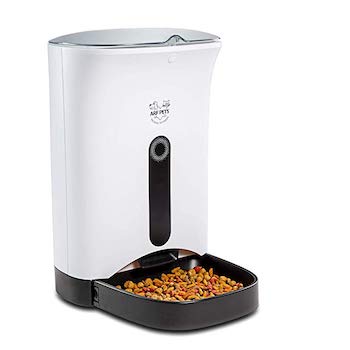 Arf Pets automatic food dispenser is good for multiple cat households because of the large size of the container. You can set the timer inside this electronic cat feeder a couple of times a day according to your cat's needs. This feeder comes with an electric cord to be plugged into the wall but it also has a slot for batteries.
Once the food is placed inside the container, you don't have to worry about it going stale because it has a lid on top that can be locked. That lid has a small magnet on the lock to prevent the pets from breaking in and stealing the food. The entire unit consists of a container and a removable bowl that is dishwasher safe.
You can easily program the device to serve up to four meals per day using the small LCD screen and buttons on each side of the screen at the top of the feeder. Besides, it is possible to record a 10-second voice message to let your cat know that it is feeding time.
Pros
Can be scheduled to dispense up to 4 meals every day
Allows you to record your voice to let your cat know it is feeding time.
Cons
This can only dispense dry food, may not suit you if your kitty eats wet food
It is not suitable for dishwasher
Along with a good food bowl, it is also necessary to choose an appropriate food mat for your feline pal. You can check our article on the best feeding mat in which a silicone cat food mat is one of the best mats in the market.
8. Petnet SmartFeeder Automatic Pet Feeder with Wi-Fi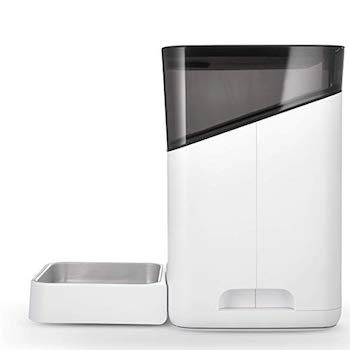 Petnet SmartFeeder is ideal for cat parents who are having concerns about their pet's health and nutrition. The SmartFeeder helps to schedule feeding times, decide the portion sizes, ingredients and many other things. All of this can be managed through the associated app, which measures portions based on your pet's breed, age, weight, and activity levels. This means that your pet will be eating the right amount of food through your Wi-Fi connected device.
Pros
Cats cannot break into it easily
Lets you know if your cat has not been fed for any reason
Alerts you when it's cleaning time
Cons
The feed tray is not sufficiently deep to allow kibbles to fall in properly
It is very difficult to fully clean the device
Here's a question for you, have you ever wondered, how long can a cat go without having food? Let's see what's your opinion on this, drop your views in the comment section.
9. WOpet SmartFeeder Automatic Cat Feeder with HD Camera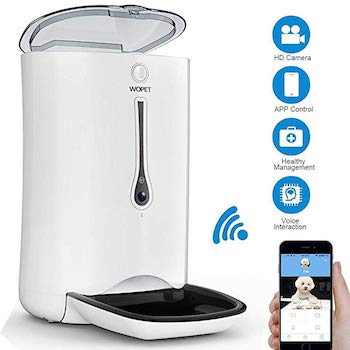 WOpet SmartFee is an automatic cat smart feeder with a camera. You can connect this device with the Wi-Fi network in your home. The device will be connected to your smartphone through an app that can be easily downloaded. The interesting part is that it is possible to connect 4 WOpet smart feeders to the app!
It works both with a power cord or with the help of batteries, but with the batteries, it will not be possible to use the camera configured in the device. We recommend that batteries should only act as a backup in case of power outages. The feeder's container can store 20 cups, and looking at the serving tray's size, it is best suited for a single cat.
The camera is HD quality and can be used to check what your pet is up to when you are not at home. It is also possible to listen and speak to your pet or even record videos with sound.
Pros
You can also control the feeder remotely with the help of your smartphone and you can use the camera to check what your pet is doing
Camera and audio quality are excellent
Cons
The camera cannot be used with batteries, you need a power chord for the camera to be functional
Can be used only for dry food
10. Our Pets Wonder Bowl Automatic Selective Pet Feeder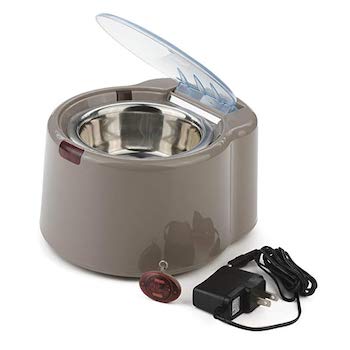 Our Pets Wonder Bowl Automatic is yet another selective feeder that will open for a cat wearing a unique collar tag. Only one tag is available with one feeder so if you want multiple tags, you would need to purchase multiple Wonder Bowls. It is possible to program a single feeder to serve multiple cats but you would still need to buy the Wonder Bowl for each extra tag you need.
This feeder will be very useful if you have one particular cat that is greedy and steals other cats' food or a cat that needs to eat medicated food. In such cases, your other cats can eat out of non-selective pet feeders. The bowl is made of stainless steel, is dishwasher safe and saves you the time needed for cleaning up. Works with a power cord but it is sold separately. This feeder can also be used to dispense wet food.
Pros
A good solution when one cat in a multi-cat household has special dietary needs
The feeder can also dispense wet food
Bowl is dishwasher safe
Cons
Only one tag included with one bowl
Power cord not included with the purchase
Read more
Our Buyer's Guide on Automatic Cat Feeders
The product reviews for automatic cat feeders may help in selecting one particular product. However, it is also important to understand the products in terms of their category to get a broader view. Judging products by category is a much easier task than judging individual products. We will discuss the different types of automatic cat feeders and the factors that should be used to evaluate an automatic cat feeder. In the end, we will also answer a few FAQs.
You can also check out our blog based on best kitten food bowls and water bowl for cats.
Do You Know: It should be noted that cat owners are three times as likely as dog owners to leave their pets home alone while they travel, according to the American Pet Products Association's annual pet ownership survey.
Types of Automatic Cat Feeders
There are several categories of automatic cat feeders. However, we are going to discuss the four categories that we believe are widely popular.
The goal of all automatic cat feeders is the same: to feed your kitty automatically at a fixed time every day. The smart cat feeder takes this idea one step further. Smart cat feeders are Wi-Fi compatible and most will connect to your tablet or smartphone via an app, though some may require a website for that. Though each app may differ, largely all of them enable you to set the feeding schedule or feed your pet on command, communicate with/or monitor your pet in some way, and control portions.
Gravity pet feeders are just great for feeding pets even when you are not at home. Their design ensures that the pet has sufficient fresh food as well. Most gravity feeders can be programmed to feed your cat at scheduled times of the day as decided by you and they also have the ability to decide the quantum of the portion you want to feed them. This helps to fix a healthy and regular feeding routine for your kitty, regardless of whether you are at home or not.
Timed Cat Feeders are automatic cat feeders that can be programmed to feed your cat at fixed times.
Dry and Wet Automatic Cat Feeder
These are a category of automatic cat feeders that can dispense both dry as well as wet food.
A friendly piece of advice for you is that bowls need to be washed and cleaned immediately after being used. You can also refer to our blog on "How often should I wash my cat's food bowl"?
What factors should you consider before buying an automatic cat feeder?
The most important factor you need to consider is the number of cats and their personalities. If you have multiple cats, then the automatic cat feeder has no way of controlling which cat gets how much portion. If your cats share their food evenly, then there is nothing to worry about. But if one of the cats is particularly a big eater or any of the cats needs a special diet, then that needs to be taken notice of.
While most cats are similar in size, there are some that are smaller or larger than the average. Cats that are larger than the average size will find eating from bowls meant for tiny cats difficult. Bowls whose lids do not open wide enough can also be a problem for bigger cats. If your cat is young or small, she may find it difficult to eat from taller bowls.
It is essential that a feeder can evenly distribute the quantity of food that your cat needs. You also do not want an automatic cat food dispenser that gives your cat a lot of food. An automatic feeder has to be able to give a proper portion of food to the cat. Choose an automatic cat food dispenser that can deliver the right quantity on its own or one whose settings are adjustable.
If the batteries of your feeder get discharged mid-vacation your kitty may have a hard time. Feeders that plug into the wall can stop functioning during power outages. Feeders with power backup solutions are great and will leave you with peace of mind.
An automatic cat feeder that runs on electricity with backup batteries should be preferred. Feeders that plug into a wall are good because power outages are a rare phenomenon. Even feeders functional only with batteries are good but you may have to remember to recharge the batteries without fail.
Innovative products with high-tech features such as Wi-Fi connectivity, cameras and chip readers have come along. Though an average user may not need such features, they can be of great use in some special situations.
Many advanced features also carry a high price tag. It is not necessary to buy a feeder with Wi-Fi connectivity just because it is available. Buy something with features that you actually need.
Read more
FAQs
How much does an automatic cat feeder cost?
Automatic cat feeders available on the market vary greatly in prices generally from $50 to $200. There are some that are outright economical whereas there are others with fancy features such as wi-fi connectivity, or with cameras, that can be expensive. However, it is not necessary to buy fancier models because they are there in the market. Buy something that will suit your pocket and still be able to live up to your expectations from an automatic cat feeder.
Are automatic cat feeders a good idea?
The automatic cat feeders are a really good idea because they can be programmed to serve your pet with a measured quantity of food as many times in a day as you want and each meal can be set to the exact amount that you need. You can bid goodbye to conditions where your pet is hungry by the time you reach home or it has to beg for food early in the morning because you are still asleep after a late night in the office.
This automated solution provides meals to your pet at the scheduled time regardless of whether you are fast asleep, have been late coming home or have to stay away from home for any reason. The automatic cat feeder is a solution that will ensure consistency in your cat's feeding routine.
What should I do if I leave my cat alone for a week?
The most important part when you are going to be away from home is to ensure your pet continues to get her meals on time. How do you ensure that? Automatic cat feeders are now available that will measure the quantity of food and serve it to your kitty as many times in a day as you want, whether you are at home to do so or not. The automatic cat feeder will ensure that your kitty is well fed even in your absence.
How does an automatic cat feeder work?
Cats have to be fed several times a day. Eating large quantities of food once or twice every day is not good for the cat's health, but it needs to be fed smaller, controlled quantities several times a day. The automatic cat feeders allow you to set the time to feed your cat on the internal timer of the appliance, without having to use a separate clock or a smartphone. The food also gets stored in a sealed container to prevent it from getting damaged and the device will release a measured quantity at the time you have decided.
Is there an automatic cat feeder for wet food?
A healthy diet for your pet will always be a combination of dry and wet foods. There are so many automatic cat feeders that will feed dry food to the pet. But there are times when your kitty needs to eat wet food, either because the vet has recommended for medical reasons or because you want it to alternate between dry and wet food for nutritional purposes.
In modern times, work may require you to stay away from home for longer periods. An automatic cat feeder for dry and wet food will ensure that your kitty will be able to maintain the right balance without you having to bother about its eating schedules and times.
From the products we have covered, Wonder Bowl Automatic Selective Pet Feeder can be used to feed both dry as well as wet food to your kitty.
Conclusion
This article offers a solution to pet parents who leave their pets at home to go to work and their time of returning is uncertain. The automatic cat feeders will ensure that pets maintain a healthy and consistent eating regimen even in the absence of their guardians. We hope that guardians, who find it difficult to regulate their feline companion's eating habits due to a busy schedule, buy an automatic cat feeder without further delay.
Read more
References:
Tips to get your cat drink more water — Tufts University
Contamination in cat food bowls — National Library of Medicine
Proper storage of pet food — FDA