It is baffling, even overwhelming, to take into consideration all the myriad brands and different types of cat litter that are available today and choose the best cat litter for your kitty.
Clay litter is popular and Clumping cat litter is preferred by everyone while non-clumping is cheap. But Clay litter is not environment friendly. Silica gel cat litter is as good as clumping cat litter but it is expensive. Wheat, Pine, and Corn litter are said to be environment-friendly.
So Which best cat litter will you choose?
All cat litters fit into one of the several prominent categories and each one has merits and demerits of their own.
This post will help you to focus on certain key brands and certain key aspects to be borne in mind before choosing a cat litter that works best for you.
Ideally, you must keep in mind your cat's preferences besides yours, as we know our feline buddies can be quite picky about litter and if they are not going to use it, you very well know the outcome.
Importance of Cat Litter
If cats don't like their litter, they will make sure you come to know of it by peeing all over your place. If you don't want to take that risk, you make sure that the litter is the right kind. After all, are we not as humans as very fussy about the washrooms we use? How can we expect the cats to be any different?
The environment can be so depressing for a cat that she may prefer to go elsewhere such as your plants. On a more serious note, some cat litter may pose a health hazard to both humans as well as cats, so it is important you make the right selection.
Cat litter is a fairly modern product. Though cats have been human companions for the past 10,000 years, it is only in the last hundred years that we have begun bringing them indoors and caring for them full-time.
Prior to World War 2, cat parents used boxes of sand or furnace ashes as indoor toilets for cats, but that option had its failings. Housewives of the 40s were not too impressed with cats tracking sand or furnace ashes through their homes.
An efficient solution was discovered after World War second. A businessman named Edward Lowe suggested that a neighbor fill a box with absorbent, granulated clay – something that Lowe's father's company used as an industrial absorbent. The neighbor found to his surprise that the absorbent not only succeeded in absorbing the cat's urine but also reduced both tracking and odor.
In 1947, Edward Lowe decided to sell the clay in 5-pound bags marked "kitty litter" to sell in a local pet store. The discovery soon transformed itself into an empire widely known today as "Kitty Litter."
A Quick Glance at the Winners of 2023
Best Overall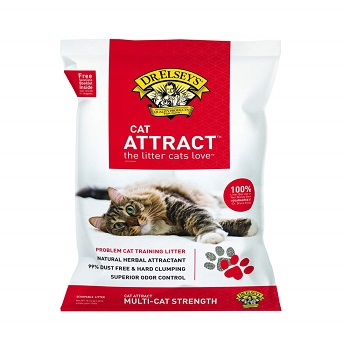 Dr. Elsey's Precious Cat Attract Cat Litter
This cat litter is blended with a natural herb
99% dust free
Great at trapping odors
Editor's Pick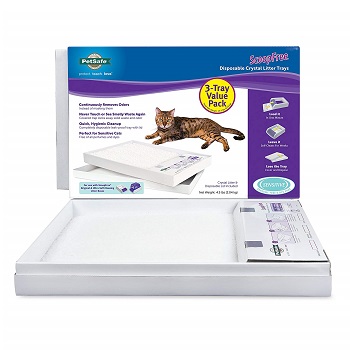 PetSafe Cat Litter Box Tray Refill
Does not require scooping
99.9% dust-free
This crystal kitty litter absorbs urine and dehydrates solid waste
Affordable Pick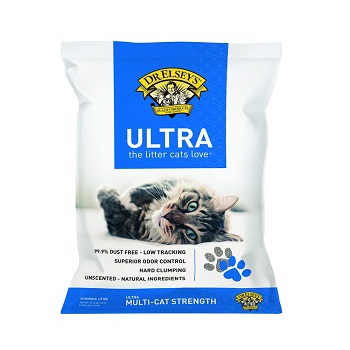 Dr. Elsey's Ultra Premium Cat Litter
Dust-free
Easy to clean
Works well even for multiple cats
The Best Cat Litters of 2023
1. Dr. Elsey's Precious Cat Attract Scoopable Cat Litter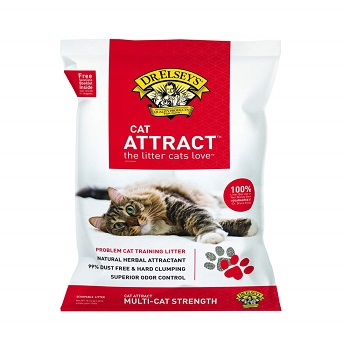 There is no use buying high-quality kitty litter if your kitty isn't going to use it. Dr. Elsey's Precious Cat Attract Scoopable Cat Litter: it's a quality litter that encourages your kitty to use it. This hard-clumps forming, scoopable cat litter is ideal for those cats that have stopped using litter boxes or new kittens that need to be litter trained.
It is blended with a natural herb attractant and has a great texture and the right particle size to appeal to your kitty's senses. It is all-natural, 99% dust-free, and great at odor control.
To conclude, we think this is the best cat litter.
Pros:
This cat litter is blended with a natural herb to encourage the cat to use it.
Rapidly forms hard-clumps when it comes in contact with cat urine, and is easy to scoop.
It is 99% dust free, great at trapping odors and the right choice for multi-cat households.
Cons:
There are these odd customers whose cats did not stop peeing outside the litter box despite using Cat Attract cat litter.
2. PetSafe Cat Litter Box Tray Refill (Non-clumping)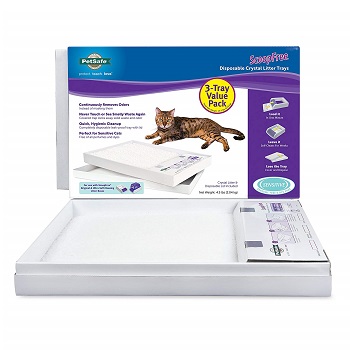 While PetSafe Cat Litter Box Tray Refill is meant for the company's self-cleaning litter box, it can still be used even if you did not have one. This crystal non-clumping litter absorbs urine and dehydrates solid waste to remove odors, while a covered trap locks away solid waste and odor so that you never have to touch or see smelly waste.
This product is less messy because it doesn't stick to your cat's feet and is 99.9% dust-free. The plastic tray lining creates a powerful extra barrier to protect against leakages. No scooping is required and you simply have to remove the disposable litter tray and discard it.
Pros:
This crystal kitty litter absorbs urine and dehydrates solid waste to remove odors.
Does not require scooping, as the tray can be removed and discarded.
Cons:
This is a premium product and may be out of reach of pet owners with budgetary constraints.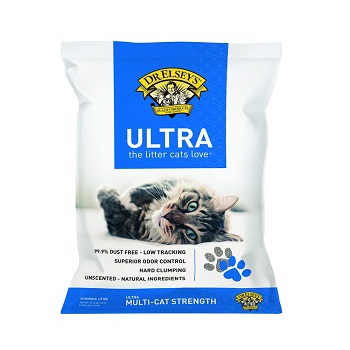 This Precious Cat Ultra Premium Clumping Litter is one of the top-rated products and it shouldn't come as any surprise. It's an unscented cat litter, which is dust-free and is the clumping type that makes cleaning incredibly simple. The formula comes with heavy granules to reduce tracking when the cat leaves the box. Being a hypoallergenic cat litter, your choosy cats will not have issues using it.
Further, it has been designed such that it will reduce the amount of liquid hitting the bottom of the tray and you will not have to spend your evenings scooping up congealed litter. Though it's unscented cat litter, the medium-weight clay is meant for superior odor control.
Even apartment dwellers love Dr. Elsey's because they feel it is the only litter that eliminates odor, even in places cramped for space. It works well even for multiple cats though it may require changing the litter a little more frequently. Precious cat ultra is available in 18 pounds or 40 pounds and a cat litter container is recommended so that pouring it out can be made a bit easier.
Pros:
It is incredibly easy to clean and demonstrates superior odor control in the most cramped spaces.
The cat litter works well even for multiple cats though litter may require changing a bit more frequently.
Cons:
If the litter is wet, your kitty's paws can form what can only be described as concrete on them and would require soaking, chiselling and cutting it off her hair.
4. Purina Tidy Performance Cat Litter for Multiple Cats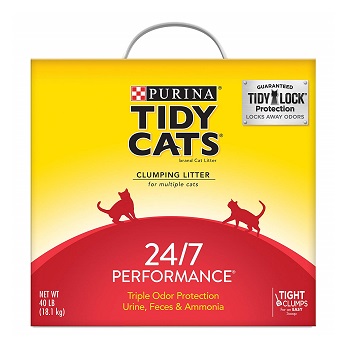 This is a tidy cats 24×7 performance clumping cat litter and is available as a 27 lb pail. It locks away strong ammonia, urine, and fecal smells and absorbs moisture to keep cats comfortable.
It is able to form strong, tight clumps for the convenience of cleaning and scooping and a 24/7 superior odor control keeps your home smelling fresh.
Pros:
It is available as a pail so you need not arrange a container to pour the litter after opening the pack.
This cat litter is able to lock away strong ammonia, urine, and fecal smell and can absorb moisture to keep cats comfortable.
Cons:
The long handle of the pail can be a bit unwieldy at times.
5. Tidy Cats LightWeight Cat Litter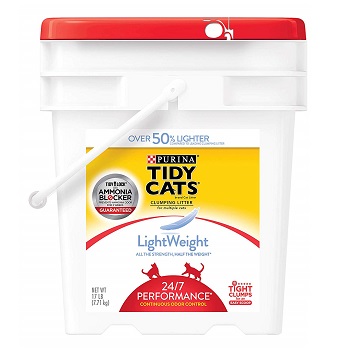 This is a 100% dust-free, lightweight, clumping 24×7 performance cat litter for multiple cats. It successfully prevents ammonia odor from forming for two weeks when used as directed.
The lightweight formula is 50% lighter than other leading clumping litter. It forms tight, strong clumps to be scooped easily.
Pros:
It is extremely lightweight and almost 50% lighter than leading clumping litter.
It can prevent ammonia odor from forming for two weeks when used as directed.
Cons:
Though the promise of lightweight clumping litter is too appealing, some customers feel that it requires to be changed more often, needs more litter, incurs more expenses and increases your cleaning chores.
6. Purina Tidy Cats BREEZE Litter System Refills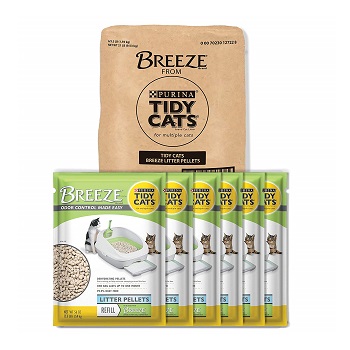 Purina Tidy Cats BREEZE Litter System Refills available as six 3.5 lb pouches Breeze pellets to refill cat litter, allowing urine to pass through for odor control.
This 99.9% dust-free formula dehydrates solid waste to reduce tracking. It makes litter box maintenance a quick and easy task.
Pros:
This cat litter refill has been designed to allow urine to pass through for superior odor control and is 99.9% dust-free.
Successfully dehydrates solid waste to reduce tracking and litter box maintenance is quick and easy.
Cons:
Customers have complained regarding the pricing of the product and the way the company keeps jacking it up regularly.
7. World's Best Cat Litter For Multi Cats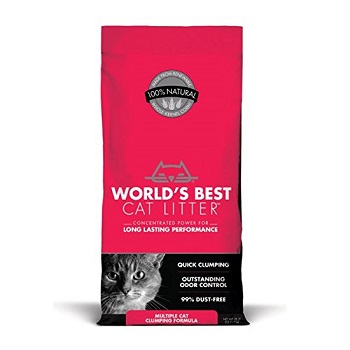 The World's Best Cat Litter For Multi Cats is meant for outstanding odor control, this cat litter needs to be stored in a sealed bag or container.
It leads to successful clumping quickly and is easy to scoop. This is also 99.9% dust-free cat litter.
Pros:
This is pet, people and planet friendly, dust-free, clumping cat litter and shows outstanding performance in fighting odor.
Successfully forms clumps and very convenient to scoop.
Cons:
Few customers have complained of this cat litter being infested with bugs.
8. ARM & HAMMER Clump & Seal Platinum Kitty Litter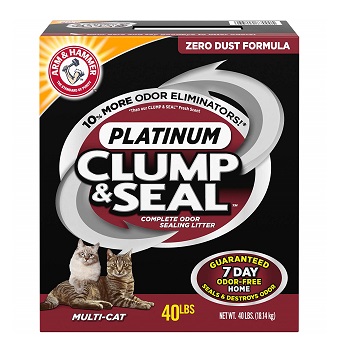 A cat owner with multiple felines knows the difficulties associated with keeping a litter box clean. Though it is recommended to have one litter box for each cat, all of them pretty much end up using the same one.
The Arm & Hammer Clump & Seal Multi-Cat Litter has been recommended to reduce odors and make cleaning up a lot easier. The product comes with a 7-day odor-free guarantee and the formula promotes the formation of hard clumps that will not break while cleaning.
The formula uses Arm & Hammer baking soda, which is proven to reduce smells and is almost entirely dust-free. If you're finding it difficult to keep your house free from the smell of cats, then this cat litter is the ideal choice for multi-cat homes.
Pros:
The product comes with 7-day odor free guarantee and promotes formation of clumps to make clean-up so much more easier.
The formula uses baking soda brand that is known to fight odors and is entirely dust-free.
Cons:
Some customers have reported that their entire house smelt like cat litter, only days after filling their boxes with it. If you don't want the place to smell of cat waste, you don't want it to smell of cat litter either, they claim.
9. Ever Clean Extra Strength Unscented Odor Eliminating Cat Litter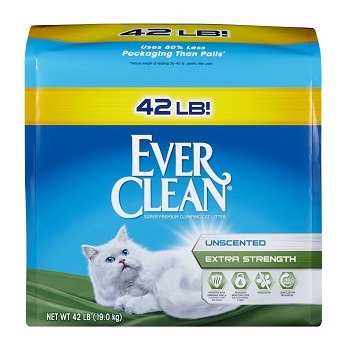 This Ever Clean cat litter comes in two sizes: 14 lbs and 42 lbs. The formula contains activated carbon mixed with the litter granules to eliminate odor on contact.
It also contains an anti-microbial agent that inhibits the growth of bacterial odors on the litter. The product also comes as a relief for those with sensitive noses as it is an unscented cat litter and does not emit any fragrance.
Pros:
This is available in two sizes for those with different requirements. Activated carbon mixed with litter granules fights odors immediately on coming in contact.
Those among you with sensitive noses will find this non-fragrant cat litter more comfortable to use.
Cons:
Some customers have reviewed the product as being over-priced and horribly dusty.
10. Fresh Step Scented Cat Litter for Odor Control (For Multi-Cats)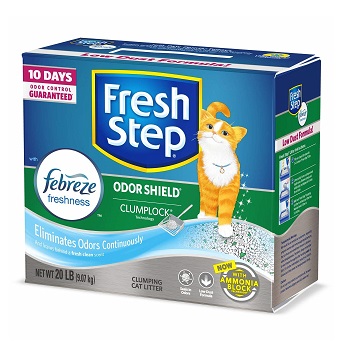 Fresh Step Scented Cat Litter for Odor Control has been specially formulated for multi-cat litter boxes and comes with a 10-day odor-free guarantee. The formula contains activated charcoal to trap urine and fecal odors.
For cleaner surfaces and clearer air, the company's formula is dust-free and comes with paw activated fragrance that releases each time your kitty uses the litter box.
This Fresh Step cat litter is available in four compact, convenient, resealable packs that make litter easy to carry, pour and store.
Cleaning is easy because of the clumplock technology that absorbs moisture and forms tight clumps without leaving behind stinky crumbles.
Pros:
Ideally formulated for multi-cat homes with activated charcoal to reduce odors on contact.
Fragrance is released each time your kitties use the litter-box.
Clump lock technology absorbs the liquid and forms tight clumps and helps avoid the formation of smelly crumbles.
Cons:
A few customers have complained about the packaging. They felt that the plastic bag in the home-delivered boxes and a few bags in which the cat litter was packed had holes and a container had to be found to store it safely.
11. Okocat Natural Wood Clumping Cat Litter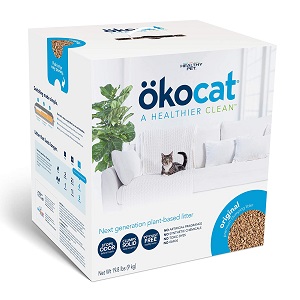 This okocat cat litter is a natural formula that can be used with peace of mind. It's made of unclaimed wood and fallen trees so not only are you not harming the environment but helping with a bit of its cleaning up when you choose this product.
This is bio-degradable cat litter and will not adversely impact any landfill where it eventually ends up nor will it have any harmful effect on your septic system or sewer if you believe in flushing it.
This litter is so good at absorbing odor, you can delay changing the litter for over two months. The manufacturing company claims that their odor control is so great that, that scooping of the kitty litter could be delayed for 7 days without noticing the odor.
Clumping is also great and makes clean-up so much easier and there is little residue to worry about your cat tracking little pieces all over your home.
Pros:
This is a very great bio-degradable cat litter for those among you who are concerned about its disposal.
The company prides itself on the product's odor absorption that the changing of litter can happen over an interval of two months!
Cons:
Regular customers are claiming deterioration in the quality of product with time along with significant hiking of prices.
Our Buyer's Guide For Cat Litter
We ardently hope that you have been able to find the right option for your kitties from those we have discussed and reviewed above. In case, it hasn't helped but only compounded your confusion, then in this section, we intend to remove whatever doubts you may harbor with regards to cat litter such as the different types available, factors that need to be considered before choosing a cat litter and also answered a few FAQs.
Some common types of cat litter
1. Clumping cat litter
This is typically made from bentonite, which is a highly absorbent clay that forms into solid clumps each time your kitty urinates. Clumping clay makes litterbox scooping and cleaning an easy task. About the drawbacks, this kind of litter is dusty, non-biodegradable and heavy to move around.
2. Non-clumping clay cat litter
This type of non-clumping litter is made from clay other than Bentonite. It absorbs the urine but doesn't form clumps, so it is easy to leave behind moist litter even after scooping the box. That will mean it may start smelling and may require to be changed frequently compared to clumping cat litter. It is cheaper than the clumping variety though and some cats do prefer it.
3. Silica gel crystals
The crystals are made from silica gel beads on lines similar to those found in pouches packaged in preservatives for food, medicines and other such products that can possibly get destroyed because of moisture.
Silica cat litter is highly absorbent, reins in the odors well, and is nearly free from dust. Some even claim that it tracks less than other forms of litter, is more expensive and lasts longer. However, the beads may get stuck to the paws and can prove harmful if consumed over a long time, which is likely to happen when cats clean their feet.
4. Recycled paper
This is made from recycled paper that is made into pellets or granules. Paper is highly dust-free, highly absorbent and bio-degradable cat litter. Paper cat litter may not form urine clumps in the pellet form but does so in the granules form.
5. Pine
This is a type of natural litter. Pine litter is also recycled and made from scrap wood that undergoes heat-treatment to free it of toxins, oils, and allergens. It is available as pellets, granules, or roughly crushed pine. By nature, it has a pine fragrance that helps to control odor. The granules and roughly crushed form are somewhat clumping, but in pellet form, the pine turns to sawdust which may need to be replaced regularly.
6. Wheat
This cat litter is made from ground wheat. Not only does it clump and provide efficient odor control, but it is also biodegradable, nearly dust-free and offers near negligible tracking.
7. Walnut shells
This is also one type of natural litter This litter is made from crushed walnut shells and therefore is dark brown in color. This has excellent clumping ability, offers excellent odor control, shows high absorption and is above all a biodegradable cat litter.
8. Grass
This one is a new arrival on the scene. One of the brands comes as a fine-grained litter made from USA sourced grass fibers and is bio-degradable controls odor and has good clumping ability. Another brand is known to use USA known prairie grass.
How to choose the perfect cat litter?
There are different types of cat litter to choose from. The best ones are clumping ones because it is easy to scoop out and the bio-degradable cat litter because they are safe to use and dispose of. Silica gel cat litter is also an option that does not need to be changed too frequently.
In case you opt for the non-clumping variant make sure the formula contains baking soda or odorized crystals to mask the odor or you may need to place it in the corner of the house that is least used.
Ensure that the cat litter you are choosing has the ability to mask the foul odor with its odor-eliminating prowess. Or you may opt for a product that is enhanced with a natural fragrance such as lavender. The litter formula must ideally have baking soda to lock in the stench of ammonia to keep the litter box as well as the environment clean.
While opting for clumping cat litter you must ascertain that it has an ultra-absorbent feature that absorbs moisture readily and clumps up quickly into a solid mass. This facilitates scooping out the waste with the clumped-up litter, disposing of it safely, and replacing the scooped-out litter with fresh litter. Super absorption abilities also help to trap odor within.
A cat instinctively likes to cover up her waste with mud or anything similar that can be dug up like sand. It is better to choose cat litter with granular texture to placate this craving. Granules are also comforting for your cat's paws and make the experience a pleasant one for your fur-ball.
The level of clumping will depend on the ability to absorb. The faster the absorption ability, the quicker would be the clump formation. The better the quality of clumps, the easier it is to scoop the waste out. However, more clumping would mean the frequent replacement of scooped litter with fresh litter.
FAQs
Is pine litter safe for cats?
Cats often eat their litter by accident or on purpose. A cat may also want to clean up and end up eating their own waste. To avoid that, you may diligently scoop out the clumped litter. Even if cats don't eat litter, they do lick their feet which have litter stuck to them. You when choosing cat litter.
Some cat just eats their own litter on purpose without any explanation. If such is the case with your cat, then you obviously want the safest option for your kitty, because most litter is toxic for your kitty when consumed. Some have carcinogens, some are difficult to digest and may lead to blockages. Because pine is naturally occurring, it is the safest litters.
Is cat litter bad for the environment?
Some cat litters are bad for the environment and some aren't. The very common and "conventionally used" substance is clay mined from the earth, which is destroying the environment and displaces wildlife. Thus, while it is naturally occurring and safe (unless ingested) for your kitty, it is not good for the environment.
Silica cat litter has carcinogens and you should not use it if your kitty is prone to eating litter or you plan to be away from home for work and the cat is going to be unattended for most of the time.
There are alternative natural cat litters that such as pine, walnut shells, grass, wheat or corn-based cat litter that are good for the environment. Wheat and corn are problem ingredients for cats, so please avoid those options.
How do I dispose of cat litter?
Most cat litters are meant to be thrown away. If that is the type of litter you have, if you are changing out the entire litter box, then you would need to double pack the trash bag and place it in your outdoor trash can with a lid. If not, then the smell can attract other cats or animals that would be interested in tearing up the bag and spreading the trash all over your yard.
If you are scooping and shoveling one little scoop at a time, you do not need to do anything extra, but you would indeed need to put it in the outside trash just because of the smell. Another way is if you are in a position to do so, use the dirty litter in your garden as fertilizer.
Flushable kitty litter is, of course, meant to be directly put into the toilet and flushed away. This is ideal for those people who live in apartment complexes and have a limit on their trash. Before you flush, you will need to verify that the litter is indeed flushable and not just a natural alternative.
How often should you scoop or change kitty litter?
Each cat litter has a different time expectation but the more you scoop the less you'd need to change the litter. Scooping daily, getting rid of the mess after each release, will help you push litter change to roughly once every week.
If you don't scoop every day, then the litter may need to be changed every three days. You may experiment with your scooping and changing to arrive at the best routine for you and your feline, expect to do something with your cat's waste after every day or two.
There are alternatives that grant you more time between cleaning, but you'd need to purchase a self-cleaning box and keep checking daily to ensure everything is functioning as it should.
Conclusion
We had a blast reviewing scores of cat litter available in the market to present to you ones best suited for the purpose. We hope that you will enjoy reading the stuff as much as we did putting the whole thing together especially for you.