Are you tired of your kitten getting bored with the same old toys? Do you wish you could find something that would keep them entertained for hours on end, even when you're not around?
Look no further! Motion-activated cat toys are the perfect solution. Not only will they keep your furry friend engaged, but they can also fit into any budget.
So don't waste any more time on those boring, basic toys. Check out our top 5 motion-activated cat toys and watch your kitten's playtime come to life!
A Glance of Our Favorites in 2023
Best Overall

SmartyKat Motorized Wand Cat Toy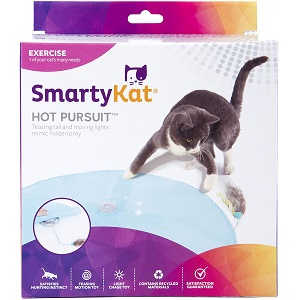 Good option for exercise
Doesn't make any annoying sound
Auto shut of which saves battery power
---
Editor's Pick

SmartyKat Loco Motion Electronic Toy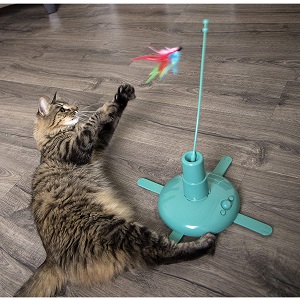 Feathers are real and attractive
Moves back and forth, which is good exercise for cats
Feathers are sturdy
---
Affordable Pick

Hexbug Mouse Robotic Cat Toy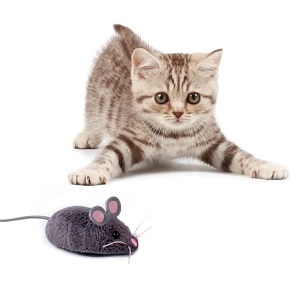 Toy comes with two unique method of operation

Batteries included

Suitable for hard surface only
The 5 Best Motion Activated Cat Toys Reviews
Kittens are known for their bubbly behavior. She loves to scratch, pounce, bite, run, climb, etc. Many times when they don't get to utilize their skills, a behavior issue can be seen at a later stage. That's why you need these electronic cat toys, which make sure that no kitten is deprived of its play as well as growing time.
1. SmartyKat Motorized Wand Cat Toy
Being a cat owner, you must be aware of the fact that how much it loves hopping and pouncing on its prey and if it is some unidentified thing that drags more and more attention of cats. The SmartyKat Motorized Cat Toy possesses all the features mentioned above. So far, the Best toy for cats.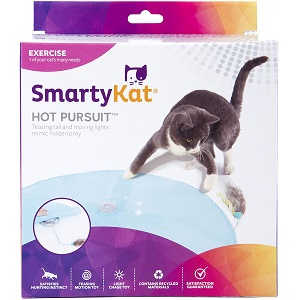 It replicates the action of prey like mice which excites the kitty and helps to perform skills like scratching, jumping, pouncing, etc. The speed setting option allows you and your pet to explore and won't get bored easily; for instance, in the beginning, you can set the speed on 1.
It will help the cat to discover, and once it is done, there are always stages 2 and 3. Keeping the game interesting and new. The three-speed setting helps in keeping the game compelling, which keeps the curiosity at a level high.
Pros:
Motorized cat toy, keeps your cat super curious, discovering the hidden prey.
A good option for exercise as it fascinates cats of all age groups, one does not need to worry about it working for your lazy buddy.
Auto shut off after 30 mins, which saves the power of the battery. Saves energy of your overexcited pet.
Needs just a switch to on/of, which makes it extremely easy to use and desirable.
This ain't that toy that will stop working as soon as placed on a thick floor, works well on any surface.
Doesn't make any annoying sound like most of the other toys.
Cons:
In the initial stage, Speed 1 can seem to be too fast for some cats.
This toy works only on a C-type battery, preferred if you buy an extra one together.
2. SmartyKat Loco Motion Electronic Toy
Cats just can't ignore feathers! SmartyKat Loco Motion Electronic feathered cat toys are produced by keeping this fact in mind. Our pet gets so excited by seeing feathers moving back and forth. They can't just wait to attack, scratch, catch, and pound. Pretty much sums up every physical stimulation required.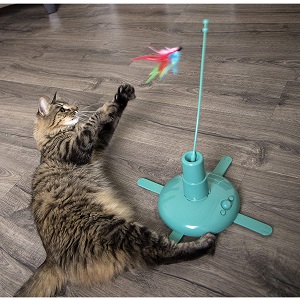 This teaser toy is not just attractive but also well-built. This toy can handle the smacking of any cat. You can always govern the speed. It allows the cat to enjoy variations at each level, which makes it less tedious and more compelling. Made up of recycled substance which makes it more nature friendly.
Pros:
The feathers are so attractive and realistic that they look like that of a real bird.
Birdie is the cat's ideal prey, so this awakens the cat's instinct of hunting very easily.
Moves back and forth, which is a good exercise for cats.
Feathers are sturdy, so no need to worry about being pulled off easily.
You can always rule on the speed as per need.
Made up of recycled, reclaimed, reusable and organic products which make them environment friendly.
Cons:
Even after using the product for months, I couldn't find any downside of this toy.
3. Hexbug Mouse Robotic Cat Toy
One of the best motion-activated toys is the Hexbug Mouse Robotic Cat Toy, as it looks like a real mouse with cute pink ears and flickers. Our cat loves such toys, as a mouse is their favorite prey. Plus, the stop-and-go behavior is more lifelike. It replicates the actions of a real mouse.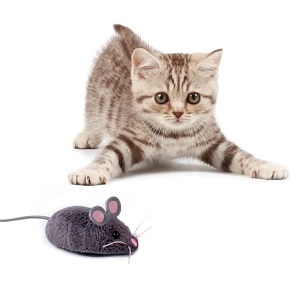 This is a boon for owners who hate seeing dead rats and birds under the bed or around the house. We can't change the hunting instinct of cats, but we could surely replace their prey with a motorized mouse cat toy. It will be a win-win situation for both.
This fun cat toy is for cats with docile as well as active nature. So there is no need to worry if your cat falls in any category.
Pros:
Randomness in movements makes it look so real that it can easily fool anyone into thinking that it's a real mouse.
Also, it adds a lot of fun because your feline friend could not predict the movements of the robotic cat toy.
The toy comes with two unique method of operation. The first one is Paw Mode while the other one is Chase Mode. The former is suitable for passive cat, and later one is suitable for active ones.
After being too tired from toys that get stuck easily near walls, tables, chairs, and carpet, I finally found one with the feature of sensing obstacles and changing its direction likewise.
Cons:
Might not work on a hard surface like carpets. But if the carpet is of thin fabric, it's good to go.
4. Moody Pet Fling String Cat Toy
Moody Pet Fling String Cat Toy is one of its kind. Made for solo play of one or many kittens. Hang in the doorknob and let the fun begin. The string comes popping out and falls on the floor at any random point, which wakes up the hunting instinct in the cats.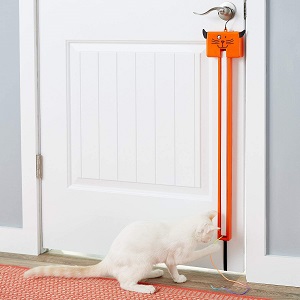 The string is so durable yet soft as it's made of silk. Cats can bite, paw, claw, pull, or stop it whenever they want. The battery can run for hours. Also known as the best interactive cat toy. A study showed that millions of cats enjoy playing with this for hours without getting bored!
A cat expert explains that cats have a natural cycle of hunting, eating & sleeping. This toy satisfies the hunting instinct.
Pros:
The toy comes with rechargeable batteries to save you from the trouble of finding a new one.
Kittens of any age group can play with it. Whether your kitten is lazy or old, she will always get excited to play with this toy.
Batteries can be recharged easily, so there is no restriction on playtime.
Cons:
As it survives on the battery, you need to take proper care of it from being overused. That's why it comes with a charger.
5. PetSafe Dancing Dot Game
Cats are so inclined towards Petsafe Dancing Dot Game Electronic Toy. The view of their small, cute paws trying to catch the dancing dot is a splendid one. You just need to hang the toy on a doorknob or keep it at a high place and let the show begin. Dancing on the steps of the laser dot is such a good exercise for our pets.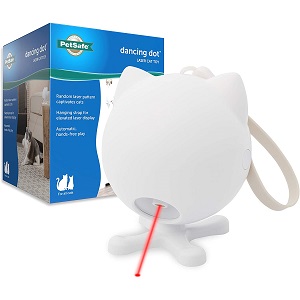 The best part of motion sensor toys, we can always change the location to keep them excited and ready for a new venture. Mostly we are worried about leaving them alone at home, but it's not possible to stay all the time. And not all toy is built for solo or unsupervised play. That's why this is the best option. It even comes with rest mode.
Pros:
Laser toy light is Safe for both human and animal eyes.
Comes with rest mode, so you get to decide how much time your pet should have with this toy.
It can work on any surface, keep it on a floor or hang it on a doorknob.
Random laser pattern so that your pet will not get bored.
Cons:
If you keep it higher than 10ft, then it can get difficult to see for the cats,
So always keep the surface lower than that.
One can scarcely discover any cons with this toy, even after hefty exploration.
How to Choose the Best Motion Activated Cat Toys?
While choosing motion-activated toys for your cat, there are definitely a few points you need to keep in mind. We have jotted them down for you! This will help you to understand what kind of toys your cat needs on the basis of her nature, size, age, etc.
Safety
There are several toys available on the market for your furry buddies, but not all of them are suitable, as every pet is unique in its way. It is our job to find such toys which fit in perfectly for them. While buying any motion sensor toy, safety should be on top of the list.
Durability
If we invest our money in motion-activated cat toys, we need to be sure that they possess good quality material and long durability. Most of the products mentioned above are perfect for the longer run, which secures you from the expense of buying cat toys every next year or months.
Size
The perfect size of any toy should range between big and small, which is that of medium size. And even if it's slightly big, it should not be heavy because that could hurt your pet. Cats are very fussy, and they create a mess very easily; just leave her for a few hours, and you'll know what I am trying to say!
So it's not advisable to buy big heavy toys as they could easily pull them off and end up hurting themselves. And that's why the best motion cat toys exclude any such toy which can be harmful.
Solo Play
One of the reasons we need these toys apart from the growth factor is that we also want to buy us some time from the parenting job. Let it be a small kitten to a fully grown-up; both need undying attention. Certainly not always possible. Most of the toys are best for solo play and need very little supervision.
FAQs About Motion Activated Cat Toys
Which is the best motion-activated cat toy?
Moody Pet Fling and Hexbug Mouse Robotic Cat Toy are the best motion-activated cat toys because both of them fit so well for solo play. Mostly loved by cats of all age groups. The Hexbug mouse initiates activities of mice as it looks like one, including features like stop-and-go behavior.
The Moody pet fling toy is also the best cat toy on a larger scale. They can play for hours without getting bored. It just needs to be hung on a doorknob, and you are good to go. I enjoy watching them chasing strings like crazy!
How much do motion-activated cat toys cost?
Starting from $4 to $30. You get a huge option to choose from. Most of the motion-activated cat toys are pocket-friendly. Depending upon your kitten, they can get attached to even the cheapest or most expensive ones, as all are designed according to their needs.
Are electronic cat toys good?
While some pet parents are skeptical about having motorized cat toys, the rest consider them to be safe. Being aware of the fussy nature of cats, these toys are customized in such a way that safety won't be an issue. Some of them have an auto-shutoff feature. It prevents draining the energy out of your pets.
How are motion-activated cat toys different from normal cat toys?
Motion-activated cat toys are those which are more advanced as they have in-built sensors and auto-shutoff qualities. Also, the fast-moving toy is highly preferred by kittens.
A good option for solo play. Which are also known as interactive cat toys. In contrast, non-automatic cat toys are those which sometimes require the involvement of both, Pet parent and pet, which helps to bond well.
Conclusion
Adopting cats might seem an easy task, but raising them right isn't that easy. Providing them with food and shelter isn't enough; keeping them fit mentally and physically is equally important. This wild creature with a cute face needs to practice its hunting, scratching, and chewing senses.
That's why we need such toys which help them to grow. Buying toys suitable for your kitten is the topmost responsibility. This article will help you in not just selecting the best motion-activated cat toys, but also the one which is suitable for your kitten.
References:
Best automated cat toys: Keep your cat amused when you've no time to play – Pets Radar
Cat Toys, Games, and Catnip – Web MD
What Current Science Tells Us About Cat Play – Fear Free