Do you know no "meat meal" of any kind is used in Halo food, only actual WHOLE meat, fowl, or fish are used?
And all the fruits and vegetables in Halo natural cat food come from fresh farms that do not utilize genetically modified seeds and only sustainable fish are used inside.
This all makes Halo a safe and healthy cat food product brand. Want to know more?
Let us check Halo Cat Food Review with CatLovesBest now!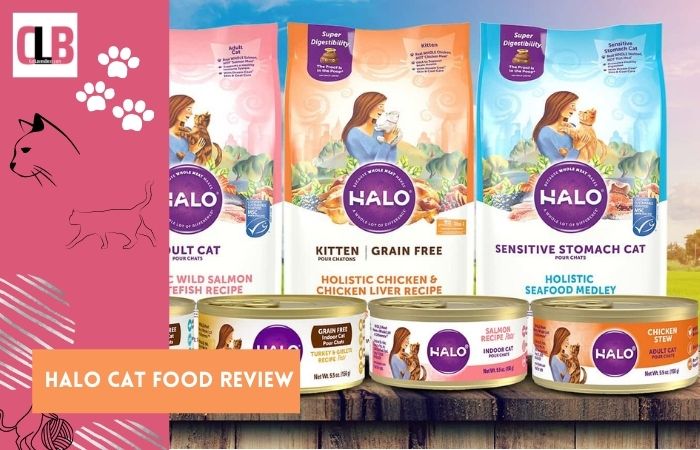 At a Glance: The Best Halo Cat Food Recipes
We have enlisted all of the best products in the hierarchy. We have added the best cat food from expensive to the least expensive.
Best Overall: Halo Chicken Stew Recipe Grain-Free Adult Canned Cat Foods
Best Premium: Halo Holistic Seafood Medley Sensitive Stomach Dry Cat Food
Best Affordable: Halo Salmon Stew Grain-Free Adult Canned Diet
Reviews of the 10 Best Halo Cat Food Recipes
1. Halo Chicken Stew Recipe Grain-Free Adult Canned Cat Foods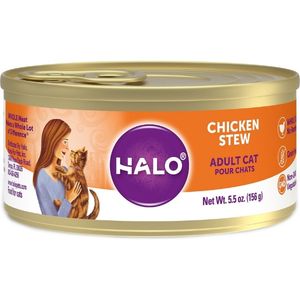 This is the best Halo cat canned food for adult cats, since it contains only the highest quality ingredients and is supplemented with adequate nutrients.
The best part of this Halo adult cat food is that they have added non-GMO fruits and veggies.
If you feed your cat this food their heart condition will improve, and they won't become lazy because it is loaded with energetic nutrients.
This is delicious and has the goodness of whole chicken. The texture of this food is smooth so your cat won't find it hard to eat and swallow plus this food hydrates your kitty.
With zero artificial ingredients and no colors, this cat food is a healthy and safe option for your kitty.
Guaranteed Analysis: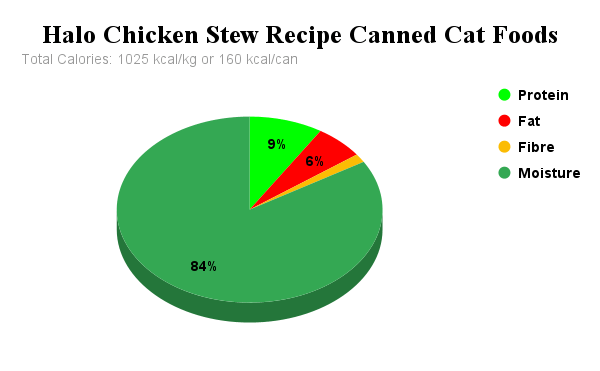 | | |
| --- | --- |
| Crude Protein | 9.0% min |
| Crude Fat | 6.0% min |
| Crude Fiber | 1.50% max |
| Moisture | 84.0% max |
Pros
Easy and smooth in eating.
Offer balanced nutrients.
Nourishes her hair coat.
Cons
Some cats may like chewy food, so they may discourage this wet food.
2. Halo Holistic Seafood Medley Sensitive Stomach Dry Cat Food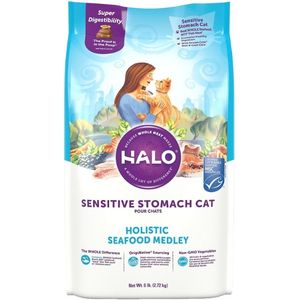 The second food on our halo food review list is Seafood Medley Sensitive Stomach Halo Dry Cat Food.
If you have a kitty who most of the time suffer from stomach ache then Halo's this cat food is just the right choice for you.
The recipe for this food is specially made for sensitive stomachs. Feeding this cat food means no digestive issues or constipation problems.
It is formulated with thoughtful ingredients like whitefish, soy protein, salmon, cranberries, dried sweet potatoes.
The whitefish offers essential fatty acids and salmon delivers animal protein. This combination of food gives your kitty lasting energy and keeps her heart fit and makes her eyes and muscles stronger.
Guaranteed Analysis: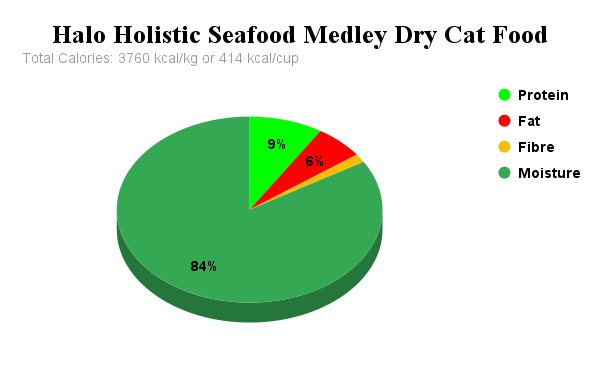 | | |
| --- | --- |
| Crude Protein | 32.0% min |
| Crude Fat | 16.0% min |
| Crude Fiber | 5.0% max |
| Moisture | 10.0% max |
Pros
Sustainable fish is used.
Healthy and easy for digestion.
Crunchy and promotes good health.
Cons
3. Halo Salmon Stew Grain-Free Adult Canned Diet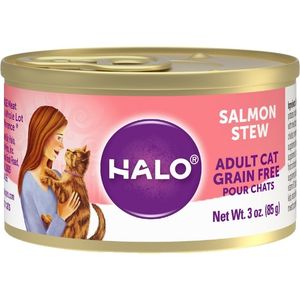 Nothing can beat the tasteful and sustainable food products, and Halo Salmon Stew Canned Food stands right on that.
This canned food does not include rendered meat meal which makes it helpful for cats to absorb the nutrients perfectly without any trouble.
This wet food features whole meat and taurine so if they have a heart condition this food is suitable for them as well as it gives your feline strength to stay active.
It will also keep her hydrated and won't cause her problem while chewing because she can easily gulp down this savory stew.
Guaranteed Analysis: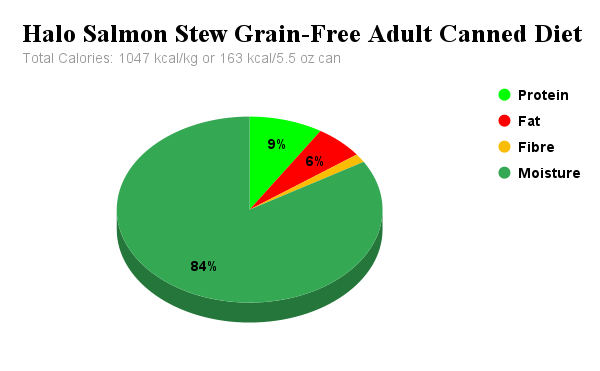 | | |
| --- | --- |
| Crude Protein | 9.0% min |
| Crude Fat | 6.0% min |
| Crude Fiber | 1.50% max |
| Moisture | 84.0% max |
Pros
Not made of rendered meat.
Keeps the adult cat energetic.
Nourishes their body and keeps them hydrated.
Cons
Some picky cats won't finish whole food.
4. Halo Holistic Adult Dry Cat Food Recipe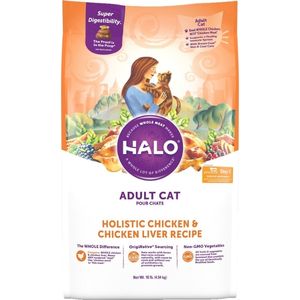 Like all Halo food recipes, this adult dry cat food concentrates on measurable and safe ingredients. It has chicken broth and chicken liver inside which is vitamin-rich.
This recipe kicks out meat meal and artificial ingredients to make it completely safe for your kitty to consume. When you feed this food she will become energetic and will be ready to play games with you anytime.
It supports a healthy heart and offers good eyesight that perfectly makes her body healthier. While chewing this kibble she won't face any teeth problems as they are moderate in chewing, and also she will love meat flavor in every bite.
The poultry bird used inside this food are cage-free that means your cat is completely having safe food products.
Pros
Loaded with energetic components.
The size of the kibble is safe for cats to chew.
No color flavors or preservatives.
Cons
5. Halo Holistic Chicken & Chicken Liver Recipe Indoor Cat Food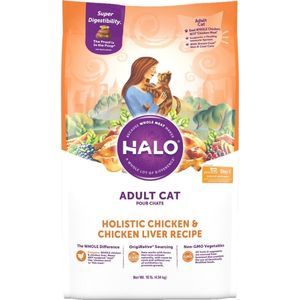 As every cat owner even you want to improve the cat's metabolism right, so choosing Halo Holistic Grain Free Indoor Cat Food is the right choice for your kitty this is because this recipe is made with the right nutritious ingredients.
They have included a real whole chicken and chicken liver. Pea fiber that is easily digested, cranberries, and blueberries that give her body antioxidants.
Feeding this food to your cat ideally helps her to maintain her weight and dried carrots give vitamin A and dried sweet potatoes offer her a good amount of fiber for easy peasy digestion.
The brand is completely safe it helps to make her coat shinier, healthier, and you can definitely pick this food if you want to gift your kitty a good heart and better eyesight.
Pros
Helps in maintains cat's weight.
Promotes healthy fur and better vision.
Includes probiotics.
Cons
Some cats don't like the smell of this food.
6. Halo Chicken Recipe Pate Indoor Cat Canned Cat Food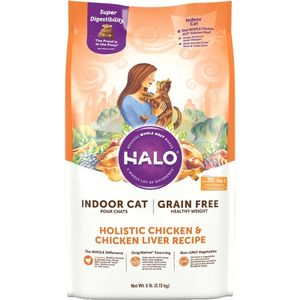 Next Halo Cat Food Review is of Chicken Recipe Pate Indoor Cat Canned Cat Food. It is great for cats who face problems like constipation. They have added balanced fibers for easy digestion and soaking up the right nutrients.
It will support your cat to be fit and active throughout the day. So say bye-bye to lazy days. This dry food supports good metabolism and offers quality protein.
It helps to regulate felines' ideal body weight. Manufacturers have added pea fiber, salmon and, dried potatoes. It is all rich in potassium, vitamin b12, and vitamin A.
Give your cat optimum nutrition and strength. They have given this crunchy kibble meatiness which entices your cat to eat enough food.
Pros
The size of the kibble is good cats don't find difficulty in chewing that.
Enriched with high-quality natural ingredients.
Cats seem to have a perfect stool.
Cons
Includes protein concentrate.
7. Halo Whitefish Recipe Pate Indoor Cat Canned Dish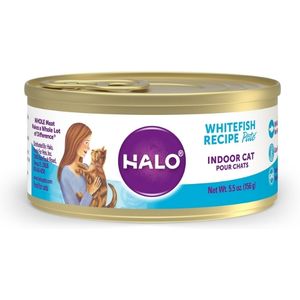 If your kitty's fur quality is degrading switching her food Halo Whitefish Recipe Pate Indoor Cat Canned Dish is the right choice for her.
It makes her hair stronger, lustrous, and beautiful because they have added 11% of crude protein. The calorie content in this recipe is less because it is specially made of less fat.
Also, wet cat food always helps your pet to stay hydrated so if your cat doesn't consume enough water you can feed her this wet food.
After feeding this food your cat will surely have healthy solid poop. It includes folic acid that helps cats to develop healthier and stronger.
It ensured strong muscles and healthy bones. Keeps her active and has a tasty and smooth texture.
Pros
This food helps easily absorb all nutrients.
Content of fat is less.
It is grain free and meat meal free.
Cons
Some picky cats may not like its flavor.
8. Halo Holistic Wild Salmon & Whitefish Recipe Adult Dry Food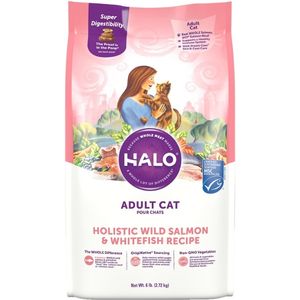 Moving on to the halo cat food review list our 8th product is Halo Holistic Wild Salmon & Whitefish Recipe for senior cats.
This is good for the feline's gut and can be fed by the whole cat family. The recipe includes whitefish meat and salon which is good for which offer high protein and enough omega 3 fatty acid.
This meal does not include any additional artificial colors. However, it's supplemented with vitamins, minerals, and an antioxidant that develops your kitten's immune system.
The fish flavor and crunchy bites entice the cat to eat more so make sure your cat doesn't overeat this. Your cat's body will feel the energy after consuming this food.
This meal is completely healthy and made of measurable balanced nutrients. Her eyesight and fur will eventually start getting better after some time.
Pros
This meal includes whole meat and natural ingredients.
It is free from animal by-products.
This formula is not grain-free.
Cons
Its strong smell may hit your house.
9. Halo Holistic Grain-Free Kitten Food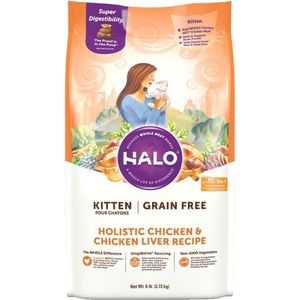 The last Halo cat food review product is Halo Holistic Grain-Free Kitten Dry Cat Food. This meal helps kittens' earlier brain growth and promises them a healthy life.
It is made with high-quality ingredients which have fatty acid, omega 3, optimal flaxseeds, prebiotic, salmon oil.
Chickpeas, peas, cranberries give them a great source of energy and fiber. This cat food recipe ditches animal by-products, and it is a prime option for you.
If your cat is hypersensitive then you can add this pet food to her daily diet. It is loaded with DHA and good protein that improves her internal organs and whole body system.
This grain-free recipe is easy in absorbing vital vitamins and minerals. If you believe in a healthy lifestyle then this flavorful cat food will gift your kitty a fit and steady life.
Pros
Guaranteed works well with allergic cats.
Offers a healthy body and strong immune.
a better hair coat as it includes omega 3 fatty acids.
Cons
Some cats may refuse to eat this.
10. Halo Chicken & Beef Indoor Cat Food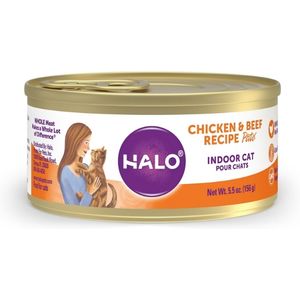 Indoor cats aren't as active as their outdoor cousins, so Halo Chicken and Beef cat food are especially beneficial for your indoor felines. It is the perfect food for your cat's mealtime.
The flavor of the meal is mouth-watering, it will allure your cat to eat more. Moreover, this gives your cat a boost and makes her fur quality better as it includes fatty acids and a complete package of essential nutrients and vitamins.
This wet food has enough moisture to fight against dehydration. The recipe includes beef and chicken, so basically, they can have a portion of a protein which will help in making their heart-healthy and provide good eyesight and a better reproductive system.
Your kitty won't get obese if you add this to her daily diet because of the presence of L-carnitine balanced nutrients. And, helps in making their muscles stronger.
Pros
It also curbs dehydration in cats.
Smooth and easy in consuming.
Helps to maintain the weight of the cat
Cons
It smells nice but few cats may not like its odor.
Is Halo Cat Food Healthy Option?
Yes, Halo cat food is a healthy option for cats. It is vet recommended food that does not include any additional artificial colorants or flavors. It is purely made from sustainable fish and farming products. The recipe does not include meat render or corn or wheat gluten.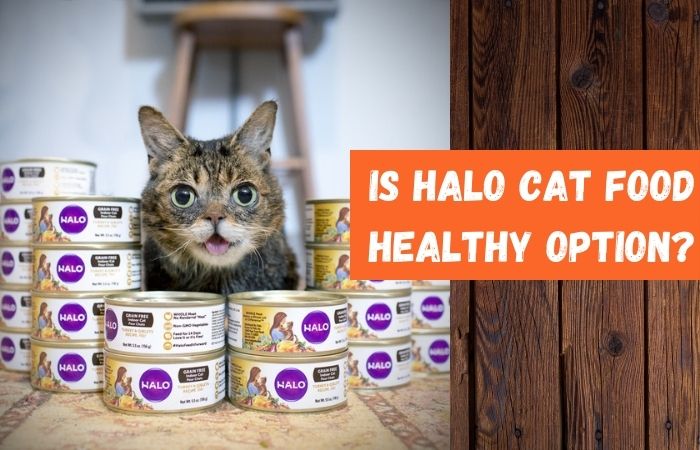 Animals used in this food are not infected with antibiotics which means they are wholly healthy plus this recipe kicks out animal byproducts.
Halo foods are good for kittens and cats' eyesight, heart, fur, and coat. It is fortified with easily digestible whole proteins. The food is prepared less in ashes and thus has a good amount of bioavailable nutrition.
Ingredients Used Inside
There are multiple ingredients used inside Halo food and all of those components are marked safe and as per the cat's body growth need.
The listed below are the main ingredients other than that Halo food also includes dried eggs, pea protein, fruits and veggies, blueberries, cranberries, dried sweet potato, and dried carrots.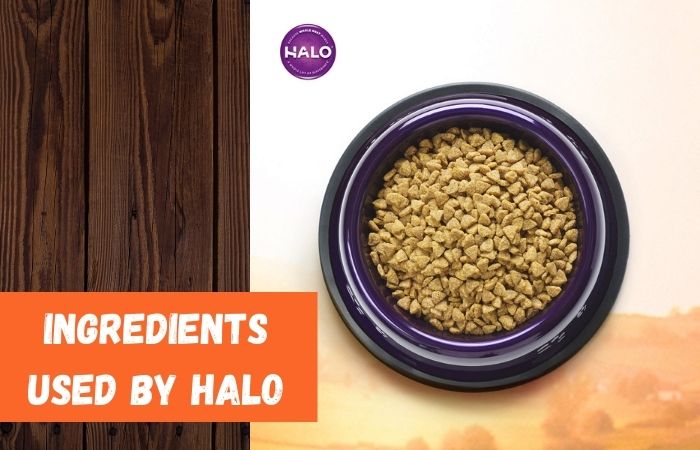 Salmon
Starting with Salmon is the best source of protein needed in your cat's body. Power-packed with omega fatty acid 3. Also, it helps to make the not just healthy but also mouthwatering too. It softens and thickens their hair coat. Supports the heart and brain to function well.
Whitefish
Moving on next is Whitefish has a good amount of protein. Proteins are required for a healthy body and cell proliferation. It has a low-calorie count, high nutritional value, and is simple to digest. It aids in the reduction of inflammation and the severity of allergic responses.
Chicken
It is also a great source of protein which tends to make their body muscles stronger, aids a healthy reproductive system. Supports overall development of cats.
Taurine
This can only be found in animal-derived proteins. Appropriate vision, easy digestion, healthy heart function, normal pregnancy, foetal growth, and a healthy immune system all depend on it. In cats, taurine is a necessary amino acid.
It is good for kittens, cats, and adult cats and every Halo produce includes taurine.
Prebiotic
Prebiotic tend to make the cat's gut better so basically, the cat will not face any problem in pooping or from any gastric issue. It boosts her metabolism by converting food into energy.
Advantages and Disadvantages of Halo Cat Food
| Pros | Cons |
| --- | --- |
| Safe for all types of breeds | It may contain kibble dust. |
| It aids in the healthy, and lustrous appearance of their fur. | Picky cat eaters may not like its food odor. |
| It promotes healthy vision, good heart condition. | Few dry recipes include a high content of carbohydrates. |
| Kibble is perfect in size and also crunchy | They have used pea protein and soy protein. |
| It gives your cat healthy poop. | |
| They do not add animal by-products. | |
| It does not include any grains like wheat, rice, or wheat gluten. | |
| It supports the non-GMO food mission. | |
| It has amino acids and essential nutrients. | |
| Animal used in this product is not brutally killed. | |
Halo Food Price Range
The cost of Halo cat food is in the medium range. Here's how much various Halo recipes would cost you each day to feed a 10-pound cat.
As per the manufacturers, if you buy wet canned food will cost you nearly around $3.20 per day. And, the dry food recipe will range from $0.48 and $0.58 per day.
Halo Cat Food Origin
Andi Brown established the business in 1980. When her cat became unwell and no food could help, Voyko Marx, a pet food expert, concocted a cat food recipe using a variety of components. Andi Brown's cat was in fantastic health again after consuming that.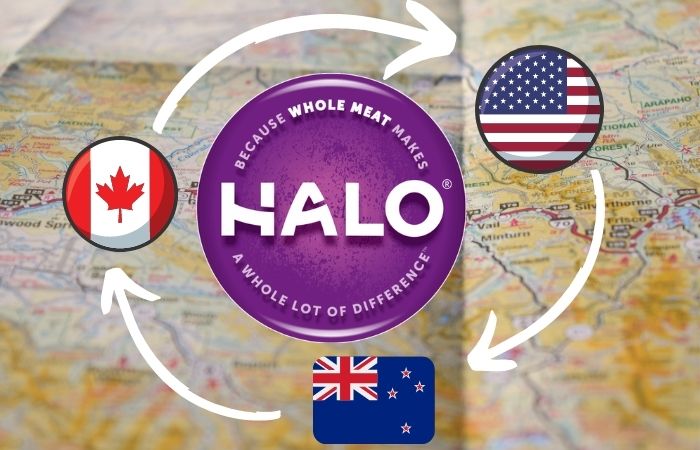 Andi sold the company to a group of investors after 2 decades, and TV celebrity Ellen DeGeneres became a part-owner in 2008.
Now, Halo food is mass-produced in the US, New Zealand, and Canada. Not even a single product is used from China. They get fruits and vegetables from the region of Europe that rigidly follow non-GMO policy.
Halo Cat Food Recalls
As per the data available on FDA & AVMA, authorities dealing with the governance of pet food in USA, Halo has not issued any recalls so far. Hence it is a recall-free brand. Having no recall history also adds up to the trustworthiness of this brand.
Well, That's a Wrap!
In conclusion to Halo Cat Food Review, we would say this is a moderate price cat food brand that offers most of the important cat nutrients in a single food serving.
They have used added many high-protein sources, prebiotics, taurine, essential vitamins, and minerals. However, they have also used pea protein and soy protein which are filler.
But, important ingredients like whitefish, salmon, flaxseed, chicken helps to make their health better
It is a completely safe and balanced cat food brand, so you can definitely opt to choose this food and add it to your diet.
Halo Cat Food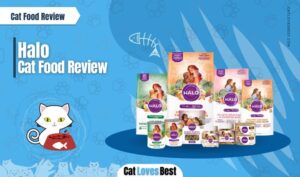 This is the best Halo cat canned food for adult cats, since it contains only the highest quality ingredients and is supplemented with adequate nutrients. The best part of this Halo adult cat food is that they have added non-GMO fruits and veggies.
Product Brand: Halo
Product In-Stock: InStock
References
HOLISTIC. WHOLE. HUMANE. — Halo Pets
Halo pet food sales reached US$2.6 million on Singles Day — Pet Food Industry
Halo Cat Food — Chewy