We know felines encountered severe underlying health issues, and diabetes is one of them. So, if your kitty is diagnosed with diabetes, and you want to look after her health, serving homemade food is completely fine.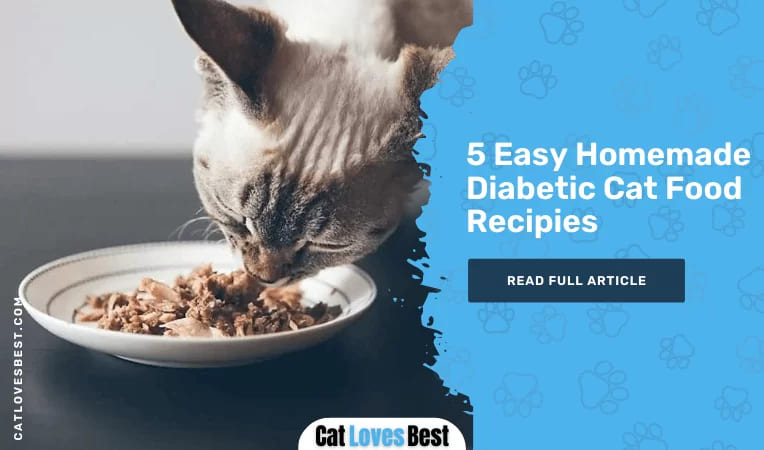 Giving a homemade healthy diet to your kitty is a great idea, instead of providing packed food. This is because homemade food is more fresh and enriched with nutrients as compared to packed ones.
Now, the question arises, how to make easy homemade food for diabetic cats. Right?
Well, for that you don't have to worry, we have jotted down a few delicious healthy dishes, which are good for your kitty, and will help to maintain the sugar level in her body.
Can You Free Feed a Diabetic Cat?
Diabetic cats do not have the choice of free eating, twice a day is enough for them. Sometimes it's ok to feed treats during the day.
However, it's mandatory to maintain the meal time because you cannot keep your kitty's stomach empty during insulin time it is not good for her health.
Never make any changes in your kitty's diet or insulin cycle without consulting the vet or following the plan, it is not good for her health.
Nutritions That Your Diabetic Cat Needs!
It is always a good idea to have fruitful knowledge about food, and medicines, you are feeding to your feline pal. Especially, when your feline is suffering from any severe underlying health issues such as diabetes.
By keeping this in mind we have jotted down essential nutrients requirement, which your kitty's meal should include. So, you can feed her healthy and filling meal rather than junk ones.
Keep reading to get in-depth details.
Minimal Carbs
Sugar is not good for felines, and if we talk about diabetic cats then it's a big no for them to consume any type of sugar. And carbohydrates lead to boost the sugar level in your cat's body, in other words, it demands insulin.
This is one of the main reasons it is recommended to go for food with low carbohydrates, which will help to control the sugar level and lower the demand for insulin in your kitty's body. So, if you are planning to feed her homemade food then make sure only 8% carbohydrates are included in her meal.
Protein
Homemade food should be enriched with protein, and an animal-based dish is the best option for your diabetic feline.
As per the survey, it has been observed that a raw diet has high proteins but felines get ill from eating raw meat. So, it is recommended to always go for the cooked meal i.e before feeding your kitty make sure meat is cooked finely then it will be easy for your kitty to digest.
Balanced Diet
Proper balanced diet is composed of all the essential nutrients such as protein, carbohydrates, fats, vitamins, and minerals. If you feed your diabetic feline a healthy diet it will not only help her to maintain her health but also increase her life expectancy.
Fats and Fiber
Food enriched with fat can lead to obesity, which is not good for feline's health. Obesity and diabetes together can be harmful to your cat and can cause severe health issues.
Experts suggest adding a sufficient amount of fat to your kitty's food to keep her body functioning well throughout the day. However, fiber helps to maintain blood sugar, so it's important to include a small portion of it in your food.
Easy Homemade Food Recipes for Diabetic Cats
It's a great idea to feed your diabetic cat a homemade, healthy yet yummy meal. In today's time, you will easily get plenty of recipes for your feline. But you just cannot feed her anything as discussed above you have to be particular about her feeding routine.
We have done some experiments, and research after that come up with these yummy homemade dishes recipes for your kitty, which you can quickly cook at home and will be loved by your feline.
Without wasting any time, let's dig into these diabetic cat food recipes and enhance the taste buds of your feline pal.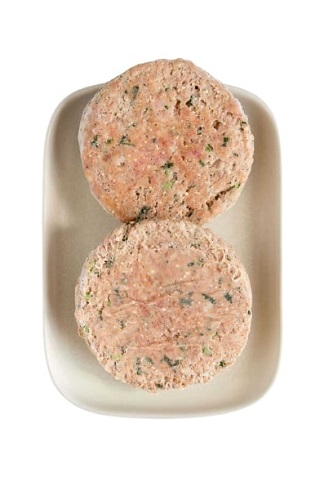 Homemade Diabetic Cat Food Recipe: Turkey Burger
Turkey burger is one of the quick recipe to cook at home. It includes all the essential ingreadiens which you kitty need for proper development of her body.
Equipment
Skillet

Chopper

Storage container
Ingredients
Season Vegetables

1

Pound

Ground Beef

2

Pieces

Eggs

Crushed Eggshell
Instructions
Wash all the seasoning vegetables thoroughly ( avoid taking onions and garlic)

After that bring them to boil in lukewarm water.

Repeat the same with ground beef and eggs.

Now, take a skillet and grease it well with butter then add ground beef, eggs, and vegetables.

Cook all the boiled ingredients on a low flame in a skillet.

You can also add crushed eggshells as a supplement to your kitty's healthy meal.

And your kitty's healthy meal is ready to serve.
Notes
Try out this yummy turkey burger dish, it is healthy and surely will be loved by your kitty.
Recipe 2: Chicken and Rice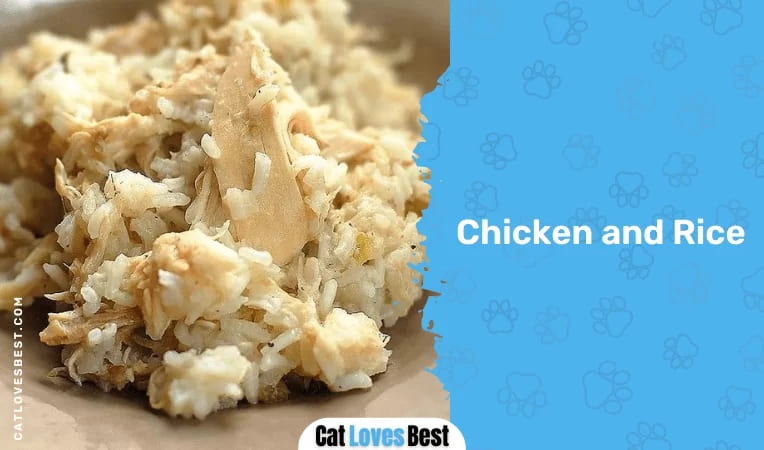 | | |
| --- | --- |
| Instructions | Quantity |
| Chicken Breast | 1/2 pound |
| Hard-Boiled Egg | 1 |
| Clams | One Half-Ounce |
| Brown Rice | One third cup |
| Butter/Oil | 4 Teaspoon |
Instructions:
Boil 1/2 pound chicken breast in lukewarm water.
Do the same with the egg, clams, and brown rice until it's tender.
After finishing all the boiling procedures let them cool down at room temperature.
Then start chopping chicken breast and clamp it into small pieces. Keep it a sight for later use.
Take a pan and grease it with four teaspoons of butter or olive oil per your kitty's taste.
After that simply add all the boiled ingredients to the saucepan and mix it well.
Now chicken and rice meal are ready you can serve it immediately or can refrigerate it for later.
Recipe 3: Tuna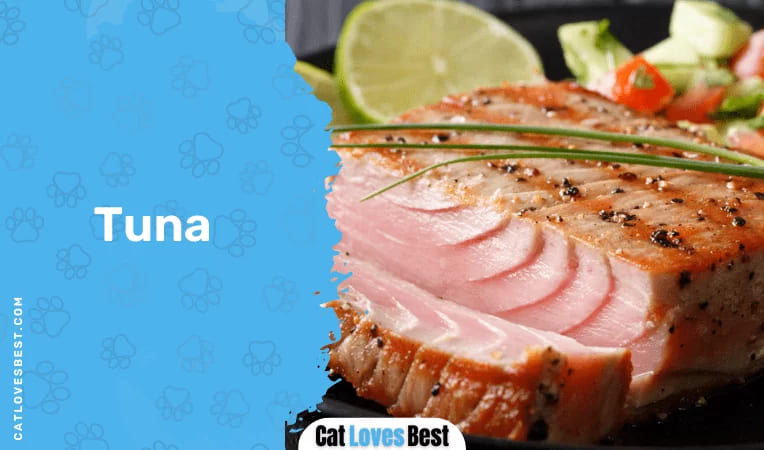 | | |
| --- | --- |
| Instructions | Quantity |
| Tuna | 4 ounces |
| Hard-Boiled Egg | 1 |
| Canola Oil | 1 tablespoon |
Instructions:
Take a pan and grease it well with one tablespoon of canola oil, and preheat for a few seconds.
Once the pan is preheated place four-ounce of tuna and let it simmer well.
Then add a boiled egg to the pan
Mix all the ingredients well and let it simmer.
Once it comes to room temperature you can serve it to your kitty.
Recipe 4: Chicken Stew
| | |
| --- | --- |
| Instructions | Quantity |
| Chicken | 1 whole |
| Brown Rice | 2 cups |
| Celery | Several stalks |
| Carrots | Several unpeeled |
| Squash | 2-3 |
| Zucchini | 1-2 |
| Broccoli | 1 small |
| Green Beans | Few |
Instructions:
Boil one whole chicken in lukewarm water.
Do the same with brown rice, celery, carrots, squash, zucchini, broccoli, and green beans. Quantity is mentioned in the above table.
After the boiling procedure now let's shift to the cooking part.
Take a stew pot and add all the boiled items for simmering.
Once the food is simmered well and the chicken falls off the bone switch off the flame.
After bringing it to room temperature place the food into a blender and form a fine puree.
Your kitty's chicken stew is ready to serve. You can also freeze it in a small zipper bag for later consumption.
Recipe 5: Beef Meal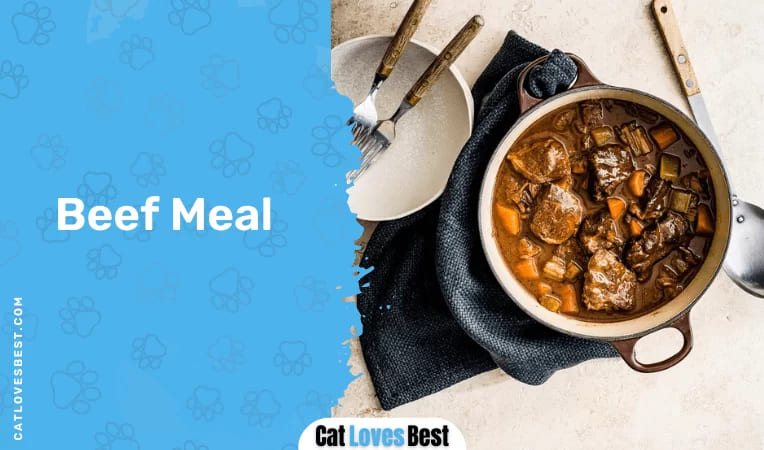 | | |
| --- | --- |
| Instructions | Quantity |
| Beef | 4 pounds |
| Chicken Heart | 14 ounces |
| Chicken Liver | 7 ounces |
| Egg | 4 |
| Psyllium Husk powder | 1 tablespoon |
| Salmon oil | 2 tablespoon |
Instructions:
Boil four pounds of beef with bone.
Repeat same with fourteen ounces of chicken heart and seven ounces of chicken liver.
After the boiling procedure, take the cooking pot grease it with salmon oil, and add all the boiled ingredients plus eggs.
Feel free to add Psyllium Husk powder.
Marinate it well and let it cook for a while to enhance the flavor.
That's it your kitty's wet meal is ready to eat.
FAQs
How can I lower my kitty's blood sugar naturally?
You can lower your kitty's blood sugar naturally by feeding her a proper balanced diet that contains high protein, low carbohydrates, and gravy for easy digestion. So, it is recommended to go for commercial wet food when you are not feeding her homemade food.
Are eggs good for diabetic cats?
Diabetic felines should intake food enriched with proteins and egg contains a high level of protein. If you are feeding your kitty egg then nothing to worry about as it won't harm her. This is because meat and egg are more easily digestible than corn or soybeans.
Is wet food good for diabetic cats?
Yes, wet food is preferable than dry food for diabetic cats because it contains more water and is low in carbohydrates which is good for your feline's health. Generally, it is recommended to go for cans our pouches meal for diabetic felines than kibbles.
Conclusion
Concluding our recipe blog on homemade food for diabetic cats. We have covered five mouthwatering homemade dishes for your kitty which is appropriate as per her health condition.
Apart from that, we have also covered points related to essential nutrients, which should be included in the recipe and the ratio level.
You have to inform the experts about the diet changes so that they can help you with your kitty's health.