Did you leave your furry feline alone at home? Missing them a lot and want to know what your furry babies are up to? The best cat cameras can help you with this.
Cats make your life meaningful & bring lots of joy, they have a preeminent role in our life. Every cat owner considers them as a part of their family member, leaving them in the house alone while we are out for some work might be a difficult decision. However, pet cameras are designed to keep an eye on your pet.
Have you made up your mind to buy a cat camera? Check out the article and get the best suitable camera for your kitty.
A Glance of Our Favorites in 2023
Best Overall

Wyze V3 Cat Cam with 1080p HD Color Night Vision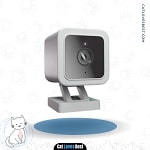 IP65 waterproof
Compatible with Alexa & Google Assistant
24/7 Continuous Motion & Sound detection
Editor's Pick

Petcube Bites 2 Cat Monitor Camera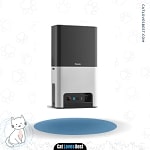 160° wide-angle view
Schedule automatic treat tossing
Access 80,000+ Alexa skills
Affordable Pick

Eazieplus Cat Camera With 2 Way Audio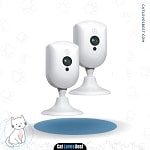 1080P HD 8X Digital Zoom recording
128GB micro SD card supported
2-way audio supported
The 10 Best Pet camera for cats Reviewed
1. Wyze V3 Cat Cam With 1080p HD Color Night Vision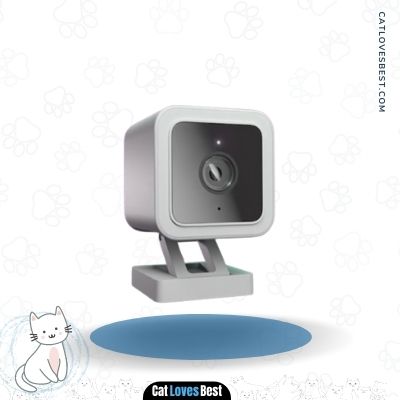 Wyze V3 Cat Cam is one of the best cat cameras that records in 1080p HD quality, even during the night. The star-light sensor used in this camera records night-time video in full vivid color, unlike certain other cameras. It can even record in 25 times darker environments than the traditional cameras.
With its IP65 rating, it is sufficiently water-resistant to be used outdoors, thus you can use it indoors as well as outdoors. Moreover, with its f/1.6 aperture, it captures 2 times more light and thus gives a clearer image/video.
Features:
Provides you color night vision
It comes with two-way audio
Can be used in indoor/outdoor
Has motion & sound detection
24/7 Continuous Recording
Wired connectivity
The motion and sound detection system enable it to record video when motion or sound is detected and send an alert to the connected mobile device. Its settings can be customized to change the motion detection zones and adjust the sensitivity. You can even turn off this feature completely and enable continuous recording.
To conclude, we think this is the overall best pet camera for cats.
Pros
IP65 waterproof
Supports Micro SD card
Works with Alexa & Google Assistant
Custom setting for Motion & sound detection
Can connect all of your different apps and devices
Compatible With Android above 5.0+ to iOS 9.0+
Cons
It does not support wireless connectivity
2. Petcube Bites 2 Cat Monitor Camera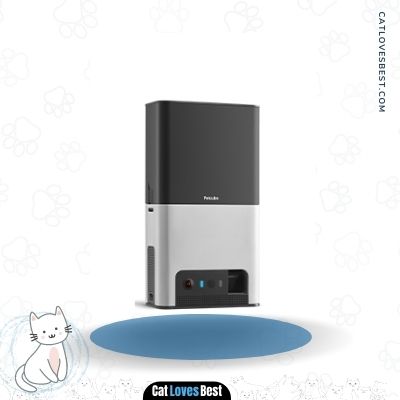 Petcube Bites 2 Cat Monitor Camera is our premium choice of cat camera on our list. With its treat dispensing feature, it helps you to treat your pet remotely. You can even schedule automatic treat-dispensing through the free Petcube app.
The Petcube treat-dispensing camera supports a wide range of dry cat treats. You can load up to 1.5 lbs of treats in its treat storage container. The treats can be tossed at short, medium, or long distances.
In this cat monitoring system, you will get 1080p Full HD videos with a 160° ultra-wide-angle view. In fact, it has night vision & you can zoom the video up to 4x. It also has a feature known as two-way audio, you can hear & speak through the app.
Features:
Supports Treats tossing
160° ultra-wide-angle view
Sound & motion detection
Built-in Alexa assistant
Quick 2-minute setup
Wireless connectivity
It is the first cat camera with vet chat & Alexa built-in. In fact, it also has smart speakers with vet support which increases the speaker volumes. Now you can activate your voice assistant with just one click, and access 80,000+ Alexa skills.
Pros
Award-winning Outstanding Design
Supports iOS 11 & higher, Android 7.1.2 & higher
It has 1.5Lbs treat capacity
Can schedule automatic treat dispensing
Real-time notifications
Cons
Subscription is mandatory for motion detection
It consumes more space
3. Eazieplus Cat Camera With 2-Way Audio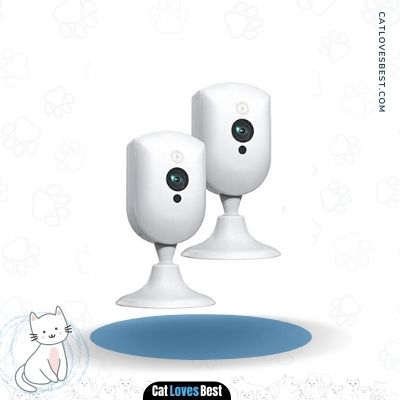 Eazieplus Cat Camera is a budget-friendly cat camera, and that too you get two sets of cameras for the price of one. It is equipped with 1080p HD recording. It also comes with HD night vision & provides 8X digital zoom.
While having the two-way real-time talk function you can easily talk with your furry friend & reduce separation anxiety. Moreover, this camera consists of sound detection, which detects your feline is meowing & sends you an instant alert.
Features:
1080P HD Night Vision
Supports Two-way Audio
Provides you with Instant alerts
Has 8X digital zoom
Compatible with Alexa
This kitty camera supports both micro SD card recording & cloud storage as well. It is a wireless cat monitoring system that comes with different installation ways such as wall mount & sticks up.
Pros
Supports 128GB micro SD cards
Comes in a Pack of 2
Compatible with Alexa & Amazon Echo dot
Encryption level on this 2.4G WiFi Camera
Easy & Quick Connect
Cons
You cannot use it outdoor
It does not provide you ultra-wide-angle view
4. Furbo Cat Camera For Home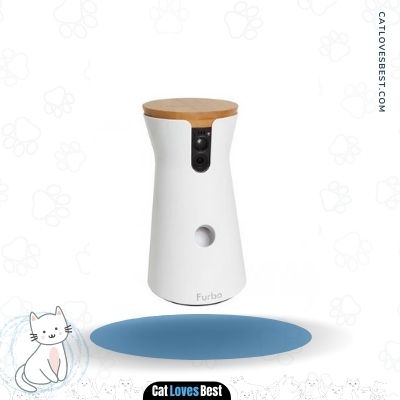 Furbo Cat Camera is a wired cat monitoring system that comes with 1080p full HD cameras. This camera has a 160-degree wide-angle and it also supports night vision. It is the only product on our list that comes with a wooden bamboo top lid.
It comes sound detection technology and it detects when your kitty meows. It sends you instant alert notifications on your smartphone. You can use the app to talk to your furry kitty & minimize separation anxiety.
Features:
It has Two-way audio
Can send you notification alerts
3 step Quick setup
1080p Full HD night vision camera
160-degree wide-angle view
Now you can toss a treat to your feline when he/she is hungry or has anxiety. You can simply control the Furbo kitty camera with the iOS/Android app. You just have to fill it with your cat's favorite treats, round shape with a diameter of 0.4 inches will be perfect.
Pros
You schedule treat tossing
Two-way audio & barking alerts
supports iOS/Andriod both
Can control it with Alexa
You can see a 60 secs highlights
Cons
You cannot use it in outdoors
Have to buy a subscription plan after 90days trials
5. Wyze Cam Pan v2 1080p Smart Home Camera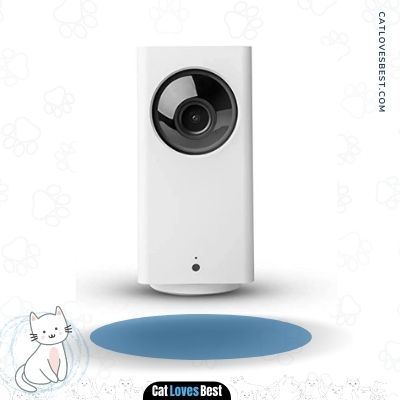 Even though we have an updated Wyze Cam v3 is in our top 10 product list. Besides, we have chosen the Wyze Cam Pan v2 in our list because still has all the advanced features. You can Control the Wyze Cam v2 by using the Wyze app.
Wyze provides you with cool features like 4 predefined waypoints, Panning has a 360° left/right rotation, and tilting has a 93° vertical up/down range. You can control remotely using the Wyze app and maneuver the camera view in the whole room.
Features:
Panning has a 360° left/right rotation range
Tilting at 93° vertical up/down range
Records color night vision in up to 25x darker
1080p Livestreaming
Two-way audio
Motion & sound detection
This cat monitoring system provides you color night vision this camera comes with a starlight sensor. This Starlight sensor helps to record in 25x darker environments than other pet cameras on the market. The feline cameras provide you with 1080p live streaming from anywhere by using the Wyze app.
Pros
Has Starlight sensor
You can control it with the app
Records video when motion & sound are detected
1080p real-time HD video streaming
Wireless Kitty camera
Cons
Bulkier than Wyze v3
Does not have the treat dispenser
6. Petcube Play 2 Cat Camera with Monitoring App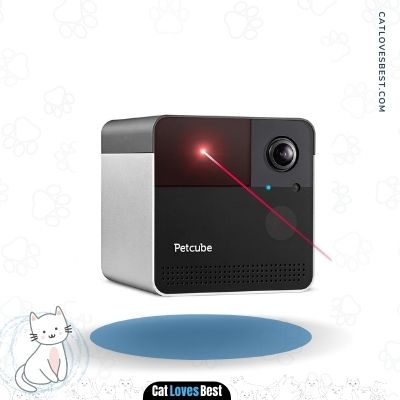 Petcube Play 2 cat camera is a cat camera with a laser that provides 24/7 real-time 1080p HD video directly to your phone app. It also comes with a 160° ultra-wide-angle view & moreover, it provides night vision with 4X digital zoom.
You can easily set up the Petcube play 2, this feline camera supports 2. 4Ghz and 5Ghz Wi-Fi connections. Moreover, It also supports iOS 11+ & Android 7. 1. 2+ to operate the Petcube app on your device. This app will provide you access to the Chat with your pet option.
Features:
Ultimate 24/7 real-time pet monitoring
Quick 2-minute setup
With superior Two-way audio
Built-in Alexa assistant
The built-in pet-safe laser toy
The feline monitoring system detects motion & sounds & sends you alerts on your mobile phone. Moreover, it is also equipped with laser to play with your furry kid. You can completely control the laser with your app, also you can set it to autoplay this might be entertaining to your cat.
Pros
Provides you the complete recording for 24/7
You can enable Alexa through pet cube play 2
Comes with a laser toy
You can take photos & videos of both
Vet chat is inbuilt into the pet cube app
Cons
Does not have the rotating camera
A little bit on the expensive side
7. DOGNESS Wi-Fi Cat Camera with Treat Dispenser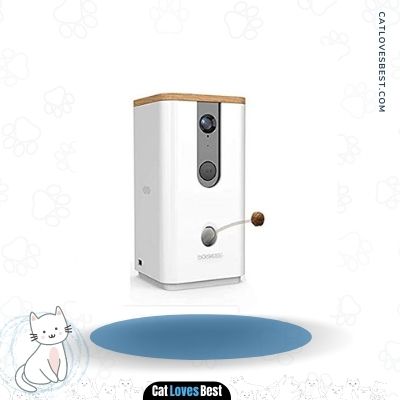 DOGNESS is a wifi camera that has a treat dispenser inbuilt. It is also a good product under the 100$ price range that provides a lot of features to the customers. It has a 165° wide-angle HD view and also has 1080p a night vision video recording.
The dogness pet monitoring system comes with a treat dispenser, it is named after the dog but you can use the cat treat camera with felines or any other animals. This product comes with a treat dispenser, moreover, treats can be tossed at varying distances. It is compatible to carry treats less than 0.6 inches in diameter & Up to 0.4L treat capacity.
Features:
165° wide-angle HD view
Fun cat treat dispenser Up to 0.4L treat capacity
Two-way audio with real-time video
Quick to install the Kitty Camera
Sound & motion Alerts
This cat monitoring system allows you to post the adorable moments of your furry cat's video recordings to social media instantly. You can talk to your furry feline with two-way audio, if they have separation anxiety, then you can calm them down.
Pros
Can get 720p real-time recordings
Compatible with a variety of treats
You will get real-time notification alerts
Toss treats at varying distances
Wide-angle lens
Cons
Does not support 5.0 GHz Wifi
It is on the bulkier side
8. Petcube Cam Cat Monitoring Camera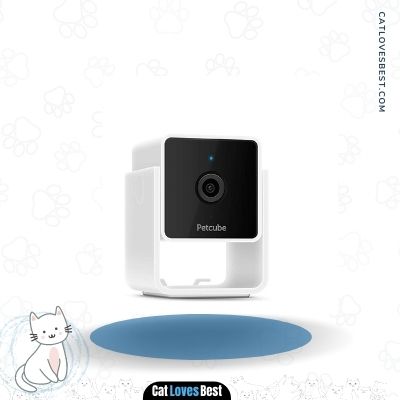 Petcube Cam Cat Monitoring Camera comes with 1080p Hd live streaming video. You will also get a 110° wide-angle view with 8X zoom. Moreover, this camera comes with 30 feet night vision 1080p HD video recording.
You get notified of any the activity is detected by his cat monitoring system it directly sends you an alert which sends you alerts on your device. You can buy the subscriptions to download the history, although, in the free version, you get all the highlights.
Features:
Built-in Vet chat
Instant sound & motion detection
Download the video history
1080p HD video with 30-feet night vision
110° wide-angle view with HD live streaming
The Petcube Cam comes with a unique feature a Vet chat option. This allows you to have a quick chat with a professional veterinarian if you notice any unusual activities. This Camera is also capable of detecting meows of your furry feline friend. It has two-way audio so that you can also speak to your cat.
Pros
You can consult a professional vet 24/7
See close-ups with 8X zoom
You can set up it within 60 secs
110° wide-angle HD view
It is compatible with a 2.4 GHz Wifi Network
Cons
The recording will last only for four hours
USB Type-C cord to power your Petcube Cam
You have to pay for the subscription if you want to see the history
9. Wyze Cam v2 1080p Indoor Cat Monitoring Camera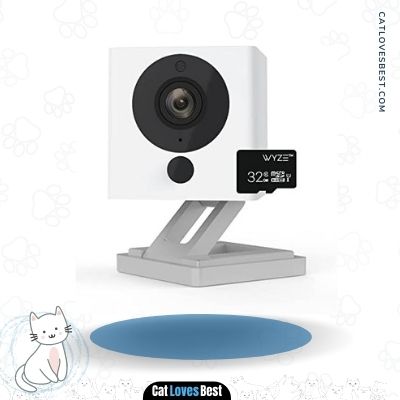 The Wyze Cam v2 is our third product of Wyze as it is one of the leading brands in Pet cameras. This product is a Wifi camera, that directly connects to your Wifi network & provides you HD quality live streaming to your device.
It has an innovative 3-axis design that helps the camera to raise, tilt, & Spin the camera in a certain position. In this pet camera, you get 1080p Hd video recordings, you can directly access the videos through your phone.
Features:
Two-way audio help to talk with your cat
Motion & Sound detection alert notifications
1080p Full HD with Night Vision
Wireless Connectivity
Works with Alexa and Google Assistant
This Cat monitoring system uses a microSD card for continuous recording. It is designed to overwrite the oldest files the MicroSD card is full of recording. If you are using a Class 10 32GB microSD card it will provide you with 2,880 minutes (48 hours) of HD video & 10,080 minutes (168 hours) of SD video.
Pros
Innovative 3-axis design
Access the Google Assistant & Alexa
2-Way Audio with high-quality video
Continuous Recording for 168 hours
Supports iOS 9.0 + & Android 5.0+
Cons
The audio reliability is not top-notch
Supports microSD cards up to 32GB
You will see a glare in night vision
10. eufy Cat Surveillance Camera
The eufy cat surveillance camera is on our top 10 list because it comes with cool features that might be helpful. Artificial intelligence determines whether a human or a cat is present, It automatically follows the moving object.
This Camera is compatible with Apple HomeKit, Google Assistant, or Amazon Alexa you can have this home kit via update. You have to add the device in the eufy Security app, Besides, you have to complete the activation process.
Features:
Smart Integration
Follows the Action
Communicate From Your Camera two-way audio
Saves Recording highlights
It can rotate 360° horizontally & 96° vertically
This product comes with dual storage options such as cold storage & local microSD storage. Moreover, this cat surveillance camera is in 24/7 continuous recording mode. Now, you can keep an eye on any room, in low-light settings.
Pros
It comes in a pack of two
In-built artificial intelligence
Tracks & follows the sound or motion
camera's built-in two-way audio
It connects to your home base system
Cons
Does not support multiple camera streaming
It can be used only indoors
Less interactive
Why Do You Need a Cat Camera?
You need a cat camera whenever you are leaving your furry friends alone in the house. We all have the same paranoid thoughts, If you can keep an eye on your pet then how cool is that? Would you like to keep an eye on your pet? Then you will need the best Pet camera for surveillance.
Still, the reason for purchasing the Pet camera depends on your needs. It may be your dog is very mischievous or he/she may be an expert artist Or it can be that the pet is suffering from separation anxiety.
How to Choose the Best Cat Camera
Hand-picking a pet camera is necessary because they aren't cheap, you may have to hundreds of bucks. You may see different types of products in the market with lots of features, you may be confused but don't worry we are here to help you.
We will make it easy to consider before buying the best cat camera. When it comes to the best pet camera then you may have to consider many features that might meet your needs & is a perfect fit for your needs.
Camera Quality
Choosing a high-quality camera is necessary because the main purpose of the pet camera is to keep an eye on your pets. If you are investing your money in a pet camera then you should invest in a good quality camera.
The best pet camera you can get on the market is 1080p, we would suggest that you can also go with 720p it also provides an HD view. If you want to interact with your cat, spending on a good quality camera is necessary.
Camera Angle
The Pet cameras come in various different types some of them can move & few are still. It is upon you what you want, a moving or a still camera. In a moving camera you don't get a wide view, In fact, you get a moving lens that you can operate with an app.
If you have large rooms then, we recommend you select the wide-angle pet camera. There are cat cameras that stay still in the place but provide a wide-angle view of the room. Choosing a camera that provides you with the best field of view possible, In fact, does not limit the odds of spotting your cat.
Treat-Dispensing
There is a feature known as a treat dispenser very few cat cameras have this feature. If you know you will reach home late then you can just use this feature & give your cat treats. If you know your cat is going through separation anxiety then you can just provide a treat to distract your cat.
This feature will give your cat an entertaining environment while still he/she is alone in the house. It won't work with all treats, you have to check the treats that will perfectly come out of the dispenser.
Interactivity
In many cat cameras, you will find two-way audio, this is an interactive feature that allows you to communicate with your cat. In fact, you can hear your cat's voice, this two-way audio is a valuable feature.
FAQs
Where should I place the camera?
Placing the camera is a crucial step for the best viewing angle. You might choose a place from where you can see the complete room. If you have the moving camera then select a good corner. While placing the camera you have to check the windows & door lighting it might impact the video quality.
What is the cost of the best cat camera?
If you are planning to buy a cat camera for home, then it may cost you anywhere between $34.00 to $249.00. The prices may differ according to the brand & features that the camera consists of.
Do cat cameras have audio?
Yes, a few of the cat cams on the market come with audio. This feature mostly comes with two-way audio that allows you to communicate with your furry friend.
Do pet cameras record all the time?
Yes, It may depend on the cat camera that you select, there are two types of cameras on the market.
Some pet camera records continuously & stores it in the cloud and it has an auto-delete option. If the storage is full then the camera automatically deletes the old recording.
While other cat cameras don't record they provide the live footage through an app on your device. These features depend on the cost you pay, if you want more features then you have to pay more.
Which is the best cat camera?
While you may find many best cat cameras on the market to choose from, We have selected Wyze Cam v3 with 1080p HD Color Night Vision Cat Camera. It is an excellent solution for indoor & outdoor surveillance of your pet.
This cat monitoring system is loaded with essential features that you might need in the best pet cameras for cats.
Conclusion
So this leads to the end of this Best cat camera of 2022. We hope that you have selected your best cat camera, which is suitable for your requirement.
If still, you have any doubts related to buying the best pet cameras for cats then just go for #1Wyze V3 Cat Cam with 1080p HD Color Night Vision. If you want more advanced features then you go for a well-known pet camera brand #2 Petcube Bites 2 Cat Monitor Camera. If you want to go for an economical buy then you can go for our top third product #3 Eazieplus Cat Camera With 2 Way Audio.
A few cat owners might still have doubts about the products listed in our top 10 list. You can leave us your questions & doubts in the comment section below, we will get back to you with the best possible answer for you.
References:
Cats and owners interact more with each other after a longer duration of separation — PubMed Central
Why Do Cats Have Separation Anxiety — Indoorpet
Benefits of Being a Cat Lover — Greatergood