Worrying about the musty cat litter smell around the litter pan? How to get rid of it? What type of cat litter will help to keep your kitty's surroundings fresh?
All these questions often come to your mind, right?
Don't worry, first have a sip of water, we have done some analysis regarding the best cat litter in Australia.
We all know cats can be fussy at times, so keeping that in mind, we have short-listed the best five cats' litters that will provide ease to your kitty and is house-friendly also.
Just sit back and go through our article, which also includes key features and material to be looked at before purchasing the right one for your kitty.
A Quick Glance at the Winners of 2022
Best Overall

Arm & Hammer Slide Multi-Cat Litter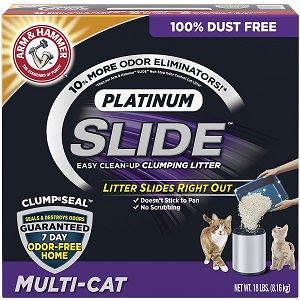 Provides a non-stop odor control facility,
This litter is non-sticky, so you can easily clean it off
Strong enough for a multi-cat household
---
Editor's Pick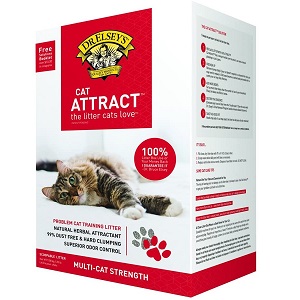 High clamping capacity
It can be used in sifting or mechanical litter box
Can be used for a multi-cat household
---
Affordable Pick

Tidy Cats Clumping Cat Litter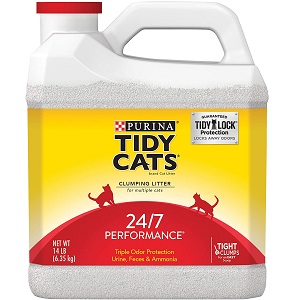 Contains long-lasting odor control formula

Require less maintenance

Easy to scoop
The 5 Best Cat Litter in Australia Reviews
One of the basic required things pet owners need to add to their parenting list is the litter for their pets. Cat litter is an important cat care product that comes in various shapes, textures, and materials.
As we know, cats have a strong sensing smell, so choosing the correct litter for them is a bit tricky task. If they don't like the smell or texture of the litter, they will simply refuse to use it. So finding the premium cat litter, which is liked by your kitty and is house-friendly, can ease your parenthood.
So, check out the best cat litter list given below for your kitty, which is available in the Australian market.
1. Arm & Hammer Slide Multi-Cat Litter
Arm & Hammer cat litter is our overall premium choice because it offers you a litter that guaranteed a superior odor control facility. It can control odor for a week.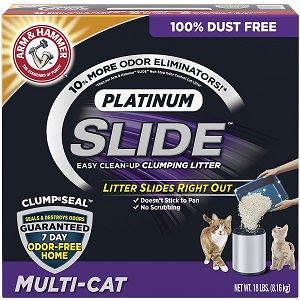 No more dust clouds will be generated while pouring the litter into the box/pan. This cat litter is appropriate for multi-cat households because the used litter can easily slide out from the pan, so no more scraping or scrubbing is needed.
Pros:
This cat litter is non-sticky, so you can easily clean the box without scrubbing.
Moisture-activated micro-granules help to create a compact seal around the cat's waste and form a hard clump so that you can easily scoop it.
Provides a non-stop odor control facility.
Cons:
The downside of this cat litter is that it doesn't track well.
2. Dr. Elsey's Cat Litter
Dr. Elsey's cat litter is our editor's pick on the market because it is specifically created to give a solution to pet parents to get their cats back to their litter box/pan. It comes in a minimal texture size to attract your feline to the litter box.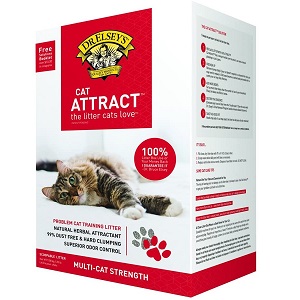 It includes natural chlorophyll, which is created by natural herbs and not by any chemical solution. Natural essence helps to trap the bad odor effectively.
Pros:
Cat litter has a high clumping capacity, which means you can easily scoop the litter.
This litter has a multi-cat formula, which means it can be used for a multi-cat household, as it provides a better odor control facility as well as hard clumping.
It can be used in sifting or mechanical litter boxes.
Each box includes a brochure for pet owners to solve their litter box issues.
Cons:
It is quite expensive but worth buying this product as it solves most of your kitty's litter issues effectively.
3. Tidy Cats Clumping Cat Litter
The Purina Tidy cat litter is our best value pick, as it can last longer, approximately up to one month per cat. It is a good option for a cat family as well as for pet parents who have busy schedules.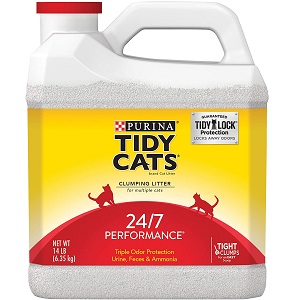 Tidy cat litter includes a triple-layer odor control facility which helps to resist unwanted smells from urine, fecal odor, and ammonia to keep your house surrounding clean and fresh throughout the day.
Pros:
Contains a pleasant citrus smell which gives a fresh environment.
It is a high-performance cat litter that forms a tight clump and makes it easy to scoop.
It contains long-lasting odor control formula.
Requires less maintenance and be used for a longer period.
Cons:
Sometimes the scoop needs to be cleaned after use as litter gets stuck in the box.
4. Breeders Choice Cat Litter
The Breeders choice cat litter is an Australian product and is considered one of the best cat litter sellers in the country.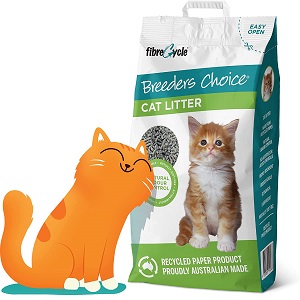 This cat litter pellet is made up of recycled paper, and it is biodegradable in nature, which makes it an eco-friendly product.
The cat litter by the breeders choice provides consisting highly absorbent performance, which means it can easily soak up the urine and manage to control the odor effectively, and this marks it as an exceptional one.
It also does not include any nasty such as chemicals or additives, so it is completely safe for your kitty.
Pros:
It is a long-lasting one, so you only need to check it once a week for a replacement.
Cat litter is made from paper, water, and air, so it is safe for all paws.
Cons:
It doesn't absorb the odors well and leaves a stinky smell.
This litter doesn't clump well, as compared to other products.
5. Rufus & Coco Wee Kitty Clumping Corn Cat Litter
The Wee kitty by Rufus & Coco, is made from biodegradable corn and is a better choice than the other clay litters that are extracted from the earth.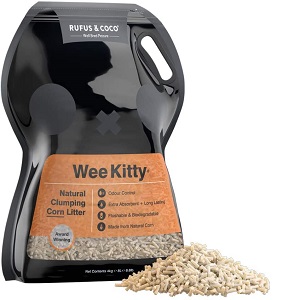 Unlike other cat litter, this litter when it gets soiled forms a scoopable clump and provides low tracking. The odor-controlling facility provided by this litter can remove unwanted smells within 5 minutes from the room.
Pros:
Due to its good absorbent feature, it can last for a week.
It is a paw-friendly cat litter that makes a good choice for both kitty and pet owner.
In small amounts, you can flush this cat litter in the loo because it breaks down when immersed in liquid, so it is safe to flush it off.
Cons:
It generates dust while pouring the litter into the pan. But overall it is a good product as it has all the other required features, which you want for your feline.
How to Choose the Best Cat Litter?
In today's time, plenty of cat litters options are on the market. So, selecting the appropriate one for your feline and house can take some testing period.
Cats have a sensitive sense of touch and smell, so it can influence the cat's reaction to her litter box. You can experiment with different litters and easily find out which one your cat is liking it.
In the following list given below, you will get an educated idea about the litter type, features that will help you make wise decisions in selecting the best cat litter for your kitty.
Cat Litter Type
a) Clumping Litter vs Non-Clumping Litter:
The clumping litter is designed to absorb the urine. Feces can be easily scooped out without emptying the entire litter box. Generally, it contains bentonite that helps to form a solid lump when it gets soiled. So make sure you scoop out that lump area regularly or else a bad odor will be trapped in the entire box, then you need to clean the whole litter pan.
The non-clumping litter is good at absorbing a large volume of urine, and it includes an element that can control the bad odor also which comes from it. But in terms of cleaning, it is not easy as clumping one, the entire litter box needs to be emptied every week to keep the box and surroundings clean and hygienic.
Pick wisely according to your kitty's preference.
b) Scented vs Unscented:
Scented cat litter is mostly preferred by pet owners as it helps to remove that typical urine, feces smell quickly and keep your indoor air fresh. But it offers a very strong essence, which many cats don't like, and avoid using the litter box.
Unscented cat litter is basically made from natural ingredients such as carbon or essence extract from plants that help to reduce the unwanted smell from the litter boxes.
c) Odor Control:
There are litters that help to trap the bad odor, reduce the smell of the litter box and give clean surroundings. But apart from this, you also need to clean the box regularly and scoop out the waste without fail and wash your kitty's pan regularly.
d) Tracking:
Litter often causes tracking issue for the pet owner and create an unhygienic and dusty environment in the house. So always try to go for litter which provides low tracking or no tracking feature. It will keep the granules in the box and will not stick to your kitty's paw.
Want to know how often to change cat litter, click here to know more.
Cat Litter Material
a) Clay:
Clay litter is one of the common litter types which is easily available in the market. It comes in clumping and non-clumping forms. However, clay litter is not eco-friendly in nature, and it generates dust clouds.
b) Corn:
Corn cat litter is biodegradable, generates low dust, and can be easily disposable. It is a great choice for those pet owners who are more conscious about their kitty's health and environment.
c) Wheat:
Wheat cat litter includes starch that helps to clump the waste easily when soiled, and it also provides an odor control feature. This litter is dust-free and can easily be flushable also.
d) Wood:
Wood cat litter is made from pinewoods, and it is plant-friendly. The natural essence of this litter helps to deodorize the litter box. But the downside of this litter is it doesn't clump well.
Know more about wood pellets for cat litter.
e) Silica Crystals:
Silica crystal is good for absorbing the bad odor and helps to reduce the smell from the box, and it is dust-free. However, it does not clump well, and no tracking can be done.
f) Recycled Paper:
Litter made from recycled paper is low in cost and eco-friendly. It is dust-free and gentle on the cat's paw. But it does not offer you a great odor trapping feature, so you have to change it frequently.
Have a look at hypollergenic litter for cats
FAQs About Cat Litter
Which is the best cat litter in Australia?
Arm & Hammer Slide Multi-Cat Litter and Tidy Cats Clumping Cat Litter is our pick choice as one of the best cat litter in Australia. The first one guarantees you to offer a long-lasting odor facility and no dust clouds form while pouring litter in the box. The second one is a pocket-friendly litter and requires less maintenance as compared to other ones.
How much does cat litter cost in Australia?
Cat litter comes in a wider range and depends upon the quantity and box size. If you are looking for long-lasting cat litter of good quality, it will cost you somewhat around a range of a minimum average $16 to a maximum average of $450 Australian dollars.
How often should I change cat litter?
Generally, a cat litter package includes a once or twice a week recommendation for the replacement of litter. But it solely depends on your kitty's usage or circumstances, you might need to change it every alternate day or once a week.
Where is the best place to put a litter box?
The best corner of the house for your kitty's litter box is the bathroom space. It is advisable to keep the door open if it is not in use so that no odor traps in the loo. You can also place the litter tray under the sink. Try to keep it in a low-traffic corner of the house where your kitty can get private space also.
How far away should food be from the litter box?
Your kitty's litter box and food bowl should not be kept close to one another because there is a high tendency that your pet will not eat her food properly. If in case you are running out of space then at least make sure to place the litter box in one corner and the food bowl at another end of the room. This much distance you have to maintain for your pet.
Conclusion
Hopefully, you have enjoyed reading our review list on the best cat litter and key features points have given you a clear image of the product. Now you can make an educated choice for your kitty according to her preference.
Let's get a quick recap on our premium and budget-friendly choice for the cat litter available in the Australian market, i.e., Arm & Hammer Slide Multi-Cat Litter and Tidy Cats Clumping Cat Litter. They provide a good absorbent facility and have an odor trapping feature which helps to keep your kitty's surroundings clean hygienic.
Here's a pro-tip, if your pet is not ready to adapt to the new litter, just sprinkle the existing one over the top of the new litter until they are ready to adjust.
References
What is the Best Cat Litter? Non-Clumping vs. Clumping Litter – PetMD
Litter FAQs – TICA
Australian Mist Breed – TICA