Looking for a safe and eco-friendly cat litter for your feline mate? We are here to help by reviewing the best wood pellet cat litters for your kitty's litter box.
Are you concerned about the potential health risks associated with traditional cat litters? You're not alone! Many cat owners are turning to wood pellet cat litters as a safer and healthier alternative.
These non-dusty litters not only control odors effectively, but they also absorb better than clay particles. Plus, they don't contain the harmful bentonite that can cause respiratory problems in humans.
But with so many options on the market, it can be tough to know which wood pellet litter is the best choice for you and your furry friend.
That's why we're here to help! We'll review the top wood pellet cat litters to ensure you can make an informed decision for the health and well-being of your entire household.
A Quick Look at our Favorites of 2023
Best Overall

ökocat Natural Wood Cat Litter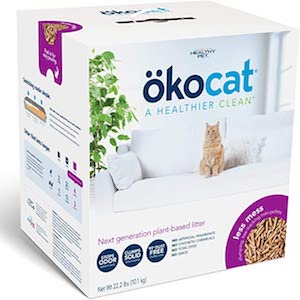 Does not contain chemical or dyes
Light in weight
Easy to dispose
---
Editor's Pick

Simply Pine Natural Cat Litter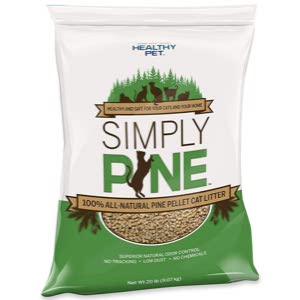 Includes natural pine fragrance
Eco-friendly and can be used to make compost
Available in various sizes
---
Affordable Pick

Kaytee Wood Pellets for Cats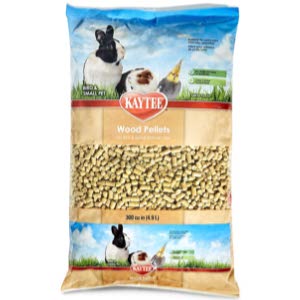 Soft texture for your kitty's paw

Non-sticky and easy to scrape off

Prevents from developing allergies and respiratory problems
The 5 Best Wood Pellet Cat Litters of 2023 (Reviews)
1. ökocat Natural Wood Cat Litter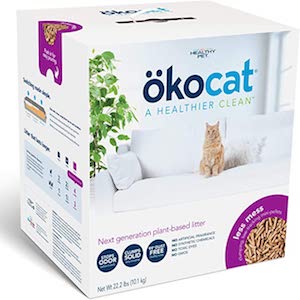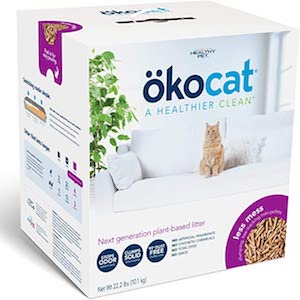 The ökocat Natural Wood Cat Litter is the best wood pellet cat litter. It is safer, cleaner, and healthier for you and your pet and naturally controls odor even before it starts. The fiber in the pellets naturally prevents enzymes from bonding with liquid and waste to stop odor and ammonia.
The pellets are capable of forming solid clumps for easy scooping and cleaning. It is 99% dust-free for a healthier environment and contains no clay or silica particles. They are sustainably sourced and made of responsibly rescued natural fiber.
Features
Supersoft particles
Superior odor control
99% Dust Free
Biodegradable and Flushable
Lasts up to 7 weeks
It is light in weight for ease of pouring and disposal. It is easy to clean and lasts longer for up to 7 weeks with effective scooping. The litter is also flushable and is plant-based for easy binding.
To conclude, we think this is the best wood pellet cat litter.
Pros
Does not contain any chemicals or dyes
Soft particles for your cat's sensitive paws
Very light in weight
Easy to dispose of by composting or flushing
Cons
The litter is very dusty
Highly-priced as per quality
2. Simply Pine Natural Cat Litter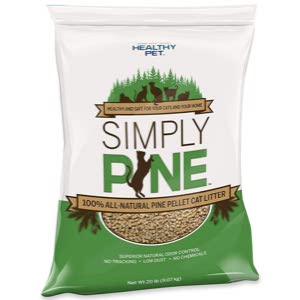 Simple Pine Natural Cat Litter is our premium choice as it is more absorbent and effective in controlling odor than any other natural feline litter. It offers superior natural odor control with no tracking and is non-dusty as well as non-sticky.
It uses no chemicals and is 100% biodegradable as well as compostable. It does not clump and has a natural pine fragrance that helps in controlling a strong urine smell.
Features
Low dust formula
100% Biodegradable and Compostable
Natural Odor Control
Non-tracking
3.5 times more absorbent than clay
The litter allows you to use it sustainably while it lasts longer and works better than any other clay or natural litter. There are various size options available as per your need and the texture of the litter is very sensitive for your cat's paws.
Pros
Highly absorbent and long-lasting
Has a natural pine fragrance
Non-dusty and hypoallergenic
Eco-friendly and can be used to make compost
Cons
The litter becomes crumbly upon contact with moisture
The pellet size is too large for small kittens
3. Kaytee Wood Pellets for Cats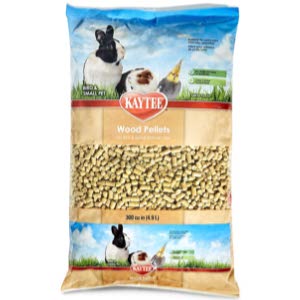 The Kaytee Wood Pellets for Cats is the best litter for your feline mate under a budget. It is a 100% natural wood-based bedding and is recommended for small animals, birds, and even felines. These particles swell up to control strong odor and keep your pet in a comfortable habitat.
The product is non-sticky and easy to scrape off from the litter. The non-dusty litter also prevents from developing allergies or respiratory problems. The pellets are long-lasting but the frequency of cleaning will depend upon the number of pets using the box.
Features
Made of 100% Natural Wood
Non-sticky and Non-dusty
Lasts for a week
No colors or additives
The product is manufactured in the U.S.A. and is very soft and sensitive for your kitty's paws. You can cover their litter box for up to 1-3 inches as the particles swell up upon coming in contact with moisture.
Pros
Nondusty and nonsticky pellets make it easy to clean
Soft texture for your cat's sensitive paws
Does not contain any artificial fragrances
Works even in lesser quantities
Cons
Does not control odor effectively
Does not clump
4. Feline Pine Original Cat Litter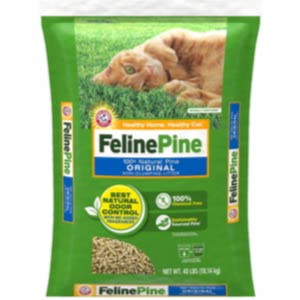 The Feline Pine Original Cat Litter offers powerful odor control while neutralizing strong smells on coming in contact with odor particles. The natural product is devoid of any chemicals or preservatives and has a naturally fresh scent.
It is extremely lightweight and the particles are non-dusty as well as non-clumping. They get converted into sawdust on coming in contact with urine or moisture. These pellets are very gentle on your kitty's sensitive paws.
Features
Made of 100% natural pine
Strong odor control
Low dust formula
Non-clumping litter
The wood chips are made from sustainably sourced pine and your pet would not take time to transition to this type of litter. However, unlike other natural litters, this cannot be flushed and needs to be disposed of in the trash. It is one of the finest litters anyone can have.
Pros
Binds to ammonia particles offering superior odor control
Does not contain any harsh chemicals or perfumes
Contains naturally fresh pine scent
Gentle for your kitty's sensitive paws
Cons
The litter does not clump
It is non-flushable unlike other natural litters
5. Natural Wood Clumping Cat Litter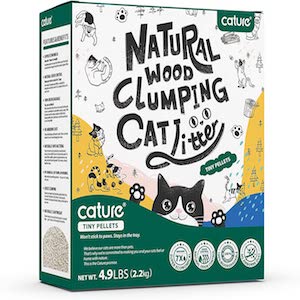 The Natural Wood Clumping Cat Litter absorbs moisture and odor efficiently working for a good 30 days. It shows 700% more water absorption and easy clumping than any other clay litter. The micro-fine fibrils of the litter trap the liquid inside the natural organic fibers.
The brand uses naturally fallen timber or unused timber which is usually considered as waste. The wood chips are converted into pellets with special plant-based binders for effective clumping and easy scooping. It has no chemicals and is easy to dispose of by flushing.
Features
7 days of odor control
99.9% dust-free
Biodegradable
Flushable
7 times more water absorption
The litter is 99.9% dust-free and neither has any powdery materials nor pine wood but only fiber. The product has also acquired an FSC Certification of Forest Sustainable Development, FDA Food Grade Certificates, and SGS Quality Inspection Report.
Pros
Long-lasting litter
Easy to dispose of as they are flushable and biodegradable
Offers more moisture absorption
Easy to clean due to pellet size
Cons
Read more
What is Wood Pellet Cat Litter?
Litter that is made using different types of excess wood from industries and compressed in the form of small pellets is called wood pellet cat litter.
Common types of wood that are used to make litter are pine and cedar. Certain manufacturers may also use other mixed types of wood. Softwood types are made from Pine, Cedarwood, or Cypress. Hardwood type Pellets are made from trees like Oak, Applewood, and Aspen.
Wood is known to have high liquid absorbance which works for soaking up urine and moisture in your cat's litter box. These litters are also known to possess plant-based ingredients. The binding agents present in plants helps the pellets in forming clumps.
When the litter is exposed to fluids such as moisture or urine, they form hard clumps that become easy to sift and scoop.
How Wood Pellet Cat Litter Works?
Wood pellet cat litters come in contact with urine and moisture and crumble into sawdust. This small sawdust particle gets settled onto the bottom of the litter box while the intact pellet pieces remain on top.
If you want the box to look clean immediately, you can sprinkle some pellet particles from the top while the dirty sawdust gets accumulated at the bottom and can be sifted or scooped later.
The particles are highly absorbent as compared to clay litter and help in containing urine and the smell coming from it. Wood granules can absorb up to 500 times of their weight which is quite high in comparison to normal clay litter.
They do not require frequent changing and cleaning as it is very easy to scoop or sift waste from the box. The high absorbency also helps in containing strong ammonia odor. Wood pellets that are made of pine have a natural smell that is known to be effective in controlling odor.
How to Use Wood Pellet Cat Litters?
It may look strange to use wood for cat litters but they work more effectively and absorb efficiently as compared to clay litters. Make sure to not overfill the box as when it comes in contact with moisture, they swell up and expand.
When you pour these pellets into the box, make sure that they cover the entire surface and go up to an inch deep. It is also easy to clean these pellets which we mention in the next section below.
How to Clean Wood Pellet Cat Litters?
Wood pellet cat litters have a different texture and it may seem difficult to scoop them. But here is how it works:
First, remove the solids and the poop out of the litter box
Then, collect the sawdust using a scooper
Shake the scooper vigorously so that the dirty sawdust gets sifted and collected in the waste bin while the clean pellets remain.
The dry and clean pellets can be reused and put back in the litter box
Replace the reduced amount of litter in the box with clean and fresh litter
If you would be using a scoop with sifting holes, the size of the holes matters. They should be large enough to let the sawdust fall off while small enough to keep the dry particles on top.
You can also use a sifting litter box that follows the same principle instead of a scooper. Sifting litter boxes speed up the process of cleaning and sifting as they can help in cleaning large amounts of litter granules at once. The size of the hole equally matters while using a sifting pan.
How to Dispose of Wood Pellet Cat Litter?
Wood pellet litter is long-lasting and biodegradable and can be used to make compost or by simply flushing the litter.
These pellets last longer and absorb better than clay litter. Therefore you will not have to change them as regularly as clumping litter. You will have to scoop the sawdust and solid waste daily. However, you can change the entire litter in the box, around twice a month.
If there are more number of cats using the same litter box, then the frequency of changing may increase as the box and pellets are subject to getting dirty more frequently.
When it comes to disposing of the dirty granules which have now converted into sawdust, you can use it to make compost as it is eco-friendly and biodegradable. Allow it to form compost for a while and then, use it as a fertilizer in your garden or for your plants.
Avoid using compost made of litter for edible plants like fruits and vegetables as the produce coming from it may not be safe for consumption.
This can be possible as dirty litter may contain parasites that can transfer into produce and make it harmful for consumption.
Another way of disposing of these litters is by flushing. You need to be careful of the amount of litter you flush into your system.
Since these particles have a tendency to swell up upon coming in contact with moisture, they may cause choking of your sewage systems leading to clogged pipes.
Moreover, the parasites in cat litter can pass on from your sewage to any water body and affect the aqua microflora, thereby disturbing their life cycle. Therefore, one has to be extremely careful before choosing to flush litter.
Features to Look For In Wood Pellet Cat Litters
While a lot of pet parents may not be aware of these pellets being used as cat litter, there can be major confusion when it comes to choosing the best wood pellet litters for your feline furball. Here are a few features that you can consider.
One of the most important features that any litter should possess is odor control and odor elimination. While we all know, how messy litter boxes can get, they are bound to start smelling and spread the dirty odor around the house. Your pet may refrain from using the litter box if it smells dirty.
Therefore, a litter that provides effective odor control and odor reduction is important. This will keep the environment pleasant and encourage your kitty to use the litter box.
Wood pellet litters sourced from pine have a natural pine fragrance which eases out the odor control and leaves a good fragrance each time your cat uses the litter box. They are generally known to be highly absorbent. Good quality litter helps in curbing odor effectively.
Litter has to be easy to manage, sift, and pour. If the overall consistency and weight of the litter is heavy, it can be difficult to lift the litter box or empty the contents out of the box. Moreover, scooping and sifting litter while it clumps would be difficult.
Wood converts into sawdust on coming in contact with moisture, which is light in weight and easy to manage even before and after getting dirty.
One disadvantage of lightweight litter could be tracking and scattering. This can be avoided using a high-sided litter box or litter tracking mats.
Most clay granules form dust clouds or easily spread in the air while sifting and cleaning litter. This can cause respiratory problems to your family members as well as your cat.
If the dirty litter keeps spreading around forming dusty, it is more harmful as it can be infected with pathogens in cat urine and poop.
Therefore, choose a cat litter that is non-dusty or forms less dust to prevent allergies while sifting or cleaning.
Wood pellets get converted into sawdust once they get wet. Sawdust can be very dusty and needs to be handled and sifted carefully.
Most wood pellet cat litters are eco-friendly and do not contain any chemicals or fragrances. This makes it absolutely safe for your cat to use.
Certain pellet particles are made of pine which has a natural fragrance. Therefore, there are fewer chances of using artificial scents, fragrances, and chemicals which can get harmful for felines.
Your pet should be comfortable transitioning to wood if she has been using clay or other types of litter before. These particles are not as soft and fine as clay litter. Therefore, your cat may find it difficult to adjust at first.
Look out for brands offering finer pieces to make it easier for your feline to adjust. This will feel comfortable on their sensitive paws and convenient for them to dig inside the litter box.
The most efficient litter is the one that lasts long. Meaning, it should be capable of locking moisture and dirty odor for long periods of time. This reduces the hassles of replacing litter every other day and most cat parents prefer that.
Wood is known to absorb 500 times more than their weight and need to be used in lesser quantities. Unlike clay litter which has to be replaced almost once in a week, wood litter can be replaced twice in a month. This makes it cost-efficient and convenient to use as well.
If you care about the environment, then make sure that the wood pellets you are using are resourced from fallen trees or reclaimed timber. No damage should be done to growing trees and resources.
Recycling old wood for making pellets for cat litter is a good way to reuse materials sustainably. It helps to keep Mother Nature in Balance!
FAQs
Can you use wood pellets for cat litter?
Yes! Various Softwood and Hardwood types can be used for making pellets for cat litter. Few of them are known to absorb much better and control odor effectively as compared to other forms of clay and natural litter.
How often to change wood pellet cat litters?
Once in 2 weeks is the ideal recommended time period for changing wood pellet cat litters. This depends on the number of cats using the litter box and how frequently your cat uses the box.
These litters provide high moisture absorbance and odor control and therefore last for a good amount of time.
Do wood pellet cat litters form clumps?
Yes! There are various wood pellet cat litters that form hard and solid clumps which makes it easy to sift and scoop. Moreover, they are highly absorbent and lock urine as well as the strong odor coming from it quite effectively.
What is the cost of wood pellet cat litters?
Wood pellet cat litters can cost anywhere between $8-$28. This depends upon its quality, clumping efficiency, and odor control ability. The most suitable litter under a budget is the Kaytee Wood Pellets for Cats which costs anywhere between $8-$10.
For a high-quality purchase, you can choose the Simply Pine Natural Cat Litter which costs anywhere between $22-$25.
The best wood pellet cat litter is the ökocat Natural Wood Cat Litter that costs anywhere between $15-$20.
What is the best wood pellet cat litter?
According to us, the best wood pellet cat litter is the ökocat Natural Wood Cat Litter which offers all the features that an ideal litter pellet must possess.
For a better quality purchase, you can opt for the Simply Pine Natural Cat Litter. For a pocket-friendly purchase, you can choose the Kaytee Wood Pellets for Cats.
Wood Pellet Cat Litters | Is it Worth?
Wood pellet cat litters are a sustainable way to help your family and feline friend remain safe as well as helping the environment. These are usually dust-free, biodegradable, easy to dispose of, long-lasting, provide high absorbance, and are very cost-effective.
However, some feline owners may be allergic to sawdust that forms after these particles come in contact with moisture. Moreover, it does not clump very effectively in comparison to bentonite clay litter and felines may not like the texture. The method of cleaning this litter is different and cat owners may not be well versed with it.
If we compare the advantages of these litters, they would definitely outweigh the cons and are a cheap and effective option as compared to any other forms of feline litter.
Choose the best litter for your kitty as we help you with our reviews on the best wood pellet cat litters, which is definitely an eco-friendly and pocket-friendly option.
References
Choosing the Best Cat Litter for Your Household — Petco
Eco-friendly Cat Litter — PetMD
Alternative Options to Clay Litter — BeChewy