After testing over 250 plus cat litter mats, we have shortlisted these 10 best cat litter mats that will reduce the mess in your beautiful home!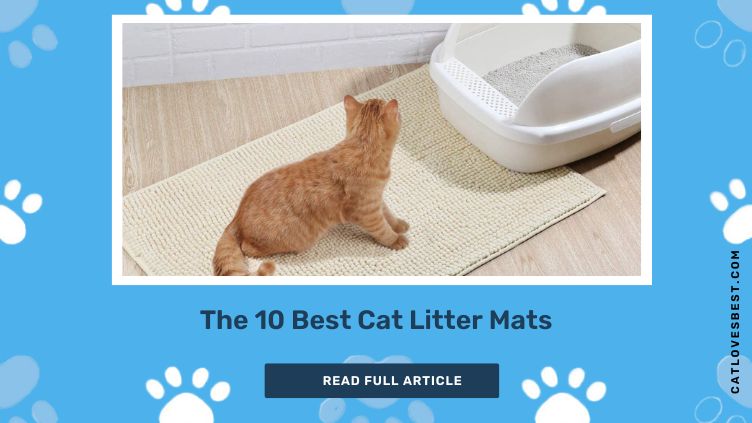 Cats indeed are self-care icons. Self-groomers who keep themselves clean — much cleaner than dogs. Still and all, they use those paws in the litter box and walk around in it. Now, this raises the potential of being exposed to dangerous germs and bacteria spread across the house.
Not only is this dirt, but you are putting yourself at risk by letting your feline walk in the house with poo-poo paws.
Is this hygienic? Have you ever asked yourself just how untidy your feline's paws are?
Luckily, there's a solution to keep the mess to a minimum — a cat litter mat.
A Glance of Our Favorites in 2023
Best Overall

Gorilla Grip Cat Litter Mat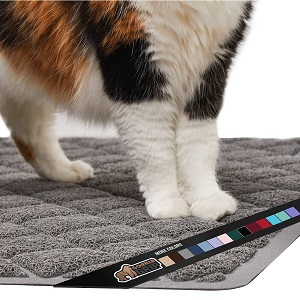 Offers various colors and sizes
Comes in non-slide backing
Free from BPA and Phthalate
---
Editor's Pick

Petfusion Toughgrip Cat Litter Mat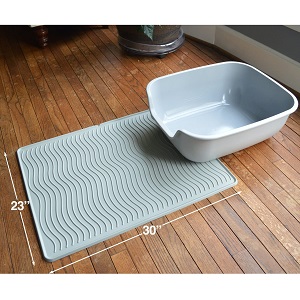 Made of premium FDA-grade silicone material
Water-resistant
Comfortable for your cat to walk on
---
Affordable Pick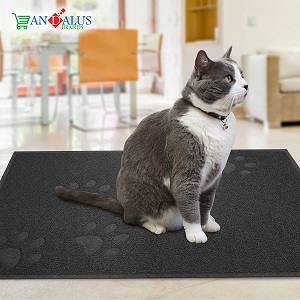 Free from Toxin, BPA, Phthalate

Offers five color options

Features an anti-sliding design
The 10 Best Cat Litter Mats Review
1. Gorilla Grip Cat Litter Mat
Out of all the cat litter mats, this mat from Gorilla Grip tops the list. It comes with a durable build which is relatively soft on the cat's paws. The top of the mat features a diamond-shaped litter-trapping design that looks elegant and simple.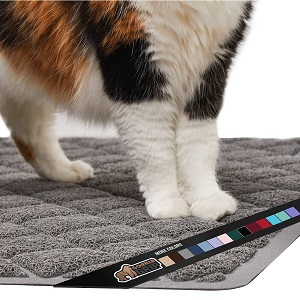 Moreover, the smooth mat surface has an excellent mesh that picks off even the tiniest litter granules. As a whole, the build of this litter mat is designed for comfort, so your kitty does not ignore walking on it. It is comfortable enough that it can make a perfect spot for an afternoon snooze.
Talking about the build, the mat is constructed without the involvement of phthalate, making it harmless for felines. Further, it is also very soft on sensitive paws.
The manufacturer has described this litter mat is water-resistant and not waterproof. However, it can handle a little moisture, which is not bad.
And the best part about this cat mat is that you can choose from up to 16 colors and six size options, which we didn't see in any other litter mat on the market. Overall, this litter mat is the cream of the crop. You can't go wrong with this litter mat option.
Pros:
The surface features a superior diamond mesh design with thick coils and deep grooves to catch the litter.
This mat comes in 16 color options and six different sizes to fit the best of your needs.
The mat also comes with a non-slide backing, so it always stays in place.
It is free from BPA and phthalate.
Cons:
You cannot wash this mat in a washing machine.
2. Petfusion Toughgrip Cat Litter Mat
While most litter mats are made out of PVC and rubber material, Petfusion Toughgrip Litter Mat is made out of FDA-grade, premium silicone material. Durable yet comfortable for your cat to walk on and rub the paws to get rid of the litter.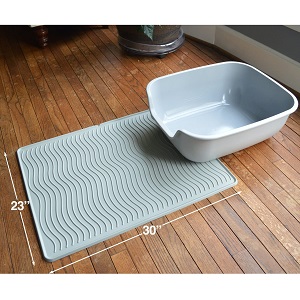 The innovative design of the top of the mat features an outer lip and hoisted inner ridges to adequately hold the irksome cat litter from your cat's paws. Further, the non-slip design under the mat makes sure that the cat mat stays where you put it.
Moreover, unlike honeycomb-style mats with large holes in the top or cat mats with a deeply grooved coil, this PetFusion Smartgrip Cat Litter Mat does a little in hiding the litter from sight. Instead, the cat litter trapped in paws stays on the wavy textured surface, making the cleaning process of kitty litter easy. You can vacuum, broom, or sponge the mat without any problem.
This rubber litter mat also features water-resistant and anti-microbial properties. It means that it can stay clean and flexible for the years to come.
And for optimal results, butting up this Petfusion mat against the litter box exit can offer maximum coverage from tracking litter.
Pros:
The mat is made up of premium FDA-grade silicone material.
It features innovative raised inner ridges & outer lips to trap litter from the paws.
This mat is silicon-made, so it is water-resistant.
Cons:
This option is pretty expensive compared to other alternatives.
3. Andalus Cat Litter Mat
This cat mat from Andalus covers all the bases for being an excellent cat litter mat at a fraction of the cost.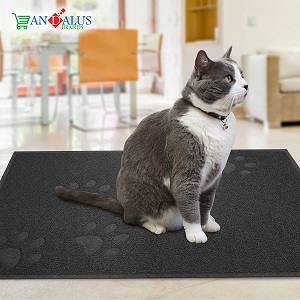 A decent cat litter mat needs to be something that can retain litter, but also something washable. Likewise, this affordably priced cat mat checks both boxes. It features soft, rubberized material on the surface that acts as a brush to remove the litter off the cat's paws. The materials used are cat-friendly, so it works without irritating the feline's paws.
Moreover, this cat litter mat does a fabulous job of hiding the scattered litter till you get nearby to clean it up. It is efficient for both small and large particles. The design keeps the particles tucked in the top layer of the mat.
So, if you are looking for an affordable litter mat that blends well with your decor, then this mat from Andalus is the pick of the litter! With five color options and many size choices, this alternative fits the bill.
Pros:
The mat is free from toxins, BPA, and phthalate.
It features an anti-sliding design, so the cat mat stays where you put it.
The mat features five color options.

It is one of the best options for a budget buy.

It comes with a 100% satisfaction manufacturer guarantee.
Cons:
Cleaning this mat can be difficult. The litter pieces may get deeply stuck inside the coil-designed surface.
4. Black Hole Kitty Litter Mat
Cleaning cat litter from a litter mat cannot get easier than this. This popular choice, Black Hole Kitty Litter Mat, is a favorite among thousands of modern cat owners, thanks to its easy-to-clean design.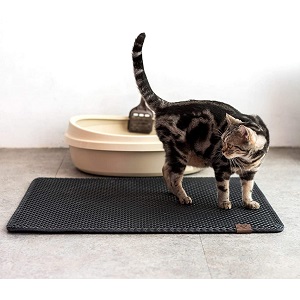 This litter mat is made out of heavy-duty EVA foam with a honeycomb design on the surface. It helps in both instances — tracking and scattering. The unique litter-catching design traps litter dropped between the layers, automatically trapping dirt and cat litter as cats leave their litter box.
It is a double-layer litter mat, meaning you can easily throw away the trapped loose litter or put it back in the litter box for reuse. Further, the bottom layer is lined with a plastic film, which is waterproof, washable, and air dries instantly.
It is an expensive alternative, but you get what you pay for — a quality product that lives up to expectations. In addition, you get to choose from four different colors — beige, dark gray, green, and pink. And together with the colors, there are also various size options available. So, you get the best bang for your buck with this mat option!
Pros:
This cat mat comes with a dual-layer design for easy cleaning. You can spread the layers apart by pressing on the edges.
It is made up of heavy-duty EVA foam, which is safe and completely pet-friendly.
The mat is effective in trapping litter with its honeycomb pattern.
It is also water-resistant, and it won't soak water or urine.
This option comes in four color choices.
Cons:
It does offer the best non-slip backing considering its high price.
5. Pawkin Litter Catching Mat
Pawkin Litter Catching mat does the much-needed trick of eliminating litter tracking all over your living room. Put an end to the embarrassment of cat litter on your high-gloss floor. Place this cat litter mat from Pawkin in front of the cat litter box.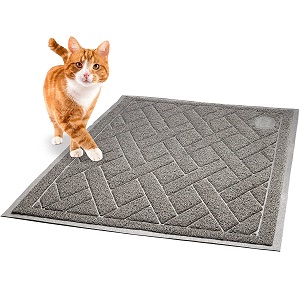 It is designed with tightly woven coils that trap the litter when your cat makes a run out of the litter box. Cat parents can also feel confident that their fur babies are going to enjoy walking on this litter mat. Cats love the unique design of the mat surface; it is designed specifically for cats with sensitive paws.
It is also less likely to skid across hardwood flooring as it features a non-slip backing underneath. Further, there aren't any color choices, but the mat does come in X-large and XX-large sizes to fit the space needs of most people.
Moreover, you can also run this mat under a water hose to clean those hard-to-remove litter pieces. The manufacturer recommends cleaning this mat with soapy water or dish detergent.
No matter the mess, cleaning this mat is a breeze.
Pros:
The mat is built from superior-quality PVC material. It is resistant to liquid messes and can be washed down with soap and water.
This large litter mat is also available in XX-large size choice.
The mat surface is made for sensitive paws.
This litter mat can also be washed in a washing machine.
Further, it is also laboratory tested and certified free of phthalates and other toxins.
The manufacturer gives a 100% satisfaction guarantee.
Cons:
It does not feature any color options.
To learn more about wood pellet cat litter click here.
At the sixth position, we have this aesthetically pleasing litter mat from Easyology that rather looks like a small kitchen rug. It comes in a standard set of two color choices — gray and slate gray.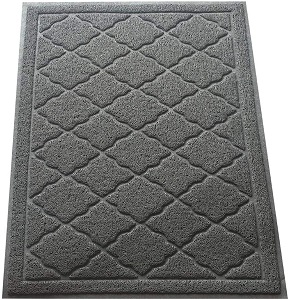 The manufacturer claims that the novel, patented design of this litter mat can catch up to 37% more litter as compared to other alternatives. Likewise, the brand promises a durable build with premium quality materials, including extra-thick PVC. Moreover, the efficient litter trapping design looks like dry noodles.
As your cat walks on, the litter gets caught on the surface, ready to be cleaned by a vacuum. You can also clean the litter mat by lifting it and giving a good few taps. Moreover, you can also wash it off, thanks to its water-resistant properties.
And to top it off, the material of this litter mat is safe and cat-friendly, in case your feline tries to chew it. This mat is completely free from phthalate and BPA.
Pros:
The mat features an ultra-soft design with a durable PVC material build.
The manufacturer claims that the innovative, patented design of this litter mat can trap 37% more litter than others.
The rubber backing of this mat protects your flooring from accidents and grips the floor securely even when senior cats dive into it.
It is made up of safe and cat-friendly materials, free from phthalate and BPA.
Cons:
It is waterproof, but it is too stiff to be washed in a washing machine.
Mighty Monkey Premium Cat Litter Mat comes in more color choices than there are colors in a rainbow! You can easily select a color option that matches your cat's litter box.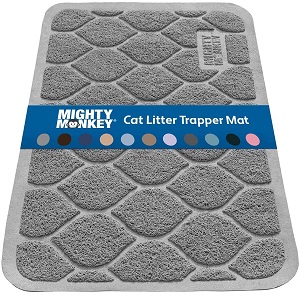 And the best part about the mat is that it is free from phthalate. So, it's no biggie if your kitty chews it. Likewise, similar to an ideal cat litter mat, this one also features a non-slip backing underneath that prevents sudden movements and keeps the mat in place.
Moreover, the materials used in the making of this cat mat are durable yet soft on the cat's paws. This litter catching built is constructed with deep grooves and mesh so that your floors are always tidy and your feline's paws mess-free. All in all, the unique build of this litter mat will make sure that it lasts long from scratching and chewing.
The manufacturer recommends washing this mat before first-time use. It is waterproof, so you can simply hand-wash it with a gentle soap.
Pros:
This mat comes in a multitude of color choices.
The mat is available in extra-large size.
The materials used in the making of this mat are safe and free from phthalate.
Likewise, the materials are super soft on the cat's sensitive paws.
Cons:
It gives off funky odors when you open it for the first time.
8. Litter Tiger Cat Mat
Litter Tiger Cat Mat is almost as big as a small-sized carpet. It is perfect for large, high-sided litter trays. Likewise, it is wide enough that your feline friend can rest on it and call her favorite spot in the house.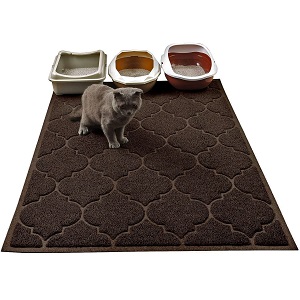 The cat mat catches litter through the mesh design with grooves. Moreover, the groove design is soft on cat paws, and your cat will feel comfortable when taking a seat.
Your excited cat can cross as many times as she wants from this litter mat, it will still stay in place. This cat litter mat comes with a sturdy construction with a non-slip backing that holds the mat well in place and protects the floor from litter tracking.
Moreover, this litter mat for cats is easy to clean, and it is also washable. You can easily vacuum it or even brush off the excess cat litter. If there is a huge mess, just toss the mat in your washing machine.
All in all, this litter mat is a perfect choice to catch the stream. It also comes in two color options — black and gray, which seems like a good deal.
Pros:
This cat mat comes in a large size, ideal for a multi-cat household. You can easily place more than one cat litter box on it.
It is easy to clean. The water-resistant design makes it effortless to wash with water.
Likewise, the mat is made up of non-toxic materials, making it safe for the cat's paws.
The non-slip backing of the mat is excellent and keeps it in place, even when your cat takes a run at it.
Cons:
The mesh design of the cat mat may catch on cat claws.
A cat with destructive scratching behavior may be able to tear off the litter mat.
9. Upsky Cat Litter Mats
Small, but two for the price of one, this pack comes with a set of two cat litter mats. Upsky Cat Litter Mats can be an ideal solution if you have small litter boxes.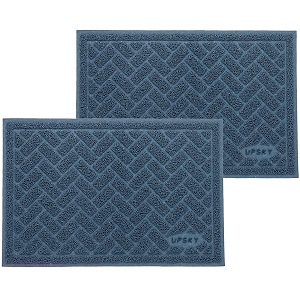 You can pair up the two mats and use them as one, or you can use them separately if you have two different cat litter boxes for each cat.
Further, it comes with decent quality, non-toxic, odorless, and easy-to-clean PVC material. Likewise, to clean the mat, all you have to do is flip it over and give a good few taps. Or you can also use a vacuum cleaner to extract or quickly clean the litter.
It is also slip-resistant and durable. The non-slip feature of the mat makes sure the cat litter stays on the mat and not on the floor.
Overall, the pack of two Upsky cat litter mats can make a good choice for your furry friend and you as well. No more litter-stained floor!
Pros:
The litter mat comes in a pack of two.
The deep groove and sturdy mesh structure can effectively capture cat litter off your cat's paws.
The mats are lightweight, and they have been made up of durable, non-toxic, PVC material.
They are easy to clean, and they are washable as well.
Cons:
The pack of these litter mats is not ideal for a multi-cat household as they come in small sizes.
It may not be able to keep up with heavy scratchers.
10. Smiling Paws Litter Mat for Cats
Here's another extra large cat litter mat for extra-large needs! This litter mat from Smiling Paws comes with a laminated bottom to prevent urine from soaking and making the mat slippery.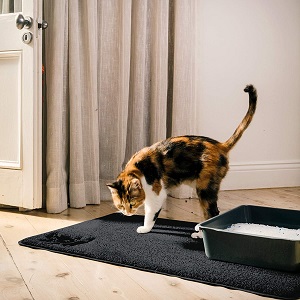 The manufacturer of this litter mat claims that it is scratch-proof and tear-resistant. Likewise, this mat is going to make it tough for your sweet feline to put wear and tear as it is made from strong materials. It also makes sure that you will spend less money overall.
The surface of the litter mat features a deep loofah design, which is effective in catching litter off the feline's paws. The cat mat is large, easy to maintain, and gives excellent litter-scatter control. It means that you will be spending less time taking care of your cat's litter tracking.
It is also water-resistant, so cleaning will come in easy when the litter mess goes beyond mundane. Further, the size of the mat is large enough that your cat won't be able to jump it off. Under the litter mat, you'll find a non-skin coating combined with its large size of it.
And the mat has been made up of safe, cat-friendly materials, making it safe for all feline's delicate paws.
Pros:
It comes in an extra-large size with four different colors.
It is scratch and tear-resistant.
The waterproof design makes it easy to clean when the cat litter mat gets too dirty.
Cons:
The mat is waterproof but not machine-washable. You can use a high-pressure hose for a deep clean.
How to Choose the Best Cat Litter Mat
Having a decent cat litter mat can work wonders in keeping your floor free from litter stains. A cat litter mat can be a handy pet supply for any household.
Pretty much like any other pet supplies, litter mats come in plenty of choices, and their features vary a lot, too. Below are a few factors you should consider before choosing a cat litter mat for your specific situation and requirements.
Size
The size is the first factor that determines the best choice for your specific situation. You can only make the most out of it if you have the right size that fits with the cat litter box. The mat should extend to where your cat can walk from when she gets out of the cat litter box.
A small size litter mat can work well for a kitty litter box with one side entry. Whereas, for medium to large size cats, you will perhaps need an extra-large mat. As a rule of thumb, the size of the litter mat should be big enough that your cat does not jump over it when exiting the litter box.
Surface
The surface of the mat should be coarse enough to catch the litter, but it should also be soft enough for your cat's sensitive paws. If it's a soft mat, then the cats are likely to walk on it and clean their paws. And if the surface is not inviting, then your cat will avoid cleaning the paws on it.
In the same way, the surface should be free from materials such as BPA and phthalate. These can be harmful to your cat if it is chewed on. Always go for options that are advertised as non-toxic and environmentally friendly.
Dual-Layer
Typically, any cat litter mat will need to be cleaned in a few days to ensure cleanliness. Features such as a dual-layer can make the cleaning task easy for you. This option is better than mats that require to be vacuumed or cleaned by hand.
Double layer cat litter mats such as the Black Hole Kitty Litter Mat come with a unique litter-trapping surface that shifts the trapper litter into the bottom layer for easy disposal. Likewise, the easy-to-clean design also makes it fairly easy to spill the collected litter before you make it to the trash can. So, watch out for the opening when you lift the cat litter mat.
Water-Resistant
While water resistance is not entirely necessary, however, it is a great additional feature that can take care of little accidents. Such mats can prove to be useful when they are to be used on hardwood types of floors.
For instance, materials such as rubber and silicone provide excellent waterproofing. Spaces with carpets or easily damaged floors can benefit from a waterproof cat litter mat.
If you are concerned about your cat urinating on the mat, you better choose a waterproof option. Overall, it can be a great way to help contain accidents.
Want to check out the best cat litter for urine smell, here you go click to know more
FAQs About the Cat Litter Mats
Which is the best cat litter mat?
Reasonable priced, with an effective deep grooved mesh litter-trapping surface, and available in a great range of 16 color options, we chose Gorilla Grip Cat Litter Mat to be the best litter mat overall. With six different sizes and so many color options, this litter mat will suit most home decors.
Whereas BlackHole Litter Mat is another great option from the top picks, it comes with a dual-layer if you want easy cleaning. It is expensive but worth the money.
How much does a cat litter mat cost?
The average cost range of cat litter mats typically falls between $10 to $50. However, some low-cost options, such as the Andalus Cat Litter Mat can cost below $10. Such alternatives are prone to wear out faster, but they can be a great choice for cat litter training.
On the other hand, the higher-priced options such as the Black Hole Kitty Litter Mat comes with innovative features. They can be costly but can last for years.
How to keep cat litter from tracking?
The best solution to this is cat litter mats. You can use these litter mats by placing the litter box on them or in front of them. The specifically designed litter catching mat will capture the cat litter stuck on the feline's paws when exiting her litter tray.
Further, one thing to note, is that make sure that the litter mat is large enough that your cat cannot jump over it.
Are cat litter mats safe for cats?
Cat litter mats are safe for cats as long as they are not toxic and free from phthalate and BPA.
On the other hand, mats that are not skid-proof can be risky. Always go for a cat litter mat that is skid-proof or a non-slip option with rubber backing, such as the Easyology Mat. With these features at hand, a litter mat is safe for your kitty friend.
Bottom Line
Your cat is a member of your family. Not only should you consider investing in a litter box, but you should also get a decent cat litter mat along with it.
Cat litter mats are readily available online in a wide range of sizes and styles. As long as you keep the crucial points in mind listed in this cat litter mat's reviews, you can easily find the best one that suits your cat and household, too.
Know how to deodorize cat litter? Click here to learn more.
References
Potty training your cat — AMCNY
Prevent cat litter tracking — World's Best Cat Litter
Cat litter training — Hill's Pet