Being a cat owner, you know how smelly they can make your home. Just like you need an alternative for your bathroom, cats also need the litter deodorizer. After all, they have senses 14 times stronger than us. That means you need to take care of it, for a better surrounding.
You need these litter deodorizers to eliminate the foul smell coming out of the litter box. As a matter of fact, this is going to be an everyday task. That's why just a random one would not do. You need the best litter box deodorizer.
With so many options, you might get confused. We are here to help you decide which one is the best. So let's hop on to the reviews for some of the best cat deodorizing litter.
A Quick Comparison of Our Favorites in 2022
Best Overall

Arm & Hammer Cat Litter Deodorizer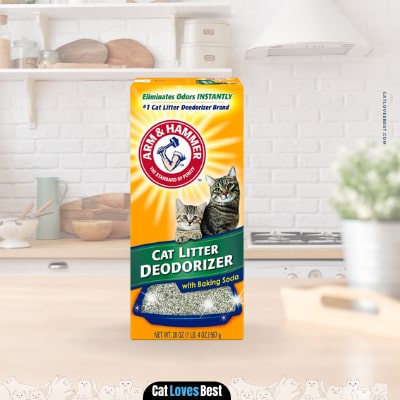 Baking soda helps to keep the box odor-free
Absorb unwanted smell right away
Prevents urine clumps from sticking to the corner of the box
---
Editor's Pick

Ipettie Cat Litter Box Odor Genie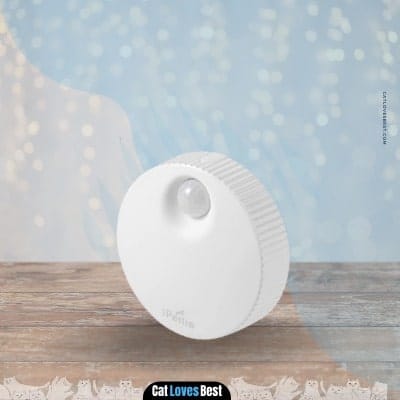 Cat friendly and odor less
One time charge last up to ten days
It can be placed wherever needed
---
Affordable Pick

Fresh Step Cat Litter Crystals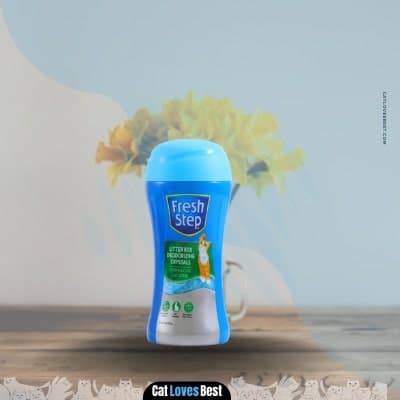 100% non-toxic

Eliminate bad odor

Gets activated every time your kitty use the litter box
The 7 Best Cat Litter Deodorizers Reviews
1. Arm & Hammer Cat Litter Deodorizer
We all know how bad your house smells at times if you own a cat. Now that's something you need to take care of because you love your pet. You need a strong deodorizer to eliminate the smell. Arm and hammer is the best option to go for! Great choice and affordable price.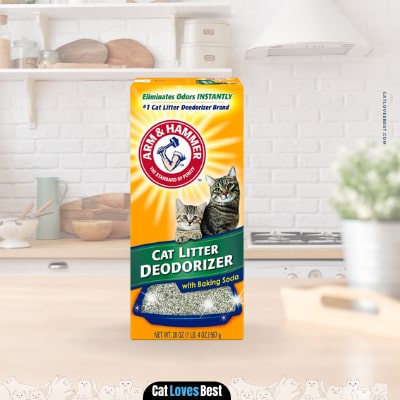 A blend of baking soda, fragrance, and anti-clumping agents. A combination of these three can create miracles! It's a well-known fact that how well baking soda works, almost every household haves it. Smells so clean that you can clearly spot the difference.
The granules-based solutions can be sprinkled in trouble spots or "showered" over the entire litter box area, as soon as the cat steps in it starts working. You don't have to wait till she's done. Yes, that means no bad smell at all! Cats won't hesitate while using it.
So you don't have to worry about them creating a mess somewhere else due to the smell of deodorizer, and also their dust-free properties.
To conclude, we think this is the overall best cat litter deodorizer.
Pros:
Baking soda help to keep the box to be odor-free and fresh for a quite longer period than any other deodorizer.
Absorbs the unwanted smell right away, which means no more waiting to get the fresh smell.
You can also use it to remove pet hair from places like carpets while vacuuming just sprinkle some on the area.
Prevents urine clumps from sticking to the corners of boxes. Makes it easier to clean.
Cons:
It has nearly no drawbacks, even after searching the entire internet, as it is so multifunctional and elegant cat box odor eliminator.
2. Ipettie Cat Litter Box Odor Genie
Uniquely designed product for an odorless cat box and happy home. You can just place it in or near the litter box. If you're looking for a scientific solution, you've landed on the right product. The Ipettie Cat Litter Box Odor Genie uses ozone (3 mg/h) and a negative ion generator to eradicate odors. Those noxious scents can be oxidized and decomposed by ozone.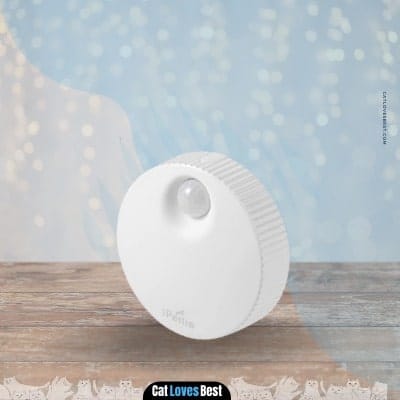 Many times we look for solutions that do not defuse strong smells like that of citrus or mint. This is because we want a home to inhale fresh and natural smells. Especially after coming home from a long day at work. So one should have an odor genie to let this happen.
Cats are not just cute and mushy, but they are also very clever. She can detect the unfamiliar smell. And we all know how hard it gets to convince her from using a particular thing, she dislikes. Therefore, it's cat-friendly and safe.
The auto on and of saves your cat from getting disturbed every time she wants to dung in peace! As soon as she's done, the built-in infrared sensor will sense no movement and start working. Wow! I love this feature. Of course, it is USB power, to extend the life till day 10.
Pros:
Comes with 1 x Adhesive-Backed Sticker as a Bonus, Odor Genie can be placed wherever it is needed.
The sticker is scratch-resistant, you won't have to worry about the gadget falling off due to your cat's clawing.
Prevent your cat from disliking litter, and makes it less noticeable.
One-time charge will work for up to 10 days, which makes the battery life long-lasting.
Cons:
This can be quite expensive than powder, as it's made differently, which makes it simple to use.
Even after probing the whole internet, got almost no cons as it's so versatile and stylish.
3. Fresh Step Cat Litter Crystals
We all love crystals! Don't we? Besides looking pretty, it works so well as a litter box air freshener. Your cat uses the litter box, they work by mixing in it and producing a mild scent. Saves you from giving a headache. The Fresh Step Cat Litter Crystals smell is concealing by leaving a fresh and clean aroma in your house.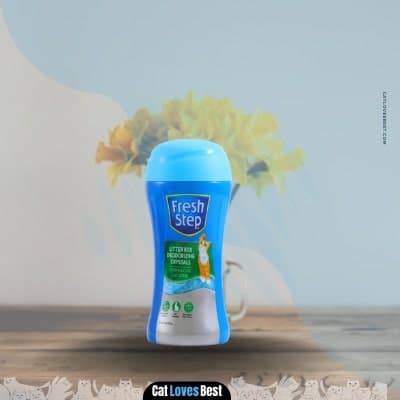 Though you might think that these crystals can be toxic for your cats. But they're not! Completely non-toxic and chemical-free. Which makes it pet-friendly. So you don't need to worry about it causing any harm to your furry friend.
As soon as your cat steps into the litter box, the fresh cat litter crystal starts working. Helps to keep it fresh most of the time. And even after the use, you don't have to stand with a scooping pad in your hand. Because it leaves no residue.
They get dissolve very easily. Saves you from cleaning twice. Best suggested for those people who don't have time to clean every time. The fresh scent gives you the ability to tolerate a litter smell by eliminating it. Pet owners love this a lot!
Pros:
A fresh scent deodorizes litter to keep your house and mood light. Unlike other deodorizers which have a very strong fragrance.
They mix up with the cat's litter inbox to eliminate bad odor as soon as she steps in, giving freshness most of the time.
No residue, saves up a lot of your time from scrapping twice or thrice.
100% non-toxic, because your pet deserves a healthy and chemical-free life.
Cons:
It's not ideal for multiple uses, because it's in crystal form, which gets dissolved with the litter very easily to provide no residue.
4. Nonscents Cat Litter Deodorizer
Nonscents Cat Litter Deodorizer is for those owners who want everything natural for their pets. And why not! We understand the need to keep your house free from harmful chemicals and strong fragments. Therefore, this is the most suitable deodorizer for you.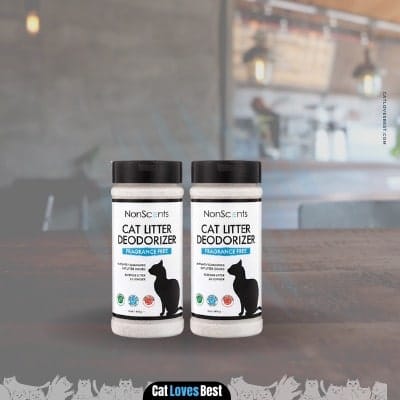 The easy use high-concentration formula only needs you to sprinkle a small amount on the litter tray. It is not just a litter deodorizer, but it's a cat litter box smell eliminator. Removes the odor completely rather than just covering it up. Isn't it so amazing? Saves you from scratching hard on the surfaces of the litter pan.
Plus, the shake and sprinkle formula gives you an easy way of application. So if your cat just decides to eat whatever she loves and later hop on her litter box, you won't be in worry! You can target the areas you want. without wasting the rest.
One of the best features is that it's fragrance-free! Which is a boon for many pet owners! Just imagine how better it would be coming home to a fresh and natural atmosphere. The one which you want. But after owning a pet, it got quite difficult.
Your home started smelling like urine and feces, this cat box deodorizer saves you from all the nightmares you got into while reading. So use it wherever you want, trash compactors, garbage cans, kennels, and animal carriers.
Pros:
Eliminates the odor completely rather than just covering it up. Which means double cleanliness.
No added artificial smell, which makes it more desirable for those who dislike such scents.
The applying method allows you to focus on targeted areas, to prevent extra wastage.
Use it not just limited to the litter box, you can use it in trash compactors, garbage cans, kennels, and animal carriers.
Cons:
People who want scented litter box odors solutions might get disappointed as it's made for a natural escapade.
5. Stink Free Cat Litter Box Deodorizer
Only a cat owner can understand how hard it is to keep a house clean with cats. Even if you get past level one which is litter training, there comes a level next, to remove the smell from the litter box! No one could live with that. If you have Stink Free Cat Litter Box Deodorizer, a fragrance-free cat litter deodorizer is all you need.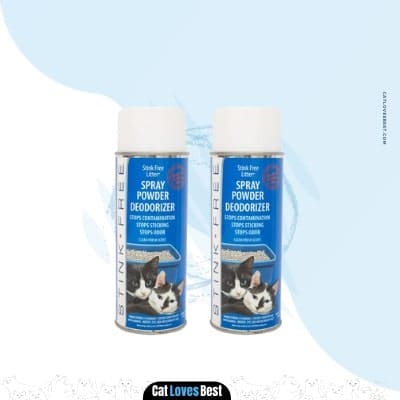 Spray it on your buddy's litters box and just see how easy it gets to clean. The non-stick formula makes it easy to scoop out the litter, no more sticking on the corners. You can easily spot the difference. A litter box without this spray would stink more as the corners are unreacted.
Contains no toxins, so you can use it without any fear. And It's not just limited to the litter box, you can use it on Garbage Cans and Diaper Pails.
Pros:
Instantly eliminate the smell, you just need to spray it on your cat's litter box.
Chemical barrier that keeps litter from adhering to the box and stops odor contamination.
Non-toxic, makes it safer to use for your feline friend, which makes you carefree and happy.
You can use it for multiple purposes, like spray it on litter garbage cans and diaper pails.
Cons:
Some people can dislike the scent. Therefore, you can allow it to settle down for 30 seconds.
6. Fragrance-Free Cat Litter Deodorizer
The goodness of active carbon is no hidden fact for most of us, right? Now imagine this in your cat litter deodorizer. Startling! Act as an absorbent by removing the unpleasant smells, and traps them in carbon. Fragrance-Free Cat Litter Deodorizer provides 10 times more elimination of odor compared to zeolite alone.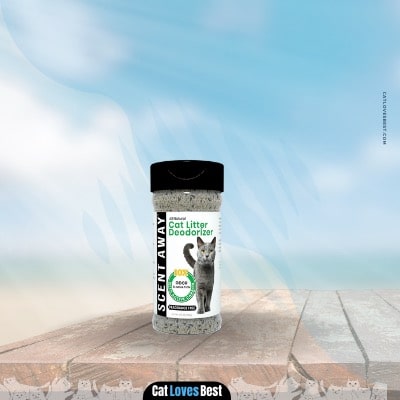 If You have a sick cat who is having a difficult time due to uncertain bowl moments. It could raise the level of your stress, as the litter could be either clumping or non-clumping. Therefore, this feature is designed such that it could deal with both.
With all the above mention features, you get to have a long-lasting effect. Just put some on a fresh litter box, and it's ready to use. Removes the smell quickly. Helps you in keeping your house fresh and natural.
Pros:
Quick and very effective, you can feel the difference right after use.
Activated carbon, which makes it 10 times better than other cat box odor eliminators.
After removing of waste, you can sprinkle on the litter box, and It's good to go.
Can improve litter life by 20 times more than rest.
Cons:
One litter box odor control formula is not enough for longer use. You can always buy two for sustainable use.
7. Sapphire Labs Odor Warrior Cat Litter Deodorizer
Are you someone who doesn't wish to be that owner of stinky cat households? The downside of having a cat. Don't worry, we have got you! Get rid of the annoying odder. Sapphire Labs Odor Warrior Cat Litter Deodorizer is so amazing. Works so well that you can be stress-free, and breathe in the natural air you were dying for after owning a cat!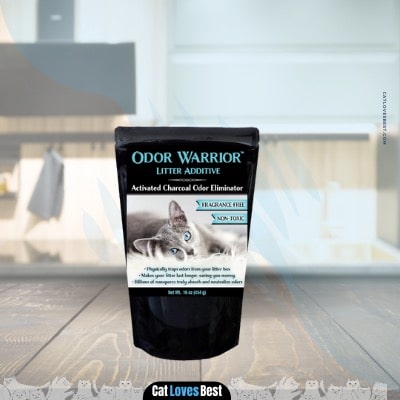 This will excite owners who don't want to replace the foul smell with any other strong smell like citrus, mint, or other "fresh" scents. Unlike other deodorizers, it's fragrance-free! This feature is a life savior. Many of us can get a bad headache from certain scents. And therefore it becomes so dear to us.
Did you know what makes it so pocket-friendly? Only 1 serving is enough for each litter box. Saves you from buying frequently. You can use as much you want without the fear of running out. You save a lot of money. Then other more costly products.
Though our cats can't understand the concept of keeping the house clean, they surely understand a litter box with bad odder! Surprise! Right? Yes, that's true, and she can reject to use such a litter box. Therefore, the odor-absorbing capacity is more.
Pros:
Neutralizes cat litter odors for a fresh, odor-free environment that keeps your mood light and happy.
Works right away without concealing the smell with any scent, basically, it's odorless!
Your smart cat won't reject the litter box because of its smell, helps you to maintain her behavior.
Made up of all-natural and earthy components, can be used for multiple cats.
Cons:
Contains no scent smell, which can be a non-desirable feature for some people. Therefore, it's best made for those who don't like to inhale smells like citrus or mint.
How to Choose the Best Cat Litter Deodorizers?
Choosing a cat litter deodorizer can seem like a tough task if you are left with so many options around the internet. Therefore, we had stated important points you should keep in mind. Choose a fragrance that everyone in the house likes, or it could give them a headache. The rest depends upon the nature of your pet.
Safety
There are the least chances of your cat consuming this non-edible thing. Still take no risk! Always go for such litter deodorizers which are non-toxic. Not all cats would love the smell, so you need to consider her liking, or else she would refuse to even sniff around the litter box.
Consumption
Sometimes the cat litter box could smell like it's not been clean for several months, or sometimes it wouldn't bother much. So you have to decide what amount you need to clean it up. But make sure that you avoid over-use of it. Because that could be harmful to the cats as well as for you.
Types
Due to the vast nature of these products. There are types of litter deodorizers on the market: crystal, spray, grains, powder, and deodorizing beads. Baking soda, borax, and zeolite are some of the most commonly used substances in cat litter box odor eliminators.
Flavor
For every different cat litter deodorizer, there are various powerful flavors, the most common is that of citrus and mint. As they cover the smell or neutralize odors of the litter box and produce or eliminate a new fragrance. You get to decide which one you want to inhale.
Most people have been sensitive toward such artificial fragrances. In this case, they can choose a deodorizer with no smell.
You can also refer to our other litter related articles
FAQs About Cat Litter Deodorizers
Which is the best cat litter deodorizer?
The best cat litter box deodorizer is Arm & Hammer litter deodorizer. It's a blend of baking soda and anti-clumping agents. Making it most effective for use.
The granule-based solutions can be sprinkled in trouble spots or "showered" over the entire litter box area, as soon as the cat steps in it starts working.
You don't have to wait till she's done. Yes, that means no bad smell at all! Cats won't hesitate while using it.
How much does cat litter deodorizer cost?
Most cat litter deodorizers cost from $4 to $24. If you want to go for the cheapest one, then fresh step cat litter crystals are the best.
Is litter deodorizer bad for cats?
No, the cat litter deodorizers use natural ingredients like baking soda, making them a safer option.
Apart from that, cats can sense 14 times stronger than us. So they will reject using litter boxes that have a toxic smell. With this, good ventilation is also necessary.
Is cat litter deodorizer vet recommended?
Yes, cat litter deodorizers are vet recommended. Well not all of them but those which don't contain any toxic or chemical substance In the name of fresh scent. Most of the products mentioned above follow these guidelines. Which makes them trustable.
Conclusion
I guess we all must have heard the song of Phoebe, smelly cat! She's right, it's not the cat's fault. But it might be yours if you don't pay attention to choosing the Best Cat Litter Deodorizers for your cat. It might take up a few minutes to read, but worth the time.
You need to know which one to choose from so many options. There are various forms and smells also odorless for people who hate inhaling artificial smells. Enjoy exploring them while sipping your cup of coffee.
References
Control Cat Litter Box Odor — Pet Finder
Keeping odor away with a clean litter box — PetMD
Effect of odor eliminator on cat — PubMed