Do you agree that cleaning the litter box is your least favorite part of cat parenting? Are you looking for scoop-free solutions to clean your cat's litter box?
Yes, we are gonna talk about the best automatic litter boxes which claim to help with dirty work of cleaning regularly.
As we know, Automatic litter boxes come with premium prices and they are prone to malfunction, and sometimes harder to clean than a traditional litter box.
But Wait! There's More!
Do you know, a right choice of Self-Cleaning Cat Litter won't be troublesome?
Yeah, you heard right.
We tested several options including The Litter-Robot III, PetSafe ScoopFree, Omega Paw, CatGenie, LitterMaid, and Nature's Miracle litter box along with several other popular options.
What's the best automatic cat litter boxes in 2022?
At a Glance: Best Self-Cleaning Cat Litter Boxes
Popular Choice for Automatic Litter Box: Litter-Robot 3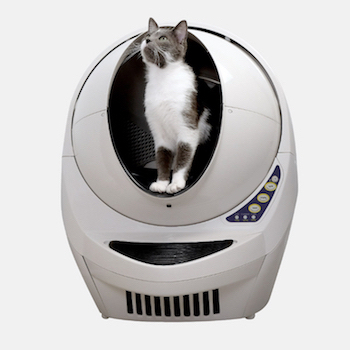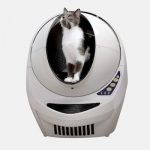 The best automatic cat litter box which you can get in the market is Litter-Robot 3. Forgot about manually scooping with your hands as it will do the work for you on its own.
You don't need to manually roll this Cat Box as it is power operated and so it rolls on its own for the separation of waste from litter.
CHECK for $25 OFF on Official Site
Editor's Pick for Self Cleaning Litter Box: Omega Paw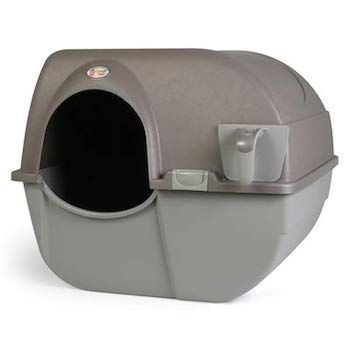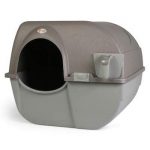 Not willing to spend much, then you can purchase this Self-Cleaning Litter Box of Omega Paw brand. It is available at an affordable price as compared to automatic litter boxes.
It will separate solid cat feces from the litter, but you need to manually roll the Litter Box for the same.
Why should you buy an Automatic Cat Litter Box?
Yes, we said that the right choice of self-cleaning litter box will help with the dirty work to ensure there's always a clean place to go potty.
Still, if you are wondering or confused that why you should consider purchasing an Automatic Litter Box, then go through these hard facts and benefits which you should consider to make up your mind to buy a Self Cleaning Cat Box for your Feline.
Prevent your Cat from going outdoors
A Research on Felines [1] reveals that Cats kept indoor live 10 years more than outdoor Cats. So if you want your feline to live longer, then keep her indoors most of the time. If you don't have a Cat Litter Box, then most probably your Feline would be going out to excrete.
Cats usually like to poo on Soft soil or sand and then cover it up using paws under the sand or soil. The Cat Box is filled up with Soft tiny granules that mimic Sand so that she can get instinctively used to excrete in the Litter Box. This will prevent them from going outdoors.
By refraining your Feline from going outdoors you also keep her protected from the outdoor dangers like bad weather, traffic, and other dangers.
Fixed spot for Your Cat's Daily stool habits
A Cat's Litter Box will also help your Feline to fix her daily routine and thereafter she'll also won't need to search for any spot outdoors to poo. This will deliberately improve the health and lifestyle of your Feline.
Few cats also get used to pooing in the Lawn, Garden, or place below the staircase. Providing the best cat litter will consequently keep your home clean if you Pet has a Habit of excreting here and there.
Want to know more about which are the best litter box for kittens, here you go.
The Best Self-Cleaning Litter Boxes in 2022
A perfect self cleaning litter box detects when your cat uses it and clean up it automatically before your cat uses it next time.
Keep these facts in mind, out vet along with Vet Technician and Cat trainer listed following options for you.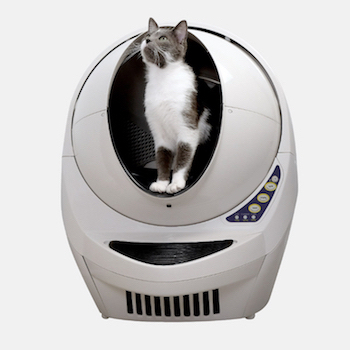 This fully automated Cat Litter Box from Litter Robot has the most advanced features. It has Self-Cleaning capabilities that make full automation of the process of scooping and disposing of the cat's metabolic waste. It is also a premium product and you should consider buying it if you do not want to put any effort into daily maintenance.
| Product | Litter-Robot 3 Connect |
| --- | --- |
| Price | $350-$500 |
| Rating | 4.5 Stars |
| Price Category | Premium |
| Free Trial | 90-Day In-Home Trial |
| Design | An eye-catching design |
| WiFi-Enabled | Yes |
| Warranty | 18-Month Warranty |
| Multiple Cats | Yes |
| Compared to Traditional Litter Box | High-tech and easy to use |
It is Globe-shaped which gives it an appealing look and it also makes the auto-rolling feature for the process of scooping smoother due to spherical shape. Also, the oval entrance makes it easier for your Feline to get into the globe and use the Litter Box.
The overall performance and features of this Litter-Robot 3 automatic litter box are good, but it does not have the Self-Flushing & Self-Washing capabilities.
"To conclude, we think this is the overall best automatic litter boxes"
Pros:
Self Cleaning Process
No manual efforts required for scooping
Ergonomic design
Delivered fully assembled
Cons:
Costly
No Self-Flushing feature
Requires manual washing
>> Start your Litter-Robot 90-day in-home trial. Units ship in 3-5 days. <<
Omega Paw Self-Cleaning Litter Box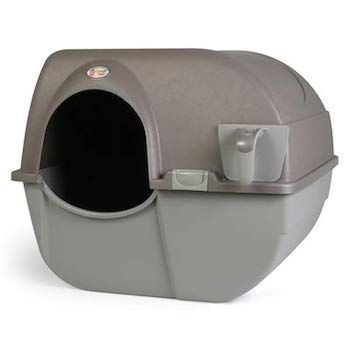 The best Self-Cleaning Litter Box in our list sold by Omega Paw on Amazon. It makes the first position in our list as its overall quality, features and durability are best for the price offered. It is a mid-range priced and after purchasing this you will never need to scoop your Cat's metabolic waste with your hands.
In order to use it, you need to fill Clumpy Cat Litter into the box up to the Grate. It will separate Cat Litter from feces by rolling on its own. You have to manually roll the Cat Box to separate Solid Waste from Litter. After this, the Solid Waste will be scooped with the help of grill in the Waste Collector Pullout Tray which is fit at the bottom of the Cat Litter Box.
You don't have to put much effort into rolling it, as it weighs only 6.5 ounces. The size is also large enough so that even Big Cats can easily use it.
An added benefit is that it provides complete privacy to your Feline as it is in a Covered design. Also, the Covered design will prevent Litter dust from falling out.
Pros:
Fully Covered Design
Affordable Price
Simple to use
Made up of strong and durable material
Cons:
You need to manually roll it for separating the waste from the litter
It needs to be cleaned frequently to prevent odor
PetSafe ScoopFree Ultra Self-Cleaning Cat Litter Box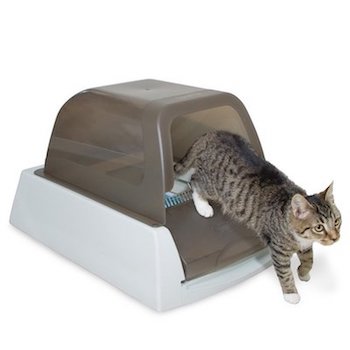 PetSafe's Self-Cleaning Cat Box has a minimalistic design yet it offers a fully automated way to scoop your Cat's Litter on its own. It also has an attachment of a disposable tray that you can throw away once it has been used.
It also requires the least maintenance as it does not require scooping, cleaning or refilling for at least a week. The Cat Litter used in it also moisture absorbing which makes it odor-free while in operation.
For the scooping of the waste, rake grill moves through the Cat litter, separates the waste from Litter and dumps it in the waste trap. There is also Safety Sensor installed in it which stops the rake grill from moving while your Feline is inside the Cat Box.
It is available in two types of models, the only difference is the top hood used in the Cat Box. One model has Top-entry Privacy Hood and another model has Front-entry Privacy Hood. Both the models are of the same price and they are also available in two color options namely Purple and Taupe. There is also Health Counter Feature which helps you to keep a track of usage.
To use it, you can either set timer to control the Rake to 5, 10 or 20 minutes. You can also press the Rake button to immediately perform the action.
It is also 5 times more effective in odor control as it uses Crystal Cat Litter instead of conventional Cat Litter. It is also made leakproof which prevents Litter Dust or Waste from leaking out.
Pros:
Odor control with the help of Crystal Cat Litter
Low maintenance required
Top Hood provides complete privacy to your Feline
Low-tracking crystals
Large Anti-Tracking grind in the Top-Entry hood keeps Litter in the Box and prevents it in falling to the floor
Cons:
Does not use batteries, so it won't operate in case of Power Cut
CatGenie Self Washing Self Flushing Cat Box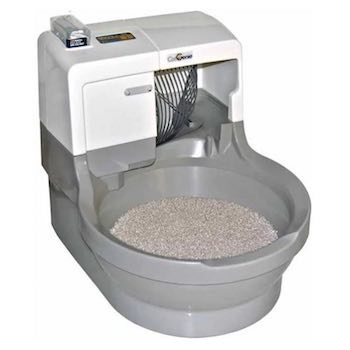 This is the best Automatic Litter Box from CatGenie which you should definitely purchase if you want complete Automation. You won't be required to even throw the disposable tray or collected waste if you have this Fully Automated Cat Box, as it will Liquidize the Solid Waste, and flush it in the drainage.
It is not only capable of separating the Cat Feces and Urine from the Litter and flushing out the waste, but it will also clean the Cat box and the Litter itself. Once you buy this Fully Automated Self Cleaning, Self Flushing Cat Box, then you don't need any maintenance at all. It can be used for years without compromising any of its automation features.
It has Litter-like washable granules and not clay litter so that it is easy to auto clean and can be reused many times. It also mimics soft soil or sand, so that it satisfies cats need to dig and cover. Another advantage of the Washable Granules is that as they can be reused many times and it will be washed with the SaniSolution on its own.
Nothing is perfect in this world, and neither is this automatic litter Box. Your Feline won't have any privacy while she is using it, as there is not Privacy Hood provided with this product. But again, there are many solutions for this(if you consider it as a problem).
If you have placed it in the bathroom, then this place is already private. But still, if you consider providing more privacy to your Feline, then you can purchase a separate Privacy hood for this model.
Pros:
Fully Automated, Self-Cleaning, Self-Flushing Features
Washable Granules used instead of clay litter which makes it reusable many times
100% dust free
Big enough for larger cats
Easy manuals provided for DIY setup
Pipes and adapters required to set up included with the product.
Cons:
Privacy hood not included
Pet Zone Smart Scoop Automatic Litter Box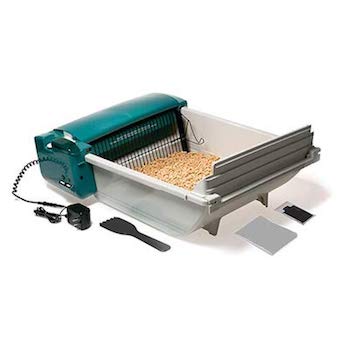 Pet Zone's Smart Scoop Automatic Litter Box is Electrically powered and Self-Cleaning. By using it, you will never need to Scoop the Solid waste with your Hands, as the Scooping(Separation of solid waste from litter) will be processed with the help of motor-powered Separation Grill.
The mechanism of separation and design of the separation grill is made in a way that you can use any type of Litter with it. Also, the improved litter pan design requires lesser Litter compared to conventional Cat Boxes.
This automatic litter box is not only operated by a powerful motor but also it has a sturdy metal gear which makes the scooping process much smoother. Although a powerful motor is used, this does not mean that it would be noise, it is over 4 times quieter than the same type of Cat Boxes of other Leading Brands.
On ordering this product, you also get 6 no-touch plastic bags which are enough for one-month usage for a single cat. These no-touch plastic bags are of very low price and cost just a fraction of disposable trays or crystal cartridges. You can use these bags to trap the waste collector tray so that the solid waste directly falls in the plastic bags and then it can be thrown away in the trash without touching the waste with your hands.
Pros:
Self scooping process
Any clumping litter can be used with it
Does not wase clean litter in disposing of the solid waste
Easy assembling and de-assembling
One-year warranty
Cons:
Sometimes rake leaves behind the solid waste aside rather than scooping it for the first time
You can also give a glance look at
PetSafe ScoopFree Original Self-Cleaning Cat Litter Box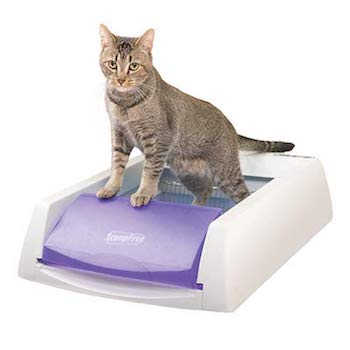 This ScoopFree Original Self-Cleaning Cat Litter Box sold by PetSafe is an Automatic Cat Box which is very easy to set up and to start using.
To increase the usability and convenient cleanup, the Disposable litter tray is to be used which is provided along with it. After the Self-Cleaning process completes, the waste gets sealed in the Waste trap tray and dumped in the Disposable tray with the help of Rake. After this process, you can throw away the Disposable Tray(which has waste) without touching scoop with your hands.
The Crystal Litter used in it has the ability to absorb cat urine and dehydrate solid waste, this prevents you from seeing any smelly waste. Also, the solid waste separated from Litter which is collected in the waste trap is covered, this smelly waste out of sight, and prevents diffusion of Odor.
Similar to the other model of Cat Box of ScoopFree, this automatic litter box model also has Safety Sensors which stops the rake from scooping while the Cat is in the Box. There is also a built-in feature of Health Counter which counts the number of times it has been used by the Cat.
To set up and start using, you get three 2 modes, one is Timer Mode, and the other is Manual mode. In the Manual mode, you simply need to press the Manual Rake Button, this will start the Self-Cleaning process. Similarly, using the timer mode button, you can set the timer to 5, 10 or 20 minutes for the Self-Cleaning Process.
Pros:
Self-Cleaning Litter Box which separates litter from solid waste
Crystal Cat Litter provides more odor control in comparison to conventional clumping litter
Safety sensors installed to ensure the separation process doesn't happen when the cat is inside the box
No manual power required for separation of Litter from Solid Waste
Waste is dumped in a disposable tray, so you don't need to touch the scoop, simply throw away the disposable tray
Cons:
No Privacy Hood provided
High maintenance cost compared to traditional litter boxes
CatGenie 120 Self-Washing Self-Flushing Cat Box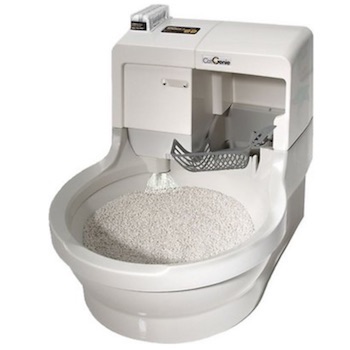 CatGenie Cat Box is a Fully Automated Cat Litter Box with all the features of the #2 CatGenie Litter Box with few more benefits and different product dimensions and weight. The Cat Genie 120 Self-Washing, Self-Flushing Cat Box measures 26.46lbs, and measures slightly larger than #3 model with dimensions 25.8 x 22.4 x 13.84 inches.
On purchasing it from Amazon, you get 90-days money-back guarantee. And, if unluckily it is unoperational even after 90 days, then you need not worry, as you get a 2-year warranty.
It has a Self-Washing feature, so you don't need to wash the granules manually. There are three options available for you to start the Self-Washing Process; Timer, Manual(immediate), and Cat Activation.
Similar to the other model from CatGenie, this model also uses Litter-like washable granules. The washable granules can be used indefinitely and never needs to be changed. The moisture-absorbing properties of its granules are retained as after every cleaning process a hot-air blower completely dries it.
For the Auto-Washing purpose of the Cat Box and Granules, SaniSolution is used. You get one pack of SaniSolution when you purchase it. This SaniSolution Cartridge is bio-degradable and recyclable which completely decontaminates everything it cleans. Also, it adds a pleasant smell to the Cat Box, which cuts off any odor if remaining.
The Auto-Cleaning feature not only separates the waste from the Litter, but it also liquidizes the solid waste so that it can be easily removed and flushed through the pipe to drainage.
Just like the other CatGenie model, this automatic litter box also does not include Privacy Hood with it. So, if you want to consider more privacy for your Feline, then you may purchase a separate Privacy Hood for your Cat.
Pros:
Fully Automated, Self Cleaning, Self Washing, Self Washing, Self Flushing Cat Box
Washable Granules never needs to be changed
Large Size
Dust-free litter-like granules used
DIY Setup, with all accessories included
Cons:
Does not include Privacy Hood
If your feline has an allergic issue we recommend you to refer to our blog on cat litter for allergy sufferers & cat litter for asthmatic cats.
PetSafe Simply Clean Self-Cleaning Cat Litter Box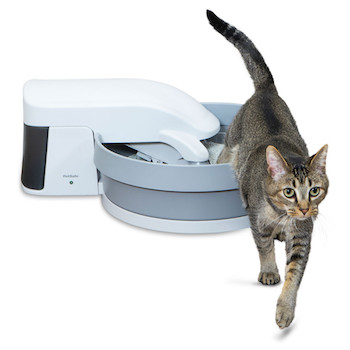 The Simply Clean Self-Cleaning Cat Litter Box from PetSafe is a low power consumption Automatic Cat Box of moderate price. It has a simple and minimalistic design which makes it easy to use and clean.
It is suitable for cats weighing up to 15 pounds which is enough for even some of the large cats but not for large cat breeds that weigh more than 15 pounds. It weighs around 12 pounds and it measures 26 x 19 x 10 inches.
It is power-based and can be directly plugged into a standard wall outlet. You also get a 6-foot long cord for the same, so you can easily connect it to the power supply even if it is far from the wall outlet.
You not only get this at competitive prices, but you also get a 1-year warranty from PetSafe when you purchase it from Amazon. Also, there are two variants available, one is "New" & "Original", the "Original" version is comparatively of a lesser cost than "Original" version.
The mechanism is very simple, to make it operational, you don't need need to make any settings or any adjustments, simply fill-up with litter and plug-in to the power source to start using it. The box keeps on spinning with the help of a lower power consuming motor at the speed of one complete rotation per hour which takes up the solid waste to the conveyor belt and dumps to the waste bin.
Pros:
Scoops cat feces from litter and dumps in the waste bin on its own
Covered waste bin restricts the diffusion of the odor of the collected waste
Less clumping required than conventional Litter Boxes
Cons:
Few users report that the box stops spinning after using it for a few months
If you are not willing to spend much and do not have any problem in manual operations like rolling then Self Cleaning Litter Boxes can come to a great choice for you. Here are the 5 best Self Cleaning Litter Boxes curated by reviewing more than 40 of them.
Le You Pet Semi-Automatic Quick Cleaning Cat Litter Box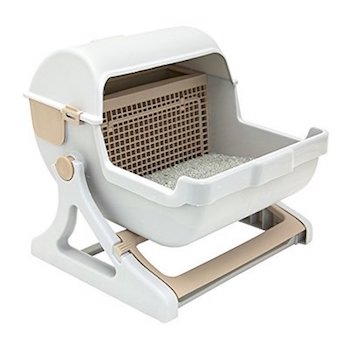 The Semi-Automatic Quick Cleaning Cat Litter Box sold by Le You Pet is a Self Cleaning. It uses a different design as compared to other Semi-Automatic Cat boxes which make it more simpler and easy to use for the self scooping process.
In the Conventional Cat Boxes, as you are required to roll the entire box for the self scooping process, so it requires some efforts to do the same. But in this one, the process is made simpler by attaching it to a stand in which the box can be rotated. This makes the Self-Cleaning process easier, as you don't need to move it, because it can rotate on its stand itself. Once you roll the box, it separates Litter from the Solid Waste on its own.
As the grate is designed in such a way that you can use Slide Litter or any other type of Clumping Litter. Similar to other Cat Boxes, you need to fill this one up to the marker shown in the Litter Pan. After the Self-Cleaning process, Litter moves in the area beside Separation Grid, which can be refilled in the Litter Pan by rolling it down in the reverse direction.
It is 21.6 x 19.1 x 10 inches which makes it large enough for a Cat weighing 18 Pounds. Also, it weighs 6.8 pounds so you can easily place it anywhere as it is very easy to lift.
Pros:
No Electricity Required
Easy manual operation of rolling compared to conventional Boxes
Larger Size
Improved Design which increases usability
Quick Self-Cleaning
Cons:
Manual efforts required for Self-Scooping Process
No Privacy Hood
Requires Assembling
Roll n Clean Self Cleaning Litter Box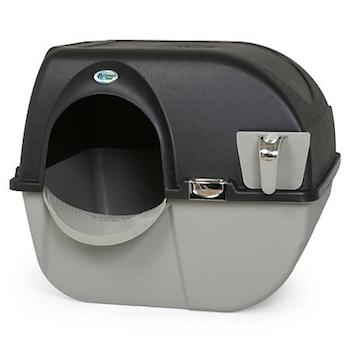 Omega Paw's Self-Cleaning Roll n Clean Litter Box is a Semi-Automatic non-electric Cat Box. As it is Non-electric, so you need to manually roll it. After one complete rotation, the solid waste will be separated from the litter and will be collected in the waste collector pullout.
You need not worry about power consumption by using it, as it does not require any electricity or batteries to operate. All you need is to fill the box with Clumping or Silica Litter and then let your Feline start using it.
The litter compartment design is made such that it requires less litter. The overall weight is 6.61 pounds and it measures 23x19x18.5 inches. With these dimensions, it is ideal for big cats as well. A smaller size is also available which is of 4 pounds and measures 17x20x18 inches.
It is made up of very tough material which is hard to break, so it won't shatter while rolling, or while it is used by your cat. This improves the life of this product and will easily last long for years.
Furthermore, you need to manually roll it to separate Cat's poop from Litter. If you anytime forget to roll the box after your Feline has used it, and your cat reenters into it again, then your cat might stick its own poop to her. To prevent this, you can either maintain a regular rolling of the Cat Box once that cat has acclaimed it and then throw the scoop from the waste bin tray, or you can also buy a Fully Automated Cat Box and then stop worrying about the manual processes.
Pros:
Budget-Friendly
No Electricity required
Larger Size
Less cat litter requires
Litter Pan works with clamping as well as Silica Litter
Cons:
You need to manually roll the Cat Box for scooping
Require assembling
Catit SmartSift Litter Box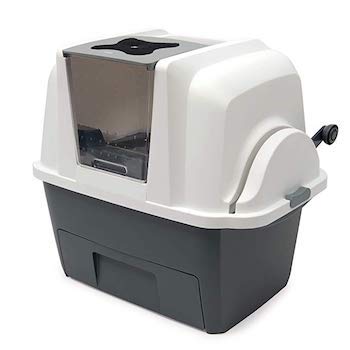 If the manual rolling of the Self-Cleaning litter boxes seems to be hectic or tedious to you, then you need to purchase the Catit SmartSift Litter Box. To separate the waste from litter, simply pull the lever and the feces will be dropped in the waste collector tray on its own.
Its enclosed design provides privacy to your cat and at the same time controls odor. The entry flap also remains closed unless the cat enters or exits it which also prevents odor from diffusing out.
Fewer effort is required in the separation process as compared to the conventional Self Cleaning Litter Boxes. The lever helps in self scooping of the litter, so you never need to touch the scoop.
Pros:
Innovative feature, scooping is carried out by pulling lever
No need of rolling entire Litter Box
Sealed design provides privacy and controls odor
Low litter tracking
Suitable for cats of all size
Cons:
Clumps stick to the pan if not cleaned frequently
Makes noise while operating
Our Pets Kitty Potty Cat Litter Box Kit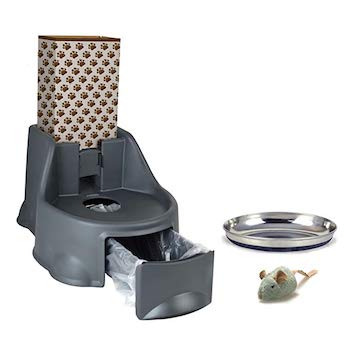 The last product in our Self Cleaning Litter Box is from "Our Pets" Brand. It uses a very unique concept for waste removal. The amount of litter required for every use will be very less.
A litter compartment box is provided on the top of it which releases the required amount of litter with the help of a movable slit window. It also has Odor-Absorbing Carbon Filter which restricts odor from spreading into the room.
As this Cat Litter Box uses an entirely different system, so it also might not be suitable for every pet. Few felines would not get used to it very early. Also, the quality is not up to the mark for the price that you for this product.
Pros:
Improved and innovative waste removal system
Odor-Absorbing Carbon Filter
Includes 4 Universal No-Touch Waste Bags
Cons:
Few users report that their cats do not prefer to use this Litter Box
Buyer's Guide
Getting confused in selecting the right product for you. Unable to decide what factors to consider while purchasing an Automatic Cat Litter Box. Read this Buyer's Guide to make a perfect selection of Self Cleaning Cat Box for your Feline.
Yes! First and foremost you need to decide your budget. You have to decide how much money you will put in purchasing the Cat Litter Box. One simple rule is, if you are ready to pay a higher amount, then you will get a fully Automated Litter Box.
A non-electric Cat Box of standard quality will cost you around $30. But in the case, you will be required to manually roll the box to separate solid waste from litter. Once it is separated, it can be collected in dumping tray, and then you have to manually throw i.
Similarly, in the case of Fully Automated Litter Box, the solid waste will be separated from the litter on its own. But for full automation, you'll have to pay a higher amount. Most of them range from the price $200 to $500. So, if you have a higher budget, then you can go for a Fully Automated Cat Box.
Once you have decided the budget, now you need to match the size of your Cat and Self Cleaning Litter Box. Generally, for any budget, many variants of sizes would be available. It should be large enough so that your Cat can easily get into it.
If you have more than one Pet Cat at your home, then you have to make the selection of Cat Box accordingly. Generally, a Litter Box of larger size would be okay for multiple Cats, as its capacity would be high. So before purchasing it, be sure by check the number of cats it can be used conveniently with.
There are various ways in which a Self Cleaning Litter Box may work. It can be either Power Operated and Manually Operated. Manually operated Cat Box will be semi-automatic in nature, and you will be required to manually rotate it to separate waste from Litter.
The Power Operated Self Cleaning Cat box will have two features; Chargeable Batter based & Power Adaptor based. If you are living in an area that gets frequent power cuts, then you should go for Chargeable Battery Based Self Cleaning Litter Box. And, if you get an uninterrupted power supply then you can purchase a Power Adaptor based Litter Box.
The Power Operated Automatic Litter Box will further have two criteria to choose from. In one of the Cat Box, the Solid Waste will be separated and dumped in a Waste Collector tray. In another type of Self Cleaning Cat Box, the solid waste will be liquidized and flushed into the drain.
Want to check out which is the best disposable travel litter box, here you go.
Self Cleaning Litter Box v/s Automatic Litter Box, are they different?
The category of Automatic Litter Box is very general, however, it represents a different group of Litter Box. Automatic Litter Box does not require any manual effort for the process of separation of Solid waste (Scooping) from Litter. They require batteries or electricity (AC power adapter) to operate.
On the other side, Self Cleaning Litter Box is a very specific class, the difference between these two is, you don't require to clean it, as it will do this job on its own.
Want to know what is the best cat litter for multiple cats? Here you go, if you are having multiple cats at home then you should surely check out the article for complete information.
What are the different types of Cat Litter Box?
Based on the method of cleaning used it can be described in two types; Self-Cleaning Cat Litter Box and Simple Litter Pan Cat Box.
In Litter Pan Cat Boxes, there are only two apparatuses, one is the Litter Pan, and the other is Litter Scoop which is used to separate the solid waste from Litter with the help of your Hands. All the processes required in the scooping and cleaning are to be done manually in this type of Cat Litter Box.
Self-Cleaning Cat Litter Box
The Self-Cleaning Litter Box is the best alternative to the conventional litter pan.
Self-cleaning Litter Box does not require manually scooping the waste from litter by your hands. The process of scooping is made by the apparatus used in the Self-Cleaning Cat Boxes. Although you don't need to scoop the solid waste using your hands, you have to manually roll it for the separation process of the Solid Waste from Litter.
The Automatic Litter Box is made in such a way that you will not be required to pick up the litter with your Hands. It separates the litter from waste without the need to manually roll the Litter Box. The operation of the separation of Solid Waste from Litter is carried out using an electrically powered motor.
The higher and advanced versions of Automatic Litter Box have self-cleaning and self-flushing features. It will dispose of the solid waste in the Waste Collector Drawer on its own. The self-flushing feature liquidizes the Solid Waste and flushes into the Laundry Drain.
Precautions
There are a few precautions which you should take before you start using a Cat Litter, or if you are already using a Cat Litter still you should remember these points so that there's no mishap with your Feline.
If you are planning to buy a Power Operated Cat Litter Box, then make sure that you disconnect it from the power supply before de-assembling it for servicing, maintenance or cleaning.
FAQs
What do the terms Self-Washing, Self-Flushing mean?
Fully Automated Cat Litter Boxes that have the ability to liquidize the Solid Waste and flush them to the drain using Pipe is referred to as the self-flushing feature.
In the same manner, when the cleaning process of solid waste from litter is complete a solution mixed with water washes up the Granules and Litter Pan and decontaminates it, this is Self-Washing Feature.
Where should I place the automatic litter box?
The best place to keep the Litter Box is where you used to keep it before, as your Feline will be already used to that Place.
If you are purchasing a Litter Box for the first time, and it has Self-washing and Self-flushing features, then you should place it near the toilet or laundry, as it needs to be connected to the cold water outlet and drainage pipe. Cat Boxes other than this can be placed at any place which is easily accessible to Cats should not be in your routine area.
How will my Cat acclimatize to Litter Box?
Your cat will get used to Litter Box either instinctively or by training. Once your cat is used to it, then you will be never required to scoop the litter with hands.
If your Cat is already used to Litter Box and you bought a new one, then keeping it at the same place where you used to place another one will do the work. If your cat is not getting used to the New one, then use the old Litter which you used in the previous one, this will acclimatize your Cat to new Litter Box.
But, if your cat is new to Litter Box then it might take some time for your feline to get used to it. If your cat still does not use it, then try mixing the litter with sand or soft soil, this will definitely do the work.
Should I buy Litter Box with Privacy Hood?
Whether you should buy a Litter Box with Privacy Hood or not depends upon your Cat, and the place where you keep it. If your cat is comfortable in using an open Litter Box then you need not use a Privacy Hood. However, if your cat hesitates in using the open Litter Box then either buy an external Privacy Hood or buy a new Litter Box which already has a Privacy Hood in it.
In the same manner, if you are keeping the Litter Box in the Bathroom then it is not necessary to use external Privacy Hood with it, as the bathroom will already give your Feline enough privacy. However, if you want to keep it at a place that is open then it is the right choice to buy an external privacy hood or Litter Box which already has a Privacy Hood.
Which Litter should I use for the Litter Box?
Your selection of Litter depends upon the type of Litter Box. Generally, the Litter which can be used with the Litter Box is mentioned on it. However, Clumping Litter can be used in most of the self-cleaning or automatic Litter Boxes.
Litter Boxes which are Self-Washing use Litter-like washable granules that are not required to be changed as they can be re-used. After the cleaning process is completed the washable granules are washed with a solution that decontaminates it, then after hot-air blower dries it which makes it fresh as before to be used.
The Final Note
A Cat Litter box is a very necessary appliance for you if you have a pet cat at your home. Also, if you don't want to put daily efforts in throwing the scoop with your hands, then you must buy an automatic litter box or self-cleaning litter box for your feline.
Another strong reason for buying a Fully-automated Cat Litter box is that although it would cost you higher than conventional Litter Boxes, the benefits like washable granules, Self-flushing, Self-washing, and full automation will be worth the money you pay.
I hope that you got complete information on the Self-Cleaning Litter Box and found the product of your choice.