Hide litter box if it is troubling your nose buds or your expensive decor! Don't judge; we all love our cats, but when it comes to the litter box, it is really an eyesore. Especially when it is messy, ruins the look of your living room, and takes space.
If you find it difficult to find ways to hide the litter box, no worries, we have come up with 25 ideas just for you. Now you can save your home space!
We have included ideas on the hidden cat litter project, recommended the best enclosure cat tray, and upcycle ideas on how to hide litter boxes.
So, do give it a shot!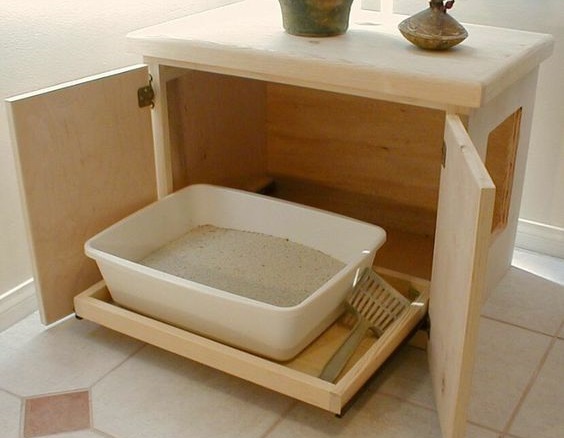 25 Ways to Hide Cat Litter Box
Check out the list on how to hide litter boxes. Trust me; you will be flabbergasted by knowing these 25 tricks. So, make sure to read till the end.
1. Use Plastic Crate for Hiding Litter Box
Try to do your own DIY hidden litter box. You can use a piece of furniture or even a plastic storage bin.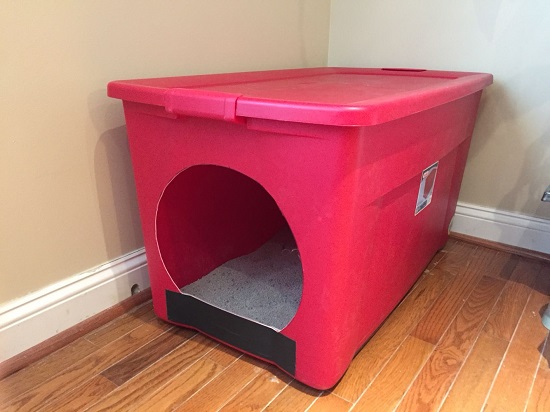 While I have used a plastic bin to hide the litter box.
Simply take a large plastic crate in which you can add your litter box. Then make an entrance spot at one side of the plastic box.
Use a cat door to attach it to the bin. Take the template to mark the holes, then drill the holes and fix the door.
Put the tray inside it and fill the fresh litter into it. Make some extra holes for ventilation purposes. And then cover the lid. And, it's ready for use. Isn't it a nice way of hiding cat litter boxes?
Want to know how to stop litter box smell?
2. Mid-Century Cabinet Hiding Litter Box
Do some craft work with your mid-century cabinet box. Do a DIY project to hide your cat litter box with it.
Wondering how? No worries, I will tell you how to do it.
Basically, you have to choose one side of the cabinet to cut out the entry point for your cat. Once you make the entry point, you can file the edges with a filer or sandpaper.
If you want to keep the door as it is. But, if it doesn't suit your drawing room, then you can add a cat door. It is easy and can be simply fixed.
I used PetSafe Cat Interior Doors; it is easy to install. Your cat can go inside the door despite the door is close.
3. Use Cabinet to Hide Away Litter Box
Cabinets are the best place to hide litter boxes. You can make cat litter box furniture from that. Basically, you can use the drawer area to hide cat litter boxes easily.
For cabinet-related ideas, check the HGTV tutorial.
4. IKEA Hol Table
Use clever IKEA hackers' ideas to hide away cat boxes.
I had bought IKEA ASIA HOL it is nice and suits well with my home decor. You can use this storage table to hide the litter box efficiently.
It is big enough to hold even the bigger litter tray, so you don't have to worry about it. Plus, you can use the rest space to keep scooper, broom, and cat litter.
5. DIY Litter Box Cover
You can hide away litter boxes by customizing your own litter box cover.
A stylish aesthetic cover will shield the litter tray plus also add value to your home decor. If you are a DIY person, then check the Sam Wilkinson video tutorial to make your own litter cover box.
6. Use Space Under Your Sink Area
Another hiding litter box option is the place under your dishwasher sink.
We have plenty of space under the sink area. Why not utilize that space to hide the litter box? It's okay if you haven't thought about it. Now, you can keep the litter tray under the sink to hide it.
The sink base area is ideal; it will save your house space, plus keep your house clean too!
7. Use Curtains to Hide Away Litter Box
The console table has a lot of space underneath, which we don't use most of the time. We can customize it to hide away the litter box.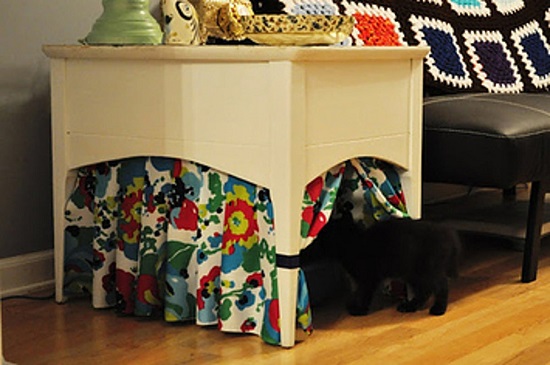 It will be an excellent hiding litter solution for you.
Basically, it is similar to using a table for a hiding litter box but a better-updated version. We will add curtains from the inner side to give your cat privacy while using her bathroom.
You have to add a door for her try add curtain panels to cling the curtains. And, your litter tray is ready to hide.
8. Table to Hide Away Litter Box
Why not use a table to hide the litter box? If you have a side table that has a large empty space, why not utilize it?
The lower portion space is most of the time useless; if we place our cat litter box underneath the table, it can save your home space.
9. Use Fluffy Box for Hiding Litter Box Inside
I had a cute little fluffy box that was large enough to insert a litter box in it. So, I used my decor tale box to hide the litter box.
If you have any decor box which is not in use, then you can try to use that to hide the litter box.
Use creative ways to hide litter boxes just the way I did!
You can try out the best cat self cleaning litter box, they have the most modern design. So you won't have to hide them anymore!
10. Storage Bench Hiding Litter Box Hack
Convert a bench into fantastic decorative litter box enclosures.
The aim of this DIY litter box is twofold. First, you can use this in your home as decor furniture to sit or keep things, and in other, you can hide a litter box into it, and no one will know about it.
This will require patience and hard work but is 100% worth it. You can assemble wooden pieces to make a bench then side that put litter box.
Check the tutorial of Carly Tackles DIY, Tools & Gadgets, Tips & Tricks to know the entire process of making of storage bench and how to use it to hide litter box with ease.
11. Plywood Litter Box
This weekend you can try making a plywood litter box. It is simple and not time-consuming, plus you can place a vase put some flowers to decorate, and your cat can also use it for her bathroom business.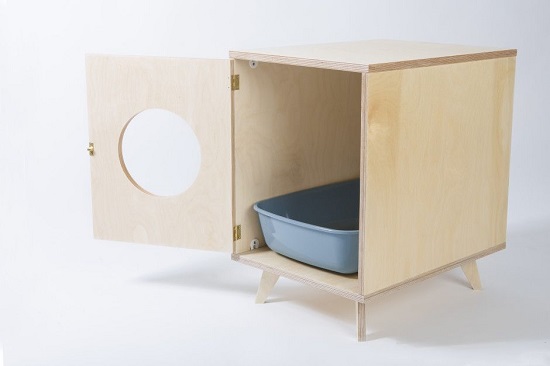 You won't require a lot of stuff to make this litter tray box.
Check Hunker tutorial to make ply cat litter box easily at home. Just follow each step at a time.
12. Wicker Box to Hide Away Cat Litter Box
We all have a wicker basket at our home for storing files, clothes, goodies, etc.
But, this time, don't use it to store your files, shirts, and pants; instead, use it cleverly to hide the litter box.
Simply attach the cat door to and put the tray inside it; that's it. It is that simple. You don't have to struggle a lot. If you don't have a wicker box, no worries, you can also use the large box to keep the tray inside and camouflage it.
13. DIY Bedroom Dresser to Hide Litter Box
Upcycle your bedroom dresser to make a concealed cat litter box. In this way, you can reduce the amount of landfill waste, plus you can also hide away litter boxes easily.
Such an intelligent move, right? You can check Today's Homeowner with Danny Lipford video tutorial to get a customized idea of how to hide a litter box inside it.
It is a bit tricky requires manual work, so make sure to get your helping hands ready.
14. Use Pallet to Cover Litter Box
Use pallet wood sheets to make a litter box cover. Pallets are strong, can make a covering body for hiding litter boxes.
Simply get 4 pallets and stick them together to make a rectangle. We don't have to close the box from all the sides, that's why using 4 pallets. We will keep one side open. It will be the entry door for your cat for using bathroom breaks.
Once the box is ready, you can place litter inside it. Make sure to get the right measurement of the box. Measure your litter tray and then make the pallet cover.
Check out how to make a dog proof litter box, to keep your dog away from the cat litter box.
15. DIY Wine Crate Cat Litter Box
Upcycle wine crates for making discreet litter boxes.
If you have wine crate trays left at your home. You can do a DIY hidden litter box; it can be made in a few steps. Take two identical wine crates and stick them together.
Make sure the opening of the tray is big enough so that your cat can move easily in it. Want it to make it leaf proof? Stick a plastic sheet inside. You can also do paint it to give a stylish look.
16. Place it in Quite Room
Not compulsorily, you have to build a hidden litter box for hiding away.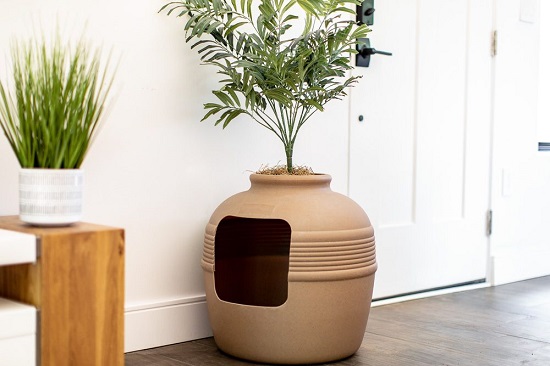 Sometimes things can be solved in a simple way. Instead of constructing, why not just keep her tray in a less congested space like your bathroom? You can also use your guest room to keep that!
17. Hide Litter Box Under the Staircase
Utilize the staircase space area to cover your cat's litter box.
You can have simply in-built cat litter inside the staircase wall to save your house space. Your kitty can use it easily to do her private business.
If you are having large cat litter box then you should check out the cheap cat litters for multiple cats. This litter boxes can be hidden under the staircase easily.
18. Hide Litter Box Under the Bed
If you have less space in your apartment and want to hide away a litter box, simply drag it under your bed.
But, make sure to maintain hygiene and scoop it daily. Otherwise, your bedroom can stink badly due to her pee and poop.
19. Buy Home Litter Loo
If you can hike your budget, you can invest in hidden box furniture. It is available in black and white shades.
With 18.50″ wide x 16.00″ deep dimensions, it prevents litter spill and locks odor. Comes with an easy installation facility and manual.
20. Invest in Unipaws Cat Washroom Bench
Another option for hiding a litter box is to invest in Unipaws Designer Cat Washroom Storage. It has great utility, available in 3 color options black, grey, and white.
Made of sturdy material, easily accommodate large to small litter pan inside it. Even after placing the tray, you still have space to keep kitties' supplies. It has an optional divider and can be assembled in 1 hour.
21. Hide Litter Box Behind the Laundry Room Door
If you have a spacious laundry room, you can install a litter box there too.
Simply install a cat door for your cat's easy movement and let her do her bathroom business there, just like you installed a door in the earlier section.
22. Hide Litter Box In the Catio
Get a catio to hide your cat, and for tracking problems, you can keep a rubber mat under the litter box. So, the litter won't spill all over, and her feet are clean.
23. Use Book Shelf to Hide Away Litter Box
Just like you converted storage bench for hiding litter box similar you can do DIY and utilize the drawers of the book self to make cat washroom space.
24. Purchase Igloo Cat Litter Box Enclosure
Igloo cat litter box is smartly designed that is in, of course, igloo shape. It contains a half-open structure that has full ventilation.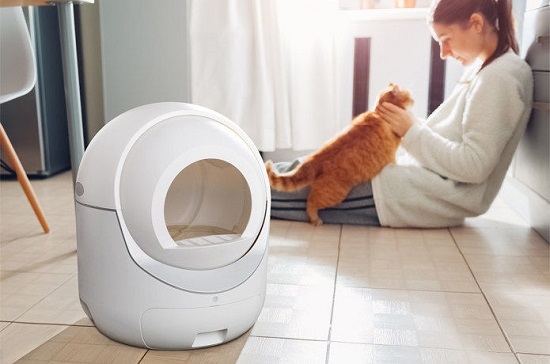 It curbs litter spills and keeps your room clean and neat. It has a wide entry and bears up to 17 lbs cat inside it.
It is immensely beautiful, sturdy, dog-proof, and obstructs tracking difficulties.
25. Modify Cardboard Box to Cover Litter Box
It's all okay if you can't afford an expensive litter cover; we have all solutions ready for you!
An easy and cheap answer for hiding a cat litter box is to make your own litter cover box made of cardboard.
You can make this in minimum stuff and in 30mins—no need for hard work. Just follows the steps given in the video tutorial of Craftsman IH; they have displayed each step with ease.
Well, That's a Warp!
A litter box can be a pain in the neck, especially for people living in small spaces. We understand your problem, and we even know hiding cat litter boxes are challenging. Therefore, we have come up with 25 amazing and unique ways to hide litter boxes easily.
We have included DIY projects, recommended some ready-to-use products, tips and tricks, and a lot more.
If you like to know more about how to hide litter boxes, then do read above.
References
6 ingenious ways to hide a litter box in your home – Paw Tracks
Ikea Hack: Camouflage Cat Litter Box and Hide Food and Water Dishes – The Starry Eye Home
Covered or Uncovered Litter Boxes: Do Cats Really Care? – Pet Health Network