Cats are agile animals; they like to leap, climb and slink their way around in the house. Moreover, their flexible musculoskeletal system provides them with exceptional coordination and balance, which allows them to jump up high.
However, young kittens can find it difficult to reach higher spots, while senior cats may not have the physical capability to get to high places they used to.
And the last thing you want is your pet to get hurt. Instead, you can gt pet-friendly stairs for cats, giving your pet the confidence to reach the high places.
A Quick Comparison of Our Favorites in 2023
Best Overall

Cozyup Folding Stairs for Cats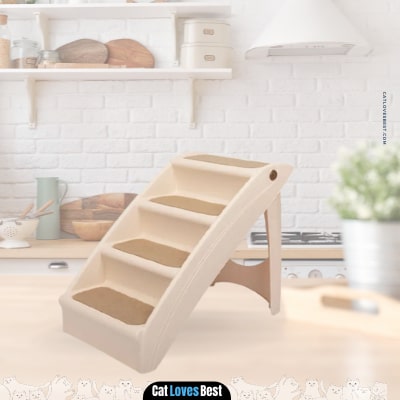 Help to climb up on sofa or bed all by themselves
Easy to clean and maintain
Durable and can hold weight up to 150lbs
---
Editor's Pick

Best Pet Supplies USA Made Pet Steps/Stairs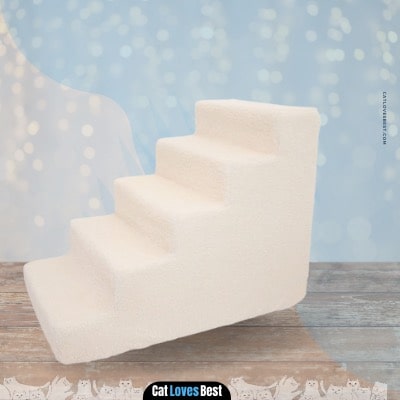 Available in 4 stylish patterns and 8 different colors
Premium-grade materials are used
Removable and machine washable
---
Affordable Pick

Zinus Comfort Cat Stairs and Steps for Bed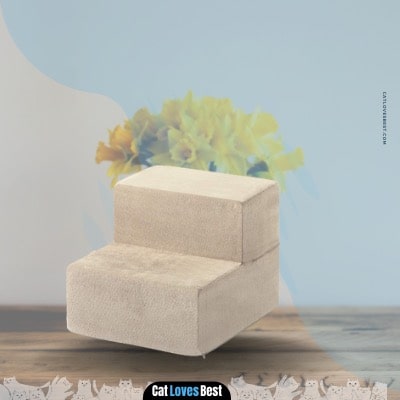 Ideal for smaller pets

Removable and washable covers

Easy to assemble
The 11 Best Stairs/Steps for Cats – Reviews
Stairs for cats like these are specially for your feline friends, so they don't strain or injure themselves by playing or jumping around. There are vast choices for the cat stairs or stair and ramp combination available, but which one to choose?
After inspecting and surveying, we have finally narrowed down the list with the 11 best stair steps for cats. So you choose the stairs for the cat according to the material, price, size, and usage.
1. Cozyup Folding Stairs for Cats
Are you looking for stairs for cats that can be useful outdoors and indoors, so can this be the perfect product for you?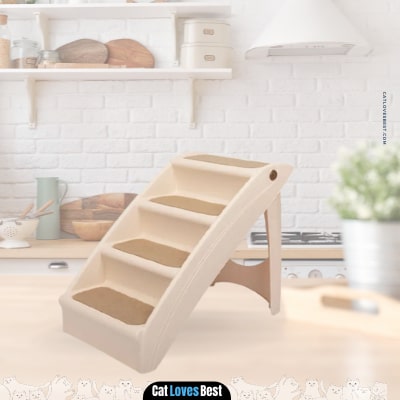 Cozyup Stair for Cats is outdoor cat stairs but can also be used for indoor activity. The fancy design and natural color combination suit the environment the best and freely complement the modern design with side rails.
It has a folding design that is easy to carry outdoors, and the steps are steady, durable, and can hold weight up to 150lbs. These stairs for cats are made specially from hard plastics, the best quality rubber feet are placed on the top step for cats. They are waterproof but can be easy to clean with only a wet cloth and water.
The product is about the size of a baby walker or a bean bag, and the width is about the size of a toaster. It's easy for the younger sets of cats to climb stairs and jump around these stairs for cats. It's more suitable as an outdoor cat stair due to its material.
Pros:
The stairs for cats are stable due to the rubber feet used in the platform, so your cat can climb stairs easily, and it has side rails for safety.
The materials in these stairs for a cat are hard plastic and rubber. You can enjoy them indoors and outdoors.
These Cozyup folding stairs for cats are foldable so, you can keep them anywhere when they are not in use or while traveling.
They come already assembled, so you can enjoy them without any trouble. The material of high quality also makes it easy to clean and maintain.
Cons:
If kept in the sun for too long, it may damage the stairs.
2. Best Pet Supplies USA Made Pet Steps/Stairs
Best Pet Supplies USA Made Pet Steps/Stairs is one of the products for the people who won't mind spending some extra dollars on their sets of cats. I was on a high budget after spending a good amount on my cat due to his arthritis medication, and still, it was hard for him to move and climb up.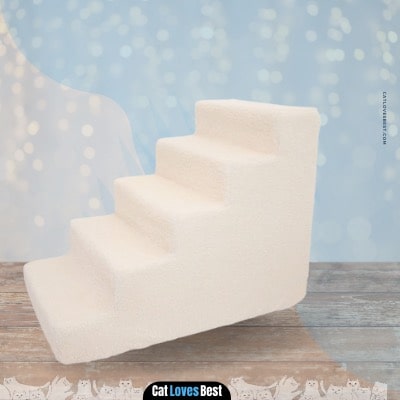 After pondering, I concluded and bought these stairs for my cat, so after seeing the effect of this stair on the cat, my instant thought was that I should have brought them earlier. They are so soft and comfortable that my cat hardly gives any pressure or force on the paws or joints to climb stairs or jump.
These pet stairs for a cat are made from high-quality and especially a mattress-quality cushioning, supporting the paws and joints of the pets and giving them a comfortable climbing up the stairs, bed, etc.
These cat stairs and steps help release the stress of senior cats, although the product is the same size as the fence or the panels of the garden. The width is almost the size of a 1-liter water bottle. It can hold up weight up to 75-120 pounds.
Pros:
These steps for cats come in different colors, designs, and step specifications. So you can choose the cat step stairs according to the size and necessity of the cat.
The Certipur-US certified foam is used, in manufacturing these stairs for a cat to have a secure and stress-free climbing experience.
The form is removable and easy to wash, and the material is machine washable and dries fast.
This product of cat stairs and steps comes with levels as you can choose as per your requirements.
These cat steps are already assembled so, the product can be utilized directly.
Cons:
Cat stairs with certipur-US certified foam may cost you the top dollar, but believe me, that is a better option to spend some extra bucks than to see your cats suffer.
3. Zinus Comfort Cat Stairs and Steps for Bed
Just like us, cats also like to stretch themselves out on sofas, couches, and beds to enjoy the warm and cozy feeling. Although, we love to carry them around with us. As per their nature, they don't like staying still so, as a result, they will jump back on the floor and that can be harmful to them.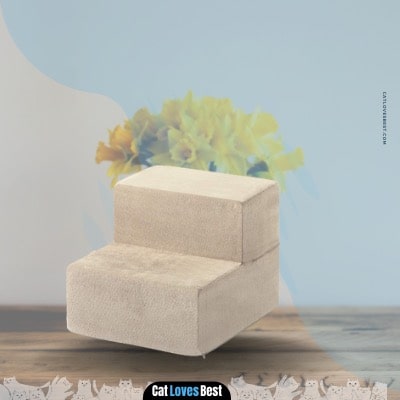 As having multiple options, it would be a good time to buy comfortable and safe steps for cats. This Zinus Comfortable Cat Steps for bed might be a good option if you want to teach your cat how to climb stairs or have a senior cat that likes to stay at low heights.
The height of the stairs is up to a golf stick and the width is almost the same as a laptop. It is made from high-density foam pet steps, it can handle the weight well and is soft for the paws. In this product, assembly is required, as it comes with instructions.
Pros:
This product comes in multiple pet steps options, so you can choose according to the height you require for your cat.
The material used in this product is removable so, you can wash it easily as it is machine washable.
Zinus cat steps for bed are light in weight. You can easily move and carry them around.
The size is perfect for cats, as the width is comfortable for them to nap around as it has quality cat beds or climbs stairs up and down numerous times.
The price is surprising less in comparison to other cat amenities.
Cons:
As the number of pet steps decreases, the width also decreases.
4. Pet Gear Easy Step for Cat
If you are looking for an outdoor cat stair, so let me introduce you to Pet Gear Easy Step for Cats. It is made of solid plastic, the fabric used on the steps is pure carpet, which is easy to maintain, clean, and use.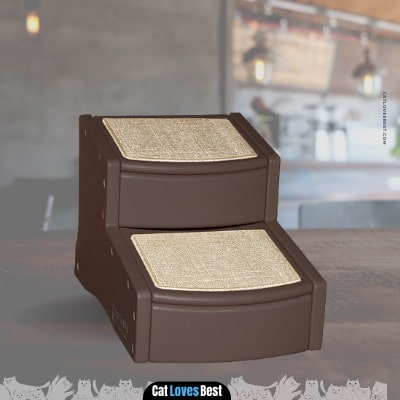 The size of these cat steps is the same as the size of a bucket of water. The width is the same as 500 ml of water. It can hold the weight up to 150 pounds (ca. 68 kg). It's perfect for a cat to reach the sofa or couch and if it is used outdoors it will help your cat to reach till picnic table.
It comes in various sizes and colors, so you can choose according to your convenience. It can also be joined to a higher cat tree or another tall cat set of stairs.
Pros:
The size of the stairs for your cat is the perfect size to help them reach the couch, bed, or sofas.
The product pet gear easy step comes in various sizes according to the number of steps in the cat stairs.
The material is high-quality plastic, and it has removable carpet thread, so it is easy to clean and maintain.
According to the qualities, the price of this pet gear easy step is moderate.
The steps for cats are applicable for both indoor and outdoor.
Cons:
Pet gear easy step is not suitable for large cats or cats that like to jump.
5. Best Pet Supplies Cat Stairs for Bed
Best Pet Supplies Cat Stairs for Bed is for people who like to cuddle in the bed or sofas with their cat. Cats like the warm and fluffy places, putting in simple your bed.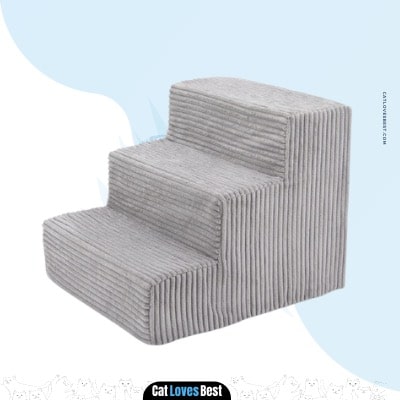 Cats show love and affection by sleeping or cuddling with you while you are asleep, but it can be difficult for feline friends to climb stairs up to bed or sofas. Keeping a cat step stool or a cat stair for bed is applicable in situations like this.
Best pet supplies cat stairs for bed is the prime example of it, the pet steps are broad and made of the comfortable material that your cat can easily nap or play simply on the stairs. The product is super lightweight but very steady, can be one of those cat beds that ensures the safety of cats.
It is made from mattress-grade cushioning that prevents unnecessary weight on the paws and joints of your cats.
Pros:
This product comes with various configurations like different sizes and colors.
The plush fabric is removable, so these cat stairs for the bed are easy to clean.
The base and the fabric are soft, smooth, and steady, so if your pet has any joint or muscular injury or is treated recently it can climb the stairs.
It is foldable, so it can easily blend into your home furnishing style for easy storage.
Cons:
If you don't carefully wash and clean the product, the fabric might lose its quality.
6. Furhaven Steady Kitty Stairs
I just adopted little kittens around the age of 6 weeks, and after 11 days I bought a cat tree, so my kittens can practice jumping and climbing. It was the worst choice ever as like any normal cat they like high places but were afraid of cat trees due to their structure.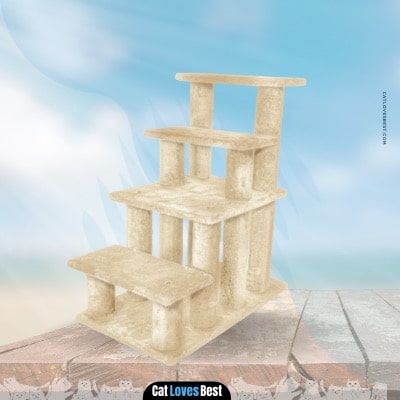 Furhaven Steady Kitty Stairs is a good solution for me, the base step is low enough for my kitten, so it is easy to climb on, plus the other pet steps are a little high, so the kitten can practice climbing. Now after a week they can easily climb up the stars and can enjoy the window view.
Furhaven steady kitty stairs are lightweight, portable, easy to clean and come in a convertible size. It is made from faux fur, so it is easy on paws and can handle the weight. The size is approximately the same as a fire extinguisher and the width is the same as a laptop.
Pros:
Best suitable for small cats and kittens as the distance between the steps is perfect.
The price of this product is fair, to be honest, it's not cheap, but it's not expensive either, depending on your budget.
It is easy to clean and maintain due to easily washable and high-quality materials.
Comes in multiple sizes and colors.
Cons:
This product is steady kitten stairs so, it is not relevant or recommended for big cats.
7. Good Life Narrow Cat Stairs
Apart from some breeds, cats like to climb and jump. Kittens learn to climb and jump from a small age and if the stairs have a huge gap between them, if you start directly using wall-mounted cat steps, it might be harmful or risky for them. Good Life Narrow Cat Stairs is one of the best stair steps in the market.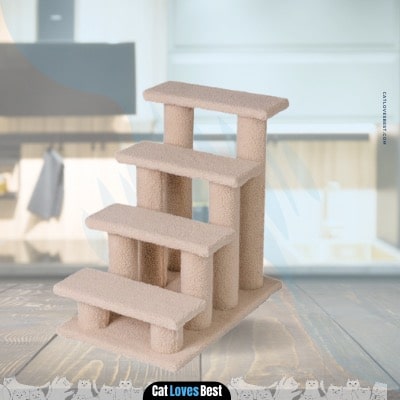 Many of you won't know, but kittens and senior cats have many things in common like low mobility, soft paws, weaker joints, and need care and affection.
Good life narrow stairs for cats will prove to be a logical and effective solution for this. It is also useful for elderly cats, arthritic cats, or cats recovering from an injury. All the pet steps are closer to each other and the base stair is very low.
It has four pet steps, so the cat step stair can reach easily the bed, sofa, or any higher place like a window frame. Made from materials like faux fleece and pressed wood, these stairs for cats are steady and durable.
Pros:
Has low distanced stairs so kittens or elderly cats can climb stairs easily.
These steps for cats are easy to carry and can be placed anywhere due to their narrow shape and high size.
The material in these narrow cat stairs is easy to clean and are comfortable.
Comes in multiple sizes and can bear weight up to 70 pounds.
Assembly is required, but the instruction is specific, so it is easy to assemble.
Cons:
It is not suitable for jumpy or cats with skid feet.
8. Cozy Pet Cat Stairs for High Bed
Do you want to have a luxury stair for a cat? Then Cozy Pet Cat Stair for a High Bed is just for you. The cat tends to climb up the higher places and on their growing stages, they can use a little help with the products like this.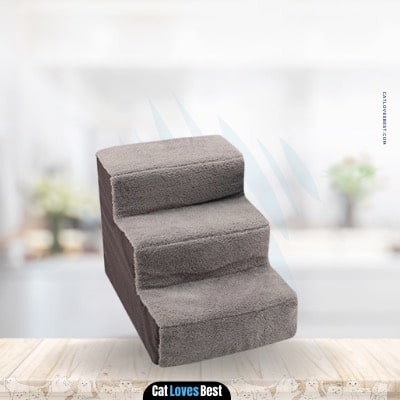 Growing cat between the age of 4-9 years likes to climb stairs and the places with a little distance like stools or big set of stairs. Cozy pet cat stairs for a high bed are the best way to go, for the safety and comfort of your pet.
It is made from Duracore technology, so it's sturdy with a durable built and can handle the weight easily up to 150 pounds (ca. 68 kg). It's double-padded, so that little scary jumps from your cats won't scare you anywhere. The size of these stairs for cats is the same as the high-rise chair, and the width is the size of laptops.
Pros:
The design of these stairs of cats is available in multiple sizes and colors, so you can choose accordingly.
The steps are covered in a washable cover and the material is also lightweight, so it is easy to carry, fold, and maintain.
The base of these steps of cats is made of such material that it doesn't skit or move by cats.
The stairs are wide with space enough to hold 2-3 cats at once and can nap accordingly on the step.
If you are on a low budget, this product will be a fit for you.
Cons:
If not washed properly, the padded material on these stairs for cats may lose its quality.
9. Aeromark International Armarkat Pet Stairs and Steps
Do you have to carry for feline friends every time on the bed or the couch while watching television instead of ice cream or a tub of popcorn? I understand your problem as it is hard to choose between a cat and food, as it cannot climb up to your bed although the cats can.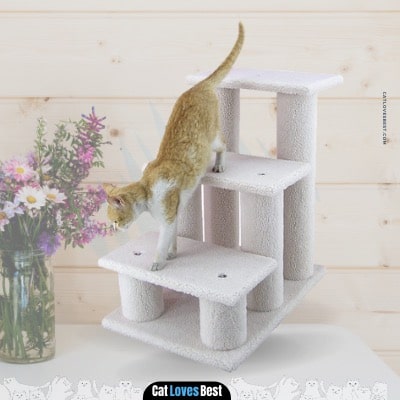 Aeromark International Cat Step Stool is to your rescue, with the help of these small and compatible stairs for the cat. You can place this cat step stool anywhere near the couch or bed that will help your cats to climb on their own. It's the best for lazy you and your lazy cat.
It comes with four-level steps, it's easy for cats to climb stairs and jump from the top step. It is made from materials like faux flee and pressed wood, so you know it's steady and durable, so your cat can scratch and perch at the same movement. As per appearance, the color, and design complement each other, so it will be a great addition to your home decor.
Pros:
This is a dual-purpose unit, as your cat can climb and perch at the same time.
The steps on these set of stairs for cats are wide so, your cats can nap, perch and jump care-free.
The main material is natural-colored fleece, so it can enhance your decor or can match the surroundings.
Assembly is required for these stairs for cats, easily using the guidelines and instructions.
The height is one of the key features of this cat step stool, it reaches the high bed and couches easily.
Cons:
The base of the product assembles through bolts, which ensures safety. The bolts might leave scratch marks on the surface of the floor is made of wood.
10. Petmaker Pet Ramp Combination for Older Cats
I had wasted a lot of money on a cat tree for my elderly cat, I suspected this behavior more In elderly cats, they start being more calm and initiative. My cat still likes to take a view from the window but is a little inactive in this stage of her life.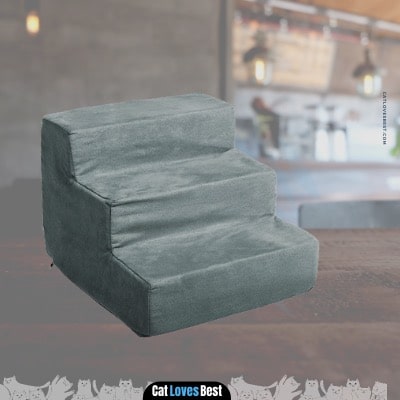 I miss seeing her all jumpy and her little habit of climbing on the sofa and bed, snuggling with me and other cats.
Once I carry my cat on bed and sofas with me, she reduces to move or climb down. As a solution, I got this Petmaker Pet Ramp Combination for Older Cats, it is perfect for its size and weight the size is approximately as same as a 7litters soda bottle and the width is as same as an oven.
It severs as a multipurpose stair for cats, though on this they can climb as well as rest as well as perch on it. It is lightweight and portable, and it doesn't need to be assembled.
Pros:
It is available in multiple colors or designs, so you have a vast choice of selection.
The material provides a good balance between sets of stairs, so your cat can climb up or climb down without a slip of feet.
These stairs for cats is easy to move around as it is steady and lightweight.
The price of this product is rational, so if you are under budget, this product is for you.
This cat step or stair and ramp combination for senior cats is ready-made so, no assembly is required so, you don't have to assemble them.
Cons:
It is not recommended for kittens or multiple cats as the jump distance is low.
11. Majestic Portable Cat Step for Bed
People always think of cats suffering from arthritis or joint and muscular pain who aren't able to climb or jump. If you are one of those people who have a cat that has gone through surgery or is suffering from arthritis, then this product is a thing you must have.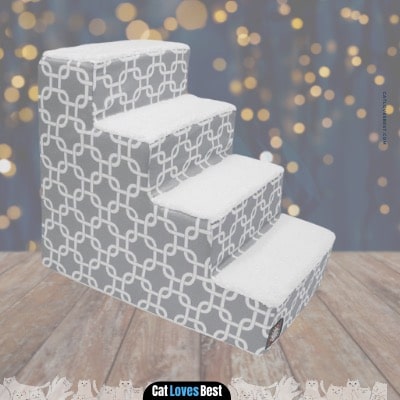 This product comes in 3-steps and 4-steps sizes, so you can choose accordingly. This Majestic Portable Cat Step for bed is made of a material like polyester which is spill-free, easy to clean. This cat step for bed comes with sturdy foam pet stairs, so your cat can comfortably climb up, in addition, the top step is wide enough for your cat to climb and rest when they want to rest.
If you're worried about the size, it's the same size as a hockey stick, that's the most average size of any cat step stool or cat stair and ramp. The width is the same as the laptop or of a common food tray.
Pros:
The steps are ideally designed for cats who are recovering from injuries or are suffering from illness.
In these stairs for cats, a sturdy foam is inserted, so your cat can use the stair comfortably.
The product is already assembled, so assembly is required, so you just have to open and use it.
It's made from polyester so, it is easy to use, clean, and maintain.
This Majestic portable cat step for bed comes in a different color, pattern, and size, providing you with various choices.
Cons:
If not taken proper care of, the material of stairs for your cat may be worn out early.
How to Choose the Best Cat Stairs Steps
Upon surfing the internet and viewing tons of products, I know the most common question will be ringing your mind be which one to choose, or which is the best?
Well, my advice to you is, not to select according to you but according to the necessity of your cat. The comfort level of your cat depends upon the 3 main standards.
Size
While purchasing the stairs for cats, the size matters the most. Buying the stair with small steps for cats that are jumpy and younger otherwise, the money will be wasted because it won't be fully utilized.
Likewise, buying a high-leveled set of stairs for cats for senior cats or cats with any illness may not be applicable as they don't like a higher place for them a stair and ramp combination is available. Refer to the list and you can choose according.
Material
Material plays a vital role in the usage of stairs for cats. Cats are fascinated by flexible, soft and, warm material and scratching posts as they like the activity like perching, scratching, and sleeping around.
On a high note, we as cat parents want safety above anything for them.
Some materials are hard, and so they can cause harm to the paws and can create stress on the joints of cats. If the cats find the material uncomfortable or hard, they will not prefer using it and your money will be wasted. As for the above-mentioned best stairs for your cat, you can check the material and note the best material for cat stairs and steps.
Safety Features
It's one of the most key features of any product. As responsible cat parents, we don't want our feline babies to get hurt or to keep them in harm's way.
To ensure their safety, keep in mind to select the wood material of the product accordingly. No matter how comfortable your material will be or how fancy the stairs for the cat will be if it's unreliable skid feet, or slip of feet it can harm your cat and thus will be of no use.
The height of the cat stairs and steps should be equal and properly sized, otherwise, your little cat adventure can turn into cat accidents. Cats love heights, we all know, but the same factor can turn into unfortunate events.
FAQs About Cat Stair/Steps
Which are the best stairs for cats?
For winning the title of best cat stair, the categories matter the most. If you are looking for fancy stairs for cats for younger ones who are most jumpy and like to climb stairs and the type of stairs that can be used indoors as well as outdoors.
I would recommend Cozyup folding pet stairs for cats as it's my top pick, but if your requirement is the opposite. I would recommend my second top pick as the most comfortable one, Zinus comfort cat steps for bed. That's my number three is the best suitable for an elderly set of cats or cats with certain diseases.
How much do stairs for cats cost?
On average, the cost of stairs for cats is mostly between $15-$125. It completely varies on size, shape, company, and material used in it.
I have made my list considering both the factors, most people think less price=less high quality and more price=more high quality.
Without looking at the price, you should pay more attention to buying a product that has the quality and your cat's comfort both, for example, looks at the above list.
How do I make my cat habitual to the stairs for cats?
Some younger kittens don't know how to use stairs for cats, and some senior cats lose interest in using the stairs. Well, here are a few tips you can keep in mind.
You can place the treats or cat toys on the top step, climb up the stairs yourself, or do acting with your hands to make the cat understand the concept of stairs. Call the name of the cat and encourage her to climb, help her climb, or place the cat in the middle step and watch the cat's action closely, use the toy to train her.
Conclusion
Sturdiness, comfort, and safety are the main pillars of choosing the best cat stairs and steps for a cat, and we have created a list around these pillars.
Likewise, once your cat starts showing interest in the cat stair steps, try encouraging that behavior. You can try putting treats on the stairs for cats to encourage your pet to climb a little higher till they get to the top.
And once your cat comes down, praise her with more treats as an earned reward.
References:
Understanding why cats like high places — Pet Assure
First aid tips for pet owners— AVMA
Keep Your Indoor Cat Healthy — Pet WebMD