Check out the curated list of Best Cat Doors of 2022 tested by experts and reviewed here!
Considering how adventurous the cats are, you should not restrict them to one room. To give her access to other parts of the house, the best option for you is to use a cat door.
If you have a feline at your home then you know how tedious it is to open the doors when your cat wants to use the litter box, or when she wants to move out. The ultimate solution to this is a Cat Door, as after installing it you will no longer need to manually open the door for your cat.
What's the Best Cat Door in 2022?
A Quick Comparison of Our Favorites in 2022
11 Best Cat Doors for Interior and Exterior
Choosing the best Cat Door can be sometimes tricky, but to make it easy for you here we have curated the list of best products tested by experts. Check out the list and choose the perfect Cat Door for your feline.
PetSafe Wall Entry Cat Door with Telescoping Tunnel – Best Overall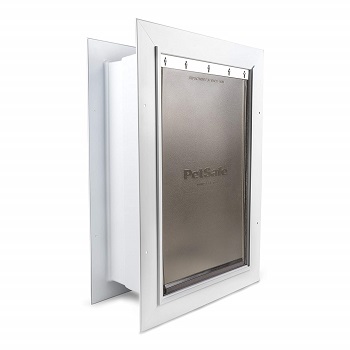 A wall entry pet door with different size options and ensured safety was the primary reason we selected it as a featured product. The PetSafe Pet Door is a wall entry cat door which eliminates the hassle of opening doors. It is an exterior door that can be mounted on the wall for entry and exit of the cat. It can be used for cats and dogs as it has a bigger size, so you don't have to put any additional door if you also have a pet dog.
PetSafe Cat Door is available in three sizes Small(S), Medium(M), and Large(L). If you want to install the door only for a cat, the Small size of this Pet door will be of sufficient size for your cat. However, if you have a cat as well as Dog, then you should consider the size of your dog before choosing the from S, M or L.
As this Cat Door for a wall has tunneling telescope, so it can be easily installed on varied thicknesses of walls. You can install it either in the interior or exterior walls, but it is most feasible to be used in the exterior walls. As this tunnel type cat door is telescoping so its depth can be varied. The thickness of the walls in which you want to install the Cat door should be between 4.75 to 7.25 inches.
Key Features & Specifications:
Opening Size:
Small(5.25″ W x 7.5″ H); Medium(8.25″ W x 11.25″ H), Large(10.375″ W x 15.375″ H)
Thickness: Telescopic(4.75 to 7.25 inches)
Dual Flaps; one on the interior side, and one on the exterior side
Slide-in closing panel
Durable PVC Plastic Frame (interior frame Aluminium)
Cat door for exterior door
Pros:
It can be installed on several wall types including siding, stucco, and brick.
Cut-out template and step-by-step instructions included in the manual.
Controlled access and weather resistance with the help of a slide-in closing panel.
Can be used as interior as well as an exterior cat door.
Cons:
Not very good in cold weather.
Cannot be installed in the wall thicker than 7.25 inches.
Ideal Pet Products Cat Flap Door – Best Affordable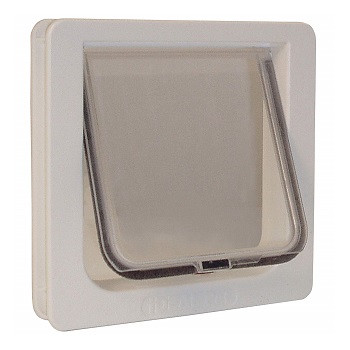 If you are looking for a simplistic cat flap door at an affordable price, then this should be in your list. It features a telescopic design so you install it on various thickness sizes of doors. You can also install it in thin walls, but it is not recommended as it is specially designed to be installed within doors.
The cat flap is made up of unbreakable durable plastic which is also weather-resistant. It can be installed easily in the door with the help of the template and the instructions manual provided with this Cat Flap. Your cat can easily enter through this cat door as its flap opening measures 7.5″ x 7.25″ inches and the overall size is 8.25″W x 8″H. It also has an inner telescoping frame which also makes installation easier.
As this cat flap is specially designed for felines, the size is perfect for any cat, but it can be also used by puppies. It also has a closing panel which allows controlled access to the Cat Door. You can use the closing panel to lock the door whenever required.
Key Features:
Flap Opening: 7.5″ x 7.25″
Weather-resistant cat door
Easy installation with the help of the cut-out template
Made from Plastic material
4-way lock
Pros:
Perfect flap opening size for cats
Hardware, cut-out template, and instructions manual included with this product
Made from unbreakable material
Inner telescoping makes easy installation in any type of door
Can be used as interior as well as exterior cat door
Cons:
The locking mechanism does not work properly, cats can open it after putting enough pressure even though the door is locked
PetSafe Electronic SmartDoor – Best SmartDoor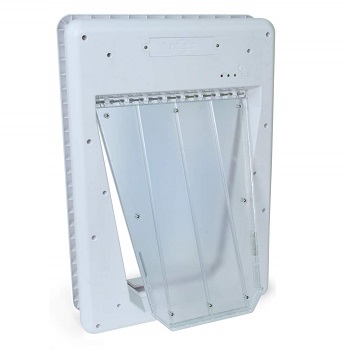 Electronic Cat Doors provide the best way for your cat to access the areas with doors without requiring any person to open the door. This PetSafe is an Electronic SmartDoor which provides controlled access to your cat for her entry and exit.
You can install this Electronic smart door in wall doors with 1.5 to 2 inch thickness. You can also install it in walls with thickness 4 ¾ inches to 7 ¼ with the help of SmartDoor Wall conversion kit (not included with this package). Both, the SmartDoor and access key are electronically operated which require 4 D-Cell batteries which are not included along with the package.
The smart feature of this Electronic Pet door is that it will allow access to this to this pet door only to your pet. It will prevent unwanted animals, pets, and strays from entering through this Electronic Pet Door. For this purpose, you have to attach a smart key to your cat's collar. Your cat will only be able to access this pet door if she has the access key attached to her collars.
This smart door is programmable for up to 5 access keys. So you can even use this Electronic Automatic Cat Door for up to 5 of them. But you have to buy additional access keys for them, as you get only one access key. It can be also set to three modes; Locked, Unlocked, and Automatic. So if you have more than one pet but have only one access key, then you can use the Unlocked mode.
Key Features & Specifications:
Automatic Cat Door
Flap Opening: Small(5.5″x7.8″) Large: 11″16″
Programmable for up to 5 pets
3 Different modes: Locked, Unlocked, and Automatic
Cutting Template and instructions manual
Pros:
Electronic SmartDoor prevents unwanted animals, pets, and strays from coming inside
Easy to install with the help of detailed instructions provided in the manual
Hardware required already included, so you don't need to worry about purchasing screws or any other fastener
Useful for multiple pets as it can be programmed for up to 5 cats
Cons:
Batteries not included with this SmartDoor
You get only one access key along with this product
The access key is a little bit larger for kittens
SureFlap Microchip Pet Door – Best Microchip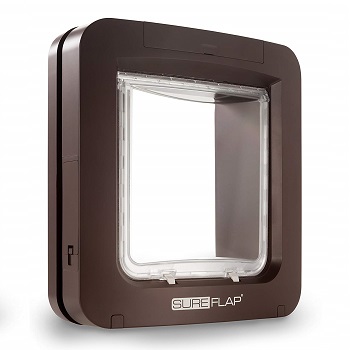 If you want a pet door for your cat which automatically locks/unlocks with the help of a sensor then SureFlap Microchip Pet Door would be perfect for you. This Cat Door only opens for pet's veterinary implanted microchip. You don't need to worry if your cat does not have a microchip implant as you can use an RFID collar tag instead.
This cat door can be installed in doors, windows, and walls. It is also compatible with most of the microchip implants such as 9 (Avid Secure), 10 (FDXA) and 15 (FDXB).
It prevents other intruders from letting in through this door. The 4-way lock mechanism allows you to set different modes to access the door. These access modes include combination of In/Out.
Key Features and Specifications:
Automatic Cat Door
Flap opening is 4 3/4" (H) by 5 5/8" (W)
Battery Operated (Requires 4 AA batteries)
4-way lock mechanism
Pros:
Compatible with microchip implant and RFID collar
Controlled access with 4 different locking mechanism
Low battery indicator
Cons:
PetSafe Cat Flap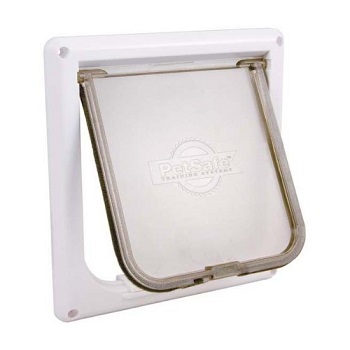 Do you want your cat to roam around freely inside your house to meet her food and daily routine requirements? PetSafe Cat Flap will be a perfect choice for you. It is also one of the best cat doors for interior doors on our list. It can be installed in the doors to give her access to enter and exit, and at the same time keeps the dogs out.
As this Cat Flap is specifically designed for cats and it has a small opening size so only cats can enter through it. The flap opening measures 5.75″ W x 5.75″ H. You can install it in doors measuring 0.5 to 2 inch thickness.
By using the cat flaps, you can give your cat access to litter box without having the litter box exposed in your home. The two-way sliding door provides controlled access to the cat flaps, you can slide to lock the cat to prevent your cat from using it whenever required.
Key Features & Specifications
Indoor Cat Door
Flap Opening Size: 5.75″ W x 5.75″ H
2-way locking mechanism
Plastic Frame with transparent hard flap
Pros:
Simple installation with the help of instruction manual
Cutting template and hardware included
Durable Plastic frame makes this cat flap long-lasting
Cons:
Not suitable for large breed cats
Cannot be installed on doors with thickness more than 2 inches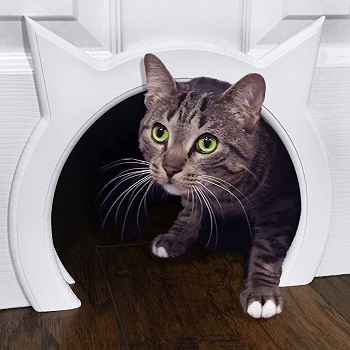 The Kitty Pass Cat Door is a cute and small Pet Door for Cats with attractive design. It has a unique round opening with carved cat ears on the front side. On the rear side cat's tail has been carved. These designs make it very unique in its design. It also comes in white color so that you can easily paint any color on it to match your door.
Besides having an attractive appearance, it also has a wide opening which makes it easy for your cat to safely enter and exit through it. It also does not have any flaps for the entry and exit of the cat, so there is no chance of tails getting snagged or caught up.
The opening of this cat door is 7 1/2″ wide and 6 1/2″ high which is convenient for cats weighing up to 20 lbs. It can be easily fit into standard interior doors with thickness 1.25 to 1.75 inches thickness.
Key Features:
Cat Door Opening Size: 7.5″x 6.5″
Comes in semi-gloss white color
Round Shaped opening
Can be installed in Doors with thickness: 1.25″ to 1.75″
Pros:
No eye offending screw holes
Made from durable material
Perfect size for cats
cat door for interior door
Cons:
Expensive compared to other kitty doors
Does not have locking panel
Ideal Pet Products VIP Vinyl Insulated Pet Patio Door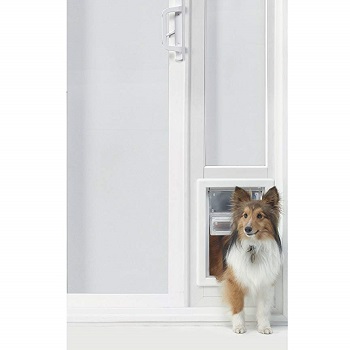 Do you live in a colder region and want to keep your feline friend safe? Then you should definitely consider buying this insulated cat door. It is available in two different sizes so you can select the size appropriate to you. The two different sizes available for this sliding pet door are Extra Large which measures 78 and 94 inches.
The flaps are also large enough for any size of cats and dogs. It is also available in two different flap sizes medium and extra-large. The medium size flap opening measures 6.38″ x 11.25″ and extra-large flap opening measures 10.25″ x 15.75″.
This sliding door cat door is shipped with all hardware(screws and other fasteners) required for the installation. The installation also becomes easier with the help of an adjustable height feature that also ensures ordering correct height.
Key Features:
Sliding Kitty Door
Flap Opening: Medium(6.38″ x 11.25″) Extra Large(10.25″ x 15.75″)
Door size: 18″ and 94″
Made from vinyl material
Exterior door with pet door built in
Pros:
Includes screws and other fasteners required for installing
Adjustable height to ensure correct ordering of height
Modular flaps for easy entry and exit
Cons:
Does not seal tight enough to provide complete weather resistance
Cathole Interior Pet Door with Grooming Brush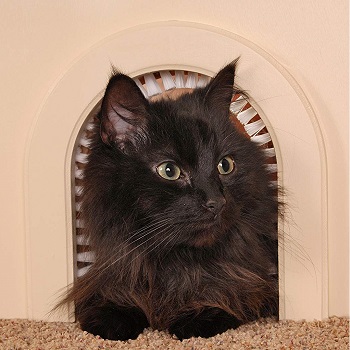 Cathole Pet door is an interior cat door that comes with an added benefit of grooming and cleaning capabilities. It has a cleaning brush around the flap opening which grooms the cat while she is entering and exiting through the door.
If your cat is very playful and makes herself dirty while playing then this Pet Door should be the first choice for you. It also helps to separate the litter box area from visible areas. It also eliminates the need to open the door for entering or exiting any room by adding a door, as your cat can easily enter through this.
You can easily install this feline door in under 30 minutes and does not require any extra screws or any other type of fastener while installing. It also comes in white color that makes feasible for any color of the door. You can color the cat door so that it suits any door.
Key Features & Specifications:
Size: 6″W x 8″H
Can be installed in door thickness of up to 2 inches
Cat door with a grooming brush
White Color
Pros:
It has a grooming brush around the flap which cleans and grooms the cat every time it passes through the door
Accurate height to width ratio perfect for cats to get in and exit
Includes cut-out template along with the cat door which makes it easy to
Cons:
Comparatively costlier than other pet doors of the same type
Improper molding of grooming brush with the flap
High Tech Pet Power Pet Electronic Pet Door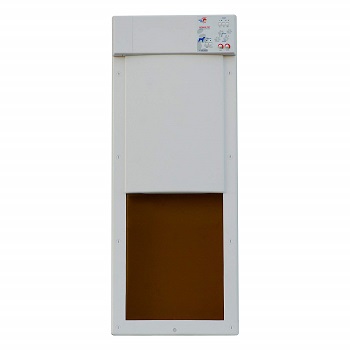 If you are looking for a fully automated Pet Door for cats then this would be definitely the best choice for you. This electronic pet door from High Tech Pet can be accessed by your cat using an ultrasonic collar. The door opens by sliding upwards automatically as it is driven by an electronically powered motor.
It can be accessed with a number of collars besides MS-4 Ultrasonic collar which is included with this Pet door. Other ultrasonic collars with which this pet door is supported are MS-5, RX-10 or BF-30. You can also program this cat door to be used for multiple pets.
As this feline door is fully automatic so you have total controlled access without the need to manually open or close the door. It can be set to four different modes to operate. These 4-way access control options include In Only, Out Only, Full Access, and Closed/Locked.
It can be easily installed in standard door sizes. The panel size of the larger size cat door is 12.25 x 16 inch which is big enough for pets up 30 pounds. The medium-sized Pet door's panel measures 8.25″ x 12 inches. If you have a Pet Cat then the medium size Pet door will be convenient for your cat.
Key Features & Specifications:
Fully Automatic Pet Door
Rechargeable collar
Directional sensing
Exterior Cat Door
4-way access control system
Pros:
The door can be operated using AC plug and battery
Compatible with multiple ultrasonic collars
Wind and weather-proof airtight seal
Can be also installed in a wall using additional wall tunnel
Adjustable sensitivity range
Cons:
While opening and closing it makes a clicking sound which might be disturbing to some pets
Expensive compared to other electronic pet doors
Cat Mate Large Cat Door White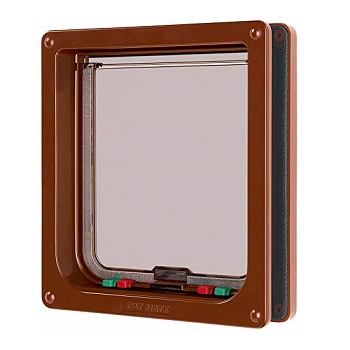 Cat Mate's Cat Door can be installed in doors as well as walls. It is 10″ high and 2.25″ wide which makes it perfect for any size of the cat. The overall size is 9¼" x 10″ and the cutout size is 8¼" x 9″.
It is also very easy to install this door with the help of the cutout template and instructions manual included with the product. On the sides of the Cat Flap opening, brush strips are provided for smooth and silent operation of door opening and closing.
The cat door features a 4-way locking feature that provides controlled access convenient for any kind of requirement. Different locking modes include open, in only, out only or fully locked, which makes it easy for your cats to access the kitty door whenever required. It also has a transparent flap which is also weatherproof brush sealed and magnetic closure.
Key Features & Specifications:
Flap Opening: 10″ high 2.25″ wide
2″ thick self-lining
4-Way Locking Mechanism
Tamperproof Cat flap
Magnetic cat door
Pros:
Brush strips around the cat flap help in reducing the sound generated from closing or opening the cat flap
Cutout template and instructions manual included for easy installation
Weatherproof sealed flap for complete protection
Proper height to width ratio perfect for any size of a cat
Suitable to be used as cat door for garage
Cons:
Strong magnets used for closure that makes it difficult for kittens to open the cat flap
Installation is a bit tougher compared to other cat flaps
PetSafe Pet Screen Door – Dog and Cat Door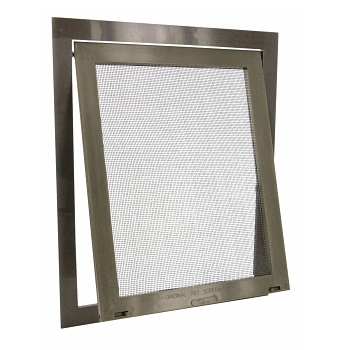 If you are looking for a Pet Door for Cats for door screen, then this PetSafe Cat Door should is the best option for you. It can be easily installed in Screen Doors, Windows, or Porch Doors. It is also ideal Cat Door for window screens.
The frame of this cat screen is made from durable plastic which makes it sturdy and long-lasting. For the attachment with the door or window, screw fasteners are to be used to support the frame rigidly. Sliding panels are also provided on this Pet Screen using which you can lock or unlock the cat door for your cat. This provides you with controlled access to so that you can easily close or lock it whenever required.
The flap opening size of this pet screen is 10.25″ W x 17.12″ H which is large enough for cats which makes it easy for your cats to get through this feline door. Its flap is made up of Heavy-duty mesh that is transparent and tear-resistant. It also includes template and instructions manual along with it which makes it very easy to install yourself.
Key Features & Specifications:
Flap Opening Size: Large(10.25″ W x 17.12″ H), Small(8″ W x 9.25″ H)
Slide Locking mechanism
Flap Material: Mesh
Frame Material: Plastic
Pros:
A convenient size for all sizes of cats
Easily installable on screens of your home
Puncture and tear resistant mesh
Durable lightweight and plastic frame
Can be used as window cat door as well
Cons:
Difficult to install
The flaps may break apart after sometime
Buyer's Guide: How to Choose the Best Cat Doors
If you are a pet owner, and Cat Door is something to which you have been newly introduced, then you won't be knowing very much about it. So to clear any doubts or confusions and to learn more about the Pet Doors for Cats refer to this Buying Guide.
How is Cat Door Useful and Why do you need it?
A cat door or also called cat flaps is a small portal in wall, window, or human door which allows entering the cats on their own without needing a person to open the door. The opening of the Door should be such that it should also prevent any unwanted guests from coming inside.
By providing a way to exit with the help of a cat door, you not only get free from the efforts of opening or closing the door for your pet, but you also let your cat give freedom. You also prevent the unwanted behavior of your cats like scratching on the door or walls, excreting in the house.
Points to consider before purchasing a Cat Door
So before you buy a Cat Door for your feline friend, here are a few important features and specifications which you must consider to make a perfect selection:
Size Of Cat
If you don't already know the size of your cat then you should measure her before buying the cat door. For measuring your cat, you have to measure the width through the widest part of her body(shoulders or hips) and height from shoulders to the bottom of the chest or belly.
Type of Cat Door
Based on the place where it can be installed, there are two types of cat door; Interior & Exterior. So you should buy either interior based on your requirements whether you want to use it indoors or outdoors.
1. Interior Doors
These Pet Doors also called Cat Flaps are used inside the house on a Door or Wall. It is mostly used to hide the cat litterbox kept behind the doors. You also do not have to manually open the human door for your cat to access the required areas.
2. Exterior Doors
The Exterior Doors provides outdoor access to your cat without the need of your assistance for opening the doors. Exterior Cat Doors can be installed either on walls or doors. It also prevents unwanted guests from coming inside with the help of the sliding lock provided in them.
FAQs
How to install a cat door?
For installing any of the cat doors, first of all, you need to cut out the section from the wall, door, or window screen before you can fit it inside. Most of the Doors already include a cut-out template along with it. Once the cutout section is made, then it can be fit inside using fasteners.
At what places can be a cat door installed?
Cat Door can be installed in Walls, Doors, Porch Doors, Door Screens, or any structure that has easy access to the ground. Before installing it is also important to know the thickness in which it can be installed. There are also tunnel telescoping Doors that can be installed on varied thicknesses.
Cat Doors for windows are to be installed on window screens with lower elevations so that your feline friend can easily access the entry and exit. Similarly, a cat door for the sliding windows also needs to be installed at lower heights for more convenience for the cats.
What are automatic cat doors?
Automatic feline Doors are electronically operated pet doors for cats that have the ability to lock/unlock, Open/Close on their own. The Pet Doors with sensor open/unlock on its own when your cat comes close to it provided that she is wearing the collar compatible and programmed with that cat door.
Can you use a Pet Door specially designed for Dogs for Cats?
Most of the Pet Doors are specially designed to work with both Cats as well as Dogs. So you can use a Pet Door for your cat even if it was designed for dogs. But in this case, make sure that the flap opening is not high enough for the cat, else it would be a little uncomfortable for your cat.
However, if you want a kitty door, then you have to use cat doors or kitty flaps which are specially designed for cats, otherwise, the size may be inconvenient for your kitten.
Conclusion
According to experts', The overall top-rated Cat Door is PetSafe's Wall Entry Pet Door. It has a telescoping tunnel which makes it possible to easily fit in varied wall thicknesses. It has a durable PVC plastic frame which is great for withstanding UV exposure and makes it perfect for using it as an outdoor Cat Door.
I hope that you have got complete information and found the perfect Cat Door for your feline. Also, before choosing the Cat Door, make sure you choose the perfect size so that it is convenient for your cat.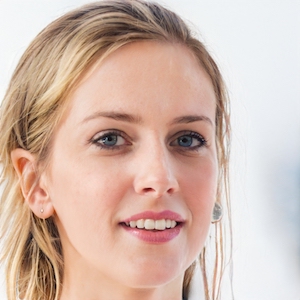 Diane is a guardian to an Ocicat cat named Collie. She's a professional cat trainer having dealt with hyperactive felines, hence she certainly knows what will work best for your kitty. She has expertise in writing on feline behavior, house training, and tips & tricks including product reviews of related products. Her love for pets drives her to get the most reliable products in the market!