We tested 46+ fountains and reviewed the TEN best cat water fountains of the year. If you want to provide only fresh drinking water for your feline, CHECK OUT THESE OPTIONS ONLY.
Cats can suffer from many urinary and kidney-related ailments because of insufficient water consumption. One of the more serious diseases in which the tube that carries urine from the bladder can get blocked, often resulting in death.
Though it is not clear how cats produce the thick, pasty material that causes the blockage, what is known is that increased water intake can help prevent the condition. It is incumbent upon the cat parent to make the water source attractive so that the cat drinks a sufficient quantity and stays disease-free. Cat water fountains are contraptions that will make water more attractive so that cats always keep themselves well-hydrated.
Do cats like water fountains?
It is now widely accepted that cats crave flowing water which is why vets recommend cat water fountains – to entice them to drink more water. In the wild, flowing water is the safest alternative. Stagnant water can contain a lot of harmful bacteria. Cats are therefore attracted to running water and will drink more when water is available in the flowing mode.
Drinking a sufficient quantity of water is crucial for a cat's health and cat fountains can very well ensure that your cat drinks more water. People don't look at water as nutrition, but none of the nutrients pets are fed will get to where they are needed in the body without the help of water.
Water is responsible for transporting oxygen via the bloodstream and into the cells, it keeps the lungs moisturized, it regulates body temperature and helps eliminate the waste products through the kidney and digestive tract. Sufficient intake of water will help the cat to keep her coat elastic and shiny.
A low-thirst drive is possible because cats have evolved from a desert environment but unattractive sources of water (stagnant water dish) are equally responsible for less water consumption. If fed wet food, a cat's water intake may diminish but an attractive source is still recommended for cats to consume water in sufficient quantity.
A Quick Comparison of Our Favorites in 2023
Best Overall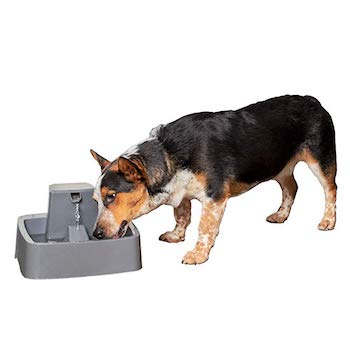 PetSafe Drinkwell Cat Water Fountain
Capacity: 1 gallon
Size: 12.6 x 11.3 x 5.2 inches
Filter Type: Dual filtration
Editor's Pick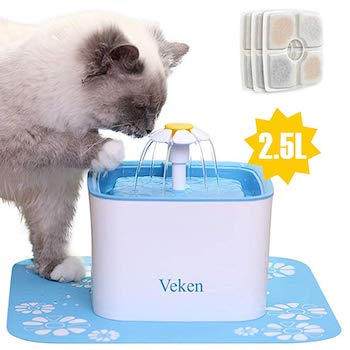 Veken Automatic Pet Fountain
Capacity: 84 oz
Size: 12.6 x 11.3 x 5.2 inches
Filter Type: Triple filtration
Affordable Pick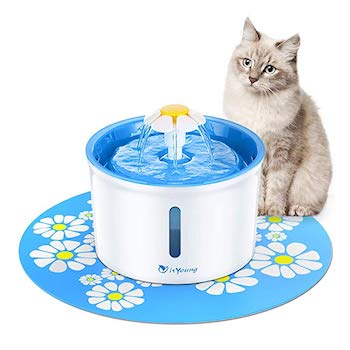 isYoung Automatic Cat Water Fountain
Capacity: 56 oz
Filter Type: Dual filtration
Energy consumption: approx. 1.5 KWh monthly
The 10 Best Cat Water Fountains [Reviewed]
1. PetSafe Drinkwell Platinum Cat Water Fountain
PetSafe Drinwell cat water fountain has a capacity of 1 gallon, which is great for cats of all sizes.
It will keep a free-falling stream of water to entice your cat to drink more and prevents urinary and kidney diseases through increased hydration.
The foam filter will take care of hair and dirt in the water while the carbon filter will remove any bad taste and odors from it. The continuous circulation of water in the bowl will prevent bacteria from breeding.
The water flow in the fountain can be adjusted to customize for you and your pet. It is also possible to turn off the stream altogether for a quieter operation.
"To conclude, we think this is the overall best cat water fountain."
Key Features & Specifications
Capacity: 1 gallon
Size: 12.6 x 11.3 x 5.2 inches
Chord length: About 5.5 ft.
Filter Type: Dual filtration
2. Veken Automatic Pet Fountain
Though many cat water fountains have filtration systems, the Veken Automatic Pet Fountain goes a step further. This fountain has triple filtration with layers of cotton, activated carbon and ion exchange resin keeping the water pure for a longer duration.
It is also possible to customize the water's flow between bubble, waterfall, and stream modes. Select the mode that stimulates your kitty's interest.
The Veken Automatic Cat Fountain holds 84 ounces of water and operates silently. Users will love the design inspired by a flower and appeal to cats. The most important thing about the product is that cat parents will no longer have to worry about the quality of their furry companion's drinking water when they are not home.
Key Features & Specifications
Capacity: 84 oz
Size: 7.5 x 7.5 x 5.9 inches
Chord length: About 6 ft.
Filter Type: Triple filtration
3. isYoung Automatic Cat Water Fountain
isYoung Automatic cat water fountain product gives your cat access to a 360-degree flowing waterfall to refresh herself and has a capacity of 56 ounces. A waterproof mat is included with the purchase to prevent your cat from splashing water on the floor in her enthusiasm to drink. The water can be adjusted to three different flow settings.
You should change the activated carbon filter and the foam filter every 1-2 weeks and this is more frequent than for other filters. It means the maintenance is more frequent and a bit expensive, but it could also mean that your cat is drinking much cleaner water. Clean whenever you feel there is a reason to clean and the more the number of cats you have the more you would be cleaning it.
Key Features & Specifications
Capacity: 56 oz
Filter Type: Dual filtration
Energy consumption: approx. 1.5 KWh monthly, 18KWh yearly
4. Catit Flower Cat Water Fountain with Triple-Action Filter
Catit Flower cat water fountain can hold 34 ounces of water and its flower fountain design allows for three different settings. To change the settings, you just have to insert the flower accessories, namely, the petals and the yellow flower disk. The rest of the fountain apart from the flower is green in color. It is also very compact and will fit anywhere in your home.
However, we shall get back to the settings. Inserting the flower accessory creates long faucet-like streams of water. Replacing the flower cap will tamp down the bubbling of water on top. The water turns into a gentle flowing surface without the flower. Choose the setting that fascinates your kitty and makes her drink.
The water fountain features the triple action filter that removes calcium and magnesium from tap water. It also removes chlorine, bacteria, and stray hairs.
Key Features & Specifications
Capacity: 34 ounces
Size: 9.0 x 8.3 x 7.7 inches
Chord length: About 3.5 ft.
Filter Type: Triple filtration
5. PetSafe Drinkwell Pagoda Automatic Ceramic Drinking Fountain for Cats
The Drinkwell Pagoda Cat Fountain is completely made of ceramic and is easy to clean and hygienic. Meant to hold 70 ounces of water, this product constantly circulates the contents to prevent bacteria from breeding and keep the pet drinking.
The submersible pump keeps the functioning silent and the replaceable carbon filter helps keep the water fresh. Dual streams mean two pets can drink at the same time and the elevated drinking bowl is great for elderly cats.
The Drinkwell Pagoda is available in four colors (white, red, taupe, and blue) and customers cannot help but praise its all-ceramic construction. It's very easy to assemble and can be relied on to encourage cats to stay hydrated throughout the day.
Key Features & Specifications
Capacity: 70 oz
Size: 10.5 in. L x 8.875 in. W x 5.75 in. H (bowl height 3 in.)
Chord Length: Approximately 5.5 ft.
Filter Type: Dual filtration
6. Pioneer Pet Raindrop Stainless Steel Pet Drinking Fountain
Pioneer cat fountain is a stainless steel basin that can hold 60 ounces water. It also has a unique slide design to maximize water bubbling and circulation while keeping noise and spillage at a minimum.
The Pet Raindrop comes with a replaceable charcoal filter to keep your cat's water clean, and free from hair and debris. The pump and filter are housed in a plastic casing and the seven feet cord can be detached for easy cleanup. You just have to disassemble the stainless steel parts and put them in a dishwasher for cleaning.
Key Features & Specifications
Capacity: 60 oz
Size: 11.5 x 9 x 4.5 inches
Chord length: 6 feet
Filter Type: Dual filtration
7. Cat Mate Multi-Height and Large Water Fountains
Cat-owners with multiple cats do not need to purchase separate water fountains for each pet. They can instead buy one that is meant for sharing like the Cat Mate Multi-Height. This product is a tiered waterfall with a drinking platform at three different heights so your cats can drink to their heart's content without obstructing each other.
There is absolutely no reason to worry about splashing. This fountain uses ramps to minimize splashing as water flows from one tier to the next. An isolated pump system and a low voltage power supply ensures quiet functioning while using a polymer-carbon filter for water purification.
The Cat Mate Multi-Height can hold 70 fluid ounces and has is constructed of plastic, which is dishwasher safe.
Key Features & Specifications
Capacity: 70 oz
Size: 6.8 x 10.5 x 8.8 inches
Chord length: Approx 9.5 feet.
Filter Type: Single filter
8. Pet Fountain Cat Water Dispenser – Healthy and Hygienic
You are looking for a cat water fountain but find the pump-related background noise sickening. There are plenty of fountains available on the market that operate quietly and this Pet Fountain Cat Water Dispenser is one of them.
The submersible pump is so quiet while operating that it will not disturb either you or your pet. The machine is also low-consumption and can operate for an astounding 10,000 hours! It can customize three flow settings, features activated carbon filtration and has a capacity of 70 ounces.
Users claim that this cat fountain is easy to assemble and much quieter than other products. Apart from irritating human beings, the noise of a pump can scare cats and dissuade them from drinking at the fountain.
Key Features & Specifications
Capacity: 70 oz
Size: 7.2 x 7.2 x 4.7 inches
Chord Length: Approximately 5 ft.
Filter Type: Dual filtration
9. Lotus Cat Water Fountain and Dispenser (Dual Filters)
The Lotus Pet Fountain and Water Dispenser is a sure-shot way of ensuring that your pet feline gets water that is filtered, healthy and safe. With this product, you will not have to worry about water replacements even if you are going to be out of town for weeks. It provides water streams in three modes and delivers a 360-degree multi-directional stream that oxygenates the water and keeps it adequately aerated and fresh.
This mode of dispensing water will encourage your pet to drink more compared to when the water is in stagnant mode, and help to keep it free of kidney-related ailments. The submersible pump functions very silently and consumes very less energy. This cat fountain has a dual filtration system with a replaceable activated charcoal filter that guarantees pure water that is free from hair, dirt, and food particles.
An inbuilt LED light makes the whole water dispensing experience aesthetically beautiful. This product is very easy to uninstall, reassemble and easy to clean.
Key Features & Specifications
Capacity: 86 oz
Size: 12.6 x 11 x 6.3 inches
Chord Length: Approximately 6 ft.
Filter Type: Dual filtration
10. IPETTIE Tritone Ceramic Cat Drinking Fountain
IPETTIE Tritone Ceramic Cat Drinking Fountain attractive device with a special design is environmentally friendly and will allow your kitty to enjoy drinking clean, healthy, and safe water. Installing and uninstalling the product is a pretty simple task and cleaning it should not be much of a worry for cat-parents.
The IPETTIE Tritone is a very high-quality cat water fountain made out of natural ceramic to ensure your kitty's drinking water is clean, healthy, and safe. The lotus-shaped design of this eco-friendly, non-toxic bowl is very attractive for pets and blends easily with the home decor.
It has a 2.1-liter capacity and will allow your cats to satisfy their thirst for seven days continuously. The pump consumes very minimal energy. The low level of noise it makes while functioning will not scare your cat and will ensure that you sleep soundly at night.
Key Features & Specifications
Capacity: 34 oz
Size: 18.5 x 13.4 x 14.2 inches
Chord Length: Approximately 6 ft.
Filter Type: Dual filtration
Our Buyers' Guide for Cat Water Fountains
Reading up product reviews is one way of researching particular products. But what are the factors that should be used to evaluate a cat water fountain? Because this is about water, it is also important to understand how to keep the cat water fountain clean so that the water remains fit for drinking.
Choosing A Cat and Kitty water fountain
There are several attributes that a cat water dispenser must have. These qualities are:
Filtration
There are mainly two types of filtration that a cat drinking fountain may have. They are:
a. Mechanical Filtration
There is a sponge surrounding the pump through which the water passes. They have different sizes and different brands have different life period.
b. Chemical Filtration
This is also called activated charcoal. It uses carbon because carbon is not harmful even if your kitty swallowed it. Carbon also can absorb toxins and impurities. Carbon papers should be replaced after every 1-2 weeks.
Ease of Cleaning
This factor needs a lot of consideration because most of us have very hectic schedules. If the kitty water fountain is not easy to clean then you may avoid cleaning it altogether. That is not a good thing for your cat.
Durability and Quality of Materials
Give due importance to durability while assessing a cat water fountain. Some components may need to be replaced from time to time, but that is expected. The pump must last you several years before having to be replaced. Most manufacturers offer warranties on their products. These warranties at the minimum last for one year, which means if your pump broke down within 1 year, the manufacturer would fix it for free.
Appearance
If you plan to place the cat water feeder in your living room then you may well like to consider the color and the appearance of the product before buying. The cat water dispenser should fully complement your interior decor and you should not feel tired of having to see it in the home.
Maintaining and Cleaning Your Cat's Water Fountain
The best water fountains should be easy to clean and maintain. They need not be cleaned on a daily basis but a bi-weekly cleaning schedule is what we would recommend.
The carbon filter should be replaced frequently to ensure that the water does not contain impurities but only minerals that are necessary for the kitty's good health.
As time passes, the cat fountain may get jammed with hair and dust particles. The water circulation may slow down as a result, and may provide fertile ground for bacteria and fungi to breed. Being a pet parent, you should closely observe your kitty's eating and drinking habits. A messy eater may leave saliva or food debris on the cat waterer. In such cases, you may require a thorough clean up regularly to prevent the growth of bacteria.
Lastly, follow the instructions of the manufacturer with regards to cleaning and maintenance in letter and spirit.
FAQs
What is a cat water fountain and how does it work?
A cat water fountain is a specially designed gadget that provides running and fresh drinking water to domesticated felines. Felines are known to have a very low thirst drive and do not drink too much water. You need to make water more attractive to make cats feel and acknowledge that they are thirsty. Cat waterers keep the water moving to arouse the curiosity of felines and make it attractive for them to drink it.
How much does water fountain for feline costs?
Water fountains are not very expensive gadgets. Even the most high-end cat water fountain may cost at the most 60-70 bucks. There are economical models that are also available. It is not necessary to buy a high-end variant simply because it is available on the market. You should give priority to your needs and select a model that can fulfill them perfectly.
How to get my cat to drink more water?
Cats are known to have a very low drive for thirst. In fact, you need to make water more attractive for cats if you want to make them drink more. Running water is an attraction because cats consider it to be safe to drink and it also stimulates their curiosity. Cat water fountains are a way of creating a facility in your home to keep water running so that your cat is attracted to drink more.
Should You Get Your Cat a Water Fountain?
A cat does not enjoy drinking water from a stagnant bowl as much as she would enjoy drinking from a tap. The reason is simple: tap water is running water and kitties by instinct feel that cat water is much safer and therefore more attractive to drink. But tap water may have toxic substances. A cat water fountain is a gadget that will filter toxic substances from tap water and keep it circulating to make it more attractive for your feline companion.
How often do you change the water in a cat fountain?
A cat fountain is a gadget that keeps the water circulating because of which it will stay fresh for longer. But when your pet drinks from the fountain, the debris from its mouth will get into the water and make it dirty. It will, therefore, have to be changed. You would need to change the water in the cat fountain every 2-3 days.
Are water fountains safe for cats?
All cats love to drink running water and cat guardians could invest in a cat water fountain from the many that are available on the market. They are totally safe. In all my experience, I have never come across a cat that had any issues with a fountain. The only thing to ensure is that you should clean the cat fountain very regularly.
Is tap water ok for cats?
Tap water is okay depending on the area where you live. If the tap water in your area is fit for human consumption, then it could possibly be good enough even for the pet. Do not expect your cat to drink if the tap water is not fit for you to consume directly.
However, if you are comparing a cat prefers to drink water from a tap than from her bowl, it is because they have retained their instincts from the wild according to which running water is considered a much safer bet. Tap water is running water and easily catches your cat's imagination because she finds it a safer option than the water bowl.
However, there are devices such as cat water fountains that keep the water running to keep it fresh for longer and make it more attractive for your kitty to drink. Many cat fountains come with filters that remove toxins and impurities from the tap water you use to fill them and make it safe for your kitty to drin
Conclusion
Cat-owners should give as much importance to watering needs of their kitty as they give to food. After all, water is required for the normal functioning of many organs. Insufficient intake may have fatal consequences. Cat parents can motivate their cats to keep themselves well hydrated by making the water source more attractive. Investing in the right cat water fountain is a step cat parents will take towards making water attractive for their pets.