Cats are by nature hunters and have a profound love for the wild outdoors. However, like all other living beings, they also need a cozy place to hide from superior foes and adequate protection from inclement weather. We have discussed below some of the best outdoor cat houses for winters that can keep your kitty well-sheltered without really straining your finances.
In order to help you make the correct choice for your furry friend, we reviewed the scores of products and picked out the top outdoor cat house brand. We arrived at our conclusion after analyzing various factors such as durability, insulation, ease of assembling, and the safety of your cat.
Is it Safe to Keep Your Cats Outdoors in a Cat Outdoor House?
There are many reasons pet parents let their cat roam outside. The first reason is that our domesticated cats retain the genes that link them to their ancestors, who roamed the wilderness. Dogs have accustomed themselves to leading a domesticated life but cats have somehow retained their passion for the outdoors.
There is, of course, the safety and security associated with living life indoors. However, seeing a cat outdoors is just like watching it in its elements. Imagine what it would be like to own a racing car and leaving it permanently inside the garage?
There is also a lot of evidence that points to cats becoming unhealthy living their life exclusively indoors. Cats that spend their lives indoors can become obese or suffer from diabetes. Some cats living life indoors may start showing symptoms of boredom and display unnecessary aggression or begin messing up outside the litter box.
A cat has a greater scope for instinctive habits such as scratching outdoors. You may not be comfortable with your cat scratching your curtains or the furniture but it has no such restrictions on its favorite activity outdoors.
The outdoor environment also opens up myriad opportunities for your curious cat in terms of exploring new sights, new tastes, odors, textures, and experiences. Thus venturing out will keep arousing her natural curiosity and ensure her well-being.
However, before letting your cat outdoors there are several aspects to be considered. Factors such as the distance of your house from the nearest road, and whether your garden has a fence to prevent stray dogs from entering and scaring your kitty, should be clearly weighed before contemplating this big lifestyle change for the cat.
The most important question to be asked of yourself is whether anybody would be home to let the cat in, whenever she feels threatened outside.
A Glance of Our Favorites in 2023
Best Overall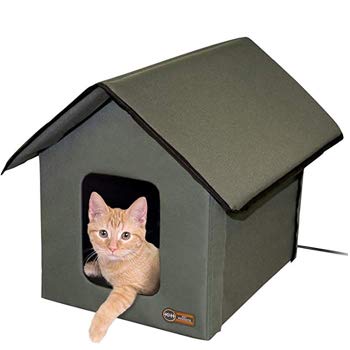 K&H Pet Products Outdoor Kitty House
Two entry/exit points
Dimensions of this brand are 14″W x 18″L x 16″H.
25 watts power source
Editor's Pick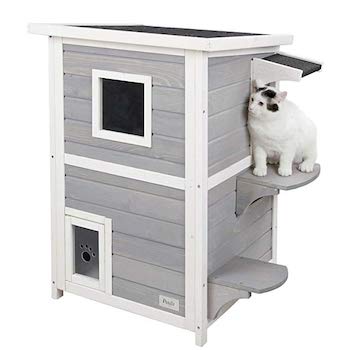 Petsfit 2-Story Weatherproof Cat House
12 mm thick wooden panels
Made from durable cedarwood
Affordable Pick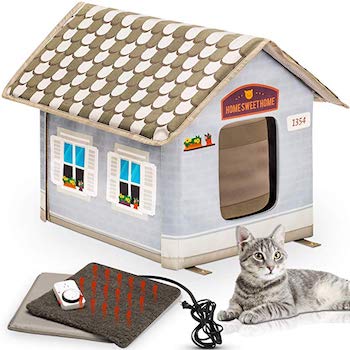 Petyella Heated Outdoor Cat House
lightweight
This house is right for all pet animals under 25 lbs
The house comes with a heated pet-mat
The 10 Best Outdoor Cat Houses of 2023 (Reviewed)
1. K&H Pet Products Outdoor Kitty House
K&H is your go-to brand whenever you are unsure. It is renowned for providing superior quality at reasonable prices. It is a potential "safe bet" in the sense, that the company manages to please all customers who buy their products. This outdoor cat enclosure for K&H comes in heated as well as unheated variants.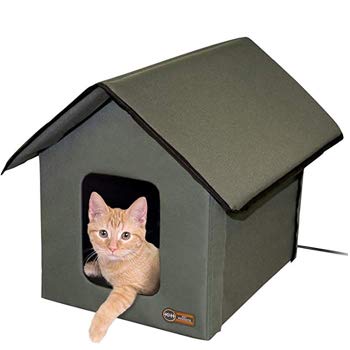 The outdoor cat house is a 600-denier polyester house with a vinyl backing, thus making it easy to clean and strong enough to tolerate scratching. The heated variant is associated with a K&H Lectro Soft Heated Bed. Both variants have the same dimensions and have a roof to sufficiently cover both entrances with adequate overhang.
This outdoor kitty house will protect your cat from the rain. The safety of the cat from any predator is guaranteed because it has two entry/ exit points, giving her a chance to make her flight to safety from the opposite direction.
Endowed with hoop & loop fasteners, its assembly is a pretty simple task. The heating aspect is taken care of by a 25 watts power source. Your cat has the freedom to decide what position it is comfortable with – on the heat, or off it – because the heated floor pad covers only half of the floor. The approximate dimensions of this brand are 14″W x 18″L x 16″H.
One striking feature about this versatile, reasonably priced outdoor heated or unheated kitty home is that the cat will never ever worry about the winter cold.
Pros
This outdoor cat cage can be assembled without using any sophisticated tools. It is simple to accomplish the task of assembling it. Having two entry/exit points gives the cat a great chance of escaping to safety from the opposite direction in the face of any threat from a predator.
Cons
There is no glaring demerit whatsoever associated with this brand of outdoor kitty house.
2. Petsfit 2-Story Outdoor Weatherproof Cat House
If grace and elegance are what you are looking for in an outdoor kitty house, this brand is just the right fit for you. Made from durable cedarwood, the house is of two stories. An expert painting job, a tiny staircase and strikingly cute windows completely complement the design.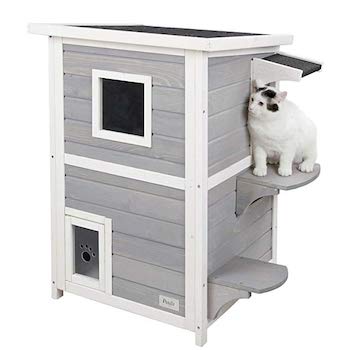 This outdoor cat house comes with 12 mm thick wooden panels, which when assembled will secure your kitty from the rains in a way only wood is expected to. When you buy a wooden model, you need to embellish it further by buying blankets, pillows, or cushions to guard your pet against the hardness of the wood.
Your pet will love using this outdoor enclosure in the winter, though it will prefer to live on the ground floor than on the open-top floor. Wooden homes are much more durable and elegant as compared to some of their counterparts made from artificial materials. Wood will offer sufficient insulation from the extreme weather conditions and is above all, bio-degradable.
Pros
Wood has a better chance of withstanding wear and tear as compared to other artificial materials. It also imparts greater elegance to the product without causing any harm to the environment.
Cons
How destructive is your pet should be the guiding factor while making any decision with regards to buying a wooden outdoor kitty home? If your kitty is destructive, she may chew and scratch the paintwork off the wood leaving it exposed to the weather conditions.
No wooden home is known to last over three years while providing shelter to a pet that is inherently destructive by nature. Also, one would need to counter the hardness of the wood by embellishing it with pillows or cushions to make your kitty more comfortable inside.
3. Petyella Heated Outdoor Cat House
This heated outdoor cat house from Petyella is indeed quite beautiful and aesthetically designed on the lines of a dollhouse. It would certainly add some elegance and grace to your yard if you are worried about how it would look.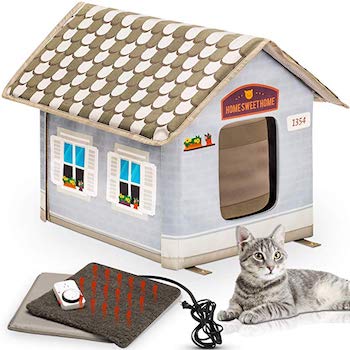 The house is water-resistant and just right for cats and dogs under 25 lbs. The house comes with a heated pet-mat and the purchase includes a 3-ft chew-proof cord and a 13-ft extension cord. It also features a plug-in timer for those who bother about saving energy and the safety of the pet.
The house also has front and backdoors with flaps, a safety buckle, and a comfy padded bottom, which the manufacturer claim is waterproof.
Pros
This house is right for all pet animals under 25 lbs, is lightweight, and has an aesthetically appealing design. It is easy to assemble and does not require any special tools. It also includes a 3.3 ft chew-proof cord, a 13 ft extension cord, and a plugged-in timer.
Cons
The house cannot be placed directly under rain or snow.
4. PawHut Large Wooden Outdoor Cat Enclosure Covered House
This product is a large outdoor cat house that will offer cats opportunities to relax, hide, or gambol. This outdoor playpen is suited to your backyard or the patio and is just right for one or multiple cats.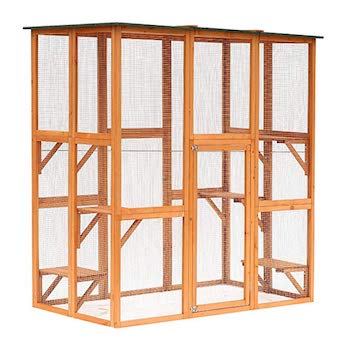 Designed with six large platforms, this outdoor cat house will provide ample opportunities to your feline buddy to go about her outdoor activities such as jumping, climbing, or relaxing.
Because of being built around a solid fir frame, this product is meant for durability. The frame is sealed with a sealant that is safe for animals and is completely non-toxic. The frame is covered with sturdy metal wire so that your cat can enjoy the outdoors without any external threat of predators.
The flat roof of the outdoor cat enclosure is covered with asphalt to secure your kitty from both the sun and the rain, allowing her to enjoy the outdoors without any harmful impact of the harsh weather conditions.
There is a large front door with safety latches to easily put in and pull out the cat of this outdoor cat enclosure.
Pros
It can be easily accommodated in your patio or the backyard. The wooden frame makes it long-lasting and the metal-wire that encloses the frame completely secures your kitty from external threats when she is enjoying the outdoors. There can be nothing better than an asphalt-covered roof to provide protection from the sun and the rain.
Cons
Because of the wooden construction, the pricing is at a hefty premium.
5. Petsfit Outdoor Cats House With Escape Door
The Petsfit Outdoor Cats House is a great piece of cat furniture for those who are not as concerned about keeping their cats warm and protected during cold weather as they are about visual appeal.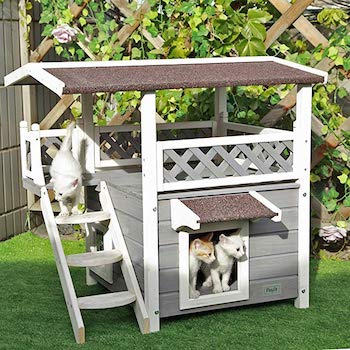 This house may not score too many points for warmth or protection, but it is one of the more aesthetically designed cat houses available on the market. Some users reviewing the product claimed they painted this cat house in the same color as their own home.
This cat house has two doors, both of which have flaps. Because of the protective overhang, the front-door is able to keep the rain out and prevent the entrance from getting snowed in.
The cat house comes with either a scratching ramp or a set of stairs for the cat to climb up or down. Stairs or the ramp will provide cats with access to the covered roof to lounge around when the weather is good. According to the company, the wood siding will last at least 3 years.
Pros
This is a cute wood-sided cat house with two doors. The front door has a protective awning to keep rain and snow out. The covered roof doubles up as a lounging spot when the weather is good.
Cons
This is not the item that will exactly keep your kitty warm and is relatively expensive.
6. Milliard Portable Outdoor Pet House
When you're looking for an outdoor cat house that won't be harsh on your purse, then the Milliard Portable Outdoor Pet House is what you may check out. Though this is an economical model, it has all the basic facilities to keep your kitty comfortable and cozy inside.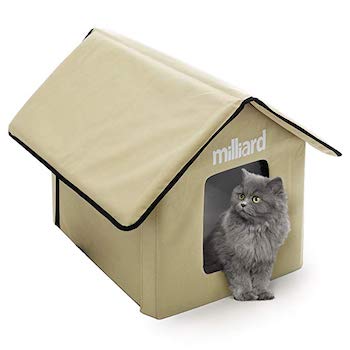 This house is easy to assemble and won't require you to bring out your tool-box. The assembled cat house can easily accommodate a single cat. The floor is made from a fleece mat to make the interior cozier. Both the doors of the house have removable plastic flaps to protect your kitty from the wind.
The Milliard Portable Outdoor Pet House is water-resistant but not wholly waterproof; therefore, it's best placed under covered areas such as a porch or shed. The house itself can be easily cleaned with a damp cloth.
Pros
The house can be assembled without using any high-end tools. It has two doors to provide an escape route to the cat from a predator and is extremely lightweight.
Cons
This house can accommodate only a single cat.
7. Petmate Kitty Kat Condo Outdoor Cat House
The Petmate Kitty Kat Condo is an igloo type of outdoor cat house. The house is made from non-porous plastic that is simple to clean and dissuades pests from nesting. The inside of the cat house has a carpeted floor to keep the house insulated and provide extra warmth and comfort while encouraging scratching.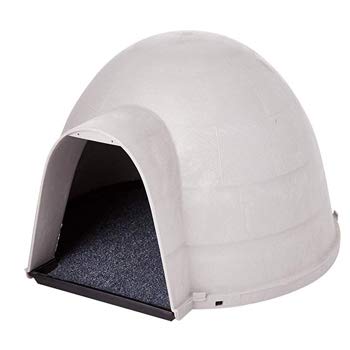 Though this sounds great, the downside to it is that it is permanently fixed to the floor, which makes it impossible to remove for cleaning.
Though the door is large, it is the only doorway and there is a possibility that raccoons could get inside. If your area is known to be populated with predators then you may well have second thoughts about buying this house because with just a single door your cat stands the chance of getting cornered.
When it comes to water resistance, the manufacturer claims that the rain diverting hood over the doorway prevents rainwater from entering the cat house. In fact, the material of the house is itself waterproof but some water may eventually enter the house when it rains heavily.
This cat house is spacious and offers room for the cat to breathe and it won't feel trapped within a small space.
Pros
This cat house is well constructed and solid. It is also spacious enough to accommodate even large felines.
Cons
The cat house has only one entry/exit making it potentially unsafe for the cat. Its carpet floor is permanently fixed and cannot be removed for cleaning purposes.
8. ecoFLEX Albany Outdoor Feral Cat House
There is always a threat to your kitty from predators when she is outdoors. The ecoFLEX Albany Outdoor Feral Cat House is one product that will ensure that she has an opportunity to escape in another direction.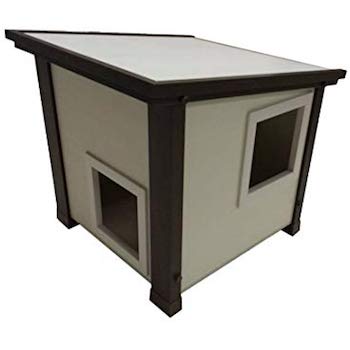 This outdoor cat house comes with two exit/entry points, which will make the cat feel more secure. That is what makes it perfectly suited for the outdoors and what's more, is that it is priced competitively.
The company assures customers that the Albany will never fade, splinter, crack, rot nor will it ever fall prey to bugs. The product comes with a 10-year warranty. Its raised, off-the-ground design, will offer protection from the ground temperature. Double-wall panels not only help to protect from the elements but also control the temperature inside.
This feral cat house is easy to assemble and can be done without using any sophisticated tools. It is cozy and your cat will simply adore it. Its dimensions are 20.1″L x 22.0″W x 20.1″H and the exterior can be stained or painted as per your choice.
A door flap and a heating pad are optional and are sold separately. The roof is detachable for convenience of cleaning from the inside.
Pros
Made from recycled polymeric stuff and wood, this is very much the product for those of you who are environmentally conscious. It is also because of this very reason that this outdoor cat enclosure has a long life. There is no recurring expense you will have to bear after purchasing this product. In fact, the company offers a 10-year warranty to buyers.
Cons
The product is focused too much on durability but chooses to overlook aesthetics. Its design is not very much of visual delight.
9. Kitty Tube The Gen 3 Outdoor Insulated Cat House
This outdoor cat house from Kitty Tube is made from durable and solid but recycled PVC material. The shape and design are meant to cause very minimal damage from scratching but generate maximum warmth using reflective heating technology to keep your kitty comfortable and relaxed.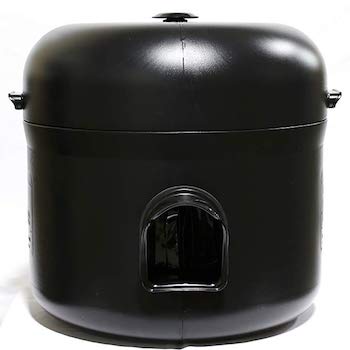 The interior of the Kitty Tube is covered with a moisture-resistant coating. A canopy of sorts covers the ventilation holes so that they can remain open when it is snowing or raining outside. It is a one-piece product with detachable lid. If you wish to clean, just wash its inside with water after removing the lid and wipe it later.
The insulation is such that it will keep the inside warm during the winters and prevent outside heat from seeping inside during the scorching summers. The entrance is small enough to allow entry only to a cat and prevents dangerous intruders such as dogs and coyotes from attacking.
As a bonus for those who are environmentally conscious, the material used for construction is entirely recycled stuff. Being made entirely in the US, it supports many American businesses and their families. Buying this product means discharging your social responsibility by securing the livelihoods of many others like you in the US.
Pros
This is made from solid but recycled PVC material and is therefore long-lasting. The company guarantees that the outside shell of the Kitty Tube will never chip, fade, or crack.
Though the material used is plastic, it is entirely recycled stuff. Thus, there is minimal damage to the environment.
Cons
Kitty Tube may offer good value for money because of its durability and functionality, but it leaves much to be desired with regards to aesthetics. The design of the product is not exactly what is expected from an outdoor cat shelter.
10. Outdoor Cat House by Pet Peppy
Pet Peppy's cat house is built from 600 denier nylon canvas, making it durable, light, insulated, and waterproof. Its assembly can be completed in a jiffy without the help of any tools or additional parts.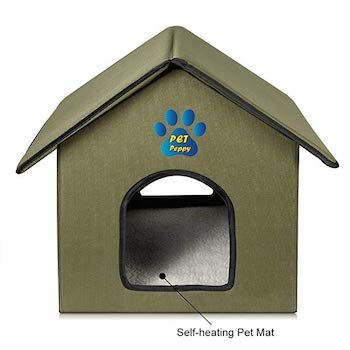 The heated outdoor cat house comes with an in-built self-heating mat, which means you don't have to bear any additional charges for electricity to keep your kitty warm and comfortable. The mat is made from a material that can reflect the heat which your pet's body generates, thus helping to keep your kitty warm and relaxed even during the winters.
To make the cat fully secure, the kitty enclosure has dual openings to allow her to escape from the opposite direction in case of an approaching intruder/predator. One door side is transparent to allow your pet a view of the outside world, but at the same time keep the heat inside once it has been installed.
The other door is always open to allow for air circulation and functions as an escape route when anybody attempts to intrude. The covers can be removed and conveniently washed inside a machine to ensure that your cat's shelter is always clean.
This outdoor heated cat house is built to last and the company offers a 1-year money-back guarantee. In case, customers are not fully satisfied, they can ask for a replacement or even arrange for a return of the product and a complete refund of their money.
Pros
It can be used inside as well as outside your house. Provides ample protection from the elements and dual entry/exit points ensure a greater chance to escape from an attack by an intruder.
Equipped with a self-heating mat means you can feel assured that your cat is warm and relaxed inside her shelter even during the winters without further inflating your energy bills.
Cons
There are several other products on similar lines discussed here. It very much resembles our top pick though it has been manufactured by a different company.
Buyer's Guide for Outdoor Cat House
There are a variety of outdoor cat houses available on the market. You may be at your wit's end trying to figure out which one would be right for your kitty. In this section, we have discussed a few so that you have a fair idea of what to buy. It also dwells on factors to be considered while selecting the perfect outdoor cat house.
Types of Outdoor Cat Houses
There are various types of outdoor cat houses available in the market. Insulated outdoor cat houses are suitable for cold weathers but for regions with extremely cold climate, it is recommended that you use a heated pet house. Here are the other types of Outdoor Cat Houses suitable for different types of environments.
Heated cat houses keep kitties warm and relaxed during the autumn and the winter chill. They may function on electricity or maybe self-heating. Those that function on electricity will obviously need a source of power supply to keep the cat shelter warm, inflating your energy bills. On the other hand, self-heating variants are available that are made from materials with the ability to reflect the pet's body heat to make her feel warm and comfortable.
Insulated outdoor cat houses
When you are planning for a cat to live outdoors then the question of keeping her warm during the winters gets trickier. Power-heated cat houses are not fit for the purpose because not many homes have a power outlet in the garden or the backyard. Insulated cat homes are made from stuff that will prevent inside heat from escaping during winters and at the same time it will not allow outside heat to seep inside during the summers.
Life for a cat outdoors is not only difficult during the freezing winters. Wet weather conditions are another stiff challenge that nature poses to these little darlings. However, many weatherproof cat enclosures are now available on the market to ensure your little ball of fur can keep herself warm and dry while leading a life that is not exclusively restricted indoors. Such enclosures use materials like plastic or high-quality wood that can also provide sufficient insulation to keep your kitty warm during the winters.
These are the most portable variety of outdoor cat enclosures. They can be folded up and packed when you are moving to a new location. These are ideally suited for people who loathe erecting a permanent structure outside their home or are facing limitations of the budget. They are fit for only a single cat.
It would be a fallacy to look upon a tree as just another house. It is much more. This cat furniture has several levels and is a combination of multiple platforms, ramps, toys, and scratching posts. Even a bed could be integrated with it. A cat tree can be small with just a few levels. However, some trees are as tall as the distance between the floor of your house and the ceiling.
Cat trees stimulate your kitty because they offer an opportunity to jump, climb, scratch, or simply relax by perching at an altitude. A cat tree is not ideal for aging cats with painful joints who have difficulty in climbing and do not enjoy perching at heights.
How to select the perfect outdoor house for a cat?
Choosing the right cat outdoor house is important for the comfort of your feline friend. So you need to check each and every specification and feature to make a perfect choice. Here are the important points that you should consider before purchasing an outdoor cat house.
The size is of the utmost importance while deciding which one to buy. If you are buying for just one cat, then a small house but with sufficient room to wiggle around can be considered. However, multiple cats may need larger enclosures. Options ranging from double-decker to duplex are available and can comfortably house up to four cats. In case your cat is still a kitten, you must research how large can she be expected to grow as an adult.
Climate zone of your home
Depending on which region of the country you live in, you can expect the weather to range from the mild and balmy to subfreezing during winters. If you live in mild weather conditions, then an insulated outdoor cat house would be enough to make the cat feel comfortable. On the contrary, if you live in conditions that experience inclement winters, then a heating pad needs to be added on to an insulated cat house for providing maximum comfort.
Some cats prefer a round door while some others are happier with a conventional, rectangular door. For outdoor cats, it is worthwhile to look at manufacturers that offer options to customize. You may order something with a round door and then add a flap for convenient access. Else, you may get an extra exit added at the back to make your kitty feel more secure.
If your outdoor cat house has parts made from fabric, ensure that they are removable and machine washable. This should be a key feature because you will need to frequently clean the cat house or else your cat may catch infections and fall sick.
This is also an important factor to be considered before deciding which outdoor cat house to buy. Not all cat houses come in the ready-for-use form. Some of them may have to be assembled at home after delivery. Choose a cat house that can be assembled without using sophisticated tools. Assembly should be easy enough and must not consume much time.
For those among you who are frequently on the move and lead nomadic lives, it is essential to look for options that are fold-able/collapsible and can be transported around even in a car. Portability also helps when you want to vacation away from home and do not want to leave your kitty behind to fend for herself.
Special consideration for elderly cats
This consideration has been included especially for those pet parents who are contemplating buying a cat tree. If the cat is aging and has pain in the joints, it is necessary to avoid a model that needs climbing or perching at altitudes.
Cats with arthritis may not enjoy climbing and may stay away from the cat house. Even very young kittens may find climbing or perching at altitudes a bit of a difficult task.
FAQs About Outdoor Cat House
How much does an outdoor cat house cost?
Cat houses available on the market today cater to all tastes and budgets. They can range from being outrageously expensive to being downright cheap. In fact, you can construct a DIY cat house yourself without having to purchase it from the market. Generally, the price of cat house ranges from $30 to $150, however, premium products are available at a higher price than that.
How to heat a cat house?
Cat houses can be heated using electricity or there are others that are self-heating. Those that use electricity are considered less safe for the cat and may also inflate your energy bills. The self-heating options use a material that reflects the pet's body heat to keep it warm.
Where to keep the cat house?
Cats love altitudes. You can consider placing the house at elevations to make it not only more attractive but also safer for them. During winters, placing it under the sun can provide natural heating. Cats also prefer quieter, secluded spots to relax. Noise can make them uncomfortable. One may choose a nice, quiet corner of either the backyard or the garden to place the outdoor cat house.
How do I know which size is optimal for my cat?
Measure the length and the height of your cat. Choose a cat house large enough to allow your cat to stretch itself completely and stand up. In case yours is still a kitten, research to find out how big and strong she can grow in a few years and choose a cat house accordingly.
How long can a cat house last?
It depends on the materials used and the nature of your cat. Cat houses made of wood or PVC should be chosen for their durability. However, if your cat is destructive and keeps scratching, the paint may peel off and leave the wood exposed to the weather.
Where do I look for high-quality cat houses?
You may visit your nearest pet shop. However, you can also choose to look for options over the Internet. Most online sites offer customer support, who can help you figure out the best option for your cat. Buying online also allows you to compare features and prices instantly and you get an opportunity to explore a wider range of options.
Are all outdoor cat houses easy to clean?
Cleaning the fur of your cat from its bed should be your daily routine. Some houses have inside carpeting, which is difficult to clean. Instead, look for options with removable bedding. Make sure the lids of the cat house are detachable and cleaning from inside is easy.
What are the requirements for outdoor cat houses?
The most important feature should be their ability to provide ample protection from any kind of severe weather conditions. Cats prefer tranquil surroundings. If possible, place the outdoor cat house at an altitude so that cats feel secure from superior foes such as coyotes and dogs. Else, you may select a quiet corner of your garden or the backyard for the cat house.
Is it possible to customize an outdoor cat house?
Ideally, the construction of the outdoor cat house must not change. However, you may choose to add a few accessories while assembling, or not to include a few others. Everything depends on the variant that you have opted for.
Conclusion
We have undertaken a comprehensive exercise to come out with our top pick for an outdoor cat house. We hope you would have enjoyed going through all the information that has been put before you in the form of this post.
References: