Cat ice cream recipes, YAY!
Cats are our topmost priority, and we would love to provide them with all the possible things on earth! The idea of cat ice cream recipes might surprise you, as they should not intake sweet. We know, that's why we have selected such recipes for your cats which are completely safe!
So no more hiding your ice creams from your cat because she can have her own too! And you both can enjoy that Sunday night watching your favorite movie, which you were planning to! Make these fun homemade cat ice cream recipes easily with bare minimum ingredients.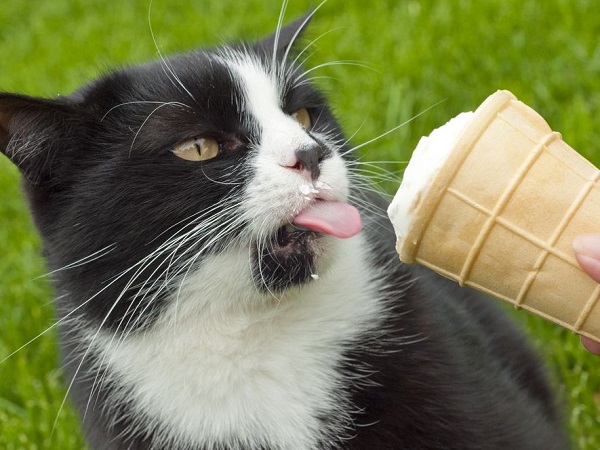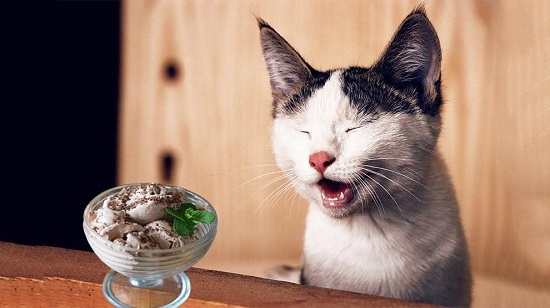 Homemade Cat Ice Cream Recipe: Banana Meowsicles
We all know how much our cat loves to lick! If it's your hands or toe, she will lick for hours! Gross right! Why not give her a better option to lick! And that's how the idea behind banana meowsicles must have been invented. Cats will probably love this ice cream more than your feet! While, banana is not just safe for your cat, but it's also healthy for her! So you can also use this as a treat for your cat when she has done a good job, to encourage her behavior.
Equipment
Ice cube tray

Blender

Freezer
Ingredients
1/4

cup

Squashed Dry Cat Food

You can choose dry cat food of your choice

2

cups

Cat Milk Substitute

You can even use Plain Yogurt

2

medium

Mashed Bananas
Instructions
Take a bowl and mix the mashed bananas with plain yogurt or cat milk

Mix them together until you get a smooth texture.

Crush the cat food and place it in the bottom of the mini cup or ice cream mold.

Scoop the banana mixture evenly on each cup.

Tap on the bottom to release the air bubbles.

Keep it in the fridge overnight for best results.
Notes
Note: based on the number of ingredients, this will fill up to 8 mini cups, in short at least 8 banana meowsicles for your beloved cat.
Cat Milk, Cat Ice Cream
This cat milk cat ice cream is also popular as a summer ice cream. Do you know why? Our adorable felines act like camels when it comes to drinking water, but unlike them, cats can't survive much longer without water, a major cause of dehydration.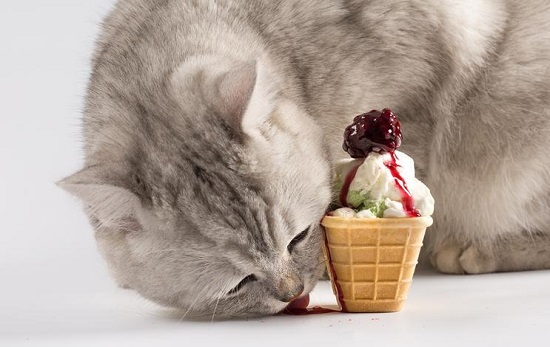 With this ice cream, you won't just fulfill her cravings, but it will also help in the consumption of daily required liquid intake. So lest begin into the process of making this cool cat ice cream!
Ingredients:
Cat milk
rock salt or kosher salt (don't even consider taking plain table salt)
lots of ice
2 sandwich bags & 1 freezer bag
cat food (optional)
Let's begin:
Take the sandwich bag and pour cat milk in it.
Add desired amount of cat food in the sandwich bag, make sure you don't overcome the amount of milk.
Seal the bag.
Put the seal bag into another sandwich bag and seal it, this is to make sure that there is no amount of leaking.
Pour the ice and salt in the gallon bag.
Put the sealed sandwich bag into the gallon bag.
All you need to do is squeeze this bag for at least 15 minutes.
The ice cream is ready, scoop out frozen treats from this bag!
Strawberry Cat Icecream
Strawberry ice cream is not toxic to cats, but it will surely upset her stomach. But wait, who's talking about feeding them your strawberry ice cream when you can make strawberry cat ice cream!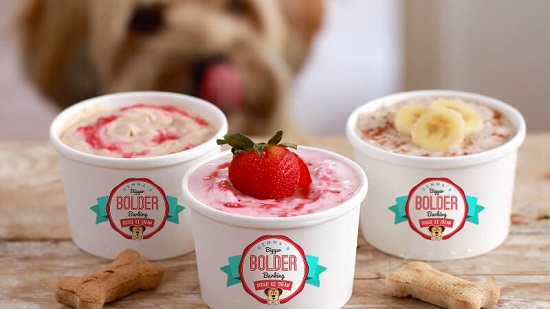 Ingredients:
10 strawberries
1 medium size banana
1 cup natural yogurt (make sure to pick the low fat yogurt, as you don't want to add more calories to this treat)
Let's begin:
Mash 1 banana in a bowl, make sure you don't leave any clumps behind.
Add strawberries to it, and continue the mashing process.
The final adding, pour to the yogurt and don't stop until all three of them are well combined.
Pour the mixture into a desirable mold, and keep it overnight in the refrigerator.in case your cat doesn't want to wait, you can just keep it for 4 hours.
Note: this homemade strawberry cat ice cream will last up to 8 weeks in the refrigerator.
Salmon Ice lolly
Being a pet owner, it's your responsibility to fulfill the needs of your adorable cat, and sometimes you might just think that so what if salmon ice lolly sounds unpleasant, my kitty is going to love that. Since chocolate, grapes, or other dairy products can be harmful to your cats, salmon ice lolly is the best option so far!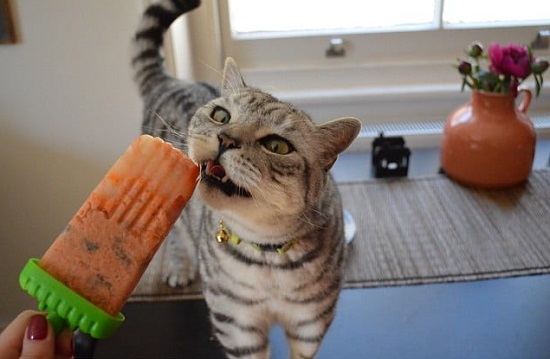 Ingredients:
Raw big prawns
raw salmon fillet
chopped carrot
water
cats favorite treat
Let's begin:
Boil prawns and salmon fillet in little amount of water, only for a few minutes.
You can stop when the salmon gets a bit pink and prawns turn opaque.
Take out your ice lolly and put the prawn in the bottom.
Put a good layer of grated carrot in the mold.
Now top this with flaked salmon.
Sprinkle your cat's favorite treat just the way you would sprinkle choco-chips on your ice cream scoop.
Last step is to place this in your fridge.
Frozen Banana Bites
If there is one fruit that cats have their eyes on, then it's banana! Yes, you heard it right, you can find them gobbling onto tiny chunks of it. So why not turn them into frozen banana bites, as it will also fulfill your cat's craving for having ice cream!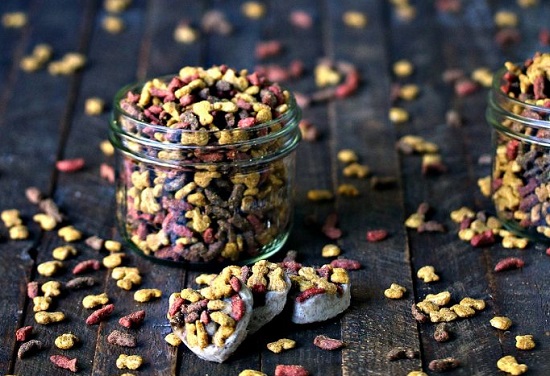 So that when you plan for a movie night together, your cat can enjoy the ice cream eating part together!
Ingredients:
Ripe bananas
Small morsels of cat food
tiny treats (optional)
Instruments you need to have for making a cat feast:

Candy mold
Ice Cube Trays
Ice Cream Mold
Lets begin!
Peel off the banana skin, mash them into a bowl using a folk or a mixture, make sure you mash them completely there shouldn't be any clump.
Take out your candy mold.
Layer banana mash on the lower side, on top of that layer small morsels of cat food.
You need to freeze it overnight or at least for 8 complete hours!
ready to be served!
These banana bites are safe for dogs and kittens too!
Tuna Infused Ice Cubes
This is probably the easiest cat ice cream recipe, on the chart. Apart from being delicious for your cat also helps her to increase her water intake. Wow, a treat as well as a healthy choice! This is no cream but lots and lots of ice, don't make a face human, it's for your cat, not for you!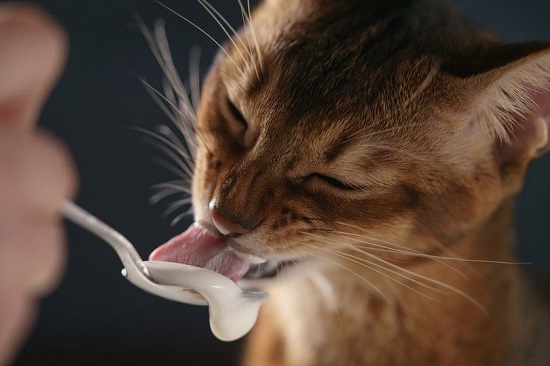 This cat ice cream recipe is inspired by our zookeepers, who use ice cubes as enrichment for big cats, tigers. Now you can skip the bigger part and save a smaller one for your tiny tiger.
Ingredients:
Your cat's favorite treat /wet food
water
Let's begin:
Take a tray
Make small pieces of your cat's desired treat and put it in the try
Add some water
Freeze!
Summer Special Cat Ice Cream
The moment you plan to make this summer special, cat ice cream, make sure you have ample time, as this might take longer than other recipes. The idea behind this ice cream might make you feel, "gross, what is that!" but wait that's not for you, it's for your cat, and she is surely going to love it!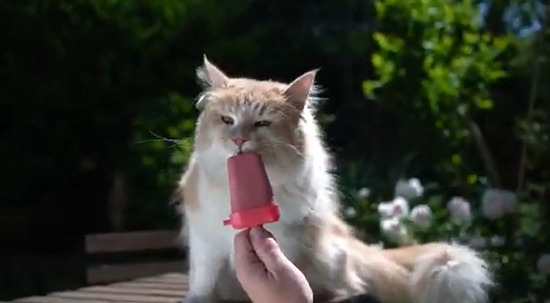 Keep your blender, cat favorite treats, and popsicle ice mold ready.
Ingredients:
1/2 cup creamy treats
few sticks of dried chicken
cat milk
fish in sauce
6-7 sushi neko
few chunks of dried beef
Steps to make it:
Put all the ingredients in a bowl or blender jar, except the cat milk.
Now add cat milk to this, and then blend/mix them together.
Pour this mixture in the popsicle ice mold and freeze it for an hour.
An hour later, this fancy treat it is ready to be severed!
Note: You can add food coloring if you want it to look good, but I would suggest not to do so!
Conclusion
Ice cream time is incomplete without all the family members, and our cats are indeed one of the most loved and pampered members. These cat ice cream recipes allow you to enjoy a good time with your pet while you are having one too!
Most of the recipes which we have selected are easy to make and also require fewer ingredients that are easily available at your home. The best part about these cat ice creams is you can store them for at least 5-8 weeks, which means more movie time with your best feline friend.
References
Why do cats love dairy products — C'ville Cat Care Clinic
Lactose intolerance in cats — Wag Walking
Can cats eat ice cream — Litter-Robot