Check out some easy-to-make recipes for kidney disease below!
The pervasiveness of chronic kidney diseases has been said to be around 1.0-3.0% in cats, and the chances increase as the cats get older. The cats that account for the most part of chronic kidney disease are adult cats, with a prevalence of 80%.
And kidney diseases in cats are not usually seen until they develop more. The best solution to this is to prevent it, which is a whole lot easier than treating it.
So, if you have a cat who has recently been diagnosed with a kidney disorder, you want to make sure she is on a healthy, kidney-friendly cat diet.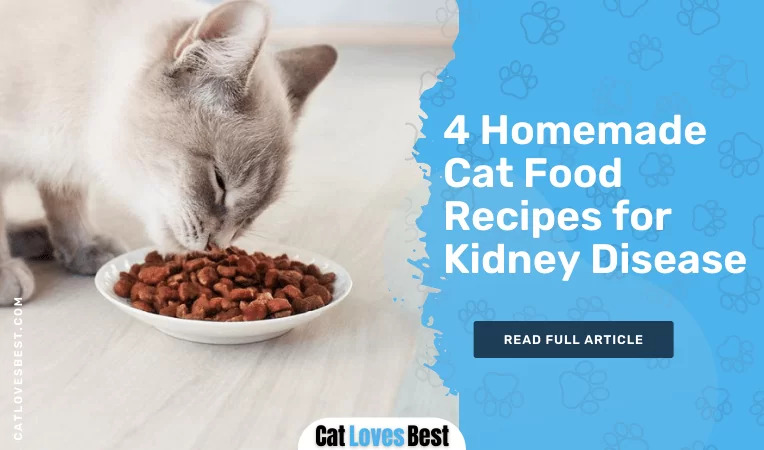 Homemade Food Recipes for Cats With Kidney Diseases (Renal Diet)
Diabetic cats need fiber, and cats with kidney disease need to reduce their protein intake. And when it comes to renal diet for cats with kidney disease, all recipes for kidney disease with rice are great for them. However, their protein intake is still essential, even if it is low.
Too low protein intake can cause muscle mass loss, which can be bad for a cat's health. Therefore, we have included small proportions of protein in the form of chicken and tuna in the recipes for kidney disease below. They are super easy to make without any complications, even if you have never cooked cat food before.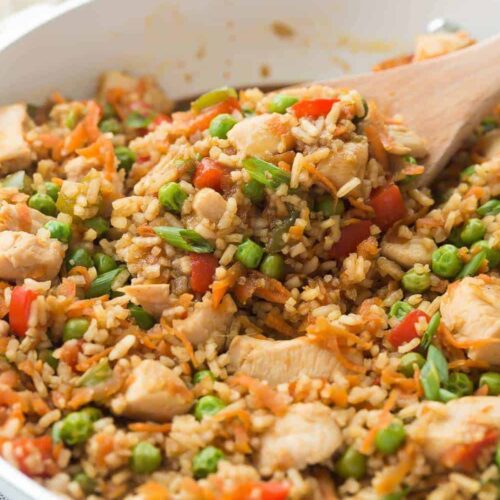 Recipe 1: Chicken Brown Rice With Vegetables
The chicken brown rice with vegetables recipe, is one of the most nutritional recipes for kidney disease that will keep your kitty's kidney health in good shape. This recipe includes healthy constituents, which are perfect for cats that weigh five kilos.
You can make this food in small proportions for the first time and see how it goes and how you can add it to your cat's diet regularly.
Ingredients
2

ounces

Brown Rice

2

ounces

Chicken Breast

1

ounce

Carrot/Peas

3

Pinches

Calcium Carbonate

(Optional)

280

mg

Taurine

(Optional)

1

tbsp

Olive Oil
Instructions
First off, brown rice along with the vegetables — carrot/peas, you can choose either of those. You can also add sweet potatoes. Moreover, you can also use exchange brown rice with other cereals such as barley or quinoa. However, the cooking method with those cereals remains the same as well.

2 ounces Brown Rice,

1 ounce Carrot/Peas

Next, boil the chicken. After it is cooked properly, shred it into smaller pieces. Do not leave behind any big chunks of chicken pieces. Likewise, if your cat does enjoy beef, you can use it in exchange for chicken in the same amount.

After cooking rice, vegetables, and chicken, you can mix these ingredients with olive oil, calcium carbonate, and taurine. You can consult your veterinarian regarding how much taurine your cat needs, as the taurine intake varies for individual cats.

3 Pinches Calcium Carbonate,

280 mg Taurine,

1 tbsp Olive Oil
Notes
You can give this food to your cat along with normal cat food or separately in small proportions for the first time.
>> Quick Comparision of Best Cat Foods for Kidney Disease <<
Best Overall

Hill's Prescription Diet k/d Kidney Care Dry Cat Food

Low in sodium
Vet recommendation
High levels of essential amino acids and carefully controlled phosphorus levels
Editor's Pick

Blue Buffalo Natural Veterinary Diet K+M Kidney + Mobility Support

Grain-free
Free from poultry by-products
Vet recommendation
Contains glucosamine and chondroitin
CANNED Pick

Royal Canin Veterinary Diet Renal Support Canned

Energy-dense formula
Loaded with beneficial vitamins C, B12, and E
Contains healthy omega acids from fish
Recipe 2: Chicken White Rice With Supplements
Next up, we have a similar recipe to the previous one. But this recipe includes different ingredients and supplements.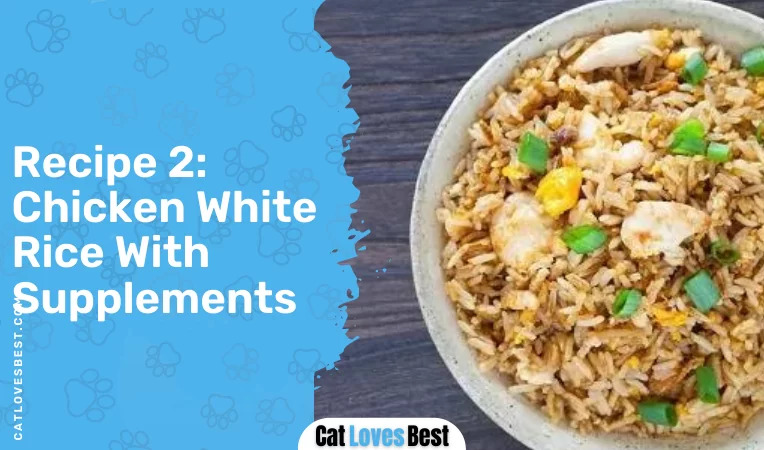 | | |
| --- | --- |
| Ingredients | Quantity |
| Chopped or Ground Chicken Breast | 1 ounce |
| White Rice | 4 ounces |
| Omega-3 Fish Oil | 1 tablespoon |
| Potassium Chloride | 1/8 teaspoon |
| Calcium Carbonate | 1 gm (Optional) |
| Taurine | 250 mg |
Instructions:
Boil white rice and chicken breast. And after the chicken is cooked, cut the chicken pieces into small shreds.
Next, combine all the other ingredients and mix them properly. You can ask your vet how much taurine you should include in your cat's diet.
After mixing, let the food cool before serving it to your cat. You can add it along with your cat's daily diet, or separately in small proportions.
Adding healthy supplements such as omega-3 fish oil can help your cat with protein metabolism and reduce the metabolic by-products of protein digestion — which would otherwise cause toxicity.
Don't just go away, there are more recipes for kidney disease!
Recipe 3: Tuna Brown Rice With Vegetables
The third recipe includes seafood. It is an easy-to-cook recipe, and it is not only healthy but tasty as well. Your cat will love the combination of tuna and rice. Apart from that, the recipe also includes vegetables.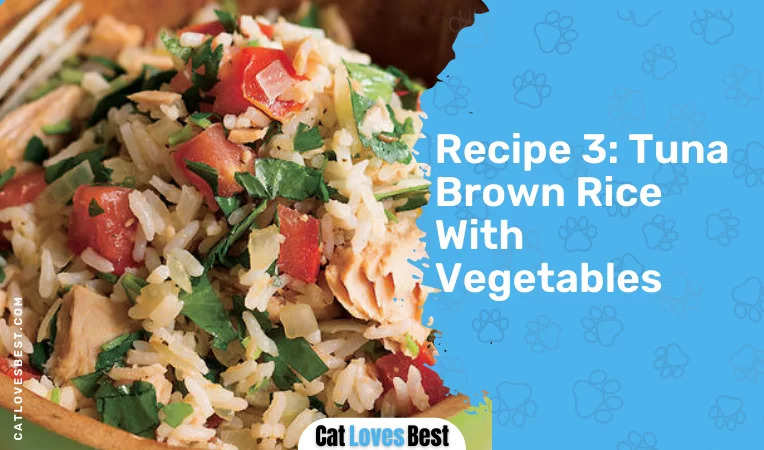 | | |
| --- | --- |
| Ingredients | Quality |
| Brown Rice | 2 ounces |
| Fresh Tuna | 2 ounces |
| Carrots/Peas | 1 ounce |
| Olive Oil | 1 tablespoon |
| Taurine | 250 mg |
| Calcium Carbonate | 1 gm |
Instructions:
Just like the other recipes mentioned above, start by boiling rice and vegetables. You can add any cat-friendly vegetables of your choice, apart from carrots and peas.
Now boil Tuna in a separate container, make sure that it does not have any bone left in it.
After the rice is cooked, combine all the ingredients — tuna, vegetables, olive oil, taurine, calcium carbonate. Mix properly, and make sure they are small enough for your cat to consume without any problem.
You can add taurine as per veterinary advice.
Do not use canned tuna, as they usually contain high amounts of salt and plenty of preservatives. And since we are talking about recipes for kidney disease, we need to avoid salt at all costs.
Recipe 4: Chicken Brown Rice With Green Beans
Here's another low-protein diet for felines with kidney disease. All the ingredients listed below are to be minced. After cooking, you can also freeze the feed for later consumption.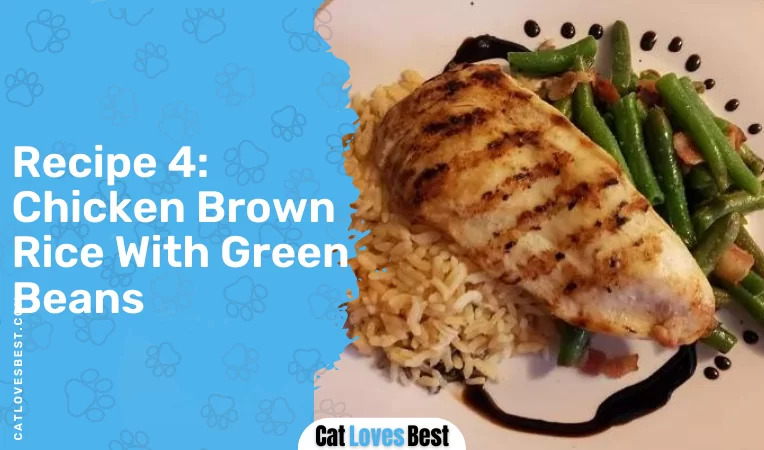 | | |
| --- | --- |
| Ingredients | Quantity |
| Egg | Half |
| Cooked Green Beans | 1 ounce |
| Carrots | 1 ounce |
| Baked Chicken Breast | 1 ounce |
| Brown Rice | 2 ounce |
| Olive Oil | 1-2 tablespoon |
Instructions:
Boil brown rice. After it is cooked, let it cool down on a plate.
Next, boil the egg, or you can also cook it in a pan over medium heat. Cut it into small pieces after it is cooked.
Combine all the ingredients and properly mix them.
You can refrigerate or freeze the mix in an airtight container. Discard after two days.
Offer the feed in small amounts to your cat for the first time. You can also mix it with their daily diet, and see how it goes.
FAQs
What can you not feed a cat with kidney disease?
Cat food with high amounts of salt (sodium) can be very harmful to cat with kidney diseases. And high-sodium diets can significantly increase blood pressure and can worsen kidney conditions. Likewise, you should also avoid feeding high salt treats to your cat with kidney disease such as commercial food, cheese, and so on.
On the other hand, a high-protein and high-phosphorus diet for cats can be equally harmful. However, this does not mean you should remove protein from your cats' diet.
What can I feed my cat with early kidney disease?
If your cat has recently been diagnosed with kidney disease in its early stages, your vet is the right person to make the best recommendation regarding your cat's condition. Canned over-the-counter kidney care cat foods can be good options, as canned wet food contain large amounts of water compared to other dry food alternatives.
At the same time, if you are ready to cook, homemade recipes can be helpful. It's better to avoid raw chicken and stick with only cooked homemade cat food instead.
Does dry food cause kidney failure in cats?
If you have been feeding your cat with cat food for a long time, this may increase the chances of urinary tract issues and chronic kidney disease. This can be worse in the case of adult cats.
Further, other complications may also include the formation of urinary crystals or stones in cats. Some common symptoms can include — excess urination, constipation, drinking a lot of water, dry coat, losing weight.
How can I treat my cats' kidney failure at home?
The best way you can help your cat with kidney problems is by encouraging more daily water intake. Dehydration is one of the most common problems in dehydrated cats with kidney problems. Therefore, encouraging your feline to drink more water can be a good thought.
Besides, canned kidney care cat foods also contain a lot of moisture, and they are often recommended for the same reason.
Bottom Line
In conclusion, preparing fresh, homemade renal diets with low protein for your cat with kidney diseases can go a long way to prolonging survival prognosis and also improving quality of life.
Generally speaking, the damage done to the kidneys cannot be reversed. But, there are many ways, such as — recipes for kidney disease — that can help support kidney function as long as it is not in the late stages of the disease.
And remember, you can also make changes in the recipes listed above as per your vet's recommendations.
References
Dietary management of cats with kidney disease – Animal Endocrine Clinic
Kidney disease in cats — Cornell University
Nutrition for cats with kidney disease — VCA Hospitals