With the help of our experts, we choose the 10 best cat foods for Ragdoll cats that are specially formulated to meet all the nutritional requirements of Ragdolls.
Don't you just love how fast your Ragdoll is caring and obedient as soon as you open the food?
It's no wonder that you're most likely the only source for her entire diet. She couldn't live without you. It's a lot of responsibility, and like any other loving pet owner, you want to do your best. So what's the best cat food for Ragdolls?
A Quick Comparison of Our Favorites in 2023
Best Overall

Royal Canin Ragdoll Breed Adult Dry Cat Food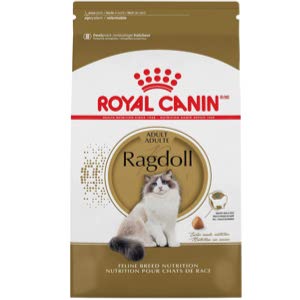 Good for cat's coat
Comes in pyramid shape kibble
Essential nutrients, vitamins and minerals added
---
Editor's Pick

Purina Beyond Grain Free Natural Adult Dry Cat Food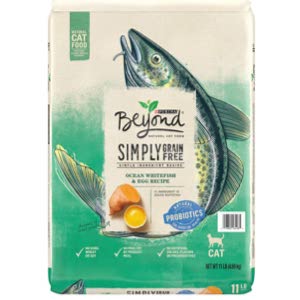 Offers great digestive health benefits
Nourishes skin and fostering lustrous fur
Includes real protein from chicken liver lamb and salmon
---
Affordable Pick

Hill's Science Diet Dry Cat Food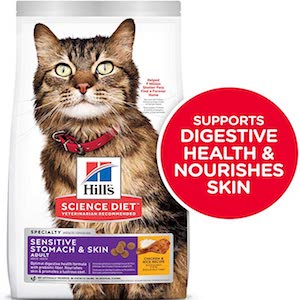 Includes high protein

Keeps teeth clean

Helps to keep your kitty healthy and active
The 10 Best Cat Foods for Ragdoll Cats Reviews of 2023
1. Royal Canin Ragdoll Breed Adult Dry Cat Food
The Royal Canin Ragdoll Breed Adult Dry Cat Food is a breed-specific diet that is the best cat food for ragdoll cats. The recipe is a blend of all the essential nutrients that Ragdolls need to grow healthily.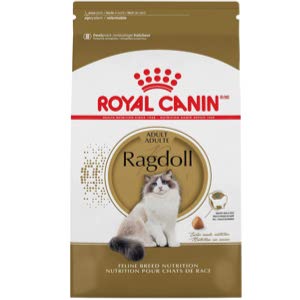 It has a combination of essential nutrients, including amino acids, vitamins, and omega-3 fatty acids that helps to keep the skin of your Ragdoll healthy, shiny, and soft. Nutrients such as taurine support a healthy heart while healthy bones and joints are promoted by EPA and DHA.
Royal Canin knows the details of what makes your Ragdoll cat gorgeous. These relaxed "puppy cats" need to get the right nutrition with long, fluffy coats to keep them looking their best. And since Ragdolls are a large cat breed, they need to benefit from nutrition that supports the health of the joints and the heart.
To conclude, we think this is the overall best cat food for Ragdoll cats.
Key Features:
Type: Dry food
Quantity: 3.72 pounds
Rating: 4.9/5
The pyramid-shaped cat kibble is specially designed for Ragdoll's wide jaw. Encouraging them to slow down, chew, and chew away the build-up of the tartar. Mix in or complement it with some wet cat food or raw cat food to please her meal.
Pyramid shape kibble
Good for cat's coat
Omega-3 for healthy bones
Does not come in any flavors
2. Purina Beyond Grain Free Natural Adult Dry Cat Food
Consider Purina Beyond Grain Free Ocean Whitefish & Egg Recipe part of your cat's daily diet for adult dry cat food. Purina beyond the company has produced a dry cat food that gives your grumpy cat all the natural nutrition that she deserves in a protein-rich, grain-free recipe that you can feel good about serving her.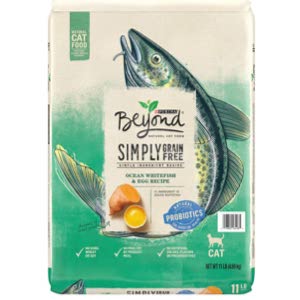 It's a perfect food made from genuine, recognizable ingredients you know and trust. Every high-quality ingredient found in this recipe has been selected purposefully to give all the benefits in one pack. Crunchy kibble will enrich her dining experience in every serving, and knowing that this recipe is packed with whole nutrition helps you to worry less.
Key features:
Type: Dry food
Quantity: 3lb,5lb,10lb,16lb
Rating: 4.7/5
It's the main ingredient is the ocean's white fish that will keep your cat excited with food taste. It does have lots of essential vitamins and minerals to keep your furry friend strong and healthy. And it does come in a wide range of sizes so you can also use it on trial bases.
Contains high-quality ingredients
Contain no artificial color
3. Hill's Science Diet Dry Cat Food
If your cat has a sensitive stomach or dry skin, you're looking for this food. The Hill's Science Diet Dry Cat Food offers great digestive health while nourishing the skin and fostering lustrous fur. This dry food, made with the prebiotic fiber formula, fuels the beneficial gut bacteria of your adult cat, helping to support a balanced lifelong healthy microbiome.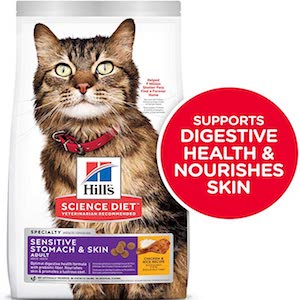 The easy-to-digest ingredients allow fast processing of nutrients by your feline friend's stomach. A process that also allows easier pick-up of stools. It is made from only high-quality ingredients, including real protein from chicken liver, lamb, or salmon. Dry pet food from Hill contains the first ingredient of high-quality protein and provides clinically proven antioxidant benefits.
Key features:
Brand: Hill's Science
Type: Dry food
Quantity: 15lb
Rating: 4.5/5
They are made from natural ingredients and do not contain any artificial colors, flavors, preservatives, or by-product meals. It is on top and recommended by many veterinarians as the best Ragdoll cat food for sensitive stomachs, as it maintains its pH balance and makes it easy to digest.
Source of prebiotic fiber
Helps nourish an adult cat's skin with vitamin E and omega 6 fatty acids
Comes in many flavors and size
Transition to a new food can be difficult for some cat
4. Taste of The Wild High Protein Real Meat Recipe
Feed your cat with all-natural flavors and ingredients like the real carnivore they are with Taste of the Wild's Rocky Mountain Feline Formula. Highly digestible energy for your active cat is obtained by a grain-free formula with peas and sweet potatoes.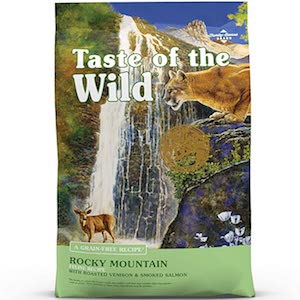 42 percent of this formula is a balanced combination of chicken meal, venison, salmon, ocean fish protein, and vegetable protein sources. This blend gives your wild cat a highly digestible protein with a rich meaty taste.
Key features:
Brand: Taste of the wild
Type: Dry food
Quantity: 5lb,15lb
Rating: 4.3/5
This cat food, like no other, offers a taste sensation. This formula is supplemented with vegetables and fruits for today's healthy cat, providing antioxidants to support a healthy immune system and good overall health. Your cat is looking for tastes from its wild past. Go forward and give them one.
Comes in many flavors
Provides full nutrition
Contains probiotic
Shorter shelf life compared to competitors
Can be difficult to digest for a sensitive stomach
5. "I and love and you" Naked Essentials Wet Cat Food
For our taste and nutrition, the way we need a variety of food in the same way cats need different types of food. Adding wet food to your Ragdoll's diet from time to time can improve her dining experience. The "I and love and you" Naked Essentials Canned Wet Cat Food is served with cranberries and spinach which are rich in nutrients rather than grains. And does not contain by-product foods such as wheat, corn, soy, rice, artificial preservatives, flavors, or colors. Nothing weird or scary.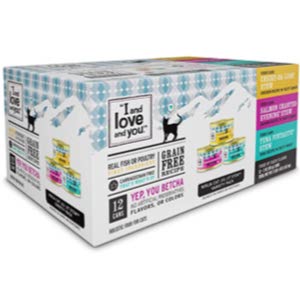 It's made with stews that are free of thickener so that your cat will love you completely or at least stop giving you looks of disdain. Its key ingredient is meat, fish, or poultry which make this protein-rich diet. Wet cat food and is also available in purr-worthy flavors such as Beef, Chicken, Salmon, Cod, Turkey, Tuna, and Rabbit.
Key Features:
Brand: I and love and you
Type: wet food
Quantity: 3oz, 12 count ,34count
Rating: 4.2/5
Flax seeds and salmon oil help increase the softness of the coat and promote the smoothness of the coat and healthy, radiant skin. So get ready with your camera and lighting capture and post some incredible pictures of your cat.
Contains salmon oil
Comes in a very wide range of flavor
Made with meat base formula
Need to store properly
Some complaints about the packaging
6. Royal Canin Feline Care Nutrition Canned Cat Food
Your cat has it all: a shiny coat, a sleek body, and a charming personality. But the beauty starts inside, and the right diet can make a difference in the health of your cat— inside and out. Royal Canin Intense Beauty Thin Slices in Gravy Wet Cat Food is a complete and balanced diet to support the natural beauty of your adult cat.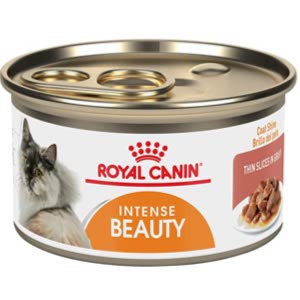 It comes with soft pieces of meat cat food and is formulated with nutrients including omega-3 and omega-6 fatty acids to support your cat's soft and shiny coat. These key ingredients help your cat maintain a healthy weight. And a precise balance of vitamins and minerals promotes optimal health and wellness to help keep your cat beautiful inside and outside.
Key Features:
Brand: Royal Canin
Type: Wet food
Quantity: 3oz, 5oz
Rating: 4.0/5
The company has changed the texture and gravy formula. If you are an old user of this particular canned food and your cat is used to the initial taste, it may not be a great choice for you because the cats are very picky. But if you're a new cat parent, then include this advanced cat food formula in your cat's diet.
Includes a lot of gravy
Contains omega acids
Maintain weight
Doe not come in many flavors
Need to store properly
7. WholeHearted Tuna Recipe Flaked in Gravy
WholeHearted Tuna Recipe Flaked in Gravy is one of the best foods for ragdoll kittens. Due to the size of the body, Ragdoll needs more nutrition while growing or compared to other kittens in the early stages. The canned food contains minerals and essential vitamins for the complete diet of a prominent nutrient.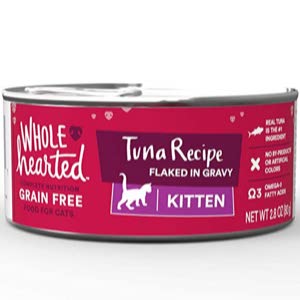 The WholeHearted company has achieved specialization in the creation of a balanced diet for cats and, in particular, for ragdoll breeds. This canned has an advanced formula with all-natural ingredients to promote bone health and a shiny coat. It also helps to maintain healthy microbes in the intestines.
Key Features:
Brand: WholeHearted
Type: wet food
Quantity: 2.8 oz.
Rating: 3.8/5
It promotes healthy microbes and is easy to digest, but if your little kitten is struggling with its sensitive stomach, then I would advise it to take advice from a vet only. Since the sensitive stomach is prone to many infections, any newborn kitten should eat food only which is prescribed or given under the guidance of the vet.
Grain-Free Flaked Tuna Wet Kitten Food from WholeHearted
No corn, soy, or wheat
Omega-3 fatty acids for healthy skin and coat
Contains a minor amount of artificial color
Chunks of tuna can be hard to bite for a kitten under 1 month
8. Iams Proactive Health Healthy Dry Cat Food
Help your kitten grow into a playful, energetic, and healthy adult cat with IAMS Proactive Health Kitten Dry Cat Food with Chicken formula. It's the best Ragdoll kitten dry food designed for a cat's first year of playful, fluffy, furry, feline firsts. Chicken is the #1 ingredient in this high-protein kitten kibble.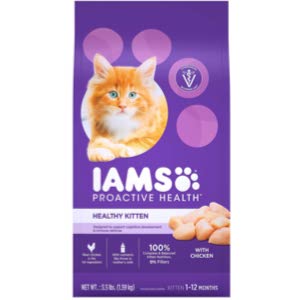 It gives essential nutrients and supports the development of healthy eyes, healthy bones, healthy brains, and healthy hearts. Moreover, it contains nutrients like those in their mother's milk, this dry kitten food helps kittens build strong immune defenses. If you're looking for kitten food that's good at supporting the healthy development of your kitten's first year, then get your paws on this.
Key Features:
Brand: WholeHearted
Type: wet food
Quantity: 1.5 kg.
Rating: 3.5/5
It not only helps kitten but can also be mixed with a senior cat's diet who are losing weight drastically. this food will give them energy and will help in bone building and maintaining strong muscle structure and healthy gut.
Contains nutrients Like Mother's Milk, Including Vitamin E
Helps in Immune Defenses
Small Kibble For Small Mouths
Taurine Helps Promote Strong Vision Development And Healthy Eyes
Does not come in a variety of sizes
And offer less quantity than the competitors
9. Royal CANIN Feline Selected Protein Adult PD Can
If your feline friend has food allergies, then consider switching her to a low-allergy cat food formula, such as the Royal Canin Veterinary Diet Hypoallergenic Select Protein – Pea and Duck Feline Formula. It is a nutritious, delicious, and balanced cat food that includes simple, easily digestible ingredients that won't upset your cat's system.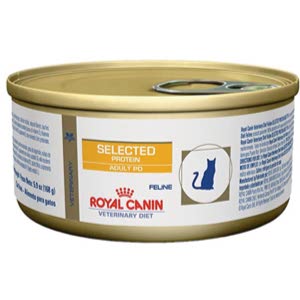 It boosted omega-3 fatty acids to restore the health of your cat's skin and coat luster. B-vitamins and amino acids are added to help restore the integrity of your cat's skin. It is made of simple basic ingredients of pea starch and sugar and duck protein to reduce your cat's allergic reactions. It includes antioxidants to help fight infection in your pet's system and has Chelated minerals that can be easily absorbed by your cat.
Key Features:
Brand: WholeHearted
Type: wet food
Quantity: 1.5 kg.
It helps the elderly cat who mostly throws up their food.and has a very light diet, it can be a bit smelly but the food content will make your cats ' hair and coat shiny.per cost is quite a tad higher, but it's worth it if it increases your cat's weight and health.
Contain omega acid
B-vitamin for skin
Perfect fit for cat with a hypoallergenic stomach
Many complain about the smell
Per can cost is higher than the competitors
10. Royal Canin Nutrition Adult Instinctive Canned Cat Food
With so many ingredient-focused canned cat food choices out there, how do you know what's the best cat food for your Ragdoll cats? Royal Canin understands that there's a science to it and researches the nutritional needs of each pet to build Royal Canin Nutrition Adult Instinctive Canned Cat Food with the exact mix of nutrients needed to live a wonderful life.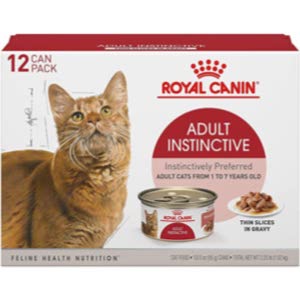 For adult cats, a lifestyle full of napping, grazing, and grooming often leads to higher-than-healthy body weight and digestion issues. Royal Canin Adult Instinctive Thin Slices in Gravy wet cat food is made with the balanced nutrition your pet needs for optimum cat health.
Key Features:
Brand: WholeHearted
Type: wet food
Quantity: 3.3 oz
This formula features the ideal ratio of energy derived from proteins, fats, and carbohydrates. The result? An empty bowl and weight control. It makes all the difference in your cat's health and satisfies their cravings.
It is from one of the trusted companies
Balanced nutrition
Not be great for sensitive stomach
Some user complain about can leaking
Buyer's Guide for Cat Foods for Ragdoll Cats
What does your Ragdoll cat really need in terms of nutrition? Are those needs really any different from any other cat? Some need for food like wet food is very common. However, the Ragdoll cat differs from most other cats in two small, but significant ways and they need different food and nutrition needs.
That's why you should look into many features and specific ingredients while buying Ragdoll cat food therefore here we have provided the ultimate guide for buying healthy food for your Ragdoll.
Do You Need a Specific Diet for Ragdoll Cats
Ragdoll cats are different from other breeds due to two main reasons:
Ragdolls tend to eat more than other cats
New ragdoll cat owners often report being amazed at how much food their Ragdoll cat can put away without getting a gram.
They're very vocal, too, and they'll let you know when they need more. This is important because it means that the quality of the food you feed to your Ragdoll is much more important.
Poorer quality cat food may be much less satisfying for your cat, which would make it eat even more, and therefore take a huge amount of unnecessary ingredients into its bodies, such as grains and additives. This could lead to health problems in the future. Make sure you provide your ragdoll with fresh water throughout the day.
They are exclusively kept as an indoor cat
Because of their precious, beautiful fur that can easily be matt and dirty, most people never allow their Ragdoll cat to be free outside. This means that there's absolutely no chance for your cat to add any juicy critters to a bad diet.
In addition, this means that they are completely dependent on you for all their moisture needs. Their natural diet in the wild normally contains 90% of their hydration needs, and they're not used to drinking a lot. This makes it a lot more important than the food you give your Ragdoll contains all of the moisture they could possibly want.
How to Choose the Best Cat Food for Ragdoll Cats?
Here are some things to look for in a good Ragdoll cat food:
Healthy Fat: Chicken fat gives your kitten energy to boost its growth and development, as well as omega fatty acids for brain development and healthy skin and coat.
Animal Protein: As a carnivore, your kitten has high protein needs and is best served from animal sources such as meat, poultry, and fish.
Digestibility: In addition to ensuring that your kitten's food is full of nutritious ingredients, you need to ensure that it is digestible so that the body can absorb all of these nutrients.
Beneficial Supplements: Vitamin and mineral supplements ensure that your kitten seems to have the right blend of nutrients for healthy growth and development.
Quality Ingredients: The quality of the ingredients in your cat's food determines how well your cat can digest it and how it affects its overall health. Most of the ingredients in your cat's food should be animal-based.
In nutshell, food should have an approximate protein content of 60 percent as you can get a 30 percent fat a little (2 percent to 5 percent) carbs whole meats, including organ meats. High moisture (ideally, for Ragdoll cats, you would even moisten dry food before feeding your ragdoll).
Things to Avoid in Cat Foods for Ragdoll Cats
Say no to highly processed mystery meat (nothing that lists "meat" as an ingredient) and almost no filler ingredients like grain. Hardly anything with high in sodium, no milk (Ragdolls should not drink milk).Nothing that your cat struggles mechanically to chew. and nothing that regularly gives your cat diarrhea. And please don't feed only dry food. That's EVILISHH…act!!
FAQs About Cat Foods for Ragdoll Cats
Which is the best ragdoll cat food?
Royal Canin Ragdoll Cat Food is one of the healthiest cat food and from one of the best cat food brands and very carefully formulated for ragdoll breed only. Nutrient requirements and moisture content for ragdoll cats are different from others. This formula has retained all the features you need and has made an almost perfect match for a cat.
How much should I feed to ragdoll cat?
Dry food is mostly meat and vegetables and can be dried or moistened. Serving them dry will allow your cat to nibble all day long instead of eating one big meal at a time.
Cat dry food should contain approximately 9% to 10% moisture, 8% fat and 30% protein. With this much amount, you can feed ragdoll cats twice a day and some occasional treats.
How is indoor cat food different from regular cat food?
John Knox Mayfield, III, DVM, a veterinarian at the Animal Medical Center in Hattiesburg, Mississippi, says the big difference between indoor cat food and standard cat food is that indoor food usually has fewer calories per serving.
He said that "This can be beneficial if the cat is very sedentary and does not have an active indoor lifestyle." There are other low-calorie cat foods that are almost identical to' indoor' foods but labeled as' light' cat foods. Either of these could be beneficial to cats who need a lower calorie diet.
How much do canned cat food should cats eat daily?
You could feed your cat with wet food every day. Check your can or consult your doctor for advice on feeding. In general, the average adult cat can feed one 3-ounce per 3 to 3-1/2 pounds of body weight per day.
You can feed your cat's wet food at any time of day. It's important to remember, though, that canned food can't sit for more than half an hour or it's going to be spoiled. So, it's best to feed at a time when you can clean up your cat if she doesn't eat it all.
How much does cat foods for ragdoll cats cost?
The price of wet food is higher than the dry food for ragdoll cats. This doesn't mean that you'll only feed her dry food.
Ragdoll cat doesn't drink any external liquids, so the moisture content can only be produced by food. Try to provide a mix of both. That will ultimately cost you less than the individual category.
Conclusion
After all this, I would personally advise you to go for Royal Canin Ragdoll Cat Food. It is the best cat food for Ragdoll cats and can be used with raw meat and contains the required vitamins and minerals so that you know that you give your Ragdoll exactly what it needs, on a regular basis. It's a simple, convenient, and affordable solution made with 100% human-grade ingredients.
Just note, a cat is always going to be the one who chooses what they're going to eat, so you can't force it on them. And whatever you choose from above, it's certain to be something that your Ragdoll cat would enjoy.
References
Ragdoll Cat Breed Guide — Scrumbles
The Ragdoll — Pet Circle
Ragdoll — Wikipedia