If you've ever caught your dog sticking his head in your cat's litter tray, you know how gross and frustrating it can be. But it's important to remember that this behavior is completely normal for dogs.
As scavengers, they're naturally attracted to things like cat poop and will happily munch on it if given the chance. Not only is this gross to watch, but it can also be dangerous for your dog's health. That's why it's so important to invest in a dog-proof litter box.
Not only will this keep your furry friend away from the litter tray, but it will also keep your living room looking clean and tidy. Don't let your dog's scavenging habits ruin your home, invest in a dog-proof litter box today!
A Quick Comparison of Our Favorites in 2023
Best Overall

Catit Jumbo Hooded Cat Litter Pan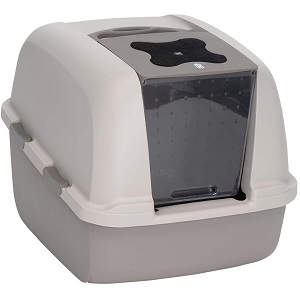 Easy to clean
Comes with BPA-free and durable plastic material
Remove bad odor
---
Editor's Pick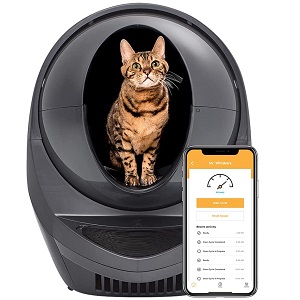 Wi-Fi enabled and can be control with smartphone
Appropriate for multi-cat household
It is fully automatic and comes with self-cleaning system
---
Affordable Pick

Omega Paw Self Cleaning Litter Box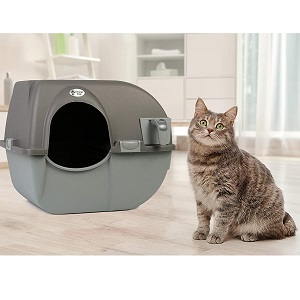 Comes with roll and clean method for fast cleaning

Suitable for small to medium size of cats

Plenty of space
The 7 Best Dog Proof Litter Boxes Reviews
While relocating your feline's traditional litter box somewhere else may not work every time, there is a better solution to this crisis — a dog-proof litter box.
Having the best dog-proof litter box at hand can go a long way, keeping your home healthy and happy.
In this post, we will introduce you to the seven best dog-proof boxes to ensure that your cat's doo-doo time does not get snooped on by your doggy.
1. Catit Jumbo Hooded Cat Litter Pan
The Catit Jumbo Hooded Litter Pan is our overall best choice for the best dog-proof litter box. It comes with a large hood and plenty of space that allows your cat to do her thing in peace with the much-need privacy.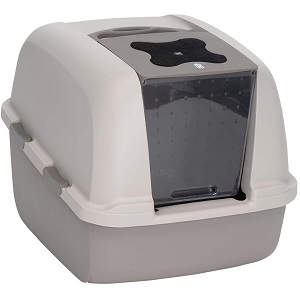 Likewise, the litter pan is ergonomically designed with a carrying handle on the top. It makes it portable, allowing you to lift and place it anywhere conveniently. And if you plan on cleaning the box, it's no biggie. The litter pan comes with locking tabs that make it easy to disassemble and put together in a matter of seconds, making tidying effortless.
Another golden feature about this dog-proof litter box is that it comes with a built-in fitted bag anchor that helps keep the bag open and frees hands for scooping. Further, the litter box's build quality comes with the support of BPA-free plastic material, which is durable and easy to clean.
And perhaps the great dog-proof feature of this box is the carbon filter. It can effectively trap and remove the unpleasant odor, which is appealing to the dogs. Furthermore, the manufacturer also mentioned that you could add a Catit Ammonia Buster, which can absorb and retain up to 80% of hazardous ammonia gases. However, you have to buy them separately.
Overall, with many practical features, this dog proof comes at an affordable price tag. It offers the best value for your hard-earned money, as well as an effective and private dog-proof haven for your kitty.
"To conclude, we think this is the overall best dog-proof litter box."
Pros:
This dog-proof cat box comes with a bag anchor, which makes it easy to clean.
It comes with BPA-free, durable plastic material build.
It features a carbon-impregnated filter that traps and removes the foul odor.
Likewise, it is one of the best-selling dog-proof litter boxes in the market.
Cons:
It may not be suited to the large size of cats.
2. Litter-Robot 3 Connect
If you want to splurge a little on your private cat bathroom, there can be no better option than Litter-Robot 3Connect.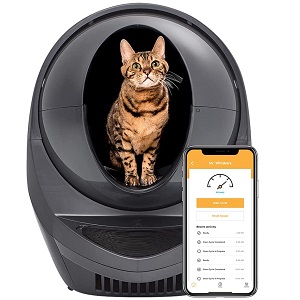 An expensive investment but a worthwhile one, this litter robot has been owned by more than half a million cat parents.
It is a fully automatic, self-cleaning litter box for cats. Inside the robot lurks a mechanized, rotating, patented sifting system.
It can convert the tedious task of continuous litter scooping into a breezy chore, no more tiresome than taking out a garbage bag. It comes with fully enabled accessories, ready to use right when it is out of the box.
The litter robot also includes liners, a carbon filter, and sealant strips that traps and removes offensive odors. Besides, the maintenance comes in cheap. You may need to replace the carbon filter every three months along with the sealant strips yearly, in case you don't clean the waste drawer thoroughly.
Likewise, you can monitor and control the litter robot from your smartphone. The dedicated phone app for this robot can track when the litter container is full and remind you when it is time to empty it. Furthermore, the mobile app can also provide comprehensive statistics, history, and the current status of the litter robot.
Overall, the Litter-Robot 3 Connect is an impressive dog-proof litter box, plus an invaluable product that can benefit many cat parents who are also dog owners.
Pros:
This litter robot comes pre-assembled, so it's ready to use when it comes out of the box. Plus, it also has a step design.
The fully automated, self-cleaning system comes with effective odor control, which will prevent the canines from locating the cat waste.
It is Wi-Fi enabled, and you can control the robot with a dedicated smartphone app.
It is the best solution for cat parents who have a large number of cats.
Cons:
This litter box is heavy and can be difficult to move.
It comes at an insane price tag.
Want to enhance your home decor then you should visit the latest Modern Litter Box.
3. Omega Paw Self Cleaning Litter Box
If you're not a big fan of scooping out your cat's litter, then Omega Paw Self Cleaning Litter Box can be a perfect choice.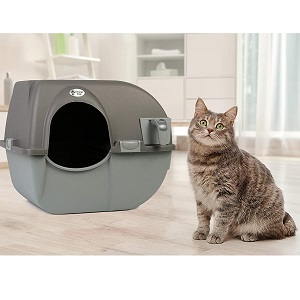 The manufacturer of this litter box employed an unusual approach to removing the litter. It cleans in seconds; all you need to do is lift and roll the litter pan. The sifting grate inside will separate the cat litter from the cat poop once you roll it over.
The cat poop then gets collected in a pull-out tray featured on the top of the sifting grate. You can easily pull out the waste tray to dispose of the cat feces. Thanks to the roll and clean method, you do not have to deal with the fuss of scooping the litter by hand.
Furthermore, the plastic built of this litter box features an enclosed design with a front entry that should be big enough for a regular-sized cat. Thus, your cat will enjoy the privacy that this dog-proof litter has to offer.
Pros:
This litter box comes with a roll and clean method for fast cleaning and easy disposal.
It is suitable for small to medium size of cats.
The box features a durable plastic built.
It has plenty of room.
Cons:
This litter box is not suited to large cats.
The odor might trouble you a little as it has no odor filter.
You have to cover the entrance as there is no enclosed door.
4. Iris Top Entry Elevated Litter Box
If scooping litter out is not a problem for you, but you prefer a simple yet appealing box design, then this dog-proof litter box from Iris can be the best choice for you.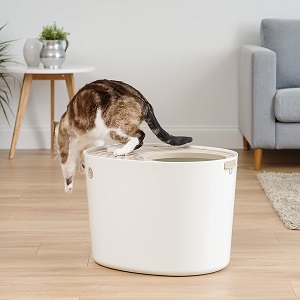 With a BPA-free, strong plastic built, this litter box comes in three brilliant colors. Likewise, the litter box is roomy enough to accommodate all cat sizes without feeling confined. And the tall design of the box can provide your feline with enough privacy.
This dog-proof litter box has a top entry. The entry is big enough that even large cats can smoothly enter the litter box. Further, the manufacturer also included a grooved lid on the litter box, preventing litter from scattering when the cat leaves the litter box.
One more nice feature about this litter box is that it has a curved design. It will make it easier for you to clean up the litter box, and you'll not find any cat poop pressed into the edges. In addition, it comes with a plastic scoop for picking up the litter.
Likewise, the scoop comes with a hook, so you can easily attach it anywhere around the lid. Overall, this litter box does a great job of keeping dogs away from interfering with your cats.
Pros:
This litter box features a creative design with a top entry and a grooved lid.
It has an appealing look, and it comes in three different colors.
The curvy shape of the litter box makes it easier for you to clean and scoop the litter.
The scoop comes with a hook that can be attached anywhere around the lid.
Cons:
There is no enclosed door, however since it is a top entry litter box, you are good to go without an enclosure.
5. Petmate Top Entry Litter Pan
At the fifth position, we have Petmate's Top Entry Dog-Proof Litter Pan. From its design, you can tell it looks different from a small trash can with skinny corners.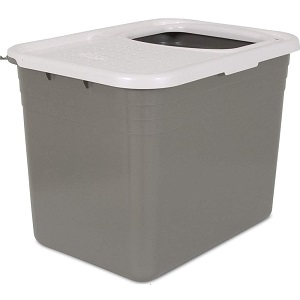 Petmate is well renowned for manufacturing excellent quality products in the pet industry, with a good balance between price and performance. Likewise, this top entry litter box comes at an affordable price and delivers up to expectations.
Given the dimensions of the litter box, it can fit small to medium cats without any problem. The high walls of the box surround all sides, and the grated top lid collects the litter from the cat's paws. And the best bit is the top-entry design. It gives enough cat privacy and prevents your canine from digging in the litter tray.
This dog-proof cat litter box features built-in handles for easy and comfortable lifting and a dedicated hook for hanging the litter scoop. To make cleaning more effortless, you can use the exclusive liners made for this top-entry litter pan. However, you have to buy them separately.
Pros:
This litter box is made in the USA by one of the best brands in the pet industry.
The high walls enclose the covered cat litter box on every side, letting cats dig and cover waste without spilling litter out on the floor.
Furthermore, the litter-cling lid gently wipes paws as the cat exit the litter box, avoiding a mess on the floor.
Cons:
It do not feature an odor preventive filter.
6. PetSafe ScoopFree Dog-Proof Litter Box
The PetSafe ScoopFree, is an automatic dog-proof cat box, gives you freedom from weeks of cleaning and gives your cat clean and fresh litter.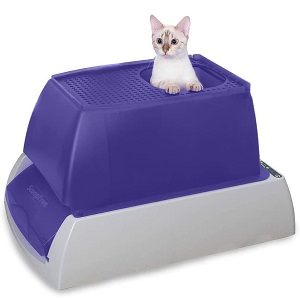 It is another premium choice like the Litter-Robot 3 Connect for time-constrained cat parents. With this self-cleaning litter box, there's no need for cleaning, scooping, or refilling your cat's litter for weeks.
PetSafe decided to make use of crystal litter rather than traditional litter because of its beneficial properties. Likewise, crystal litter is super effective in controlling odor. It can provide up to five times better odor control than any other traditional litter by soaking up the urine and solid waste. This property of crystal litter can be well effective in preventing dogs from detecting the smell.
Along with that, the crystal litter prevents from getting your floor dirty as it is 99% dust-free, and it also does not stick to the cat's paws. The litter box also includes a top-entry hooded cover with a grated surface that helps eliminate litter tracking.
This dog-proof litter box is electronic, plug it in, and it is ready to work. And the best part is the sensor included in the litter box. The safety sensor detects your cat, and only after leaving the box, the self-cleaning works. The manufacturer has added an extra feature, where you can likewise set the cleaning cycle to five, ten, or twenty minutes after your cat sets her foot out.
Moreover, there's even a health counter inside the litter box that tracks how many times your furry feline used the box. It can help determine early signs of health issues in your furry pal.
Pros:
This litter box comes with a self-cleaning mechanism that can keep the cat litter clean for weeks.
The manufacturer used crystal litter instead of the traditional type of litter.
It comes with effective odor control that can aid to keep dogs out of the litter box.
Cons:
It is expensive but offers the best results.
7. Nature's Miracle Dog-Proof Litter Box
Last but not least, we have Nature's Miracle Dog-Proof Litter Box. This one can be the best option if you are looking for an affordable and compact dog-proof cat box.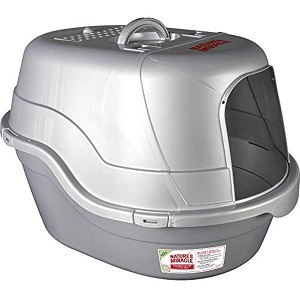 This litter box can easily contain your cat's mess without letting your dog know. With this litter box, you will be able to eliminate the bad odor as it has built-in odor neutralizers. The manufacturer has labeled it as an "odor-control charcoal filter."
It has a decent plastic built with a non-stick surface that eliminates litter and odor build-up effectively. Furthermore, the enclosed hood in the front of the litter box helps prevent litter scatter and makes cleanup quick. And to make it more effortless, the litter box also features a handle and an additional four easy-to-use latching side locks that are removable.
The overall look of this litter box makes it look like a cat crate. One of the best things about purchasing this dog-proof litter box is that you can take it anywhere without worrying about scattering the litter outside. You can select from two color choices — silver and white.
It is also pretty lightweight if you plan on carrying it.
Pros:
This litter box comes in a simple and compact shape with an easy carrying handle.
It features an odor-absorbing charcoal filter that can eliminate any unpleasant smell, which prevents dogs from locating the litter box.
This dog-proof box also comes with a non-stick surface that prevents litter build-up.
Cons:
It is not suited to large cats.
How to Choose The Best Dog Proof Litter Box
With plenty of dog-proof litter boxes available in the market — each with different types and features — how do you choose the best one? While some felines may have a specific preference for litter boxes, it is always a good idea to do a little experiment.
Ahead, we will go through a few factors that can help you make the right purchase by finding the best litter box to keep dogs out. Let's have a quick look at them:
Type
Dog-proof litter boxes come in various types. Type mainly refers to the size that fits your cat while considering elements like convenience, ease of cleaning, and durability at the same time.
If you have a big fur-baby, then you will need a more than average size dog-proof litter box. Instead of settling for a smaller litter box, which will only allow the spread of cat poop and dirt in your home, go for a larger litter box.
Large dog-proof litter boxes have enough room that can fit large cats without making them feel confined. Litter boxes such as the Petmate Top Entry Dog-Proof Litter Pan can easily house big kitties, and the top entry hides the litter box from sight and helps deter curious canines from searching for a little "snack."
You should check out the best cat travel litter box if you are planning to travel with your furball.
Odor Control
To add one additional preventative layer to keep your puppy out, seek a litter box that comes with odor neutralizers. It can likewise be excellent in minimizing the unpleasant cat poop smell in the house.
For instance, a dog-proof litter box like the PetSafe ScoopFree Dog-Proof Litter Box is an excellent cat litter box to keep dogs out that can effectively get the smelly odor in control.
Point of Entry
One last yet notable thing to consider is the point of entry of the litter box. The best choice would be a litter box that keeps dogs out with the help of a top entry door and tall walls. Likewise, they also noticeably reduce the litter tracking as compared to any side entry boxes.
While a front-entry litter box may not be very well-effective, having a top-entry can be a great solution. It will ensure that your pooch doesn't stick his head in to look for a litter buffet.
The best recommendation would check out the best affordable covered litter box, you might get the best litter box that is suitable for your furball.
FAQs About Dog Proof Litter Boxes
Which is the best dog-proof litter box?
While there are many other options to choose from, we selected Catit Jumbo Hooded Cat Litter Box to be an excellent solution and the best dog-proof litter box of all.
It comes with all the essential features that hit all the bases for being the best cat litter solution that is dog-proof.
How much does a dog-proof litter box cost?
Automatic dog-proof cat litter boxes clean up after cats following their box usage. They eliminate your daily need to scoop out the litter. If you hate this chore, then automatic cat litters boxes can be well worth your money.
On average, you can expect to pay around $150 to up to $600 for self-cleaning dog-proof cat litter boxes. On the other hand, traditional dog-proof cat litter boxes can cost you from as little as $20 to up to $100.
Do we need dog-proof litter boxes?
Yes. It is preferable to own dog-proof litter boxes if you have a multi-pet household. If your dog snacks out from your cat's litter box, your dog could likely get intestinal parasites.
For this reason, dog-proof litter boxes are a popular choice among multi-pet owners. These types of litter boxes prevent dogs from entering the cat litter tray.
Bottom Line
Being a pet parent that includes both dogs and cats can be a demanding task. And one of the daily struggles you can have is your pet dog constantly sniffing your kitty's litter and eating the poop.
Luckily, dog-proof litter boxes are a thing. For some frustrated pet parents, a cat litter box to keep dogs out can be a godsend.
In conclusion, a dog-proof litter box can not only keep the dogs away but also provide your cat a private retreat while she does her thing. You really need one if you are a parent to both cats and dogs.
References
Dog-Proof Litter Boxes: 7 To Keep Canines Out – Great Pet Care
DIY Dog-proof Litter Box from SureFlap – Sure Petcare
Just Right: How To Solve Litter Box Problems For Good – Litter Robot