Grooming is a great way to bond with your feline friend. Grooming also gives you the opportunity to inspect your cat. Grooming will not only make your cat look more adorable, but it will also benefit her (and ultimately you) in a better way. So why not get the Best Cat Grooming Tools for your pet.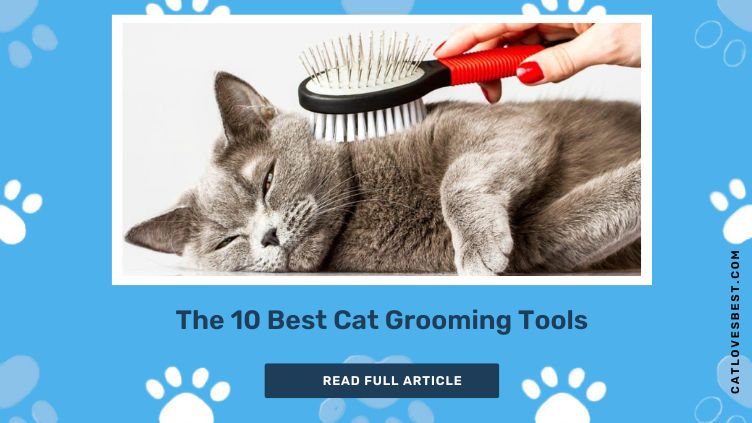 Grooming your cat regularly will also keep her clean which will eventually keep her in a hygienic and healthy condition. Grooming is not only about the appearance of your cat; it's also good for their health.
Essential Cat Grooming Tools for your Feline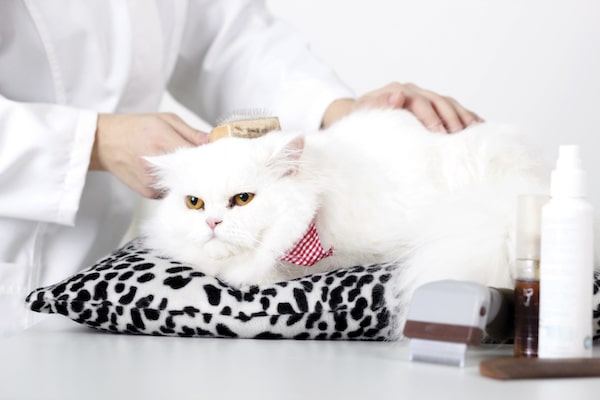 It is important to take care of grooming your cats, and for this, you should the best cat grooming tools for your feline. Here are the ten essential cat grooming tools that you can use to groom your furry friend.
1. Wire Slicker Brush
It is a pet grooming tool used on cats to get rid of any debris, loose hair, and knots in the fur. The rectangular-shaped brush end has fine wire bristles that are tightly packed together. The tip of the Wire Bristles is made such that it does not scratch the cat.
2. Soft Bristle Brush
This type of cat grooming brush is especially recommended for cats that don't like to be brushed. As the bristles of this cat grooming tool are made from soft material, so it is gentle while being used.
>> List of best cat brushes of the year <<
3. Flea Comb
Flea Combs can be used to get rid of any fleas or ticks on your cat's fur. It simply removes any dead or alive fleas but it is unable to remove flea eggs from its fur. However, using a flea comb does not control flea reinfestation.
4. Nail Trimmer
Trimming and clipping your cat's claw on a regular basis, especially if she is often habituated to scratching while playing with you or doing some other activity. Trimming your cat's nails also prevents her from getting any injuries in its claws. You must include this in your list of required best cat grooming tools.
>> List of Best Cat Nail Clippers of the Year <<
5. Toothbrush
It is important to take care of the oral health of your felines as they can't do it themselves. It also might take some time for your cat to get habituated to brushing if she is not used to it since she was a kitten. So make sure that if you have a kitten then you start using the toothbrush to make her acclimatized to it.
>> List of Best Cat Toothbrush of the Year <<
6. Ear Wipes
The best and safest method to clean your cat's ears and remove any debris or ear wax is ear wax. There are also no side effects of ear wipes and so it is completely safe to be used for kittens as well.
7. Deshedding Tool
The deshedding tools are used to effectively remove loose hairs from the cat's coat. It can be used prior to using a slicker brush for making the cat's fur-free from any tangles or loose hairs. They are a must when we want all cat grooming tools.
8. Mat Splitter
Your cat's hairs might get matted if not regularly groomed, in this case, Mat Splitter can come in handy to get rid of any mat formation in cat's fur. After using a Mat Splitter it becomes easy to groom the cat with a slicker brush.
9. Undercoat Rake
The Undercoat Rake has a combination of wide and narrow tooths that makes it one of the best deshedding tools. It removes any loose hair from the cat's fur and makes your feline's coat smooth and tangle-free.
10. Rubber Grooming Gloves
Rubber grooming gloves are the safest way to groom your cat. The task also becomes easy and convenient for you as you simply need to wear it on your hands and pat your furry friend. Your feline will love this grooming tool.
>> List of Best Cat Grooming Gloves of the Year <<
Good Cat Grooming Practices
There are lots of things you can do to groom your Cat. But following these practices daily will help you to keep your cat clean and hygienic, this will improve both, your cat's health as well as her aesthetic beauty.
i. Brushing fur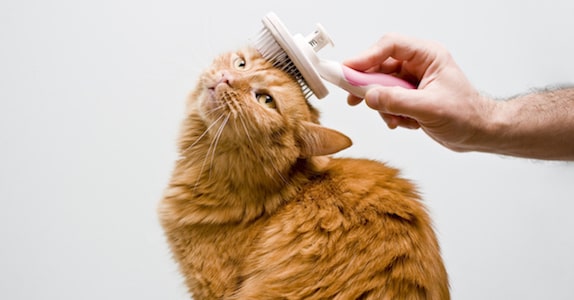 Brushing removes dirt from your cat's coat and spreads natural oils throughout the coat. Brushing also prevents tangled hair and keeps the skin clean and free from irritants. Cat's with longer hairs need brushing every day, whereas short-haired cats only need once a week.
Cats are especially prone to hairball formation as they self-groom by licking their fur. Regular brushing reduces the amount of hair your cat swallows during self-grooming. So regular brushing will help in reducing the frequency of hairballs.
Different tools used for brushing fur are Brushes, Slicker Brushes, Shedding Brushes
ii. Bathing
Cats are self grooming, so bathing your cat more than a couple of times a year would be sufficient for them. However, in case of any mishaps, you may need to situationally bathe your cats occasionally out of her regular schedules.
The reasons could be: if the cat gets into something and smells, if the cat becomes uncomfortably dirty or sticky, or if the cat picks up bugs in its fur.
Moreover, also keep in mind that cats that have been bathed regularly since they were kittens are more likely to tolerate adult baths. So be careful while bathing an adult cat which is not used to bathing since kittenhood.
While bathing your cats, it's not only hands that you have to use to scrub your cat using cat bathing gloves, there are also various other tools made for the purpose of bathing your cats.
iii. Nail Clipping
Does your cat have a habit of scratching with her paws while you are playing with her? It becomes very necessary to trim her nails, especially in this condition. It might be hard initially for you to trim your cat's nails, but she will get used to it after clipping her nails twice or thrice.
For nail clipping, there are two different types of tools available for nail clipping; Nail Clippers and Scissor Nail Clippers. Cat's Nail Clippers are not similar to what we use for clipping our nails.
iv. Brushing Teeth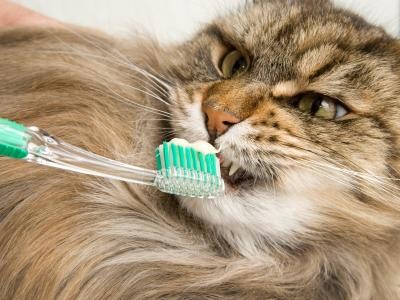 Just like humans, it is important to maintain the oral hygiene of cats. And, in order to maintain the oral hygiene of cats, you need to brush her teeth in the same way you brush your teeth. Similar to the brush we use, there are also toothbrushes specially designed for Cats.
v. Ear Care
Cats are very careful and conservative when it comes to cleaning their hair. They are very good at cleaning their ear cleans on their own. However, few cats are not good at it, and they need a helping hand to clean their Ear.
Cleaning your cat's ear canal and ear flaps will keep her ears in a good condition and prevent her from attracting ear mites.
vi. Eye Care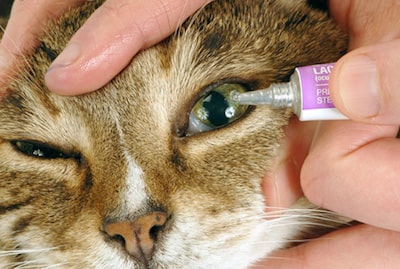 It is very important to take good care of your cat's eye. You need to check your cat's eye regularly so that you can check any early signs of troubles. If you see any unusual symptom in your cat's eye then don't delay in consulting the veterinarian.
There are no special tools for cleaning your cat's eyes, however, you can use a clean and soft hand towel for regular cleaning of your cat's eyes and nearby area.
Which is the Best Cat Grooming Tool Kit?
We have included the Cat Grooming tool kits in our list here. Kits include more than one grooming tool so it can be used for multiple purposes. Most of the Cat Grooming kits include nail clippers, but few of them do not.
If you do not want to assemble the grooming tools, and you want a complete kit that includes the best cat grooming tools essential for grooming your Cat, then refer to this. In this list, we have only included the grooming kits and not the individual products.
In our list here, few of the grooming kits do not include nail clippers along with it, so in this case, you have to purchase an additional nail clipper to complete the list of cat grooming tools kit.
The 10 Best Cat Grooming Tool of 2023
1. Hertzko Self Cleaning Slicker Brush
Cats are good at taking care of themselves by self-grooming, but a helping hand will make this task easier for them. Brushing your cat's coat will remove any clumps, debris, or dead hair from her coat and will eventually make it clean. For this purpose Hertzko's Self Cleaning Slicker Brush is the perfect choice for you.
This Slicker Brush can be used to clean your cat's nasty mats out of your pet's fur. It can be used to clean the fur of cats as well as dogs. Using this Slicker Brush, you can gently remove the loose hairs, as its fine bent bristles penetrate deep into the coat and groom the undercoat of your cat without scratching her skin or hurting her.
Pros:
Self Cleaning Slicker Brush making it super simple to remove hair from the brush by the press of a button
Fine bristles clean the undercoat gently
Can be used on long, medium as well as short hairs
Cons:
The bristles are sharp, so you need to use this brush carefully, otherwise, it may scratch your cat's coat
2. Furminator for Cats Undercoat Deshedding Tool for Cats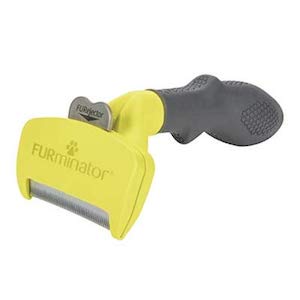 Another tool that you need for grooming your cat's hair is a de-shedding tool. Deshedding tools help in removing the loose hair from the cat's fur. The Furminator Cats Undercoat Deshedding tool for cats is specially designed for medium to large cats.
This cat cleaner works on cats with short hair as well as short hair, but for this, you need to use different sizes of the blade. This de-shedding tool is also available in two different models with two different sizes. i.e. small hair and long hair.
Pros:
Different sizes available for long hair as well as short hairs
Removes loose hair from cat's cat
Does not scratches cat's skin if used as directed
Fur ejector button releases hair with a single click
Cons:
Sharp teeth may scratch your cat if not used carefully
3. Oster Professional Turbo A5 Heavy Duty Grooming Clippers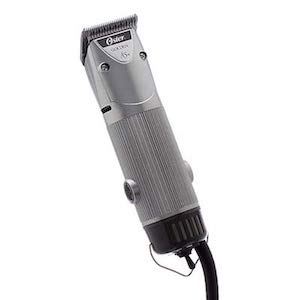 If you are looking for a professional cat grooming tool then Oster Professional Turbo A5 is the perfect product for you. This heavy-duty pet hair trimmer has a high torque motor which makes it powerful enough to handle thick, matted coat.
The blade system used in this Grooming Clipper is detachable which makes it easy to remove or attach the blade. It is also compatible with a wide range of blades and universal guide combs.
Its cabinet is made with chew-proof housing which makes it strong and durable and protects the motor from tearing down.
Pros:
High torque motor
Chew-proof Housing
Detachable blade system makes easy to change the blade
Wide range of blades compatible with this clipper
Cons:
Cannot be used cordless as it cannot be charged
No guide combs included with this grooming clipper
The blades heat up after using for a short time
4. Bousnic 2-Speed Cordless Grooming Clippers Professional Kit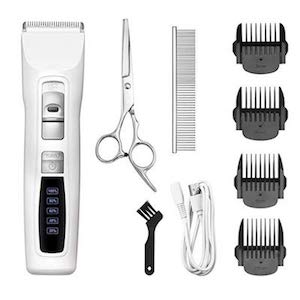 Bousnic's Grooming Clipper is a professional cat groomer for trimming cat hairs. It can be used to groom the hair of cats as well as dogs. While using this grooming clipper, you get 2-Speed control options. On the lower speed, the moto rotates at 6000 RPM, whereas when you switch the turbo button, then the motor rotates at 7000 RPM which makes it powerful enough to easily chop thick, matted fur.
It is also a cordless grooming clipper so you don't have to worry about taking it near to the power socket for using it. To use it cordless you can charge it for which there are multiple options are available. It has a 2200 mAh battery which can be charged using Power Bank, USB Adapter, Car Charger, etc via USB Cable.
In this cat grooming kit, along with the Clipper, you also get 4 combs with different lengths, a cleaning brush to clean any hair sticking ti the clipper blade, Stainless steel scissors and comb, an oil bottle and a USB cable to charge it.
Pros:
Cordless Grooming Clipper
Rechargeable Li-ion 2200 mAh long-lasting battery, can be used for 300 minutes after full charging
4 guide combs of different sizes included with
Low noise pet clipper while using it
Cons:
It is hard to attach and detach the blade from this grooming clipper
5. Hartz Groomer's Best Grooming Tools Slicker Brush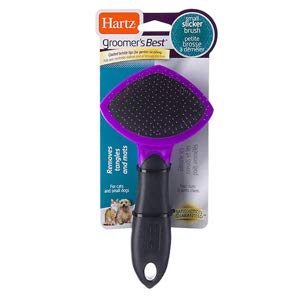 Hartz Slicker Brush can be used for Kittens Grooming with as well as elder cats. There are two different models available for the Slicker Brush which vary in shape and size. The smaller one is more convenient for cats as compared to the large model which is recommended for dogs.
This handy slicker brush is also the most affordable grooming brush and best cat shedding brush. It is also lightweight, small in size which measures 6.9 inches in length. The ergonomically designed handle makes it easy to hold and control while you are using this slicker brush.
Its thin bristles are made with stainless with a protective coating on tip of the bristles for gentle cleaning removes loose hair on all coat type and spreads natural oil to promote a healthy, shiny coat.
Pros:
Budget-friendly
Protective coating on bristles for gentle brushing
Fine thin bristles for removing loose hair from the undercoat
Cons:
The brush surface is very small, so you need to clear the comb very frequently
6. Pet Grooming Glove Gentle Deshedding Cat Brush Glove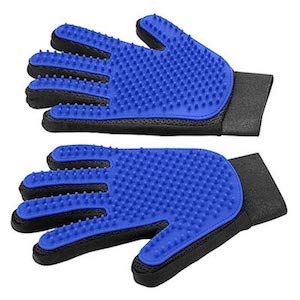 Pet Deshedding Gloves are great especially if your cat skin is sensitive to steel bristles which is used in many slicker hand brushes. By using a Cat Glove you have full control of the pressure which you are applying, so it provides a gentle way of removing the loose hairs from your cat's coat.
This Cat Grooming Glove can be used for cats as well as dogs. It is available in two different color variants that are red and black. It is available only in one size, however, it will easily fit for any normal size of the hand as a velcro strap is provided to adjust the size.
The brush is made from eco-friendly and 100% recyclable materials which is also safe for skin and free from any material which could cause skin damage.
Pros:
It is made of the material which is gentle to your cat skin
Glove shape provides accurate control
Adjustable Velcro straps fit all hand sizes
can be used as cat bathing gloves
Cons:
Cannot remove hairs easily from cats with long or curly hairs
7. Safari Professional Stainless Steel Nail Trimmer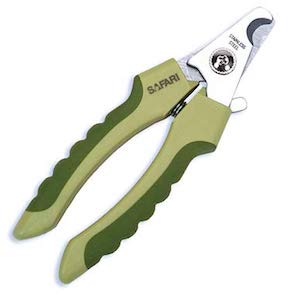 This list of best cat grooming tools would have been incomplete without this professional trimmer in it.
The claws of cats need to be trimmed on a regular basis if not done then it would either become sharp and dangerous or too long to harm your cat itself. For this, you need to use a Nail Trimmer which is safe as well as effective like Safari's Professional Stainless Steel Nail Trimmer.
It has a Sharp Cutting Edge which is effective and can trim thick claws. It also has a safety stop mechanism that prevents any injury while you are cutting your cat's nails. The shape of the handle is such that it makes it easy to hold and provides a comfortable grip to use.
As the cutting edge of this nail, the trimmer is made with stainless so it will remain sharp for a longer time. And the entire nail clipper is made of sturdy material which makes it durable. The loop provided in the cutting edge is of the shape that it cat cut claws of any size.
Pros:
Stainless Steel Cutting Edge
Safety stop mechanism prevents any injury
For use with all sizes of cats
Comfort grip handle
Cons:
Won't be able to easily cut brittle claws
8. Hertzko Electric Professional Pet Nail Grinder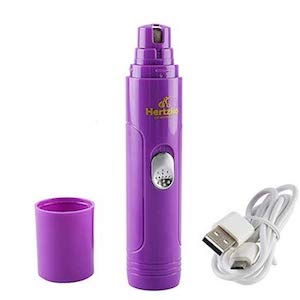 Hertzko's Electric Nail Grinder is a professional automatic nail grinder that is more effective and safer than conventional nail clippers. This nail grooming tool uses a different method to trim the claws. Instead of cutting or chopping the nails with a sharp tool, this Nail Grinder grinds the claws which gradually shortens the nails safely.
It has three size ports with the help of which you can grind the nails depending upon its size. You can remove the opening of the grinder tool to easily grind the large size nails. The grinding tool is made with a Diamond bit grinder which makes it effective for any nails.
This Pet Grinder is also has a super mute motor, so it makes low noise and low vibration. It is portable and can be used cordless, and a USB cable is already included with for charging it.
Pros:
Automatic Nail Grinder
Safer than conventional nail clippers
Rechargeable (with the help of USB cable)
Diamond Bit grinder for high performance and precision
Cons:
Takes longer time in nail trimming than nail clippers
9. Chirpy Pets Dog & Cat Brush for Shedding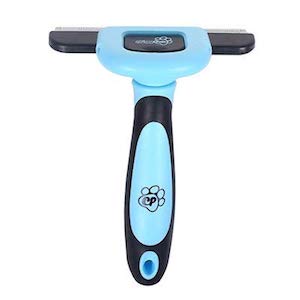 Want to make your cat's coat smoother? Chirpy's Brush for Shedding will help you to do so. This Cat Grooming tool will easily remove loose and shedding hair from your cat's coat. It removes 90% of shedding hair from the cat's fur on a single comb.
The comb of this deshedding tool can be removed with the help of a quick-release button, this helps in easy cleaning the comb, also it can be easily stored when it is detached. The handle is ergonomically designed with a grip that gives control and comfort while holding.
This deshedding brush is made of stainless steel which isn't sharp, so that is it gentle and safe while you are grooming your cat with this tool. It also comes with a protective cover in which you can store it after storage so that it is safe and lasts longer.
Pros:
Detachable comb makes cleaning and storage easy
Stainless steel brush comb has high durability and unsharp teeth safe for your Cat's skin
Ergonomic handle with a comfortable grip to hold
Cons:
Small deshedding brush makes the grooming process very slow
10. Sminiker Professional Rechargeable Cordless Cats Grooming Clippers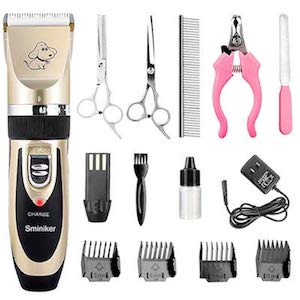 Are you looking for a complete grooming kit, and do not want to assemble it by yourself? Then this is the perfect product for you. Sminiker's Grooming Clipper is a professional hair trimmer for cats that can be used cordless as it is rechargeable.
In this kit, you get all the products required for grooming a cat. It includes a professional pet hair trimmer along with a power adapter to charge it, four guiding combs of different sizes, and other required accessories for the Hair Trimmer. Besides the hair trimmer, it also includes two scissors, stainless steel comb, a nail clipper, and a nail grinder.
This professional cat grooming tool kit is all that you want as it can be used for cats as well as dogs. Also, you can use the tools in this kit for grooming your cats of any size, whether it be a kitten or a large cat.
Pros:
Complete kit of Cat grooming tools
Cordless and rechargeable hair trimmer
4 different sizes of guide combs included for the hair trimmer
Can groom different types of hairs of any size
Cons:
If your cat has thick hairs, then it may not be effective on first use
Additional Cat Grooming Product
There are few additional cat grooming tools that are not very essentials for grooming your cats, but using them will make the task of grooming easier.
Cat Grooming Bag
Cat Grooming Bag restraint can be used in order to keep the cat in control while you are grooming her and prevent from scratching you. It will also stop your cat from escaping if your cat is not used to grooming and runs away while you are clipping her claws.
If you are planning to buy a Cat Grooming Bag, then I'll recommend the following ones:
Top Performance Cat Grooming Bags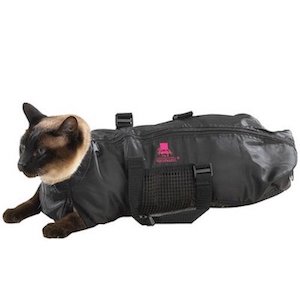 Cat Bathing Tub
For the daily care and grooming of your cat why not get a bathing tub her. Giving her separate bathing tub will give not only make her feel special but it will also keep her hygienic by keeping her away safe from any skin problems which she would have got by bathing in the same tub as yours.
Here are the best cat bathing tubs available on amazon:
Best Cat Bathing Tubs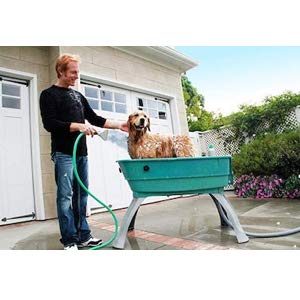 Final Thought
Regular grooming of your cat is important. It will also keep her clean and healthy. So, buying the best Cat Grooming tools for your feline is definitely a good decision.
We have included both, individual cat grooming tools as well kit so that you can make a perfect selection as per your requirement.
References:
McDonald, S. E. (2022). Grooming-Related Concerns Among Companion Animals: Preliminary Data on an Overlooked Topic and Considerations for Animals' Access to Health-Related Services. Frontiers. https://www.frontiersin.org/articles/10.3389/fvets.2022.827348/full
Vitale KR. Tools for managing feline problem behaviors: Pheromone therapy. Journal of Feline Medicine and Surgery. 2018;20(11):1024-1032. doi:10.1177/1098612X18806759
Cornelius, C. (2019, August 5). Pet Health: Be aware — hairballs are the natural result of your cat's grooming behavior. SOURCE. https://source.colostate.edu/pet-health-be-aware-hairballs-are-the-natural-result-of-your-cats-grooming-behavior/
Grooming and Coat Care for Your Cat | VCA Animal Hospital. (n.d.). Vca. Retrieved November 25, 2022, from https://vcahospitals.com/know-your-pet/grooming-and-coat-care-for-your-cat