Check out best cat nail clippers of 2022 known for trimming & clipping your cat's nails, claw, & toenail. We also reviewed cat nail trimmers and grinders.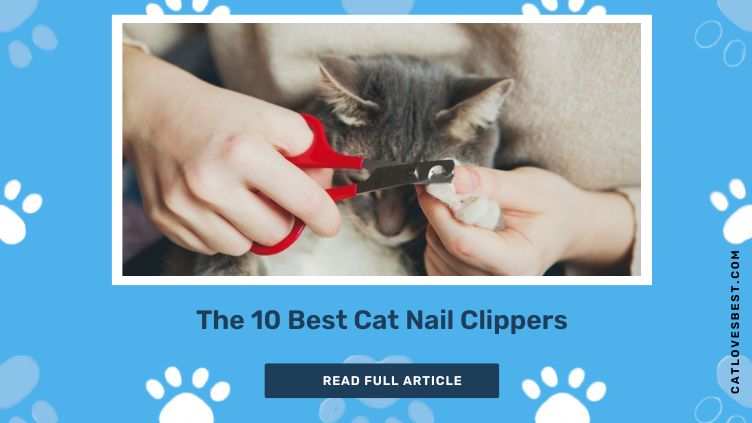 Buying the best cat nail clippers is very important for several reasons but one stands out from the rest – cats don't like their nails to be clipped. It, therefore, becomes necessary to make the process as simple and convenient as possible.
The only way to achieve that is to choose a pair of cat toenail clippers for felines that are designed to address your feline buddy's needs and are of the same quality professionals would be proud to own. The right set of cat nail clippers can make the task of nail trimming less cumbersome.
Benefits of Trimming Cat's Claws
Vets recommend trimming your cat's nails on a regular basis because it's very important for your cat's overall health and well-being, especially when they are indoor cats. Trimmed cat claws also protect you, your family (young children), guests, wildlife and above all your home furniture.
Clipping your cat's nails is easy and should not take more than a couple of minutes to accomplish. The task of clipping your cat's claws should be carried out calmly and peacefully with the best cat nail clippers only. Trimming the cat's claws can prevent indoor cats from hunting for fun and adversely impacting local wildlife. This is one way of saving the birds.
Furthermore, there are issues related to the cat itself which is why her nails need to be trimmed. Overgrown nails can cause problems while walking for your kitty. Waiting till she actually develops walking problems is not good because the claws might have become sore and cutting them could get difficult.
If your cat suffers from walking pain due to overgrown nails, then she may develop a strange gait and an odd posture. It can all end up with a lot of pain for your kitty and a fat vet bill for you.
A Glance of Our Favorites in 2022
Best Overall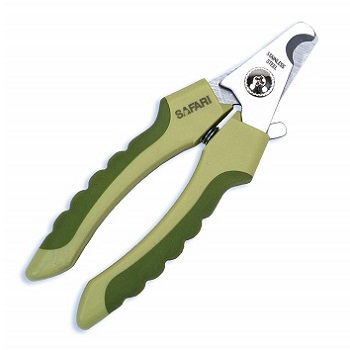 Safari Professional Nail Clipper
High-quality corrosion-resisting steel
Long-lasting cutting edge
Available in various sizes
Editor's Pick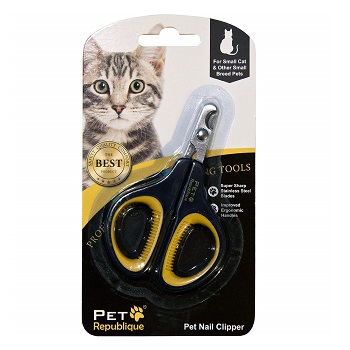 Pet Republique Cat Nail Clipper
It can trim precisely
Two-year warranty and 30-day money back guarantee
You are helping abandoned pets and contributing towards animal welfare
Affordable Pick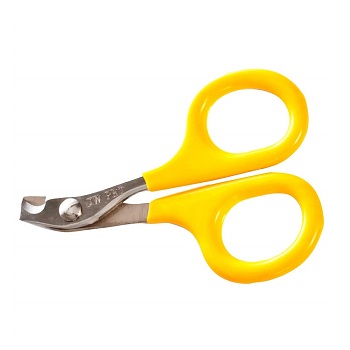 JW Pet Company GripSoft Claw Clippers
Make grooming a stress-free experience
Blades are small to ensure precise and safe trimming.
It comes with a non-slip rubber handle
The 10 Best Nail Clippers for Cats of 2022
1. Safari Professional Stainless Steel Nail Clipper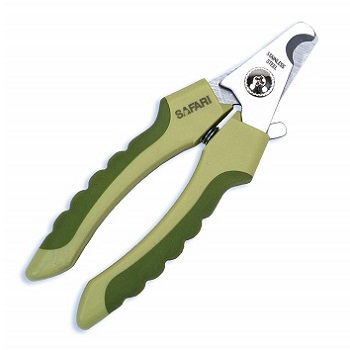 The days when your kitty threw tantrums on grooming day are a thing of the past. The Cat Claw Clippers from Safari makes claw trimming easy and pain-free.
The cutting edge is not only sharp but also durable and can get the job done without any issues. There is a safety stop feature to avert any injuries. This nail clipper for cats is considerably light, small and easy to grip thanks to its handles being covered with vinyl.
It is made from high-quality corrosion-resisting steel and there is no chance of rusting. The grip is convenient because it is covered with rubber and makes trimming your cat's claws or nails easy. The long-lasting cutting edge does the job of clipping your cat's nails very efficiently. Additionally, there is a safety stop feature with locking blades to avert any injuries.
To conclude, we think this is the overall best cat nail clipper.
Pros:
The blades of this claw clipper is made from high quality stainless steel and is free from rusting.
The cutting edge is sharp, durable and gets the job done in no time.
Available in various sizes depending on the size of the pet.
Cons:
The blades are so sharp that it requires to be stored carefully and must always be kept out of children's reach.
2. Pet Republique Professional Cat Nail Clipper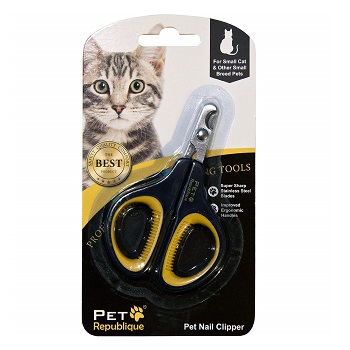 Pet Republique's Professional Cat Nail Clipper is a great product to groom the tiniest breeds of pets that share your home. Whether it be a kitty, a puppy, a rabbit, or even a guinea pig, this one incredible product will address all your problems. Pet Republique's Professional Cat Trimmer is one of the best cat nail trimmers in 2022.
These cat nail clippers undergo strict quality control during manufacturing and none of the parts will become loose or fall apart because of which it is a product any cat parent would be proud to own and use. These nail clippers also offer the most precision cuts for the smallest of pets. Its blades are strong, sharp, thick and meant to last.
Tip: In order to make the nails a bit more visible, you may apply baby oil before cutting. Also, if your pet's nails are a bit long, then you can clip off a bit of the excess and then wait for some time before trimming some more.
Also, why not buy a pet grooming product for a cause? As much as 15% of the manufacturer's profits go to American Animal Rescue Shelter, where abandoned felines and canines find a home.
Pros:
It can trim precisely no matter what the size of claws are.
The product comes with a two-year warranty and 30-day money back guarantee.
You are helping abandoned pets and contributing towards animal welfare.
Cons:
This can be a tad difficult to use.
You may feel that the handles holes are not sufficiently big.
There is no locking mechanism.
3. JW Pet Company GripSoft Cat Claw Clippers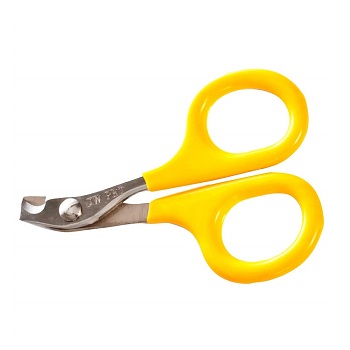 As we have discussed earlier, it is essential to clip your kitty's nails for so many reasons. It prevents them from hunting for sport, plus it is also important to keep them in overall good health and ensure their well-being. It can be achieved with the best cat nail clipper like JW Pet Company's GripSoft Cat Claw Clipper.
This nail clipper for cats has been designed to make nail clipping quick and easy so that it is a comfortable experience for both you and your kitty. This Best Cat Grooming Tool is suitable for all sizes of cats as well as nails.
For easy usage, it comes with a non-slip rubber handle that will not move or shift when the job of trimming is underway. It has short blades to ensure precise and safer nail trimming. The short overall allows easy control and maneuvering.
Pros:
This product has been designed to make grooming a stress-free experience for both you and your cat.
The blades are small to ensure precise and safe trimming.
The overall shorter length makes it easy to control and maneuver it while clipping your pet's nails.
Cons:
Some of our readers have complained that it is too tight to close.
There have been complaints from our readers that much more pressure needs to be applied as compared to other tiny nail trimmers.
Fact: Brushing your cat's coat and clipping her nails keep her healthy and looking good. You can check out our list of Best Cat Brushes For Hair Grooming.
4. Hertzko's Electric Nail Grinder and Clipper for Cats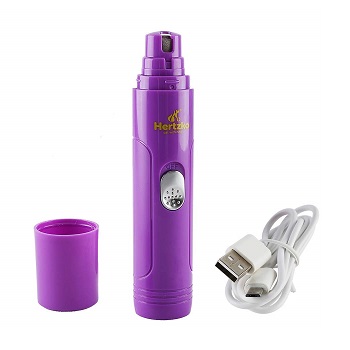 Hertzko's Electric Nail Clipper is a techy cat nail grinder manufactured with Diamond Bit Grinder and is more efficient than conventional nail cutters as it reduces the risks of trimming the claws too short or hurting your cat.
There are three sized openings/ports in the grinding area that can be used based on your pet's nail size. The small and medium ports are for small and medium-sized pets, whereas the entire cover can be removed for large pets to trim longer nails.
It makes low vibrations and noise so as not to scare your pet during the task of grooming. This cat nail clipper product comes with a USB wire for the purpose of recharging the pet nail grinder.
Pros:
It is more efficient than a conventional nail cutter because it reduces risks of trimming the claws too short or hurting your cat.
Comes with adjustable port sizes to allow grooming of pets of small, medium and even large sizes.
Hertzko's cat nail grinder comes with a USB charger for recharging purpose.
Cons:
Our readers have complained that the battery once charged lasts only long enough for it to be used only one time. Some have complained that the battery stopped recharging after the first six months.
5. Oster's Gentle Paws Less Stress Nail Grinder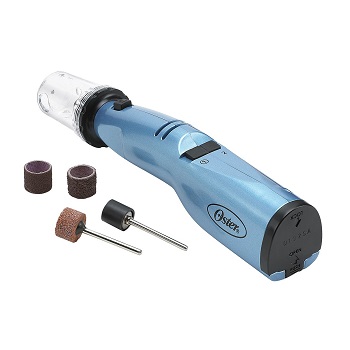 Oster's Gentle Paws Less Stress Nail Grinder works as quietly as a whisper and is a rotary tool for stress-free cat nail trimming. This cat nail clipper comes with an adjustable safety guard that helps to ensure you don't go too far when trimming and captures filings for less mess.
It is suitable for all cat breeds with a powerful two-speed design.
Pros:
It works pretty much silently and therefore highly unlikely to scare your cat or cause any discomfort associated with the noise.
Even using the first speed on the nail for a couple of seconds is enough to effectively trim, claim readers who have used the product.
Cons:
Readers have complained that after they used it the first time, the higher speed stopped working altogether.
A few other readers have complaints that the product worked well for a few months but then stopped working completely.
6. Invenho Electric Nail Grinder for Cats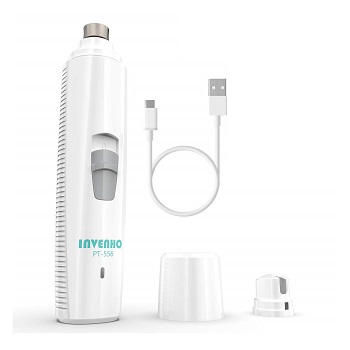 Invenho pet nail grinder also comes with an improved diamond bit grinder to more precisely trim the nails of your kitty and to reduce the risk of injuring her. As with Hertzko's grinder, this too is equipped with three adjustable ports to be used for pets of different sizes.
The motor used has low vibrations and the noise is lower than 40 decibels so that your pets are not scared by the noise and do not make too much fuss about grooming.
Pros:
This is also a grinder as opposed to a clipper and reduces risks of trimming the nails too far or of causing any injury to your cat while trimming.
Comes with three adjustable ports/openings to be used depending on the size of the pet – small, medium or large.
Cons:
A few readers have complained that it may possibly be good enough for a small cat, but it is too weak and not abrasive enough to do the nails in one sitting.
A reader also complained that it stopped charging altogether after using it for the first time.
7. Boshel's Angled Blade Professional Nail Clippers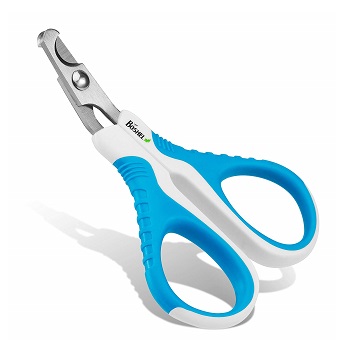 Boshel's Angled Blade Professional Nail Clippers is an ergonomically designed tool powerful and easy-to-use pet nail clipper that allows you to take care of your cat right at home. Whenever your furball needs mani-pedi-groom use this small claw scissors to trim your cat's nails.
It has been designed with a semi-circular, angled blade that provides clean and precision cuts. You'll be able to see what you're doing and estimate how much you want to cut without going near the sensitive spots and prevent injury.
Pros:
Made from stainless steel, which means the edges will not rust and will remain sharp for a long time.
The blades are semi-circular but angled to help you see what you are doing and to help clearly determine how much you need to cut.
Cons:
One of the readers has complained that this one just doesn't cut the nails but instead smashes them.
Another reader complained that the nails made a crunching sound on being clipped rather than clipping cleanly. His cats hated it and protest loudly while trimming the nails.
8. Monochef Sharp Stainless Steel Kitty Nail Clipper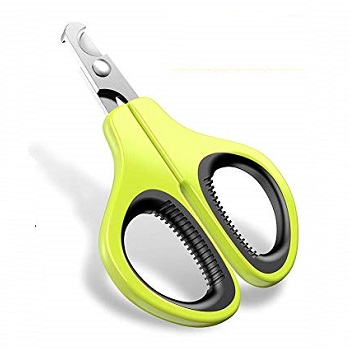 Monochef Sharp Stainless Steel cat nail clippers are made from tough and sharp stainless steel blades that will last for years. The semi-circular design of the blades matches the shape of the pet nail to clearly allow you to see the point you are clipping and makes it effortless and safe.
This also features easy rubberized handles designed ergonomically to ensure they do not slip from your hands, thus also preventing injuries such as nicks and cuts.
Pros:
It is possible to save a lot of money and time because you don't have to visit a vet or seek professional help as the Monochef Sharp Stainless Steel Kitty Nail Clipper will allow you to undertake the task of grooming your cat at home because it is so simple to use.
This product comes with a lifetime money back guarantee in case you purchase but are not satisfied with its performance.
Cons:
One reader complained that he found it hard to clip his kitty's nails but hoped the product would work well for his larger cats.
9. Resco Original Dog and Nail and Claw Clippers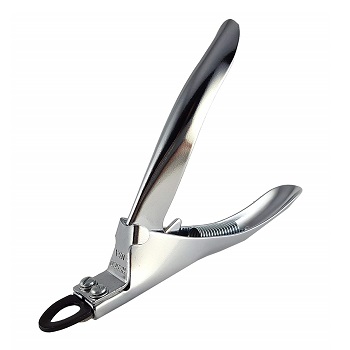 Resco invented the guillotine type nail trimmer in 1937 and has been manufacturing them proudly in the United States. When a product is around for 80 odd years and is still popular, you can rest assured that it does the job rather well.
The key feature with guillotine style cat nail clippers is that they aren't throwaway like scissors style. Replacement blades can be purchased and inserted with ease. They feature a loop to place the nail before clipping to ensure a clean cut.
Pros:
The guillotine style loop feature to place the nail before clipping it ensures an extremely clean cut.
The blades, when they get blunted, can be easily replaced instead of replacing the whole cat nail clippers.
Resco products come with a lifetime warranty so if they break during usage or you are unhappy, you can always order a replacement.
Cons:
One reader has complained that the blade of the cat nail clipper started rusting after 6-8 months. He only had used it 4 times till then, he said.
Another reader said that the product is really small for adult hands and that he had difficulty using it.
10. SHU UFANRO Electric Nail Grinder, Trimmer, and Clipper for Cats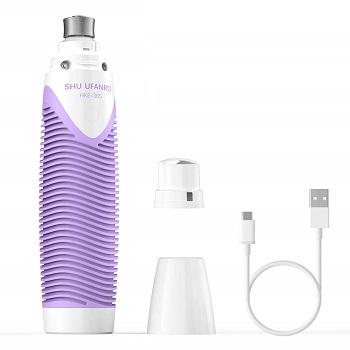 Shu Ufanro's Electric Professional Nail Trimmer, Grinder, and Clipper come with the diamond bit grinder, which is usually more effective than a conventional nail cutter because it significantly reduces the risk of trimming the claws too short or hurting your pet in the process.
As with all electric nail grinders, this too has three different sized ports for small, medium as well as large pets. To ensure power supply for the grinder, the purchase also includes a USB cable, which can connect to a laptop, an AC adapter, car charger, and power bank whenever and wherever needed.
Pros:
It can be used for pets of all sizes with different nail sizes.
It cuts more precisely and reduces the risk of clipping the nail too short or injuring your kitty in the process.
The USB cable included with the purchase ensures an uninterrupted power supply wherever and whenever needed.
Cons:
One reader complained that the nail grinder took an awful lot of time to grind just nail. She said she had to take lots of breaks just for one nail to ensure that her pet's nails do not heat up in the process.
Buyers' Guide for Cat Nail Clippers
There are different types of cat nail cutters and various models are available under each type. In this section, we are going to discuss the major types of kitty nail clippers, the factors to be considered before buying a cat nail clipper and some FAQs.
Types of Kitty Nail Clippers
Kitty nail clippers fall into three major categories, namely, the guillotine type nail trimmers, the scissors-like nail clippers and the third are the nail grinders.
1.Guillotine Clippers
As their name suggests, guillotine type clippers have a guillotine-like structure. They come with a ring-like structure in which to place the nail. When you press the Clippers' handle, a blade slides forward to cut off the nail beyond that point.
This type of clippers are good for cats small or medium in size but it may not work for larger cats. Using this clipper is risky because it will clip off as much of the nail as you put into the ring. If you place it too close to the quick, bleeding will start. If you place the nail without care then it may get crushed as well. These clippers require their blades to be replaced regularly.
2. Scissor Clippers
They look like scissors and are used like one too. Because they function like scissors, they can be used very easily. You will have a clear idea of how much you are clipping, unlike guillotine ones in which it is difficult to judge how far in the nail is.
Scissor-style nail clippers can be used for any size of cats, including large ones. Also because of their mechanism, you can use adequate force to even cut tough nails. You will barely need to replace the blades, just sharpening them once in a while is enough.
3. Grinding Tool Trimmers
Even with scissor clippers, you run the risk of clipping off the nail a bit too much or trimming too close to the quick. If you're not confident about your judgment skills, then the grinding tool trimmer is just right for you.
Made of sandpaper or emery board, it grinds down the cat's nails bit by bit and that too easily. You will be able to see the gradual decrease in the length of the cat's nail, eliminating the risk of cutting too much too quickly. Whenever you feel you have reached an appropriate length, you can stop grinding.
Another bit of advantage is that because you are grinding the nails smoothly, you will not need to file the nails after clipping, which is mandatory with the other clippers.
What to look for in a cat nail clipper?
The most important part of the nail or claw clipper is its blade. It may become useless regardless of how many additional features it may have if the blade is not sharp enough. It is also important to ensure that the blades are rust-free at the time of purchase. Stainless steel blades are a good option.
A sharp blade will make cutting off the claws swift, clean and painless whereas a blunt one may potentially cause injury to your pet feline or cause the nail to be crushed. It is better to use a nail and claw clipper whose blade you can sharpen yourself so you are using a freshly sharpened blade to cut your kitty's nails.
As with other products, pet nail clippers for cats also come in basic, fancy and sophisticated models. Just because the fancier ones are aesthetically appealing, do not buy them. Rather ensure you will be able to use it properly. One must always check for features such as rubber grips or non-slip grips so that you can clip more comfortably.
While cat grooming may seem relatively easy with a well-behaved cat, there are many things that could go wrong. The most common problem is when you cut very near to the quick and bleeding starts.
To account for such scenarios, cat clippers are endowed with "quick guards" to prevent you from cutting too close to the quick. Many people do not prefer such clippers as they think it does not let them trim the nails properly. But our advice is you should use such clippers or ones with any other safety feature because you should not compromise on your beloved kitty's well-being.
There are the manual clippers and the electronic ones. People have doubts about using an electronic product to clip their pet's nails. Electronic ones are more preferable over manual clippers, as they not only make your work easy but also safe for your feline's claws.
FAQs
It is natural that there are several questions that buyers have when they are planning to purchase a cat nail cutter. We have answered a few FAQs to remove any remaining doubts that may still linger in your mind.
What nail clippers should I use on my cat?
It will depend on the expertise you have. If you are just beginning, then we advise that you either use the grinder or the scissor clippers. Only if you consider yourself to be an expert, should you select the guillotine clippers. Whichever nail or claw clipper you choose, ensure the blades are sharp and that the nails are carefully filed after clipping.
How often should my cat's nails be trimmed?

It depends on how fast they grow. But it should be once or twice every month. If you can hear a clicking sound when your kitty walks, then the time is ripe for a grooming session. Also, keep a close watch for broken claws or split nails. These require clipping sessions before the scheduled one.
How often should you replace cat nail clippers?

Cat nail cutters last for years which is why you don't need to replace them frequently. If there is a way to sharpen the blades of the cat nail trimmer or clipper then no replacement is required at all as that is what is the most important part of the clipper. If you notice that your clipper is getting harder to clip with or you are hurting the cat or crushing its nails, then it is time for a replacement.
Can I use my own nail cutter/scissors to cut my cat's claws?

Please avoid using your own nail cutter as it is not hygienic. However, you can use human nail cutters but make sure its a separate one for your kitty. If possible use a toenail one because it is larger.
Conclusion
This was an extremely enjoyable exercise for us to review scores of cat nail clippers and pick out the 10, which we feel are the best options for today's cat owners. We hope that reading the reviews will enable you to make an informed choice about a product that is suitable for you and your kitty.