An average cat spends 15% to 50% of the day in grooming. If that seems a bit too much for you, it is perfectly normal and a very necessary activity for the cat. Though the cat can do it on her own, it is still important that you groom your cat at least once a week using one of the best cat brushes.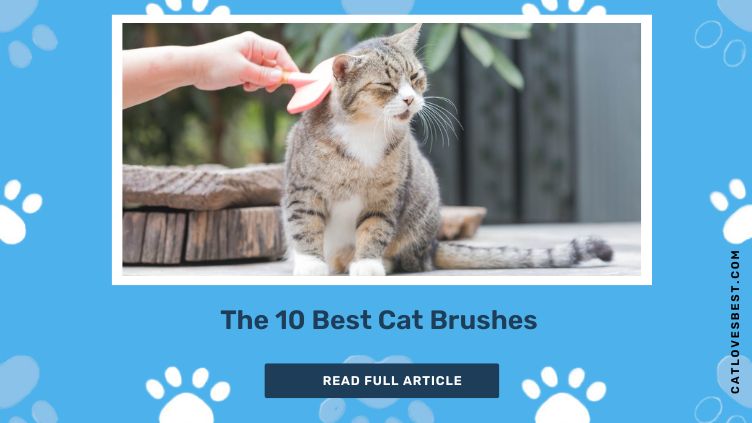 Apart from removing dust, dander and loose fur from the coat, grooming also helps to keep the coat smooth, shiny and healthy. Regular brushing prevents mats and tangles besides cutting down the amount of fur your cat sheds.
Groom your cat as frequently as possible, more so if your cat has a thick coat. Different grooming tools have different purposes and selecting the best one for your cat can be a bit tricky.
Why should you brush your cat?
A cat spends sufficiently long periods grooming itself. It is not surprising because grooming is not only normal but an important activity in the cat's daily routine. Besides freeing the cat's coat of dust, dander and loose fur, the saliva that spreads over the fur helps to regulate the temperature of the body.
Grooming your cats using the best cat brushes also boosts secretion of natural oils in your cats' skin and keeps their coat smooth, shiny and completely healthy.
Brushing also helps prevent formation of mats. Mats can be very uncomfortable and painful for cats and the only way of removing them is shaving. However, grooming will altogether prevent the formation of mats.
Brushing also reduces shedding by removing surplus fur. Instead of the shedded fur getting deposited on your furniture, it will get trapped in a cat brush. Brushing is also a form of cleaning exercise. Though cats have the ability to clean themselves, everybody can do with a bit of help. Brushing will remove dust and other dirt from the cat's coat and prevent any skin infections from developing.
Brushing will also help to strengthen the bond between you and your pet. Cats enjoy being brushed and love the way it feels. This will help to build a greater rapport with your kitty.
Some cats, especially those with long fur, have issues with hairballs. Regular brushing will prevent the formation of hairballs. A cat with long fur will need to be brushed more often than a cat with short fur.
A Quick Comparison of Our Winners (2023)
Best Overall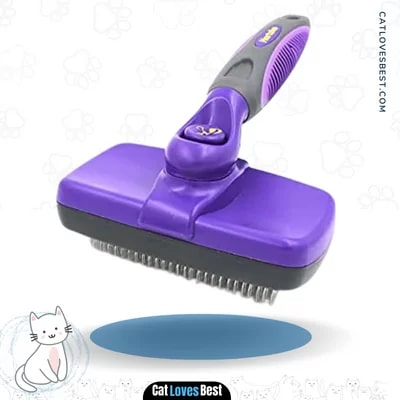 Hertzko Self Cleaning Slicker Cat Brush
A comfort-grip and handle that doesn't slip out
This cat brush grooms and massages for increased blood circulation
This brush is long-lasting
Editor's Pick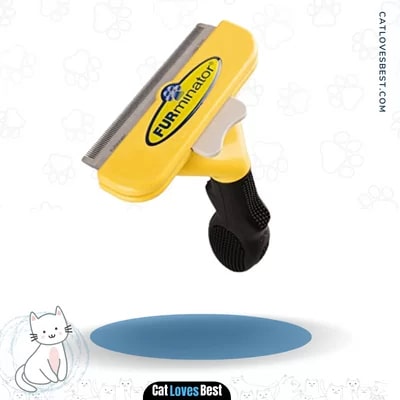 Furminator Undercoat Deshedding Tool
Quality stuff
Self-cleaning fur ejector button
Handle is designed ergonomically
Affordable Pick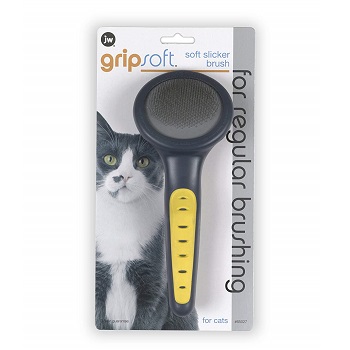 JW Pet Company GripSoft Cat Brush
Reduces the frequency of hairballs
Suitable for all cat breeds
Its ergonomic design ensures less strain on the hand and wrist
The Best Cat Brushes for Shedding of 2023
1. Hertzko Self Cleaning Slicker Cat Brush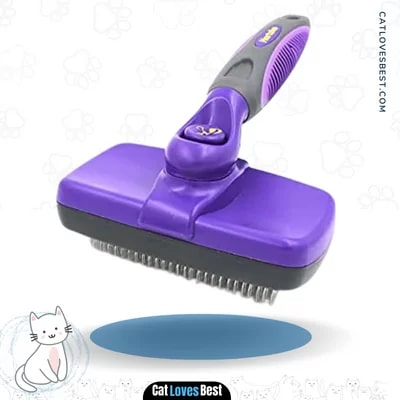 This is our best overall brush. Grooming using this cat brush is an easy job which is attributable to its fine, slightly bent wires, as they make their way deep into your kitty's coat without troubling the skin.
The brush is convenient to clean as the bristles retract, making it possible for you to clean the fur at the push of a button.
This brush is long-lasting and can be comfortably held because of the handle-grip to ensure that it does not slip from the hands during grooming sessions.
The Hertzko self-cleaning slicker brush works equally well for short as well as long-haired cats and removes mat from the cat's coat in a jiffy.
So excellent is the brush, that customers using the product have said that they have managed to remove enough fur for an entire second cat at the end of the grooming.
This product excels at reaching the cat's undercoat and removing fur that other brushes may miss out on doing.
To conclude, we think this is the overall best cat brush.
Pros:
Your kitty will not only end up looking good but will also be left feeling great.
This cat brush grooms and massages for increased blood circulation too, leaving the cat's coat soft and shiny.
A comfort-grip and handle that doesn't slip out of the hand prevent the hand and the wrist from getting strained regardless of how long you keep grooming.
Cons:
It is a premium product because of the high-quality materials that are used in manufacturing.
2. Furminator Undercoat Deshedding Tool for Cats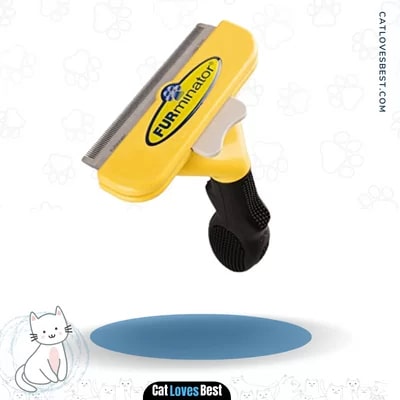 Cats are very particular about staying clean and spend a significant portion of the day in grooming. Though grooming helps to keep their coat soft and clean, it does have a major negative side-effect of hairballs.
Though hairballs are unavoidable, brushing the cat with a de-shedding tool is a way of reducing their frequency. Brushing using a de-shedding tool can help remove loose hair from the cat's undercoat and ensure that they don't enter the digestive tract while self-grooming.
Brushing also leads to reduced shedding, which reduces your trouble of having to clean up regularly. The Furminator de-shedding tool is the ultimate in de-shedding tools that you need to purchase. It comes with a stainless steel de-shedding edge that penetrates deep into your cat's undercoat to remove loose hair and reduces shedding by up to 90%.
The cat brush is not only effective in removing the loose fur, but it comes with an eject button to allow the hair to fall from the brush straight into a dustbin. The handle of the brush has been designed ergonomically making it comfortable and convenient to be used. The tool has two variants: one for short-haired cats and the other for long-haired cats.
Pros:
The construction is quality stuff and the handle is designed ergonomically.
The tool also features a stainless steel shedding edge, reducing shedding by 90%.
The self-cleaning fur ejector button helps discard the collected hair straight into a dustbin.
Cons:
Some cats develop an aversion for the teeth, which may irritate cats with more sensitive skin.
This is one of the more expensive options available on the market.
3. JW Pet Company GripSoft Cat Brush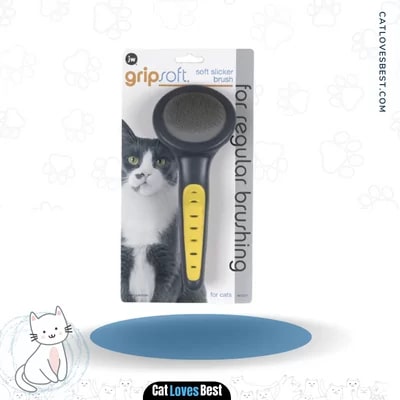 Cats are such wonderful creatures they simply love staying clean. Grooming acts take up significant time in their daily routine. Though grooming helps to keep the coat soft and clean, hairballs are the single biggest negative associated with grooming.
Although cats are self-sufficient when it comes to grooming, they can always do with a bit of help. Therefore, one must brush the cat regularly because not only does it stimulate the secretion of natural oils that keep the coat healthy but also reduce shedding very significantly.
JW Pet Company's Gripsoft Cat Slicker brush is a great everyday grooming tool. Its handle has been designed in such a way that it does not slip out of the hand easily and its ergonomic design ensures less strain on the hand and wrist even during prolonged brushing sessions.
This cat brush reduces the frequency of hairballs and keeps the coat shiny and beautiful. It is an option that is suitable for all cat breeds.
Pros:
This is simply great because of a handle that does not slip out of the hand.
Its ergonomic design ensures that the hand and wrist do not experience strain even during longer grooming sessions.
The most important advantage of this cat brush is that it is one of the most economical variants available on the market.
Cons:
A reader has written saying that he would have liked the tool to be smaller and lighter.
Some also believe the self-cleaning operation is stiff and difficult to operate.
4. HDP Cat Zoom Groom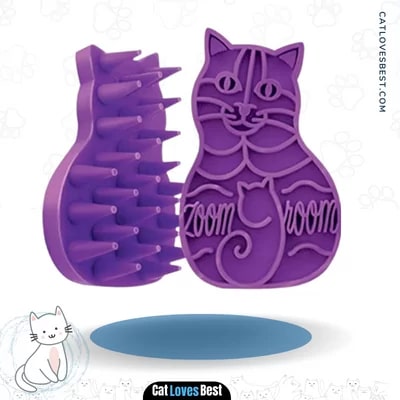 Though Kong are better known for their dog puzzles, they are a strong competitor for the best cat brush. Their unique Zoom Groom brush comes with a fun, cat-shaped design, that's easy to hold during a grooming operation.
The cat brush's gentle but very effective rubber bristles have the ability to attract loose hair like a magnet and removing them from your cat's coat without causing any sort of discomfort.
The soft feel of the bristles makes this an ideal option for cats who are new to grooming, or for cats with sensitive skin or for young kittens. Cats simply love being brushed with Kong's device and regular grooming sessions can strengthen the bonding between you and your kitty.
Pros:
The soft but large rubber bristles are gentle even on very sensitive skin.
Its fun cat-shaped design gets you in the mood to groom your kitty.
It helps to remove the loose hair and the cat will love the feeling of being groomed.
Cons:
This cat brush is less efficient than other available devices in removing the loose hair.
The device is also less effective in tackling dust and dander.
The bristles are so wide-spaced that it struggles to open up the knots.
5. Pro Quality Self Cleaning Slicker Brush for Dogs and Cats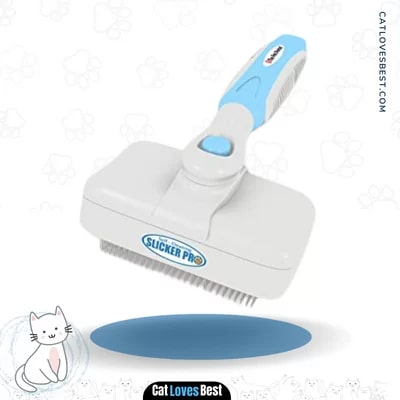 This product from Pet Portal is just the thing to increase the bonding between you and your pet because it has been made keeping in mind your pet's enjoyment and comfort.
This cat brush's head size is 5 inches wide and is especially meant for large pet breeds. It is perfect for long-haired or short-haired cats/dogs/pups. The pet slicker brush efficiently removes mats, tangles, dust and loose hair from the pet's coat effortlessly.
Cleaning the brush was never easier and takes only 5 seconds thanks to the clever self-cleaning feature. It just needs the push of a button, a bit of wiping and the brush is as good as new to be used.
Soft and flexible bristles are meant for easy and effective brushing and yet be gentle on the skin and the coat. It comes with a free dog grooming ebook and a lifetime full money back guarantee from the manufacturer, Pet Portal.
Pros:
This kind of slicker brush can penetrate deep into the cat's coat without damaging it or harming the skin.
It goes through the coat to remove any dirt, dust or debris that may have got entrapped or accumulated on the fur.
The model comes with a self-cleaning function, which allows wiping the loose hair accumulated on the brush within seconds.
Cons:
This product from Pet Portal delivered excellent results in cleaning and sprucing up your pet's fur. However, one needs to get used to the size of the cat brush before one becomes as comfortable at using it as a pro.
6. Four Paws Magic Coat Love Cat Brush Glove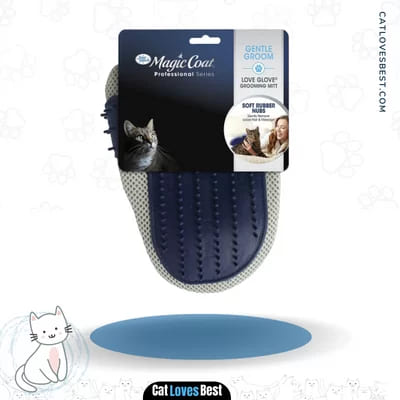 Grooming is an important activity in a cat's routine and consumes significant time. Though cats are remarkably gifted creatures in their ability to stay clean, they can always do with some help.
Cats also swallow considerable amounts of loose fur during self-grooming which may cause hairballs.
Grooming your pet kitty will not only help to keep her coat shiny and healthy as it stimulates secretion of natural oils but also enhance the bonding between you and your pet.
Four Paws Magic Coat Love Glove features soft, flexible rubber tips that successfully lift dirt, dust and loose hair from the pet's coat, while simultaneously stimulating and massaging the skin.
It conveniently fits on hand of any size and can be fastened with an adjustable closure.
Pros:
Because of the rubber tips, it is gentle on the skin.
This device is suitable for all coat types and can successfully lift hair from carpets, furniture, and fabric too. The brush is easily washed with warm water.
Keeping your pet's coat soft, shiny and clean is as easy as just petting with the love glove.
Cons:
It is meant for right-handed use only. In case you are left-handed, then it may take some time to adjust to using the glove.
7. Paws & Pals DeShedding Tool for Cats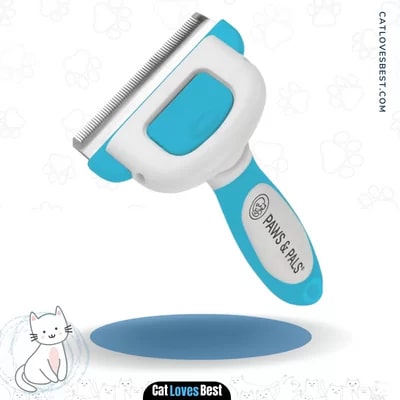 If you are tired of finding mounds of hair on your couch and bed, it is time you invested in a de-shedding tool to remove the loose hair in your pet's undercoat. This Paws & Pals de-shedding tool features a stainless steel blade that removes loose fur from the cat's undercoat without causing any discomfort to the skin.
By using this tool regularly, you will be successful at reducing the amount of shedding while helping to get rid of dander in the coat. It has an ergonomic grip and the relatively long bristles of the brush penetrate deep into the undercoat and break down mats.
Customers have opined that it has also helped reduce the frequency of hairballs as their cat ingests less loose fur during self-grooming. Some others feel that it is a lifesaving device for those who are allergic to dander because the brush does a wonderful job of trapping it along with the loose fur.
Pros:
You can reduce the amount of shedding by using this cat brush regularly. Besides loose hair, this device also successfully traps dander and thus it is a must have for anybody who is allergic or sensitive to dander.
It is also very reasonably priced, thus is easy on your wallet.
As a side-effect, the frequency of hairballs will significantly reduce as your kitty will swallow less loose fur during self-grooming.
Cons:
Some readers have complained that though it does the job considerably well, this brush is not machined properly. The plastic handle has a few rough spots if you were to run your hand along it and is difficult to hold for long grooming sessions.
8. Groomist Double Sided Ball Tip Pin & Bristle Brush for Cats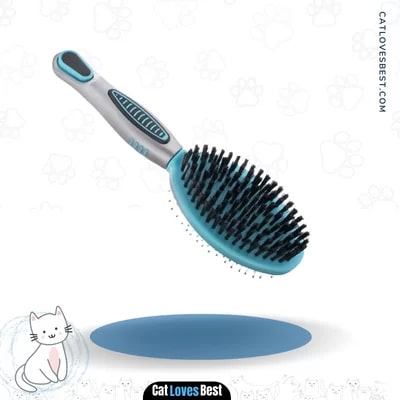 The Groomist Double Sided Ball Tip Pin & Bristle cat brush is a 2-in-1 brush.; one with a nylon tip bristles to remove the tangles and debris and a soft bristle brush to keep the topcoat clean.
The pet brush fur and lint remover comes with an ergonomic soft grip handle to ensure less strain on the hand during grooming, giving you simple and comfortable brushes for shedding.
It keeps the coat shiny and smooth while removing the tangles and helping to maintain the fur in good condition.
This cat brush is suitable for short as well as long-haired cats. It is easy to use and one simply needs to take the soft bristle brush and gently brush in the direction of hair growth. Start from the rear of your pet and work your ways forward.
Pros:
The style feels great, the handle leaves a great feeling in the hand, the bristles are not too sharp.
Grooming no longer is a chore but an enjoyable activity both for you and your pet.
The side with the nylon tips is great at working through the tangles and the mats, while the soft bristles smoothen the hair out and prevent matting.
Cons:
Some readers have written back reporting issues with the self-cleaning function of the brush.
9.

My Lovely Feline: The Original Magic Feline Brush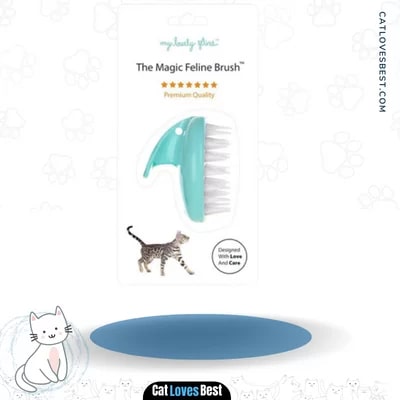 My Lovely Feline cat brush comes with gummy, anti-bacterial grade silicone pins that do not scratch the skin while providing an irresistible massage to the cat. Grooming will become a delightful activity for your kitty rather than a painful one.
Your pet feline will be able to maintain a silky, majestic, velvety coat for years to come thanks to some wonderful brushing with the help of this useful device.
This device is suitable for both short-haired as well as long-haired cats.
This will also stimulate blood circulation, remove 90% of loose hair and reduce feline stress by giving a soft and enjoyable massage. In order to retain more loose hair, it is advisable to spray a little bit of water on the brush. You can also hold the brush under a tap and wet it before proceeding to brush your pet kitty with it.
The design is of the highest quality to ensure that you and your pet find grooming very enjoyable.
What more can you ask for as it comes with a one-year full money back guarantee. If the product fails to convince you of its utility during this period, you can ask for a complete refund without having to answer any questions.
Pros:
Grooming no longer remains a routine for you and your pet. Your pet will look forward to grooming sessions with this tool and it will help to further strengthen the bond between the two of you.
It will not only remove 90% of dead hair, but also provide a luxurious massage to the skin and reduce the stress your kitty could be experiencing.
This cat brush comes with a one-year money back guarantee.
Cons:
This brush has no cons as such except that it needs to be wet before use so as to give better result with grooming.
10. PDX Pet Design LICKI Cat Brush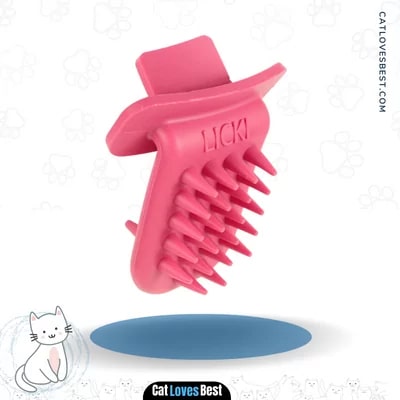 Keeping your furry loved ones tidy and well-groomed is extremely important. Apart from helping them look good, it also ensures they stay fit and healthy. But how would you feel if there was a tool that not only groomed your pet but also strengthened the bond between the two of you?
That is exactly what the PDX Pet Design LICKI Brush is supposed to do. Just pop one into your mouth and "lick" your cat clean. Designed to feel like a tongue and therefore make your cat feel like you are a parent caring for them and grooming them. The licki brush will leave you and your cat feeling more closer to each other than ever in no time.
This brush keeps your kitty tidy and well-groomed and it will further strengthen the bond of affection between you and your pet. It is made from soft, food-grade silicone with bristles on both top and bottom of the "tongue".
Pros:
This product will make your kitty feel that you are a parent and caring and grooming her just as a parent would. That will eventually strengthen the bond between the two of you as never before.
Bristles on top and bottom of the "tongue" help to remove loose hair, dirt and other debris that may be trapped into the coat of your pet.
Cons:
Though it may appear to be a fun product for some, it could also seem silly to others. Also, it is larger than what many would expect and priced at a premium considering what it can actually achieve.
Buyer's Guide for Best Cat Brushes
The cat brushes discussed above, we hope, will help you in finding something suitable for your feline pet. To help you understand which brush is right for you and your pet, we've compiled a handy buying guide in the following part of this post. It contains the different types of brushes available on the market, some information on the best de-shedding tools for cats and answers to a few FAQs.
Types of Cat Brushes
If confusion still prevails in the reader's mind after going through the product reviews, we are discussing some prominent types of cat brushes to make selection task easy for you.
3. Deshedding Cat Brushes
If you're on the lookout for something to solve your shedding woes, de-shedding cat brushes are the best answer. They are designed to remove from your pet's coat loose fur and keep your furniture, carpet or curtains free of it.
Stripping off excess hair will also ensure that your kitty doesn't suffer from hairballs. It should be borne in mind that de-shedding tools are meant for cats already accustomed to grooming. The feeling of closely spaced bristles running through their coat can cause cats to panic.
2. Soft Bristle Cat Brushes
These are great products for long-haired kitties. Their long and flexible bristles are either made from nylon or boar's hair and are great for detangling hair in the coat very gently. Like most other brushes, these also strip away dirt, debris and dander and loose hair from the fur.
The one distinct advantage these cat brushes have is that they spread the natural oils evenly over the entire body of your pet. This leaves the coat especially shiny and smooth. Soft cat brushes are usually the best option for cats that are averse to grooming or have sensitive skins.
3. Slicker Cat Brushes
In terms of bristle stiffness, the slicker brush is somewhere in the middle between soft and de-shedding brushes. They feature closely knit wire bristles topped with a pinhead to prevent them from pricking the cat's skin. Slicker brushes are versatile enough to be used on the coat of cats as well as dogs, and thus are more suited for households with multiple pets.
They can remove surplus fur, dust, and dander and also ease out mats and knots in the coat. Most pets find this kind of cat brush comfortable when it is in contact with their skin.
4. Rubber Cat Brushes
Many cats will find more comfortable to be groomed with these brushes because of soft widely-spaced rubber bristles. The surface of these bristles clings to cat hair and help to strip out the loose, dead ones. Because the bristles are not rigid, this brush is highly unlikely to penetrate deep into the cat's coat.
5. Flea and Tick Comb
Finally, we need to mention this equipment. This device has many closely packed teeth, which allows you to prise apart every single hair, and pull out any fleas or ticks in the coat. Grooming with this kind of comb can be very time-consuming. It still needs to be undertaken to ensure that your pet's coat is free from pests.
FAQs
Buyers always have questions about the product they are shopping for. However, they do not know anybody who can provide the answers. For such buyers, we have provided answers to a couple of such FAQs.
How much does a cat brush cost?
Some of the best cat brushes available on the market today vary greatly in prices. Some are outright expensive for more than $50, some are reasonably priced while some others are outright economical that are available for under $5. There is something available to match everybody's budget and still provide the efficiency that one is looking for.
Which are the best cat brushes?
For Short Haired Cats:

Brushes with short bristles
Brushes with short bristles are suitable for use on short-haired cats. We recommend you look for cat brushes with plastic bristles that have rounded tips.
Glove Brushes
This option is for those cats that do not like the idea of being groomed frequently. It will feel akin to your hand petting her instead. There are different designs and versions of glove brushes available online. They are ideally suited to remove dead hair and all sorts of dirt and debris from the coat.
Dual-sided Brush
Dual-sided cat brushes, which are brushes that have bristles on both sides, are just right for grooming short-haired cats. You may use the side with harder bristles to brush your pet as you normally do. The side with softer bristles will get rid of dust and dirt and make the coat smooth and shiny as never before.
For Long Haired Cats:
Double-sided Brush

On one side of the brush, there are long bristles which can perfectly penetrate and reach the skin. We recommend that this part should be rigid enough but must not cause any harm to your cat. On the other side, you have a uniform set of bristles that will allow you to style its fur, remove the dust and other debris from the fur.
Wire Brush

Wire cat brushes require care to be exercised when brushing your pet's fur. They are more rigid and can hurt your cat if too much pressure is applied. Their sturdy design makes them an ideal choice for removing hair tangles.
Fine Brush

The closely packed bristles allow you to remove fleas from the cat's coat. It should be applied only after using a normal brush that has already untangled all hair in the fur. It is good if one wants to achieve super straight hair apart from a coat that is free from fleas.
Conclusion
It has been an uphill but delightful task to scan through the variety of cat brushes available on the market to short-list a few that could be the best option for your pet. We hope that you have enjoyed reading the information as much as we have in reviewing the different products just for you.
References:
(2022a). Grooming-Related Concerns Among Companion Animals: Preliminary Data on an Overlooked Topic and Considerations for Animals' Access to Health-Related Services. Frontiers. https://doi.org/10.3389/fvets.2022.827348
Keep the cat, change the care pathway: A transformational approach to managing Fel d 1, the major cat allergen. (n.d.). Retrieved November 26, 2022, from https://onlinelibrary.wiley.com/doi/10.1111/all.14013
Cats use hollow papillae to wick saliva into fur. (n.d.). Retrieved November 26, 2022, from https://doi.org/10.1073/pnas.1809544115
Behavioral characteristics of grooming induced by hindbrain stimulation in the cat. (n.d.). Retrieved November 26, 2022, from https://www.sciencedirect.com/science/article/abs/pii/0031938476902870?via=ihub