The trend of walking cats on leashes is fast picking up. The days when cats used to loll about the house are a thing of the past. Some cats want to actively participate in their family's outdoor activities. It is no surprise that you will require the best cat leashes to ensure that your feline is free to satiate her hunger for adventure but is being carefully monitored at the same time.
Cat hiking is becoming a rage and provides an opportunity for them to explore the great outdoors along with their families. Free-roaming cats and cat leash walking are undoubtedly two different concepts.
The most important part of walking your cat on a leash is the human-pet bond and the concept that your feline pal is family and engaging in an active, healthy lifestyle. If your kitty is showing interest in venturing out and walking on a leash, do take it as an opportunity to bond with him over this unique activity.
Editor's Pick: WIGZI Reflective Retractable Cat Leash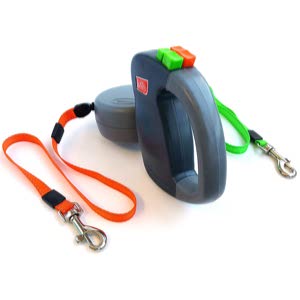 With a reflective and unique dual cat leash design, the WIGZI Two Pet Reflective Retractable Leash had to be our premium choice amongst all. The durable stitch and the 2 brake handle makes it easy to handle two cats and walk them together without entangling the leash. The patented 360-degree spin technology and ergonomic handle, with all other exclusive features, makes this stand apart from the rest.
Why Do You Need A Cat Leash?
Some may find the idea of walking cats a bit nonsensical. But bear in mind that your cat needs exercise too and it also comes with an added opportunity of allowing him to explore the outside world.
Shopping for the best cat harnesses and cat leashes are bound to be confusing given the variety available in the market. Harnesses may range from simple nylon ones to designer-vest harnesses.
Recently, Actress Marleen Maathuis, from south London, took their Maine Coon cat, Ash, on a three-day walking holiday to Snowdonia.
Speaking to The Telegraph, Ms. Maathuis said that "Cats are curious animals, they like exploring. It would be a shame if he just stayed indoors because of the busy roads."
The 11 Best Cat Leashes of 2021 (Reviews)
If you are looking for a Leash for your feline then you have landed at the right place. We have not only tested cat leashes but also reviewed them to present before you, the best cat leashes out there around town. 
1. BAAPET Strong Pet Leash
The BAAPET Strong Pet Leash is the best choice in this list as it is not only comfortable to your pet but also convenient for you to hold. The handle of the cat leash is of padded rubber which provides a smooth grip to you while you taking your feline beauty for a walk.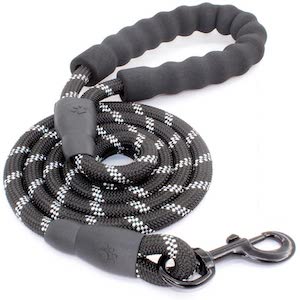 It provides a great way of taking your cat outdoors for a walk as it will help you to keep your pet in control. The long length rope of this cat leash makes it easy for walking on long distances and provides full freedom to your cat.
Features
Length: 5 feet
Type: Standard
Material: Rock Climbing Rope
Attachment: Durable Clip Hook
Handle: Anti-slip comfortable rubberized handle
The reflective threads also make it visible in the dark that makes it safe to take your pet for a walk at night. It is also available in many color variants so that you can choose the perfect cat leash for your kitty.
Durable hook and heavy-duty mountain climbing rope material
Reflective leash for better visibility at night
Great for multipurpose use
Comfortable padded handles for a better anti-slip grip
The hook does not attach tightly
The plastic parts of both ends start wearing off
2. WIGZI Two Pet Reflective Retractable Leash
This cat leash is the perfect choice for you if you want to take two cats at a time for a walk. Forget the problem of tangling which you had before while taking two cats on different leashes. The distance between the end ropes restricts it from twisting and making a knot.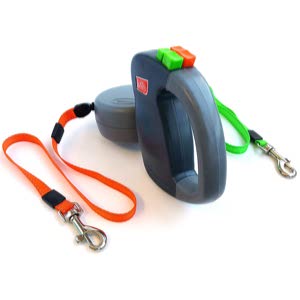 It is also a retractable cat leash that makes it possible to alter the length of the leash rope. The buttons provided on the handle can be used to release the rope length differently for both sides.
Features
Length: 10 feet each rope
Type: Retractable
Material: Nylon
Attachment: Durable Clip Hook
Handle: Ergonomic Plastic Handle with 2 brake buttons
Its straps are also made up of materials that are sturdy enough to provide it durability and make it long-lasting. Also, the handle is ergonomically designed and is comfortable to hold while you take your cat for a walk.
Long dual ropes for walking 2 cats at a time
2 color-coded brake buttons to stop pets individually
360-degree retractable rope for better control from all directions
This cat leash is not durable
Brake buttons do not function smoothly
If you get the combination of best cat collars along with the perfect leash, you cat will enjoy her experience of walking with you.
3. PetSafe Standard Nylon Cat Leash
If you are looking for a budget-friendly cat leash then this one is definitely the perfect choice for you. This minimalistic cat leash has a simple strap design with easy on and off-hook to keep the leash secure to your cat's collar.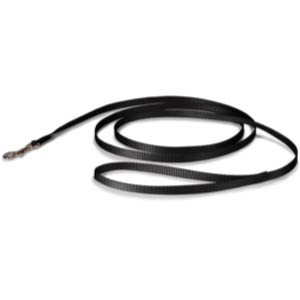 The straps are made up of nylon that makes it strong and durable. It is also available in various strap lengths, thicknesses, and colors that make it compatible with any type of pet. The other end of the leash forms a loop to make a handle.
Features
Length: 6 feet
Type: Standard
Material: Nylon
Attachment: Durable Clip Hook
Handle: Loop like handle at the end of the leash
These leashes match perfectly with many training aids like PetSafe Easywalk Harnesses and Gentle Leader Headcollars making it an easy and effortless training experience for your cat.
Simplistic design with multiple sizes and color variations
Compatible with different types of collars and harnesses
Easy to hook and clip off from pet collar
The handle grip of cat leash is not comfortable
The material is not waterproof or chew proof
4. TaoTronics Retractable Cat Leash
TaoTronics Retractable Cat Leash is the best option if you are looking for a cat leash with adjustable rope length. The length can be varied depending upon the requirement. It can be extended up to 6 feet of maximum length.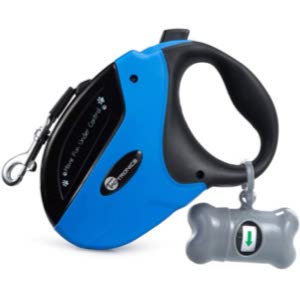 The handle is also made from ABS plastic which is sturdy and durable, giving it a comfortable grip to hold. The handle is ergonomically and strategically designed to fit in your hand just like a glove.
Features
Length: 6 feet
Type: Retractable
Material: Nylon tape
Attachment: Durable Clip Hook
Handle: ABS casing plastic handle; anti-slip ergonomic design
The leash comes with a free roll of plastic bags for you to quickly pick and clean any mess that your cat makes while walking. Give your kitty the maximum freedom of walking while he has fun being under control.
Durable ABS plastic handle for durability and grip
Strong clip hook for attaching to the collar
One-hand braking for controlling your cat easily
Freeroll of plastic bags available
Product is not weatherproof or chew proof
Heavy as compared to other leashes
5. TUG Patented 360° Tangle-Free Cat Leash
This retractable cat leash made from a patented design is the best choice for your pet if you are looking for a sturdy and durable cat leash. It has a clasp/hook on its end for attachment to the harness or collar.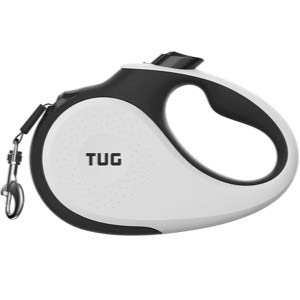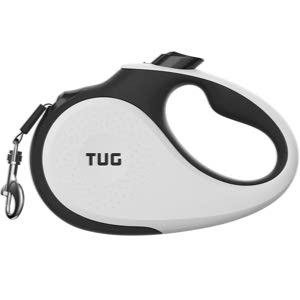 You can easily roll-on and roll-off the rope with the buttons whenever required. You can extend the rope of this cat leash to 16 ft with the help of the button present on its handle. The quick lock and brake system also makes it possible to stop the rope from releasing from the handle when locked.
Features
Length: 16 feet
Type: Retractable
Material: Nylon tape
Attachment: Durable Clip Hook
Handle: Ergonomic anti-slip handle with a comfortable grip
The straps are made from a material having good strength and high durability that makes it long-lasting. You also have three color variants available for this cat leash so that it is compatible with your cat's coat.
Extra-long tape leash with easy-adjust retraction
Quick-lock and unlock feature to stop the leash from extending
Comfortable anti-slip handle grip for long walks
Retraction possible from any angle
The brake lock gets stuck at times and is not smooth
The rope is not durable
6. Primal Pet Gear Heavy Duty Cat Leash
Primal Pet Gear cat leash has added features for controlling your cat, especially if it is not used to walking on a leash. The handle provided on the shorter length is helpful in controlling your cat while you are in traffic or any place that requires caution.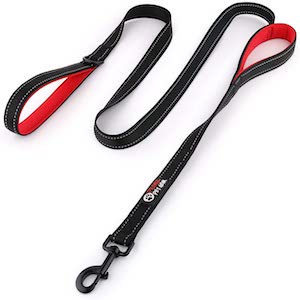 The main handle on the other end is situated at 6 ft. the distance which is suitable when you are on a walk with your cat at a garden or any other spacious place. The dual handle design makes it easier to control and manage your cat. The clip hook is quite durable and made with a thicker thumb release knob that is durable.
Features
Length: 6 feet
Type: Adjustable
Material: Woven thick nylon fabric
Attachment: Thick thumb release knob
Handle: Dual handle design for better control made of Neoprene
There are multiple color options available to suit your feline's coat and the soft neoprene handles allow you to take long walks with your cat at ease. The reflective stitching improves your pet's visibility while walking at night.
Dual handle design for better control of cat
Reflective stitching for better visibility at night
Thick thumb release knob for easy clip-on and off
Neoprene handles for better comfort and grip
The clip on the leash is not durable
The rope is not very strong and thick
Read Next: The Best Cat GPS Trackers
7. Hertzko Heavy Duty Retractable Leash
Walking your feline friend is a fun experience with Hertzko Heavy Duty Retractable Leash which offers a good length for you and your kitty to walk miles together while it is retractable to keep them secure in place.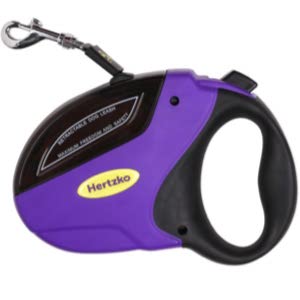 The cat leash is made of nylon material which is extremely durable for the mightiest pull and allows your cat to walk at a safe distance freely while also remaining in your control. For retraction, all you need to do is hold the handle straight while the leash becomes retracted and tight.
Features
Length: 16 feet
Type: Retractable
Material: Nylon Ribbon
Attachment: Hook locking system
Handle: Handle with a comfortable, anti-slip grip and brake button
To stop the leash, you can press the brake button and the leash stops extending in length any further allowing your cat to stay at a place. The handle is very comfortable to hold and grip and does not slip off your hands keeping your cat secure around you. The hook locking to the collar is also durable to the strongest of pulls.
Long nylon ribbon for your cat to walk at a large distance
Durable and easy to retract
Brake button for stopping the leash when the cat goes beyond control
Secure hook attachment to collar
The leash is not waterproof and remains damp
Product is not durable
8.Triton Retractable Leash for Pets
Triton Retractable Leash is extremely durable as it is made of reinforced nylon ribbon which makes it long-lasting and chew resistant. The length is great which allows your feline beauty to walk freely at a distance while she remains secure with the leash.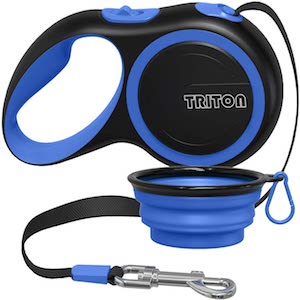 This cat leash offers a one-touch brake system that has been tested over 1000 times and is strong to hold your pet having the mightiest of pulls. All you have to do is, push the button to lock the dog leash in place and then push the slider forward to wait for the leash to extend the desired distance.
Features
Length: 16 feet
Type: Retractable
Material: Reinforced Nylon Ribbon
Attachment: Carabiner clip
Handle: Comfortable, non-slip, rubber handle with one-touch locking system
The nylon ribbon is water-resistant and is tangle-free, extending to a good length. The handle grip is comfortable, rubberized, and non-slippery giving you a secure grip over your pet. Moreover, the product comes with a collapsible bowl and offers a carabiner clip to fix with the collar.
Waterproof and chew resistant
Lightweight
Comfortable rubberized handle to prevent slipping
One-touch locking system to stop your pet from running or escaping
Cheap quality
The product starts tearing off within a few uses
9. OFPUPPY Cat Tie Out Rope Leash
The tie out rope by OFPUPPY is quite long and best suited for outdoor use. The nylon braided material has a good thickness that withstands the strongest of pulls not allowing your cat to escape.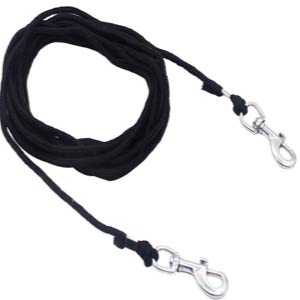 The nylon material of cat leash is weather-resistant and durable making the rope suitable for outside running, playing, by just fixing the rope using strong and durable clasps. The clasps are present on both ends to attach one end to any surface.
Features
Length: 26 feet (options available)
Type: Standard/Tie Out
Material: Braided Nylon Rope
Attachment: Durable Clasp
Handle: Dual-sided clasp for attachment; no handle
You can use the rope as a slip lead too. The standard rope is light in weight and easy to grasp and hold. With the huge length of the rope, your cat can wander about to great distances by remaining secure.
Extra-long rope
Water-resistant and thick braided nylon rope
Strong clasps on both ends for attachment
Multipurpose and suitable for outdoor use
Requires attention while handling
Product is not durable
10. RC Pet Products Kitty Cat Leash
The Kitty Cat Leash by RC Pet Products is available in a colorful range of multiple designs and types to match your feline friend's style. The leash is made of soft quality webbing and nickel-plated hardware.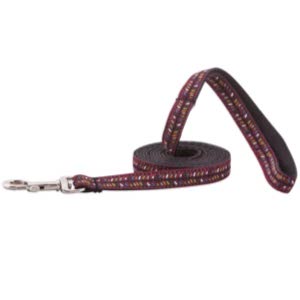 The product also has matching harness and pet collars available along with a range of colors to choose from. The leash is of moderate length, sufficient to keep your kitty free yet secure.
Features
Length: 6 feet
Type: Standard
Material: Soft quality ½ inch webbing and nickel-plated hardware
Attachment: Durable Clasp
Handle: Loop for holding the leash; no handle
There is a clasp attachment at the end of the rope to fix it to a collar or harness. The leash is machine washable. It comes with a loop on the other end to easily grip the leash without slipping off your hands.
Multiple color options to look stylish
Simple and attractive design
Machine washable
Matching collar and harness available
Suitable for up to a short length
No retractable mechanism
Not durable or chew proof
Non-comfortable grip
11.Catit Nylon Cat Leash
The strong and durable looking cat leash from Catit is snag proof and fray resistant, available in a single color, and can withstand strong pulling. It is made of safe and comfortable nylon material and is quite light weighed.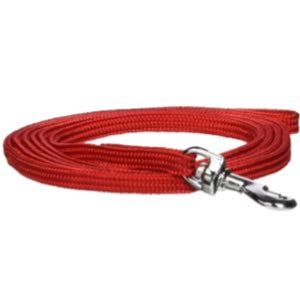 The design is simple yet it is quite strong and supports pets and cats to stay secure and go up to long distances for them to explore safely and securely. The hook is snap resistant and gold plated for maximum durability.
Features
Length: 4 feet
Type: Standard
Material: Durable Nylon Material
Attachment: Gold plated bolt snap
Handle: No handle
The product is worth the price and serves the purpose well but will require a harness and collar for attachment.
Basic and Simple design
Durable and strong rope and clasp
Easy to handle and wash
Not fancy
Requires additional accessories
Buyer's Guide for Cat Leash
It is important that you choose among the best leashes, and you are aware of the purpose and compatibility with your pet. To make your selection easy, refer to this buying guide before getting the best cat leash.
Types Of Cat Leashes
Cat Leashes also come in various types, the purpose for the different types is the same however the way it can be used may differ. The most common one is the Standard Leash. Here are a few of the other types of cat leashes available in the market.
The most common type is the Standard Leash. It simply has a thin strap that is folded to form the handle on one end. On the other end, Clasp is attached to it for the attachment purpose.
These types of cat leashes have variable lengths of their rope. So you can easily adjust the length depending upon your requirement. The retractable leash also makes it easy to wrap up and keep the rope safely, as it can be folded entirely towards the handle part.
Adjustable Leashes provide you a way to adjust the length of the leash. It does not have the folding mechanism of the rope like a retractable leash, rather the straps can be folded to shorten the length of the Leash.
FACT: Expect some strange behavior when you first put the harness on. Most cats initially dislike the feeling of the harness.
How to Choose the Best Cat Leash?
Before buying a Leash for your feline, here are a few things which you should consider to make a perfect choice.
Cat Leashes come in various length sizes generally ranging from 3ft to 6ft there are also some types of cat leashes. It is important to choose a cat leash with proper length so that it is convenient for you as well as Pet to walk.
If you generally take your pet for walking, then the larger length is not a problem. However, for jogging, the appropriate length is recommended. As a cat leash with size larger than required may get stuck in cat's paws if it is slinging.
There are also retractable leashes available of which the length can be varied. In this case, it can conveniently be used for walking as well as running for any size of cat.
The material used to frame out the rope and the attachment clip is also important to consider, as based on this the strength and durability of the leash are dependent.
Few leashes are made up of metal. It is however not recommended to be used for cats due to its weight. So make sure that you don't use a metallic leash for your cats.
Cat leashes are not meant to be used separately as it is attached to either a cat harness or collar. Generally, a clasp is used in the cat leash that can be easily attached to a circular or D-ring. So make sure that the attachment used in the leash is compatible with the harness or collar.
Make sure the handle of the cat leash has soft and padded rubber covering so that it is comfortable and provides a proper grip while walking or jogging. Besides being comfortable while holding, it should also be sturdy enough so that it does not release from the leash rope.
FAQs About Cat Leash
1. Is it a good idea to walk a cat on a leash?
Taking your feline friend for a walk with a leash is always a good idea as most of the pet cats stay indoors due to which they are not able to enjoy the outside world. A cat leash also helps in keeping your pet under control while you are out for a walk with your pet.
2. Can cats be leash trained?
Cats can definitely be leash trained although you need to keep their nature and personality in mind whether they would be comfortable walking with a leash. Some cats are better suited and more comfortable with a harness and should not be forced to wear a leash if not comfortable.
3. Is it cruel to put your cat on a leash?
It is not cruel to put your cat on a leash if handled with care and constant vigilance. If they keep pulling excessively or manage to slip out of the leash, then it is advisable to use a harness instead of a leash or lead for your cat. Do not pull the leash excessively while walking your cat as it can cause choking and injury.
4. How much does a cat leash cost?
A cat leash can cost you anywhere between $4-$40 depending upon the material, length, type, and various other features. For a pocket-friendly and durable leash design, you can opt for the BAAPET Strong Pet Leash that costs anywhere between $8-$10.
For a premium choice and walking more than one cat at a time, you can go for the WIGZI Two Pet Reflective Retractable Leash costing anywhere between $30-$35. For a basic design and cost-effective purchase, choose the PetSafe Standard Nylon Cat Leash costing anywhere between $4-$6.  
5. Which is the best cat leash?
According to us, the best cat leash is the WIGZI Two Pet Reflective Retractable Leash. This helps in walking two cats at a go with durable and reflective rope design. For a more comfortable and ergonomic grip with a durable design, you can opt for the BAAPET Strong Pet Leash. For a cheap and basic purchase, you can choose the PetSafe Standard Nylon Cat Leash.
The Final Note
We have all heard of walking dogs with a leash but cat leashes are the new thing since cats are equally agile and friendly as dogs. The best way to spend time with them outdoors is by taking them for a walk or run with a cat leash. These are made of different materials and come in various lengths, designs, and attachments to suit your cat's comfort.
With our reviews on the best cat leash, choose the most appropriate and convenient accessory for you and your feline friend to enjoy walking with grace.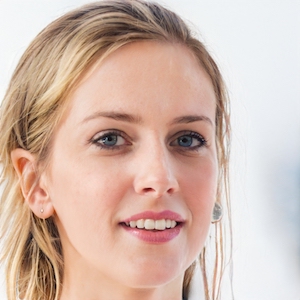 Diane is a guardian to an Ocicat cat named Collie. She's a professional cat trainer having dealt with hyperactive felines, hence she certainly knows what will work best for your kitty. She has expertise in writing on feline behavior, house training, and tips & tricks including product reviews of related products. Her love for pets drives her to get the most reliable products in the market!