Using Cat Harness is a great way to take your Cat outdoors on walking without having to worry about it running away. Also, choosing a Harness for your Cat can sometimes be a tedious job, so here we have reviewed the best cat harness to choose from.
Many harnesses used for small dogs can be used for adult cats, but for kittens, you have to purchase a smaller harness which is specially designed for felines (or harnesses which are of smaller size).
A cat walking harness is also more preferred than directly using a leash with a collar as Collars are easy to escape for the cats, and the Escape-Proof cat harness prevents your Cat from bolting while you are out for a walk with your feline friend.
Benefits of using a Cat Harness
A harness is important because felines have soft throat, so attaching a leash directly to their collar may choke her or harm in some other way. Also, as the harness has a greater surface area compared to a collar, so you put less pressure on your her neck by using a Cat Harness.
ASPCA also recommends using a Harness rather than directly attaching Leash to the collar for the good health of your pet.
Unlike Dogs, Cats do not run to bite other people, so using a Cat Harness is for the safety of your Cat and not to protect other people from your Pet. By using it you will protect her from getting lost while you are walking with her outdoors.
Cat Walking Jackets at the same time can be used as a Harness as well as to protect your Felines from cold. As the Cat Harness jackets have a jacket shaped design so they are larger in the area and cover almost half of the body part which protects them from choking by spreading the pressure equally on other body parts and also protecting them from cold winds.
The 10 Best Escape Proof Cat Harness
1. Voyager All Weather No Pull Step-in Mesh Harness Padded Vest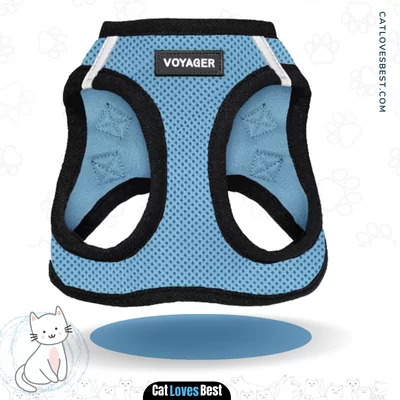 The Best Cat Harness in our list is Voyager All-Weather which is available in 5 different sizes and 16 different color shades. The wide range of sizes and colors gives you a broad and beautiful choice of colors to suit your pet's personality.
For double security, buckle strap, as well as velcro, is provided for closure of Harness to your pet. And, for the attachment purpose, D-rings are provided using which you can attach it to the leash. This securely holds your pet while still being gentle.
The simpler shape of this Cat Harness for walking makes it easy to put on this step in harness. Simply you need your cat to walk into it with front legs, then attach the Harness with a lease and you are ready for a walk with your pet.
As the name suggests, it is an All-weather Cat Harness, so you can take your Cat on a walk in any weather conditions. The mesh of this harness is made up of Plush material which is strong and durable. Due to the mesh material used in this Harness, it is comfortable in brisk winter as well as warm summer days. Its non-irritating material allows you to put on the Cat Harness on your Feline for a long day.
To conclude, we think this is the overall best escape proof cat harness.
Pros:
Available in 5 different sizes and 16 different color variants
All weather west
Double security as it has Velcro as well as a buckle for closure purpose
Cons:
Not recommended for kittens
2. Gooby Comfort X Step-in Adjustable Cat Harness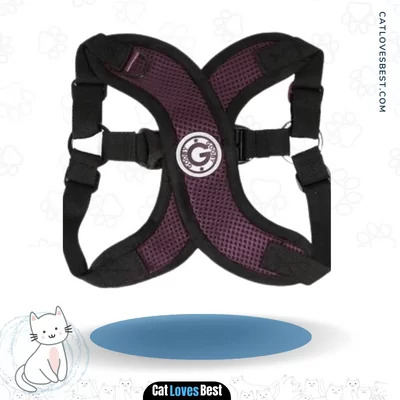 Comfort X Step-in Harness of Gooby sold on Amazon is a Choke Free Harness with Micro Suede Trimming and Patented X Frame.
It is available in four sizes ranging from Small to X-Large. The size can be varied as it has four adjustable nylon straps. This Adjustable Cat Harness can be adjusted to 12.5 inches, and the X-Large harness can be adjusted to 26 inches.
There are also different 6 color variants available to choose from so that you can make a perfect choice of color depending upon the shade which suits your Cat. If you are confused about which color to choose from, then go for Black one, as black colored Harnesses suits almost every Cat.
It is also very easy to set up due to its improved design. The new patented X Frame is also very comfortable and gentle to your Cat as there is a proper pressure distribution.
Pros:
Easy step-in design to put on the harness
Adjustable neck and chest straps provided to comfortably fit on any body type
Patented X frame is safer and comfortable
Breathable Mesh
Available for large cats as well as kittens
Cons:
Not recommended for chewers
3. Soft Mesh No Pull Comfort Padded Cat Harness Vest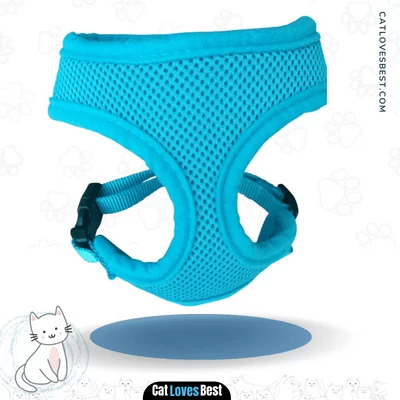 Soft Mesh Harness with No Pull Comfort Padded Vest is the most affordable Adjustable Cat Harness Vest in our top ten list.
It is available in four sizes that are XS, S, and M. The Neck Girth of XS size measures 8 inches, 9 inches for S size and 12.2 inches for M size, so you can buy the Cat Harness depending upon the size. You also have seven color variants available to choose from. These variants are solid colors, so it is easy to match any collar or leash.
The vest-style harness has padded layer and the outer material is made up of Mesh so it won't hurt your Cat while walking. Also, It is made up of 100% polyester which makes it sturdy and durable and breathable mesh which makes it ultra-comfortable for your Feline.
To put on this Cat Harness is very easy, simply your cat needs to walk into it and then close it with the help of adjustable buckle strap. After putting on the harness, you can attach the leash to it with the help of metal D-Ring provided on it.
Pros:
Budget-Friendly
Comfortable and sturdy
Breathable mesh
Cons:
No strap or buckle provided for neck hole, you have to hold your cat to put on the harness
4. Eagloo Escape Proof Soft Mesh Cat Harness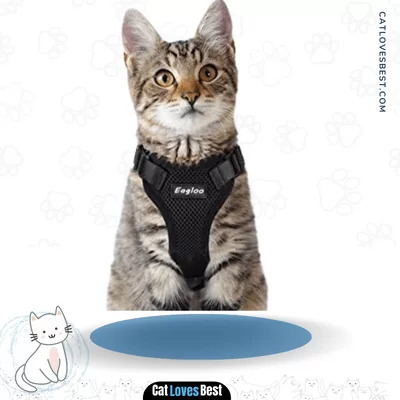 Eagloo Escape Proof Soft Mesh Cat Harness is specially designed for cats so it would fit on any size of pet whether it be a Large cat or kitty. It is a Jacket type Harness with a greater surface area which makes comfortable and soft attachment to your Feline.
Its Double-Stitched fabrics and straps make it long lasting and durable. It is made up of Air-Mesh fabric which is Lightweight, Soft and Breathable. The resilience provides cushioning and makes it soft and the fabric material is safe for sensitive skin as well.
There are two quick-release buckles provided which make it easy to put on or disconnect the Cat Vest Style Harness. Also, the four adjustable straps are provided on the backside which makes adjustment in size more precise comfortably fit your Cat irrespective of its Body type.
For more security, there is a reflective strip on the outer sides so that you can easily track and spot your lovable pett even at darker places. It is also an escape free Cat Harness and for the attachment, Electrophoretic Iron rings are provided which distribute pressure evenly and safely.
Pros:
Jacket-type no escape Cat Harnes
2 quick snap buckles makes easy to put on and put off
Fully adjustable cat harness
Soft and breathable sandwich fabric
Cons:
Cat can wiggle out after applying some efforts
5. Puppia Authentic RiteFit Harness with Adjustable Neck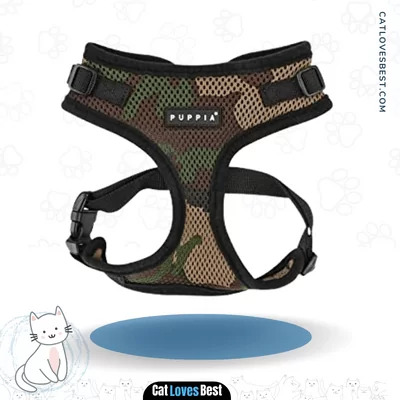 Puppia's RiteFit cat Harness is available in four different sizes starting from small to X-Large, which is available in nine different color variants. It has two quick release buckles and adjustable straps, around the chest, is provided one snap buckle with an adjustable chest belt.
The high-quality air-mesh material used in it is breathable so your Cat won't feel irritating even for wearing it for a longer time. Also, the material is water-repellent, so if you are out with your pet on a walk and accidentally water splashes on it, then it won't get wet.
It also has two double-coated D-rings for attachment of leash on the back, you can attach the leash to either front or rear D ring. The broader area below the D-rings helps in proper distribution of pressure, due to this it is choke-free and safer for your cat to while you go on a walk with her.
The polyester material used is not only soft but it is also strong enough so that it provided both Comfort and Durability. The stitching and finishing are perfect so that the sturdy design lasts longer.
Pros:
Quick snap buckles makes easy to wear and remove
Adjustable neck and chest straps for a comfortable fit to any body type
Two D-rings provided at back for leash
High quality air-mesh material
Cons:
Complicated design makes hard to alter the adjustable neck
6. Voyager Fully Adjustable Step-in Mesh Pet Harness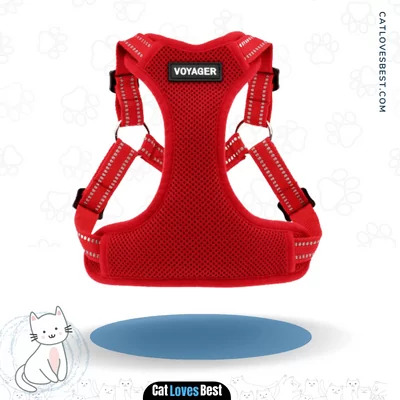 Voyager Fully Adjustable Step-in Mesh Cat Harness available in four different sizes; X-Small, Small, Medium and Large. The chest size for X-Small size is adjustable between 14 to 16.5 inches. Most of the Cats can easily fit in X-Small sizes, but if you have a Large Breed elder cat then you may have to opt for a Small size which measures 16.5 to 20 inches.
It is made up of durable and tough straps and the lower part is made with multiple ultra breathable plush mesh. Its two-layer construction adds more comforts and decreased pressure on the neck which eventually any possibility of choking.
The adjustable cat harness make easy to tweak the size and perfect for their unique body shape and prevent any chaffing. To put on and remove it is also very easy with the help of Snap Buckle provided in it.
You can easily attach a leash to this Cat Harness to the two D-Rings at the ends on the buckle. Providing two D-Rings also makes it safer for your pet as it evenly distributes the pressure and also secures from escaping. Its highly reflective 3M piping gives it night-time visibility for more safety of your Pet.
Pros:
Fully Adjustable Neck and Chest Strap
2 Layer Construction for Extra support
Snap Buckles and step-in shape makes easy to wear and remove
Cons:
Not recommended for Kittens
7. Escape Proof Cat Jacket Harness and Leash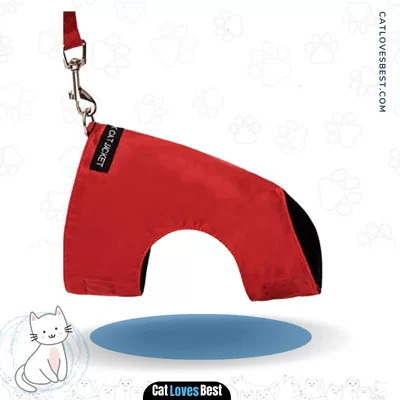 Cat Walking Jackets are specially designed for Cats so that your Feline can be secure and Safe as well. Escape Proof Cat Harness is for Cats weighing 4 lbs to higher than 11 lbs. It is a Padded Harness so it provides proper cushioning to your Feline and also keeps your pet safe by protecting her from choking due to any pressure, as its design is made such that there is equal distribution of pressure.
It has an extra layer of mesh underneath, which makes it more breathable and ultimately provides better ventilation. It is escape-proof and has durable and strong Magic Tape Velcro rather than plastic buckles.
On purchasing this Cat Jacket Harness you also get a Leash along with it so that you don't need to worry about buying another Leash. To control your feline, the leash can be attached to any of the two D-Rings provided on the top of the Cat Harness.
There are five different sizes available which are X Small, Small, Medium, Large, and Extra Large. You can choose from five color variants, different shades to choose from are Black Plaid, Camo, Polka dot blue, Polka dot pink, and Sailor suit navy.
Pros:
Jacket Type Cat Harness provides more Comfort to your Cat
Escape-Proof design
Available for large cats as well as kittens
Cons:
No buckles provided for closure
8. PetSafe Come with Me Kitty Harness with Bungee Leash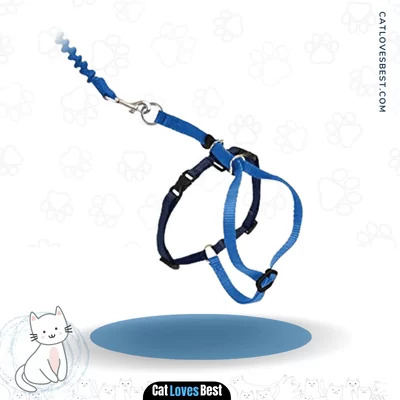 If you want a simplistic Cat Harness which is more Sturdy and durable, with equal comfort to your Cat then PetSafe Come With Me Kitty Harness would be a perfect fit for your feline. The shoulder straps are made in such a way that it can easily slide through the two D-Rings provided at the back of it which allows restraining the Cat from moving without choking her.
It has dual adjustment points that allow to comfortably fit on the cat of any body shape. This restricts your cat from escaping without affecting the comfort of your Feline.
Similar to the Cat Harness which we listed above, you get Leash along with this one. But in this case, you will get a Bungee Leash which is more elastic. This Bungee Leash can be attached to the Harness to the metallic round-shaped ring.
It is specially designed for kitties and it applies gentle pressure on shoulders rather than the neck or throat. However, as it is available in three sizes which are Small, Medium, and Large which also makes it suitable for Large Cats as well. You also get many color variants to choose from for this Cat Harness, it is available in Black/Silver, Dusty Rose/Burgundy, Electric Lime/Green, Lilac/Bright Purple, Red/Cranberry, and Royal Blue/Navy.
Pros:
Suitable for Kitties as well as Large Cats
Two Snap Buckles makes wearing and removing easy
Patented design which has better pressure distribution compared to conventional ones
Made with chew-proof material
Cons:
Made entirely of straps
No mesh provided
9. SCENEREAL Escape Proof Cat Harness and Leash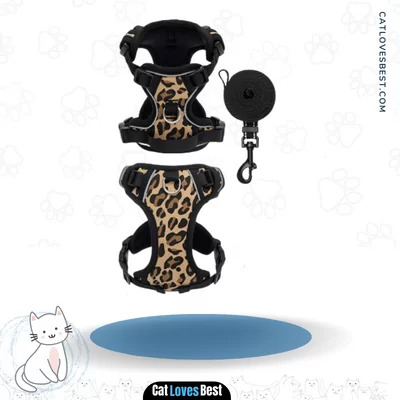 Scenereal's Escape-Proof Harness is available in three sizes which are Small, Medium, and Large. You also get Leash along with it on purchasing this Harness, so you don't need to worry about buying any additional Leash with it.
Velcro closure so provided so that it can be easily put on or taken off. To keep your feline more secure in addition to Velcro, Buckles and clips are provided for easy adjustment which also makes it escape-proof.
The Harness is made with soft and breathable air-mesh fabric material which keeps your Cat comfortable while walking or running. You can easily attach the Harness with a Leash to the D-Rings, for this purpose two metal D-Rings are there which provides better control compared to single harnesses with single D-Ring.
This Harness is a Jacket Type Harness due to which it has larger is so it puts the least pressure on the neck or throat. The only drawback which you may consider is that it is only available in a single color which is blue denim color but it will suit most of the Cats.
Pros:
Jacket Type Cat Harness
You also get Leash along with this product
Two metal rings for better control
Three closure options available: Velcro, Buckles, and Clips
Cons:
Only available in a single color variant
10. INVENHO Mesh Harness for Cats with Leash & Seat Belt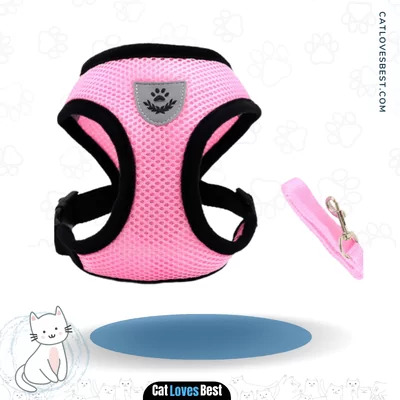 If you want a Cat Harness and do not want to pay additional bucks for Leash and Seat Belt, then INVENHO Mesh Harness is the perfect choice for you. On purchasing this harness, you get Leash as well as Seat Belt. You can go on a road trip or walking along with your cat at the same time, as you can easily attach the Leash or Seat Belt with it.
It is specifically designed for Cats so it is suitable for large cats as well as Kittens. It is available in three different sizes which are Extra Small, Small, and Medium. Each size is available in Black, Blue, Red, and Pink color so that you can choose a perfect one which suits your Feline.
It is equipped with metal D-Ring for attachment of the Harness to Leash or Seat Belt. The placement of the D-Ring and neck strap is such that it prevents your Cat from choking. For the closure purpose, two snap buckles are provided which makes it easy to put on or take off the Cat Harness.
In addition to the above features, this Padded Cat West is made with high-quality breathable mesh material which provides good ventilation as well as comfort to your cat. Also, the straps are made up of nylon which makes it strong and increases the durability.
Pros:
You also get Leash & Seat Belt attachment along with this Harness
Two snap buckles to easily wear and remove
Breathable Mesh
Different sizes available to perfectly fit Kittens as well as Large Cats
Cons:
The neck hole is not adjustable
Buyer's Guide for Cat Harnesses
Refer to this guide to select the best harness for cats, and make a perfect choice of Harness for your feline. The points mentioned here will provide you the factors based on which you can decide which Cat Harness to purchase from the top 10 list which we have mentioned in this article.
It is very important to check the Size of the Cat Harness before purchasing it. A Harness of Larger size which is too loose for your cat will make it easy for your Cat to wiggle out of it even if it is escape-proof.
On the other hand, if the harness is smaller in size then either you won't be able to put it on your cat or if you somehow put the Cat Harness on it then it would be very tight for your cat which is not recommended as she will not be comfortable in a tight cat and it also might be painful to her.
Based on the shape, the cat harnesses are divided into four types which are Figure 8, V-Harness, H-Harness, and Jacket Harness.
If you are living in colder regions then I recommend you to buy a Jacket Harness, as when you go outdoors for walking with your cat, then the Jacket Harness will not only work as a Harness, but it will also keep your Feline Warm. Jacket Harnesses are also made in such a way that it's hard for your Felines to escape from it which makes it the best escape-proof Harness.
Similarly, if you are living in hot regions then you can buy Figure 8, V-Harness or H-Harness for your car, as ventilation in these types of Cat Harnesses will be more.
Attachment type and position
In most of the Harnesses, you will find the metallic D-Ring is equipped on the top of the Cat Harness. This D-Ring is provided for the attachment of the Harness with Leash or to tether with Seat Belt. In a few other types of Harnesses, a Round-shaped ring is provided instead of D-Ring.
D-Rings are preferred over Round-shaped rings as the D-rings put equally distributed strain on the straps compared to Round-shaped rings. However, you should not focus much on the attachment type used in the Cat Harness, as with a change in the type of attachment used, there is the least effect on the comfort of the Cat.
You should also consider the type of material used in the cat harness. There are many properties that will be based on the type of material used. Viz, Sweat Absorbing, Cushioning, Breathability, Durability, etc. But most importantly you should NOT buy a Cat Harness made with the material allergic to your Cat.
If you have a Chewer pet, then you should choose the Harness made with a material that is strong enough so that it cannot be easily chewed by your Cat. In this case, you can buy a harness which is entirely made up of straps, as straps are made with nylon fabric which is hard to chew.
The ventilation of the Cat Harness should be also adequate so that your Cat can wear it for a longer time without being irritated. Ventilation is important as it will improve the airflow which will ultimately be good for your Cat's Health. Ventilation is also an important factor if you are living in a hot weather region.
A Cat Harness which is made with mesh fabric or any other breathable material will have good ventilation. So you can select the Harness made out of breathable material for proper ventilation.
Whether there is a proper Cushioning provided in the Cat Harness or not is also an important factor if you want to take your Cat for a long walk or run. The cushion makes it comfortable for your Cats to wear the harness as it reduces the pressure applied on the Cat.
The cushion also helps your Cat to keep on wearing the Cat Harness without feeling any discomfort. It also reduces the sudden impact force when you abruptly stop the cat while running or walking.
FAQs
How to measure my Cat for a Harness?
In order to make a Harness perfectly fit your Cat, you need to measure Neck Girth and Chest Girth. To size the Chest Girth, you need to take a measuring tape and measure the Cat's Chest just behind the front legs. Similarly, you can measure the Neck Girth by putting the measuring tape around the Cat's Neck.
For Pull-over Harnesses you need to measure the maximum size of your Cat's Head so that you can easily put on and take off that Cat Harnes from your Cat. Also, while measuring any size whether it be Neck Girth or Chest Girth, place your two fingers in between, this will give you a greater size by about one inch which will prevent the harness to be too fit for your Cat.
What are the different types of Closures available in a Cat Harness?
Cat Harnesses are made with a purpose so that they can be put on or taken off whenever required, for this purpose, there are different types of Closures used in the Harness. Velcro and Snap Buckles are used in most of the Harnesses. In a few types of the Harnesses, clips are also used for the closure purpose.
There are cat Harnesses which use more than one closure (viz. Buckles and Velcro together) which makes the Harness More secure and ultimately making it escape-proof, but at the same time, it also increases a few seconds to put on or to take of it.
Is Harness for Cats different from that of Dogs?
You will find that there are few dog harnesses mentioned in our list, this does not mean that those products are only for dogs. The shape and structure of Dog and Cat Harnesses is same, only their size is different.
The Harness used for Dogs can be used as a Large/Extra Large Cat Harness. Also, if it is an Adjustable cat Harness then it can be even used as Kitten Harness or Harness for small cats.
The Final Note
Being a Pet Parent, it can be sometimes hard to decide which Cat Harness to buy for your cat, as for the security of your cat you want it to be Escape-Proof and at the same time it should be comfortable to the Cat. After going through the above list of best Cat Harnesses, I'm sure you'll make a purr-fect selection and catisfactory choice for your Feline.
References:
Feline Behavior Problems: Aggression. (2018, July 24). Cornell University College of Veterinary Medicine. Retrieved September 5, 2022, from https://www.vet.cornell.edu/departments-centers-and-institutes/cornell-feline-health-center/health-information/feline-health-topics/feline-behavior-problems-aggression
Wolfe, G.E., Soltysik, S.S. An apparatus for behavioral and physiological study of aversive conditioning in cats and kittens. Behavior Research Methods & Instrumentation 13, 637–642 (1981). https://doi.org/10.3758/BF03202078
Wolfe, G.E., Soltysik, S.S. An apparatus for behavioral and physiological study of aversive conditioning in cats and kittens. Behavior Research Methods & Instrumentation 13, 637–642 (1981). https://doi.org/10.3758/BF03202078