High-fiber cat foods are really important for cats. The majority of cat owners claim that their cat is constipated all the time. They criticize their eating habits, inactive lifestyles. But, what they overlook in their diet is fibers.
If the percentage of fiber content in your cat's daily diet is low, they will obviously find it hard to pass stool. Hence, make sure to invest in the best high-fiber cat foods.
We have done comprehensive research to find out high-quality fiber dishes for your cat. These foods are pumped with good fiber, protein and help to maintain your cat's weight. She will have a good digestive system and, powerful immunity.
A Quick Comparison of Our Favorites in 2023
Best Overall

Rachael Ray Nutrish Super Fiber Premium Cat Food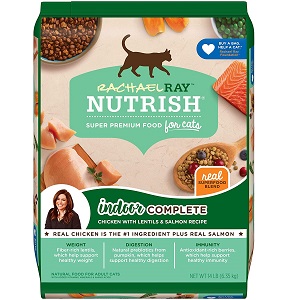 Loaded with healthy vitamins and minerals
Real salmon wholesome lentils support dietary needs
Natural ingredients are used for the healthy digestive tract
---
Editor's Pick

Royal Canin Veterinary Diet Gastrointestinal Food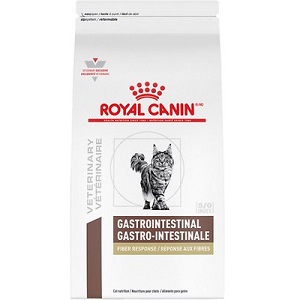 Promotes good bacteria in the stomach
Curbs urinary problem
Promotes digestive health
---
Affordable Pick

Chow Sensitive High Fiber Diet for Cats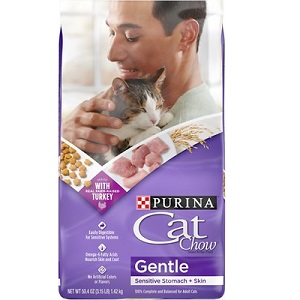 Easily digestible

Includes high-quality ingredients such as real farm-raised turkey

Promise shiny and thick coat
The 10 Best High Fiber Cat Foods
If you are looking for high fiber food for your feline you have come to the right place. We have written a cat food review on 10 of the best fiber-rich diets.
A high fiber cat food helps to break down the food which means it is good for the cat's digestive system, reduces overweight problems, helps to maintain sugar levels, and many more.
Rachel Ray Nutrish Super Fiber Cat food is our best choice for high fiber cat food because it is affordable and includes essential dietary fiber and digestive enzymes. This recipe features overall good fiber content because it includes salmon meat, pumpkin, chicken, and lentils.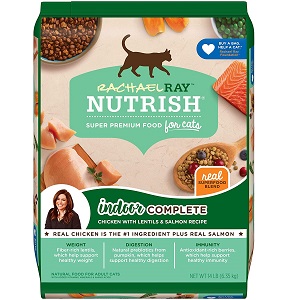 Overall it has 4.6% of fibers, which will help to control her weight. It is the fittest best cat food for all indoor cats. The goodness of cranberries will promote a level of antioxidants in your cat which helps to minimize damage to cells, promotes healthy and strong immunity.
It is on our top priority list because many cat owners are satisfied with this high fiber cat food, plus it is budget-friendly too. They said the nutrient count of these high-fiber foods is up to the mark. It contains all the essential vitamins and mineral that helps their cat to grow healthy.
With zero food filler and by-product meals, this high-fiber cat food is a healthy option because it has no additional flavoring and colorant. It is fortified with Omega-6, has digestive proteins for a good gut. Your cat won't face hair fall issues, diabetes, or obesity.
To conclude, we think this is the overall best high fiber cat foods.
Pros
The best part, it is inexpensive yet high-fiber cat food.
Features pumpkin, salmon, chicken, and lentils.
Loaded with healthy vitamins and minerals.
It fuels your cat with easily digestible animal protein.
Cons
Many pet owners have complained that their cats have an upset stomach after feeding this cat food.
2. Royal Canin Veterinary Diet Gastrointestinal Food
Royal Canin High Fiber Response diet is twice as expensive as the Rachael Ray Nutrish in number 1, but it has considerably greater fiber, that's why it is our second choice. This high-fiber cat food is designed to offer your feline the type of nutrition she needs to remain healthy and feel great.
This cat food is enriched with high-quality fiber. Made with a combination of soluble and insoluble fibers that curbs constipation and promotes healthy stool. Specially designed for cats who have a delicate GI. It is loaded with good bacteria and probiotics means it aids the production of good bacteria inside her intestine.
As it is made with S/O formula it prohibits urinary problems because it fights against hairballs ingestion, sugar problems and includes digestive proteins.
It promises to gift your cat a healthy body with issues related to stones or bladder infection. Plus this high fiber cat food includes a whopping 11.1% fiber and 23% protein. But this is the most expensive fiber-rich food on our list. Helps her to poop out easily without bloating or stomach ache.
Contains DHA and EPA that reduces the risk of depression in cats. Plus it works as an anti-inflammatory.
Pros
Elevated portion of the fiber.
Promotes good bacteria in her stomach.
Curbs urinary problems in cats.
Includes digestive enzymes.
Cons
It is quite expensive.
It is not grain-free.
3. Chow Sensitive High Fiber Diet for Cats
When it comes to price rating with good quality cat food with fiber one of the food products can beat this high fiber cat food on our list. That's why this Chow Sensitive High Fiber Diet for Cats is on our third list.
While using Purina Chow Sensitive diet, losing weight is no longer a challenge, and bowel movements are more consistent than they have ever been.
With high quantities of animal-based protein, controlled fat levels, and enhanced fiber content, this formula aids in the maintenance of healthy body weight in your cat. If your kitty has a delicate stomach this high fiber cat food is just the right choice for her.
They have added 25 crucial vitamins and minerals and each has its own purpose. This budget-friendly high fiber cat food is ideal for weight control, helps to keep her coat smooth and stronger.
Fortified with fiber-rich prebiotics means it includes digestive enzymes. Manufacturers have included turkey and chicken by-products. It contains 5% fiber, biotin, and folic acid.
This adult cat food is a 100% balanced diet for her, doesn't include any colorants, harmful preservatives.
Pros
There are plenty of probiotics in this dish to help with digestion.
Pumped with Turkey and Chicken that promotes a good level of protein in the food.
Promises shiny and thick coat.
It is inexpensive yet a high fiber cat food.
Cons
As per some cat parents, their kitty rejected to eat this high-fiber cat food.
4. Wilderness Indoor Hairball Fiber Cat Food for Cat
Blue Buffalo Wilderness High Fiber cat food is also rich in protein. The source of protein in this food comes from deboned chicken, fish meal, and chicken meal.
For the fibers, they have blended vegetables like Peas, sweet and normal potatoes, and also added psyllium. It includes antioxidants that help to reduce inflammation. They have included carrots and cranberries. If you are looking for some great diet grain-free cat food, this is the right choice.
Offers your cat a balanced and healthy lifestyle with a strong immunity system. It will aid hairball control, fight against feline overweight problems. This high-fiber cat food also includes vitamin A and taurine that promote better vision and heart condition.
Protein works in making your cat's muscles powerful and as this high fiber cat food is loaded with good protein she will have strong muscles. Feeding this food for a long will ensure a much better and stronger fur because it is pumped with omega fatty acids. So, say bye-bye to hair fall.
This is totally digestive support food that works on better poop quality and overall good gut as it has 7.2% fiber in it. The company believes in natural and healthy food values therefore they have ditched additional flavors and colors.
Give your feline friend this high-fiber cat food for an overall better lifestyle.
Pros
It is easy for her stomach.
Includes a good percentage of protein.
It is high-fiber cat food.
Helps in building better and stronger fur.
Works on better vision and heart condition
Cons
This high-fiber cat food is not so budget-friendly.
Customize only for adult cats.
5. Wellness Core Grain-Free Food for Cat
Wellness Core Grain-Free Food for Cat is more expensive than Purina One Indoor High Fiber Cat Food, but cheaper than Royal Canin Veterinary Diet Gastrointestinal Food.
This high-fiber cat food is customized with a wholesome chicken meal and turkey. It is built with omega acids 6 and 3. Rich fibers come from flaxseeds, peas, and potatoes. It is ideal for maintaining your cat's weight, who are especially obese.
If you feed your cat or kittens with this high fiber dry cat food, they will have a better immunity system along with low gastrointestinal health problems. Cranberries used in this recipe will help to make it a superfood. It will support her body and prevents damage caused by the low level of oxygen.
You will like this high fiber cat food product because they have not added any additional colorant or flavoring inside this food plus it helps to build her muscle stronger, and it is a grain-free cat diet.
Offer your cat amazing fur and healthier life if you feed her this cat food in the right amount. It helps to keep her energetic all day long and fight against illness.
So, you can definitely bring home this high fiber cat food for nourishing and enriching the right protein content food for both your kittens and cats.
Pros
Nutritional adequacy is up to the mark.
It includes zero fillers and additional additives.
It is enriched with 5% fiber.
Great for cat's digestion.
Cons
The calorie content of high-fiber cat food products is high. I won't recommend it for an obese cat.
6. Purina One Indoor High Fiber Cat Recipe
Try this Purina One Indoor High Fiber Cat Food made with turkey whole grains, corns, soybean meal, and rice for complete and balanced nutrition that is low in fat and calories but high in fiber and protein.
This insoluble fiber cat food is great for minimizing hairball problems in felines. In fact, many pet parents have observed that this high fiber diet has helped their cat maintain its weight. This kibble is tasty and can keep your cat's immune system stronger.
If you feed this high fiber cat food she will have radiant and stunning hair for a long time. Plus it helps to fuel her all day long without making her hungry in the middle of the day.
If you want your cat to have a healthy and better gut you can definitely go for this dry cat food. It eradicates health problems like obesity, and hair fall.
Fortified with 37% protein and 5.2% fiber. While feeding your cat homemade healthy food you can add this cat's high fiber food as a supplement because it has completely balanced vitamins, fatty acids, taurine, and minerals which might lack in her regular diet.
Pros
This dry cat food won't make your cat obese.
Supports and minimizes hairball problems in cats.
It tastes good and fuels your feline all day long.
Offers silky and healthy fur.
It is good high fiber cat food.
Cons
It lacks soluble fiber which won't be great for constipated cats.
7. Hill's Science Diet Dry Cat Recipe for Senior Cats
Hill's Science Dry Cat Recipe is customized for seniors cat who has an indoor lifestyle.
Older cats can get benefits from the ingredient blend used in this recipe as it helps them stay nimble, alert, and interactive. It supports your cat's bladder and the kidney because it is full of calculated minerals and vitamins.
Your furry friend will have lustrous and strong hair as it is fortified with vitamin E and fatty acids like Omega 3, and 6. This dried food gifts your cat good eyesight too and prohibits problems like constipation and hairball ingestion.
This high-fiber dry cat food contains fish oil and chicken liver making it healthy and tasty. Which your feline will love to eat. It promises to offer 8.5% of fiber which is derived from beet pulp, whole grain wheat, apples, and it is low in calories which makes it perfect for inactive cats because it fuels them up all day long.
Gives your adult cat this food for stronger bones and joints. Contains folic acid, vitamin B12, biotin, zinc, phosphorus. It is advised by US vets too because it is clinically proven and has no by-products.
The best part of this product is that it will return your money if you are not satisfied with their food.
Pros
Includes complete and balanced nutrients.
Manufactured in the USA.
Good for eyesight, heart, and joints.
Your cat feel satisfied and full because of the high fiber
Cons
It is hard for some cats to chew the kibble which may harm their teeth.
8. Iams Proactive Health Care Diet
Iams Proactive is crafted with a good fiber source that offers your cat healthy poop with no bad odor. She will have effortless defecation as it curbs constipation. This high fiber cat food includes a good animal protein that your cat can digest easily it contains the goodness of turkey meat and lip-smacking chicken meat.
It is customized to maintain the ideal weight of your cat. Promises 30% protein and 8.3% of fibers. This tasty and crunchy kibble will make your cat's muscles powerful and nourishes her heart with balanced vitamins, biotics, copper, and phosphorus.
Folic acid helps in promoting good quality fur, and it curbs hair fall issues. The nice feature of this cat food that we like is manufacturers have not used filler, thus your cat will receive balanced nutrients.
It contains L Carnitine which supports your cat's health in maintaining her body weight.
Pros
Contains low calories.
Not large in size and chewy.
It includes 8.3% of fiber which is a fair amount.
It contains omega 3 and 6 both of which offer silky strong hair to your cat.
Cons
Most pet owners have complained their cats won't feel like eating this food because it is strong in smell.
9. Natural Balance Cat Food High in Fiber
Natural Balance Fiber Formula Recipe for Cat is organic, It is the best high fiber cat food for constipation, poor eyesight problems, and weak heart issues. It has the highest fiber content and is supplemented with additional omega fatty acids to help reduce inflammation in the digestive tract.
Manufacturers have used chicken and Salomon meal along with the chicken liver. It has biotin, vitamin E, and folic acids that make your cat coat stronger, healthy, and beautiful.
We love the fact that it keeps our cat brains healthy and energetic because it is fortified with DHA and EPA. If you want that your cat won't face any oral problems or tooth extraction, you must feed this to her. It gives power to her canines and molar and fangs.
This dry food has 3% fiber and 34% protein. Can be safely fed to all ages and sizes of cats. It is filled with antioxidants that help in keeping her immune system powerful.
It has minerals like copper, zinc, and magnesium that promotes red blood cell, healthy growth, and works for enzymes to function.
Pros
It promotes healthy bones and a good heart.
Improves function of red blood cells.
It has 3% fiber and promotes good eyesight.
Rich in antioxidants
Cons
Feed her in the right amount otherwise, she can be a victim of obesity.
10. Hill's Science Fiber Diet for Adult 7+ Senior Cats
This Hill's Science Fiber Diet for Adult 7+ Senior Cats is a blend of all-natural fibers. This is a terrific alternative for felines who require high-fiber food because it contains a lot of nutritious nutrients and has a yummy taste that cats enjoy.
It fuels your cat all day long, contains all vital minerals and vitamins that help to maintain its muscle strong and digestive system healthier. Contains L carnitine which keeps their heart-healthy which means your cat won't face heart diseases.
Fish oil in it reduce flaky and dry skin problems and keeps allergy away from her. Folic acid and biotin promote the growth of hair and better quality of coat. Loaded with 6.5% of fiber which works against problems like digestive problems and hairball ingestion.
Your cat can easily digest protein and this makes it ideal for a weight-loss program while still being cost-effective.
In case your cat is allergic and hypersensitive then you must avoid this food because manufacturers have added wheat and corn gluten in it and most cats have faced stomach upset issues due to this.
Pros
It has an optimal level of fibers.
Works to make your cat's coat healthy and stronger.
Your feline can easily digest it.
Reduces dry skin and flaky skin problems.
Cons
Your cat may face upset stomach problems because of wheat and corn gluten used in it.
You won't get the variety of flavors to choose for your kitty.
How to Choose the Perfect High Fiber Cat Foods?
You cannot just go and buy any fiber food for your cat. Before your purchase make sure to learn what are the criteria for choosing cat food with higher fiber.
There are several steps like you have to cross-verify its percentage, quality of fibers used, what type of fiber is present in the food, and many more.
Scroll to know more!
Fiber Content
Always inspect the quantity of fiber in the cat's food. Her food should include 4-10% of fiber.
Too much fiber can have a bad impact on a cat's health. This is because fiber will prohibit the absorption of other nutrients from her body and lack of the right nutrients can lead to health problems in the feline.
Ideally, wet cat food is good but the content of fiber must be checked before serving.
Non-Fermentable Fiber
This means you must avoid powdered cellulose in your cat food. Fibers derived from corn and wheat products are not effective you must look for products that offer fibers from psyllium, apples, peas, carrots, or oats.
Quality
The quality of fiber plays a vital role. Look for standard fibers which come from flaxseeds, potatoes, and peas. And, make sure to check fiber content and moisture level too.
High Protein
One must not forget about the percentage of protein used inside cat food along with fiber. Fiber will make your cat right away and protein will make her fuller a day long.
Most manufacturers add extra fiber and put low protein but as cats are carnivores animals their diet requires a huge amount of animal protein. Thus, adding extra carbohydrates doesn't mean low protein!
Allergens
Many cats are allergic to wheat and corn gluten and manufacturers add that in cat's food for the purpose of fiber which is obviously ineffective.
Thus, make sure to ask your vet before feeding high-fiber food to your cat.
Types of Fiber
Cats can receive fibers from both animals and plants both. Ideally, plant-based fibers are of 3 types. And, you must be aware of all the three types of fiber in cat food before purchasing.
Talking about soluble fiber helps your cat to have a moist stool, helps in constipation. Generally, a cat food label will say it has soluble fiber by indicating gum or pectin.
Insoluble fibers can be derived from peanut hulls and cellulose. It helps to lower the speed of food passing inside the intestine. It means in case your cat has diarrhea it will help her to reduce that. But, an abundance of this can also lead to a bad gut. For the best, don't feed your cat insoluble fiber.
Speaking about the last type of fiber is moderately fermentable fiber it is a mixture of both fibers. You can seek this from beet pulp or from the bran.
Why Feed High Fiber Food to Cat?
You are looking for the best high fiber cat foods for your pet but do you really know how it helps, what is its importance?
Well, if not then this is the right time to get acknowledged. It cures various illnesses in cats. Like it keeps her weight maintained, works on hairball control, and many more.
Read below for more!
Hairball Ingestion
Most cats face this problem. It is very general, all cats while grooming end up ingesting their own fur. If the quantity of the fur is minimal, it won't cause harm.
However, the large quantity can lead to a serious problem. It can block her intestine and make her constipated. During such a situation, your cat will do vomiting or might get choked.
Therefore, one must include cat foods high in fiber as it helps to remove fur and food with ease.
Obesity
If you are adding fiber to your cat you can ideally manage your cat's weight. She won't face any obesity problems. Because the enzymes prevent overweight problems.
Good Gut
Fibers are good for cats it makes their digestive system stronger. If you include an efficient amount of fiber in her daily routine she won't be constipated. Hence, no more straining in her litter box.
Diabetes
Fiber helps to reduce problems like diabetes. It can maintain lower blood sugar levels by slowing sugar absorption.
Hypercalcemia
Hypercalcemia and felines are two odd things but in rare cases, cats can suffer from this. Under this problem, the quantity of calcium that is present in the blood of your cat is above normal. And, lack of fiber can lead to this disease in cats.
Diarrhea
So far you have understood the importance of fiber in a cat's diet, it helps to lose stool. And, cure constipation. But, if you overfeed your cat fiber, she can face symptoms of diarrhea too.
That is why the right amount of fiber is always important. But, insoluble fiber can also cure diarrhea. Wondering how? Well, soluble fiber helps to promote good gut, and insoluble decreases the speed of food digestion which in the case of diarrhea is helpful because it helps to stop watery stool.
FAQs About the High Fiber Cat Food
Which is the best high fiber cat food?
Rachel Ray Nutrish Super Fiber Cat food is the best high fiber cat food. It is budget-friendly, includes good quality of fiber derived from pumpkin, and lentils. It is great cat food for weight loss too.
Your cat will be full of antioxidants, vitamins, and minerals if you feed her for the long run. Good for her immunity keeps her fur thick along with zero filler content.
It has 4.6% of fiber which promotes a good gut and a healthy body
Are high fiber cat foods good for weight loss?
Fibers that are soluble can help your cat to overcome heavy weight. This is because it aids good bacteria and promotes fat loss by keeping cats fuller and reduces overfeeding.
Thus, it helps to maintain her weight because it reduces her appetite and gives her a sufficient amount of energy. This is great especially for indoor cats who are inactive and have not so active lifestyles.
What happens if a cat consumes fibers in large amounts?
Every cat parent must know the efficient amount of fiber. It is vital because even if there is the slightest change in her fiber intake it can have an impact on her health.
An abundance of fibers will stop absorbing other nutrients and proteins thus, it can ideally disturb her metabolism.
Low and high fiber both has side effects. High fiber can cause gastric issues, it can lead to bloating. It can disturb her weight too.
What are some homemade high-fiber foods for cats?
You can make cat food from potatoes, sweet potatoes, peas, carrots, and oats. Even lentils are a great source of fibers.
You can make the mousse, pasta, or soup for your cat with all of these ingredients. These are rich and offer soluble fiber which is good for the cat's health.
Well, That's a Wrap!
As responsible cats humans, you should feed the right amount of fibers. It helps cats to have a good digestive system, works on their weight management, curbs diabetes, and functions on hairball control.
We have written a cat food review on 10 of the best high-fiber cat foods just for you. We have considered budget, protein content, amount of nutrients.
These foods will keep your cat's hair thick, promotes weight loss, prevent diabetes. It will help to reduce intestinal inflammation, solve urinary tract problems.
Want to know more? Read above and grab the best fiber food for your cat right now!
References
Why is Fiber Important in Cat Food? – Hill's Pet
Effect of different fibre types on the digestibility of nutrients in cats – NLM
Your Cat's Nutritional Needs – National Research Council