Your Cat needs to have fancy fur and healthy hygiene and for this, you should use the Best Cat Shampoo for her. Check out our list, and make the perfect choice of Shampoo for your furry friend.
Felines have sensitive and thin skin, using a shampoo (or any other product) that is not made for them can be harmful. It may also lead to skin infections or other skin diseases that will ultimately hinder her lifestyle and reduce lifespan. You can cherish your Cat by using a shampoo made from ingredients that are safe to her.
But how do I know which is the Best Shampoo for Cats? If you're asking, we've got the answer.
Best Cat Shampoo: Earthbath All Natural Shampoo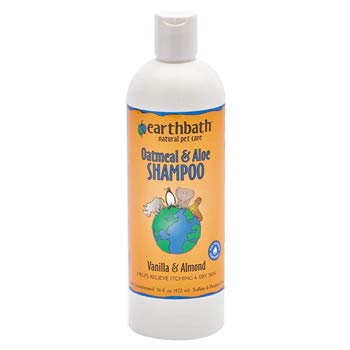 This All Natural Pet Shampoo is formulated from Plant-based and organic ingredients that make it completely safe for your Cat. The perfect blend of Oatmeal and Aloe Vera used in it helps in combating skin irritation or itching, and also re-moisturizes sensitive and dry skin. And the best thing to mention is, It is Soap-free and safe but effective for sensitive skin as well.
Do Cats need a bath?
Cats are good at taking care of themselves by self-grooming. You will always spot your pet licking herself from tail to head in her free time. Fortunately, kitties have evolved to have almost everything they need for basic maintenance. Their saliva acts as a natural detergent, and the tongues function like little combs to get rid of dirt, or any other debris sticking to their coat.
But there are certain cases when your pet needs a helping hand to clean them. If your cat rubbed up against any sticky surface or material then you need to bathe her. Or if there is any condition due to which she is not able to clean herself on its own, then you need to bathe her.
A cat with long hairs requires frequent maintenance and brushing and bathing. Unkept hair can easily become matted which may cause skin irritation and infections.
The Best Cat Shampoo Of 2021
You love your Cat, but it's okay if you don't love the mess he makes. Next time your furry friend jumps into a muddy puddle and makes herself dirty, then the right shampoo can make your job a little bit easier. We have made the list of top 10 Cat Shampoos to make the selection easier for you.
#1 Earthbath All Natural Oatmeal And Aloe Pet Shampoo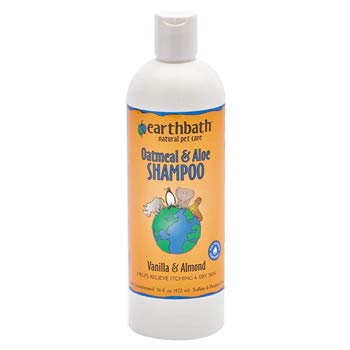 Earthbath's All Natural Pet Shampoo is the best Cat Shampoo in our list as it is made with natural ingredients that are safe for felines. If your cat has sensitive skin, then this should be the most preferred Pet Shampoo for your feline friend.
It is specially formulated with oatmeal(3%) and organic aloe vera that soothes dry itchy and irritating skin.
Oatmeal and aloe are recommended by veterinarians to effectively combat skin irritation, promote healing and re-moisturize sensitive, dry skin.
This natural-formulated shampoo is soap-free and pH-balanced which makes it completely safe for your cat and also it is effective in cleaning the cat's coat thoroughly. It also deodorizes your feline's coat and gives a pleasant and refreshing smell better than ever before.
While using it to bathe your cats, proper care is to be taken. It is solely intended to be used on the cat's skin and coat, applying anywhere other than that can be harmful to her. If accidentally it makes contact with eyes, then wash thoroughly with plenty of clean water.
Other Variants Available: Eucalyptus and Peppermint, Mango Tango, Mediterranean Magic Rosemary, Orange Peel Oil, Tea Tree and Aloe, Green Tea and Awapuhi, Sweet Orange Oil, etc.
Key Features:
Size: 16 oz; Available in Pack of 1, 2, and 6
Main Ingredients: Oatmeal and Aloe; Additional Ingredients: Vanilla & Almond

Heavenly-scented
Pros:
Made from natural and organic ingredients; free from any harsh chemicals
Safe and gentle formula effectively cleans your pet's coat and skin
Free from Paraben and Sulfate
Cons:
Not suitable for kittens younger than 6 weeks
#2 Best Shot Ultra Wash Shampoo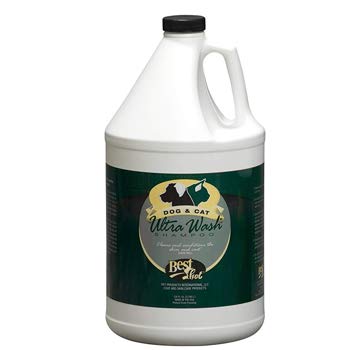 This Cat Shampoo is absolutely amazing!! Forgot about buying any other shampoo again once you purchase it. The Ultra Wash Shampoo from Best Shot is available in 1-gallon size bottle is sufficient for a year-long need for one to two pets.
It is highly effective on double-coated breeds, and also safe for any coat type. Besides cleaning properties, it features Coat Release Technology to free shedding and reduce brushing time.
This Pet Shampoo is safe for felines that are sensitive to allergies as it is formulated with hypoallergenic ingredients. Its soap-free formula also makes it safe to be used on sensitive skin, and prevents and soothes any irritating or itching skin.
While using it to bathe your Cats, it produces low suds that makes rinsing quicker. This allows bathing pets easily that do not enjoy being wet for a longer time.
Key Features:
Size: 1 Gallon
Hypoallergenic Cat Shampoo
Mild Fragrance
Highly Recommended for Double Coated Breeds
Pros:
No harsh chemicals used
Perfect for pets that are allergic to chemicals
Safe for kittens as well (by diluting properly)
Cons:
Not available in small size bottle
#3 Hartz Groomer's Best Hairball Control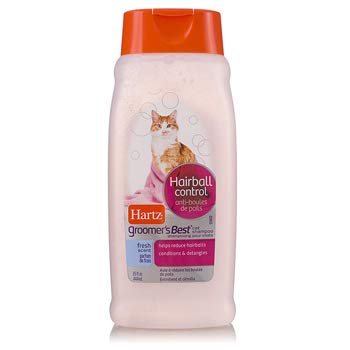 Does your cat has a serious hairball problem, and you are fed up trying all of the foods and supplements that resulted in minimal success. In this case, it's not actually the problem in food or supplement that you are trying on her, but you are trying the wrong solution.
The best way for hairball control is by taking care of Cat's Fur and Coat. You can do so by using the Hartz Groomer's Best Hairball Control shampoo. It gently washes away excess and loses hairs which eventually aids in reducing hairball formation. It is made with a special hairball prevention formula that makes it effective for any hair length and safe for cats and kittens of all ages.
Besides its hairball control properties, it moisturizes and makes coat silky and shiny with the help of microbeads infused with conditioners. The fragrance in it has a light and fresh scent that deodorizes your cat's body.
For applying this shampoo it needs to be saturated in lukewarm water and then it can be applied to the cat's body. Once it lathers up, rinse with clean water, wipe with a towel and let dry. While applying the shampoo make sure that it does not make a contact with eyes or ears, if it does, then wash with plenty of clean water.
Key Features:
Size: 15 oz
Hairball Control
Microbeads infused with conditioner
Has fragrance in it
Pros:
Helps in reducing hairball
conditions and detangles hairs
fresh scent deodorizes cat's body
Effective for any type of hairs
Safe for kittens as well
Budget-friendly
Cons:
The solution is dilute not concentrated
#4 Fresh n Clean Oatmeal & Baking Soda Shampoo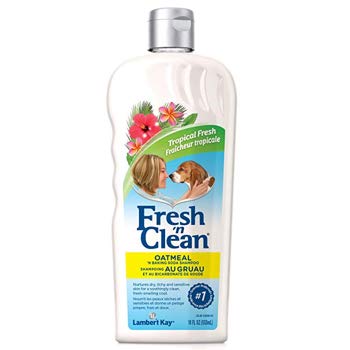 The Fresh 'n Clean Oatmeal 'n Baking Soda shampoo is a perfect product especially if your pet has sensitive skin. It not only cleans the skin and fur but also soothes dry or irritating skin. After using it once for bathing your Cat, it keeps her smelling fresh and clean for weeks.
Besides cleaning and deodorizing the cat's body, it removes loose hair from the coat so that least efforts and time is required in brushing and grooming your pet. It also conditions the cat's fur and makes them soft and shiny.
It is a "Ready to use" product unlike other cat shampoos so you can apply it directly to your pet. There is no need for diluting the solution to use it. It is also formulated with ingredients that are safe for pets.
The shape of the bottle is also ergonomically designed which makes it easy to hold and squeeze out the shampoo.
Key Features:
Size: 18 oz
Main Ingredients: Oatmeal and Baking Soda
Fragrance added
Formulated for sensitive skin
Pros:
"Ready to use formula" no need of diluting
Shape of the bottle is easy to hold and squeeze out shampoo
Deodorizes cat's body and gives a pleasant smell
Soothing agents used in it provide relief to irritating and itchy skin
Cons:
Not available in large size bottle
#5 Vet's Best Waterless Cat Bath | No-Rinse Waterless Dry Shampoo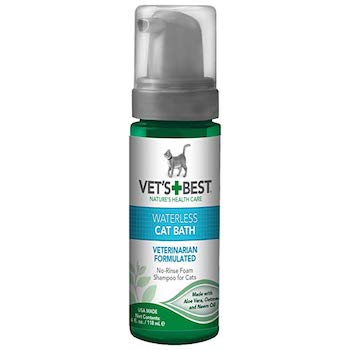 Most of the felines hate bathing and so this is very usual if your pet hates being wet. But, this does not mean that you cannot clean her. There is an alternative to the traditional Cat Shampoos which is Waterless Cat Bath or also referred to as Dry Shampoo. And, you don't need to jumble up or search for it anymore, as this Dry Shampoo from vets Best is the best waterless cat shampoo you can get in the market.
The veterinarian formulated a waterless cat bath soothes your pet's irritating or itching skin and also prevents skin infection. It also has natural ingredients such as aloe vera, neem oil, vitamin E, and oatmeal which are safe to your pet's body. These ingredients gently clean, condition, and moisturize your cat's skin and coat.
Besides cleaning and conditioning the cat's body, the fragrance present in it deodorizes the cat's body and gives a pleasant and long-lasting smell.
For easy application, a nozzle is provided on the top of the bottle. The foam squeezes out on pressing this nozzle which makes it easy to apply on your pet.
Key Features:
Size: 4 oz
Waterless Bath
Natural Fragrance Added
Veterinarian Formulated
Pros:
No-rinse foam allows cleaning pets without water that makes it perfect for Bath-haters
Natural fragrance deodorizes cat's body and gives a long-lasting pleasant smell
Will not affect topical flea control products
Safe and effective for kittens of 12 weeks or older
Cons:
Some cats will hate the smell of the fragrance used in it
#6 Four Paws Magic Coat Cat Tearless Shampoo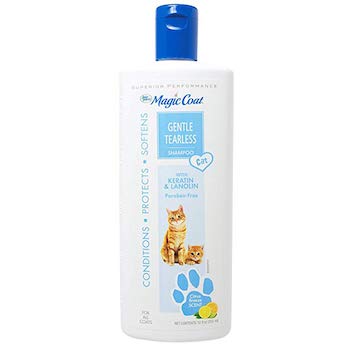 You will absolutely not like it if your Pet has tears in their eyes. And if this is the case with you, then the Four Paws' Magic Coat Cat Tearless Shampoo will be the best option. It is formulated to be gentle on the cat's body and won't irritate their eyes or skin.
The saturation of this cat shampoo is also suitable and effective for any type of coat and the gentle formula also makes it safe for kittens as well. It not only cleans the cat's coat, but ingredients such as protein and lanolin used in it also condition their fur and give a natural shiny luster.
Besides cleaning the coat and fur, the fragrance gives a long-lasting Citrus-Breeze Scent to your pet's body. It also removes the loose hair from the fur and makes the brushing and grooming easier.
The Aloe Vera Extract used in this Shampoo condition the fur naturally and at the same time, its natural antiseptic properties make it more effective in providing relief from itching or irritating skin.
Key Features:
Size: 12 ounce
Also available in a Pack of 3
Tearless Shampoo
Citrus-Breeze Scent
Contains Keratin and Lanolin
Pros:
Safe for sensitive cats
Conditions fur and give a natural luster
Deodorizes and provides the cat's body long-lasting pleasant smell
Cons:
Careful cleaning is required after using, as its residue will be harmful to your cat if ingested
#7 Dechra TrizChlor 4 Multi-Cleansing Shampoo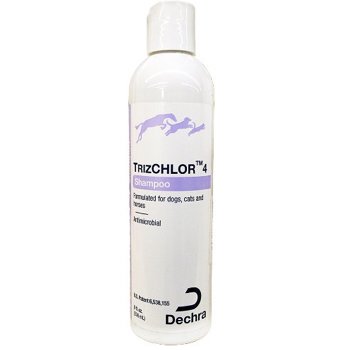 Dechra's TrizChlor 4 is a multi-cleansing Pet Shampoo that can be used for Cats, Dogs, and Horses. It has an antimicrobial/antifungal properties that help in preventing our pets from any skin disease. These properties make it a perfect pick for an all-purpose use to bathe pets especially if they have some skin infection or pyoderma.
The main active ingredient Chlorhexidine Gluconate used in it cleans the skin thoroughly and safely. Its antiseptic properties help it in healing from any skin infection. The medicated formula also helps it in reliving form other minor skin diseases as well.
Besides being effective for various types of pets, it is also safe for general use. But it is not advisable to be used on kittens. If you have a kitty, then use the products that are specially formulated for cats or kittens.
Key Features:
Size: 8 ounce
Antifungal Properties
Active Ingredient: Chlorhexidine Gluconate
Pros:
Multi-purpose use; can be used on Cats, Dogs, and Horses
Prevents and cures skin disease
Cures skin infection
Soothes irritating or itchy skin
Cons:
Contains no fragrance; does not deodorize
#8 Tropiclean Hypoallergenic Shampoo for Kittens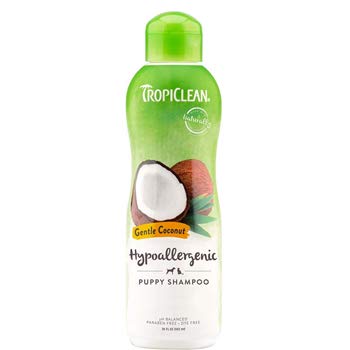 Is your kitty very sensitive to chemicals or ingredients of other products? Then this Hypoallergenic Shampoo for Kittens is the most suitable Kitten Shampoo for your pet. Tropiclean has specially formulated this Cat Shampoo to be safe for felines with sensitive skin. Being safe does not mean that it is less effective, the perfect blend of its ingredients helps it in cleaning Cat's body thoroughly.
It is completely made from natural ingredients from which the coconut acts as a cleanser whereas Oatmeal, Aloe, and other ingredients condition Cat's fur. It also relieves irritating or itchy skin which also prevents cats from scratching that might cause skin infections.
The Shampoo, on the other side, easily washes away any loose hairs which make brushing and grooming your pet's hair easy. It also makes their coat smooth and shiny and gives a fresh natural smell so you do not hesitate in cuddling her.
Key Features:
Size: 20 oz
All Natural Ingredients
70% Organic Quality Ingredients
Specially formulated for kittens and puppies
Hypoallergenic
Pros:
No chemicals used in its ingredients
Cleans and conditions cat's fur
Safe to be used on kittens as well
Soothes irritating or itchy skin
Cons:
Cannot remove tough stains
#9 Nature's Miracle Just for Cats Allergen Blocker Foaming Shampoo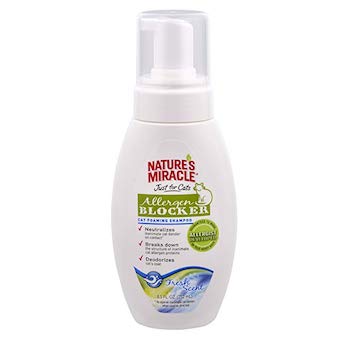 Are you allergic to your cat? No, you are not. It's the Cat Dander to which you are allergic to. And, if this is the scenario with you, then Nature's Miracle Just For Cats Allergen Blocker Foaming Shampoo can be the perfect solution to it.
It neutralizes the cat dander allergens and prevents allergies. Its patented formula is developed by doctors who specialize in the treatment of allergies. It has also been experimentally proven to work effectively and safely on cats.
Besides Neutralizing Dander, it also cleans and deodorizes the cat's body and gives a pleasant and long-lasting smell. As it thoroughly cleans the Cat's fur and washes away any loose hair that makes their fur smooth. It also adds natural luster to their fur.
Key Features:
Size: 8.5 oz
Cat Dander Shampoo
Allergist Developed
Patented Formula
Pros:
Effective in reducing cat dander and other allergens
Deodorizes Cat's Body
Soothes irritating and itchy skin
Cons:
No proper usage directions provided on the product
#10 Petway Cat Dandruff Shampoo for Deep Cleansing & Degreasing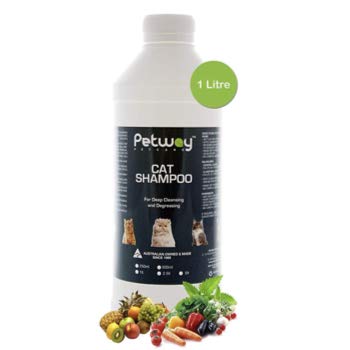 Does your cat have dandruff? If yes, then this Shampoo from Petway is perfect to treat your feline if she has dandruff. Besides removing dandruff, it will also thoroughly clean and remove any dirt or debris from the fur.
This deep cleanser is made from plant derivatives, so it is completely safe for your pet. It effectively cleans the pet's coat without drying or stripping its natural oil that results in the soft and silkier coat. It is also capable of de-greasing that removes excess oil, dead skin, and dander.
The fragrance in this cat shampoo gives a fresh and pleasant smell to your cat's body. It is also free from any harsh chemicals that might harm your cat. The soap-free formula also soothes itchy or irritating skin after bathing with this shampoo.
Key Features:
Size: 1 Litre
Cleansing Ingredients: Plant-Based Surfactants; Other Ingredients: Fruit & Vegetable Extracts
pH Balanced Concentrated Formula
Pros:
Effectively removes dandruff from cat's coat
Deep Cleansing and Degreasing properties
Made from natural and organic ingredients
Free from Sulphates, Paraben, or Phosphates
Cons:
Costlier compared to other Cat Shampoos
Buyers Guide
Finding difficulty in choosing a Cat Shampoo for your feline friend? With this Buyer's guide, it would be easy for you to select the Best Shampoo for your furry friend.
How to pick the best Cat Shampoo?
While choosing a Cat Shampoo you should consider the following points to make a perfect and convenient selection:
Choose a formula made with gentle, cat-friendly ingredients.
Cats have thin and delicate skin, this is the main reason why you need to use a shampoo that uses gentle formula and has been specifically formulated for felines. Cats should not use human shampoo or any other shampoo that is not made for Pets.
The best cat shampoo is made with natural ingredients, vegetable-based cleansers, and is free from irritating ingredients that might be discomforting to their skin.
Importance of Cat Shampoo
You must be aware that it's necessary to bathe your feline friend. So does it mean that you should bathe her only with water? In a single word, the answer is "No". Simply bathing your cat with water will not remove any sticky dirt or any other debris from your cat's coat effectively. Using a Shampoo is the best way you can effectively clean their furry body.
Regularly bathing your cat with shampoo will also maintain good hygiene and prevent her from getting any skin related disease or infection.
Besides cleaning, it also deodorizes your feline's coat and gives her fur a pleasant smell.
Types of Cat Shampoo
The Cat Shampoo market can be primarily divided into 3 types; Natural, Vet Recommended, Waterless Shampoo.
In this type of cleanser, it is formulated with natural ingredients. Most of the part is Plant-based like oatmeal, cornmeal, aloe extracts, coconut extracts, etc.
These shampoos are formulated for specific purposes like itchy skin, infection, rashes, etc. However, a vet recommended mild formula can be used for general purpose for bathing felines.
Waterless Bath shampoo or dry shampoo do not require to be rinsed. These are specifically made for cats that hate bathing.
How to bath a Cat?
Frankly, there is no manual required for bathing your cats, but there are a few things which you should keep in your mind when you bathe your pet to make it easy. And if done in a proper way, then it would be convenient for you as well as your pet.
You can bathe your cat at almost any location but the bathroom is an ideal area. Any other place with a closing door or an enclosed area are advantages for anyone wrangling a wet cat. Also, while you bathe your cat, make sure that there is no object around which may get wet due to water unless you are using a waterless shampoo.
Also if you are using a bathing tub, then line the tub with a towel or a rubber mat for your cat to hold onto. You can also place a window screen or fine wire mesh in the bathtub. It will give your cat something to hold onto and keeps their claws occupied that will ultimately reduce the chances of being scratched by her.
Now fill the bathtub but don't make it too deep that your cat can swim unless your cat is a bathe-lover and loves puddle. Take someone with you for assistance to handle and restrain the cat while you are washing if possible because sometimes a wet cat can overpower a single human.
Once you have prepared your cat and the bathing area, you are ready to bathe your cat. Pour water to your cat's body, make sure that you are using warm water, as cold water will definitely discomfort her. While you bathe your cat make sure that you don't pour in their eyes, nose, or ears.
Now apply the shampoo gently over the coat until it lathers up.
Don't delay after you have applied the shampoo to your cat. Rinse your cat's coat in the same way you washed her before. After cleaning with water till there's no lather visible on her body, wipe with a towel and let her dry. You can also use a blow dryer at the lowest heat settings to dry your cat.
FAQs
Can you use Human Shampoo on Cats?
Cats have thin and delicate skin as compared to us, so it is important to treat them with the shampoo specifically made for them. Besides having a different skin type, people usually don't lick themselves after a bath, but cats do.
Human shampoo is usually made with toxic ingredients that could make your cat sick if she licks and ingests any residue remaining on their coat while washing.
Can you use Dog Shampoo on Cats?
The sensitivity to different ingredients is different for cats and dogs. An ingredient suitable and effective for a dog may be harmful or ineffective for cats. So it is recommended not to use a Dog shampoo which is specifically formulated for dogs on a cat.
However, there are a few Pet Shampoos that are formulated to be effective for Dogs as well as Cats. In this case, you can use those Pet Shampoo on Cats.
How often should you bathe your Cat?
If you have a short-haired cat, then you can bathe her once in every six weeks. Similarly, for a long-haired cat, it is recommended to bathe her once a month. Washing them too often will dry her skin.
What is the right age to start bathing a kitten?
You can start bathing your kittens when they are at least 4 weeks old. But make sure that you use a kitten shampoo or any other pet shampoo which is made with a delicate formula that is safe for cats.
To Conclude
Cat Shampoos are important feline care products that are primarily for the maintenance of their hygiene. Some products actually come with different formulations to help in the control of dandruff, dander, hairball, etc. So always choose the correct one for your pet. If you are looking for regular cleaning for general purposes, then make sure that you choose the one that is specifically designed for that purpose.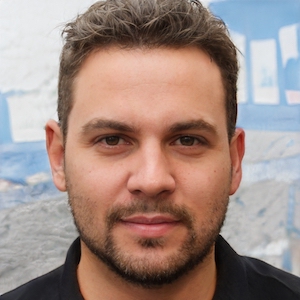 Joseph was a full-time cat groomer at his own pet salon before he co-founded CatLovesBest with help of another co-founder – Clara. He has been doing cat grooming for more than 10 years. He co-founded this website not only because his interest was driven towards this field but he also has a wide knowledge in this field as well.
Although he has experience with many kinds of pets, large and small, cats are his true love, and he particularly enjoys writing about feline care and behavior.