Let's learn some homemade cat treat recipes if your feline is sick of eating regular cat treats available in the store!
Well, why not try some unique, delicious, and full of nutrients cat treat recipes?
We have listed out 10 homemade tasty cat treat recipes. These are cost-effective, easy-to-make, and simple that your cat will surely love munching.
We have added a tuna cookie which will give her a healthy coat, and turkey high-protein cookie to fuel them up. Wait, this blog is not just limited to boring cookies and biscuits, but we have also provided creamy cat treat recipes too.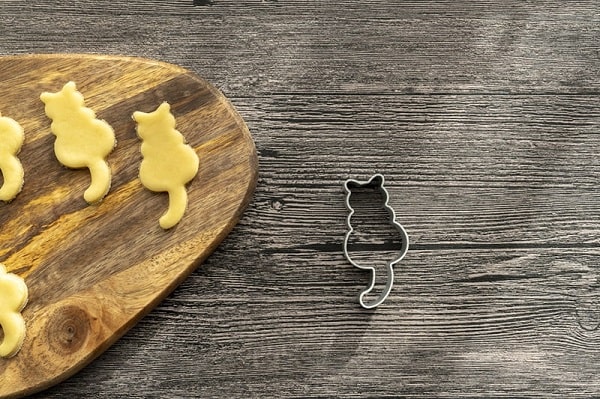 Healthy Homemade Cat Treat Recipes
We have spilled the beans provided you 10 of the great and highly nutritious cat treat recipes just for you. It has antioxidants, fibers, vitamins, proteins, and minerals.
It is a cost-effective, time-saving recipe. You can use them while training your cat.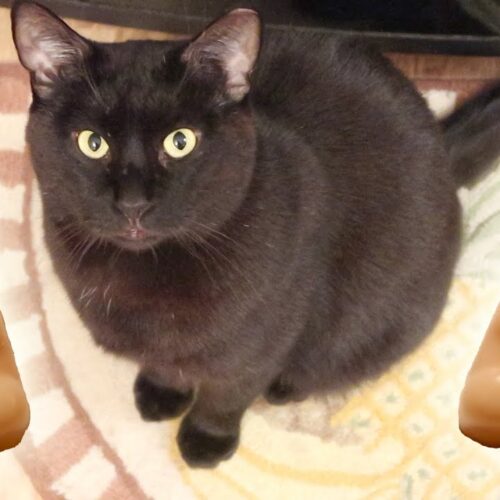 1. Gummy Bear Homemade Cat Treats
Give goodness of omega fatty acid and high nutritious treat to your cat by making soft and delicious gummy bears.
Ingredients
1

Can

Tuna

Without salt and only in water

1

Pack

Gelatin

 ¼

Cup

Lukewarm Water
Instructions
Open the can of tuna and pour it into a blender to create a nice fine purée. After blending remove it to another container.

Now, add a quarter cup of boiled water into a small bowl. Add two-third of the gelatin packet over the top. Whisk it well to avoid clump. It will give the gummy bear the shape that helps to hold them together.

Add some gelatin to the tuna bowl and give it a mix.

Place the mold and brush it from inside with olive oil so that gummy bears come out easier.

Take some purée in the syringe and pour neatly into all the molds.

Place the mold in the refrigerator and let it chill for 6-7 hours. It's important to stretch the mold from the sides to remove them easily.

Flip and pop! And, it's time to serve!
2. Cranberry & Catnip Special Treats
Cranberry will give antioxidants to your cat and catnip will release her stress. So, make this healthy treat at home now.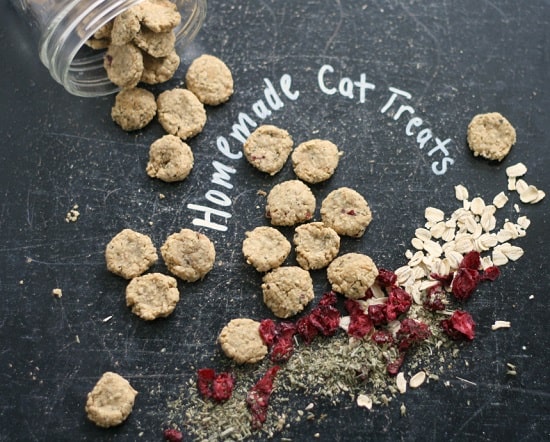 Ingredients you will need
3tbsp cranberries
1 tbsp catnip
3 tbsp olive oil
1 large egg
Rolled oats 1 cup
100 grams chicken
Blend the oats into the flour, then add the cranberries, catnip and combine them well together.
Again add olive oil, egg, and chicken combine them well. You can let your cat taste the flavor too for approval hahaha.
Then turn out into a bowl. Make small little balls and put them on a baking tray. Place the tray into a preheated oven at 180 degrees for 15 minutes until it gets golden.
Remove the tray and place it in a jar then keep it in the refrigerator, and it's done hurray!
Give your cat these tasty little munchies treats!
3. Salmon Egg Delight Cat Treat Recipe
With the goodness of salmon and egg gift your kitty a tasty treat. It is simple and made with limited ingredients.
Ingredients you will need
2 cups of whole wheat flour
280grams of chopped salmon
1 large egg
Take a large bowl to add all the ingredients together. Stir them well till it combines. Well, it will take around 10-15 minutes.
Then the mixture will become like a dough. Sprinkle some flour on the surface of the dough and Roll Out with the help of a rolling pin.
Make sure the inch of the dough should be 1/4 inch thick. Now, use a tiny cookie cutter to cut out the cookies.
Take an ungreased baking tray pan. Put all the cute cookies on it. Then bake it for 20 minutes till it becomes golden brown.
Call your kitty master to taste some cat treats now!
4. Tuna Biscuits Recipe For Kitty
Cats love tuna it is full of omega acids which give them healthy and thick fur so, why not try making tuna biscuits for her? Yes, it's fun and easy to bake!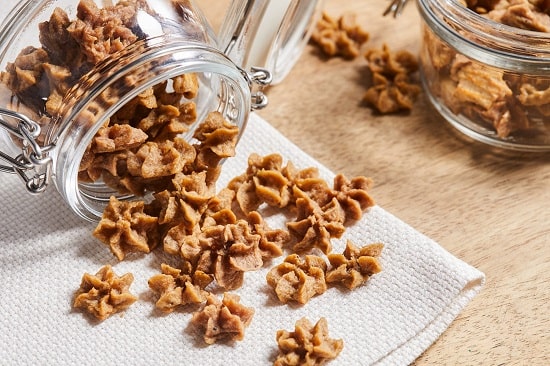 Ingredients you will need
1 tin tuna
210g flour
1 egg
Add tuna in spring water including the liquid into a bowl. Add a whisked egg and blend until it is smooth.
Now, add the flour and stir everything together to form a dough.
Then roll out the quarter of the dough on a lightly floured work surface until it's about 1 cm thick. Later cut out the biscuits in whatever shape you like.
Cook it in preheated oven at 180 degrees for about 20-25 minutes.
Once they are crunchy and golden brown remove them out and let them cool before feeding them to your kitty.
5. Easy Ham Treats
I am sure your cat will love these lip-smacking nutritious ham treats!
Ingredients you will need
2 cups of wheat flour
156 grams ham
1 egg
Little water
Take the ham and put that into a food processor and just blend it up until it is nice and fine.
Add 1 large egg and 2 cups of whole wheat flour or white flour whatever you want. Again, blend it together. Add a little water until you get the right consistency to roll it out.
Then remove the mixture into a bowl. It will be sticky. Form a dough and roll it out and cut out tiny little circles.
Then preheat your oven 180 degrees. Take a tray and get all cookies aligned on the baking sheet and bake them up!
6. High Protein Turkey Treat Recipe for Cats
Want to make some high-protein treats? It will boost your cat's energy all day long!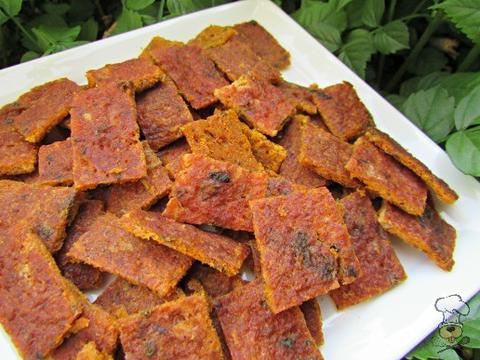 Ingredients you will need
Turkey
1Sardines without salt
2 eggs York
1/3 cup of nutritional yeast flakes
1 tbsp catnip
Dump sardines with all their water into the bowl. Mash them and add the rest of the ingredients into the bowl and mix them up.
It will look like a tuna salad now. Take a spoon and get a little portion size out to a treat size and put them on a cookie sheet.
Put this in the oven at 180 degrees for 20 mins. And, it's ready to serve.
Your pet will surely love munching these tuna egg cookies. So, let's bake this with us.
Ingredients you will need
1/2 cup of oat flour
1 egg
1 tuna in spring water
1 tbsp olive oil
Take a blender to add oat flour, olive oil, egg, and tuna without water.
Take a baking tray make small balls from the mixture and preheat it at 180 degrees for 12 minutes.
Move out all cookies and let them cool before serving.
8. Chicken Spinach Treats for Cats
It's time to make some healthy cat spinach chicken treat for your kitty!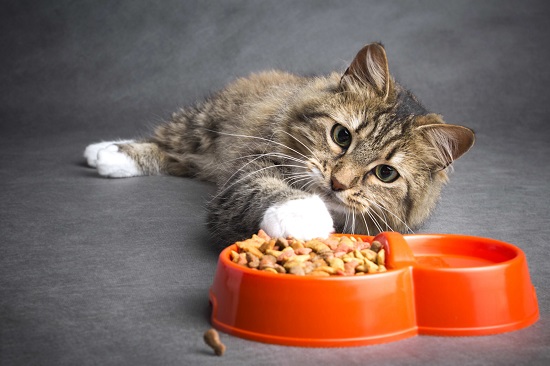 Ingredients you will need
125grams cooked chicken
50grams of rolled oats
1 egg
3 tbsp olive oil
1 cup flour
1 bunch of spinach
Blend cooked chicken, and add the rest of the ingredients. Stir them well till it looks like dough.
Remove the dough on the surface and spread it out on the baking tray. Then add the tray into a pre-heated oven at 180 degrees for 15-20mins.
Remove and slide off the sheet onto something suitable to cut. Use a pizza cutter to cut them into pieces and done.
9. Halloween Pumpkin Treat Recipe For Cat
Give your cat fiber-rich treats that will be easy on her stomach and maintain her weight too!
Ingredients you will need
1/2cup unsweetened apple sauce
1/2 oats
2 cups rice flour
1 cup grated carrots
1 cup canned pumpkin
Take a bowl and put all ingredients and make a dough. Then make small little balls and preheat them at 180 degrees for 12 minutes.
And, it's ready!
10. Chicken Mousse Creamy Cat Treat
Enough of dry kibble treats try some wet cat treat recipes too. Easy for digestion, loaded with the goodness of chicken.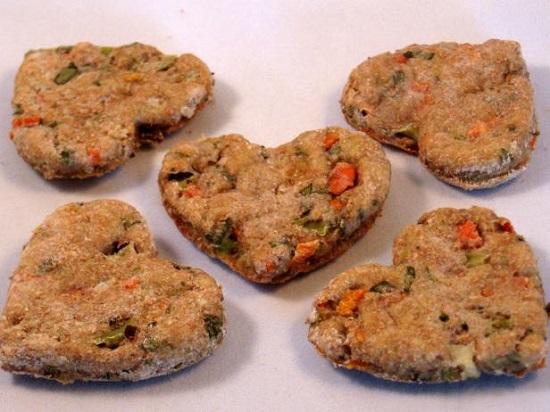 Ingredients you will need
1 cup chicken breast.
1 cup pumpkin patches
Few pieces of her favorite treats
Take small pieces of chicken breast and steam it for 10 minutes. Then let it cool down. Add it to the blender.
You can add pumpkin patches (optional). Then add a few treats and blend them well. Pour it into a jar and refrigerate it. It can be used for 4-5 days.
You can add this to her gravy or cat food.
Conclusion
Every cat enjoys treats they get them in reward form. But after sometimes they get bored with it. So, why not make homemade quick cat treats?
Yes, you can make it even if you have never baked it in your life. We have provided new 10 cat treat recipes. These are easy, quick, healthy, and made with minimum ingredients.
It is full of fiber, antioxidants, proteins, and essential vitamins.
Want to learn? Go read above now!
References
Types of cat treat — Hill's Pet
Optimum Feline Nutrition — Countryside Veterinary Clinic
Cat Treats and Snacks: What's Healthy? – WebMD