Looking for the perfect way to keep your feline friend active and entertained? Look no further! Cats may not be as social as dogs, but that doesn't mean they don't need exercise and playtime.
In fact, playtime is their main source of exercise, and there are so many trendy options out there for cat toys that it can be overwhelming to choose the best one. But don't worry, we've got you covered.
Our list of excellent toys for cats is sure to keep your moody feline happy and entertained, no matter their mood. So go ahead and give it a try – your cat (and you) will thank you!
A Glance of Our Favorites of 2023
Best Overall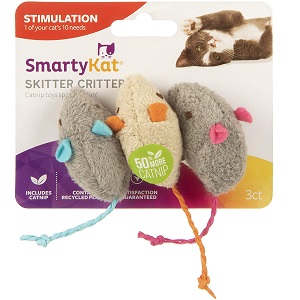 No mold is used
Lightweight and plushy
It is washable
---
Editor's Pick

K-Berho Interactive Cat Exercise Toys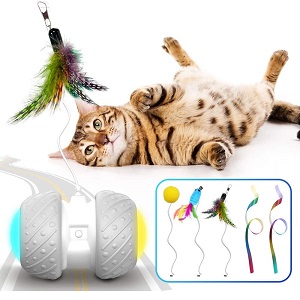 Material used for this cat exercise toy are food grade
High-tech design are used
Spins and move in an erratic fashion
---
Affordable Pick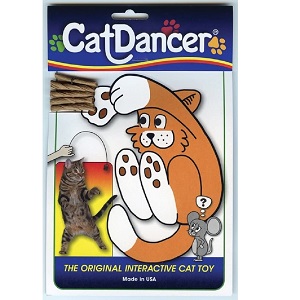 This toy is a great way to bond with your kitty

It is very affordable for any pet parent,

Lightweight and does not take too much shape
The 10 Best Cat Toys for Exercise Reviews
We are not focusing on a single type of toy in this list and have included a wide range of products that will help pet owners choose the best for their cats.
1. Smartykat Plushy Mice
Perfect cat toys for exercise are those that let your cat improve this natural agility. These three mice from SmartyKat Plushy are perfect for improving her agility and giving her a chance to hunt, comfort, explore, exercise, and be more independent due to the above skills.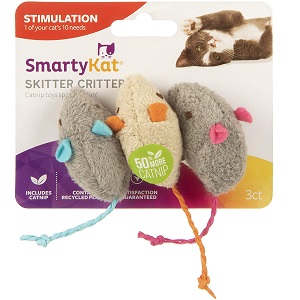 Key Features:
Type: Plushy
Washable: Yes.
Life stage: All life stages
Moreover, the mouse itself is very lightweight and plushy; therefore, they are suitable to play with, even for kittens. Furthermore, mice also have many textures on them, namely burlap, strings, etc. But the best part of this cat exercise toy is the catnip in the mouse.
To conclude, we think this is the overall best cat toy for exercise.
Pros:
The size of the mice is almost life-sized, so it is very realistic for cats, and they entertain your cat.
This cat toy for exercise is made from only stuffing and there is no mold in them. Therefore, it is not only lightweight but is not harmful to your cat.
The catnip in the mice will attract and keep the cat's attention. Felines go crazy over these kind of toys.
All these features combined will prompt the cat to exercise to be more precise, frolic and romp their territory.
Cons:
If your cat loves to chew their toys then make sure to cut the tails of the mice as sometimes when the cat will try enough times it can detach and can be ingested by the cat.
2. K-Berho Interactive Cat Exercise Toys
The smart and interactive cat exercise toy from K-Berho is fantastic. This robotic cat toy is made up of three key parts, the base, the antenna, and the feathers accessories. The base is a sophisticated piece of technology that can automatically turn ON and OFF.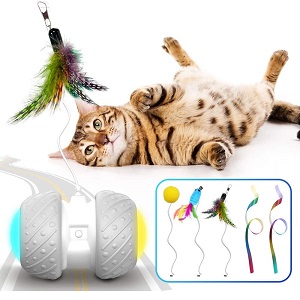 Key Features:
Type: Interactive
Washable: Yes
Life stage: All life stages
Once it's been activated, this cat toy for exercise will keep working for 10 minutes, after which it will shut off and activate again in 90 minutes. This feature not only gives a break to your cat, but it also saves power.
Additionally, the device runs on a rechargeable lithium-ion battery, so it will be active for 8 hours once you fully charge. This means it won't matter that you are out of the house most of the day, but your cat will still get her exercise on time. This is a great alternative for traditional teasing cat exercise toys.
Pros:
The device is made with high-tech design with anti-collision design, so it will change its path according to the obstacle it will face.
Additionally, the materials used for this cat exercise toy are food-grade, which also includes wheels.
Moreover, the rechargeable lithium-ion batteries will ensure long-lasting run time in a single charge.
The device also emits light in seven gradient colors to attract and prevent your cat's eyes from tiring out. It also spins and moves in an erratic fashion.
Cons:
Even though this toy is very interactive, some cats are scared and won't go near it.
3.Cat Dancer Exercise Toy
Make your cat dance to your tunes, or more precisely, twist and turns. A fun game with your cat for his exercise and entertainment. Cat Dancer Toys for exercise are very cheap but entertained your cat. It is so fun and interesting for cats that even the laziest cat gets up to play and ultimately exercise.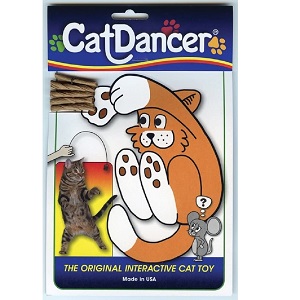 Key Features:
Type: Interactive
Washable: No
Life stage: All life stages
The string is made from iron, and the package at the end is made from cardboard. The iron string is 30 inches long. Interactive cat toys like these are versatile in their use and one of the favorites of the cats.
Pros:
This toy is a great way to bond with your kitty.
When a cat is jumping around trying to catch the cardboard, it will move their bodies and get enough exercise for keeping your cat fit.
This cat exercise toy is very affordable for any pet owner.
Cat loves this fishing rod type of toy. Moreover, this is very lightweight and does not take too much space, so you can take it with you everywhere.
Cons:
The cardboard at the end of the iron wire is easily breakable, but you can also replace any of your cat's favorite small toys.
4. Bergan Turbo Scratcher Cat Game
The Bergan Turbo Scratcher for Cats is an excellent option to help them play and have fun. These cat toys for exercise are sturdy and filled with catnip to attract her to come and play with them. This toy is a racetrack with a ball and scratcher combined.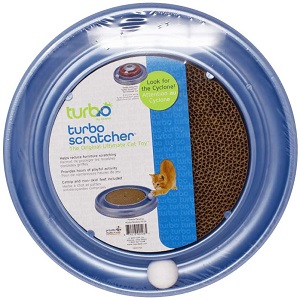 Key Features:
Type: Assorted scratcher
Washable: Yes
Life stage: All life stages
Not only, your cat will have fun playing with the ball, but she will also satisfy her instincts to scratch on this board. Moreover, this scratchpad also has no skidpad. It is also a good way to distract your feline from scratching and spoiling the furniture. It is perfect for multiple cats' homes as well.
Pros:
There is no setup required for this cat exercise toy, you just unpack it.
Furthermore, the scratcher pad will also prevent it from scratching the furniture in the house.
Even if your cat is very old, your cat will still be attracted to the pad due to the presence of catnip.
The track is also very simple, and it's not very complicated.
Cons:
The scratcher pad is not very long-lasting, but you can buy them in bulk at a very cheap price.
Some cats like to eat the rubber feet that are there to prevent skidding.
5. Cat Dancer Charmer Wand and Ribbon
Cat Dancer Charmer Wand and Ribbon is versatile in its simplicity. A cat charmer wand toy with a brightly colored ribbon will help you tease and play with the cats. Pet parents can help their cat do aerobatic exercise with this toy. These cat toys for exercise are completely safe as well as no toxic substance is used to make them.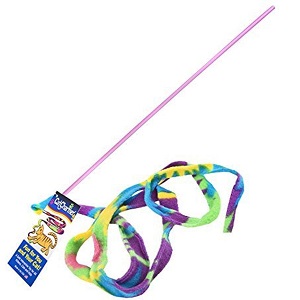 Key Features:
Type: Wand toy
Washable: Yes
Life stage: All life stages
Furthermore, the wand is also made from polycarbonate, and the ribbon is made from fabric as well. This cat aerobics toy ribbon is very interactive; cat owners will have their kitten dancing on their toes.
Pros:
The wand is strong, so it won't break very easily.
This cat toy for exercise has a very long ribbon with a length of more than 70 inches.
Furthermore, the kitten loves the colorful ribbon, which is made from stretchy fleece.
Cats will get a full exercise routine by playing with this cat toy for exercise.
Cons:
Your cat shouldn't be left alone with this toy if they are known to chew on fabric and other items.
Some cats also like to twist themselves around the ribbon, so to be on the safer side, only let your cat play with this under supervision.
6. Petstages Tower of Tracks Exercise Cat Toy
Petstages Tower is a three-level tower track that comes with 3 colorful and designer balls. Your little furball has fun with batting colored balls this way and that. It is even more fun if there are many cats in the house, and they randomly bat balls, and the unpredictability of the movements can make this more fun.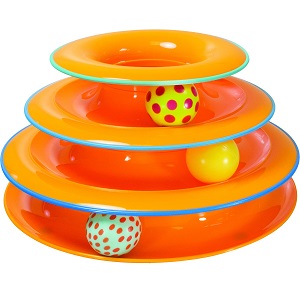 Key Features:
Type: Interactive
Washable: Yes
Life stage: Adult
The batting and pawing of the balls will improve their movements for hunting. These cat toys for exercise are durable and even have no-skid pads at the bottom to prevent them from skidding. The skid pads will keep the tower of tracks from moving from its location.
Pros:
When they try to move the balls in a random direction and then try to paw them, it will improve their predisposition to hunting.
Moreover, this is an indoor cat game for exercise, so he can play with them any time anywhere.
More importantly, it will not leach harmful chemicals on the surface as it is made from polypropylene even at high temperatures.
The tracks are very accessible for even big cat paws.
Cons:
The balls or your cat's prey are not removable by the cat. There is nothing for the cat to chase in this toy.
Even though this tower is good for improving the cat's inherent hunting skills, there is no need for the cat to move from one position so there is not much exercise involved
7. Catit Design Senses Circuit
A complete circuit, cat toys for exercise from Catit. This is a great toy for both a solo cat home or multi-cat home. Cats can play with this circuit that will move the ball with its roller-coaster format. It will incite all five senses of the cat as the flashing ball move in the circuit.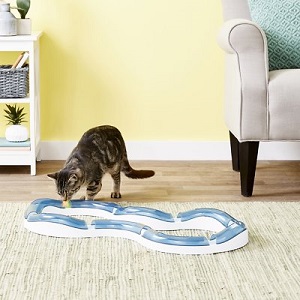 Key Features:
Type: Puzzle game
Washable: Yes
Life stage: Adult
The design of the track shows and hides the ball as it moves through the track. It makes cats chase after the ball, and they can also touch the ball at certain intervals. The track is expandable, so you can add more features like a large super roller to keep the interests of the cats.
Pros:
More than one cat can play with these cat toys for exercise and still have fun.
The up and down roller coaster format of the track will keep the ball moving. It won't stop moving unless external forces stop it.
Furthermore, this cat exercise toy will help your cat improve their hunting instincts.
The lights in the ball get activated when it moves in the circuit, but it also makes noise when it rolls. Therefore, cats won't get bored, instead, they will get excited.
Cons:
The track is a little hard to put together for some people.
The openings in the track are a bit small for some cats to get their hands on the ball.
8. Spot Ethical Spring Cat Toys for Exercise
Simple but brilliant. Spot Ethical Spring Cat Toys prove that imagination is the only requirement when you are playing. These cat toys for exercise are extra wide springs to provide more bounce and erratic movements to the cats. Moreover, there is so much for them to chase after them after rolling them away.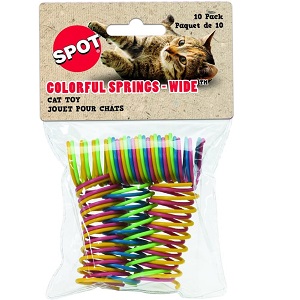 Key Features:
Type: Spring
Washable: Yes
Life stage: All life stages
The springs are perfect for those cats that like to play alone (independent play). More importantly, the chasing, pawing, etc., makes these cat toys for exercise very effective. You can also play with your cats by pressing them and suddenly releasing them so that the cats could chase after them.
Pros:
The cat can play with springs alone, or they can play with you. It's very versatile.
There is no learning curve for cats, and they can just enjoy this toy, they will be instantly attracted to the springs and will have it with them in no time.
They are very simple in design but durable and cheap. It is very easy to replace in case all 10 get lost.
The bouncing and erratic movements of the springs will keep them interested and keep cats coming back for them when it out of their sight.
Cons:
The springs sometimes get tangled in the cables when cats play with them. After which, when cats try to get it detangled, they pull out cables.
The ends of the spring are a little sharp, so it will be better to blunt them before you gave the toy to your cats, as they will eventually put that in their mouth.
9. Petsafe Feeder Cat Exercise Ball
A fun time plus mealtime equals Petsafe Cat Exercise Ball. It is a very interactive and fun way for your tabby to play and get treats. Moreover, the ball is very adjustable so that you can set the difficulty according to the size of the treats. In addition, this is a great way to slow feeding your cat, who can be greedy eaters.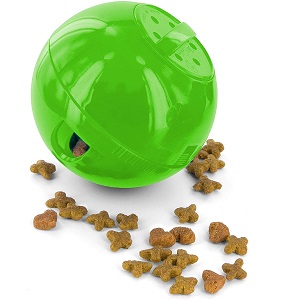 Key Features:
Type: Feeder
Washable: Yes
Life stage: All life stages
As they have to work and maneuver these cat toys for exercise in a certain way before getting their treats, they will be fed slowly and help the digestion in the process. With better digestion, it is relatively easy to maintain a healthy weight, barring any other problem in their health.
Pros:
This ball is a great way to slow down the cats who inhale food rather than eat it.
Moreover, this toy is a very inexpensive method to make your cat take the proper time to eat and greatly improve their digestion.
It is very easy to adjust the size of the food dispensing openings according to the size of the treats.
Furthermore, as there are many openings on the ball, the smell of the treats will keep them engaged in this toy.
Cons:
Some cats get their food just by rolling this ball this way and that without moving from their position, this cat exercise toy is no match against lazy cats.
Even though it is washable in the dishwasher, as the two halves do not come apart it is difficult to clean this very well from the inside.
10. Catit Digger Games
A fun and exciting way to feed your cat. Catit designed these digger games are like food bowls with various levels of difficulty. Catit Digger Games has five tubes where you could put food or their toys, they come to the toy in hopes of getting treats, but it is like a puzzle. They will have to use the pawing to get treats and toys.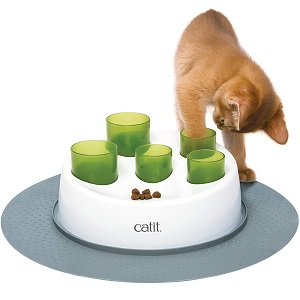 Key Features:
Type: Digger toy
Washable: Yes
Life stage: All life stages
Moreover, it will keep them engaged and encourage your cat to keep digging. But at the same time, they won't gorge themselves as these cat toys for exercise are slow feeders. Furthermore, the game itself is straightforward to assemble/ disassemble, and clean.
Pros:
This game is not made from the BPA and its derivative materials.
The rubber mat at the bottom ensures that the tubes and the base do not topple over when cats are playing.
The narrow tubes force them to use their natural pawing motion to get the desired reward, this helps them improve their hunting instincts.
The game is very easy to assemble and disassemble for washing and cleaning.
Cons:
This might be a little difficult for some cats. Some are not instantly able to get treats out of the tubes, and cats get bored after some time if they don't get treats.
It might be difficult for cats whose claws have been removed.
How to Choose the Best Cat Toys for Exercise
Sometimes it is not that easy to choose the right product for your cats, and they are always willing to tell us their likes and dislikes. So to help you out, we have made a list of features that might help you decide which is the right cat toy for exercise.
Safety
No matter how branded or non-branded toys are, they needed to be safe. The safety of your cat when she is exercising, playing, or both. The Toys they use also need to be safe. Not only can they possibly injure themselves, but they will also be too frightened to play with that toy again.
Reward
Choose toys that provide rewards in one form or other to your cat. The cat toys for exercise are used to keeping them healthy. When cats hunt in their natural habitat, when they hunt, and when that hunt is over, they get rewarded with food. Therefore, give them some treats to regain their energy. Moreover, the reward is encouraging cats to move and play more, so they can get treats.
Stimulation
Stimulation is one of the key aspects of any toy. If the cat is not stimulated by the toy to play with it, they are not worth buying. However, this does not mean these toys need to be very elaborate to provide the stimulation. Choose toys that will hold their interest, and cats become invested in them. This will give them a burst of energy to do more.
Assisted Toys
In addition to stimulation and safety, choose toys that will help create a deeper connection between you two. Toys that create life-like stimulation are also available in the market, and you should buy them too for those times when you are out of the house. But you need to spend time with your kitties too.
Diversity
When something is predictable, it becomes boring. Similarly, when toys only make the same pattern again, it becomes not interesting for the cats. Therefore, when choosing exercise toys for cats, choose those who have more erratic and unpredictable movements.
FAQs About Cat Toys for Exercise
Which is the best cat toy for exercise?
The best cat toy for exercise is Smarty cat toy mice. This toy comes in a pack of 3 and is very fun. When cats are playing with these mice, they will also benefit from the different textures. Additionally, when you play with them, your bonds will strengthen as well.
How much does cat toys for exercise costs?
Cat toys for exercise come in a wide range of prices. They can cost you as little as $2 to as high as $2000. However, most toys can be found at the price of $50. More expensive toys are like treadmills for cats.
How do I slim down an obese cat?
Proper exercise and a balanced diet are how you slim down an obese cat. Canned food is delicious for obese cats to lose weight. Playtime with your cat can be one way to maintain weight, but cats will need to exercise during the day to lose weight actively.
How much playtime do cats need?
There is no ideal playtime for cats, as long as they have fun. But it is advisable to have at least two sessions, 15 minutes each. Playtime is also a good way for you to incorporate exercise into the cat's daily routine.
Final Thoughts
To sum up, the cat toys for exercise are a very entertaining and good way to keep your feline fit. We all know cats can be incredibly lazy sometimes, and it isn't easy to exercise them. However, incorporating exercise like toys in the playtime should definitely help them.
Furthermore, it is so much fun for cats to play with the cat exercise toy. But what they like even more is the time you spend with them. Do let us know if you agree with us or not.
References
Cat Toys, Games, and Catnip – WebMD
How to Exercise Your Cats Through Play- PetMD
Exercising Your Pet – American Humane