Welcoming a new member into the family is priceless!
Along with happiness, responsibility also comes, which cannot be neglected at any cost. We cannot deny the fact that kittens need more care and attention than elder cats. It's a great idea if you want to switch to homemade food from a very early stage.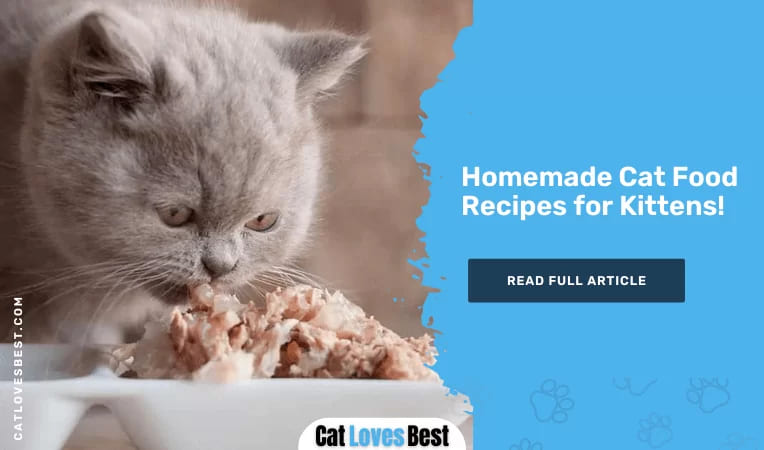 As we know, homemade food is made of natural ingredients, and she will be receiving all the essential nutrients that her body needs for development.
Keeping this in mind we have done some footwork regarding homemade cat food recipes for kittens, which not only add benefits to her but can also be prepared easily.
Without wasting time just scroll down to get delicious recipes for kittens.
Benefits of Feeding Homemade Food to Your Kittens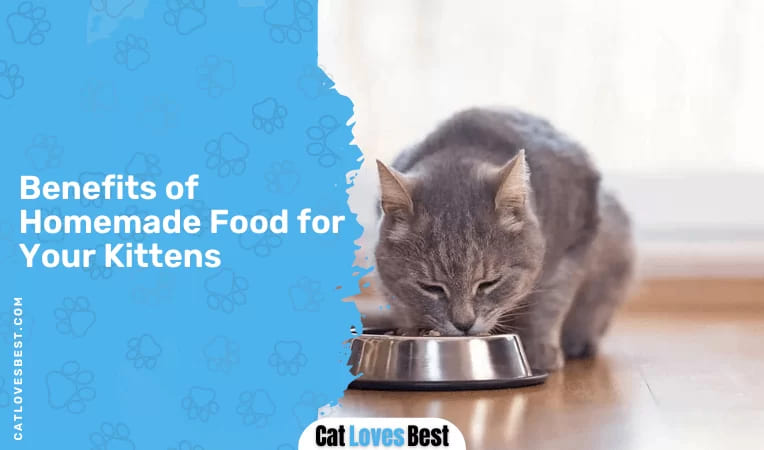 Nowadays, plenty of canned, dry foods are available for your kitten in the market. No doubt, it adds benefits to her health but homemade food is different, it not only gives your kitten fresh flavors but also good quality which is good for her health.
Wondering, how? Let's dig into the following paragraphs to get better knowledge.
Pure Protein
We cannot change the fact that dry food has more protein as compared to wet food. But, it is also true that your little pal cannot chew kibbles easily. So, wet food is a good option for them until they reach a certain age.
When you are serving her homemade food you are adding fresh ingredients, so they are actually getting all the protein level. No extra add-ons are there to kill the benefit of the main ingredient.
No Preservatives
Another benefit of serving homemade cat food to your kitten is that you will not add any preservatives, or artificial flavors to enhance the taste of the dish. It will be natural and simple, which is good for your kitten's health.
This is because when they are given commercial food, extra add-ons are also consumed by them, which their body cannot digest, and create severe underlying health issues in the future.
Natural Ingredients
Ever given a thought to why commercial food stays longer? No?
Well, let me explain to you the best commercial products also add a few portions of chemicals or flavors, and preservatives to keep the food stay for a longer period of time.
So, if you are planning to feed her homemade food it is good, as your kitten's body will be nurtured with natural ingredients, and will function well.
It's true your homemade food is not gonna stay longer than the commercial one. But, on the other hand, your little feline pal is getting natural ingredients to taste, and her body is functioning well.
Essential Nutrients Your Kitten Needs!
Before you start feeding your kitten homemade recipes it is important for you to have knowledge regarding the nutrient level your kitten's diet should include. So, here we are to provide you with nutrient information that you should consider before cooking any dish for your feline pal.
Without wasting time let's get the nutrients chart clear.
Fiber
Fiber is one of the important nutrients your kitten's body should get as it helps the digestive system to function well and increase metabolism.
Here, we are talking about kitten's food so they cannot chew solid food.
While preparing food for your kitten make sure animal base item is your primary ingredient such as chicken, meat, ligaments, etc. Furthermore, no bones should be added because they cannot chew it even after six weeks from the date of birth.
Vitamins and Minerals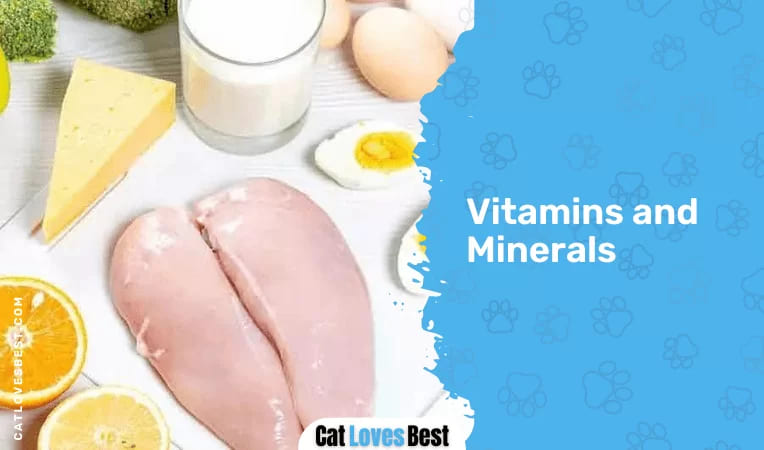 Adding vitamins to your kitten's food especially when you are preparing it at home is a bit tough because you cannot estimate the ratio. Here's some advice for you consult the vet as per your kitten's health they will guide you better, and according to that prepare food for your little pal.
Let me just give you a recall of essential vitamins which should be there in her meal. Such as Vitamin D, E,K,A,B1,B6, and B12.
Similarly goes for minerals, you cannot calculate the ratio but still have an idea of what should not be avoided while preparing food. Such as calcium, potassium, magnesium, iron, zinc, copper, and many more.
Fat and Carbohydrates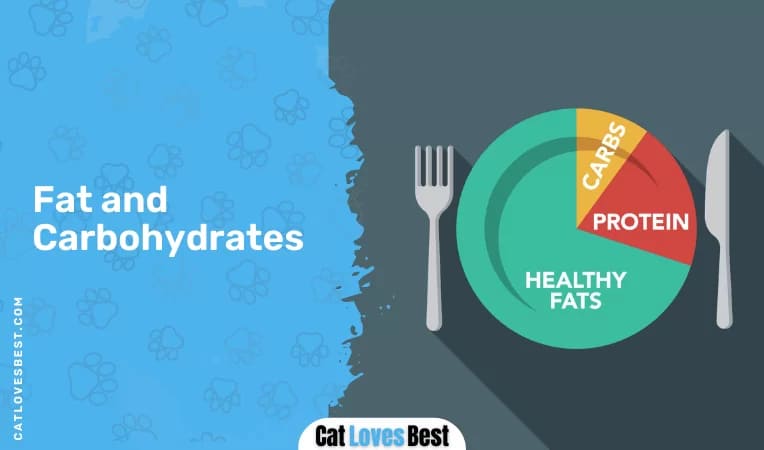 Well, your kitten food should include fat and carbohydrates, but not in a huge ratio. This is because it boosts energy levels but it's also true high intake of fat and carbs can lead to lethargy, and disturb digestive function.
While preparing food for your kitten make sure you don't add ingredients that are high in fat and carbs. If your kitten is healthy then go for lean meats, and if she is undernourished then try to add fatty pieces of meat for proper development of her body.
Protein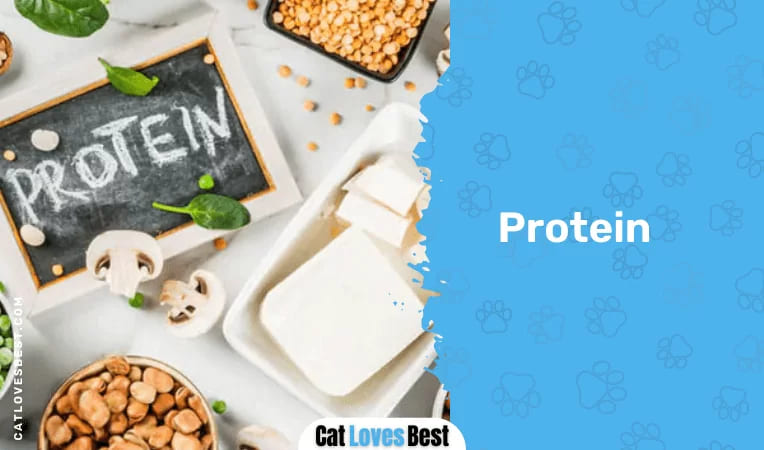 At the initial stage, kittens required high-level protein for proper development of their digestive system but with age, the requirement decreases.
It is recommended that when you switch her diet to homemade make sure you discuss the diet plan with the vet. This is because every feline has a different body structure, and they will guide you in a better way, which ingredient should be included at what ratio for a balanced diet.
6 Homemade Cat Food Recipes for Kittens
Now, you already have fruitful knowledge regarding essential nutrients, which you can add to your kitten's food, and also have an idea about the benefits of feeding homemade food.
We have done some experiments, and research regarding the best kitten homemade food which you can cook for her easily.
Keep on reading to get delicious food recipes for your kitten.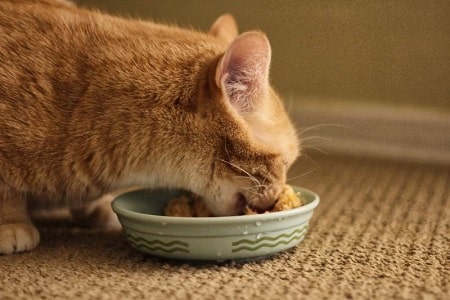 Recipe 1: Beef and Rice for Kittens
Homemade recipe is a great option for your little munchkin as it not only provide fresh meal but also enriched with essential nutrients. Let's check out our easy-go recipe beef with rice for your kitten.
Equipment
Boiling Pot

Spoon, Knife

Storage container

Masher
Ingredients
3

Ounces

Beef

1/4

Cup

Brown rice

1/4

Cup

Sweet Potato

1

Teasponn

Sesame Oil

1/8

Teaspoon

Vitamins Nutritional Support
Instructions
Boil 3 ounces of beef in lukewarm water for thirty minutes.

Follow the same for rice, and sweet potato (peel of the skin)

After bringing the boiled potato to room temperature, use masher to mash it finely.

Now, add one teaspoon of sesame oil in boiling pot, followed by a mash sweet potato and boiled brown rice.

In the end you can add 1/8 teaspoon of vitamin supplement to give a healthy touch to your kitty's meal.

Mix all the ingredients together and let it simmer to get the flavor.

Now, the meal is ready to serve, and leftover can be stored in a refrigerator for later usage.
Notes
Kittens love the flavor of beef and serving them cooked one, can just make them happy. This is because they cannot have a raw meal, so wet food is a great option for their healthy balanced diet.
Recipe 2: Pork and Rice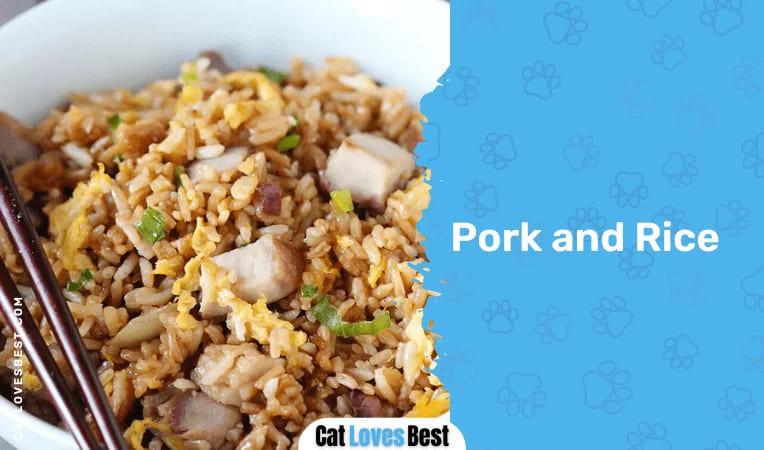 | | |
| --- | --- |
| Instructions | Quantity |
| Pork | 3 ounces |
| Brown Rice | 1/4 cup |
| Sweet Potato | 1/4 cup |
| Oil | 1 teaspoon |
| Rx Vitamins Nutritional Support | 1/8 teaspoon |
Instructions:
Boil three ounces of pork in lukewarm water.
Follow the same for sweet potato and brown rice.
After the boiling procedure brings them to room temperature.
Take a saucepan, add a few drops of oil, and grease it well.
Place the chopped pork in the saucepan along with that don't forget to add chopped sweet potatoes.
In the end, add vitamin supplements to boost their immune system.
Now the pork is ready to serve with brown rice.
Recipe 3: Chicken and Oatmeal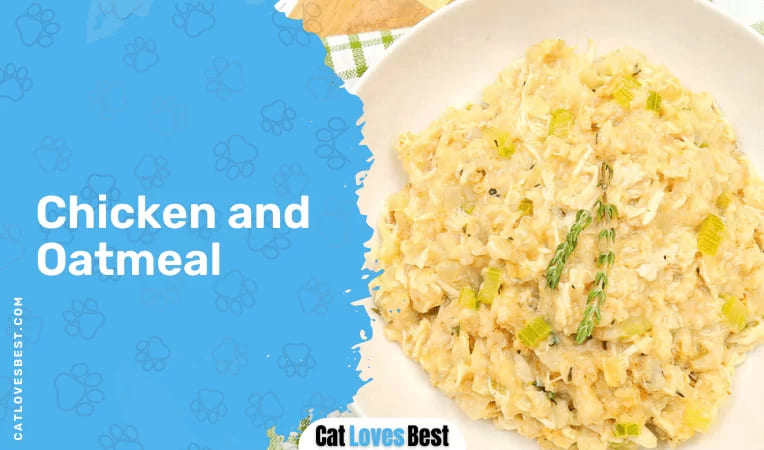 | | |
| --- | --- |
| Instructions | Quantity |
| Chicken ( dark meat) | 3 ounces |
| Oatmeal | 1/4 cup |
| Sweet Potato | 1/4 cup |
| Butter/Oil | 1 teaspoon |
Instructions:
Boil three ounces of chicken in a boiling pan.
Take 1/4 cup of oatmeal and bring it to a boil.
Follow the same with 1/4 cup of sweet potato, and then mash it well.
Now, it's time for cooking all the ingredients, add boiling ingredients in one pan and let them simmer for a few minutes.
And your kitty's healthy meal is ready to serve. You can serve it separately also or mix the oatmeal with the pork.
Recipe 4: Salmon and Oatmeal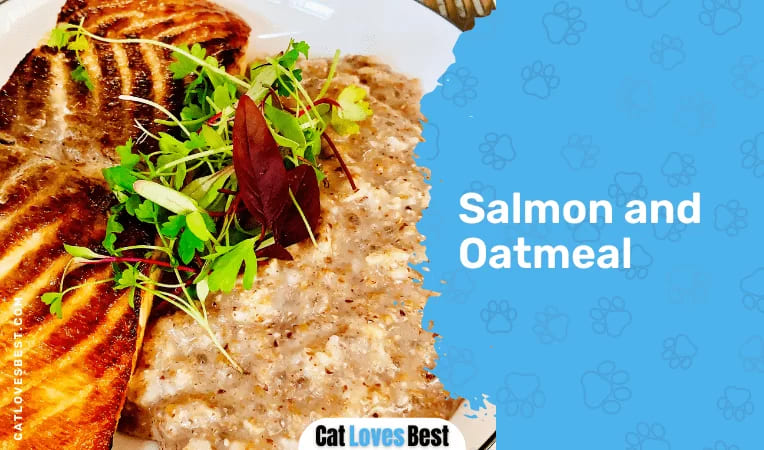 | | |
| --- | --- |
| Instructions | Quantity |
| Salmon | 3 ounces |
| Oatmeal | 1/4 cup |
| Sweet potato | 1/4 cup |
| | |
| Butter/Oil | 1 teaspoon |
Instructions:
Boil three ounces of Salmon in lukewarm water, and let it cool down.
After that chop it down into small pieces, so that your kitten can have it without any difficulty.
Now, repeat the same boiling procedure with oatmeal and sweet potato.
After cooling it down mash the sweet potato for your kitten's easy consumption.
Add all the boiled ingredients into the pan and mix it well. Along with that add half a cup of water to give wet form texture.
Let it simmer for a while and enhance the flavor with the main ingredients.
After that, you can serve a hot salmon and oatmeal combo to your kitty.
Recipe 5: Eggs for Breakfast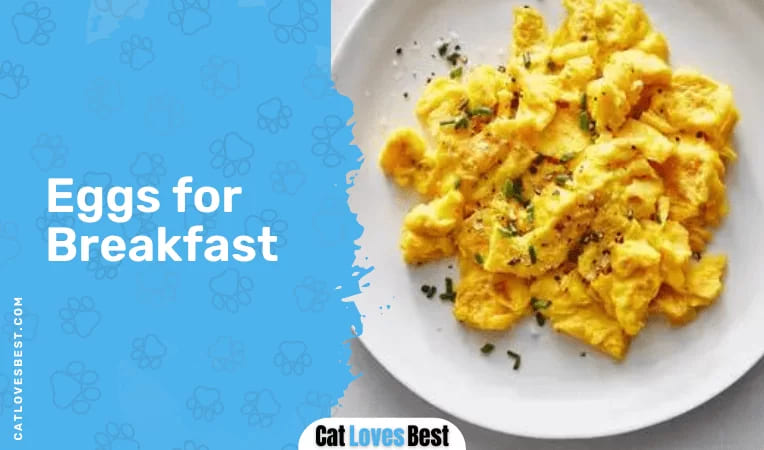 | | |
| --- | --- |
| Instructions | Quantity |
| Eggs | 3 medium-size |
| Veggies | Any green veggies |
| Non-fat dry milk | 1 tablespoon |
| Cottage cheese | 3 Tablespoon |
| Butter/Oil | 4 Teaspoon |
Instructions:
Take a bowl, add one tablespoon of non-fat dry milk with half a cup of water, and mix it well until there are no lumps.
Now break the three medium-size eggs in that bowl, and beat them well.
Take a frying pan grease it with butter or olive oil, and pour the batter into the pan just like we do while making pancakes.
Chop the veggies of your kitty's choice and place them on that battered surface as a topping.
Once it's done turn off the flame put it in your kitty's dish and do the pieces so that she can east it easily.
Recipe 6: Chicken Soup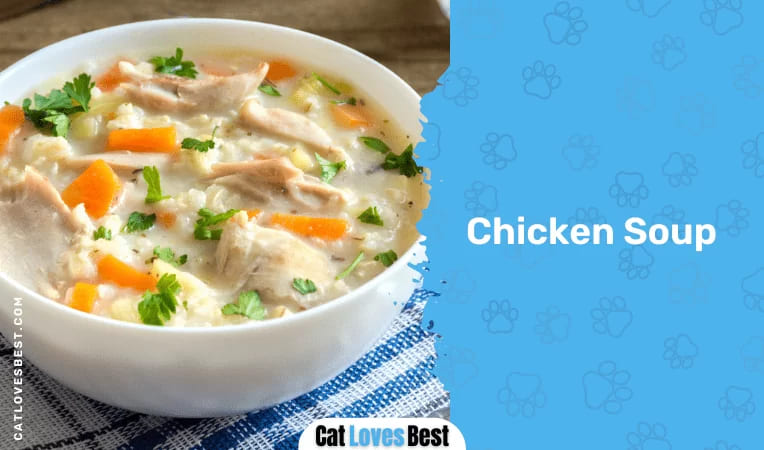 | | |
| --- | --- |
| Instructions | Quantity |
| Water | 800 ml water |
| Chicken legs | 2 pieces |
| Carrots | One Half-Ounce |
| Stalk of Celery | One third cup |
| Butter/Oil | 4 Teaspoon |
Instructions:
Bring the pot to a boil and add 800 ml of water.
After some time add 2 pieces of chicken legs and let it boil.
In mean while chop carrots and celery into small pieces.
Once the chicken leg pieces are boiled enough add chopped ingredients.
Once your soup is ready, bring it to room temperature and store it in a tight container.
When you wish to serve soup to your kitty, heat it on low flame and can add butter/oil to enhance flavor.
You can also pour soup into an ice tray for easy storage.
FAQs
Can kittens eat rice?
Well yes, your little munchkin can have rice it won't harm her in any way. It's non-toxic and providing a small proportion of rice is completely fine. So, if you are serving rice with any chicken or tuna gravy your kitten will enjoy it. But don't increase the amount because it is not an important part of her diet.
Can kittens have tuna?
If we talk about canned tuna then avoid feeding her canned one and as it is not going to add any befits to her health. But specially cooked homemade tuna for her then you can serve it with gravy it won't harm her. Make sure you are not feeding large pieces of it as they won't be able to chew it.
What do six weeks kittens eat?
When it comes to feeding your kitten it becomes important to check which food you are providing her because they just cannot eat anything. It is recommended to provide wet food to them because they do not have teeth at the initial stage. So, if your kitten is six weeks old it is suggested only provide small kibble and mix it with wet food for easy digestion and won't choke her throat.
Conclusion
Concluding our article on homemade cat food for kittens. Hopefully, we were able to give you a simpler yet healthy diet recipe for your little feline pal.
We know felines have different nutrient needs than humans. So, choosing an appropriate diet for them is important you cannot feed her anything randomly.
Now you know the benefits of homemade food, essential nutrients that need to be added, and how to cook simpler dishes for your kitten.
So, feed her accordingly and you will notice that your kitten is less prone to diseases. This is because only natural ingredients are used, and no preservatives are added, which is good for her developing body.
Happy feeding!