Cat pheromone spray can be a quick escape mode for pet parents whenever their kitty is in scratching, marking territory mode.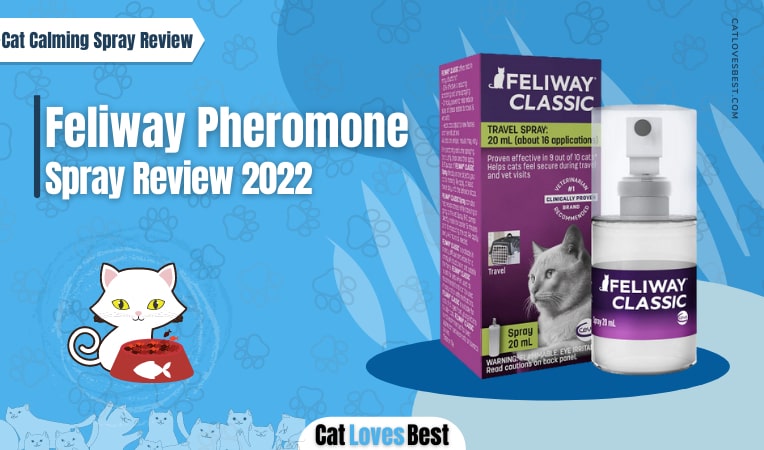 As per the current survey, it has been observed that Feliway pheromone spray is the best choice among the pet parents, and its outcome is also positive as it works perfectly and prevents kitty from adapting unusual behavior.
We have done some footwork for you regarding the Feliway classic calming spray and prepared the perks, snags, and every bit of detail that you should know before buying the product.
So, now just relax and have look at our research which we have done for your knowledge.
As you will scroll down you will get to know insight details about the product and along with that, we have also highlighted some FAQs which might also solve your doubts.
A Quick Look – Feliway Pheromone Spray
Vet recommended: Feliway is the No.1 Vet recommended solution that help cats adjust to challenging situations and curb stress related unwanted behaviors.

– Anthony Brooks, DVM
Specifications
Brand Name: Feliway
Model: 281011E
SKU: 3028121
Size: 2 ounces
Dimensions: 55 x 1.55 x 5.5 inches
Applications: 50
Ingredients: Synthetic analogue of the F3 fraction of feline facial pheromone 100 mg/mL in 89.2% ethanol.
Instructions: Spray 8 to 10 pumps of Feliway 15 minutes before the cat is introduced into the sprayed environment (car, carrier, bedding, table for medical examination, etc.).
Application: Feliway Spray can be applied directly on bedding, inside the carrier, or in the car,
Warning: Should not be sprayed directly on animals or near an animal's face.
Precautions: Feliway should never be sprayed directly on the cat.
Feliway Pheromone Spray – Detailed Review
The Feliway is the chemical substance, replication of natural pheromone. In a cat's language, it's just an exchange of scent glands or ways of communicating.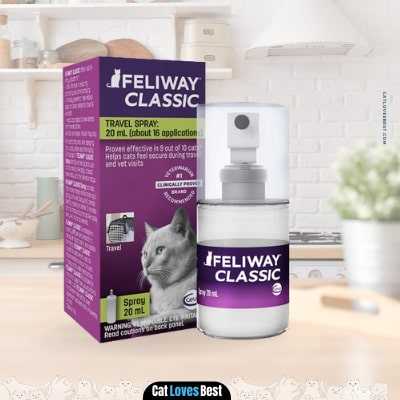 For instance, just like when felines rub their body against any subject they claim it as it belongs to her.
Because according to her, she has marked that object with her scent gland, and she feels safe in that territory.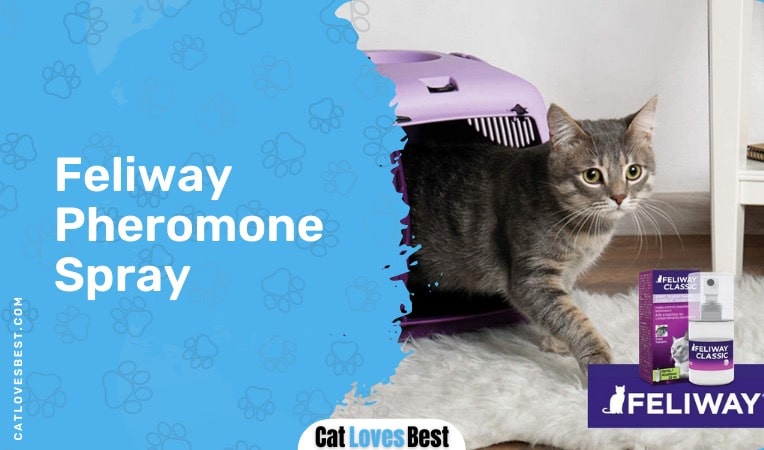 Similarly, Feliway spray does the same work, it emulates the natural pheromone and makes your kitty safe and secure that she is surrounded by her beloved ones. No predators will attack her or her territory.
In simpler language, it can be said that this spray works as a magic medicine for your feline friend. As it tends to reduce the unusual behavior of feline-like bobbing, scratching, etc. which she develops out of stress or anxiety.
With time and usage of the Feliway spray, diffuser products, one thing is pretty much clear that this product definitely gives positive outcome and help to prevent the feline's unusual behavior.
Perks of Using Feliway Pheromone Spray
After, getting fruitful knowledge regarding the Feliway Pheromone spray. In other words, we have gone through the description part of the product.
Now let's dig in deeper and get more informative knowledge regarding the Feliway spray.
Because getting half-knowledge of anything is not going to help you out anyway.
As you scroll down, you will come across the perks list of the Feliway spray, which will help you to know to get insight into details of the product. Before buying a product, it's always a good option for looking at each and every detail.
1. Reduce Scratching and Stress
One of the perks of using the Feliway spray is that it tends to reduce the scratching and stress issues in felines.
Felines have a scratching issue, they like to scratch their claws to sharpen their nails. Plus, feline scratches when something is bothering her, or she is in deep stress or anxiety.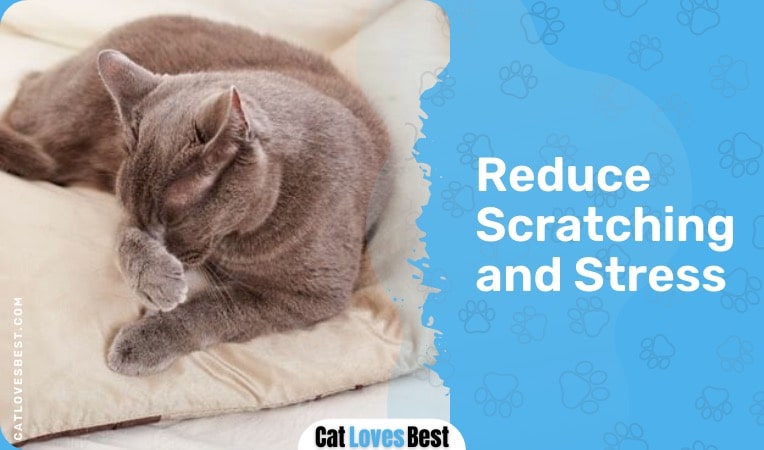 However, it has also been observed that some do it out of just habit.
If your kitty is one of those felines who just love to scratch their claws on furniture, mat, or anything. She has just adopted it as a habit, then in that case you should definitely try this Feliway spray to stop your cat to scratch.
All you need to do is spray it on the area where your kitty likes to chill and scratch her claws for no reason, try this action on a repeated basis.
Soon you will observe the positive outcome, she will stop visiting those areas and won't be able to scratch her claws on the furniture, mat.
It will not only save your favorite leather furniture, couch, blanket, etc. This spray will help to get rid of your kitty's unusual behavior of scratching, which she has just adopted as a habit and no major reason behind her scratching action.
2. Helps to Calm Your Kitty During Traveling
Most of the felines hate traveling, they get nervous, cranky, and avoid traveling. So if your kitty is one of them, then this Feliway spray can act as a savior.
As it will help you out to calm down your kitty while traveling.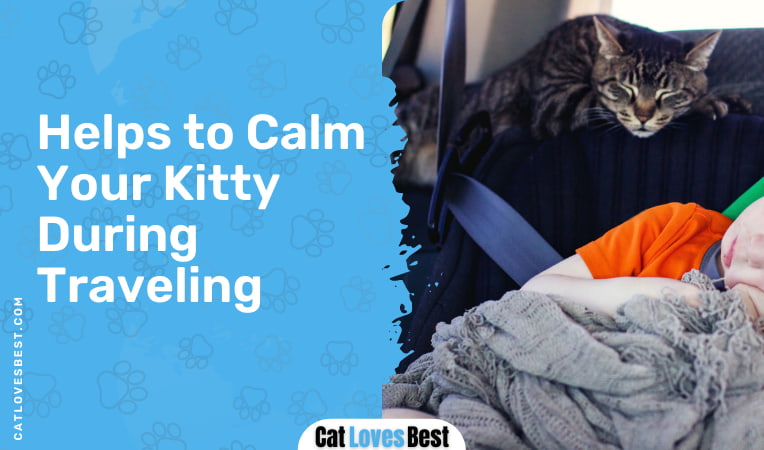 Suppose you want to take your kitty on a road trip, but she hates traveling, and plus getting her into the carrier is a tricky task.
In such a scenario, you can do one thing, apply this Feliway spray on the carrier and car seat where you will keep her.
Don't forget to apply this spray half an hour beforehand to go out anywhere. It will definitely give you a positive outcome and reduce your kitty's nervousness while traveling.
Note:- If you are using it solely for traveling purposes, then it will last for a long period.
3. Help Down to Lower the Chances of Cat Fights
One of the pros of using the Feliway pheromone spray is that it helps in reducing the chances of catfights.
For instance, if you are parenting more than one feline, then there are chances, and you must have noticed also some tension between them.
It especially happens when there are male felines, as they are more aggressive than female ones.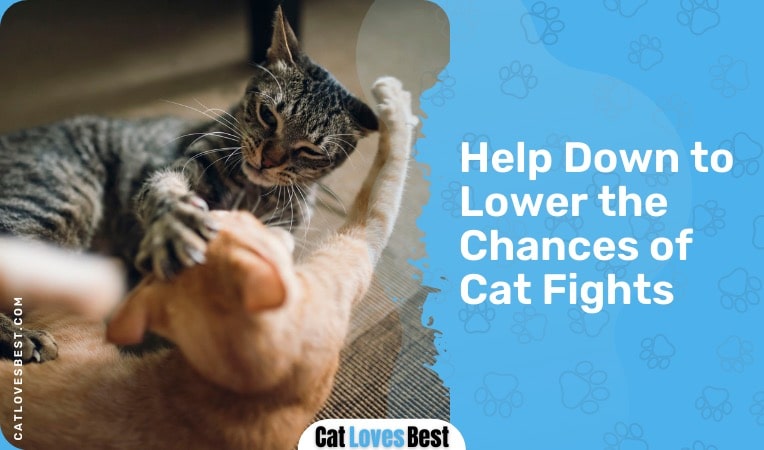 No major damage will happen to your kitty's body, but still, those scratches can occur on her coat and can hurt your kitty.
This Feliway spray help to cut down the fighting frequency between them and helps to reduce the tension and calm the felines.
All you need to do is spray it in the area where your felines are fighting or beforehand if you sense some tension between them instantly spray this Feliway and you will notice the outcome.
You can also do one thing, carry this Feliway with you on the walk or when you take your feline out for outdoor activity. If you notice that your kitty is getting into fights with other cats, then you can use it to avoid conflicts.
Snag Side of Feliway Pheromone Spray
The perfect product is a myth, there is no such thing which is perfect. So, yeah, my friend in fact Feliway pheromone spray also has some drawbacks.
In the above paragraphs, we have discussed the perks side now let's see the snag side of the product to get a clear understanding about the product and an idea of how to use it effectively.
1. Not for All Felines
As per the survey, it has been concluded that many pet parents reported that it doesn't work on the felines and didn't affect them a bit. By using Feliway spray, they were not even able to calm her kitty for a few seconds also. The drawback of this product is that it doesn't work on all types of feline breeds.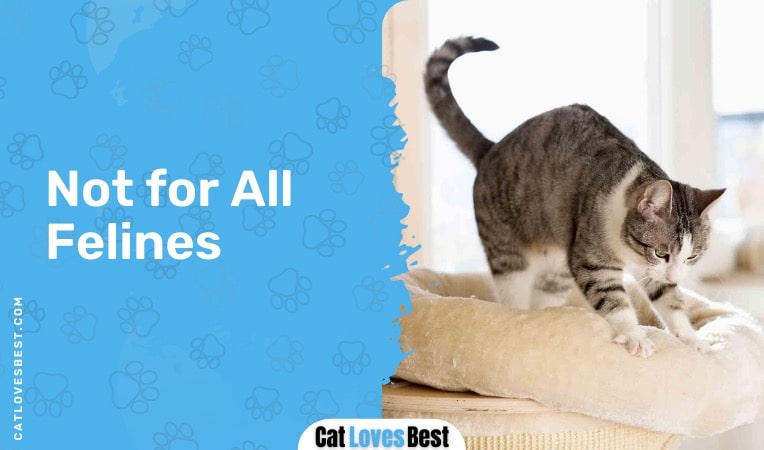 However, the product claim that it is effective on most all feline breeds, but in reality the picture is different. Plus, it's quite expensive, so even if you are buying for demo and doesn't suit your kitty. That cost is definitely going to pitch your pocket.
2. Not a Long Lasting Product
One of the snag sides of this product is that it's not a long-lasting one. Like, to prevent your kitty from doing unusual behavior out of stress. At least once a day, you have to spray this chemical formulation to calm her down or provide her comfort.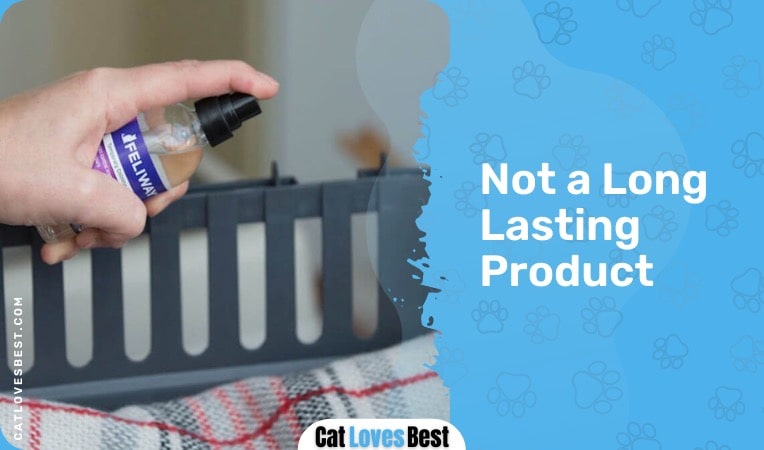 One bottle of Feliway spray can be used for fifty applications, and if you have more than one feline, then you have to buy more than one bottle.
FAQs About Feliway Pheromone Spray
1. Can you spray too much Feliway?
There is no problem using too much Feliway spray, as it's not ingested in your kitty's body. In other words, it's not absorbed into their bloodstream and makes them addicted to it.
2. Feliway spray is safe for cats?
As you know, cat pheromones are a natural part of cat communication, whether she comes in contact with other cats or Feliway spray.
They are safe, so yes my friend, Feliway spray is safe for cats. It helps your kitty to deal with stress-related issues such as scratching, spraying, hiding, etc.
3. How does Feliway spray work?
Just like a mother cat releases a natural pheromone to calm her babies. Similarly, Feliway spray emulates those natural pheromones and gives your kitty comforts and calm her down, and makes her feel safe that she is not alone.
4. Can I put this product directly on my cat?
If we talk from the vet's point of view, they will suggest you first spray it on your hand and, like giving an oil massage, simply apply it all over your kitty's coat. They will never recommend you to directly spray it on her body.
Furthermore, even if you are spraying on the couch, furniture, use it often on initial days to observe your kitty's reaction if she is getting it used to then you can use it on a daily basis.
Quick Review Summary
Feliway Pheromone Spray is one of the best options to calm your kitty. Plus, help to reduce the unusual behavior of scratching, fighting, territory marking, etc.
Confidently, we were able to bring the appropriate content to the table regarding the Feliway Spray and if you are buying to try this product then our short review is definitely will help you.
As we have not only discussed the perks side of the product, but we have also shared the snag side of it to give you a true fair view of the product. So that you can make your decision wisely and moreover it will help your kitty to get rid of her unusual behavior.
If you enjoyed reading our buying review on the Feliway spray then please drop your comment and if we have missed any point you can drop your suggestion.
References
What are cat pheromones? — Feliway
Feliway – A useful tool to help treat stress in cats — Cat Health
Improving the feline veterinary consultation — PubMed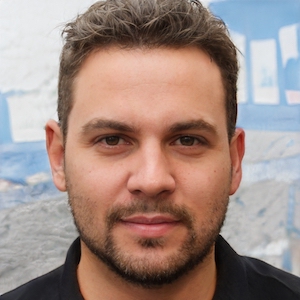 Joseph was a full-time cat groomer at his own pet salon before he co-founded CatLovesBest with help of another co-founder – Clara. With bachelor's in veterinary science, he has been doing cat grooming for more than 10 years. He is also an aspiring animal breeder with specialization in the standards, behavioural traits, and coat cuts that are desired for the breed.
Although he has experience with many kinds of pets, large and small, cats are his true love, and he particularly enjoys writing about feline care and behaviour.