We have 8 unique and better alternatives to the cone of shame, who hate traditional cat cones!
You probably have seen a cat with the "cone of shame" run into things, struggling to eat and doing everything in its ability to take that barrier off the neck. You can't help but feel bad, and we understand that.
If your pet has recently gone through surgery, chances are the doctor advised you to get an Elizabethan pet collar for your cat. However, this traditional collar can restrict your pet's peripheral vision and can lead to serious accidents.
Luckily for you and your cat, we've put together eight better alternatives to the cone of shame that are smarter and more comfortable.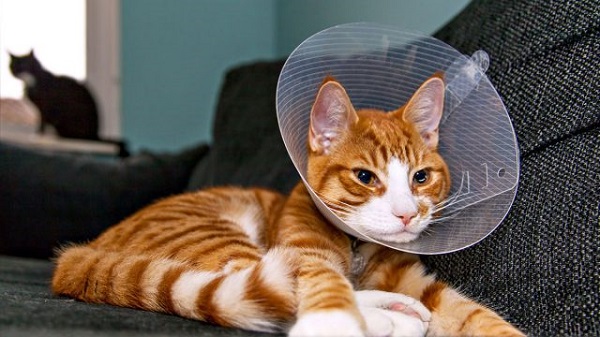 Best Comfortable Substitutes for the Cone of Shame
Vet cones can be uncomfortable and trigger anxiety in cats, and honestly, they can look awful. However, there are many alternatives to the traditional cone of shame, which are not only comfy but also look pleasing.
With plenty of options to choose from, you're sure to find the best for your kitty cat.
Dress Your Cat in a Onesie
Some cat parents may already know that cats can seem to loathe the Elizabethan collar, aka the "cone of shame." Cats are required to wear this collar after surgery or when you are trying to prevent your cat from licking a sore or itchy spot on her body.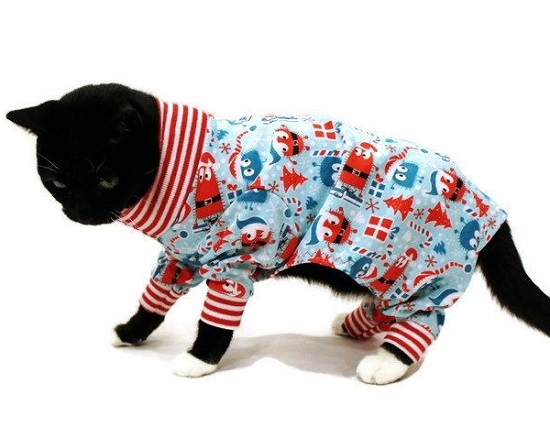 And if your cat doesn't like the Elizabethan Collar, you can try a simple alternative — Onesies. It will prevent your kitty cat from licking any sensitive spots or tearing any stitches after surgery. Moreover, onesies are a way cuter option than the dreadful "cone of shame."
Likewise, when it comes to putting on onesies on your cat, you need to make sure it is the right size. It should not be too tight, nor should it be too loose. And depending on where the sensitive spot or the stitches are, you can also customize it accordingly.
For instance, if the onesie is too tight for your cat, you can take a pair of scissors and cut through the holes to make a more snug fit. Overall, cat onesies can be great alternatives to the traditional "cone of shame," effectively preventing your cat from biting and licking on specific spots.
Inflatable Collars
The inflatable collars are pretty much the same as the traditional cone design, but they tend to be more comfortable for cats, and they may not even detest from wearing them.
Plus, they are inflated and adjustable and resemble the design of human travel neck pillows. Likewise, inflatable collars are soft, but they can't easily get punctured if your cat tries to hit on them.
They don't offer the best protection, but they can be the perfect option if your cat has an upper-body injury or an injury near the neck area.
Besides, these collars have a unique benefit — collars can move and mold according to your cat's position, so your cat will have a comfortable time wearing inflatable collars. Plus, they can be deflated to store in tiny spaces.
And the best part — inflatable collars weigh lesser than other types of collars; thus, they are safe for cats to wear.
Post-Surgery Recovery Suit
Recovery suits can also be an excellent choice — they are specifically designed to cover an injured wound or an irritated area. Likewise, recovery suits can help cats post-surgery, as they prevent them from licking, biting, chewing on the sensitive area, or removing any medical dressings. Thus, the suit can keep your cat or dog at ease during the healing process after surgery.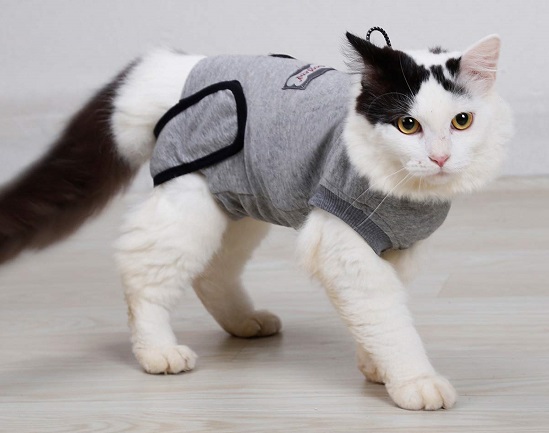 Recovery suits do not hinder your cat's motions — instead, they protect your pet dog or cat by acting as protective clothing while still allowing them to move freely without any problem.
They are designed accurately, so there is no likelihood of customizing by making holes or cutting the suit. However, they are very well comfortable, but some cats may not readily wear them for the first few times.
Soft E-Collar
Soft E-collars have the same design as that of the traditional "cones." But a soft E-collar is not made out of hard plastic material like the plastic cone of shame.
Soft E-collars come in a large variety of colors, designs, and also shapes to fit your cat. But the one thing that is common in all of them is that they are meant to be more convenient for your cat than the traditional cones. The soft ones are softer and also easier to bend, meaning they won't be inconvenient for your cat to wear.
Another advantage is that soft collars can be washed easily. Plus, your cat will also have a comfortable time sleeping with it.
These types of collars are readily available in the online market. And if you cannot find the best fit for your cat, you can make one at home, using soft fabrics.
Small Dog Sweaters
It just happened to be that most cats are nearly the same size as Chihuahuas and other small dogs. And one of the best parts about that is — cats can share their sweater.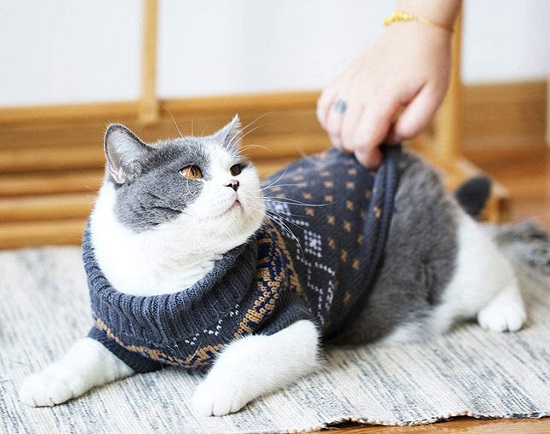 Small dog sweaters should be easy for you to put on cats, and for the cats too. Moreover, cats are at advantage — most small dog sweaters are high from the neck area. This can work best if your cat has a shoulder or neck injury.
This type of sweater can be especially helpful if your cat has injuries on areas such as on the neck or one or both shoulders. Luckily, these are readily available, you can get a hold of them in a supermarket or even buy them online.
Besides, these sweaters come in a lot of variety in designs and colors, despite your feline companion may not love having a sweater designed for this small Mexican dog breed.
Pillow Collar
As the name implies, pillow collars are a type of pillow that fits around your cat's neck. They are way shorter than the traditional "cone of shame," and softer than the inflatable collars, so they should be comfortable for you to wear.
Pillow collars also feature the same design that of the air-travel neck pillows, but they entirely encircle your cat's neck. Plus, they look better than E-collars and are also more comfortable. However, it must have a proper fit, or else your cat may be able to chew the pillow and eventually tear it.
DIY Cat Shirt
Another great alternative to the cone of shame is making a custom shirt for your cat. A shirt can be an excellent way to prevent your cat from scratching the wounds or surgical stitches.
A DIY shirt can be especially helpful if your kitty cat struggles to wear the "cone"; an easy and comfortable way for your furry friend to recover at home. Even if you are not skilled at knitting, making a "cat shirt" out of your old shirt is not a hard task.
Or get creative with an old jacket, turn it into a surgical recovery shirt for your cat, all it requires is basic sewing skills, or you can just quickly staple the cloth together. As for medium-sized cats, you will need cloth material about 18-20 inches square, and cut it down accordingly depending on the exact size of your cat.
Likewise, you should make sure the shirt is not very tight; overall, it should provide a snug fit to your cat. Rather than restricting your cat's movements, a DIY shirt allows your pet to move around freely while preventing wounds.
Bitenot Collar
If you are looking for complete assurance that your cat won't bite or lick the wound or the surgical stitches, the Bitenot Collar is your best option. And similar to the inflatable collars, this Bitenot Collar eliminates the need for a cone shape. It is also sturdier than the inflatable collars.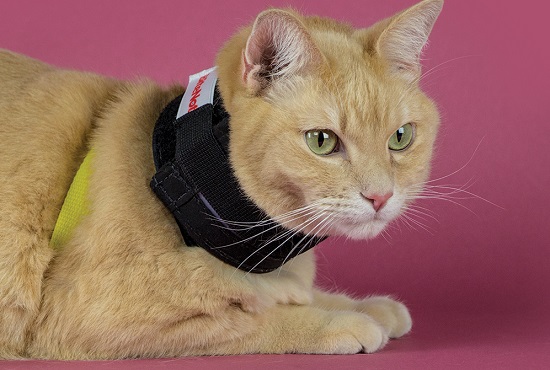 Furthermore, this collar is made out of machine-washable flexible plastic and foam, so washing the collar will come in easy. However, the pet collar is not water-resistant.
But this pet's collar also allows complete peripheral vision while preventing your pet from scratching or licking the wounds. Besides, your cat can easily eat, sleep, and walk around wearing this unique collar. However, you should never leave your cat alone in the house with the collar around her head.
To make sure the collar remains in place, the included security harness strap attaches to the back of the cat's neck to secure the collar. Overall, this collar is the best choice for your cat if she has upper-body injuries.
At last, the manufacturer states that the collar is not suitable for pets that need security from their eyes, lower leg areas, or ears.
Why Cone Alternatives Are Better for Your Cat
An E-collar for a cat is a collar worn around a cat's neck to prevent her from licking or scratching a wound after surgery. E-collars are usually made up of hard plastic materials and can be uncomfortable for your pets. However, making use of flexible cone alternatives might be a good idea, they are more comfortable for cats and your pet won't have any problems while wearing them for a long time.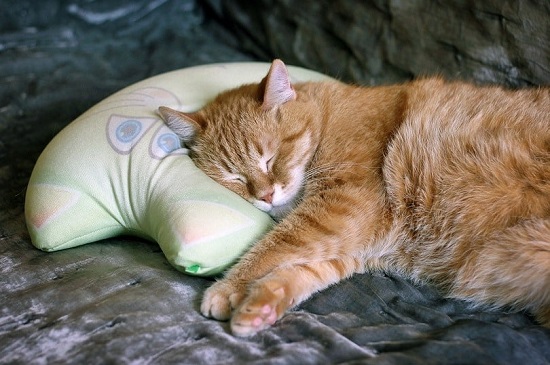 Owners report that their pets usually struggle when they drink and play while having the "cone of shame" around the neck. The standard collar can be uncomfortable at times, and your cat may try to get rid of it with every chance that she gets.
Luckily, there are some great alternatives that work better than the actual E-collar itself. You can try out a recovery suit; it assures that your cat won't be able to bite or lick the wounds without restricting her movements. Another great alternative is an inflatable collar, they offer great mobility and are comfortable as well.
Or you can get creative and improvise and make a DIY shirt for your cat. All these alternatives can work for all sizes of cats; they are made out of soft materials, making them comfier than the standard cones.
FAQs
What if my cat won't wear a cone?
If your feline is completely against wearing the E-collar, then you can try shifting with alternatives. For instance, an inflatable protective cone collar, soft e-collar, or a recovery suit, can fit around your cat's neck without any difficulties. However, it is best if you talk to your vet before making the switch with the standard cone.
Can I put a shirt on my cat instead of a cone?
Putting a shirt on your cat might be a good idea if your cat doesn't like, or has problems wearing the cone of shame. Plus, putting a DIY shirt on your cat can be a great alternative, and it would also look chicer. Other options can include inflatable cone collars, recovery suits, soft E-collars, onesies for cats.
Do cats get depressed wearing a cone?
While some cats may do well wearing the cone of shame, other cats would detest even the very thought of wearing one. In fact, some cats may get depressed after wearing a cone, but the depression lasts for a short period of time. You can try out the standard cat cone alternatives — sweaters, recovery suits, inflatable protective collars.
Conclusion
Finally, after reading this, you are probably convinced that the traditional "cone of shame" has no place around your kitty's neck. Not to mention, your cat will look way more stylish in a post-surgery recovery suit and a lot less pitiful.
These were some better alternatives to the cone of shame that come with their own benefits for particular cases. Each one of them differs from the standard cone collar in its own way.
Let us know in the comments below which one worked for your cat!
References
Alternatives to the Cone of Shame – PetMD
Why the Cone of Shame Isn't Your Only Post-Surgery Option – Lick Sleeve
The Cone of Shame makes pets miserable – The University of Sydney