Whether you are a professional cat groomer or a cat parent, you must own a grooming table. It makes your grooming session convenient for both, you and your fur-ball. Hence, if you have dropped in here to find the best cat grooming tables, then check out the list below.
A cat grooming table will not only provide a suitable place for grooming your cats but it is also safe and effective for grooming sessions. You can easily control your cat on the table with the help of the leash arm provided on it, so if you have a notorious pet, then it is best to get a grooming table with leash arm.
The 10 Top-Rated Best Cat Grooming Tables of 2022
Editor's Pick:
Polar Aurora Foldable Table for Grooming
Polar Aurora Folding table for cat grooming is one of the best in the market with a perfect height of 33.5 inches. The table is waterproof, rust-free, and anti-static. It is portable and also includes a tool basket. Hence it makes an ideal product for cat grooming.
Cat groomers don't just need the grooming tools and essentials. They also require a grooming table to bathe, trim, clip, or brush, safely and comfortably. Hence, instead of searching from hundreds of options in the market, check the best 10 cat grooming tables here.
#1. Go Pet Club Cat Grooming Table With Arm
Go Pet Grooming Table has strong legs with rubber capped feet for a firm grip. The grooming arm is adjustable to a height of 40 inches. The legs have a goal-post style that fold easily to move and transport. The surface is static-free avoiding your cat's hair from sticking to the table.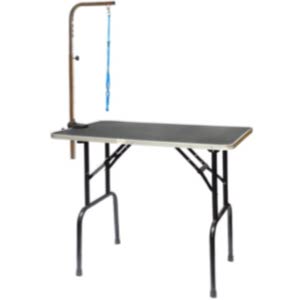 This table is amazing for both, the professionals and the at-home cat groomers. It comes with a leash loop that easily attaches to the tabletops with a clamp. The table surface is waterproof, preventing the wood underneath from getting wet.
Brand: Go Pet Club
Material: Rust Proof Materials
Size: 30″L x 18″ W x 32″ H
Color: Black
Moreover, the surface is textured to make it non-slip, hence keeping your cat safe. Overall, the grooming table is easy to clean, easy to maintain, portable, and suitable for cats.
Note: Contact the manufacturer within 3 days, for any defects or dissatisfaction with the product.
Easy to Clean
Rust-proof Material
Affordable
The height is a little lower for tall people.
#2. Polar Aurora Foldable Table for Grooming
The Polar Aurora grooming table has an aluminum edge, and a surface made of pebbled rubber. The tabletop is waterproof and rust-free. The ribbed matting keeps the surface anti-slip ensuring your cat's safety. Moreover, the board is static-free, hence cleaning hairs from the table becomes easier.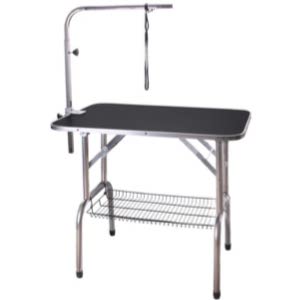 The product includes a tool basket of to help you keep scissors, brush, shampoos, and other grooming essentials. The adjustable arm is 26 inches long. The table can hold weight up to 250 Lbs. The legs have rubber caps for stability. Table's Height from the floor is 33.5 inches. It also includes a noose of 19.7 inches.
Brand: Polar Aurora
Material: Stainless Steel Frame, Anti-slip Rubber Surface
Surface Size: 30"X 18.5" X 0.8" (Length X Width X Thickness)
Color: Silver base with Black surface
The legs are folding making it easy to move and transport. The design is compact and utilizes a little space. The legs are made of stainless steel to prevent rusting. Rounded edges of the surface ensures your cat's safety.
Easy to fold Goal Post legs
Includes tool basket
Good height
The grooming arm falls a little short.
#3. Master Equipment Grooming Table for Cats
Master Equipment introduces this grooming table suitable for cats. The table has rubber feet for a firm grip. You can place this table on the desired height if bending hurts your back. The tabletop has a diameter of 18 inches. It is easy to clean and provides control over your cat while grooming.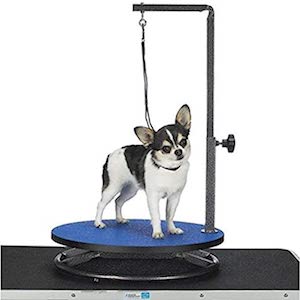 This cat grooming table rotates to ease your grooming task. It has an anti-slip surface and a grooming arm. This Master Equipment grooming table comes in a blue color, however other colors are also available to choose.
Brand: Master Equipment
Material: Non-slip Material
Surface Size: 18 inches diameter
Color: Blue
The stand is small for smaller pets. It is sturdy, durable, and made well. The cost of the table is very reasonable for the quality. The grooming arm is also sturdy and adjustable. You can easily clip your cat's nails, trim her hairs, and brush her on this grooming table.
Note: Wipe the table with a clean damp cloth.
Perfect size for cats
The table surface easily spins
It is not a folding table.
#4. BestPet Adjustable Cat Grooming Table
The BestPet grooming table adjusts to meet a variety of needs for your cat. The legs are folding to move and transport it anywhere as per your requirements. Good for professional groomers and pet parents. You can even fold and store it when not in use. However, folding might require some extra effort initially.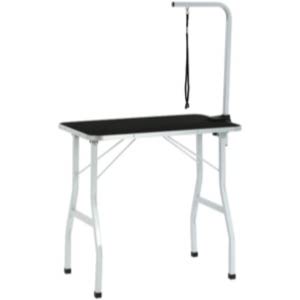 It has two nooses to secure your cat on the table. The table is useful for clipping claws, hair grooming, trimming, bathing and drying. Moreover, the able is static-free to make the cleaning easy. Rounded corners ensure safety of your cat.
Brand: BestPet
Material: Steel, Rubber
Surface Size: 32 inches wide
Color: Black
Made of rust-free steel and anti-slip rubber the table is sturdy and safe for cats. It has a clamp adjustable up to 30 inches and a noose. Additional features are: water-proof material, adjustable grooming arm, and comfortable height.
Installing the table is easy
Easy to move and store
The rubber pad is a little rough for sensitive paws.
#5. Yaheetech Portable Cat Grooming Adjustable Table
This Yaheetech table is sturdy, portable, and comes with an adjustable arm. It might be stiff to fold it initially. However, the table is easy to install and it can hold weight up to 220 lbs. Hence, suitable for cats.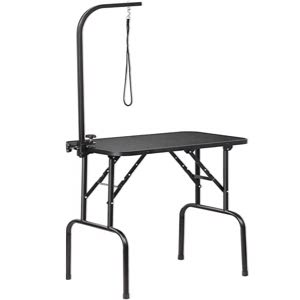 The rounded edges prevent your cat from injury. Plus the rubber-capped feet keep the table stable. It is easy to fold the legs to move or store the table. It has a tool basket to hold grooming essentials for your fur-ball.
Brand: Yaheetech
Material: Steel, PU Leather
Size: 32 x 18 x 30 inch (L x W x H)
Color: Black
The harness keeps your cat from running away. The noose soft and comfortable on kitties. The tabletop is textured to keep it anti-slippery.
Note: The height of the table in Not adjustable.
Size is good for cats
Folding legs and portable table
The height could be low for tall people.
#6. Flying Pig Cat Bone Pattern Grooming Table
Flying Pig brings to you this bone shape grooming table for cats. The surface is made of non-slippery rubber. The frame is made of stainless steel. Plus the table includes a tool basket, and adjustable grooming arm, a noose, and loop. The table can hold weight up to 330 lbs.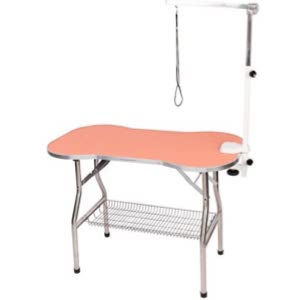 This grooming table is sturdy, with a beautiful design and color. The table is folding and portable, making it easy for cat parents and professional groomers. You may call the company to ask for a replacement in case of defects or dissatisfaction. Overall, it is good for the price.
Brand: Flying Pig
Material: Stainless steel and Rubber
Size: 38″ L x 22″ W
Color: Orange
Unique bone design and bright orange color
Good size for cat grooming
A few customers have received a table with wobbling legs
#7. Portable Grooming Table for Cat
Paws & Pals grooming table works great for cats. It has an adjustable arm and foldable legs. You can easily install the table or fold back. Made of metal the grooming table is strong and stable. It secures your pet with a non-slip surface and rounded corners.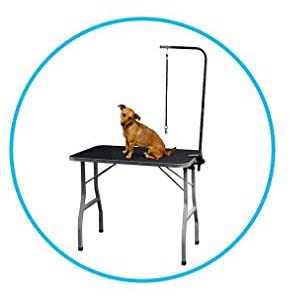 So whether you are a cat parent or a professional pet groomer this comfortable grooming table will serve your needs. Trim hairs, cut claws, and groom your cat. The tabletop is waterproof and non-slip. The product is convenient to clean and store. However, the table might be a little hard to fold and unfold initially.
Brand: Paws & Pals
Material: Steel, Rubber vinyl
Size: 35.98 x 23.98 x 30 inches
Color: Black
Foldable and Portable
More than big for cats
Convenient to use and clean
#8. JY QAQA PET Cat Grooming Table
JY QAQA PET presents this grooming table for grooming, bathing, trimming, and drying your cats. It includes an adjustable arm with a movable sling for different sizes of pets. The rubber surface is non slip ensuring your cat's safety.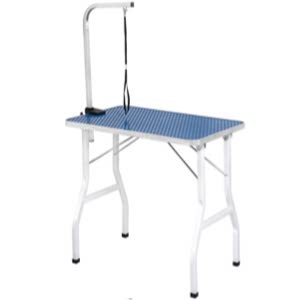 Rubber capped feet assure stability. Moreover, the table is folding and portable. The post-style legs prevent wobbling. Plus the static-free board is easy to wipe clean. The manufacturer also provides a 30-day refund and 18-month replacement guarantee in case of any problem.
Brand: JY QAQA PET
Material: Steel and Rubber
Size: 32 x 20 x 30 inches
Color: Blue
The folding table saves space when not in use
Good size for grooming cats.
The table height is low for tall people.
#9. Yaheetech Cat Grooming Table Foldable
This is a foldable grooming table from Yaheetech that comes with rounded edges and capped feet. A sturdy and stable product best to groom your cat. It has a strong leash to keeping your cat from running away. It also includes a tool shelf to place grooming tools, shampoos, conditioners, etc.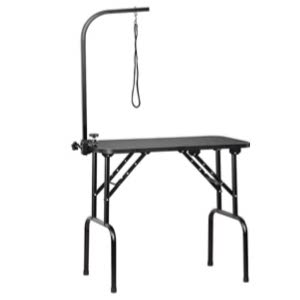 The textured PU surface makes it non-slip and keeps your cat safe. This table is ideal for both, cat owners and professional pet groomers. The table makes grooming and dressing a lot easier by providing you the correct height to access your cats.
Brand: Yaheetech
Material: Iron, PU, Aluminum, MDF
Size: 32 x 18 x 30 inch (L x W x H)
Color: Black
The table is easy to set-up, fold, store and transport. It has a sufficient height of 30″ inches, however, tall people find it low. Overall, a nice product for the price.
Foldable legs
Corrosion free
Easy wipe cleaning
The grooming arm looks easily breakable
#10. Flying Pig Medium Size Grooming Table
The Flying Pig medium size table is meant for small pets such as cats. The surface is made of non-slip textured rubber. It can hold weight up to 330 Lbs. Plus the table frame is rust-free. The product includes a storage basket, an adjustable arm, noose and loop.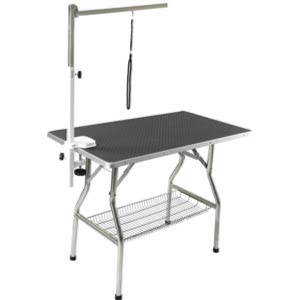 This table is suitable for pet groomers. It is sturdy and durable with non-slip feet for stability. The surface is waterproof and easy to clean the cat hairs and debris off it. Great product for the price.
Brand: Flying Pig
Material: Steel and Rubber
Size: 38″ L x 22″ W x 31.5″ H
Color: Black
Suitable for cats
Non-slip surface and feet
Includes tool basket
The arm's material and durability is not too good
The table is heavy
Buyer's Guide
The Buyer's Guide explains you the need of cat grooming table for cat parents and professionals. It also describes the important characteristics to look while buying a grooming table for your cats.
Why Should You Buy a Cat Grooming Table?
Frequent visits to a vet or professional costs you a lot. Hence, having a cat grooming table at home saves you a lot of money. If you are willing to become a professional cat groomer, then it is mandatory to have the table.
Grooming your pets may take hours. Cleaning & brushing hairs, clipping nails, or dressing up your cats utilize much of your time. And the bad part is that you have to bend for long periods to do the job.
A grooming table, on the contrary, gives you the convenience to groom your fur-baby without bending. Moreover, cleaning grooming the table is very easy. These tables also include leashes to hold your cat while you groom her.
To sum up, owning a grooming table is the best way to give your cats a safe service. As mentioned earlier, the table also provides you with a correct height, keeping the task gentle on your back.
Types of Cat Grooming Tables
There are four main types of cat grooming tables, Folding, Non-Folding, Hydraulic, and Electric. Read on to understand the differences.
Folding tables are mostly designed for the convenience of storing and transporting. These tables have folding legs, so you can easily store them in a compact place.
If you are a mobile pet groomer, then you can place these easily in your car. You can open and install these with a minimum effort at your client's house or your workplace.
Even if you are a home groomer, folding/portable tables benefit you by saving some space. You can fold up and place it in the closet whenever not in use.
These tables are good for professional cat groomers with a salon who do not require to fold and move the tables. These are heavyweight with good quality materials.
As they are not meant for transport, they have more accessories than a folding table, such as H-bar arms, scissors-holder, tool baskets, and non-folding stable legs.
These grooming tables work with air hydraulics to adjust the height of the table. Best for professional use, these tables are heavy and non-folding. However, many cat owners prefer to buy these for home use, if space is not a constraint.
These tables are comparatively expensive but offer you a lot of flexibility in adjustments. They are available in many sizes for small to the large size of pets.
The Electronic cat grooming tables work almost like hydraulic tables. The only difference is that the height and other adjustments are done electrically. These are the most expensive types of tables out of all the cat grooming tables.
How to Choose the Best Cat Grooming Tables
Here are the important factors that you need to consider in order to choose the best cat grooming table for your pet:
Avail a table with a size that best suits your cat's size. A little bigger is recommended, so the cat does not slip off the table edges.
If you give grooming services to your client's place, then you will need a portable grooming table. These fold up to place easily in your car and transport. They are lightweight for ease of lifting and placing. A portable table is also easy to install and collapse for frequent use.
Folding legs make storing and transporting easier. You can just fold up and place it aside until you need to groom the cat again. It saves space at your home and work. If these are lightweight tables, you can also carry it anywhere, if you are a mobile pet groomer.
Mostly folding or non-folding tables do not have the flexibility to adjust the height. But Hydraulic and Electric grooming tables facilitate you with this feature. You can easily adjust the height of these tables as per the sizes of the kitties.
A static-free and waterproof material make cleaning much convenient. The cat hairs would not stick to the table surface, so you can easily wipe them off.
You will need to use water frequently to wash the table or bathe your cat. Hence, prefer to buy a grooming table that is made of rust-free material. This will assure both, durability and safety.
FAQs About Cat Grooming Tables
What is a Cat Grooming Table?
As the name suggests, a cat grooming table is a table on which you can groom a cat comfortably. The main features of a cat grooming table are: non-slip surface, a rust-free material, and a leash or an arm to hold the cat.
How Much Does a Cat Grooming Table Cost?
Grooming tables may cost between $50 to $200. A professional quality, sturdy, and easy-to-use table will cost you mostly around $150 to $200. However, budget grooming tables for the home might range up to $50 to $70.
Which is the Best Cat Grooming Table?
Go Pet Club Cat Grooming Table With Arm is a budget table with all basic essentials. It has strong folding legs, rubber capped feet, and a static-free surface. The grooming arm is adjustable, and the table is sufficiently large to suit small to big cats.
Polar Aurora Foldable Table for Grooming is one of the best tables with a pebbled surface and waterproof materials. It gives your cat a safe grooming session with a non-slip surface, rounded table corners, and a grooming arm. It also includes a tool basket.
The Final Note
Grooming a cat on the floor can frustrate you because of bending for hours which can lead to a backache. Hence, to experience a stress-free grooming session, bring a cat grooming table home. Also, save the pet salon expenses with fewer visits to the professionals. Spend more time with your cat while grooming and build a better bonding with your fur-ball.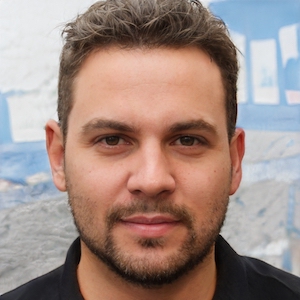 Joseph was a full-time cat groomer at his own pet salon before he co-founded CatLovesBest with help of another co-founder – Clara. With bachelor's in veterinary science, he has been doing cat grooming for more than 10 years. He is also an aspiring animal breeder with specialization in the standards, behavioural traits, and coat cuts that are desired for the breed.
Although he has experience with many kinds of pets, large and small, cats are his true love, and he particularly enjoys writing about feline care and behaviour.