Earlier, Life was easy. Clay cat litter was the only type of cat litter available. It used to be perfect for absorbing urine and the cat used to bury its waste matter following her natural behavior.
Today, we have tons of options. Choosing the perfect cat litter type is tricky especially when we have to consider budget, odor-control, unscented, clumping, absorbency, and pet parent reviews.
But What if we tell you that we did all the hard work for you?
With CatLovesBest, You can pick which types of cat litter suits from twelve different options according to your budget, convenience, and preference.
Each litter type is unique, so don't skip this and read all the types of cat litter!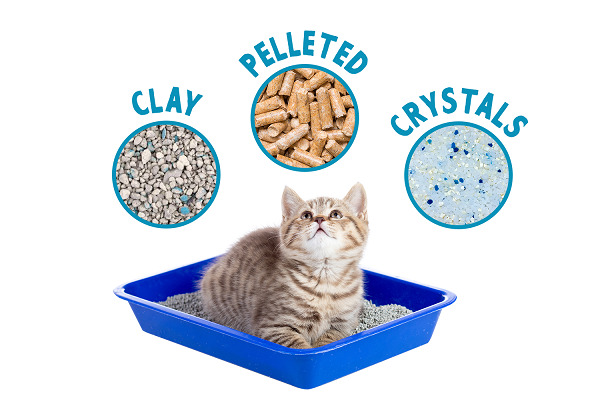 Different Types of Cat Litter
Given below is the list of 12 different types of cat litter. For your convenience, we have also mentioned the best different cat litters product for each category too.
| Litter Type | Scented or Unscented | Clumping Options |
| --- | --- | --- |
| Clay Cat Litter | Scented and Unscented variant | Quick clumping |
| Walnut Kitty Litter | Natural scent | clumping and non-clumping variant |
| Tofu Cat Litter | Scented and Unscented variant | Does not clump |
| Silica Gel Litter | Scented and Unscented variant | Does not clump |
| Wheat Litter | Scented and Natural variant | Natural clumping |
| Grass Seed Litter | Natural and unscented variant | Excellent clumping |
| Recycled Paper Litter | Unscented | Does not clump |
| Corn Litter | Scented and Natural variant | Natural clumping |
| Bamboo Kitty Litter | Natural scent | Clumps lightly |
| Pine Litter | Natural scent | Does not clump |
| Clumping Cat Litter | Scented and Unscented variant | Quick clumping |
| Non-Clumping Cat Litter | Scented and Unscented variant | Does not clump |
1. Clumping Cat Litter
Cat owners like the utility of clumping cat litter, the litter imbibes the urine and forms firm clumps. This is a simple cleaning cat litter substitute. Bentonite, a vital component in this clumping kitten litter, aids in the creation of solid clumps.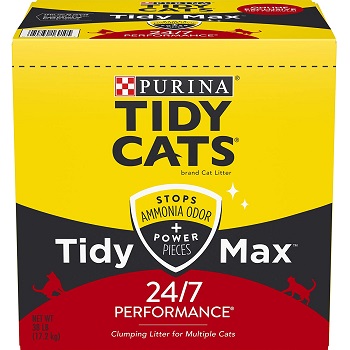 For many owners, it's a cost-effective cat litter option because you don't have to toss the entire litter. Furthermore, all you have to do is scrape out the clumps; it's as easy as that. That's not to imply you shouldn't clean the litter box completely. If the litter boxes stink, clean them at least once a month.
Give it a shot to the Tidy Cat Litter. It is one of the nice clumping cat litter options available in the market, easily deodorizes the litter boxes, and makes tight balls.
2. Non-Clumping Cat Litter
Non-clumping cat litter was one of the earliest commercially available cat litters. This litter's work is self-explanatory. Although it may not form clumps, it is effective in odor management. Baking soda and charcoal are commonly used as additions to reduce odors.
It might become hectic at times because of the difficulty of cleaning. Natural ingredients such as corn, wood pellets, pine, and walnut shells make up most non-clumping cat litter. As a result, it's also good for the environment!
Because it does not produce dust, non-clumping cat litter is ideal for cats with asthma. Non-clumping litter is a more cost-effective choice than clumping litter.
Try using Fresh Step Non-Clumping Litter. It claims to provide 7-day odor control it is a great dust-free litter for cats. It's easy to clean because it's lightweight.
3. Walnut Kitty Litter
Walnut cat litter is a fairly new product on the market. Walnut shells are used to make cat litter, making them environmentally friendly. It has a finer sand texture that cats enjoy; it allows them to readily dig in the litter box and cover their excrement.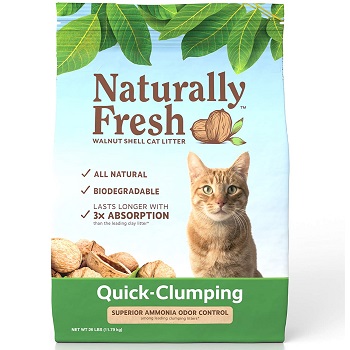 Walnut aids in the control of stench in the urine and stool. This flushable, biodegradable litter comes in clumps. However, because the clumps are not as firm as clay litter, make sure to scoop the solid waste gently.
This litter has great soaking properties and reduces tracking. The disadvantage of this litter is that it lacks a dust-free feature. This means it can give sneeze problems to humans and your pet cat in the initial period.
If you want to get walnut types of cat litter, then buy Naturally Fresh Walnut Litter from the store. This type lasts three times longer than other types of cat litter and controls odors effectively. It is non-sticky on feline paws and has a low tracking capability.
4. Tofu Cat Litter
Tofu is a unique kind of cat litter. It's as if the breeze isn't bothering you or your cats. This is 100% natural cat litter. This tofu by-product has no chemicals and provides unrivaled odor control.
These kinds of cat litter form a clump 5 times better than general clay litter. The biodegradable property makes it the number one choice. It includes bean curd and cornstarch. Because it is septic-free, you may flush it down the toilet or use it as fertilizer in your garden! Doesn't it sound amazing?
This plant-based litter is easy on a cat's sensitive paw; if you use this litter, you will notice less tracking because of the anti-racking quality.
Nourse CHOWSING Tofu Litter is best. It's water-soluble and forms clumps quickly. It is free of dust and lets your feline breathe easily. The best aspect is that it can be used as fertilizer in your yard. Isn't it so much better to use eco-friendly cat litter?
5. Silica Gel Litter
Silica gel litter is a type of advanced litter. These types of litter are quite popular among cat owners. It's constructed of crystalline silica. Crystal has a remarkable soaking ability, capable of absorbing up to 40 times its original weight.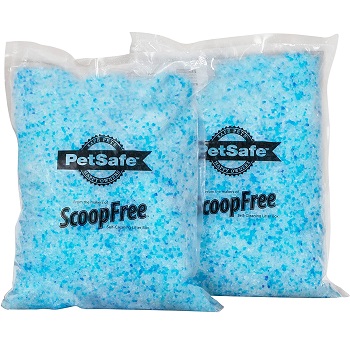 Other than having amazing soaking property, it has an additional unique feature of changing color. Yes, when it comes to the contact of moisture, the crystal changes its color. Due to this feature, it's easy for cat caretakers to know when is the right time to change the litter.
Silica gel can entirely cut the bad odor of litter boxes. It is light weighted lasts for a longer period. The disadvantage of this litter is it is high in price than other natural and traditional clay litters.
But, if you think it's worth it, then get PetSafe ScoopFree Silica Litter. It is less messy, cheap in price, and loved by the cats. It is easy to use in any litter tray and has effective odor control. This litter has a dust-free rating of 99%, which is pretty incredible, right?
6. Wheat Litter
Wheat litter is made from that wheat that is not good enough to be consumed by us, so don't worry, wheat litter manufacturers are not disrespecting grains. And, it is obviously biodegradable litter therefore a great alternative to unnatural litter.
It clumps well and has a moderate odor control ability. It has many advantages, including being gentler on a cat's paws and being easy to consume if your cat accidentally ingests it.
Most of the time, flushing is fine, but multiple brands recommend soaking the litter in water first and then flushing it later. With this litter, your cat will have fewer respiratory troubles in the future.
sWheat Scoop is a better option than clay litter. It uses secondary wheat extract and gives nice clumping power. You can manage your litter box easily with this. It is completely chemical-free and 100% biodegradable.
7. Grass Seed Litter
Grass seed litter is light weighted and the latest cat litter in the industry. Good for cat paws and offers a soft texture.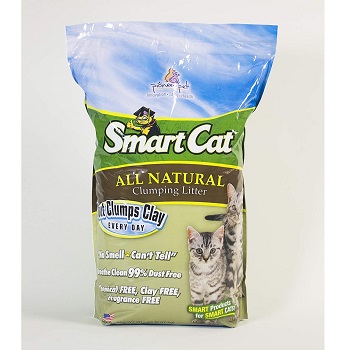 Grass litter is a fantastic environmentally friendly solution. This type of litter could be the greatest clumping litter on the market. The seed immediately bunches together and locks moisture. Many owners claim that cleaning is simple because the balls are tight and unbreakable while scooping.
SmartCat Grass litter is a fine eco-friendly choice. It contains 100% grass seed and is chemical-free. It has a 99% dust-free rating, easy to clean, with strong clumping technology. You should definitely try these types of cat litter.
8. Recycled Paper Litter
By using paper litter, you can offer your kitty to enjoy eliminating either in pellets or in granules. But, remember, pellets won't clump.
You can lessen the planet's garbage and landfill space by using this paper litter as it is made of newspapers and recycled papers. You can even flush it; it is low dust, highly absorbent, unscented kitty litter option.
These litters are quite expensive. Furthermore, because it is not commonly available, you may have to search for this cat litter. The disadvantage of this sort of litter is that it can be difficult to clean the litter box.
If you are into different types of cat litter, then try Small Pet Recycled Paper Litter. It imbibes 3 times more than clumping clay litter. Made from recycled paper, and toxic-free feature makes it the greatest eco-friendly litter choice.
9. Corn Litter
Do you want to become more environmentally conscious? Then pick from our range of natural litters for cats. Corn is a renewable litter. This is the litter for you if your cat doesn't like perfumes artificially because it has a fresh and natural scent.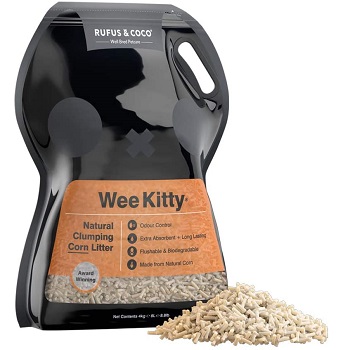 The clumping capability of this litter is ten on ten. You don't have to rush in to clean the litter box daily. Hash! It's time-saving and requires less hard work.
Corns are extremely great at killing the smell of ammonia. But, everything comes with pros and cons right! The cons of corn litter are that when it's exposed to moisture, there are higher chances of budding fungus, specifically aflatoxins.
Well, most of the corn litter manufacturers claim it is safe to use, and no owners have faced any issue as such.
Use Rufus & Coco Corn Litter. It is special and long-lasting, easy to discard used litter. It offers a dust-less and low-tracking facility. Best of all, it is paw-friendly and easy to handle.
10. Clay Cat Litter
One of the eldest and popular choice litter is clay litter. Clay litter is the first litter in the history of cat litter invention, and it is a widely known and easy-to-use litter option.
Clay litter for cats comes with many features, and users can use it according to their needs. It is a dust-free litter; you can get both varieties, scented and unscented.
There are essentially two major types of clay litter: clumping clay litter and non-clumping clay litter. Clumping clay litter is preferred by the majority of pet owners since it is easier to clean. The low cost of non-clumping litter, on the other hand, has made it popular among cat owners.
The major drawback of clay litter is that it is not eco-friendly. Also, using this litter should be avoided when kittens are young, as they can ingest clay while grooming.
Buy BoxiePro Clay Formula Litter is an award-winning cat litter. It is long-lasting and helps to keep your households dust-free. It's easy to scoop, and the best part is that the firm will refund your money if your cat is dissatisfied.
11. Pine Litter
Pine litter is a lightweight product created from recycled pine tree wood pulp. Toxins are thoroughly washed out before pellets, granules, or coarsely chopped pines are produced. As a result, using it is entirely risk-free. Therefore, there is nothing you need to be concerned about.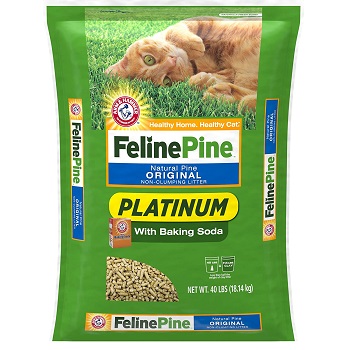 Because of its natural odor-fighting property, it is regarded as a great cat litter. This litter is the most popular choice among cat owners because of its environmentally friendly approach.
You can get both benefits, clumping and non-clumping features in this. The clumping pine cat litter looks like sawdust, and non-clumping ones are in pellet forms. It is septic free means you can flush this when required and don't have to stress about clogs and blocks.
Try Feline Pine Natural Pine litter. You can definitely go for this cat litter without dust problems! It is a different type of cat litter, lightweight, contains great absorbing pine pellets. It produces less dust means your cat is away from respiratory issues and allergies.
12. Bamboo Kitty Litter
With no chemical additives, another eco-friendly cat litter option on this list is bamboo kitty litter. It is a different kind of feline litter. Made from natural bamboos. This litter can have remarkable absorbing properties. It is capable of absorbing 5 to 6 times greater than its original weight.
It naturally replaces the bad odor of the cats' urine. And without being worry about clogs in your sewage system, you can flush this freely in your toilets.
In these different types of cat litter list Catfidence Organic Bamboo, Cat Litter is the best litter. It imbibes 5 times faster, 99% dust-free. It is the healthiest cat litter option for both cats and the planet.
Summing It All Up!
There are twelve different types of cat litter which include Clumping Litter, Non-Clumping Litter, Clay Litter, Pine Litter, Corn Litter, Silica Gel Litter, Tofu Cat Litter, Walnut Kitty Litter, Wheat Litter, Grass Seed Litter, Recycled Paper Litter, Bamboo Kitty Litter.
Don't waste your time and read our article to know the different types of cat litter in the market. We have explained the benefits and disadvantages of all types of cat litter.
We have mentioned 12 different types of kitty litter. Some are nature litter; few are not. Some are clumping, and few are not. We have engulfed all the varieties and different types of cat litter in this piece.
Now, you can choose your kind of litter easily!
References
Types of Cat Litter, When and How to Switch – Hemopet
All Types of Cat Litter Explained – Perromart
Preventing litter box problems – The Humane Society of the United States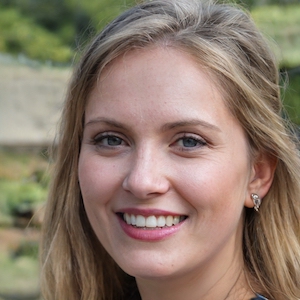 Michelle is our best team member when it comes to taking care of pets on daily basis. This is because she used to be a full-time pet sitter before joining CatLikesBest. Besides contributing her precious knowledge on cat care tips and everyday-use pet products, she still does pet sitting as part of her hobby in her free time. She usually prefers writing reviews on the products that she has already tried and tested during pet sitting.